Anyone who's been following along with our basement updates knows that I have been planning to paint all the wood panelling.  I shared my basement design plans a month ago, and way back last year, I even tested out whitewashing vs. painting to help me decide what to do.  You may also know that I hit a snag that I wasn't anticipating, so today I'm going to go into more details and talk about the best primer for panelling (spoiler – there's a few kinds!).
– Note: This post contains affiliate links. See more information about affiliates here. –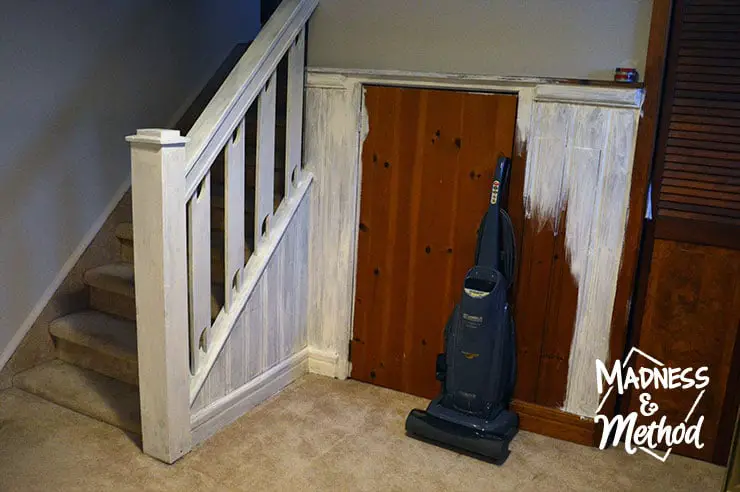 I actually started painting the first area of our panelling a bit ago, and I was really happy with how everything was looking much brighter.  I had purchased a huge 5-gallon pail of paint and primer in one (just the off the shelf white) and was really excited because it was zero VOCs and I would paint freely, not having to worry about the baby.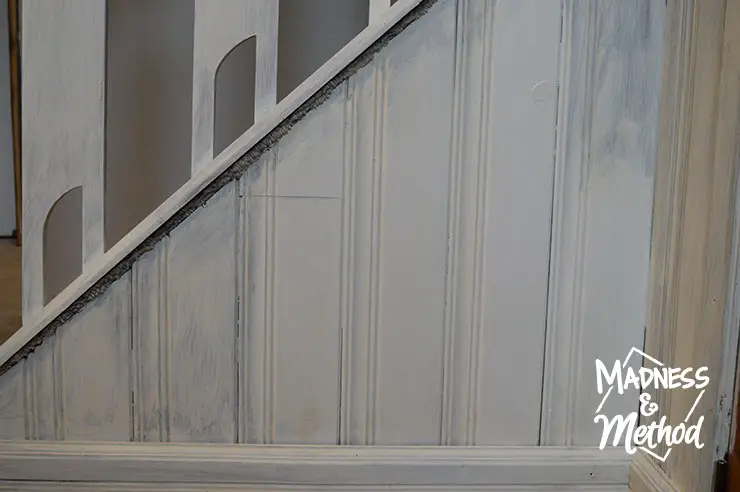 However, once daylight arrived – I realized that my white paint… wasn't so white anymore!  The stain from the wood panelling was coming through, and I hoped that another coat or two would help bring out the true white.  You can't really tell from the photo above, but some of those "columns" in the panelling have A LOT of paint (the tall one has 5 coats!).
But alas, the stain was still coming through – so I figured that I would need to buy a "real" primer and give everything a coat of that.
I went with my trusty Bullseye 123 primer, not my usual go-to for bare drywall, but definitely a "fix it" type of primer.  It promised excellent stain coverage, so I got a gallon and headed home.
You guys.  It was WORSE!  Notice how the roller in the photo above looks more beige than the paint in the tray?  That's because that it was instantly absorbing the stain as soon as I rolled it onto the panelling (this time the small door was my guinea pig).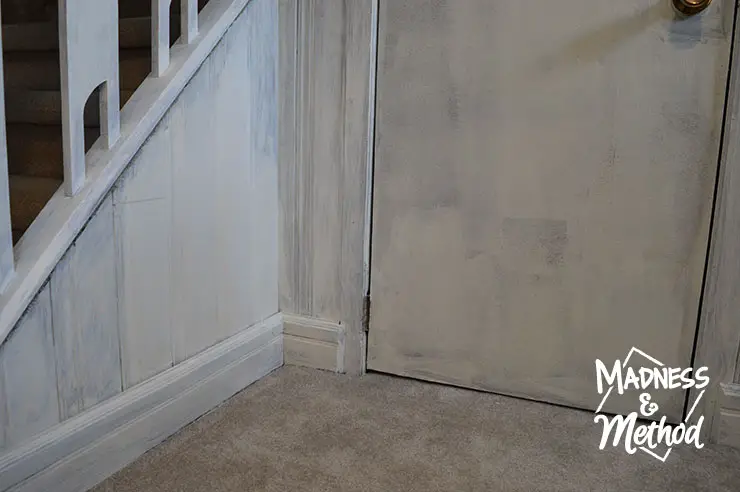 Not only that, but doing a second coat on my previously painted sections were making them more "brown".
I went into a mini panic mode…
I started looking up primers online and seeing if any would stop the yellowing.  I also found out that the stain bleed through is called "tannin" and I was determined to find something that would make it stop.
I didn't want an off-white basement.  I wanted a bright white basement!
I made another trip to the hardware store and picked up Zinsser BIN primer (from my research online) and some oil paint, which is what the store associate recommended.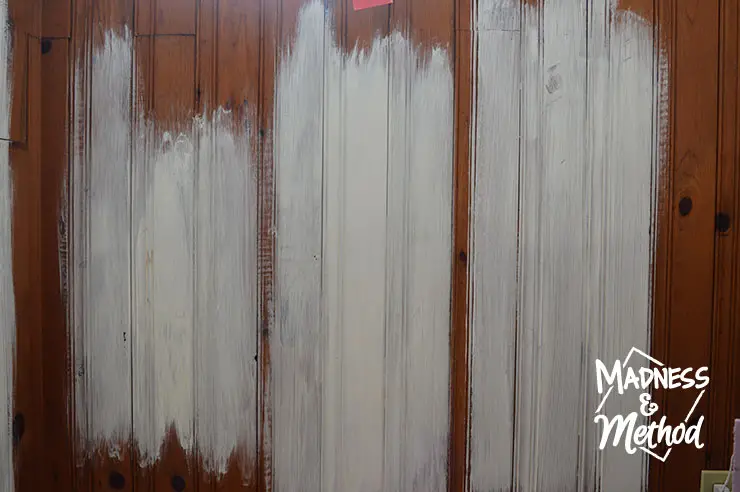 I did a few test areas (similar to when I tested whitewashing vs. painting) of the 123, BIN and oil paint.  I even tried sanding a small area to see if that would help.  Pro tip: sanding was worse!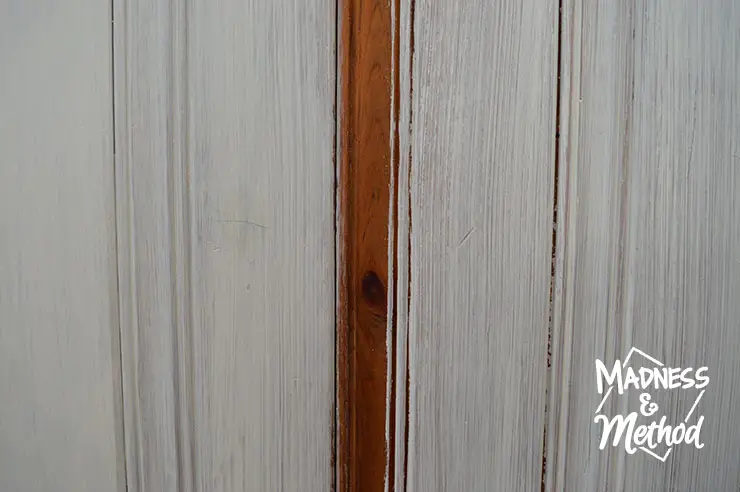 The BIN and oil paint were actually staying much whiter than I imagined!  There were still a few of the bad spots that came up, but the paint cans did have a warning that you might need to do sap spots a couple of times.
You know what else the paint can says, that I clearly didn't read?  You NEED special cleaning solvents for these paints!  I did the BIN first and just tossed my paintbrush in some water like I normally do… but it started hardening the paint (and I didn't even use my "primer brushes" but a good angled one).  Who even has denatured alcohol around?  Not me!  The BIN also said that it could be cleaned with household ammonia and water.  Great… ammonia… another thing I don't have!  Luckily (and I don't really recommend this) I do have lots of Windex, and I know that ammonia is one of the main ingredients.  I dumped out the water and filled a bucket with Windex, and it actually did a good job cleaning out the brush.  (And it smells all Windex-y now too).
Thankfully I did have Varsol to clean the oil-based paint (I used a different brush too) and my first forgot-to-read-the-paint-can mistake was fixed.
The other "tiny" tidbit I missed on the paint cans?  There's a warning to eliminate all sources of ignition, including pilot lights, when working with solvent-based paints.  You know, like the flame on our fireplace that's 15 feet away… or the pilot light on the furnace and the hot water tank in the other room.
The Husband was like, didn't you see that exploding warning symbol on the bottom of the can?  I was like no… clearly not…
MORAL OF THE STORY:
Read the paint cans!  Seriously.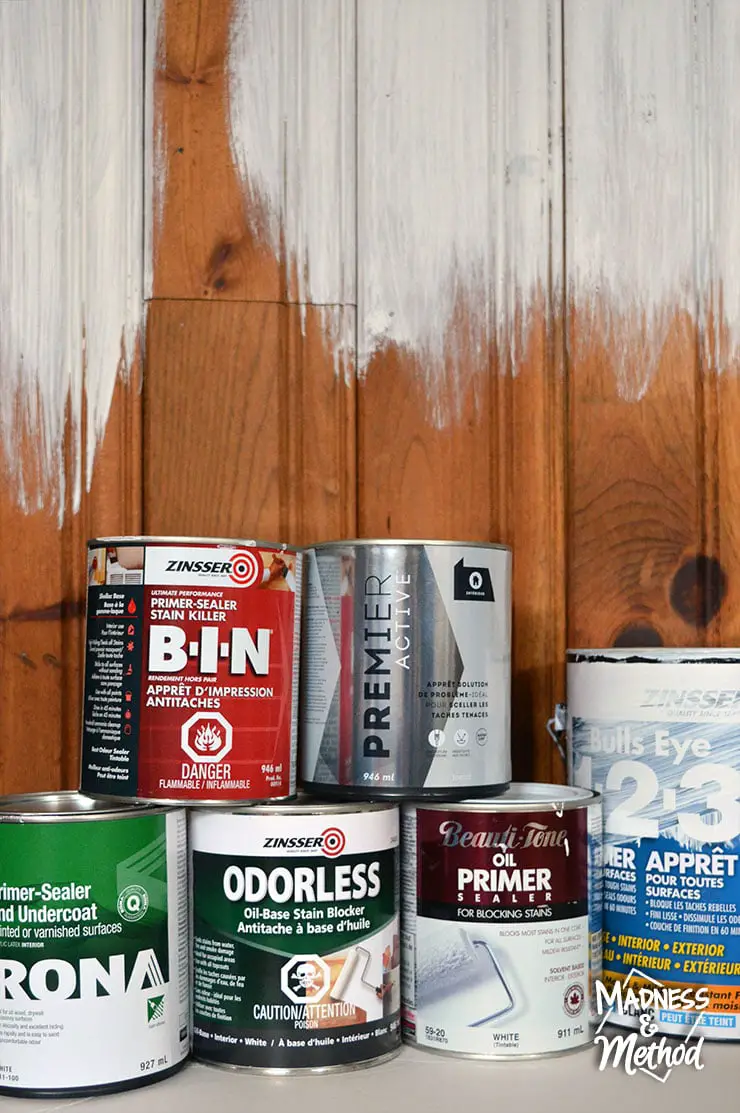 Okay, so now I'm all worried that if I use these paints (that work at stopping the tannin bleed by the way) that my basement will explode and the house will burn down.
Oh, and they both smell a lot.  So there's the whole having a baby (and us) breathe assumedly toxic fumes, that probably isn't the best thing.
Back to the store(s) I went.  I was determined to find another, safer, fast-drying, non-stinky primer that would work at removing the panelling stain bleed-through.
I even thought I would stumble on some secret miracle paint and I could share it with the world.  And all the panelling painters would thank me for my time (and money) finding the solution.
Spoiler: this didn't happen.
I can now confirm that the BEST primer for panelling is a solvent-based primer.  None of the acrylic/latex/water-based paints I tried would stop the bleed-through (no matter how much I wished).
Apparently they block all the "tough stains" that aren't stain.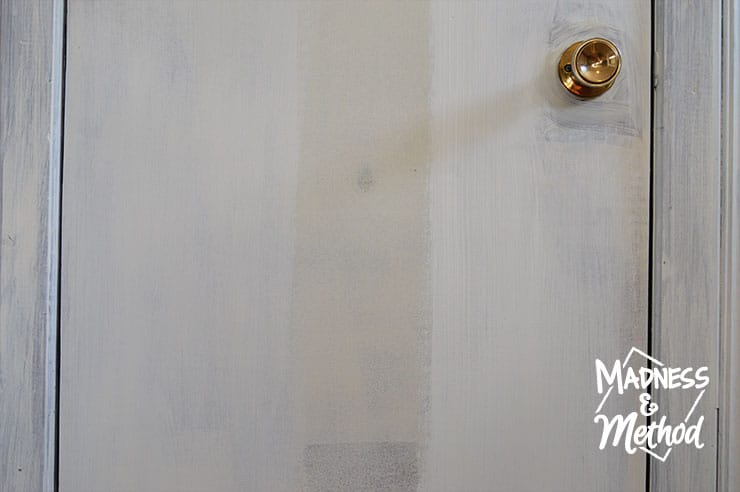 Here's a handy little table of pros/cons I came up with comparing the different primers for panelling I tested:
Brand/Type
Pros
Cons
Bullseye 123
Nice consistency
Works good as a basic primer
Easy cleanup
No crazy smell
Recoat in 1 hour
Does NOT remove tannin
Zinsser BIN
Covers tough stains and tannin!
Recoat in 45 minutes
Smells strong 1
Need to turn off gas
Cleanup with chemicals
Really liquid-y 2
Oil-Based Primer
Covers tough stains and tannin!
Much thicker than regular paint 3
Smells strong (like oil paint)
Need to turn off gas
Cleanup with chemicals
Long dry time (and smell)
Zinsser Odorless (Oil-Based)
Covers stains 4
Recoat in 2 hours
Does not smell like normal oil paint
Need  to turn off gas
Cleanup with chemicals
Must be mixed a lot 5
Acrylic/Latex/Water Based Primer
Nice consistency
Works good as a basic primer
Easy cleanup
No crazy smell
Recoat times short
Does NOT remove tannin
BIN honestly smells like a cream-based alcoholic beverage.  Not so bad at first, but eventually all you smell is the "alcohol" and it can get a bit overpowering
It was like painting with water, so make sure to keep your ground surfaces covered
Can be a negative, because it doesn't spread as nicely (or as much); but I felt like it had thicker coverage (maybe less coats?)
On the can, it also says to spot prime with BIN – so that isn't a good sign (I learnt that if a primer tells you to pre-prime with another primer… it probably doesn't work as nicely as you are hoping).  See point 5 for more details…
Not sure if it was the can I got, but I could hardly mix the primer by myself because it had separated so much.  I have to go back to the store and get them to mix it for me in the machine.  Because of this, I didn't test the proper consistency of paint.
Remember: I tested these on my lovely stained panelling, so you may be lucky and have a magical stain that covers nicely with a "regular" primer.  I just wanted to share my experience so people don't have to go through as much hassle as I did.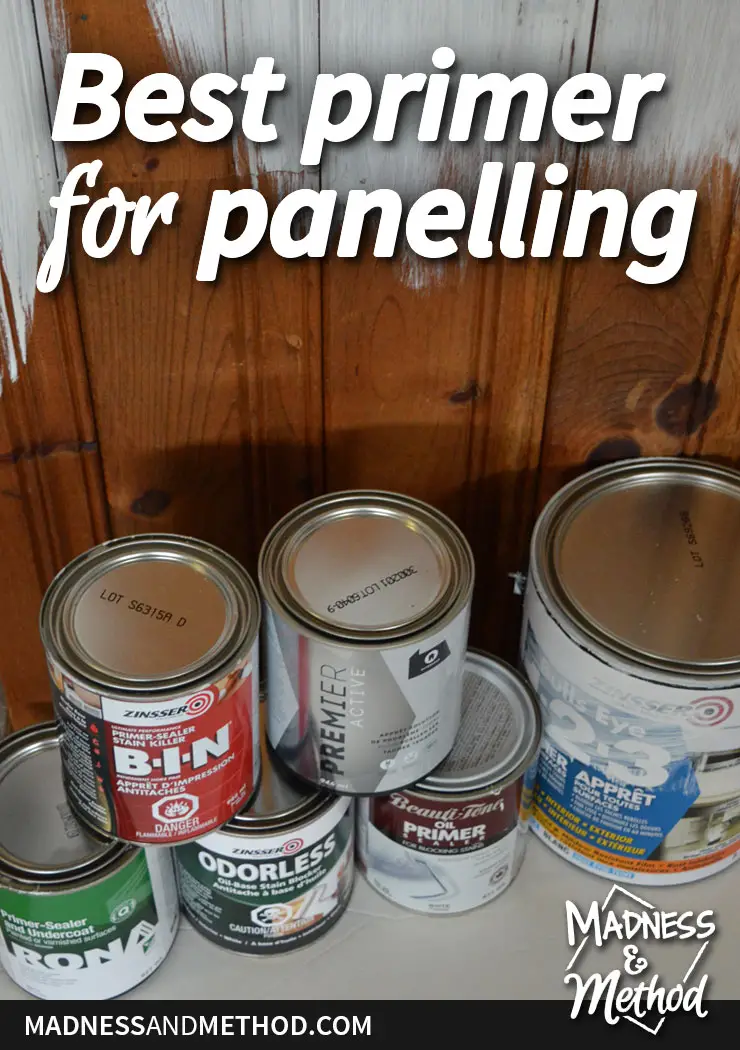 Do you want to update some panelling and are hoping it will be a quick and easy project?  Maybe you've painted some stained wood in the past, and went through the same headaches as I have.  I'm hoping this list of the best primers for panelling comes in handy for someone!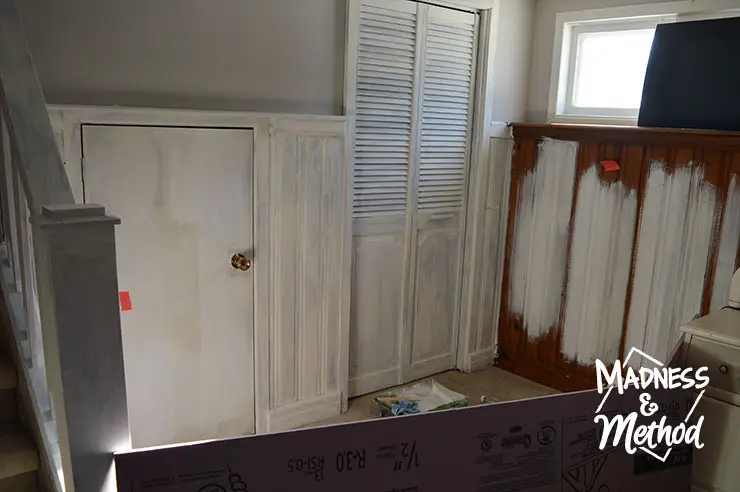 So where I am progress-wise with the basement?  After testing the options and realizing that only the "toxic" paints work, I had to put my painting plans on a mini-hold.  I need to find a time when I can turn off the gas and safely paint the panelling without worrying.
I have decided on a course of action though!  I'm going to paint all the panelling with my original no VOC paint and primer (I did a good portion, which you can sort of see in this post), then I'm going to caulk all the seams and cracks between the pieces.  THEN I'm going to do another coat with the paint and primer (to seal in all the caulk) and hopefully by this point it will be warmer and I can turn off the gas without freezing :)  I'll hopefully only need to do one coat of the "toxic" paint, then turn the gas back on, then can do one final coat of the paint and primer.
And if that doesn't work and the panelling is still off-white?
Cry.
Haha hopefully it doesn't come to that, but I will make sure to keep everyone updated!