There are so many great holiday home tours out there right now, and while I did share our jewel-toned Christmas tree last week, the only other area I have decorated this year is our basement fireplace.  Let me show you our simple silver and green holiday mantel, with our stockings already hanging and ready-to-go for Santa!
Last year was the first time I decorated the mantel, and I tried to style it similar to our Christmas tree since they were so close together.  Since they're on separate floors this year, I took a different approach from our jewel-toned tree and went with something a bit more minimal down here.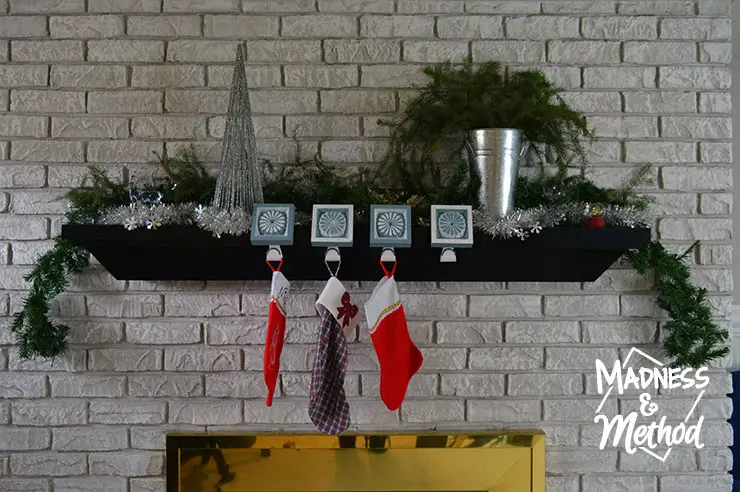 I wanted to incorporate both faux and real greenery to add a natural element to the space, and as always, you need just a touch of sparkle for Christmas!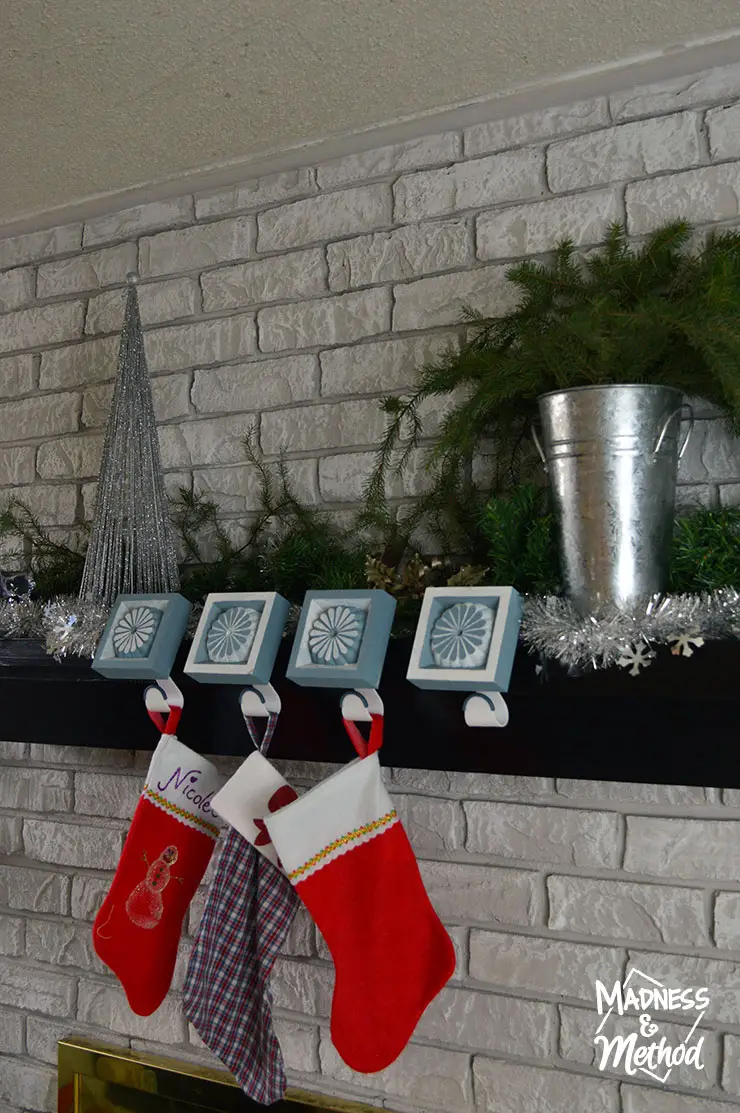 Compared to last year (when our fireplace wasn't even painted!), I decided to move our DIY stocking hangers more in the centre.  Notice how the blue now matches other areas in our basement like the TV stand and games shelf?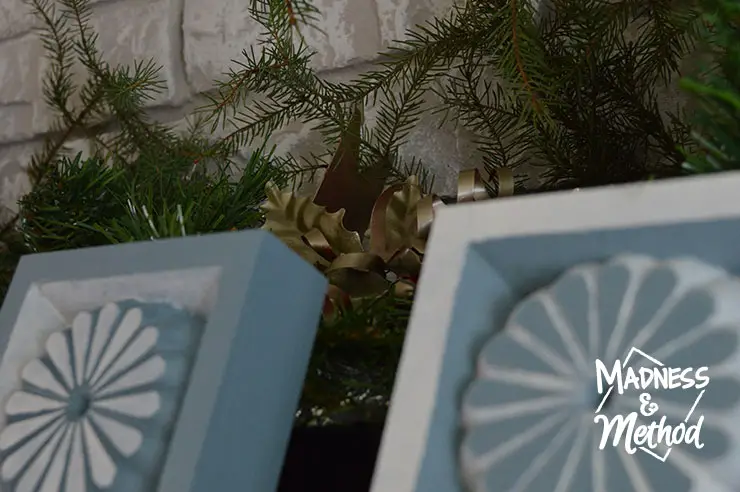 I kept the middle pretty bare, but did add the painted candle holder like last year!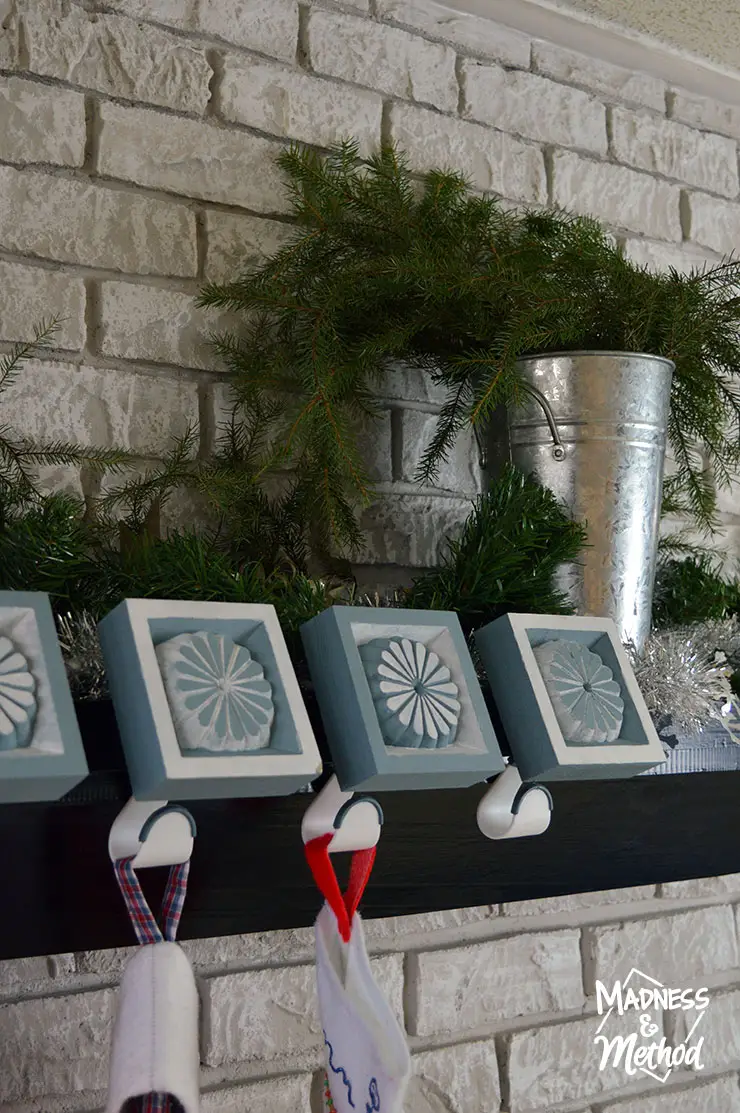 I flanked each side with a tall silver element to balance everything out.  I had this bucket sitting in storage in the pink/guest room, and finally got a chance to use it!  The Husband and I went on a nature walk the other day and collected some greenery from the nearby trees (he says they're Spruce).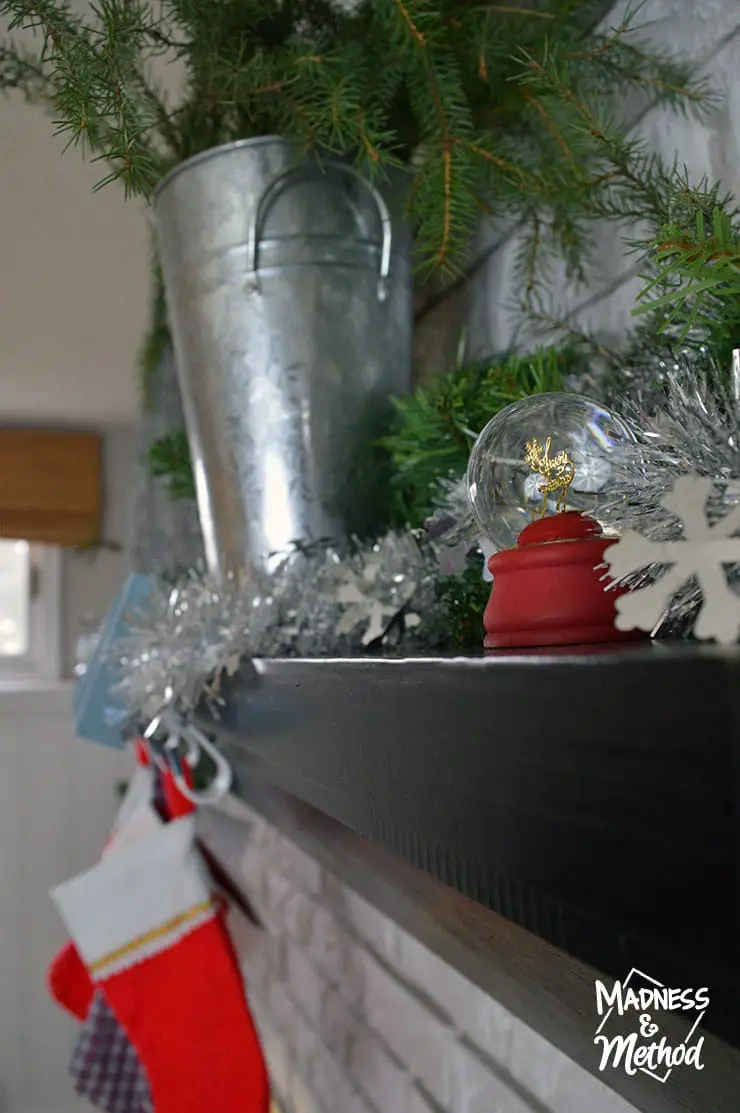 I have our mini snow globe on the right side to add a little touch of red, and to visually balance the stockings (there are only 3 hung to the left side).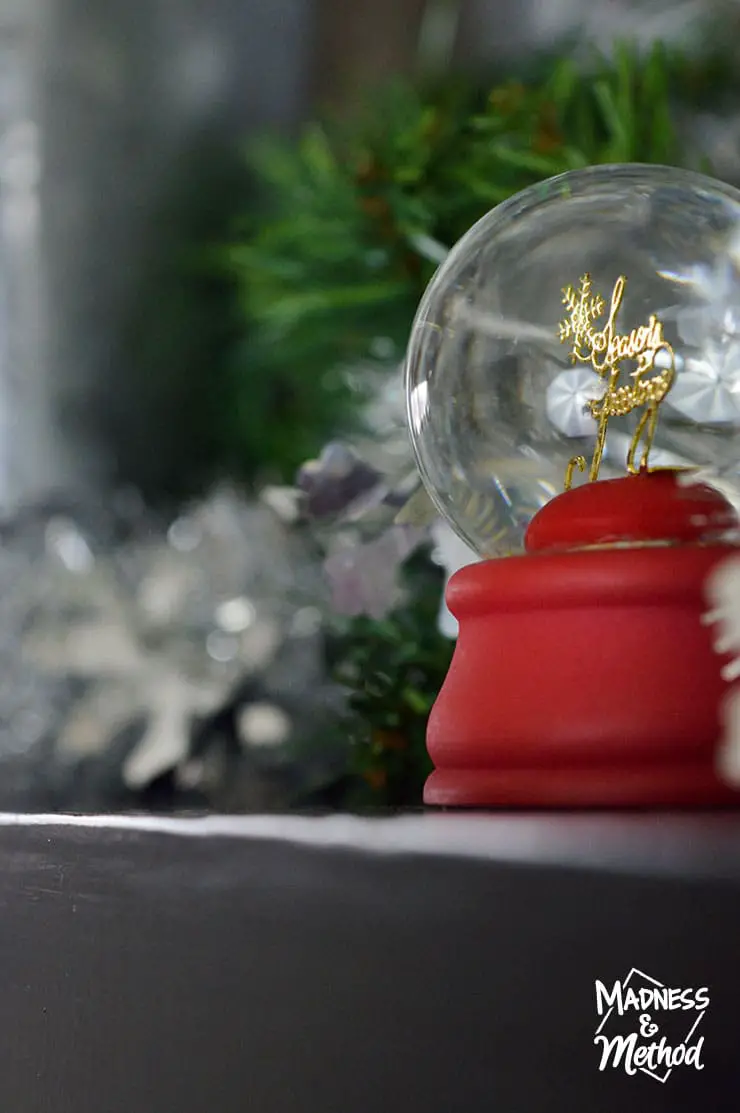 I was originally going to keep the snow globe near the nativity scene, but it works better on the holiday mantel, don't you think?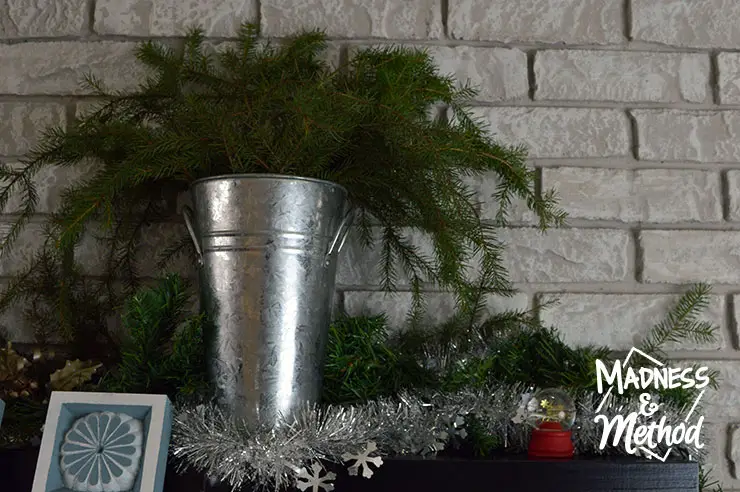 Originally my "tall silver things" were closer to the edges, but the centre of the mantel felt really bare.  I also had WAY too many branches in the bucket, so decided to shorten it up.  Then I took the extra branches we collected and dispersed them throughout the faux garland.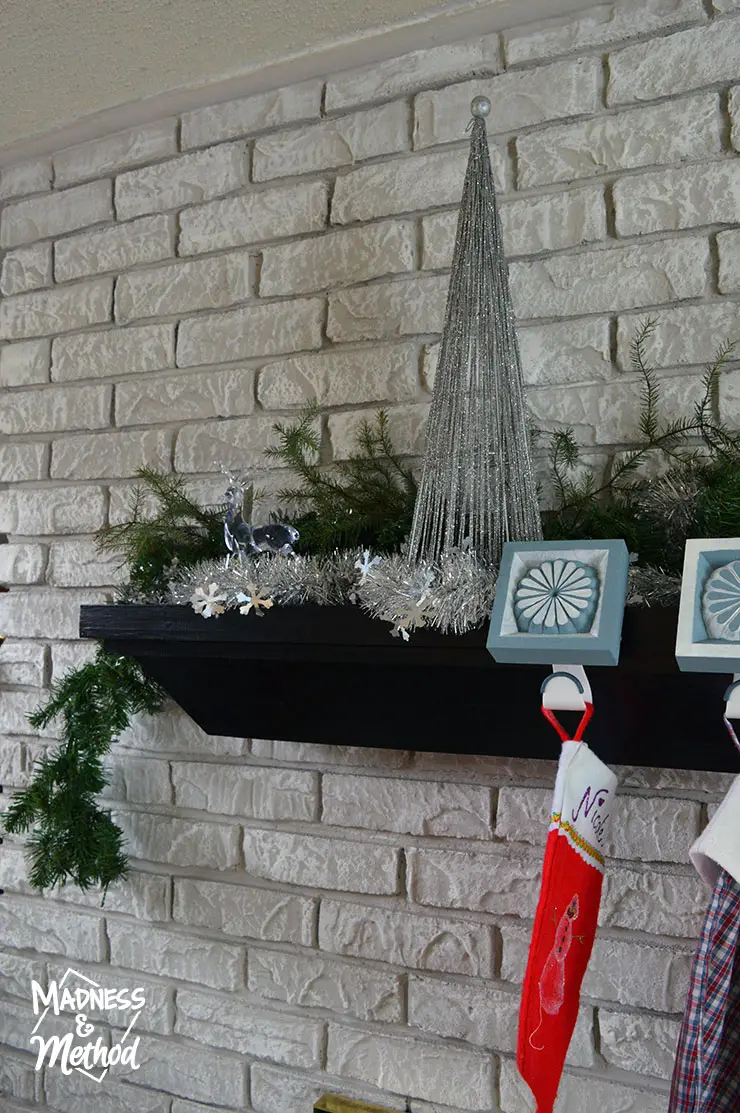 On the left side, I used the same tall silver sparkly tree from last year's mantel décor but kept the inside bare.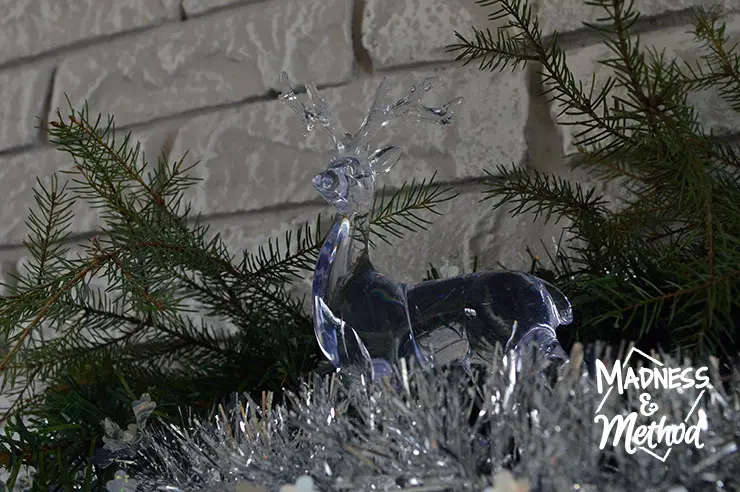 And finally, among the real and faux greenery, behind the silver garland, is my clear reindeer.  I definitely love incorporating him into the design, and I can't believe he was a dollar store find!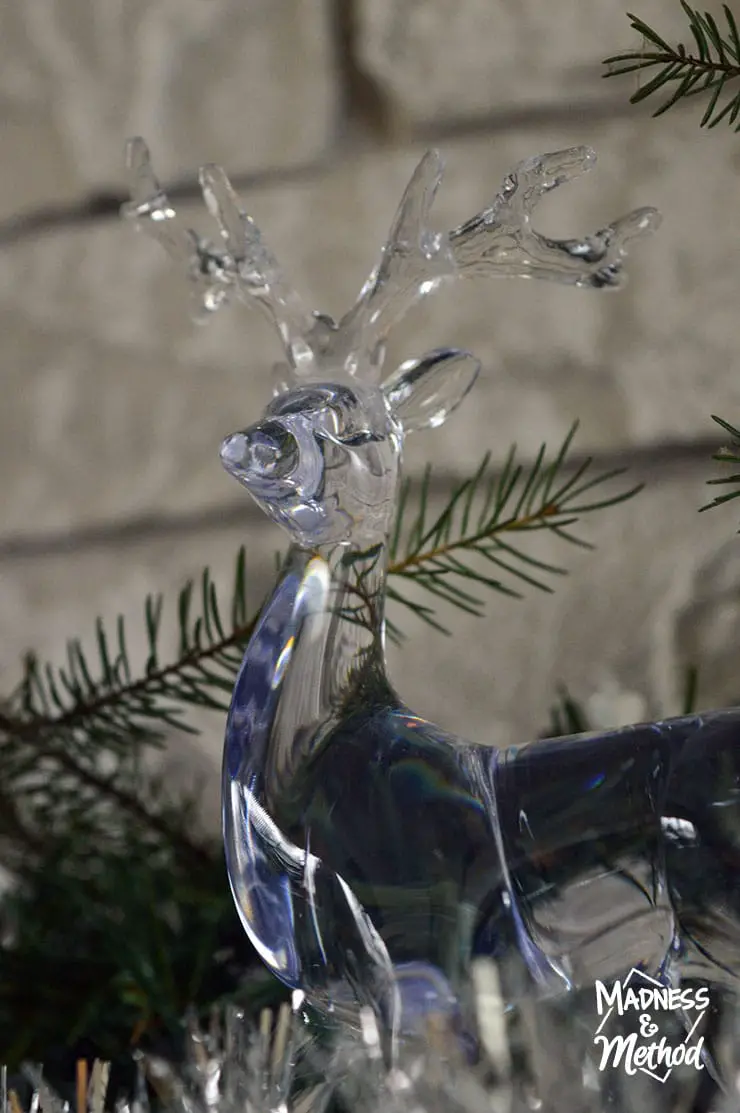 I mean, doesn't he just look so studly?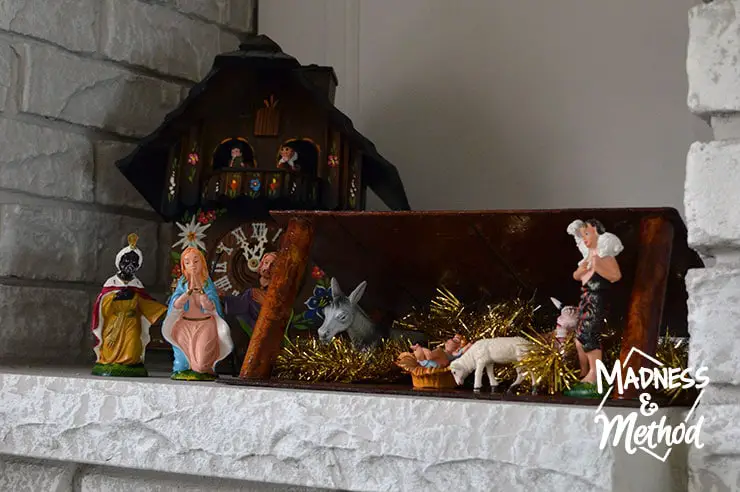 A few weeks ago I shared an updated basement family room tour, and I talked about how I finally painted the cover for the electrical panel and set up our cuckoo clock.  I decided to put our nativity scene / crèche here too, and it's the perfect spot!
Especially since it's high up from little fingers :)
PS: I couldn't decide which image I wanted as my Pinterest graphic, so feel free to choose: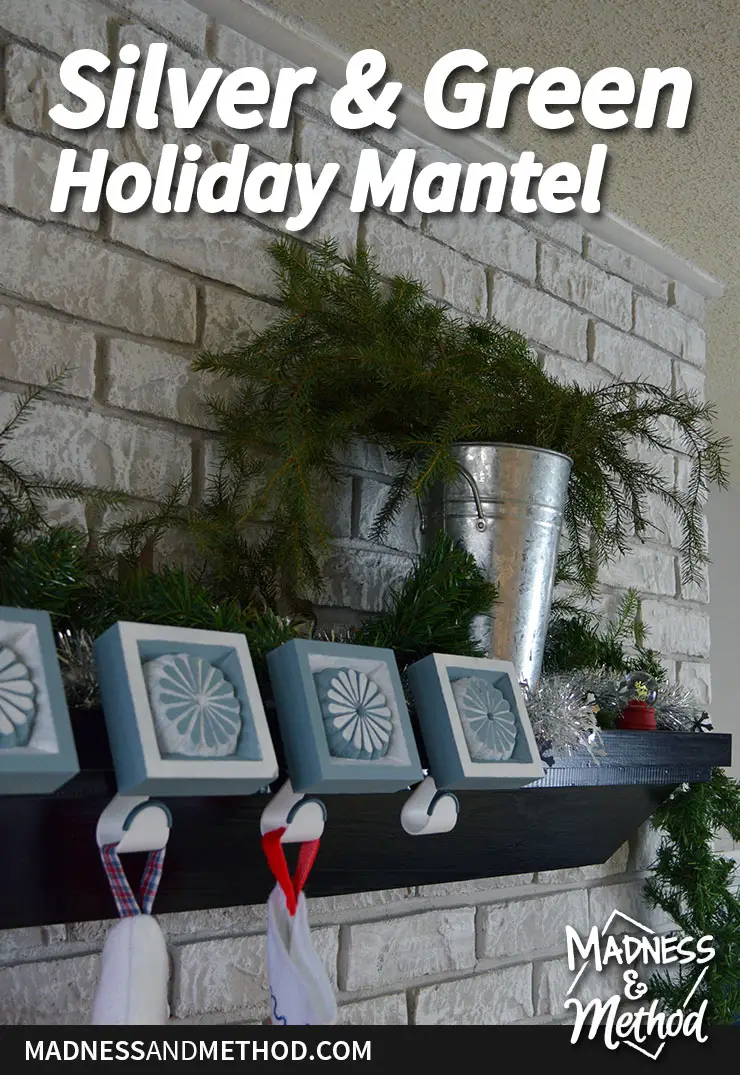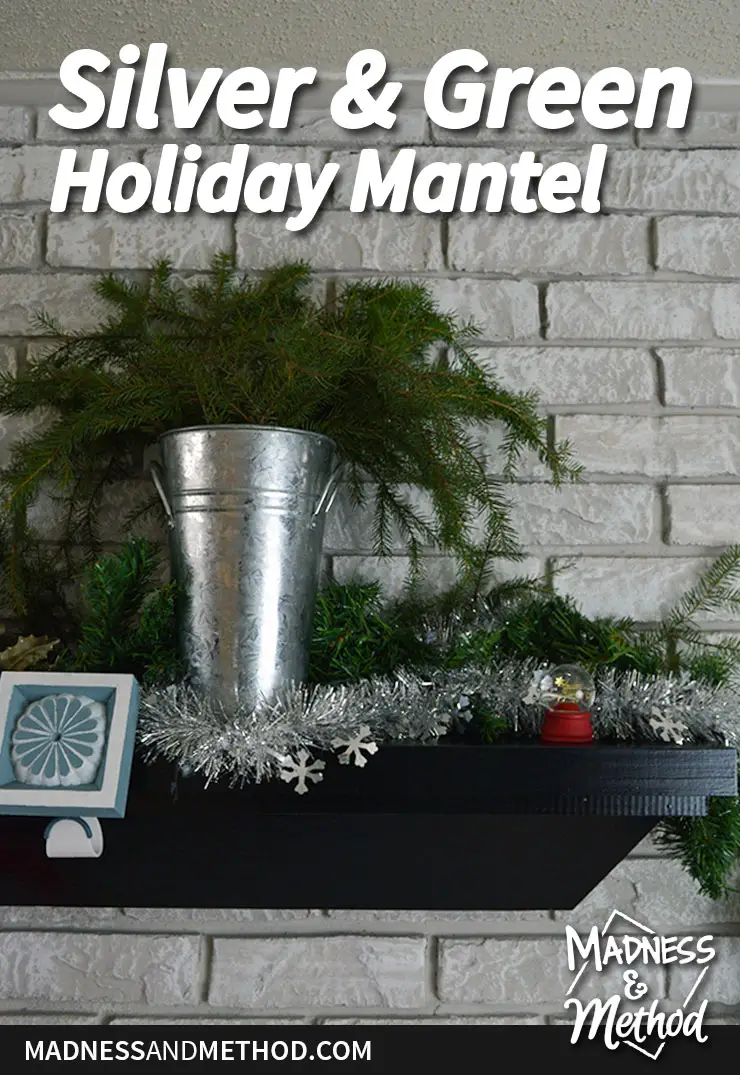 So there you have it – a simple silver and green holiday mantel!  I like how I incorporated a few of the same elements and items, but it's a completely different look from our more glam mantel last year.  You may have noticed that I don't have a string of lights in the mantel this year either, I figured it might be something that a little someone could get their hands on and pull down (although I do think that we may have an outlet near the electrical panel…).
Do you have a mantel (or another horizontal surface) you decorate each year?  I think it's a fun way to display some Christmas décor that might be too big to fit in a tree, and corralling it all together in one area makes everything easier to set up (and take down of course!).