Last week I shared some Christmas must-do activities, and today I'm back with a New Year's Eve to-do list! Tonight is the big celebration night, and I'm sure you can get these done even if you're staying home for a sort-of quiet night (that's what I'm doing!).
1. Drink egg nog
I'm starting off with something that may be a little off to some, but egg nog always reminds me of New Year's Eve! When I was younger, I spent my NYE night with my grandparents and they always made me drink egg nog – and it's just kind of stuck. I didn't have any last year (I tried to avoid it when I was pregnant) but I will have to drink lots tonight to make up for it!
So whether you enjoy egg nog hot or cold (or mixed with something else), drink a glass or two tonight to celebrate!
2. Countdown to midnight
This is definitely the one that everyone will be doing, so I had to include it on my list. I'll probably be doing an early countdown for the baby (you know, in case he actually knew what was happening) and then will hopefully stay up until midnight for the real countdown.
Are you spending the night with kids? Check out this list of activities for Celebrating New Years Eve with a Toddler by Love and Renovations.
3. Make some noise
Again, when I was little and spent the night with my grandparents, they made sure to bring out all the noise makers so we could have a lot of extra noisy fun. There are swirly ones, the ones that you blow into, etc. but even then you can always hoot and holler for a bit to celebrate the New Year.
4. Reminisce about the year before
I always find that there is such a big anticipation for midnight that the rest of New Years Eve night is spent looking at the clock, and trying to pass the time sort-of patiently. Why not look back and reminisce about the year before; maybe try and remember your resolutions and see if you were able to accomplish them.
Wondering what to do after all the hubbub of tonight's celebrations? The Crowned Goat has an excellent list of 17 Simple Ways to Ease into the New Year, so go check that out!
5. Make a resolution (or two!)
While you're thinking of the old resolutions, time to think of some new ones! Did you know that if you write them down, you'll be more likely to work on them? This year, my main resolution is to have a neat and tidy house (almost all the time). I'm not so concerned with it being clean, (Tootsie sheds too much and I would go crazy trying to keep up) but I do want it to be clutter-free.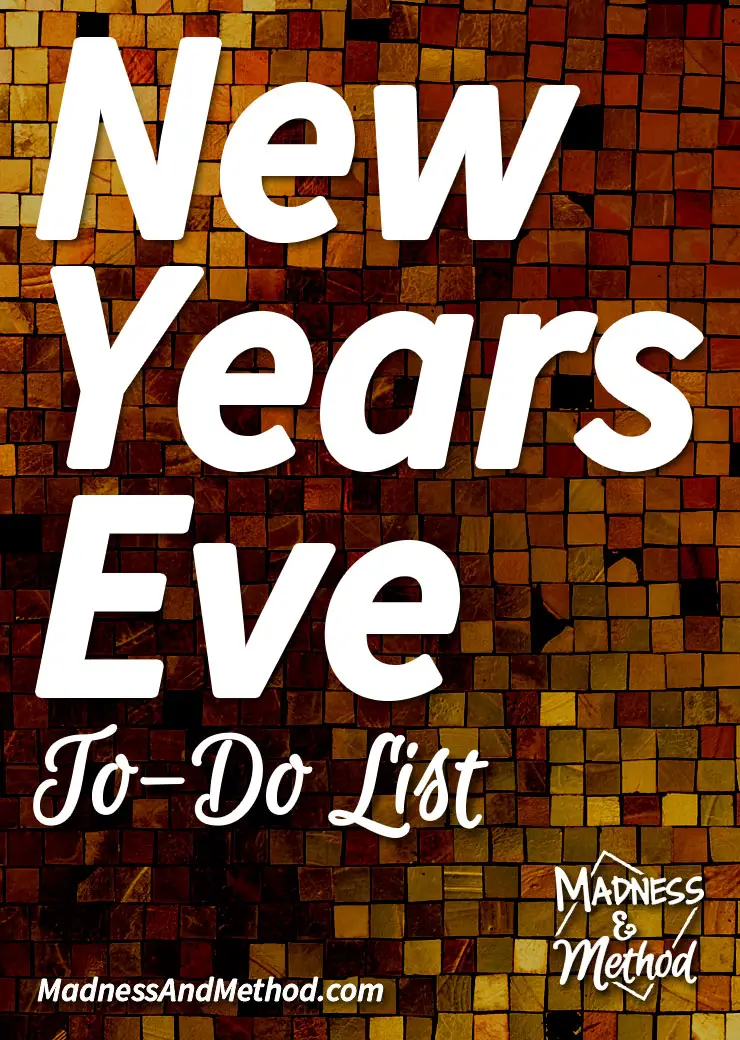 Have you made any resolutions yet? Considering the big event is in less than 24 hours, I'm guessing you already have plans? Well, even if you don't – make some noise and countdown anyways okay :)
Are there any activities that make you think of New Year's Eve? I'd love to hear them in the comments!