Today I'm sharing our jewel-toned Christmas tree (the little mister helped pick the colours!) and I'm also teaming up with a BUNCH of other DIY and décor bloggers to showcase all our trees. So, if you haven't started decorating for Christmas yet and are still deciding on a décor theme – there will be plenty of inspiration today :)
– Note: This post contains affiliate links. See more information about affiliates here. –
For those who don't know, a blog hop is a big group of bloggers who get together to share a common theme/post idea, and today it's Christmas trees! You can follow the links to the talented bloggers just below, or check out our Christmas tree pictures then visit all the others at the end! I've also tried to include links to similar products that we have in our tree so that you could easily recreate your own jewel-toned Christmas décor!
Welcome To Our First Annual Christmas Tree Decor Blog Hop!!
There are over 40 bloggers joining up to share their decorated Christmas Trees with you! So grab a cup of your favourite beverage, settle in and get comfortable because you are going to love the beautiful Christmas Tree Decor shared today!
My name is Nicole and I like to think of my décor style as transitional minimalism, basically a mix of traditional design details, modern lines/furniture and (always trying for) minimal stuff!  I normally keep my house decorated the same year round (you can see a video tour of our home here), but I love bringing out the Christmas tree and changing up the style every year!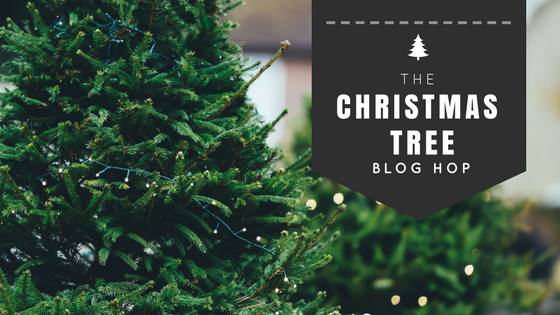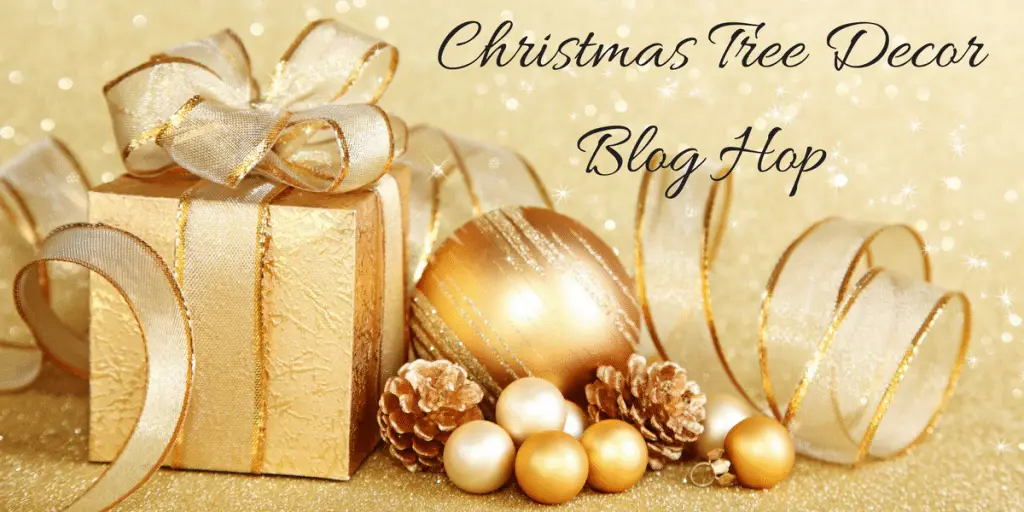 Let's Meet The Other Hosts!
Michelle @ Our Crafty Mom | Allison @ Upright and Caffeinated
Angela @ Simply Beautiful By Angela | Sarah @ The Project Pile
Annie @ All Things Big and Small | Jolene @ Create Pray Love 
Brittany @ Our Home Made Easy | Chloe @ Celebrate and Decorate
Cindy @ County Road 407 | Colleen @ Life on Kaydeross Creek
Denise @ My Thrifty House | Eileen @ Sand Dollar Lane
Erlene @ My Pinterventures | Wanda @ From House To Home
Jaclyn @ The Dotted Nest | Jeannee @ Centsably Creative
Vicki @ 2 Bees In A Pod | Jennifer @ Oh Fiddle Dee Dee
Kim @ Made In A Day | Kristie @ Teadoddles
Leanna @ Faeries and Fauna  | Maria @ Simple Nature Decor
Marie @ The Inspiration Vault | Mary @ The Boondocks Blog
Meegan @ What Meegan Makes | Meg @ Green With Decor
Melissa @ Welcome To The Woods | Donna @ Modern On Monticello
Morgan @ Charleston Crafted | Nancy @ Slightly Coastal (now Adams and Elm Home)
Nicole @ Madness and Method (that's me!) | Pam @ P.S. I Love You Crafts
Sam @ Raggedy Bits |  Kim @ Day to Day Adventures
Shirley @ Intelligent Domestications | Stephanie @ Abbotts At Home 
Yami @ The Latina Next Door | Jenn @ Loveland Lodge
Christene @ Keys To Inspiration | Libbie @ A Life Unfolding
Jaclyn @ One Thousand Oaks | Jennifer @ 2 Bees In A Pod
Setting Up Our Jewel-Toned Christmas Tree
For those who don't know, we did a bit of furniture re-arranging in our living room recently.  We just completed a garage makeover as part of the Fall One Room Challenge and brought the TV in there for the Husband to practice biking.  Because we no longer had a TV, we moved the cabinet it was on to our master bedroom and moved our HUGE dog crate to that corner.  (See the living room updates here)
Like last year, I patiently waited for December 1st so I could set up our tree! We have a cute little toddler (almost 18 months old now!) and I had him help me decide what colour Christmas ornaments to put up.  Not sure if it was because they were grouped together, but he took out all the deep coloured balls and so that's what I decided to go with!  (He later ended up throwing and breaking another ball, one of the bright blue ones I had on the tree last year – so that was the end of him helping!)
We had 8 balls of each colour, so after stringing our white feather boas around like garland, I started putting the balls up (first one colour, then another, etc.).  Our tree is actually pretty small (and a few years ago I shared the steps I take to decorate it), so the boas really help fluff it up!  I also used an extra boa and wrapped it around the green cord, so now it blends into our fur tree skirt :)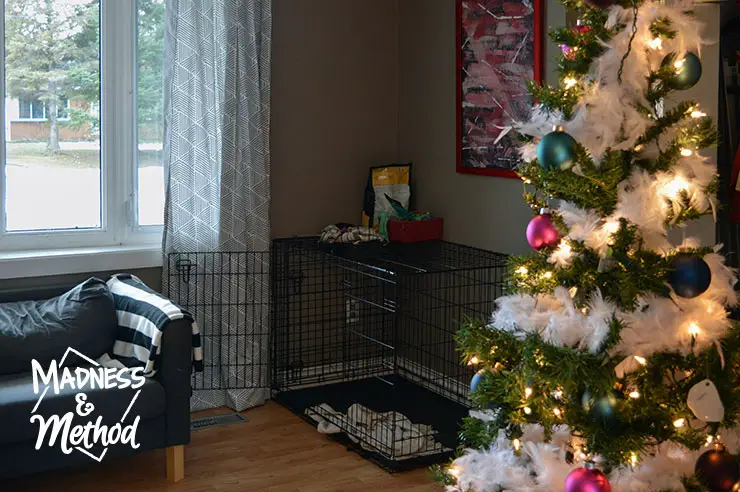 Last year we had the tree in the basement, but because our little man is moving around more, I didn't think our tree would survive being in his play area!  I decorate all around the tree, and this angle is the one from the dining room, looking towards our huge dog crate :)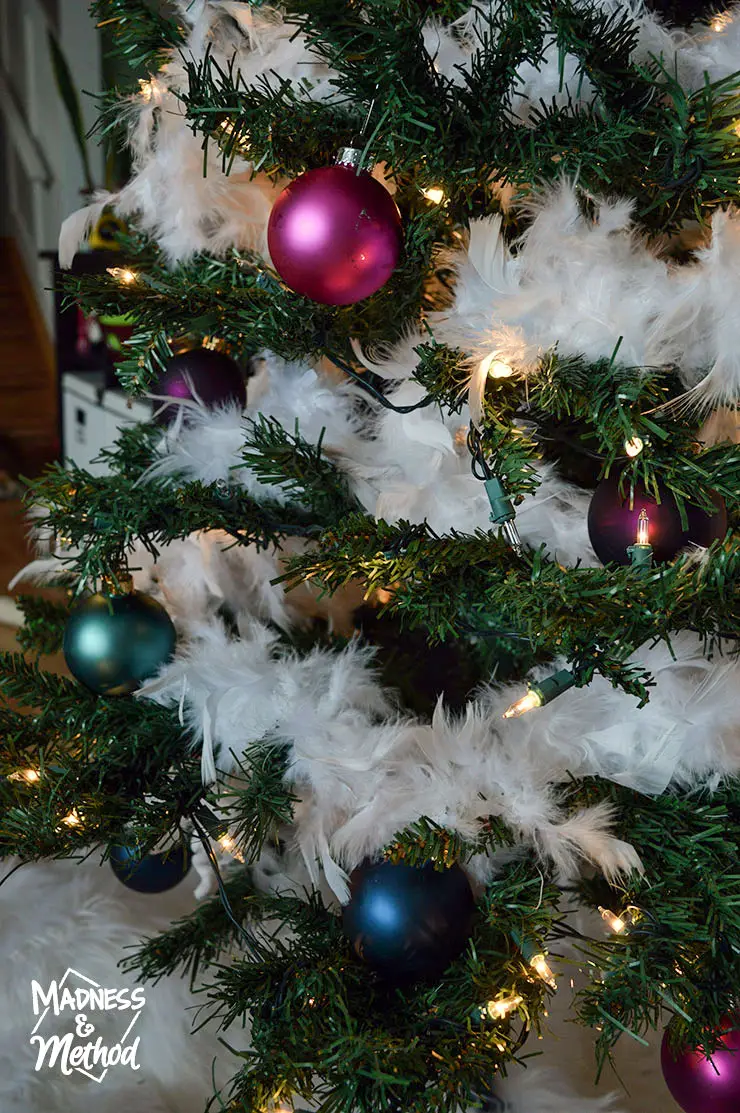 I blast Christmas music and keep the tree lit all day (although now we only turn it on at night) and I love having a different colour theme each year.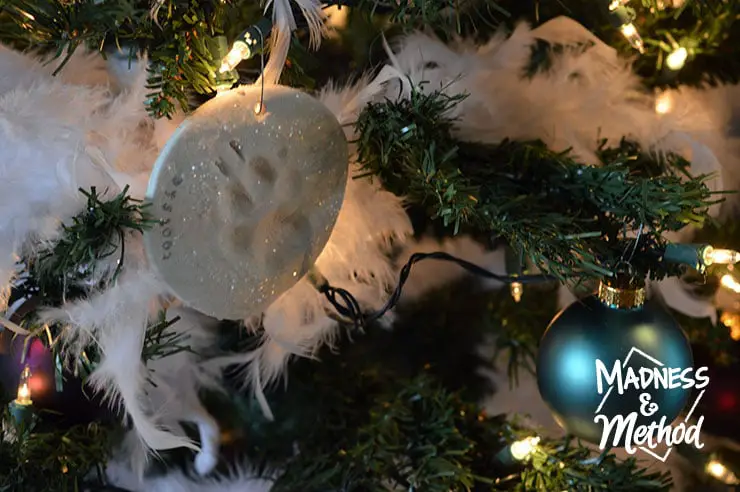 My friend gifted us a similar baby handprint kit last Christmas, and I was able to get a handprint made for Tootsie…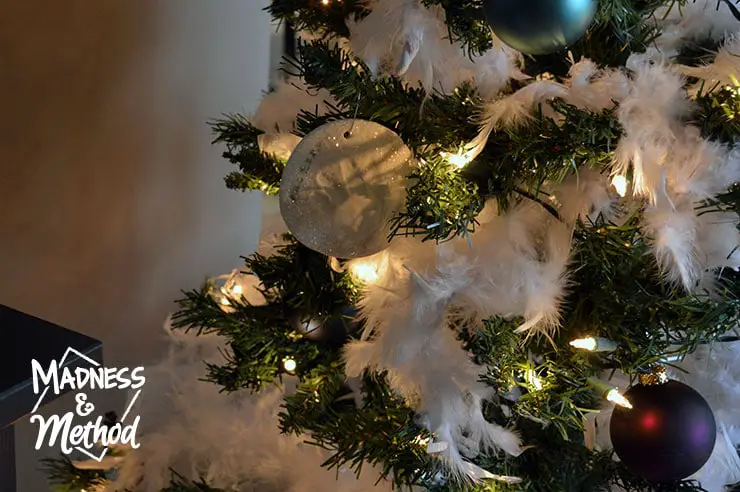 Our baby Zachary…
And even did a mould of our house key!  I kept the circle cutter and instructions, so all I need to do is get some new moulding clay, and reuse it for the next babies :)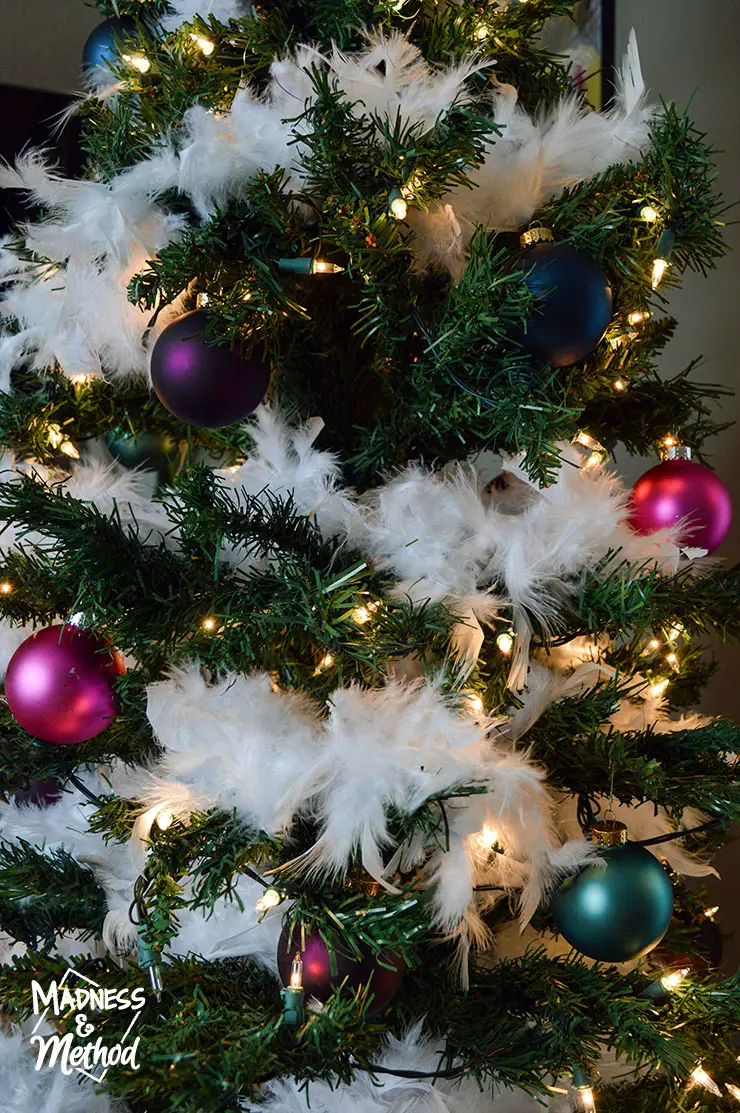 The Husband always makes fun of our little tree, and this year I told him that I don't want to get a new tree until we build our new house!  (We're planning on doing that in the future, and I want to make sure our tree is nice and big for our not-really-soon-but-still-soon-to-be high ceilings.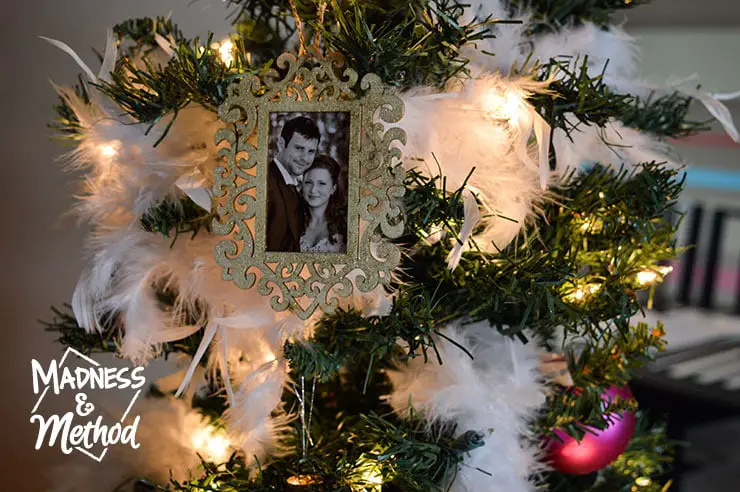 Finally, the last unique ornament we have on the tree is a wedding photo that our photographers gifted us.  I have a couple of other heirloom type ornaments but was worried about putting them up this year (after the whole broken ball thing…).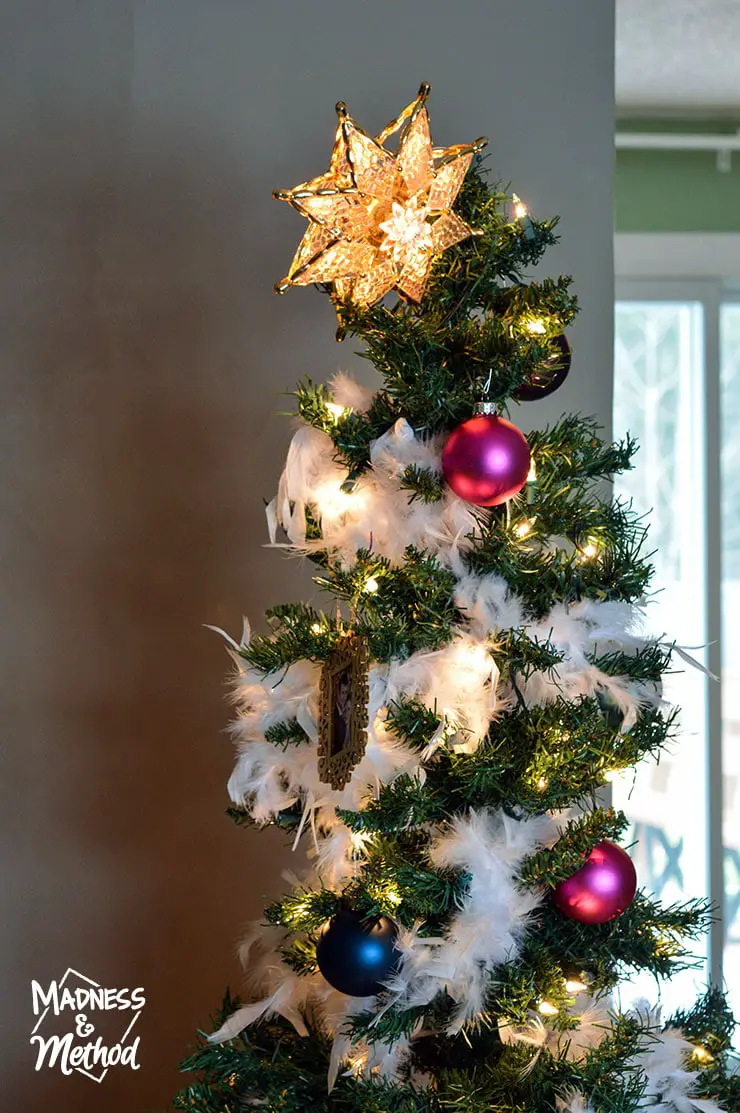 You may have noticed that the star on our tree is a little wibbly-wobbly.  Usually, the Husband helps fluff the branches at the start, ignores the whole middle decorating part, then comes at the end to add the star.  He was on toddler-duty at the time, but thankfully got it on properly later that day :)
Our Jewel-Toned Christmas Tree at Night
And here are some photos in the dark, which is when the magic really happens!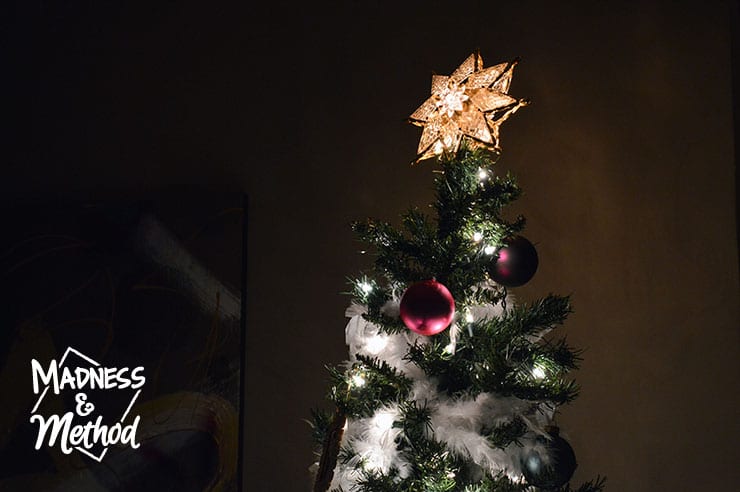 I told you that the Husband would make the star all better :)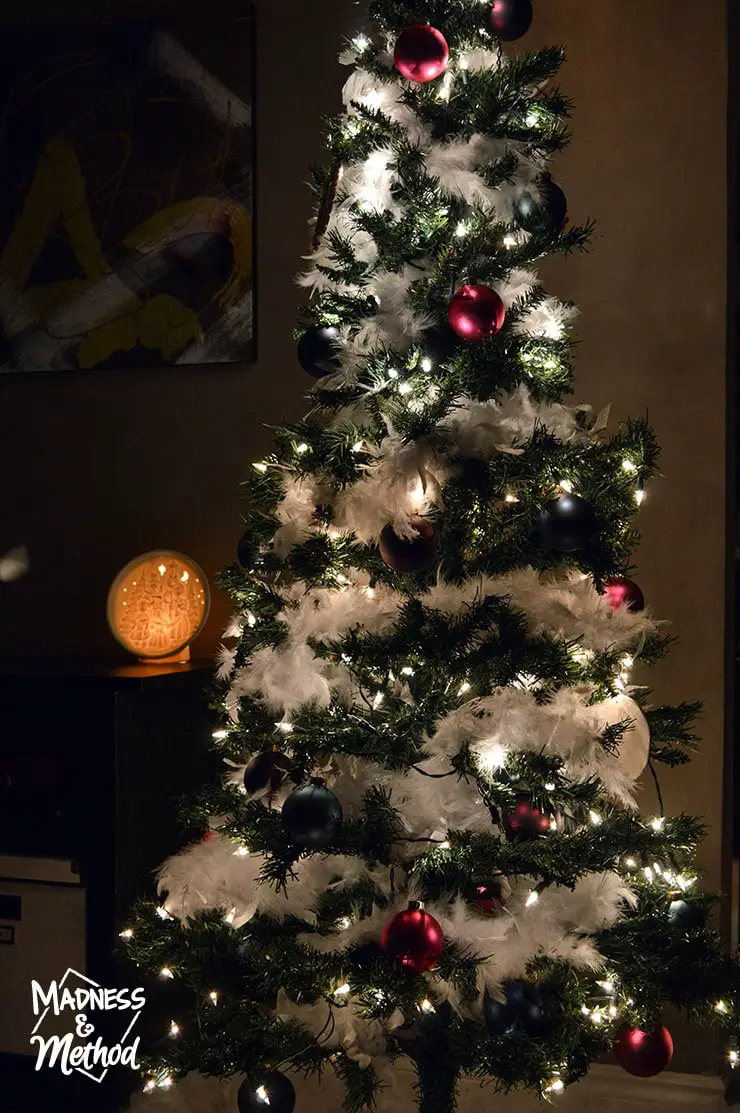 I also plugged in our Christmas scene night light thing (which we usually keep plugged in 24/7).  Some of the balls on the lower half of the tree might also have gotten moved around…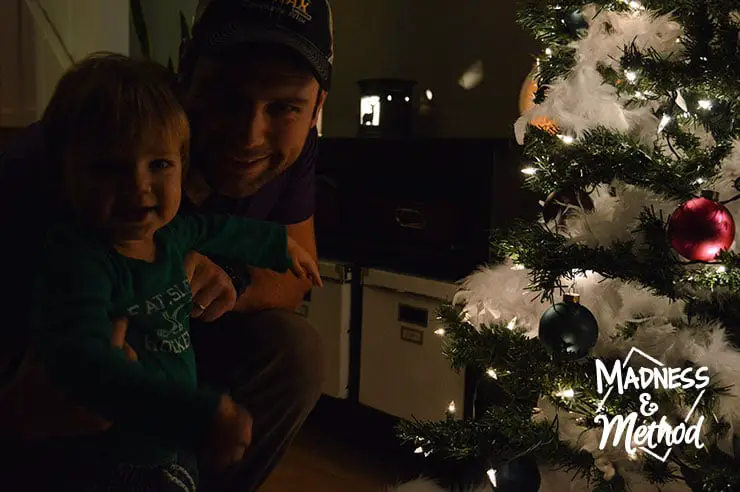 And there's the cute culprit!  He loves taking the balls off and handing them to me… umm thanks but it's not time to take down the tree yet!  He also has a knack for taking off the tops, so it gets real annoying having to squeeze the metal wires back in all the time…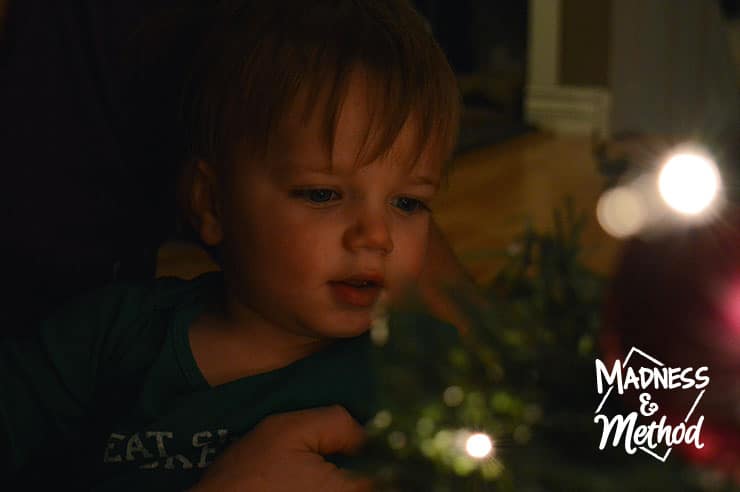 But of course, I forgive him because he's just so darn cute!  We usually don't "play" upstairs, and just come up here around meal times or when we have to leave.  Thankfully that limits his chances of moving our tree décor around too much.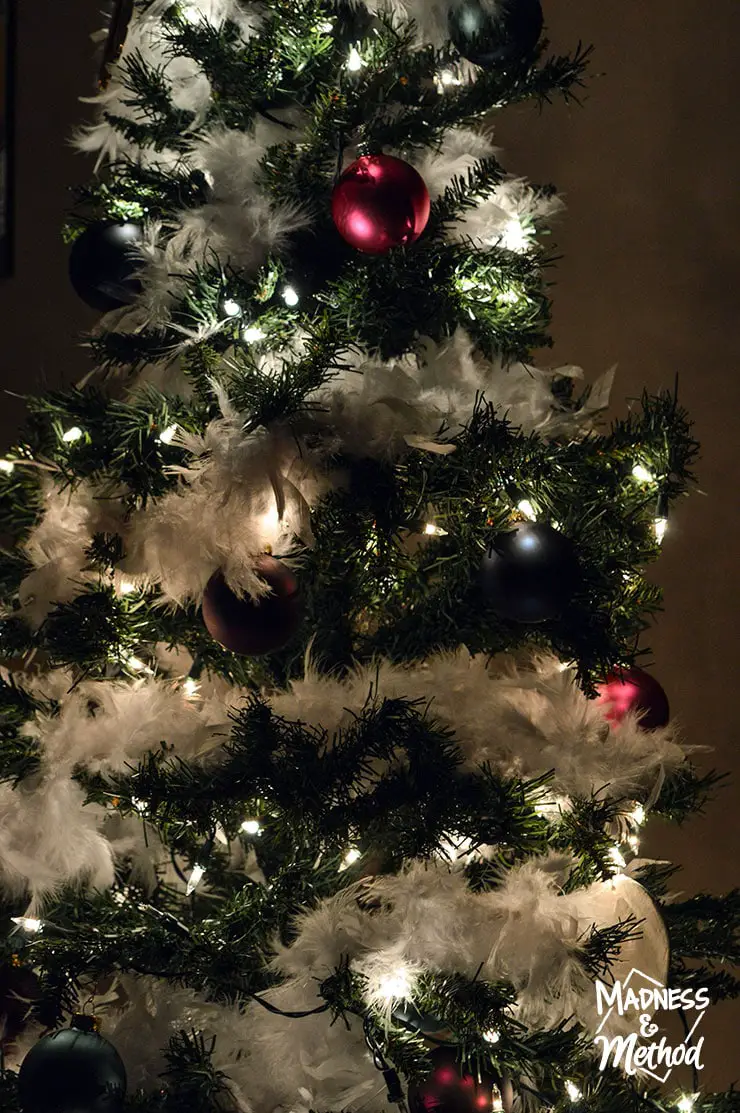 It's always harder to take photos of the tree at night, but I tried to capture the deep moody jewel-toned colours of the tree as best as I could.
I do like the contrast against the bright white boas, and may just have to continue this tradition every year now :)
Finally, I had to include this last shot because it's the only one where you can sort of see the dog Tootsie (her water bowl area is right near/behind the tree).  She wouldn't get off the fur tree skirt when I was setting it up, but as soon as the tree was up, she's tried to avoid the area!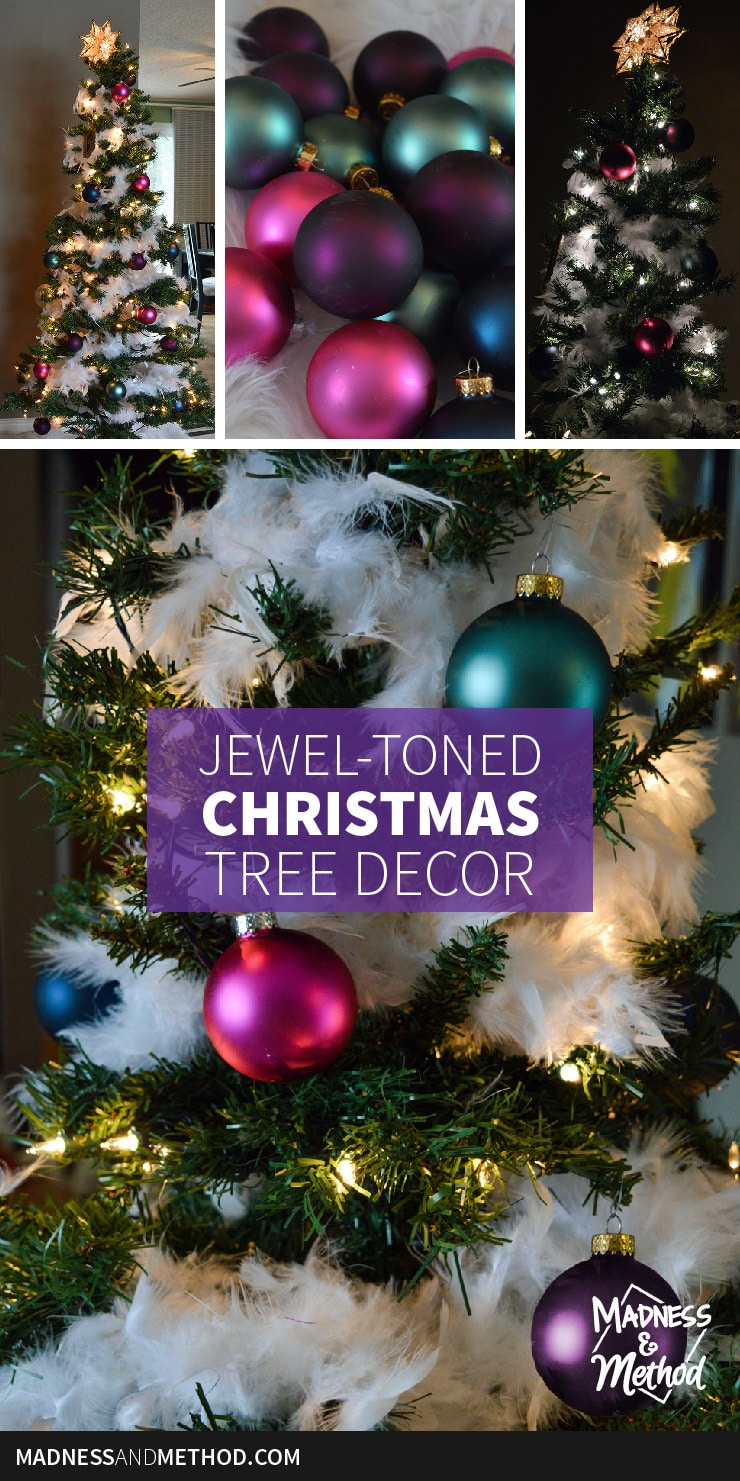 I hope you've enjoyed the tour and background of our jewel-toned Christmas tree, so please follow me on Facebook, Pinterest or Instagram if you want more!  And don't forget that you can order similar white feather boas, Christmas ball ornaments and even the similar baby handprint kit if you want a tree exactly like ours :)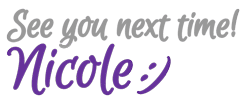 Don't forget that there are over 40 MORE trees to check out, and all the links should be showing up below:
Check out the rest of the beautiful Christmas Trees!
And a BIG thanks to Michelle from Our Crafty Mom who had to corral us all together :)