I'm back with the final room makeover for the Husband's industrial office renovation.  You can read about the storage room here, the washroom here, and the main lobby here.  Today there are just a few cosmetic updates, but the big changes have to do with the office organization itself, so let me explain!
Now, the Husband isn't really Mr. Clean and Tidy around the house, and his office was no different.  Similar to the messy storage room, there were things that didn't belong in this room, and a lot of stuff that could be donated/trashed.
I didn't get a picture, but there was also a very large drafting table in this corner (above) that took up a large portion of the room.  They never used it, so I made sure to move it out!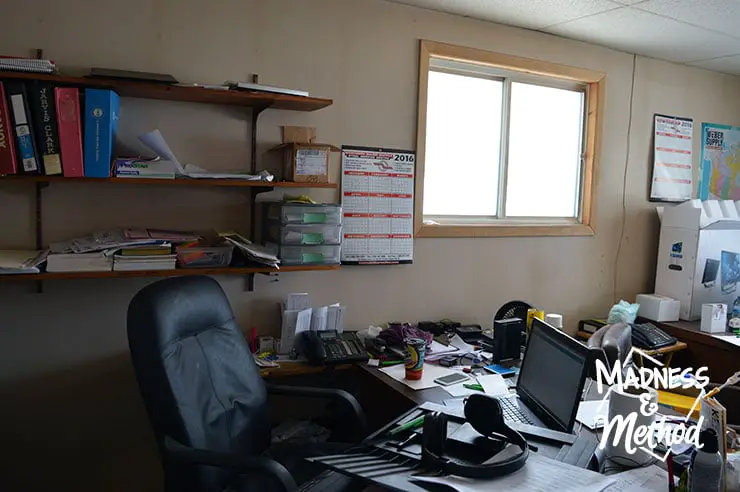 The Husband used the L-shaped desk in the corner, and I can just imagine the impression he was giving to potential customers :)
Technically the photo above isn't a true "before" because I did bring some of my stuff in there (my computer, computer box, chairs, etc.).  But it sort of gives an idea of the room layout.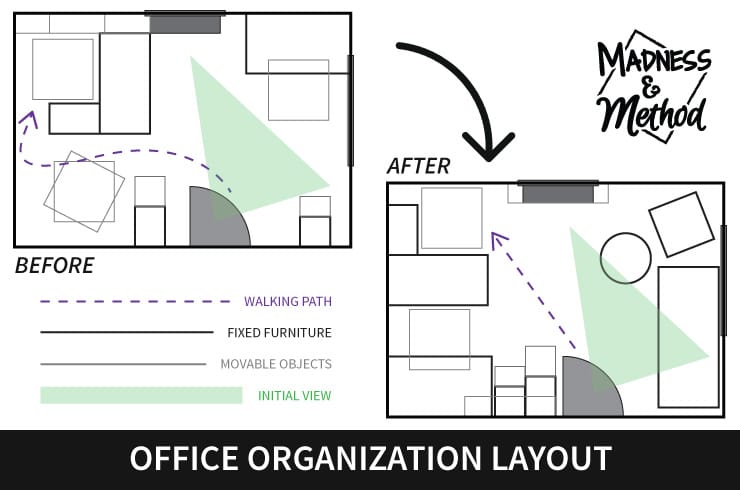 Speaking of the layout, I drew up these two diagrams to show how the room looked before, and how we did the office organization after we painted and installed new floors.
I wanted to address (and simplify) the walking path to the Husband's desk, clean up the initial view, or "door swing view" as I call it, and basically just tidy everything up.  People are inherently lazy, so having to walk around the desk to get to the chair was adding unnecessary steps that could be avoided.
About the "Door Swing View"
So, I have this weird design theory (not sure if it's an actual thing, or my own weird thoughts) but I always try and plan my room layouts based on the initial view to the room, or door swing view.  Basically, whatever you see first as you swing open the door, should be the most clean/organized/prettiest thing.  Obviously, if you're working with a door swing that you can't change, you are a bit limited.  But if you're planning on building a house, or even redesigning the layout of a room, think about the door swing view!
(A quick example:  You would want to have a bathroom vanity in the door swing view, and tuck the toilet as far past the swing as possible.  It's good in case anyone accidently walks in while you're peeing – because you have more reaction time to scream, rather than being the first thing they see haha!).
(A different example: If you want to have an accent wall in a room, you would put it on the wall facing the door swing view so it's the first thing they see.  Unless you want to hide the accent wall / have it be a surprise… like our Pink Room and Blue/Nursery Room).
Anyways!  For the initial (or door swing) view into the Husband's office, I set up a seating area so that any guests can feel comfortable.  We used the chair that was in the storage room, and the couch from our (old) office at home.  We have a little circle table setup too, but he doesn't really use it.
I rotated his L-shaped desk so that the arm was against the wall (making it easier to access) and put the other desk in front of him.  Yes, there isn't that much room for that desk – but no one really uses it, so it doesn't matter too much.
The Husband is so happy I went and helped him with the office organization :)
I can't believe how much mess was in there before, and now it's a room that people will want to sit in and relax.
And that completes the industrial office renovation we did!  I mean, I'd still like to organize all his files and his desk so that it's more optimized… but I did not have time for that before baby came.
I hope you enjoyed this post-series I did, even though it was more industrial and a bit different than the house-related things I normally share.  I'm excited to share our basement plans with you guys next week, so make sure to stop back in and visit!