Whoop whoop the basement is done!  Well, it's pretty much as done as it's going to be, and I'm okay with that since it's 10 hundred times better :)  Our basement is no longer an embarrassing storage zone, and there is SO much room to run around now.  This was my 10th One Room Challenge, and I'm happy to mark such a big space off the list.  Ready to see our refreshed and cleaned basement reveal!?
– Note: This post contains affiliate links. See more information about affiliates here. –
Haven't heard about the One Room Challenge?  The ORC is a twice-yearly event where 20 featured designers (and a bunch of linking participants) makeover a space in six weeks (8 this round because of COVID).
I took on a large project this time breadth wise, but not so much depth wise.  Know what I mean?  Like, there were a lot of rooms to cover, but I didn't go crazy wild in each space.  There was plenty of organizing and cleaning though!  (And floor painting, ha… but we'll get into that…).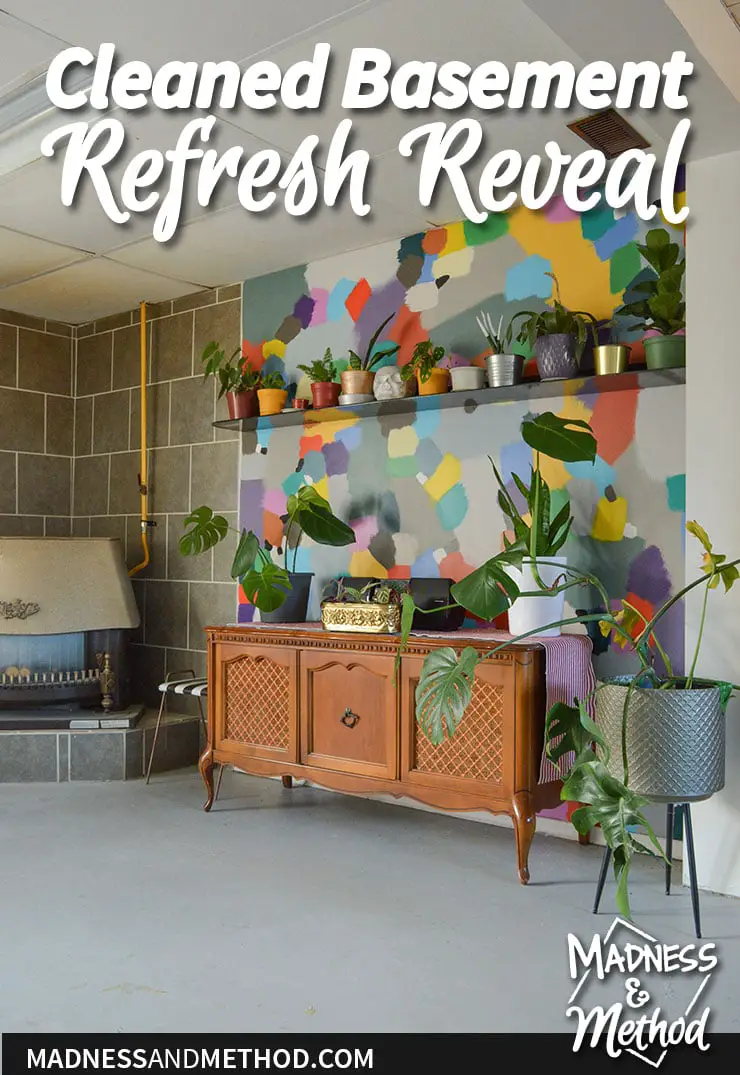 If you don't know what I'm talking about, let me re-introduce myself :) My name is Nicole and I live in Northern Ontario Canada.  For this Fall One Room Challenge, I tackled my entire raised ranch basement.  It started out like this, essentially a storage zone for miscellaneous cottage stuff.  In the second week, I removed old vinyl flooring, the third week I painted the entry and the fourth week I removed the carpet in the bedroom.  Then I built a wall-mounted headboard and some painted floors, and in the 6th week, I finished some nightstands.  Once all the good-looking stuff was done, I could finally organize the basement!
Here are some before photos of the living room: 


There are a bunch more in the first week post, and see week 2 for a floorplan of the space.
Since there were so many rooms I covered this time… I do have a LOT of photos.  Here are some links that you can click to snap to that section automatically: Entry, Living Room, Bathroom, Guest Bedroom, Laundry/Workout Room, Living Room Before/Afters & Recap Video, Storage Details, Plant Details and more about the One Room Challenge.
Ready to start!?
(OH, and I also have a video here that recaps everything.  You know, if you wanted to skip the blah blah).  It's embedded below too :)
Cleaned Basement Entry / Mural
I painted the upstairs entry (and going to the basement) of our raised ranch house in week 3.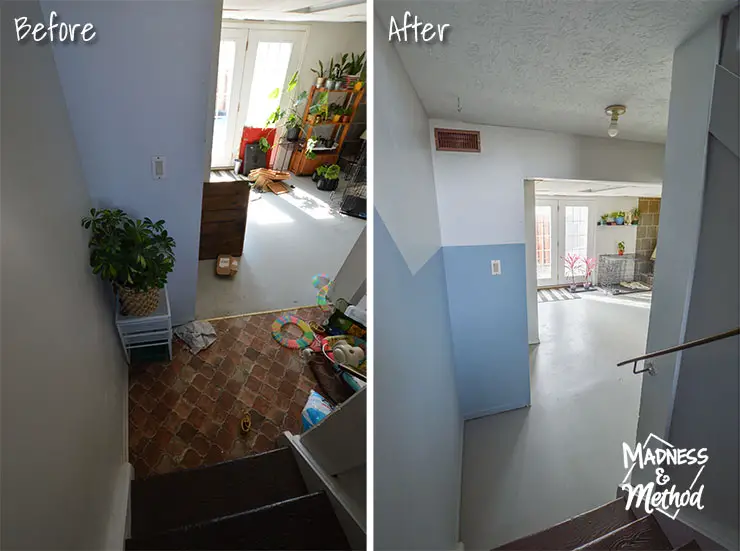 This space ties in with our upstairs living room, and I love the angles.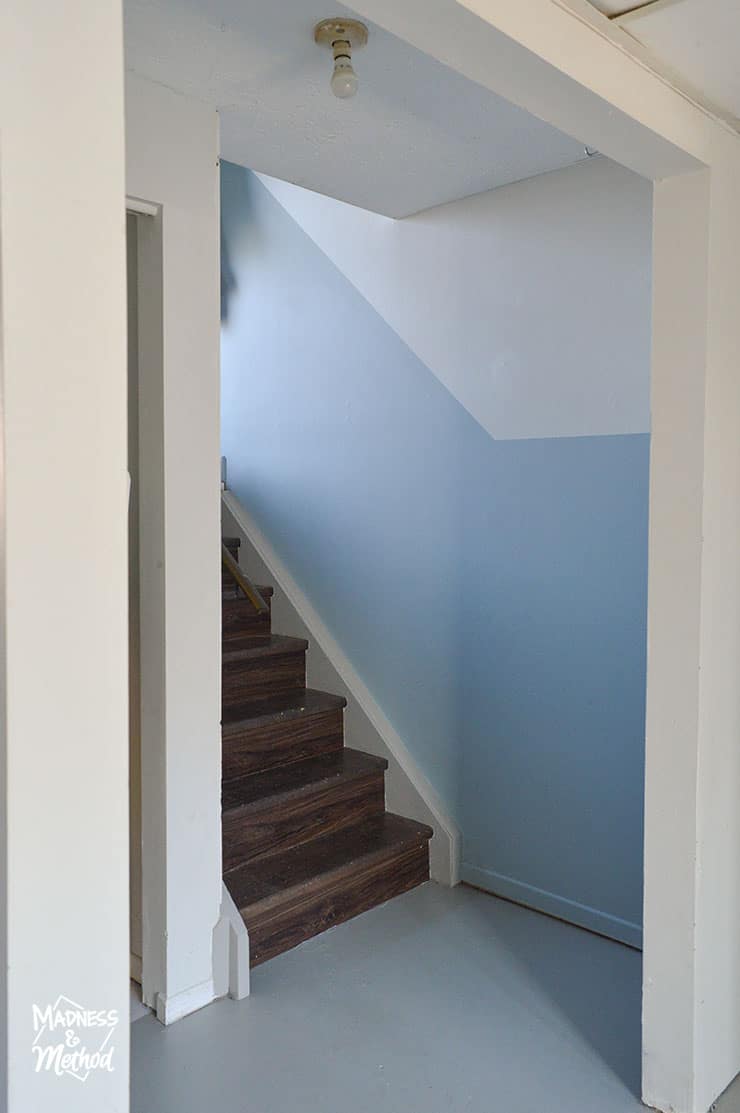 The other big change was taking out the old vinyl sheet and painting the floor to match the rest of the basement.  The Husband forgot we even had that weird floor until he saw these photos…
(But ya, now I can see the dirt/dog hair and sweep regularly, ha).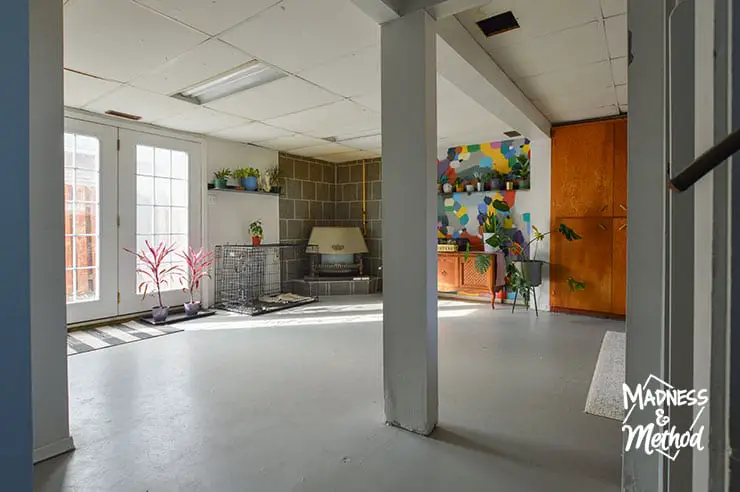 From the entry, you can see the newly cleaned and reorganized living space!  We are SO fortunate to have a walkout basement here.  The double patio doors bring in a lot of light for my growing plant collection.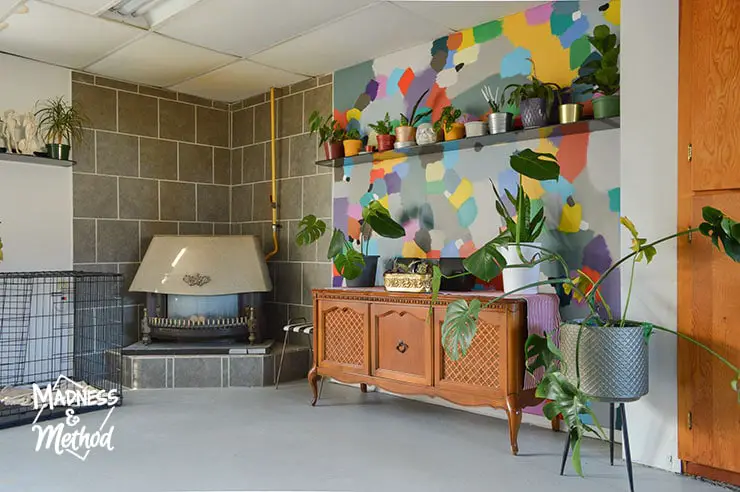 I walked down here one day and just knew that I had to paint a fun mural on this wall.  It's the first thing you see, and the boring white wall wasn't doing the record cabinet any favours.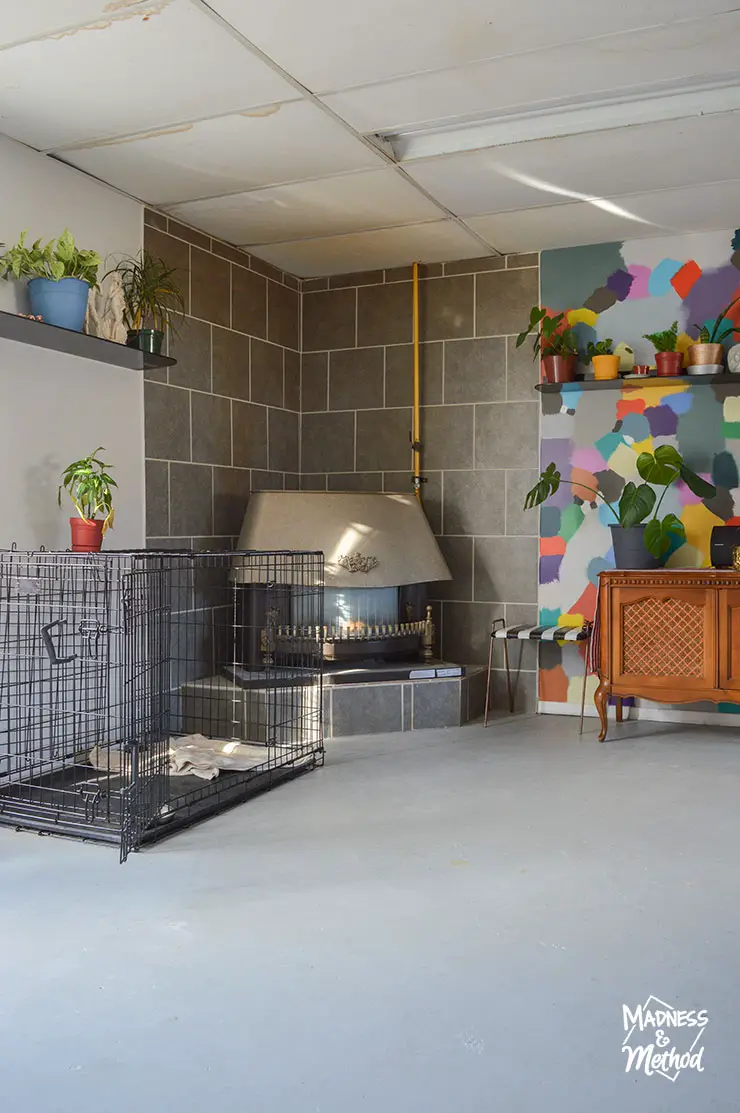 We've moved the dog crate a couple of times since living here.  I settled on this location (I think it's where we first had it), and moved my plants up to new wall-mounted shelves.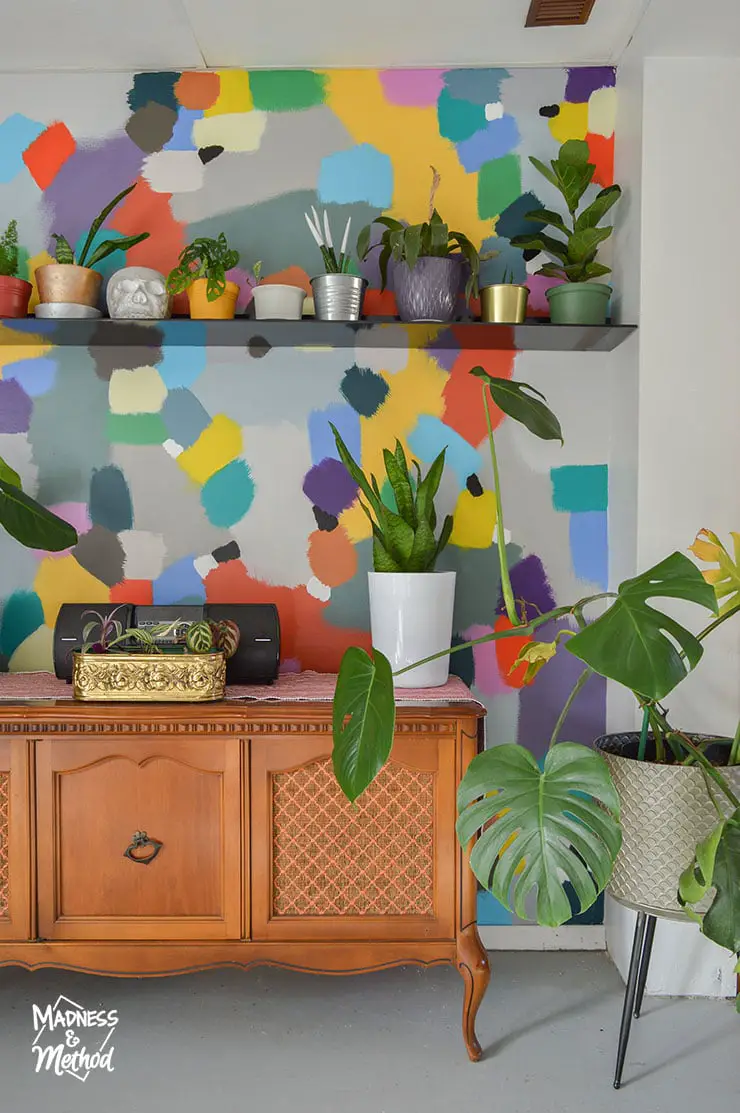 I designed them to fit the space perfectly, and the Husband just came through this weekend.  We'll see how the plants like the new location :)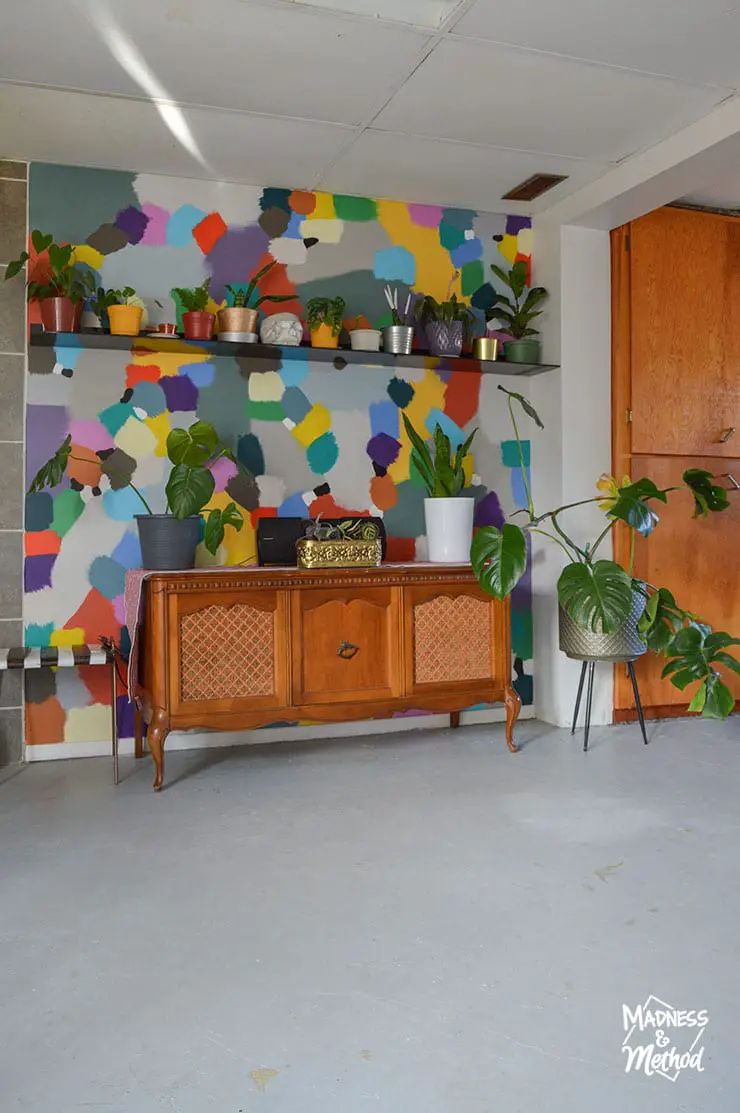 I painted the mural over the last few weeks using all the wall paint colours I had.  Only one new colour was purchased, but it's for our cottage front door.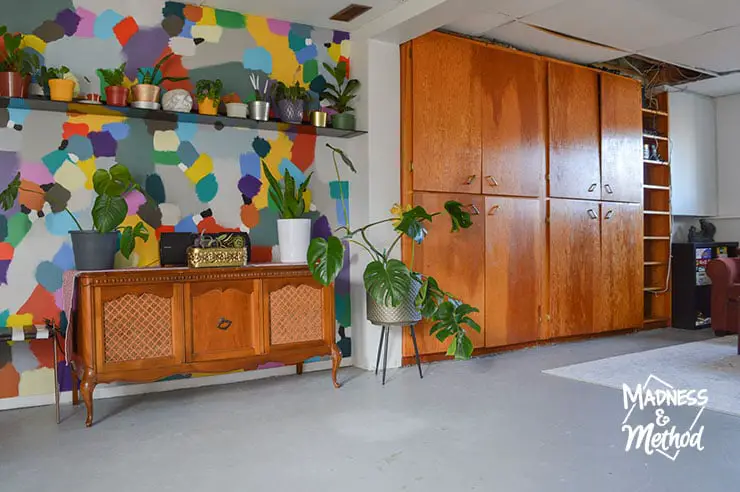 I didn't think my record cabinet matched the built-ins, but they're pretty close!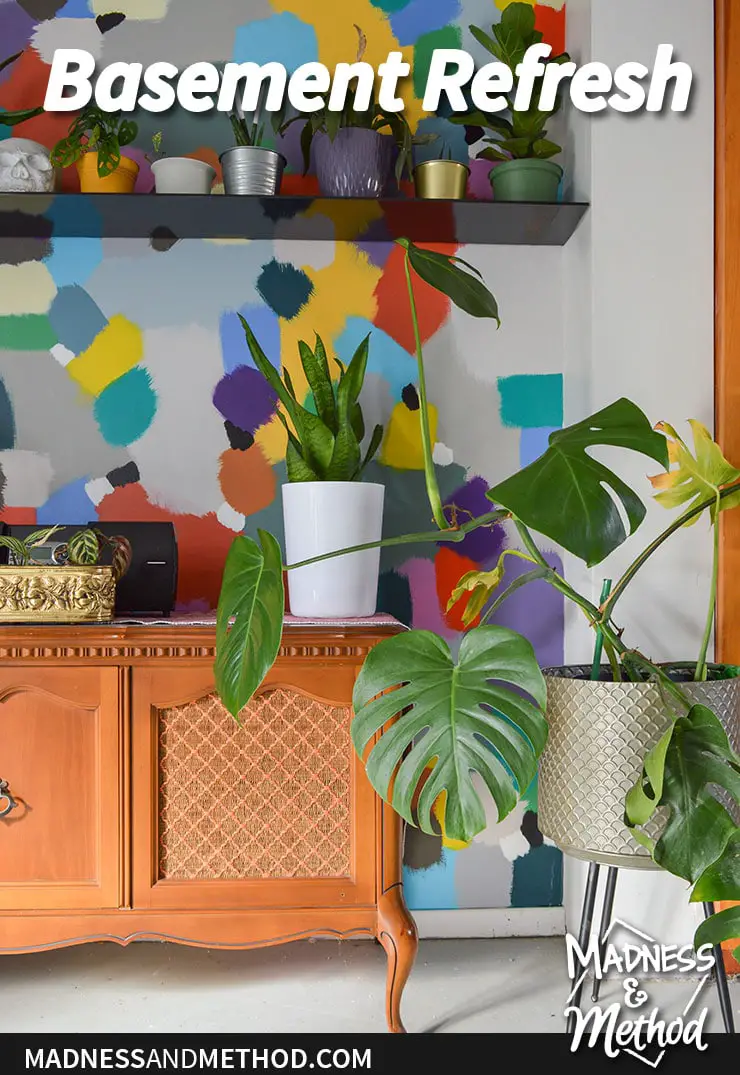 Cleaned Basement Living Room
Moving into the living room, I didn't do too much.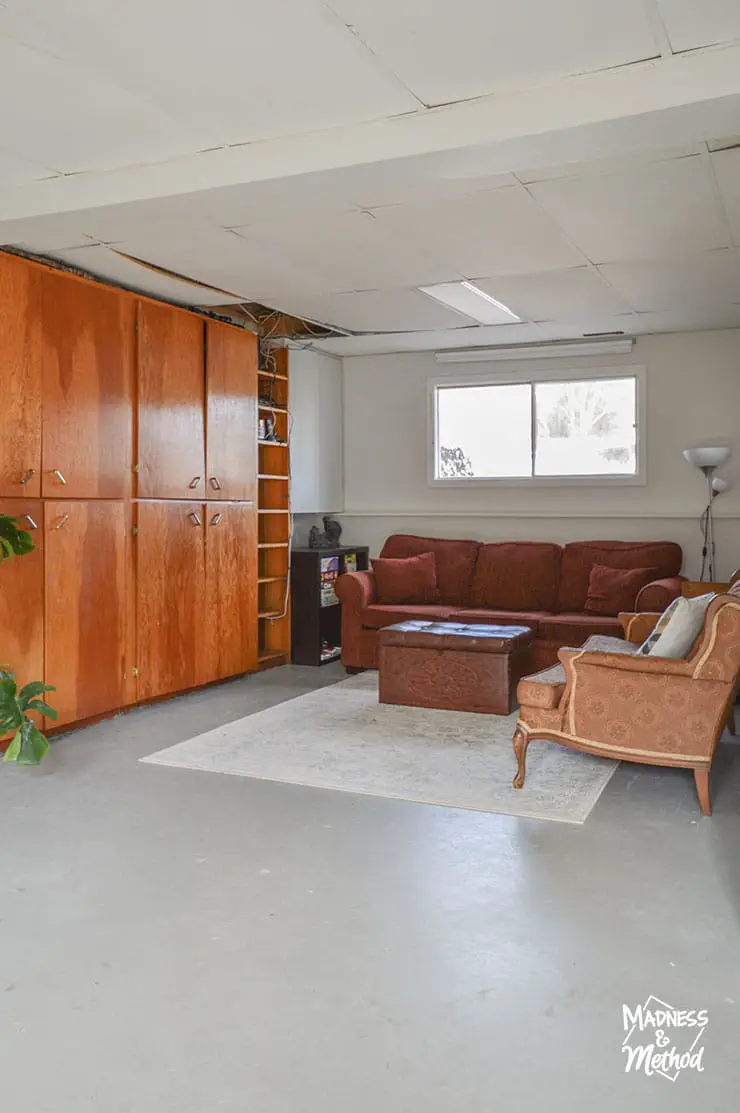 Unless you count taking out all the junk stuff that accumulated.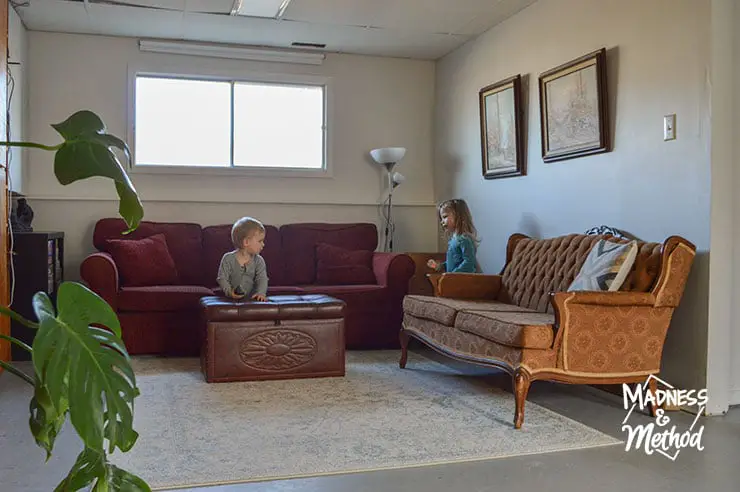 I did swap the sofa locations, hung some art and blinds.
In this corner, we used to have boxes of lights.  I replaced them with the Ikea Kallax that was upstairs, and moved our board games here.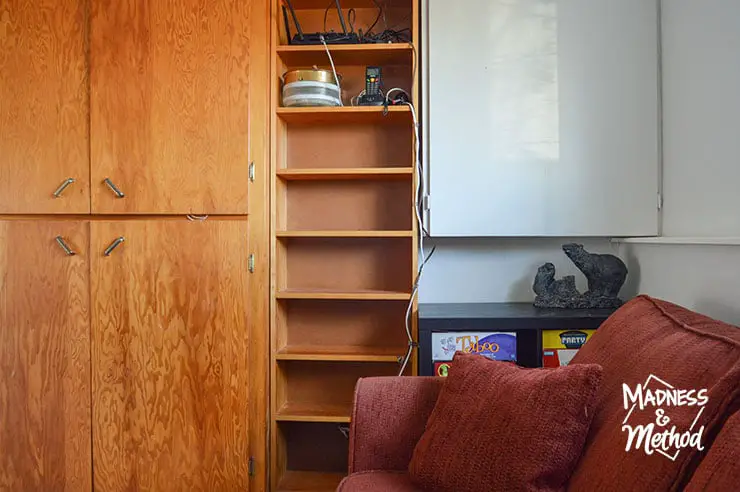 Our house came with these built-in shelves, but I find the open ones too narrow/short to really hold things.  (I do have a peek into the closed ones below).  Just the wifi and the light I wanted the Husband to install…
On Instagram Stories, I did a poll asking where I should hang these paintings.  The majority voted for this wall (as opposed to flanking the window).  If you scroll alllll the way down, I also have some photos of the small sofa in a different spot.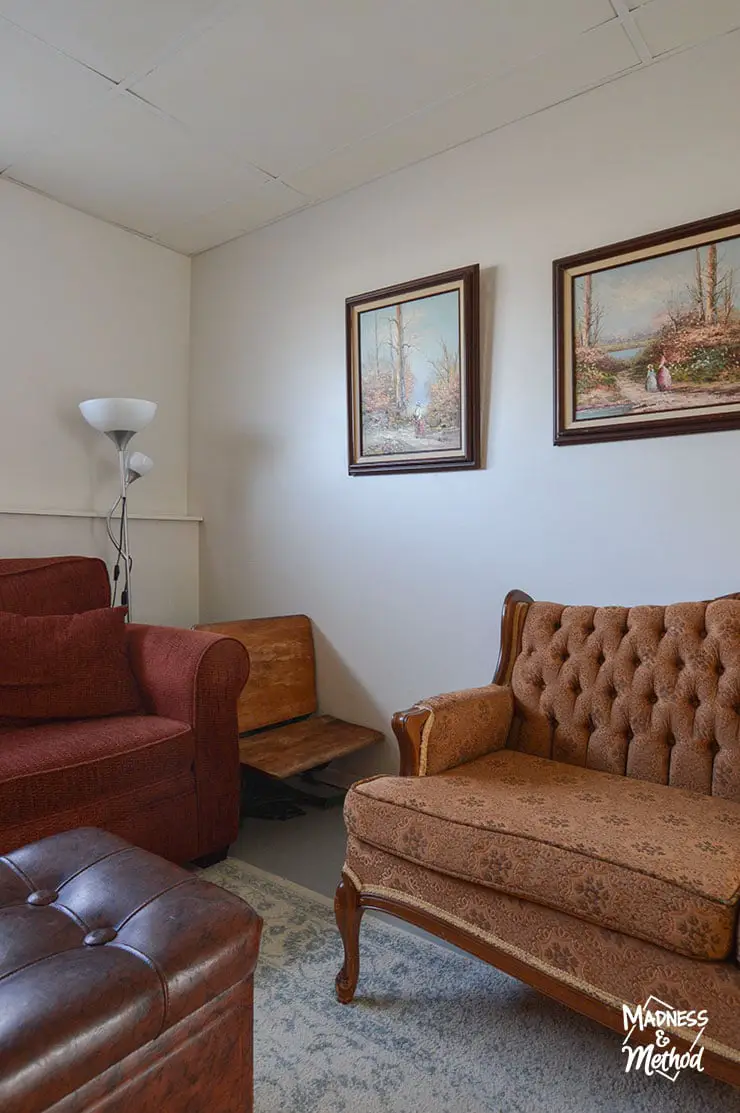 In the corner, we have our antique school desk.  It's strategically wedged next to the sofa since it tips over a lot.  We can also use it like a side table, so that's convenient.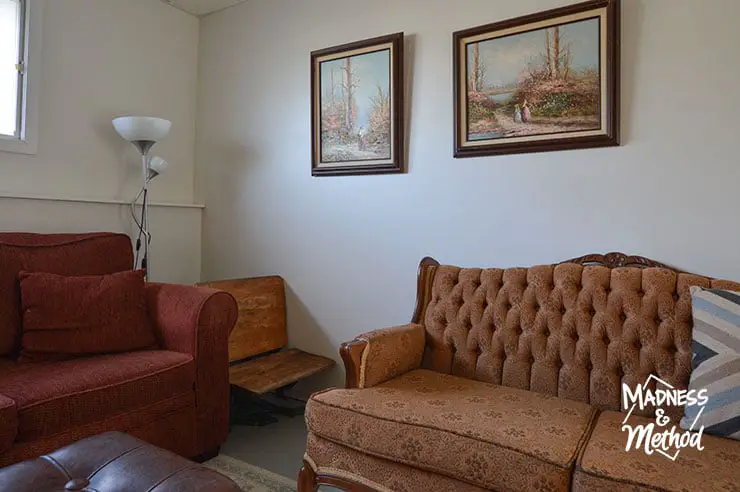 I could have added wood underneath to make it more stable, but this is good for now.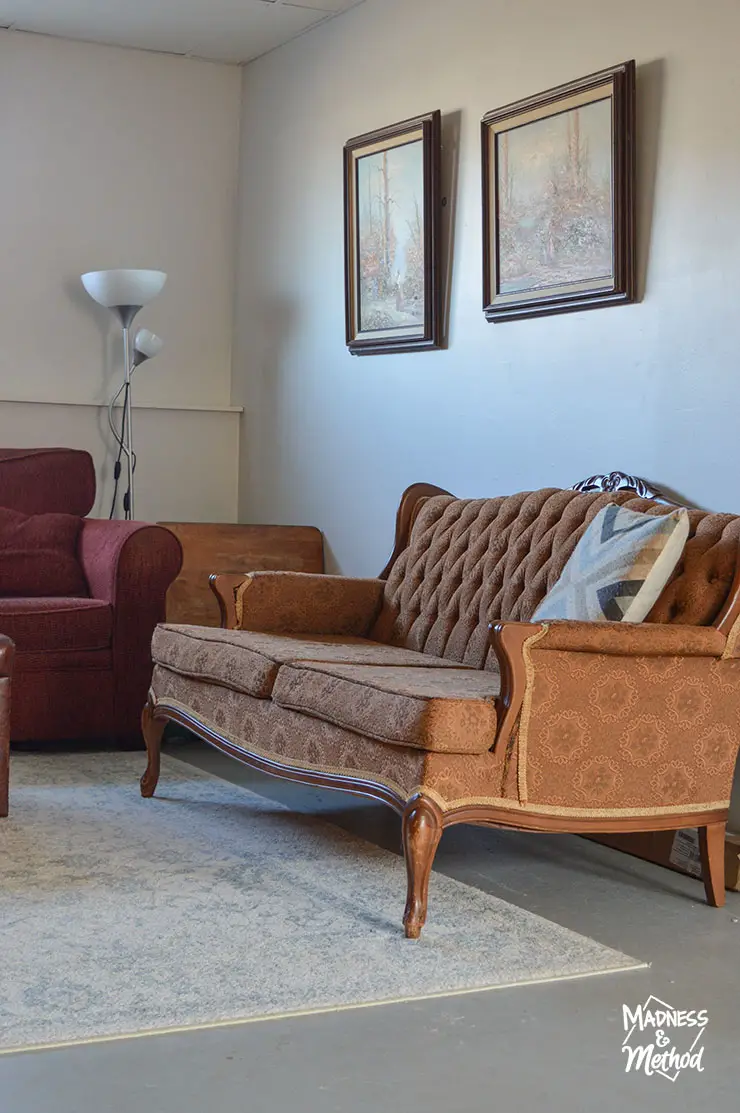 Our basement living room is a mismatch of furniture/stuff, but that's okay for now.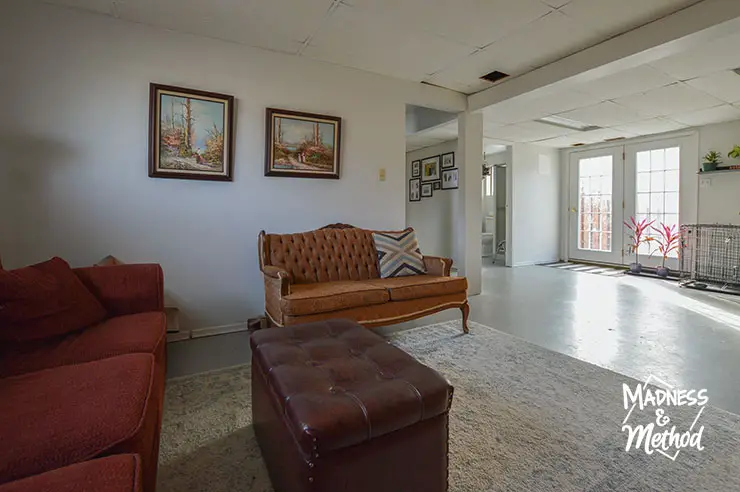 For example, that storage ottoman is new.  The people who I bought the green lamps from (in the guest bedroom) were moving out and gave it to me.  It's where I hid all the random kid knickknacks :)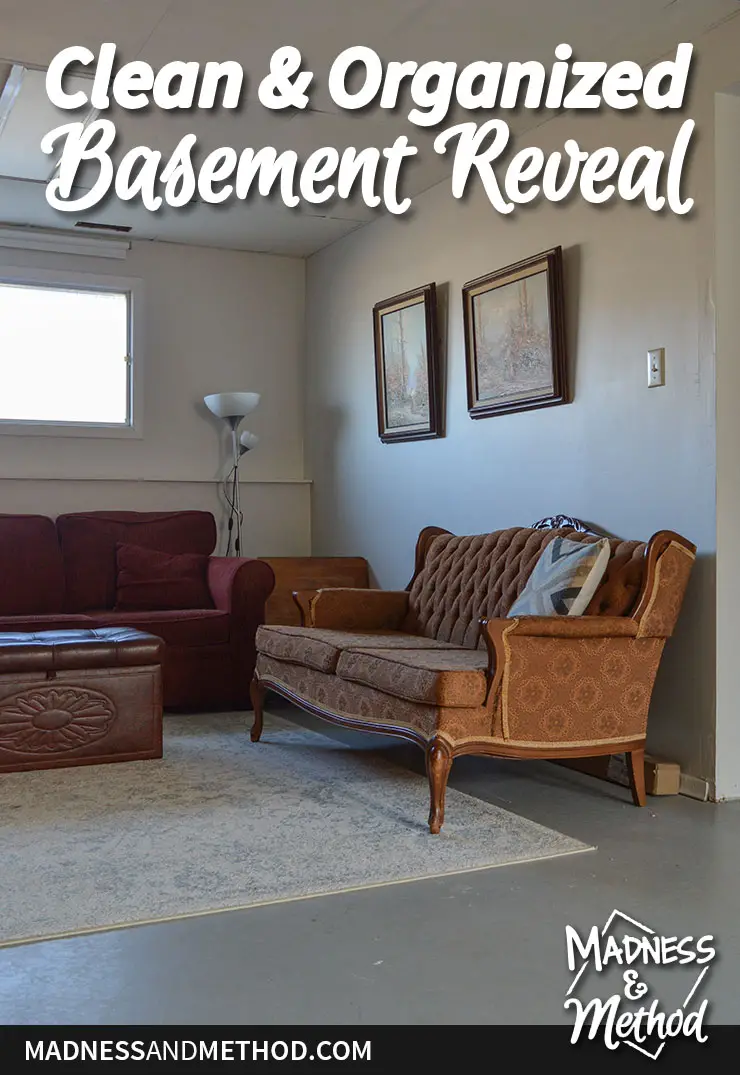 Cleaned Basement Bathroom
Moving along, we have the other half of our basement to explore.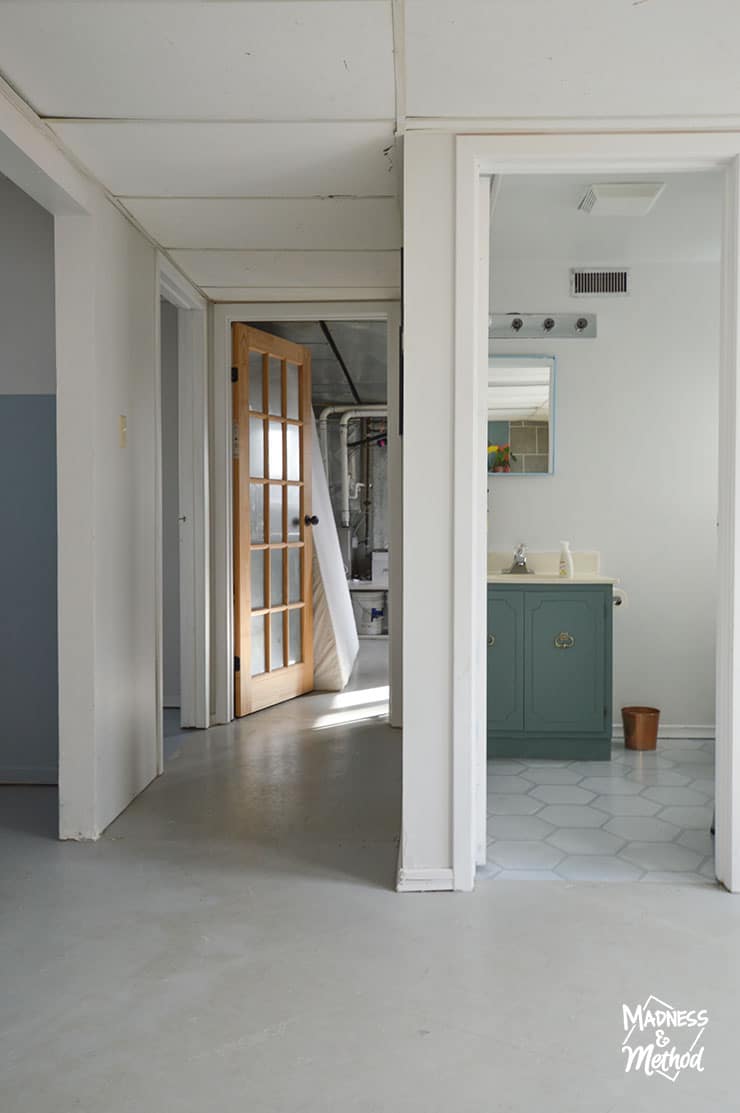 The bathroom was real grungy, but is looking SO cute now.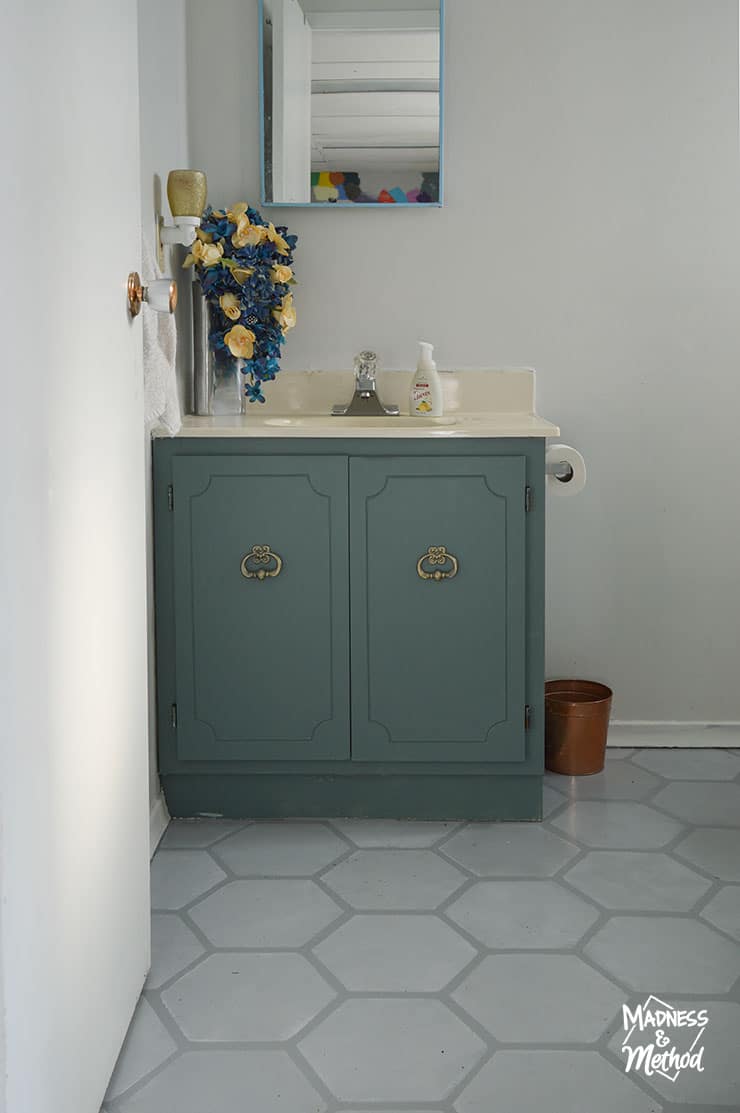 Let's be honest, this vanity is super banged up (and the sink drains slowly), but it looks a lot better now.  That's my old wedding bouquet too.  I noticed that the flowers were yellowing and I debated tossing it, but it looks okay in here.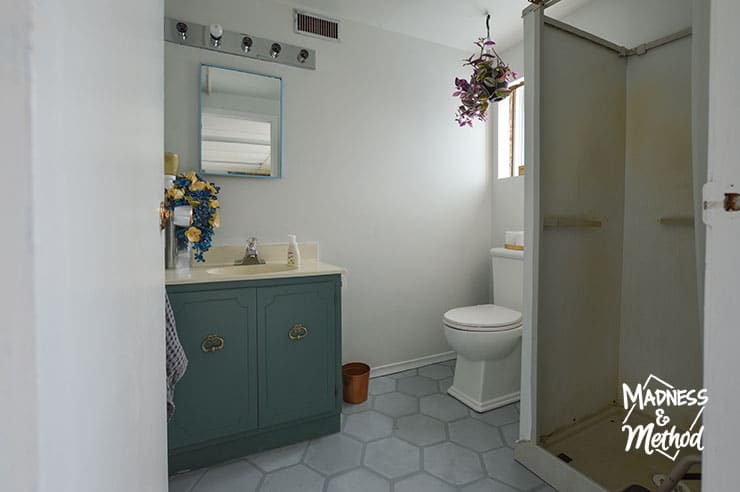 The floors have improved a bunch with just paint.  If you don't remember/know, they used to be green vinyl tiles that I removed.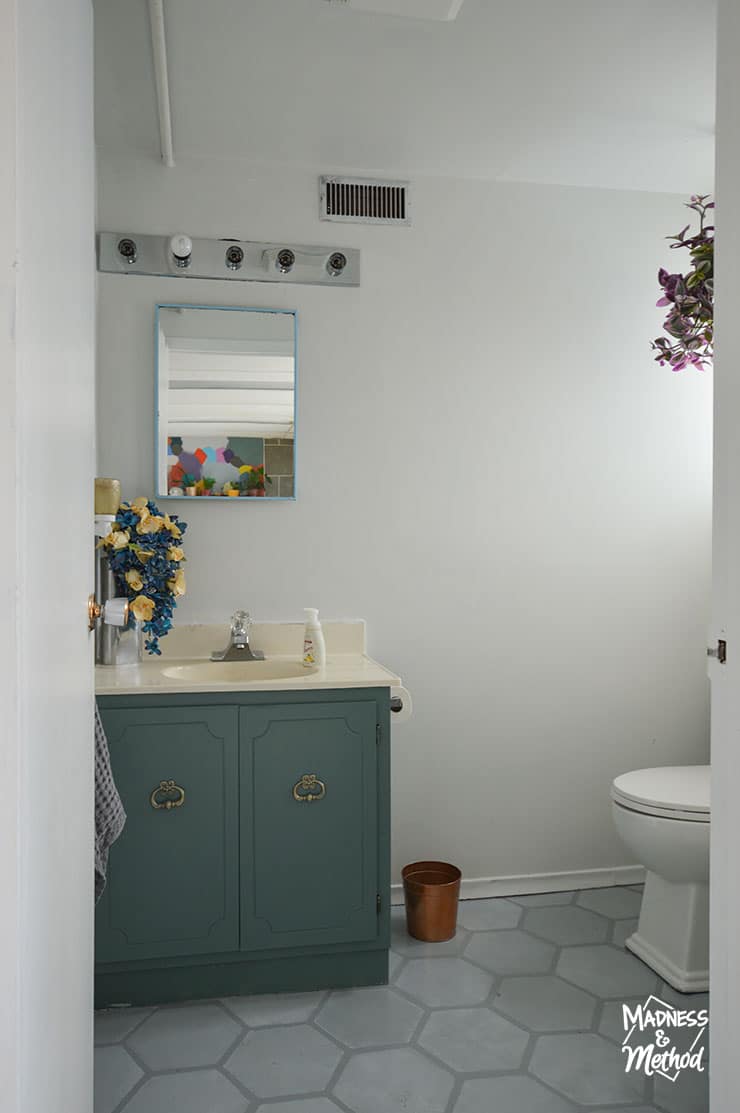 Just ignore the vanity light with one bulb, ha :)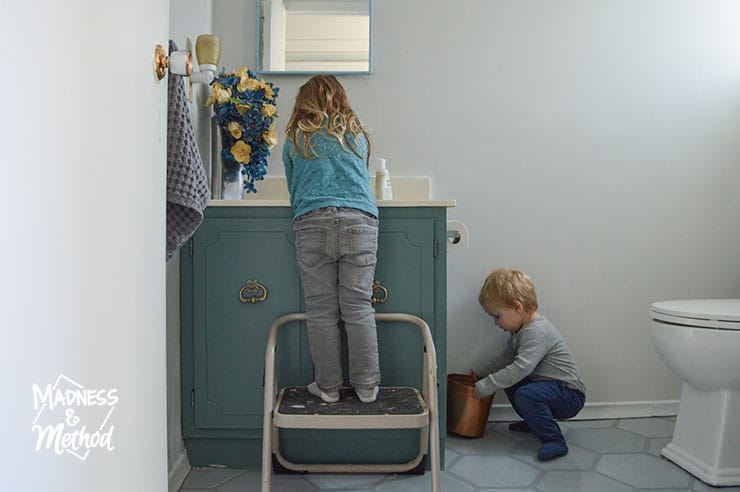 Here's a little action shot!  The two little ones were hanging out while I took photos, so here's one of the bajillions they were in.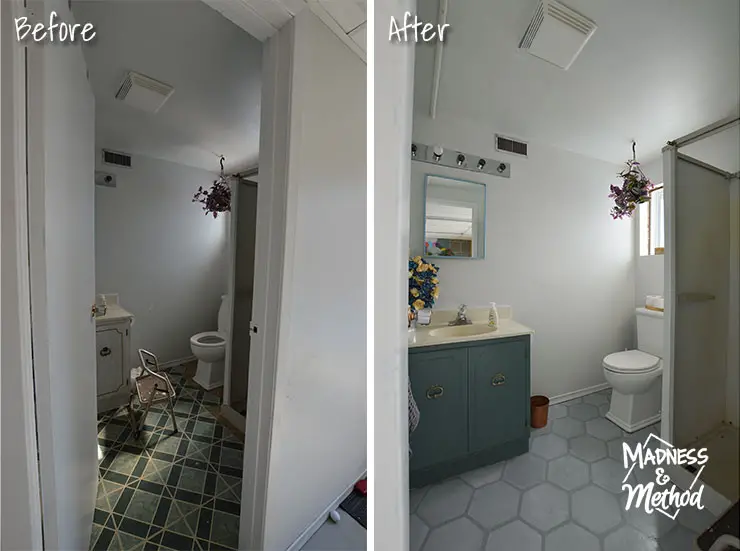 And a little before and after too.  I'm not a white wall person, and there are many things that need to be fixed in this bathroom (ie: gut job).  But, until we figure out what we want to do, this will be perfect.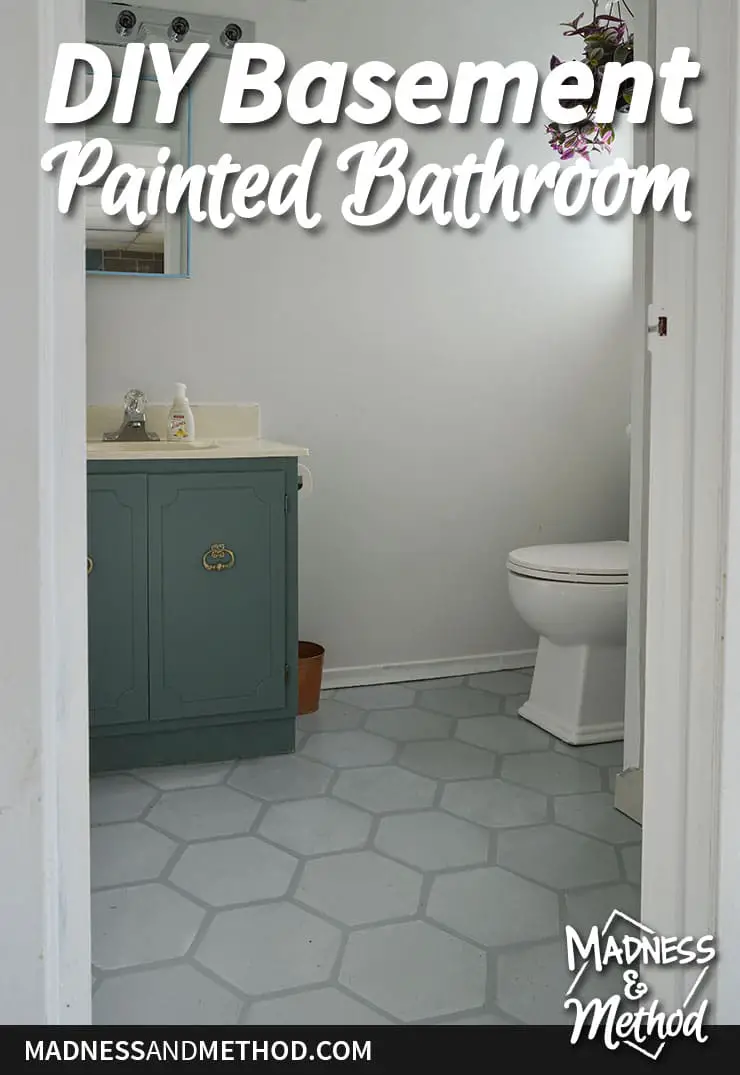 From the bathroom, we go down the hall into the guest bedroom.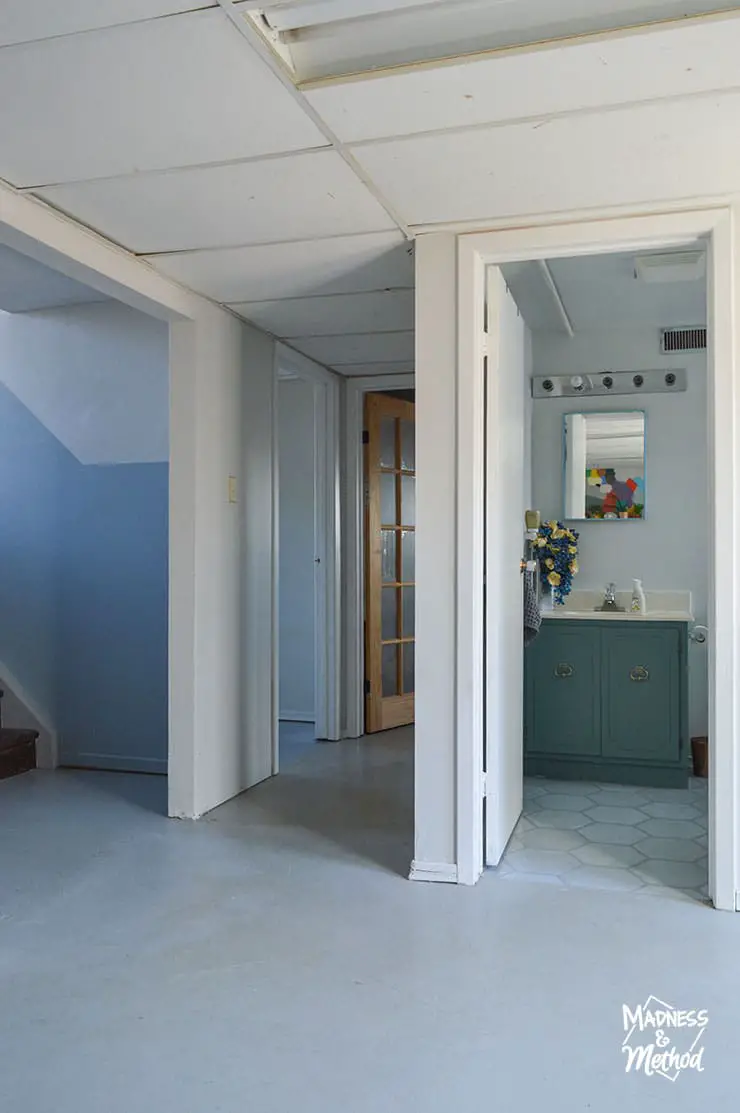 Cleaned Guest Bedroom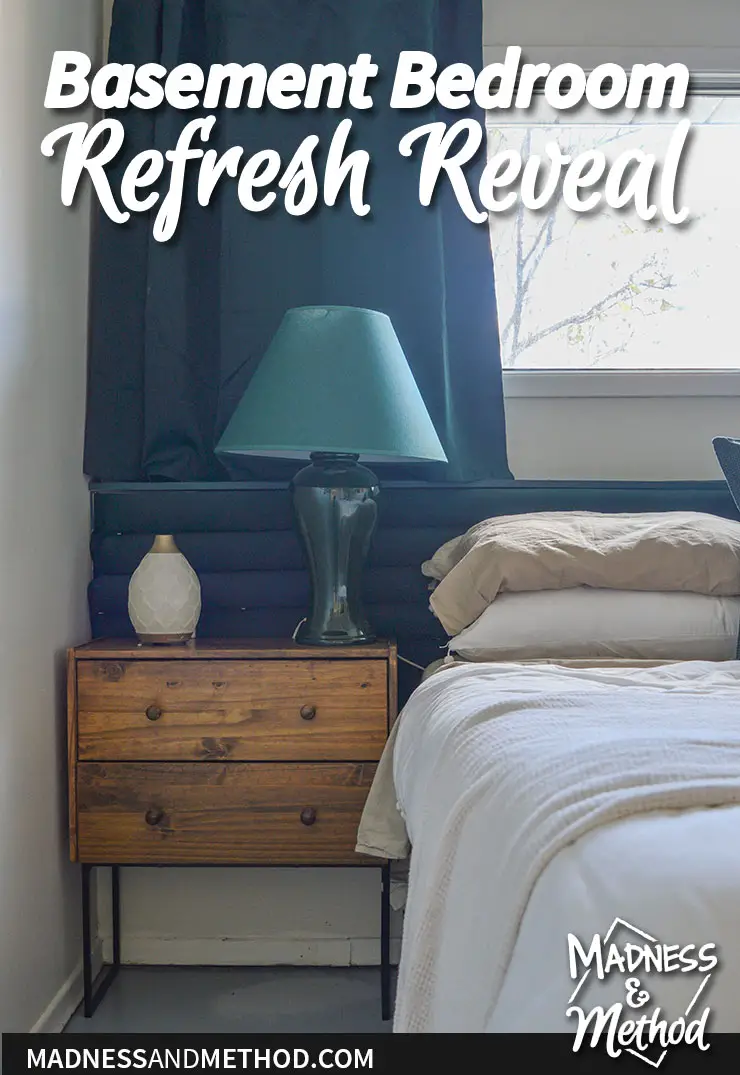 Moving on, we have our very much improved guest bedroom.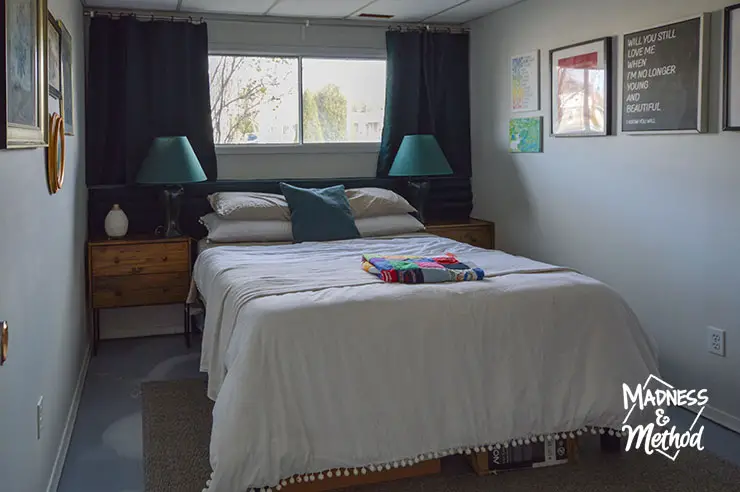 I can't wait for my parents to see their new room!  They've definitely been our most visited guests.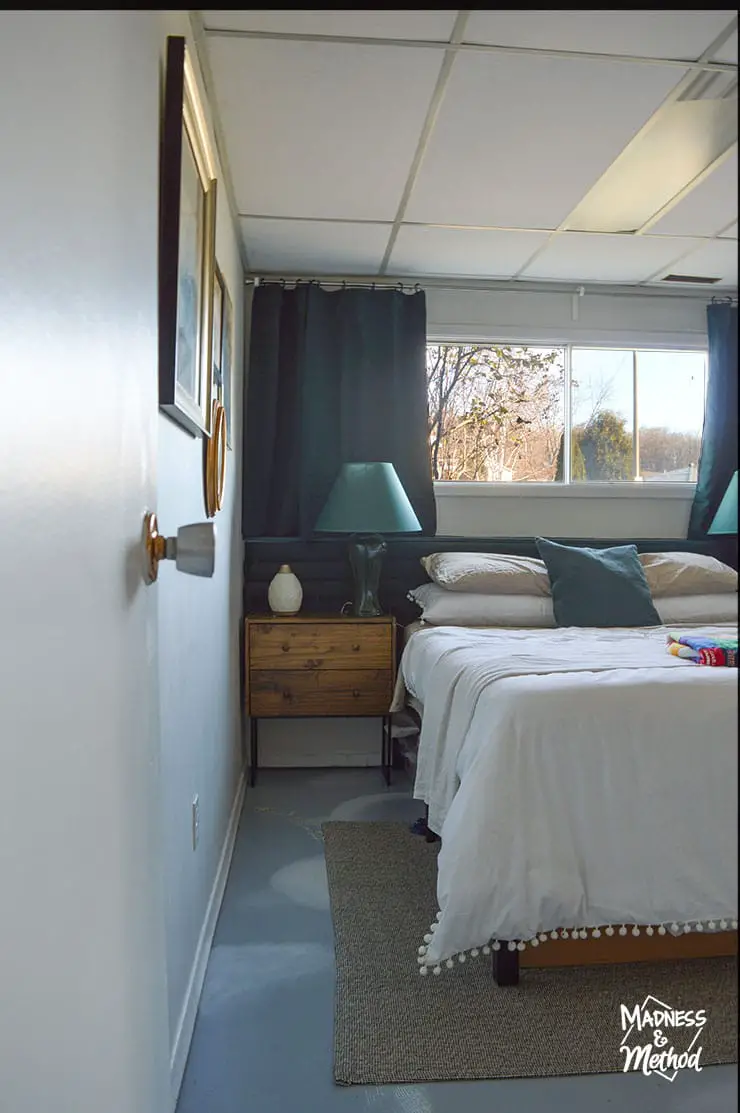 This room was so dark and dreary before.  Or should I say, outdated and messy!?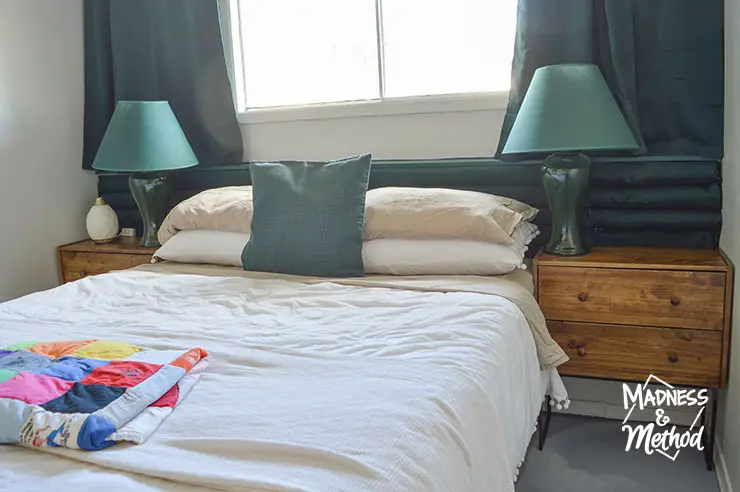 I even splurged and bought two more pillows.  I know I know, host of the year.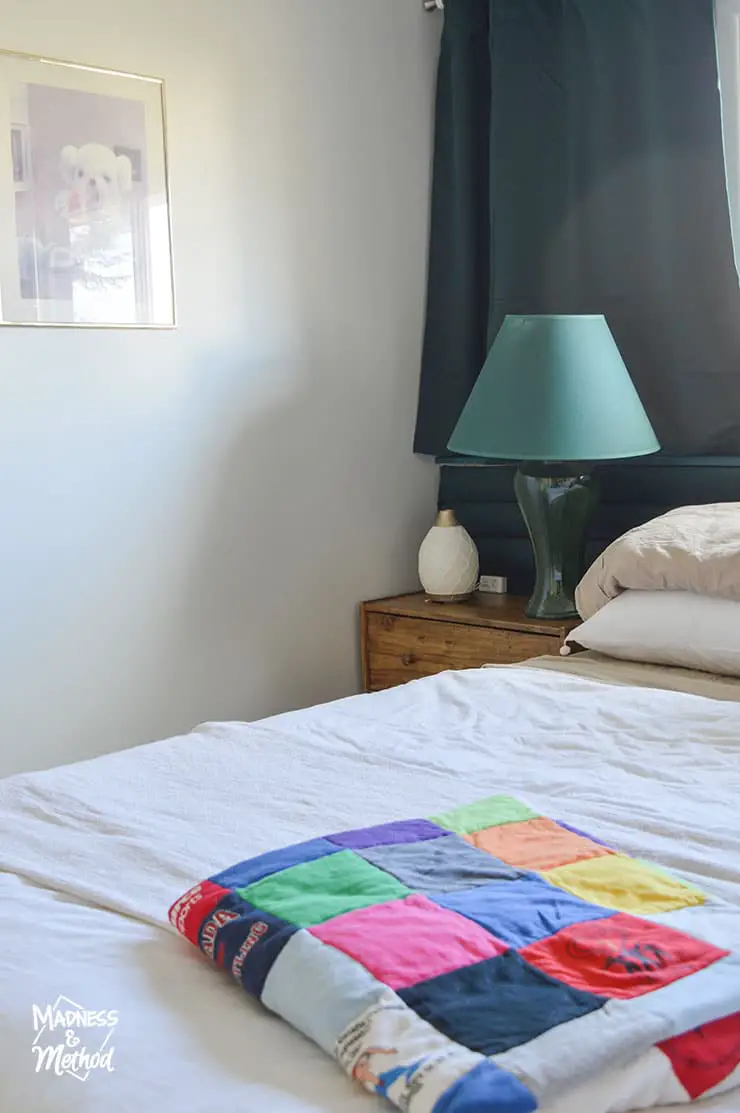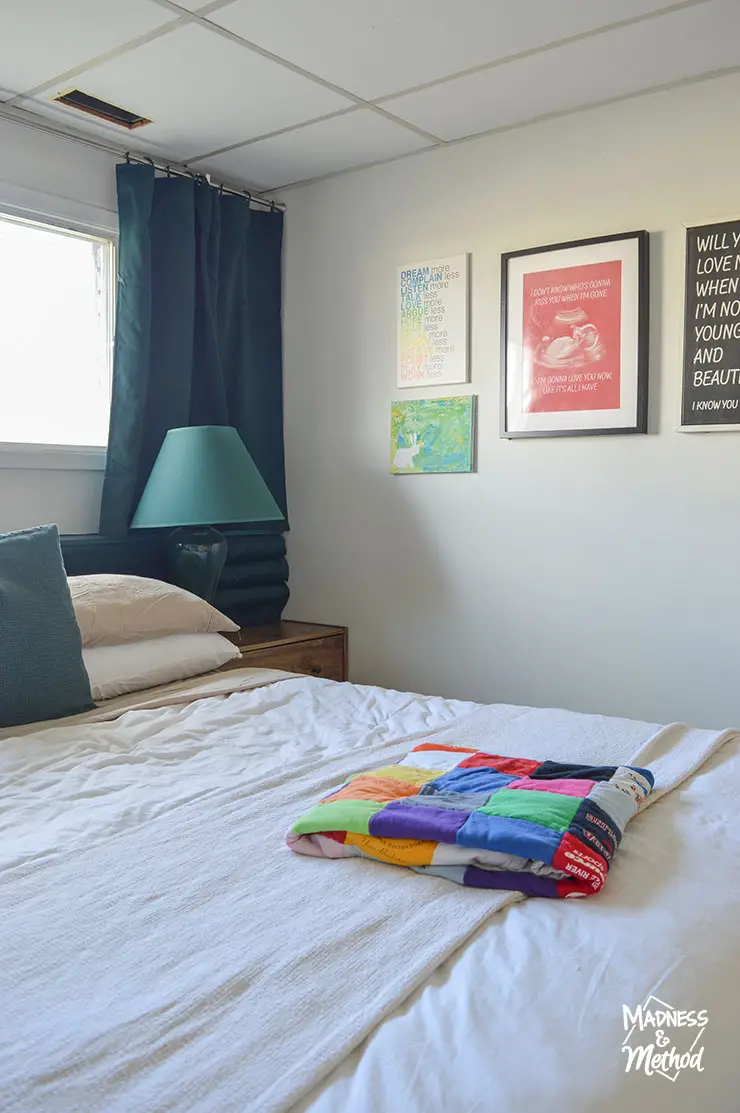 Haha, I'm sure my parents will be surprised they each have lamps… with nightstands that aren't covered with stuff!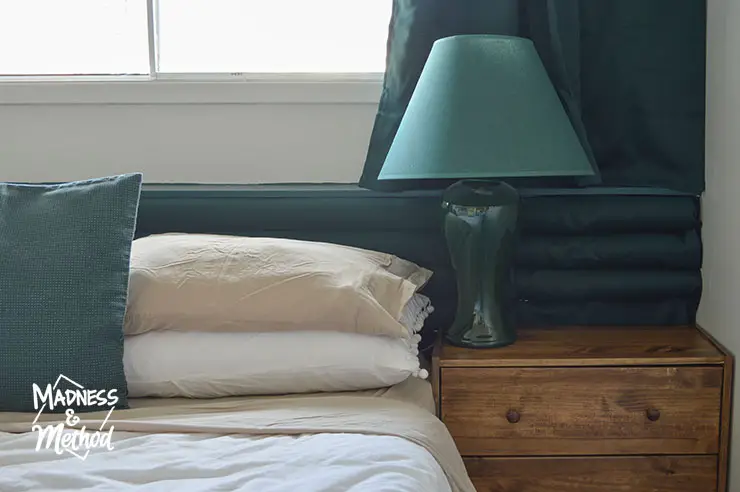 I debated between these large green lamps and smaller copper ones.  In the end, I really liked the green on green look, so the other ones will go to our cottage.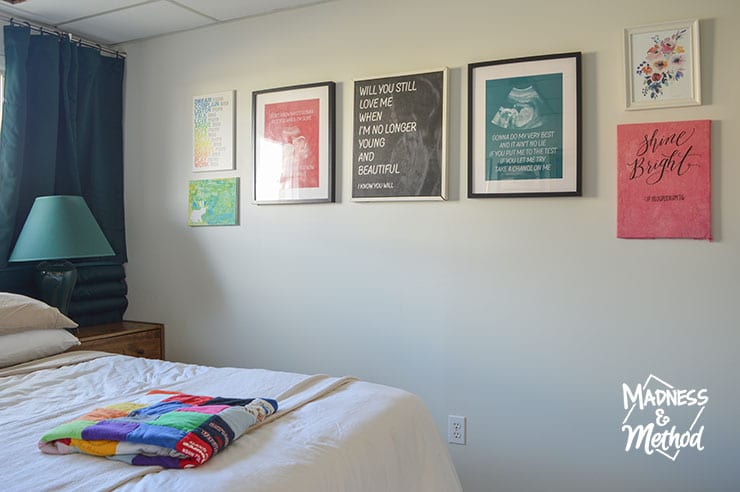 One thing I really wanted to do with this basement refresh was find a place for all my art.  I created a couple of gallery walls in the guest bedroom, and this one is kind of kid themed.
The above image shows a fun little animation of the new curtains in action.  I bought a pair of curtains, had them hemmed, then used the rest to make a headboard.
(I did measure wrong and they were too short for a bit… but I fixed that by hanging them from clips).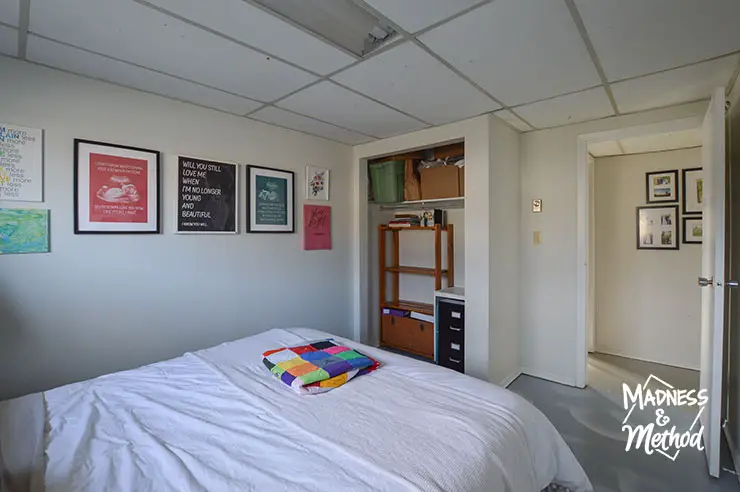 The almost-empty closed has got to be one of the biggest changes in this room.  The stuff was literally bursting out before, so this setup is much better.  Most of my things went under the new bedframe.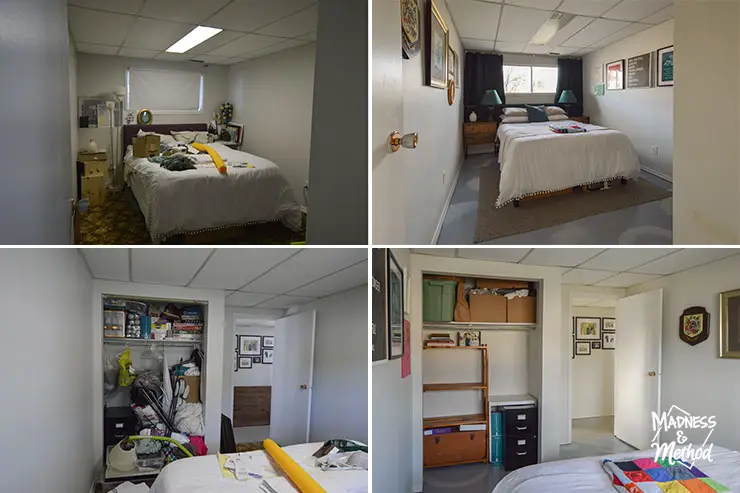 Here's a little before and after to show what I mean :)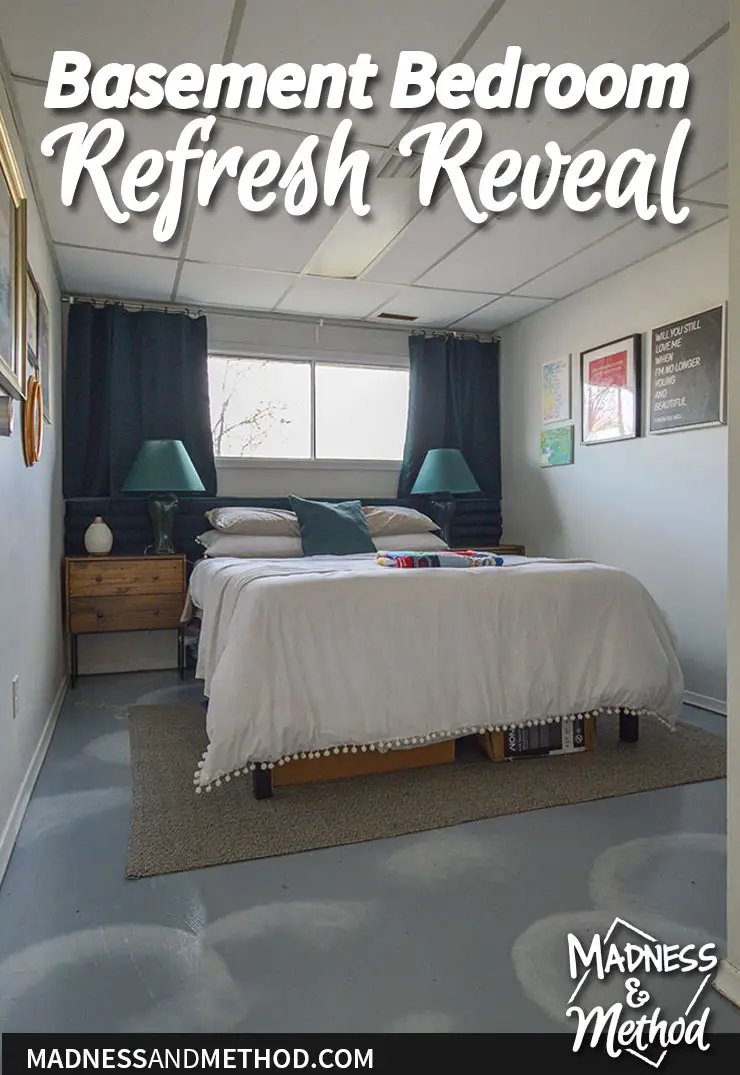 SO much better, right!?  (Oh, and there are more details on the cloud floors here).
Laundry/Workout Room
Now, let's move on to the less-than-perfect side of the basement.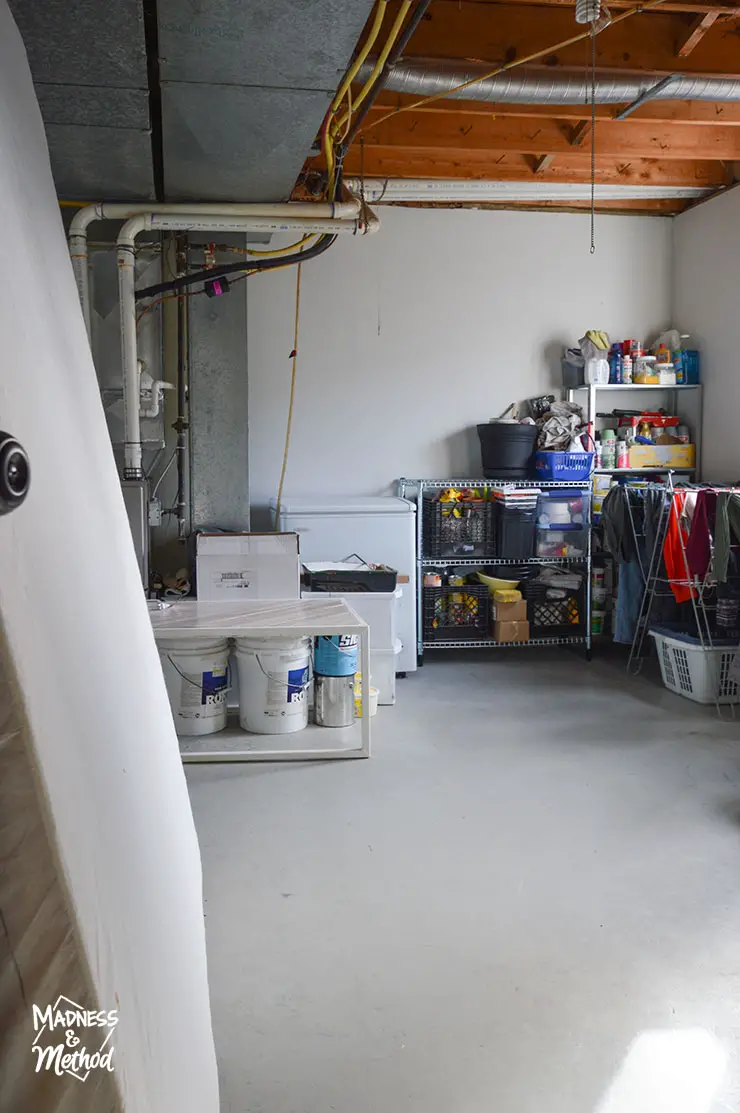 Don't get me wrong, the laundry room organization has improved.  Actually, it got really bad in the middle of the One Room Challenge, but we can see the floors again :)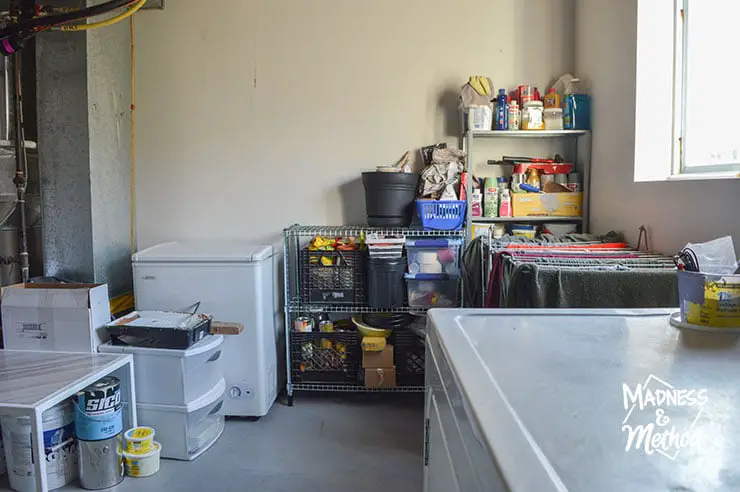 Similarly speaking, I also cleared off the top of the dryer.  It was my in-progress-project-holding-zone for a long time.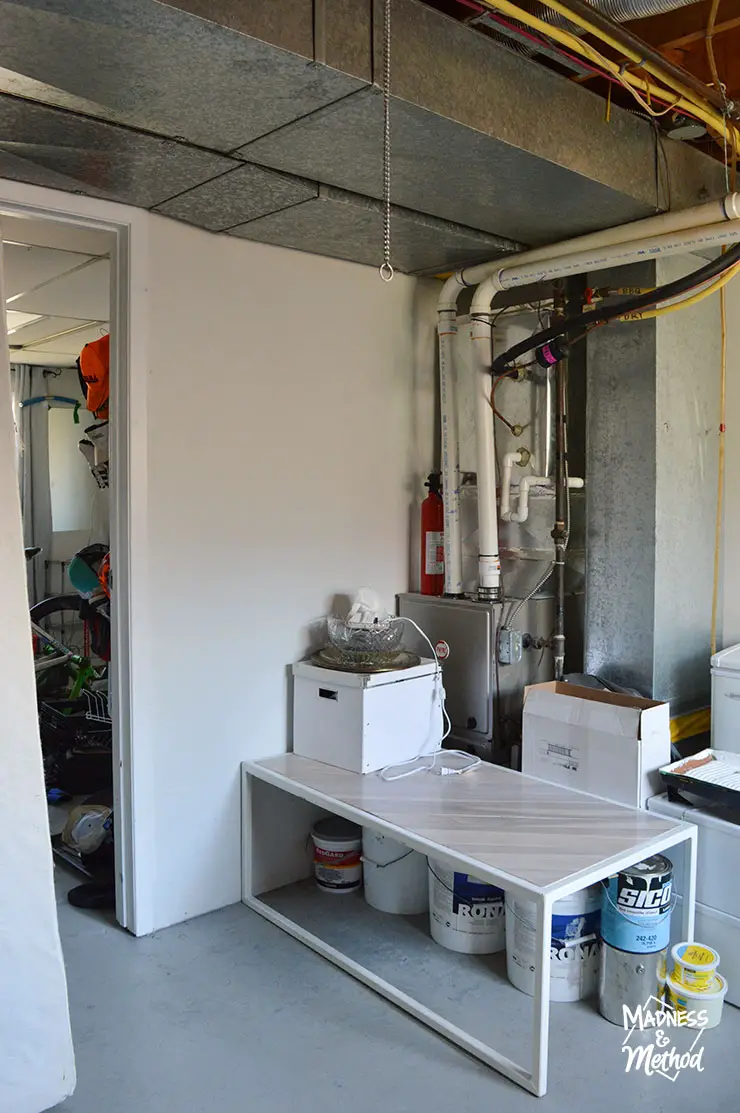 I didn't attempt to fit the metal and wood coffee table into the stairs closet.  Either way, it's covering some of the big paint buckets that I want to bring to the cottage.  (Or mix together, then bring).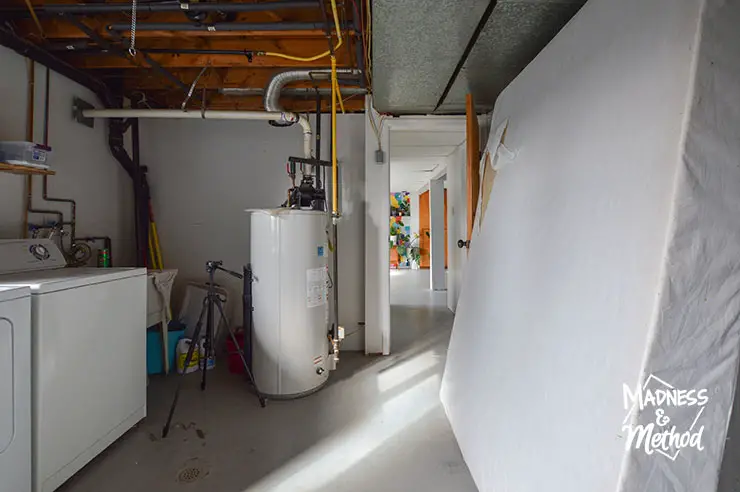 The elephant in the room is definitely the old box spring.  I didn't really have a good place for it, and didn't want to move it to the garage.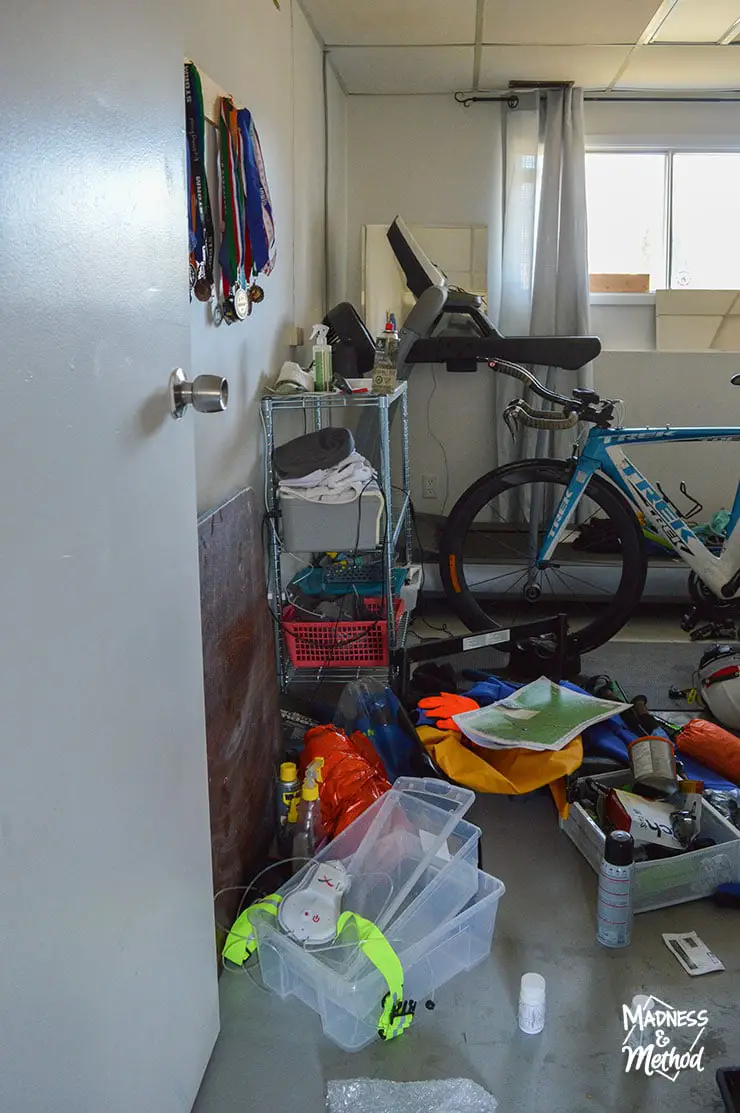 It does encroach a bit into the doorway of the workout room.  But considering that the Husband hasn't been in here in weeks, I don't think he minds.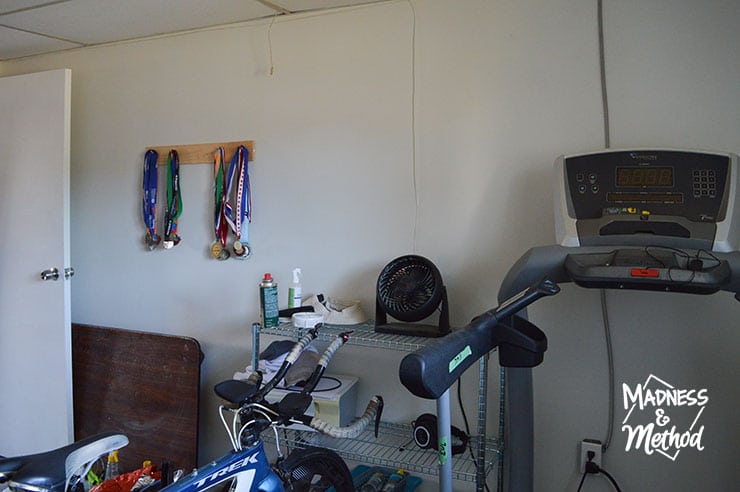 I did reconfigure this room at the start of the challenge.  The next part was supposed to be a certain someone going through their things to organize it further.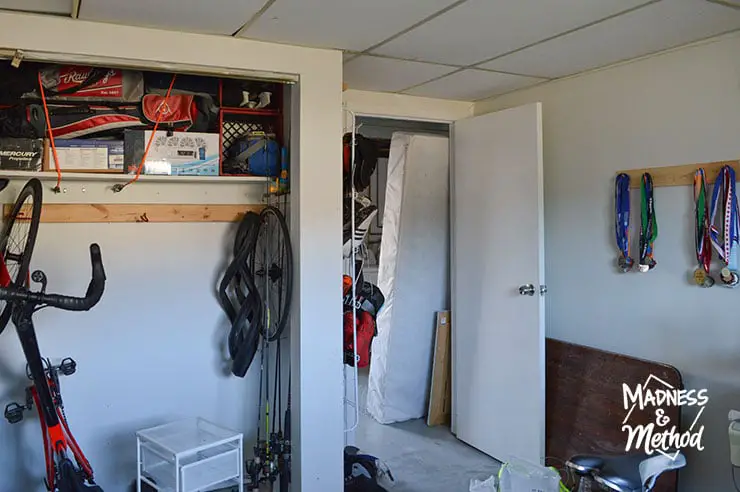 Until that happens, I've just thrown some extra bins and shelves in here and called it a day.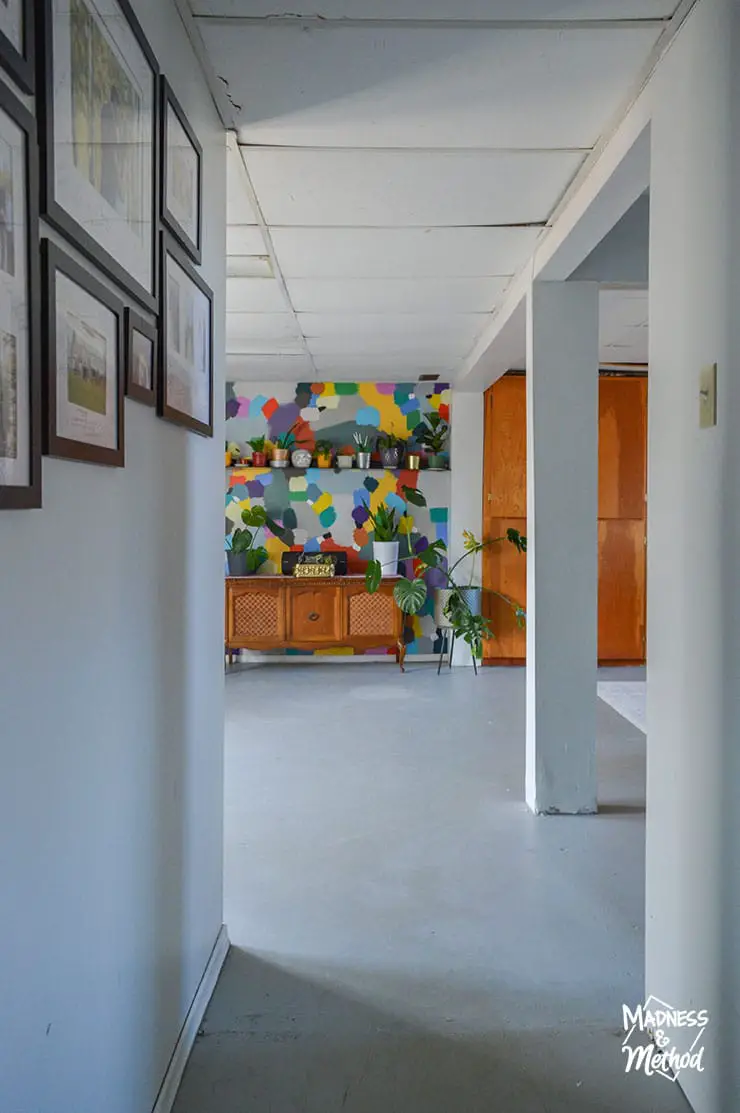 Moving back into the living space, I have plenty more photos to share!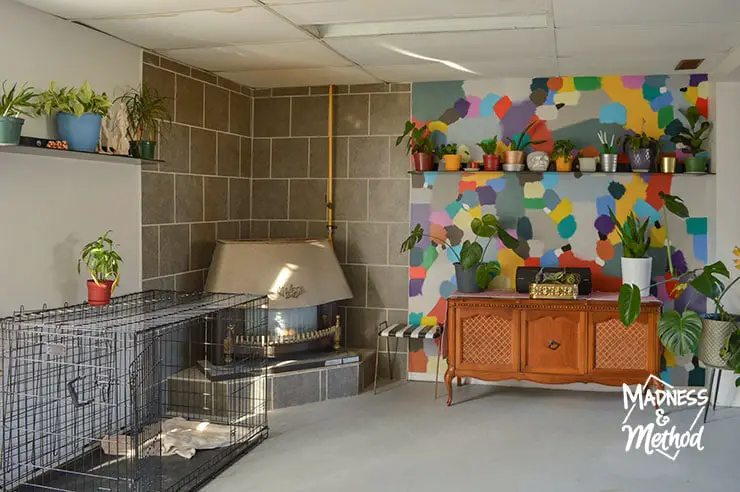 And yes, I could have taken out the dog crate (or a million other messes) to make this space more photo-perfect… but that's not how I roll.  Besides, it still looks a lot better than where we started…
Living Room Before/Afters & Recap Video
Ready to see some before and after comparisons!?

The living room/stairs closet…

The living room layout (the little kids are in each photo, ha).

The mural/plant wall.

Looking towards the doors

From the hallway

And from the entrance!
The video above goes into a bit of a recap of the major projects I tackled.  Mostly working on the floors :)  If the embedded video isn't working above, here is a link to the video on YouTube.
Storage Details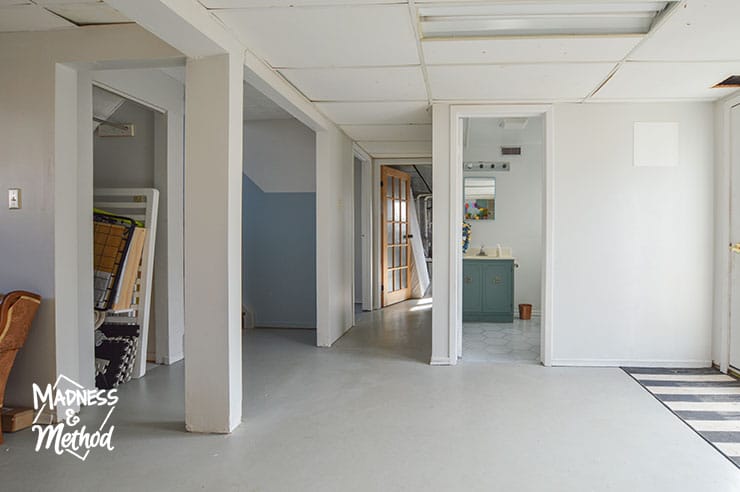 It's hard to see in photos, but there is so much empty space in this area now.  Although it might not make sense layout-wise, it's perfect for when the kids want to run around :)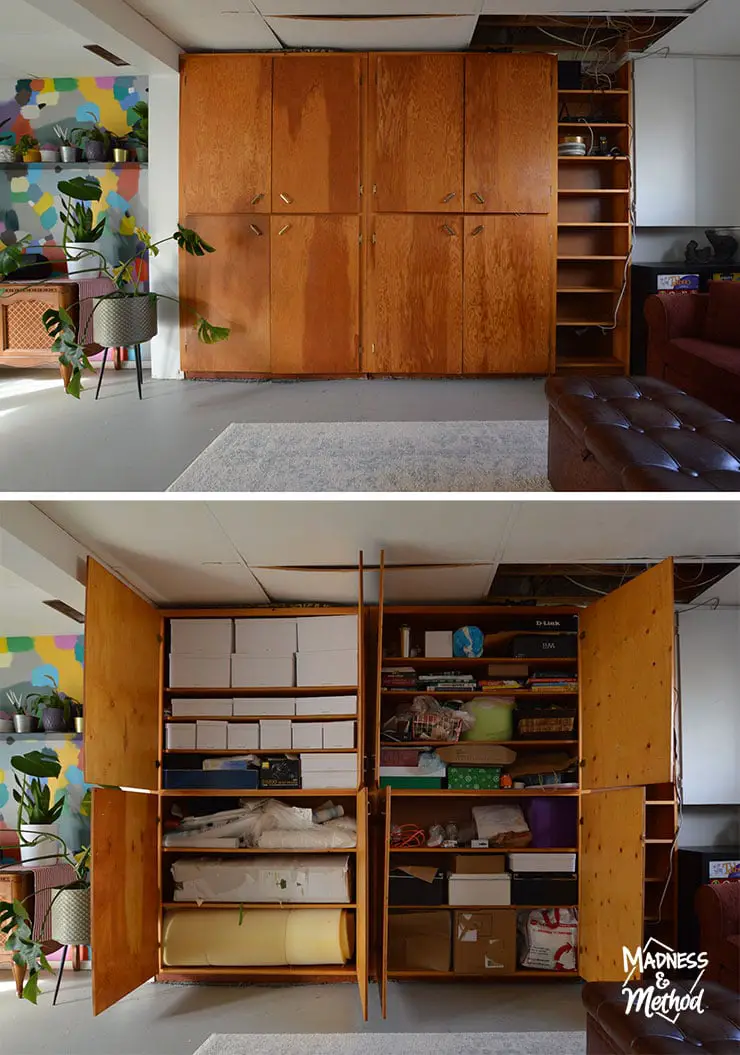 One thing I wanted to share, since I hadn't really mentioned it, is how I use these cabinets.  Before we even moved in, I measured everything and got little bins to fit my art supplies.  That's the top left, organized one :)  On the bottom left, there's my leftover wallpaper/fabric/batting.  And our old Christmas tree.  The top right is gift wrapping/mess, and the bottom right is scrapbooking/mess.
The basement is still a work in progress :)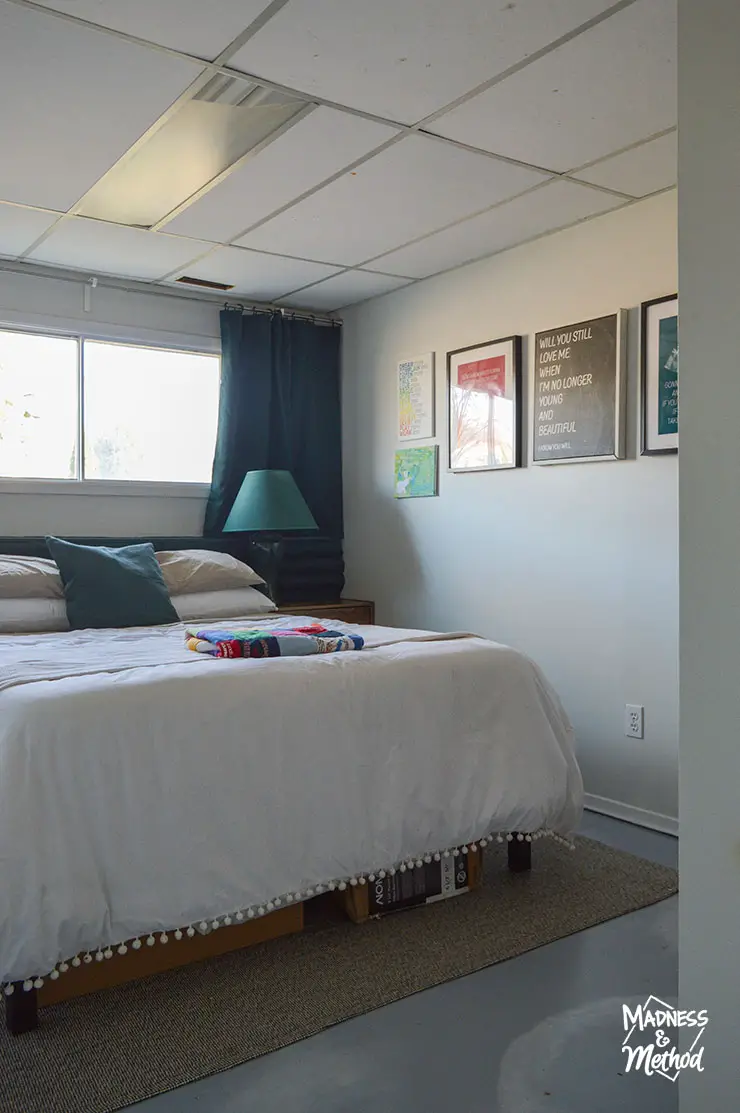 Speaking of which, I was able to shove some large stroller seats under the bed too.  Our littlest (and last) is turning 2 in a couple of weeks, and I'll be upgrading his carseat for his birthday.  That will free up some space under the bed, and I have a few extra bins at the ready if/when I need them :)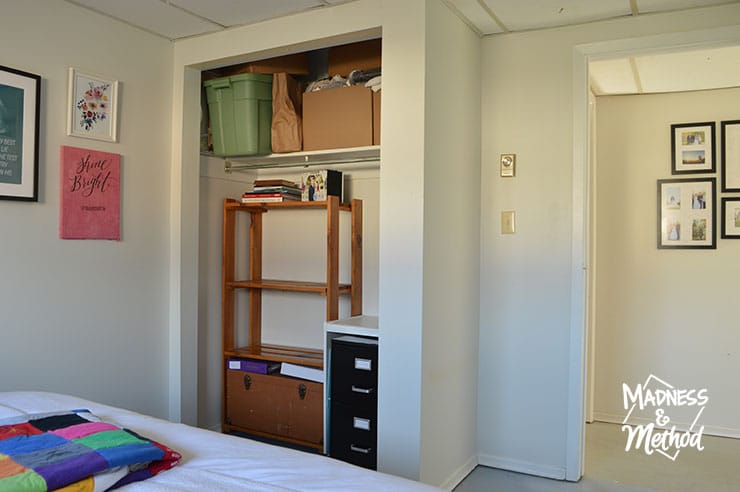 With Christmas coming up, I also needed a place to hide presents.  Last year, I hid most in the storage shelves, or in the light fixture boxes.  Right now, I have a few things at the top of the closet.  (And two boxes for donations too!).  Once I get my Christmas decorations up, I'll use the empty storage bins to hide gifts.  Don't tell my family, ha!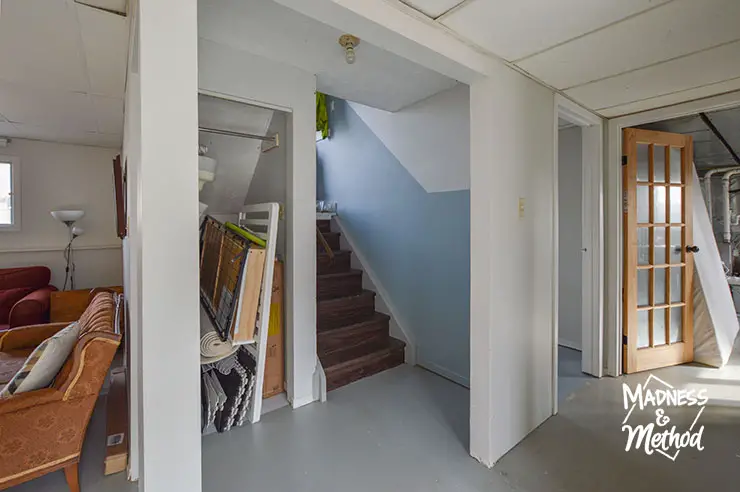 And finally, once we have our cottage built, I can move a LOT of the stuff there.  Like all the stuff in the stairs closet, the extras in the laundry room, and a BUNCH of stuff in the garage.
Plant Details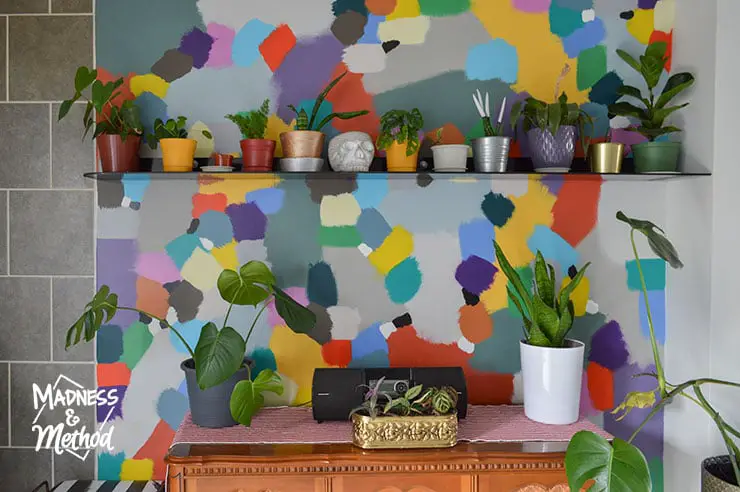 Either way, I'm SUPER happy with the new plant setup!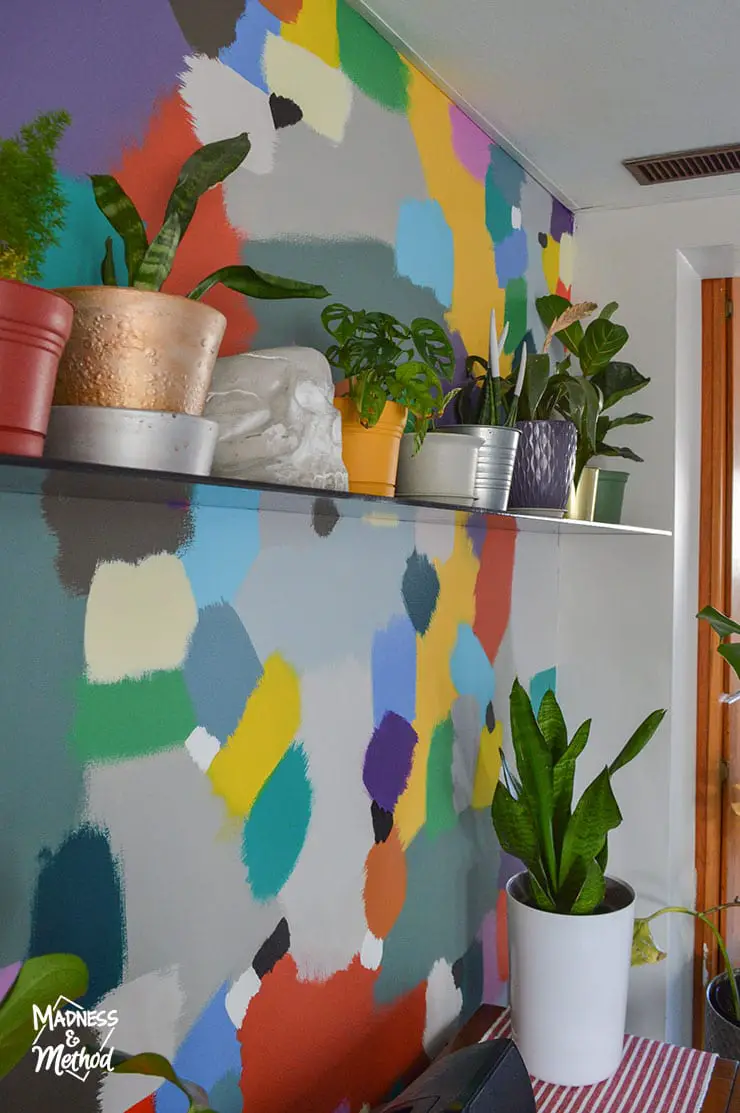 The shelf is actually way thicker/stronger than it needs to be.  You could probably put a few hundred pounds up there.  I think I may try to refine the design and maybe sell it?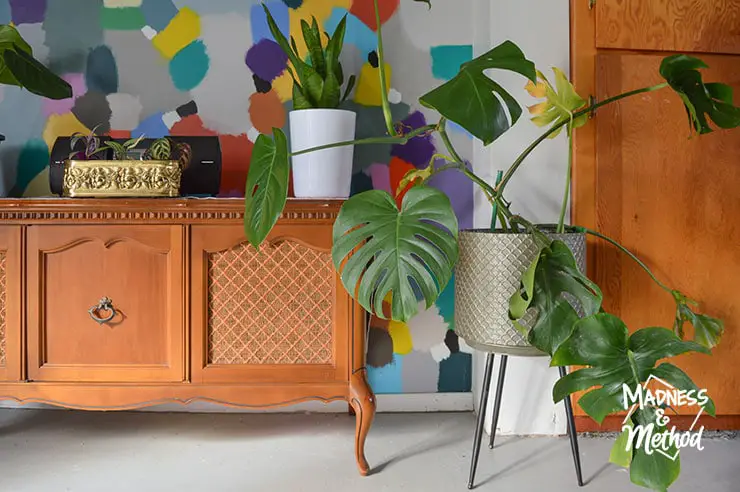 Not sure how I feel about the plants on the stereo cabinet.  Ideally, we'd be able to use it – and we'd need to easily open the top for that.  I forgot that the tops hinged up, and when we were moving it in place, my skull Scentsy warmer broke :(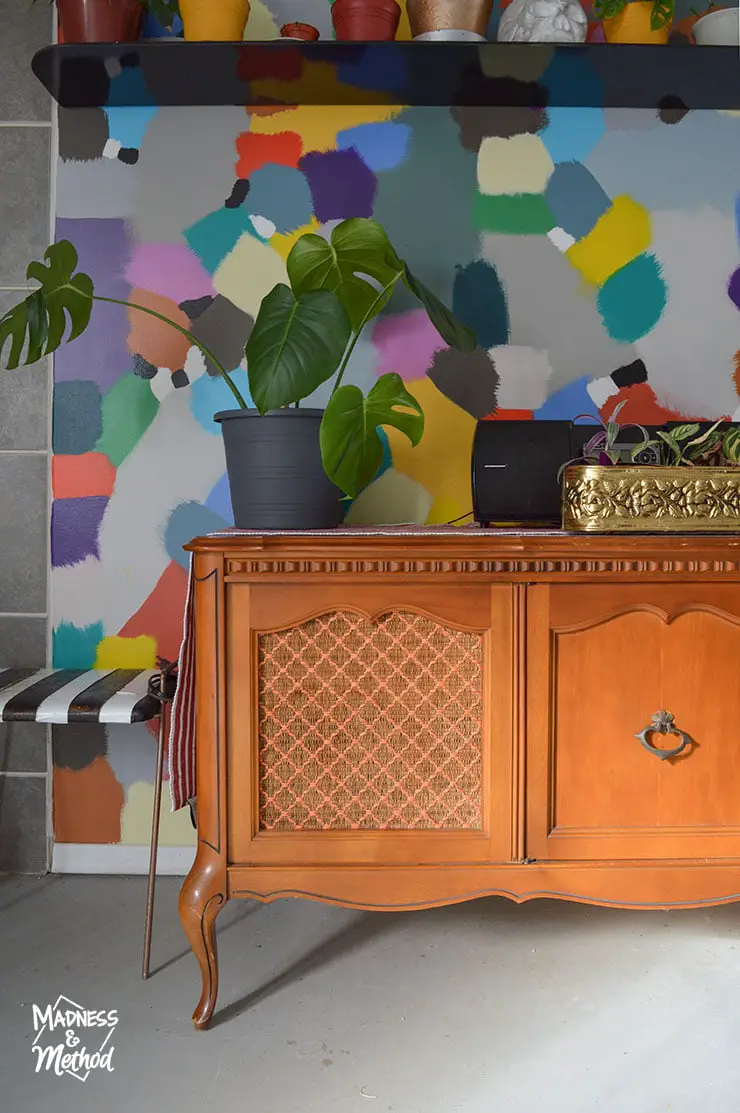 The little monstera on the left is a piece I split from the other one.  I'm going to give it to my mom, so it won't be here for a long time.  I can probably put a plant on the striped stool instead.  Although, not sure how close I would want them to the fireplace.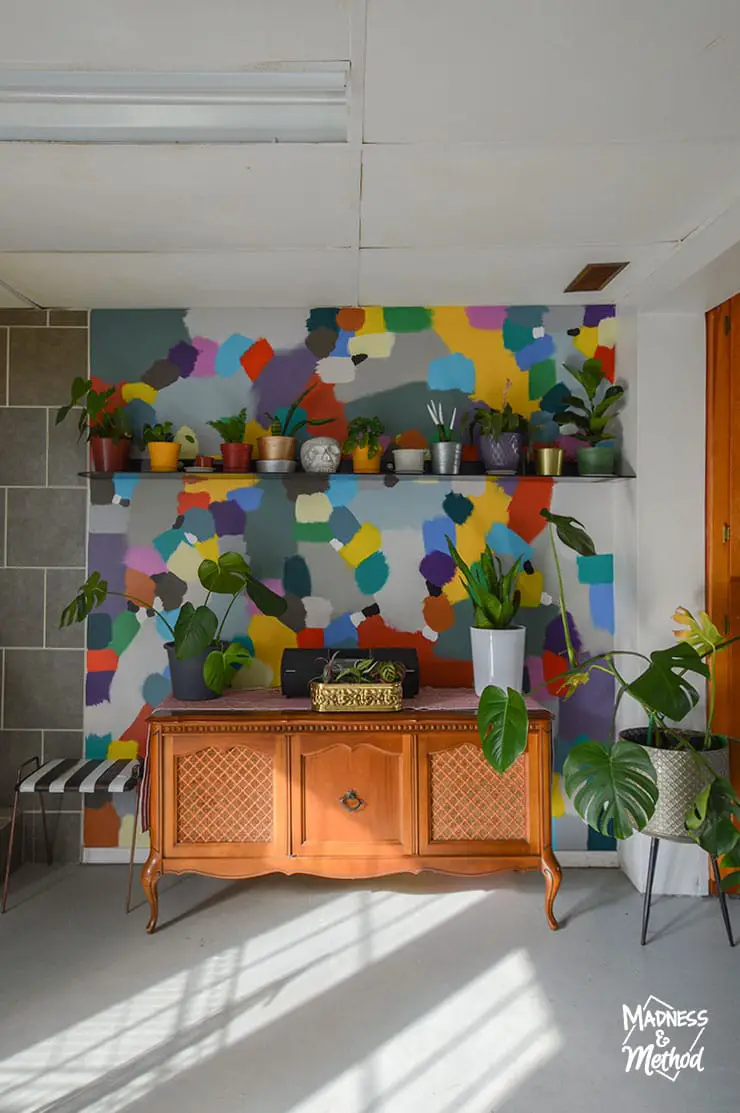 Back to the cabinet – I need to figure out how to get the speakers to work.  I can get the records to spin… and that's about it.  I think there's just a loose wire, but that's way beyond my capabilities.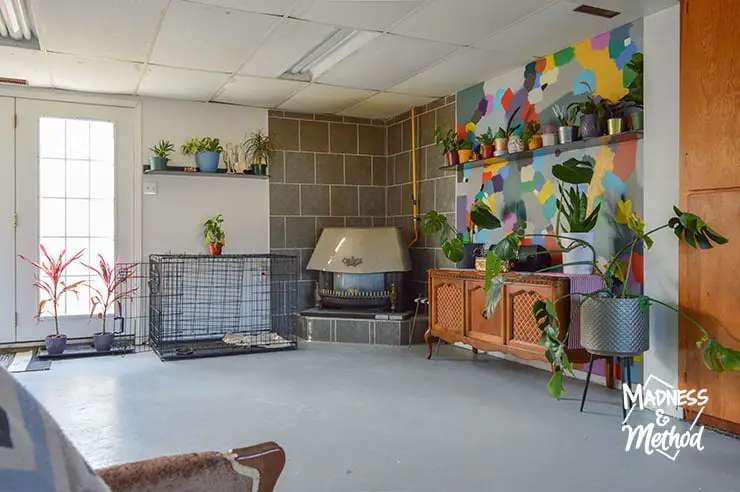 The plants on the smaller shelf are quarantining from the rest.  I had a bit of a mealybug problem a while ago, and we're not clear yet.  The one on the crate was also affected, but it may be okay to put back with the others.  The two cordylines in front of the door were outside, but I brought them in for winter.
About the One Room Challenge
Congrats for reading through everything and going through all the photos :)  If you want to see more makeovers, check out all One Room Challenge featured designers and linking participants!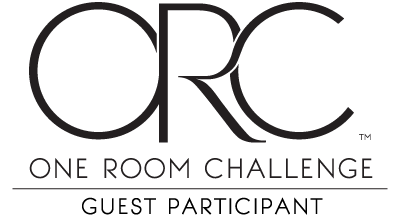 Follow my basement project:
Basement Reset BEFORE (ORC Week 1)
Removing Old Vinyl Flooring (ORC Week 2)
Painted Basement Entry (ORC Week 3)
Removing Carpets & Painting Concrete (ORC Week 4)
Painted Hex Floors & Wall-Mounted Headboard (ORC Week 5)
Cloud Painted Concrete Floors & Ikea Rast Hack Nightstands (ORC Week 6)
Basement Organization (ORC Week 7)
Cleaned Basement Reveal (you're here!)
For this One Room Challenge, I also wanted to spend as little money as possible.  I found some cash in the basement when I was cleaning, and tracked my spending each week.  (I did a breakdown in each of my posts too).  In the end, I spent about 88$ – but I do still have a couple of things I can sell/list.
Here are some other One Room Challenge spaces that I did: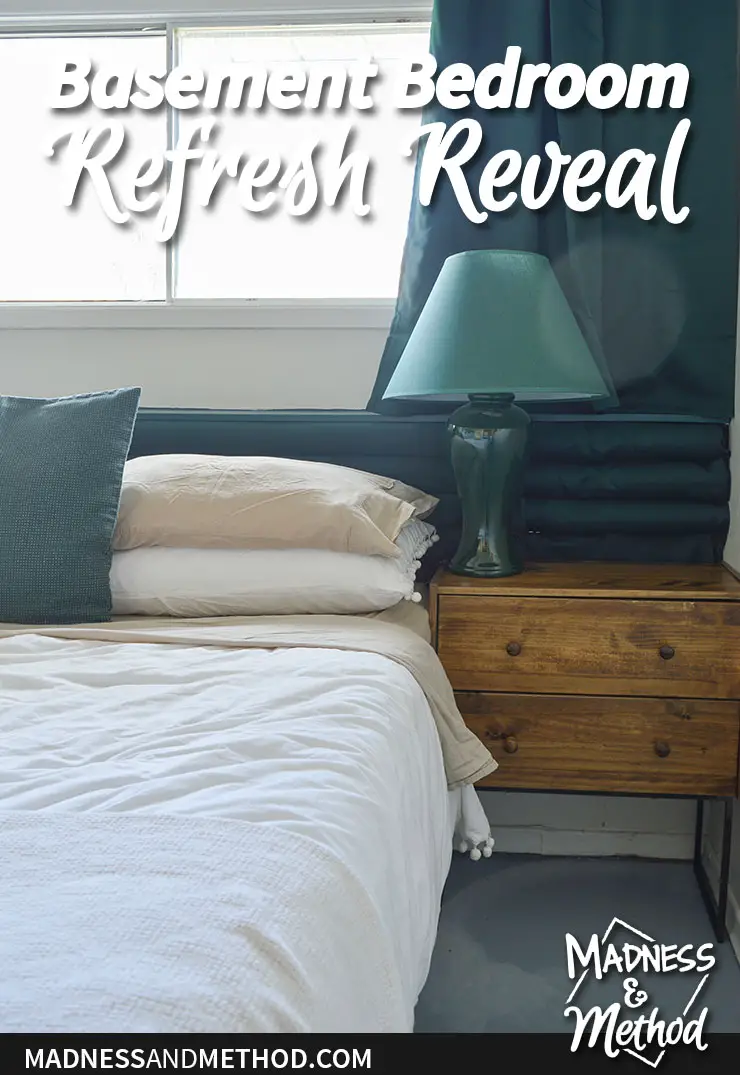 Oh, before I go, I wanted to share what the living room looks like with the small sofa moved.

This is a better "design" I think, but it's more blocked off from running and jumping around.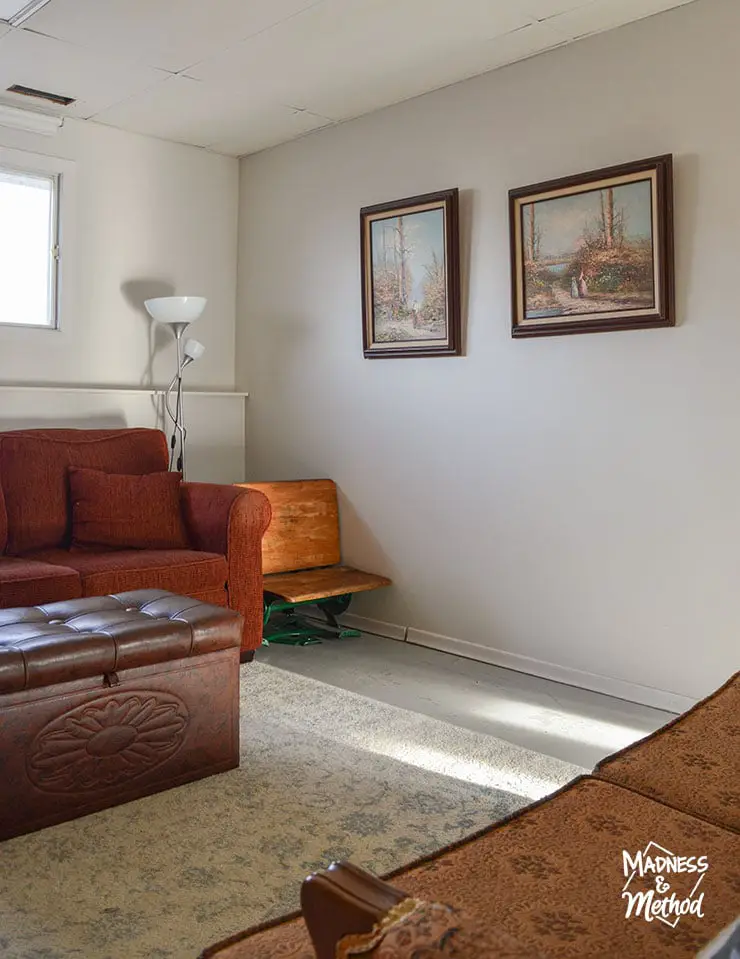 I'm pretty sure I'm going to put the Christmas tree on that wall (where the sofa was), so stay tuned for that very soon!
I think that's all!  Let me know if you also participated and/or have any questions :)