I have kitchen updates to share today!  I've only shared the design plan here on the blog, and a bit of a sneak peek for our house tour.  We have a LOT accomplished so far, but there are still some small details (and bigger pieces) missing.  Today I'm going to go over all the things that have been slow/delayed, what we have left to do, what we've done (and when)., and a bit of the budget breakdown.  Hopefully, this will answer all your questions about the kitchen progress and costs!
Now, if you weren't aware, I'm sharing all of the small (and big) tasks for the kitchen on my YouTube Channel.  This is the first time I've done separate posts/videos there, so it's been different.  Check out the whole kitchen series (we've done 10 videos so far) to really get a sense of the work.
What We've Done So Far (and When We Started)
We started taking out the tiles and first layer of the subfloor in mid-January.  So that's been about 3 months of some sort of kitchen project going on.  Were we working every day?  No, of course not – but we did try to get some good weekends in here and there to do big tasks.  By mid-February, we had taken out our first wall and then the cabinets came out a couple of weeks after that.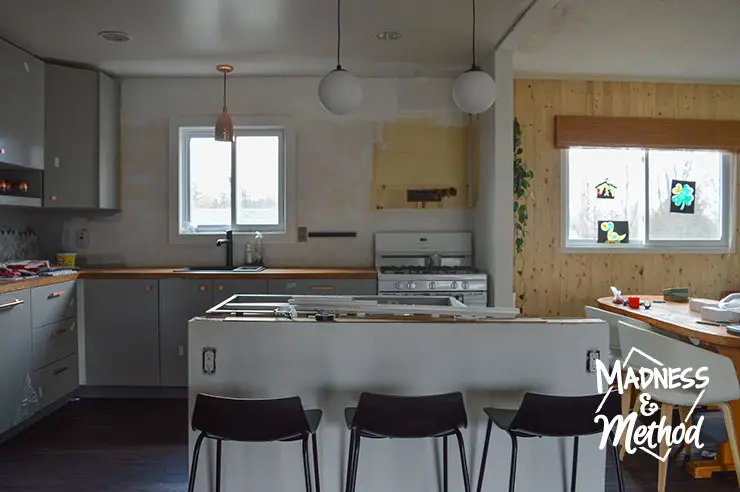 Once the sink/counters are gone is when it's crunch time!  Unfortunately, we waited for our wood countertops a lot longer than I wanted to…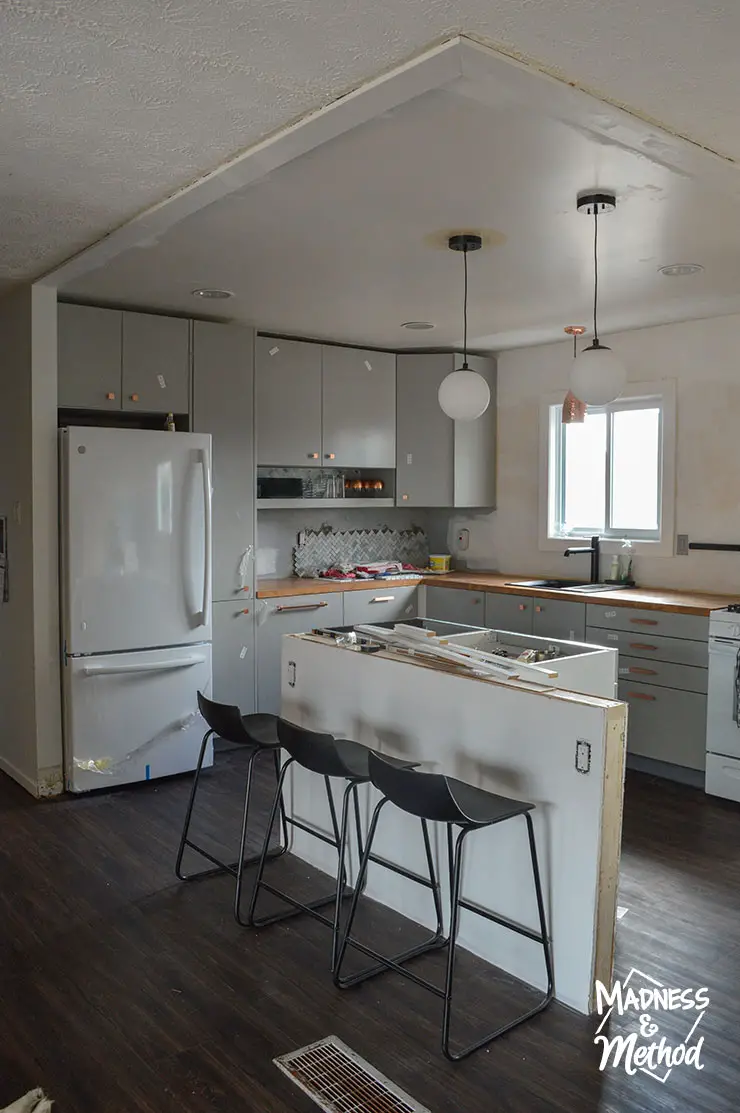 We actually still haven't even ordered the countertop for the island yet.  The province just went on another shutdown, so that's thrown a huge wrench in the plans.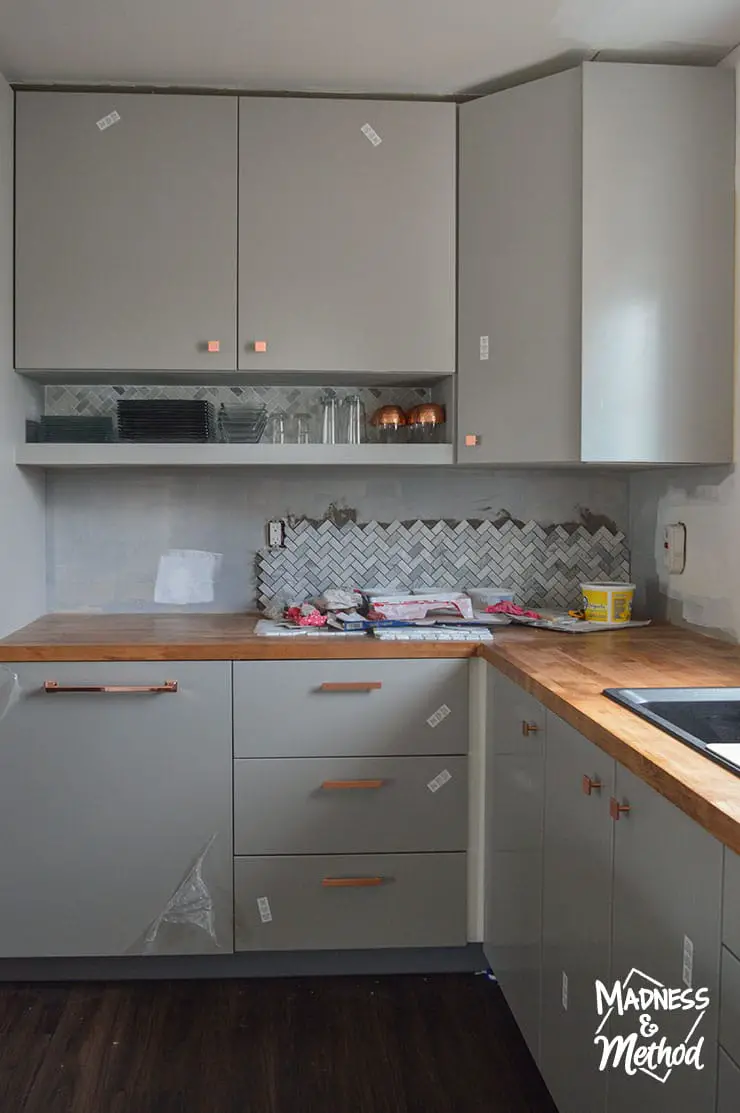 While we wait for that, we're finishing as much as we can on the perimeter as possible.  I'll have a to-do list breakdown a bit below if you want more details.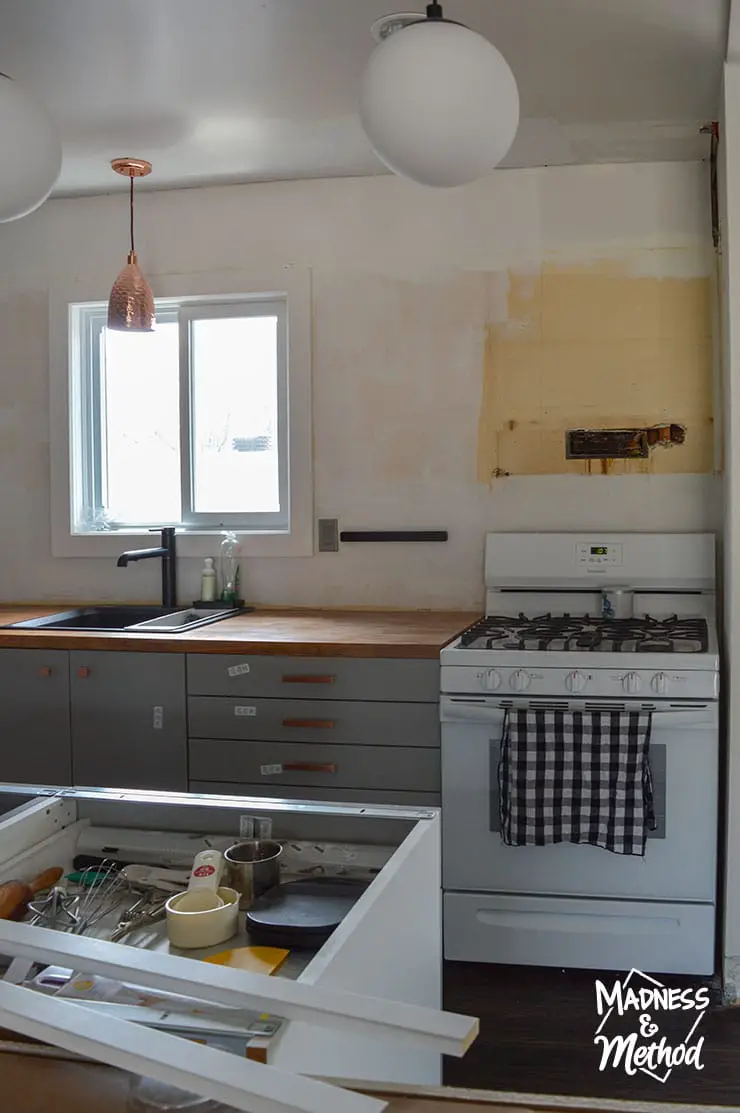 Even though some corners/photos of our kitchen look good, there are certainly others that need attention!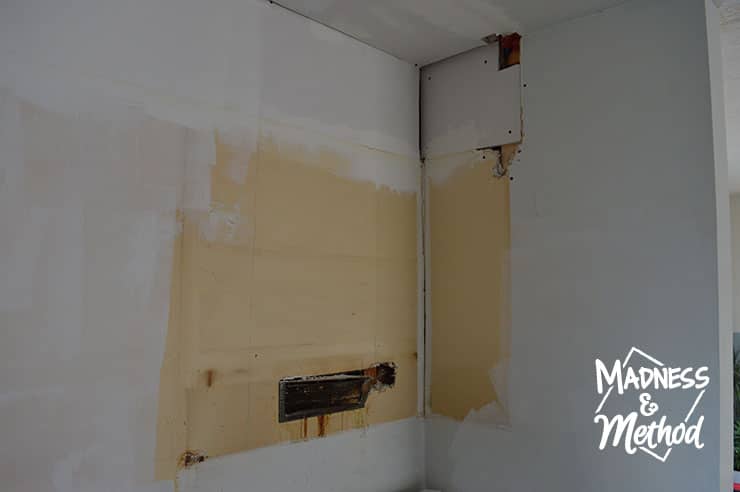 We have a whole debacle to figure out with the microhood/cabinet.  I'm not sure if the new microwave vent will line up with the old one.  Until then, we're still waiting on the cabinet (hence why it's like this).  See the little square piece missing drywall at the top?  There was a wire there that we couldn't relocate when we removed the old bulkheads.  We're going to figure something out above our cabinet to hide it.

Along the same vein, we did have to do some drywall patching on the ceiling too.  For the spaces where the old walls were, we added a piece of trim to cover the big section.  Then I'll add small mouldings to the side to hide the rest of the gaps. 
What We Have Left To Do/Missing Pieces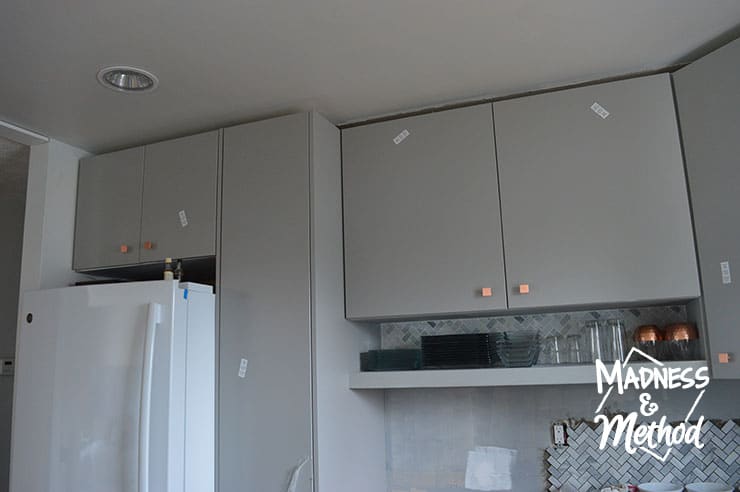 We'll be adding some "crown" mouldings to the tops of the cabinets too.  I explained how to do that when we did my brother's kitchen.  Don't worry, they'll be a video coming too :) (I'm still waiting on a couple of back-ordered pieces, but they should be here this week).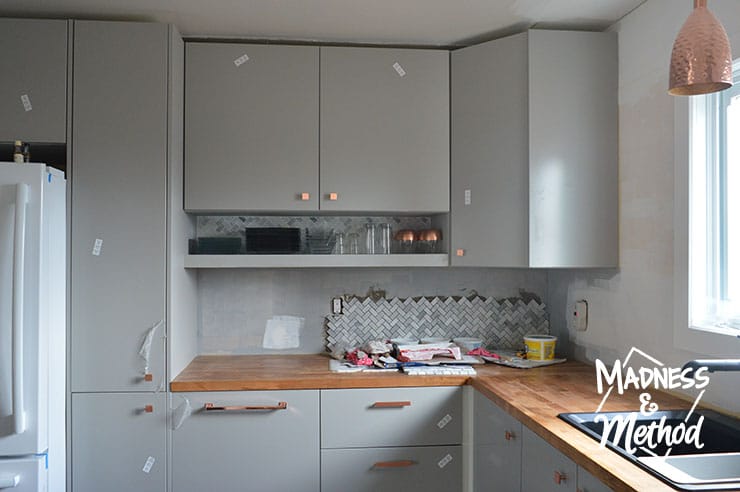 The next biggest project is of course finishing up the backsplash.  Doing such a small mosaic pattern takes so much longer, but we're slowly picking away at it.  We'll be doing tile all the way to the ceiling on the window wall, so that should be fun :)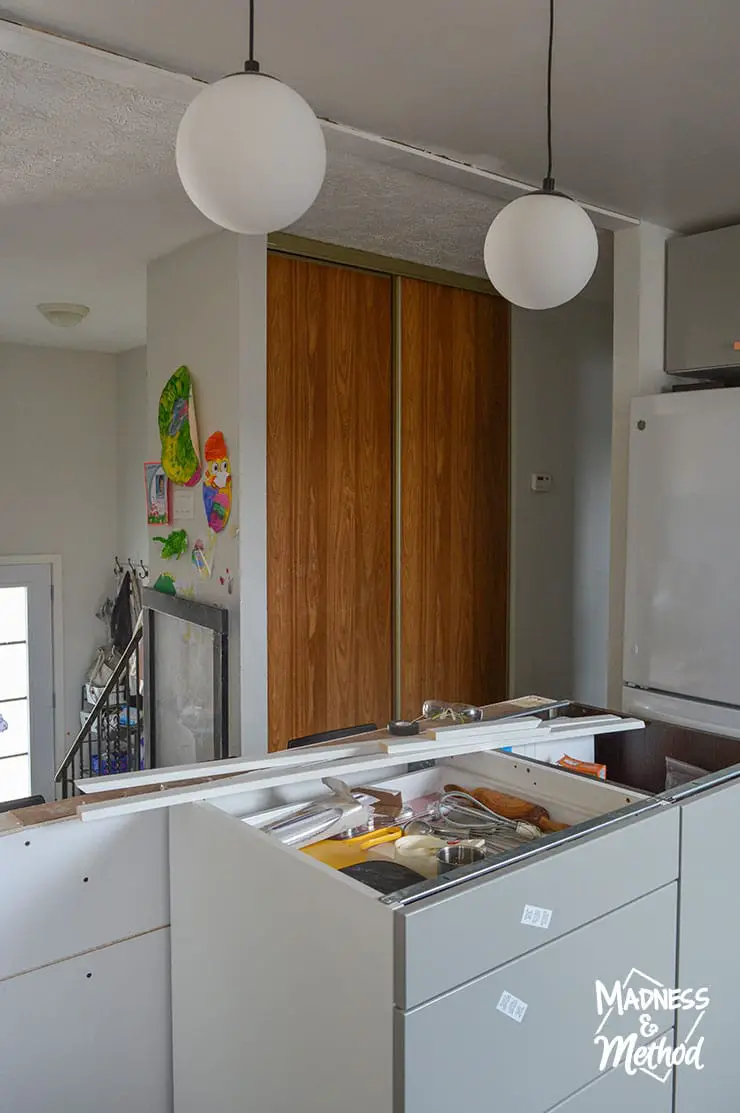 Notice how there are pieces of trim cut on the island?  Those are for above the cabinets, I just haven't been able to attach them with the kids around ha.  My video this week will be a storage tour of everything we have organized so far in the kitchen, I hope you'll check it out! 
Oh, and see the closet doors just beyond there as well?  I think I'm going to paint them grey to match the kitchen. Stay tuned!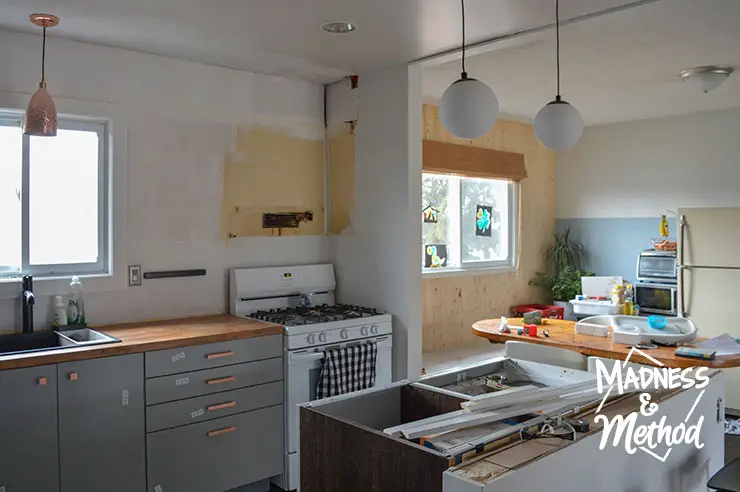 From that view, we see a bit of a mess that needs to be cleaned up in the dining room (I don't just mean the kids stuff, ha).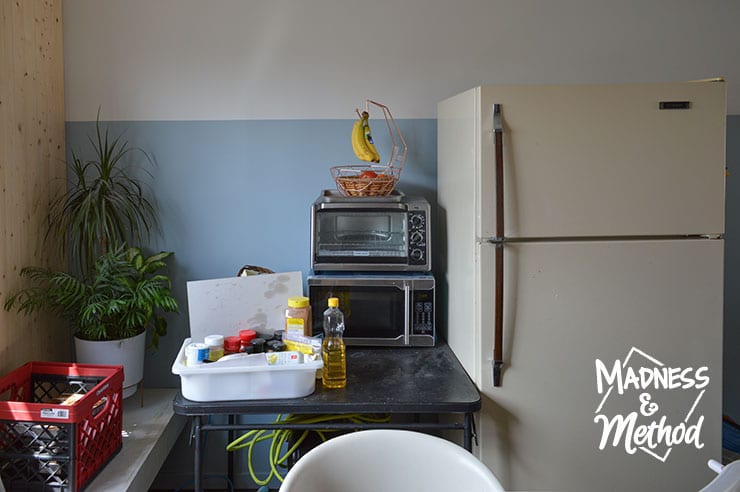 We unplugged this fridge just the other day (our new one came in last week).  I'm waiting to get the backsplash finished to put the toaster oven/fruit back, and once the microhood is in place, we won't need the countertop microwave anymore.  There will be a little shelf rack for the spices/oils. 
I can't wait!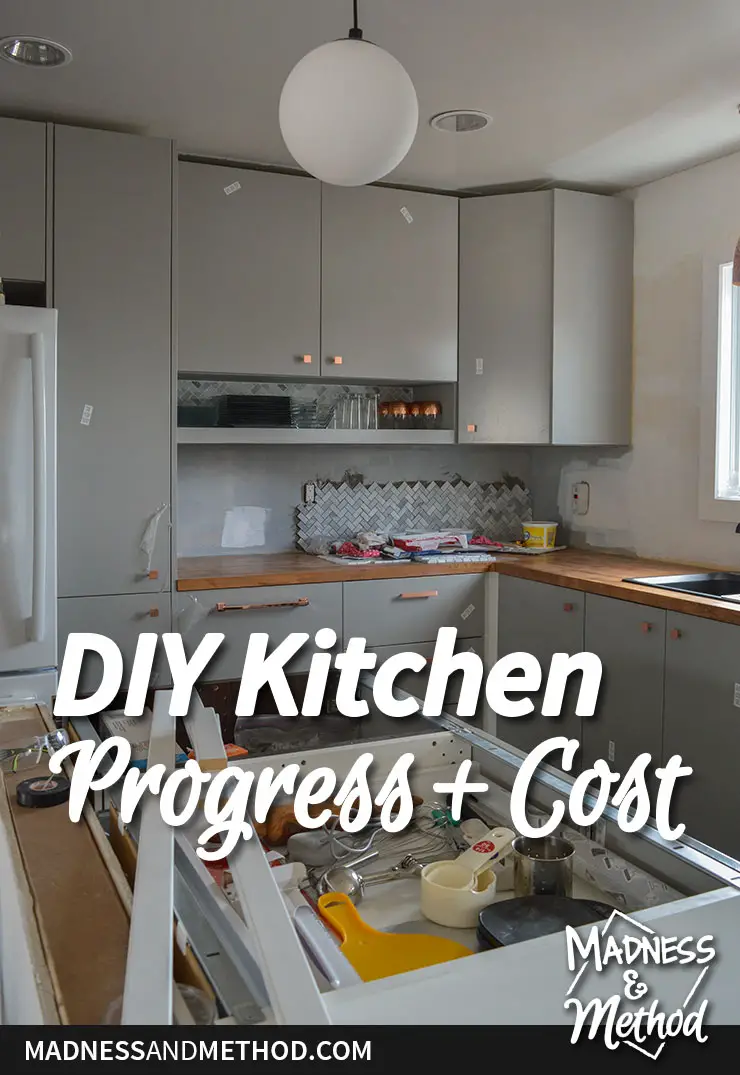 Kitchen Progress + Budget Breakdown
Here's a bit of a breakdown of what we've done so far (with links to videos):
Cleaned out the cabinets and relocated our stuff
Moved the appliances and made a temporary kitchen
Took out the upper cabinets
Took out the base cabinets/sink/counters
Installed new drywall (patched, mudded, primed) 
New floors
Relocated electrical that was in the old walls
Built a pony wall for the new island
New wood countertop (plus sink and faucet installed)
Appliances in/installed 
And what's left to-do:
Microhood installed
Backsplash (started) 
Finishing trim work (crown moulding, baseboards, old ceiling patches)
Island cabinets (2/3 done)
Island countertop and support install
Paint touchups (plus any additional patching that needs to be done) 
Bring stuff back from the dining room
Clean out tool closet (and paint doors) 
Budget-wise, I planned for 15 thousand dollars.  Unfortunately, we went over, but it will be under 20 thousand… so?  I ended up buying a bit more backsplash tile than originally anticipated (but I can return the rest). I under-estimated the amount of miscellaneous renovation stuff we'd need (like pipe and wires) and forgot to include the island stools in my budget.  We also didn't anticipate having to buy a whole new stove (that was 1300$ itself).  Oh, and the island countertop will be way more than I planned. 
Do you know what else I always seem to forget when I'm making a budget?!  TAXES!  Haha, that's definitely a big one, but I'm trying to get better at remembering that :) 
We haven't bought the island countertop yet, but so far everything else has been purchased.  I still need to get the final bill for the floor install, but I went with the quote they gave us.  We spent a little more on the custom cabinet panels, but saved on not having to get a beam/permits for that non-support wall. 
Going Forward…
Maybe you're wondering, if this is a DIY kitchen, why is still so expensive?  Shouldn't it be cheaper?  I don't know, are people thinking that?  We did decide to do a bit higher-end items here, but you could certainly renovate a kitchen yourself for less.  (Or you could hire it out for a lot more).
Our first DIY kitchen was probably around 10 thousand dollars (and a lot of that was the quartz counters).  I think the basement kitchen cost around 5000$ (and that includes appliances).  My brother's budget kitchen was probably around the same price, but he used the same appliances and has been updating them as he needs.
But I didn't spend that money so that was the best one, ha :)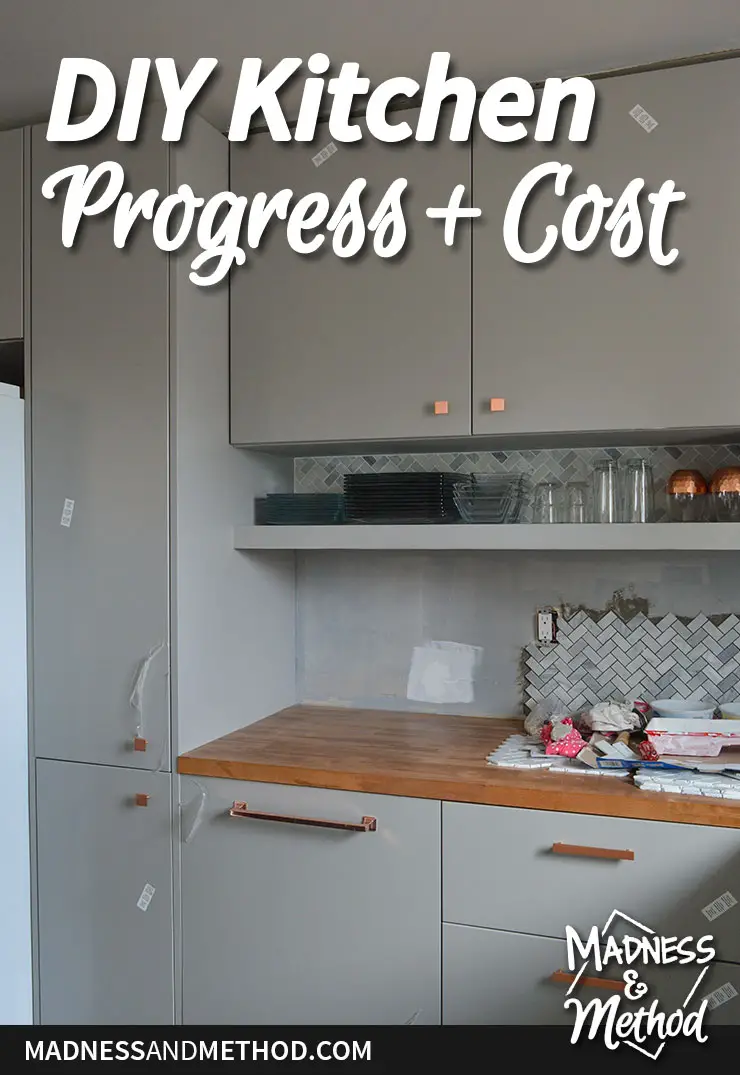 Anyways, I hope you subscribe to the YouTube Channel to check out all the videos.  Make sure to stop in this week at least to get a walkthrough of the space so far, and how we have it organized.  Timeline-wise, we should have at least another week or so on just the backsplash install.  Then we have to seal them, wait a few days, then grout them.  Once we get the last island cabinet, it should be quick to finish, but we'll then have to wait for the countertops (estimates are May-June…).
The microhood is the biggest mystery (we've installed them before and they are a pain) but it's mostly the venting that's the issue.  Plus however I'm going to do my upper-cabinet-hidden-wall-storage-thing.  Other than that, all the other tasks are small and nagging but that's usually how it always is :)
So, if you take into account our start date of mid-January, and a middle-of-the-line-scenario of getting the island countertop in mid-June, and assuming we finish every single other thing before then, it's still a 6-month project.  That seems crazy long, but the time that you're really without a kitchen (and by that I mean sink, counters, appliances) is minimal.  Yes, you could hire it out and have it done quicker, or you could DIY it and get it done quicker too (oh, you don't also have three little children around all the time… ha!).  But that's just a real-life scenario that you should think about before you take on a big renovation.
(OH, and don't forget the planning beforehand, that's months in itself!). 
Anyways, wish us luck, and let me know if you have any questions! 
PS: I just asked the Husband to estimate our kitchen timeline and he said before we started he thinks 2 months, and now, 3 months.  I told him really 6, and he said "but it doesn't count since we were waiting for things".  So yes.  That is definitely a factor and ESPECIALLY during the pandemic when everything is delayed.  So, let's say you have everything ready to go and you just need to do all the demo, rebuild work and install cabinets/counters and finishing details: a quick guess would be a month.