A couple of weeks ago, I shared an updated home tour of our new house.  I mentioned that we were planning to add a garage, but before I share the design plans for that (coming next week!), I figured we needed to talk about our yard a bit more.  So this week, I have a full outdoor tour and a look at our (initial) plans for each area.  Let's get out there!
The photos I'll be showing today are from the end of March (when we took possession), mid-May (when the snow was all gone), a few in June (green), and from this past weekend (a hot mess!).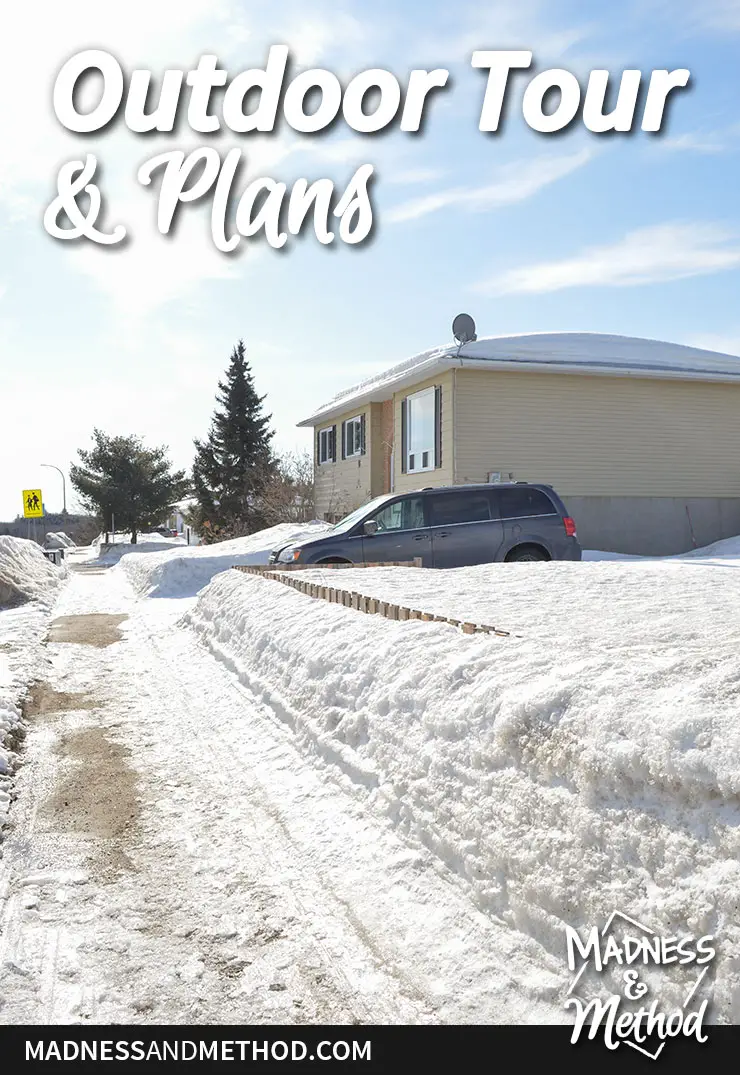 Let's see if you can figure out when the photos were taken :)
But first, here's the layout of our yard: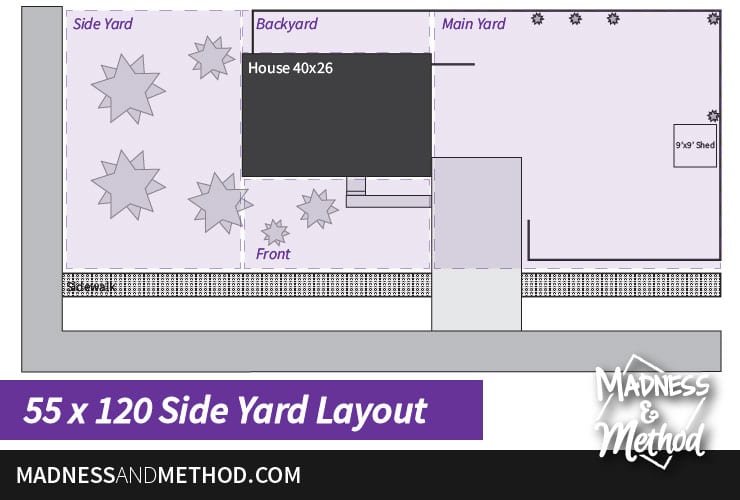 The dimensions are around 55×120 (so smaller than our last house).  And, because it's a corner lot, the yard is wide and narrow.  I've marked a few of the areas/zones in dotted lines, and we sort of consider the right side the "main yard".
Side Yard Tour
The side yard is the one exposed to two streets.  There's also a bus stop at the corner, so it's pretty busy!  It's a large space but disconnected from the rest of the yard.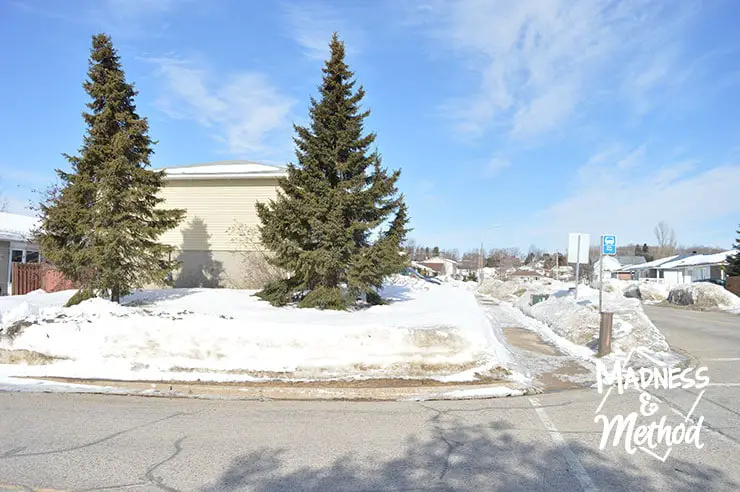 This is the first time we've ever lived on a sidewalk street, and it's a lot different than what we're used to.  As you can see from the winter/spring shots, we'll have more snow to deal with too :(

I'm sure we could add a small fence (zoning dictates the height), but it'd be weird to end it in the front.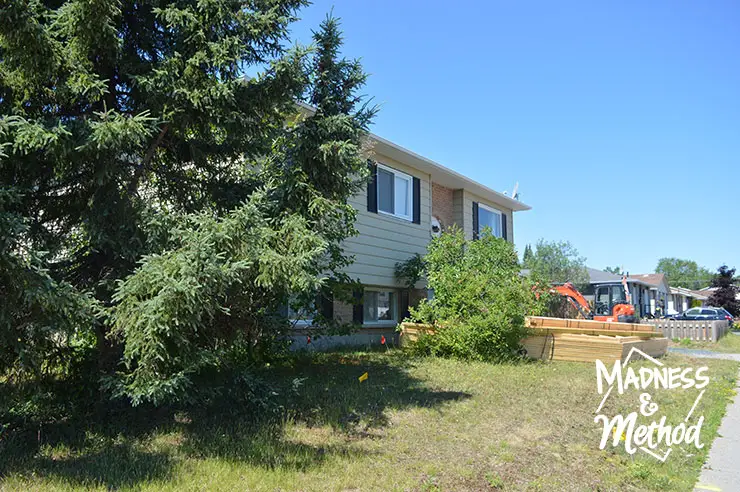 The photo above was taken this past weekend, and you'll notice we have some new stuff!  The garage construction has started, so we'll be living with a mess until that's done.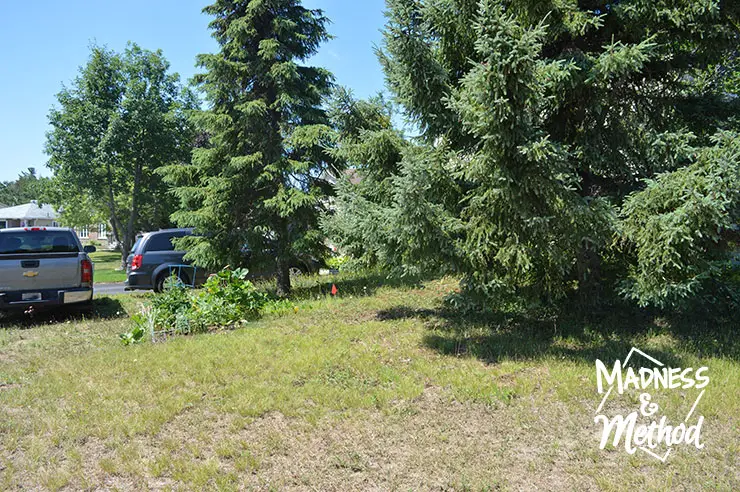 We rarely go in this side yard, but my mom did plant our garden there (it's the south side) that's doing quite well.  We also park our vehicles here (because our current driveway turned into the construction zone).
Next summer we'll have a garden in the main part of the yard, but this one may just stay since it gets so much light :)
(Also, our neighbour waters it, and I'm 100% convinced that's the only reason it's doing so well).
Front Yard Tour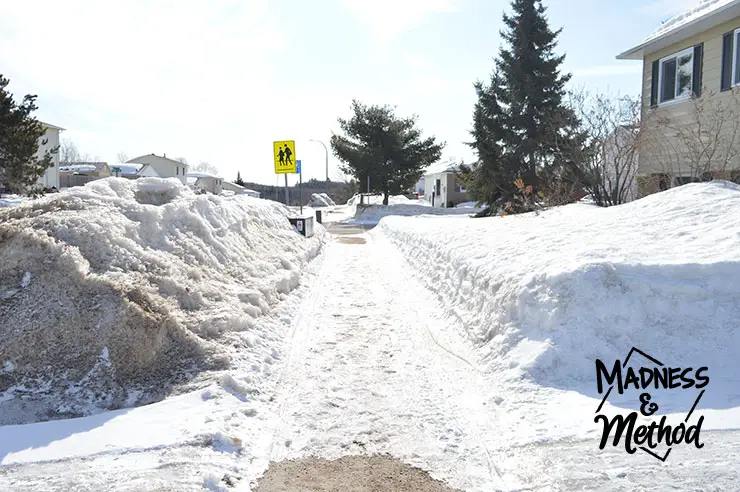 Like I mentioned, this is our first sidewalk.  As you can tell from the photo above, we have a lot of additional snow/visibility issues to deal with in the winter.  I'm planning on shovelling the part between the sidewalk and the road… and this may be the first winter I consider getting a snowblower…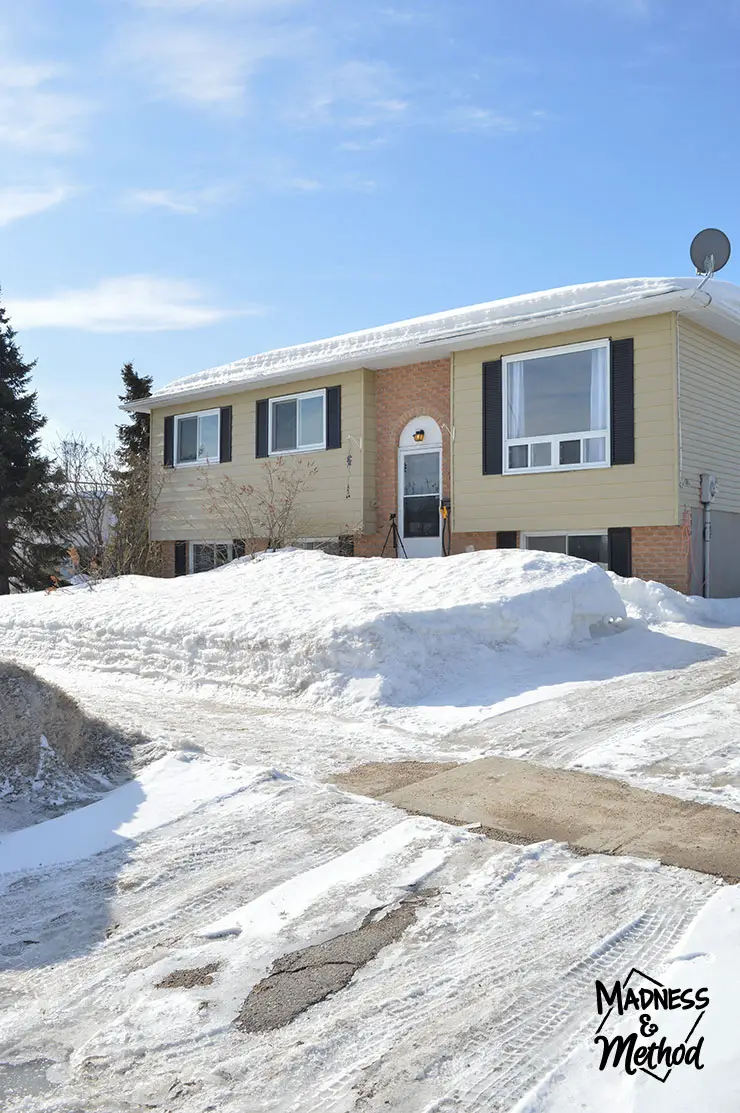 I may have shared this photo (and a few more) in the original home tour.  But here it is again in case you forgot :)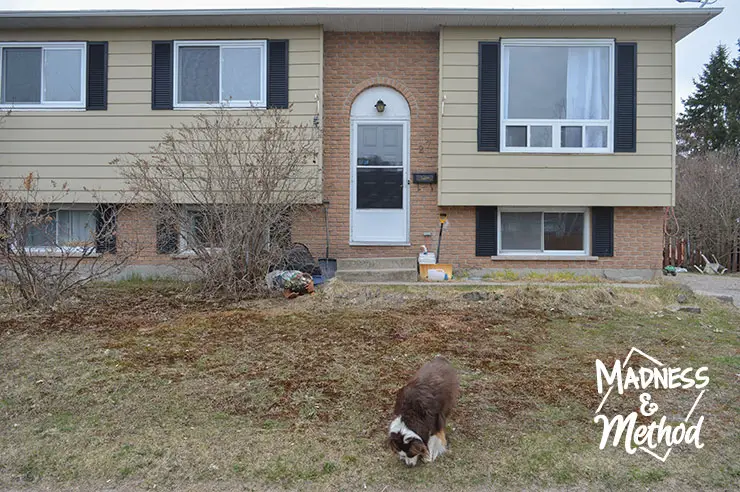 The front wasn't looking too nice when the snow melted, but thankfully the trees and plants have filled in.  I shared some more photos (and plans) when we changed our front door a few weeks ago.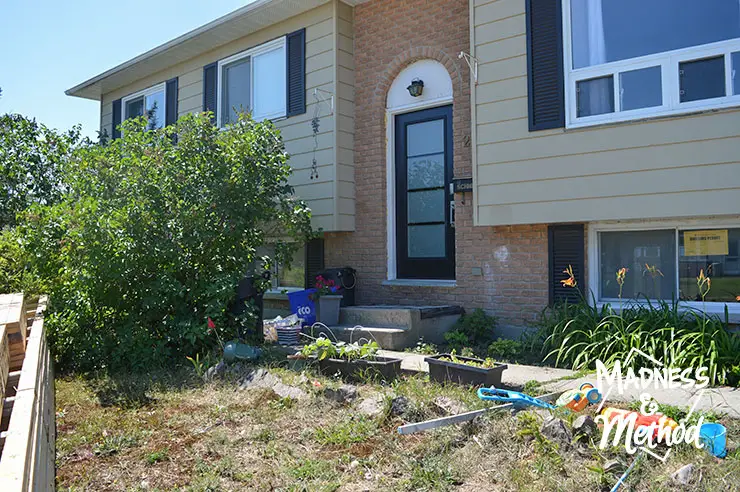 And the photo above was from the weekend.  Ya, not too nice of curb appeal with the toys and roof trusses… but it will get better.  (Check out my Instagram Stories to see the latest!).
Essentially, once the garage is done we plan on ripping out the too-small walkway and steps.
Main Yard Tour + Garage Location Options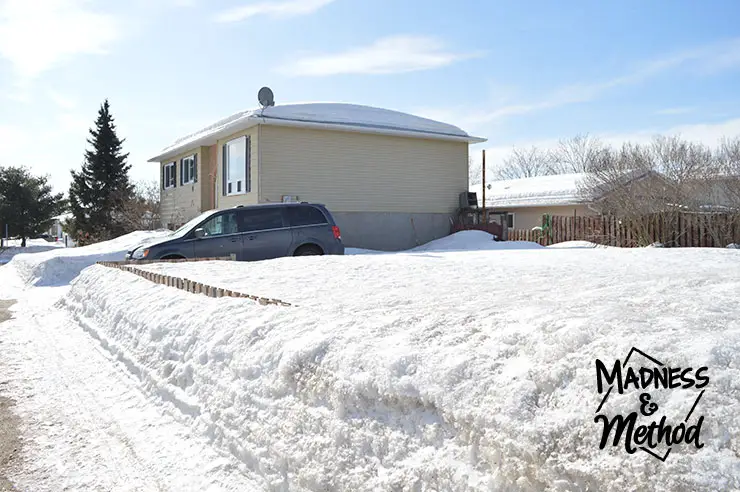 The main yard is in between our house and our neighbour's.  (Although everyone else has normal/deep lots).

We knew there was a (broken) shed, but everything else was covered in snow.  Once it melted, we discovered some stuff that needed to be cleared out, and a dirt driveway.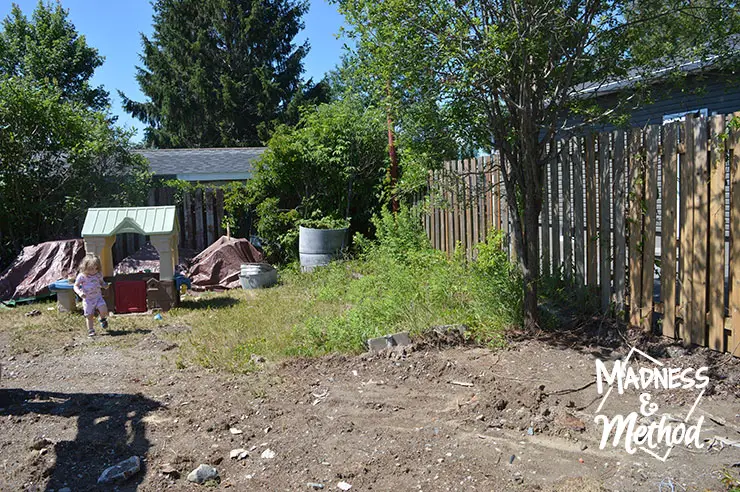 We recently ripped out the shed (in anticipation for the garage build) and all our stuff has been relocated.  (But is mostly in the basement, ha).

Here's a side view of the main yard space.  There's a tall fence in between our side and back neighbour, and a small fence in the front.
So let's dive into the garage location options, and I'll give a quick pro/con of each.
Option 1: Garage Next to the House
Pros:
Typical/Usual location
More yard space leftover
The path between house and garage to move garbage/recycling
Easy access to backyard/entry
Cute front decor options
Cons:
Smallest driveway space for extra cars
Possible foundation issues to the house/water run-off
View blocked from backyard to the main yard
Can't look outside and see if the door is open
Have to back out into the street
Option 2: Garage in the Back Corner
Pros:
Tucked into the corner
Farthest from the street / more secure
Most parking spaces available
Can look out the back window to see if the door was open
Cons:
Almost the entire yard would become a driveway
Two different zones/need to fence each space
Would need to walk far in the rain/snow
Have to back out into the street
Would need to remove the existing trees
Option 3: Garage in the Front Corner
Pros:
Best visibility from the backyard to the main yard
Easy to fence/block off the yard
Can back into the small nook, then front into the street
Would create a hidden section (from the sidewalk) for kids to play
Cons:
Very close to the sidewalk/blocking visibility
Would need to walk far in the rain/snow
Possibly not allowed because of zoning *
* Also why we didn't consider adding the garage to the side yard.  And, there were a lot of trees there that would need to be removed.
If you've been following my Instagram Stories, you may already know which location we chose!  But if you didn't, I'll be sharing the location (and progress photos) next week.  And of course, the anticipated design plans/siding colour.
Backyard Tour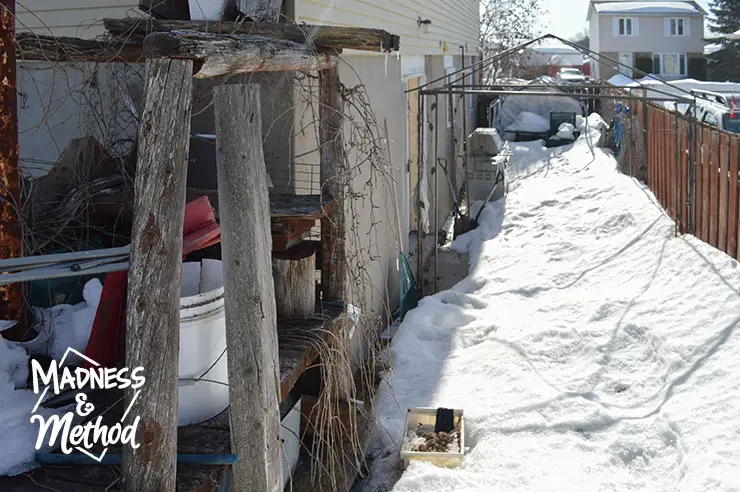 The final zone we have is the backyard.  Which, is just a small 9′ wide section along the length of our house.  We had no idea what this space would look like until the snow melted.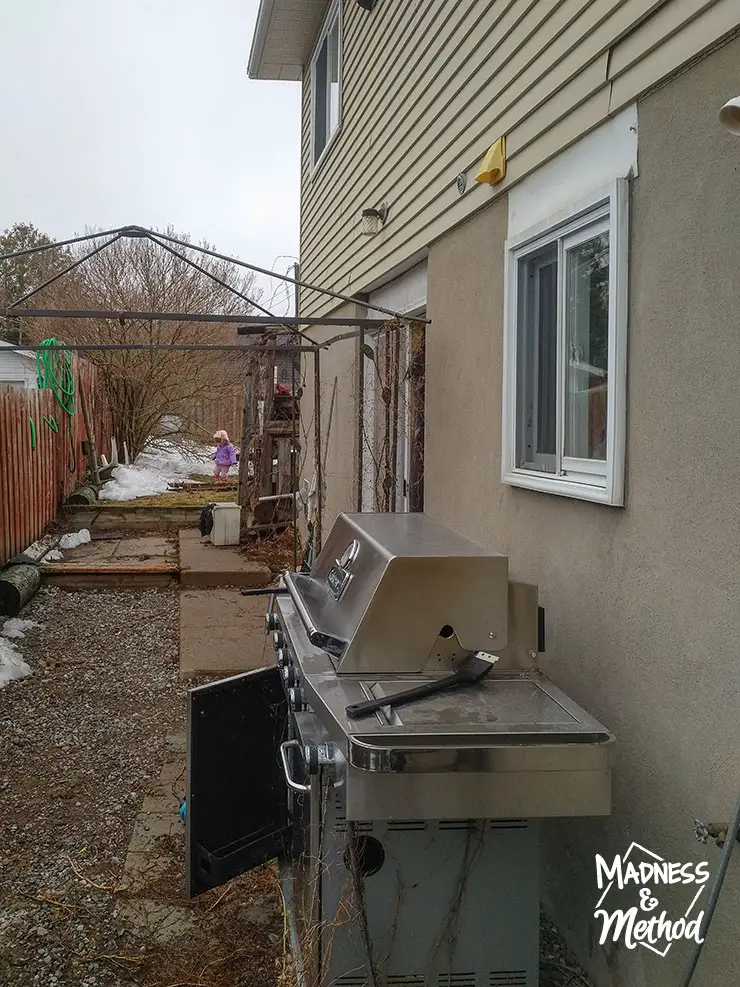 It didn't get much better (think: lots of dog poop), but there is a lot of potential.  The photo above also shows how it looks into the main yard.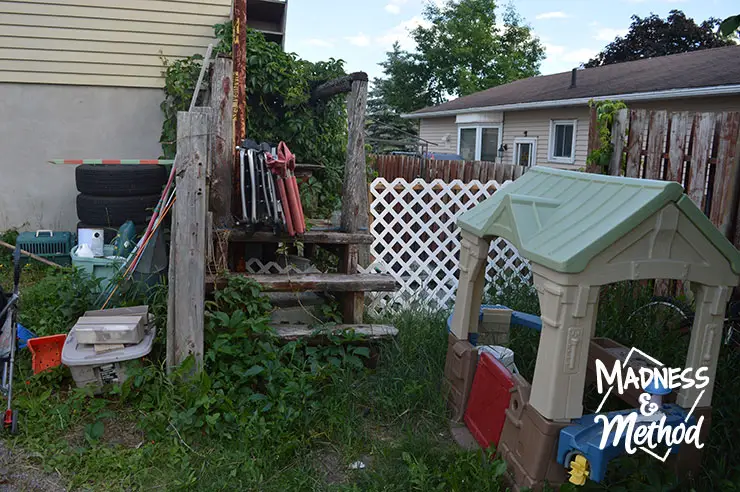 Although we did have to block it off so we could let Tootsie out loose back there.  You know, to add more poop to the mix!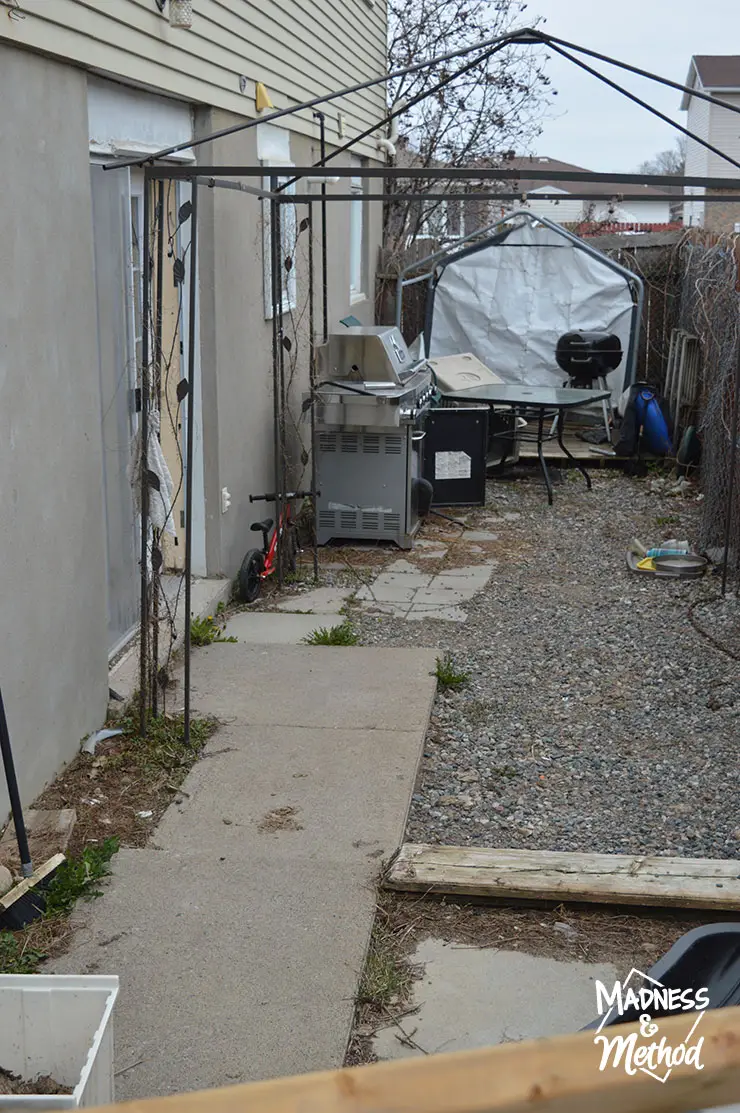 There was a lot of stuff back here, and I only really go back there to BBQ.  It gets a lot of light (aka hot), but thankfully it's a small space and should be easy to make better.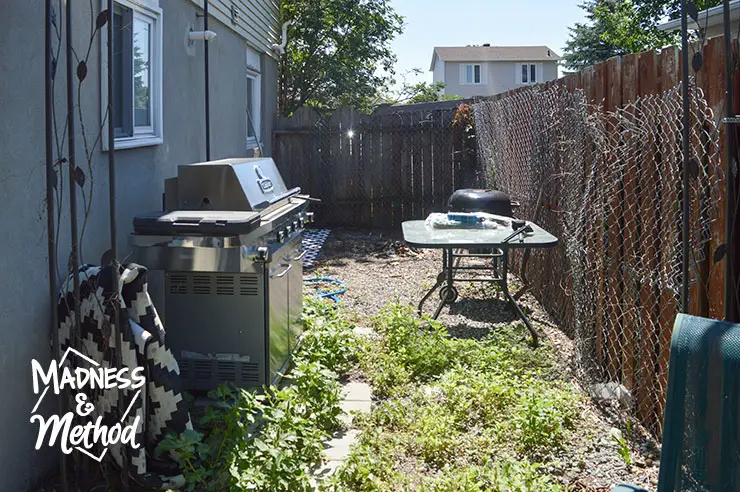 Here's the most recent view (we took out the little shelter and broken pallets).  It's also been weeded multiple times, but you can't tell at all.  I also attempted removing all the chain-link fence, but it was too heavy to actually take out.
This photo is giving me lots of inspiration.  And I have a good idea for the pergola I want to build.  Oh, and black stain has already been purchased for the fence :)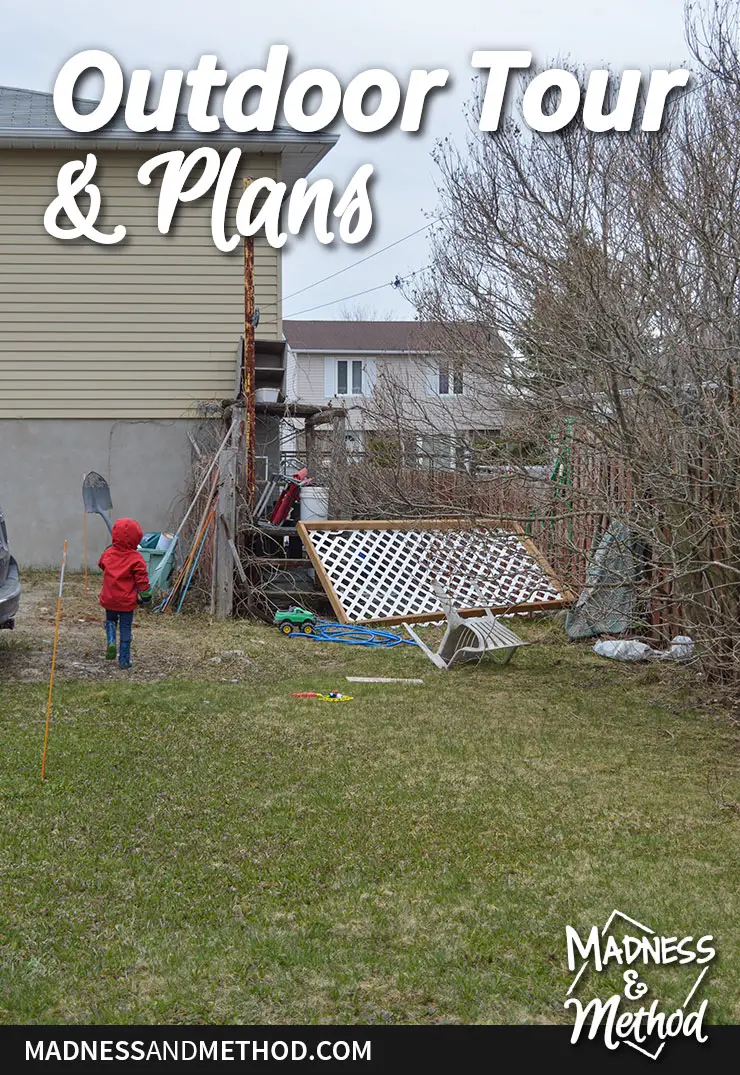 I know I have a lot of "plans" for the outdoors and am fully aware that it might take a while to get where I want (think: years).  Our summers aren't the longest, but most of the big stuff will be done this year.  I think once we get our big stuff done (the garage, and walkway), we can focus our attention on landscaping next year.
I hope this outdoor tour and plan breakdown gave you a better idea of where we were/are, and where we're heading!
Next week I'm going to be sharing the design plans for the garage.  I'll reveal the location we chose and give some more insights into why.  Hopefully, there will also be some good progress to share, but with rain in the forecast this week… we may not get too much done.
(But it's mostly being hired out, so I'm happy about that!).