We're in the second season of our yard refresh.  Last year, we added a garden bed along our sidewalk, and this year we're adding more plants!  Trust me, landscaping can get pricey.  Especially if you're starting from scratch.  So today I'm sharing practical ideas on how to save money on outdoor plants.  If you've ever wondered how to save money on landscaping or stretch your dollar further on outdoor plants, this post is for you!
I have a few different ideas on how/where to save money on outdoor plants.  Let's start with chatting about where we might need to spend, then get into how we can save money and even where to get cheap (or free) outdoor plants.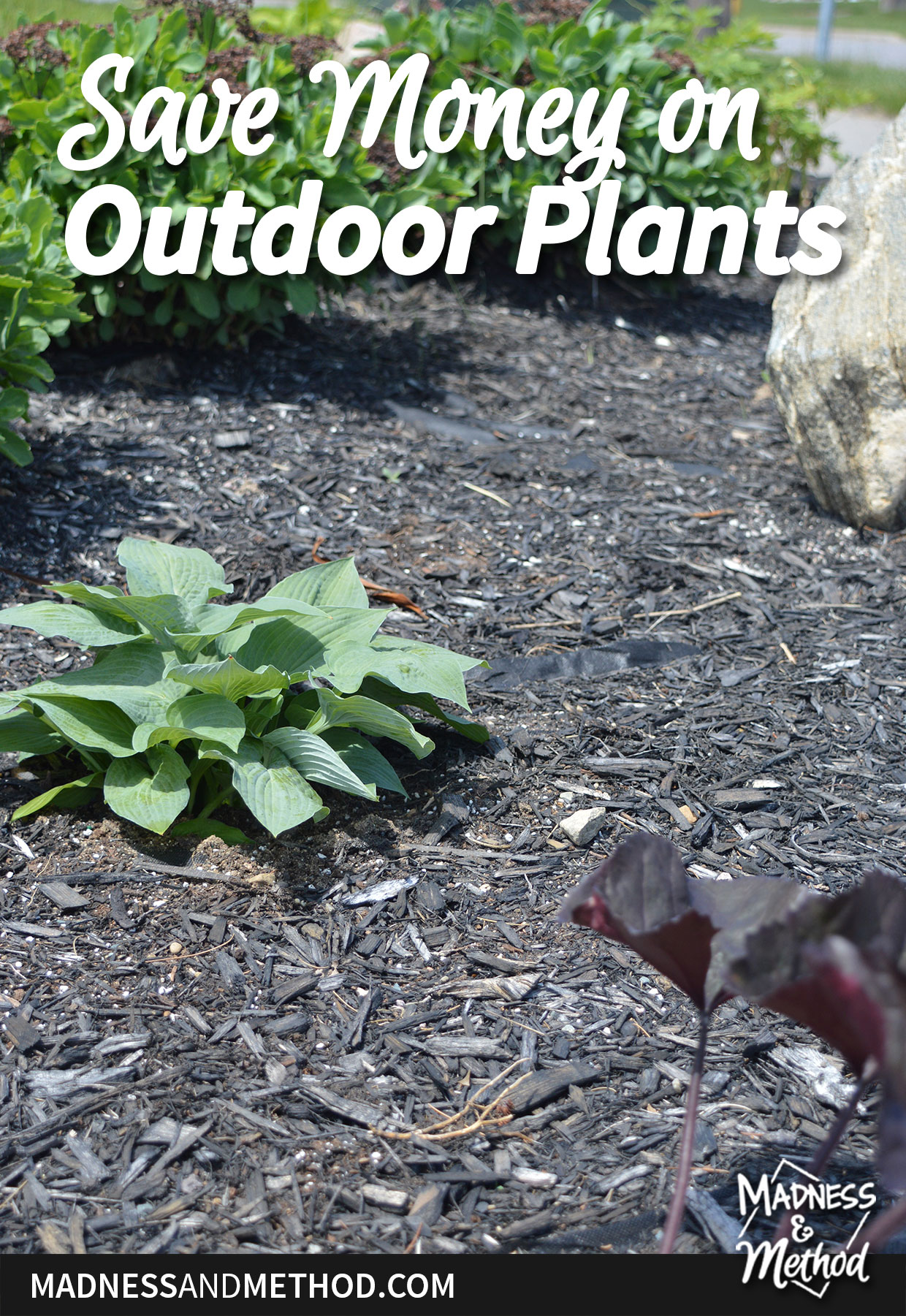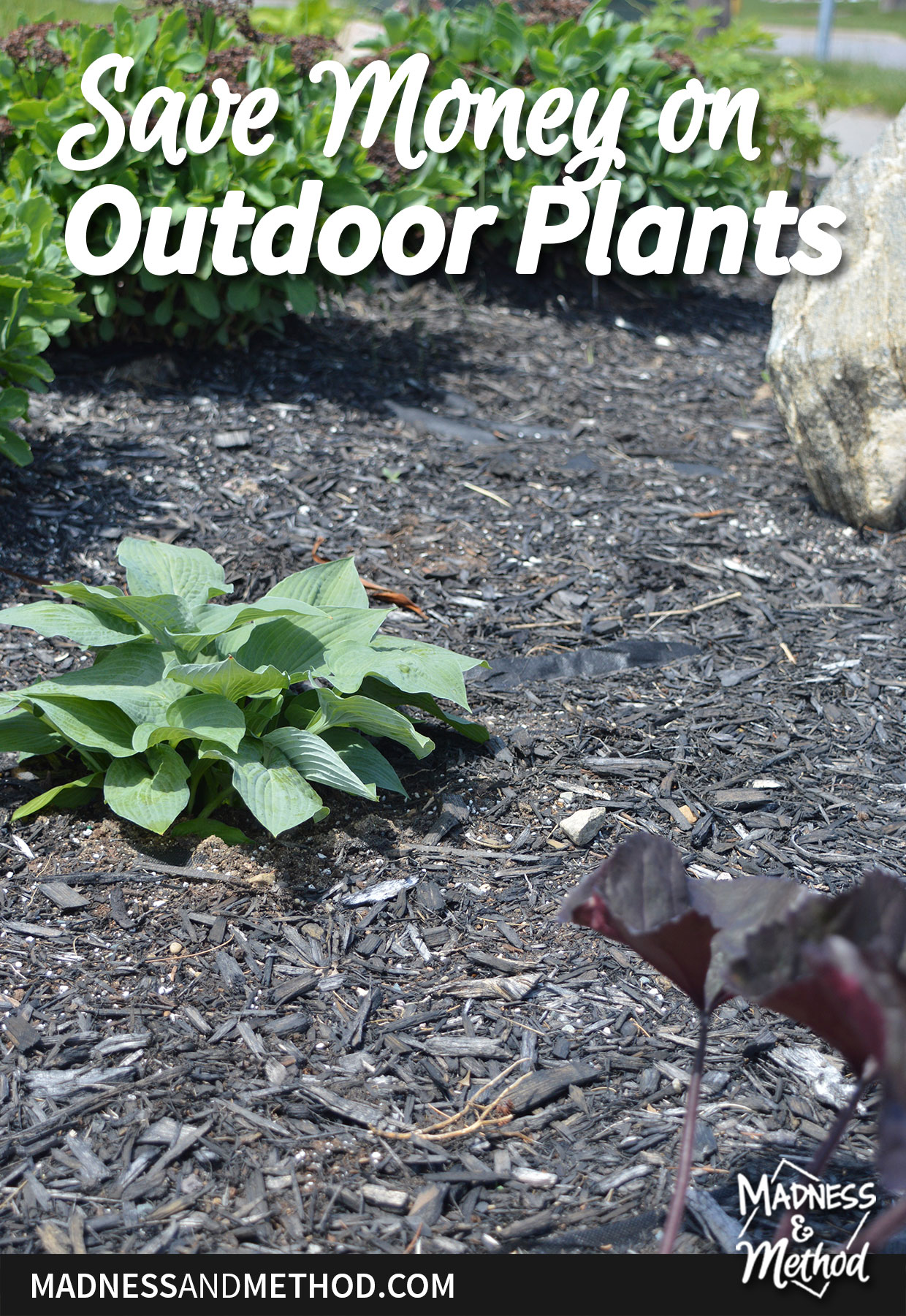 Landscaping Ideas on a Budget
There are some items you need to spend money on.  Things like good topsoil (dirt), landscaping fabric, mulch, yard tools and water/fertilizer may be hard to find for free.  Luckily, a bag or two of dirt will most likely be cheaper than some plants you want – so these "start-up costs" shouldn't be too expensive.  Plus, once you have the tools, you probably don't need to buy new ones each summer.
My number one tip for landscaping on a budget is to: think long-term.  Landscaping is like a marathon, not a race.  Sure, you can spend a lot of money to get a great-looking yard in one season.  But considering this post is about saving money, I'm going to guess that's the goal :)
For our sidewalk landscaping, we had a large area to cover.  We added a new plant every few feet, and this year we added plants to fill in the areas in between.
The diagram above shows this better.  Essentially, in year 1 you will only plant a small portion of plants.  Then, add more plants as you need the next year, and continue over each year.  Working with hypothetical numbers, you could spend 250$ the first year, then 100$ the next year, and then maybe 40$ in year three.
A similar way to do this could be to work on filling in a small area at a time.  Let's say you wanted to landscape the whole perimeter of your yard.  In the first year, you could add plants to a small portion.  In the second year, you could landscape the next area, and in the third year, another zone again.
Essentially, PLAN your landscaping before you dig or plant anything.  For more specific tips on saving money on outdoor plants, read on!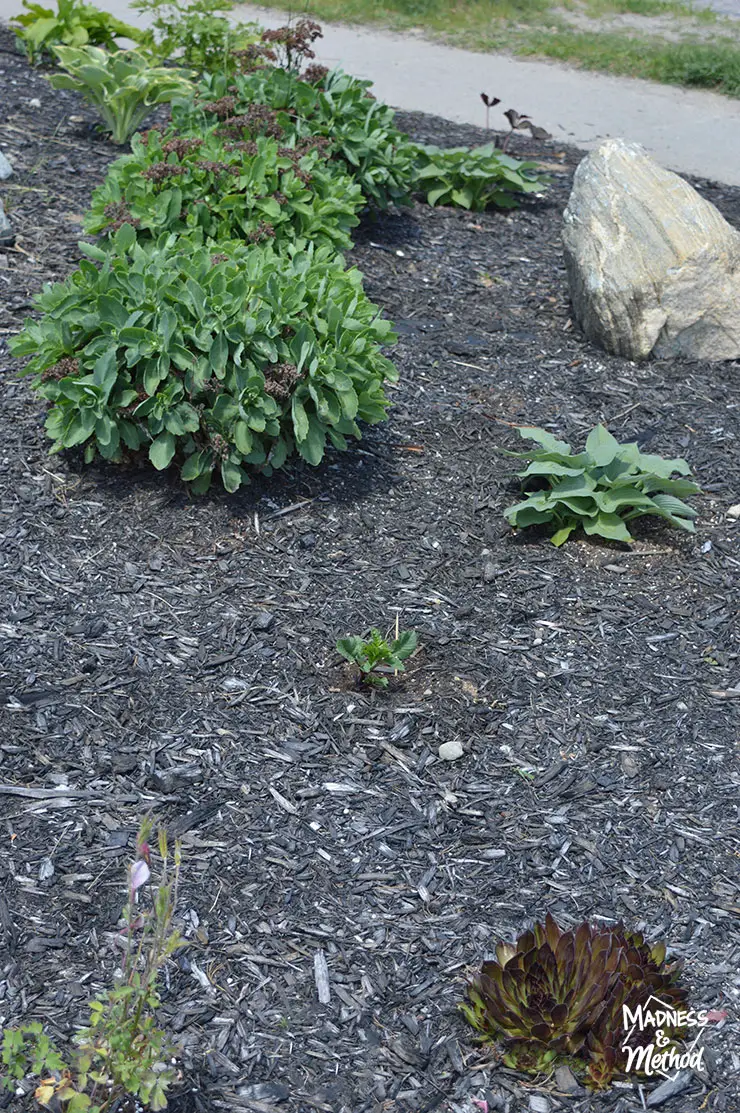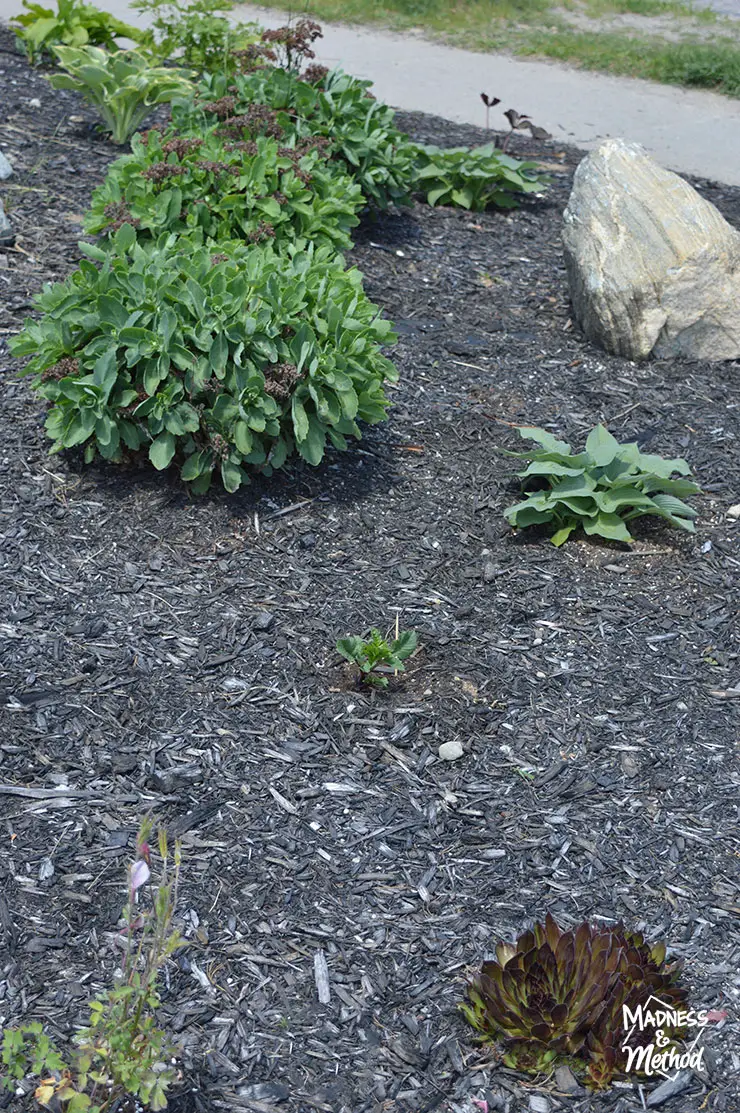 How to Save Money on Landscaping
Here are some great things to keep in mind when planting.  And, if you're wondering where to get plants, I also have a section on that below.
Start From Seeds
It's immensely cheaper to buy a pack of seeds than full-grown plants.  Plus, seed bags often have many little seeds (aka many plants) and can even be started indoors.  You can get your garden started before the frost finishes outside, and it's easier to know where the plants will be, rather than remembering where you put your seeds :)
Prioritize Perennials 
Perennials are the types of plants that come back every year.  Annuals only grow for that season.  Depending on where you live (aka your growing zone), the perennials and annuals might be a bit different.  Guess what's way cheaper than buying plants each season?  Buying plants once that will come back year after year!  If you can, try and plan for a 75-90% perennial ratio to annuals.  Heck, you can go full perennials for an (almost) maintenance-free garden, but annuals do tend to be the nice, bright, flowers that people like.
There are also different perennials: some that go dormant that you keep in the ground, some that reseed themselves into new plants the following year, and some that you may have to dig up and store over the winter.  Choose whichever perennials work with your landscaping style.
For me, I also like to switch up the colours of my annuals each year.  It's a fun way to get the kids involved in picking plants too!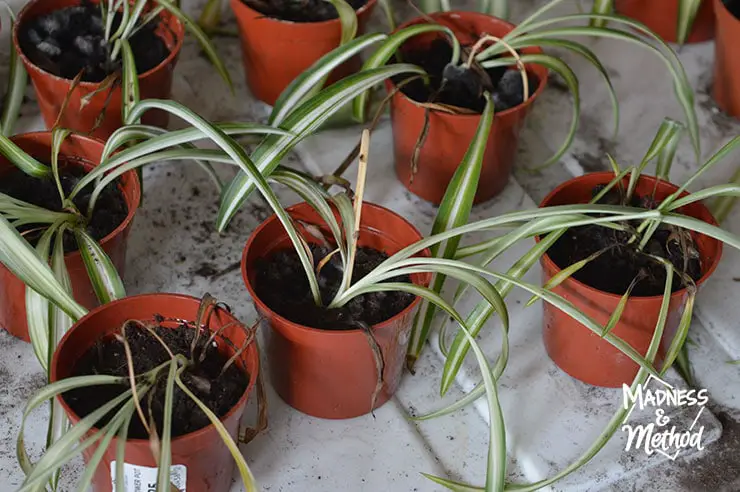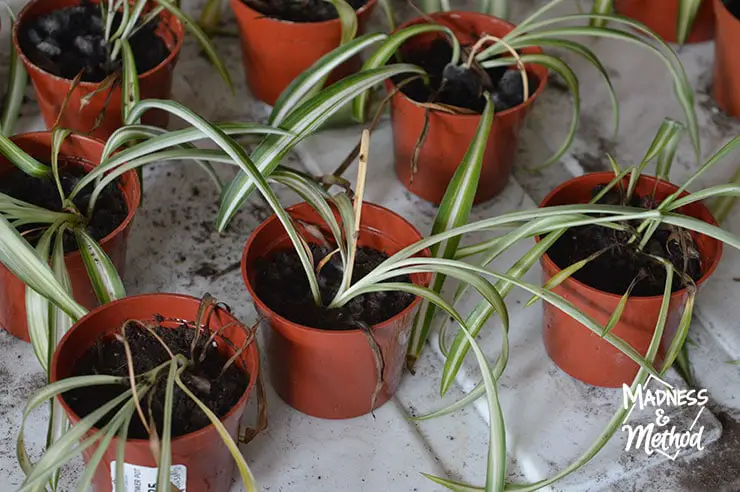 Bring Indoor Plants Out
Do you have indoor plants?  You might be able to bring them outdoors for a couple of months!  Potted indoor plants are a quick and easy way to dress up a front porch.  In the past, I've hung indoor plants near our front door, and this season, I'm planting spider plant babies as annuals outside.  I had an abundance of spider plant off-shoots, and it's been a completely free way to add a lot of greenery outside.
Divide & Conquer
Do you already have plants outside?  Most times, you can split them into different bunches and plant them somewhere else.  This may actually help the main plant stay healthy because it has more room to grow.  Plus, "free" plants for you to put elsewhere!  And, did you know that some plants can root just from the branch?  This lilac tree was a branch that someone cut off of theirs.  It rooted and now has grown into a nice little tree :)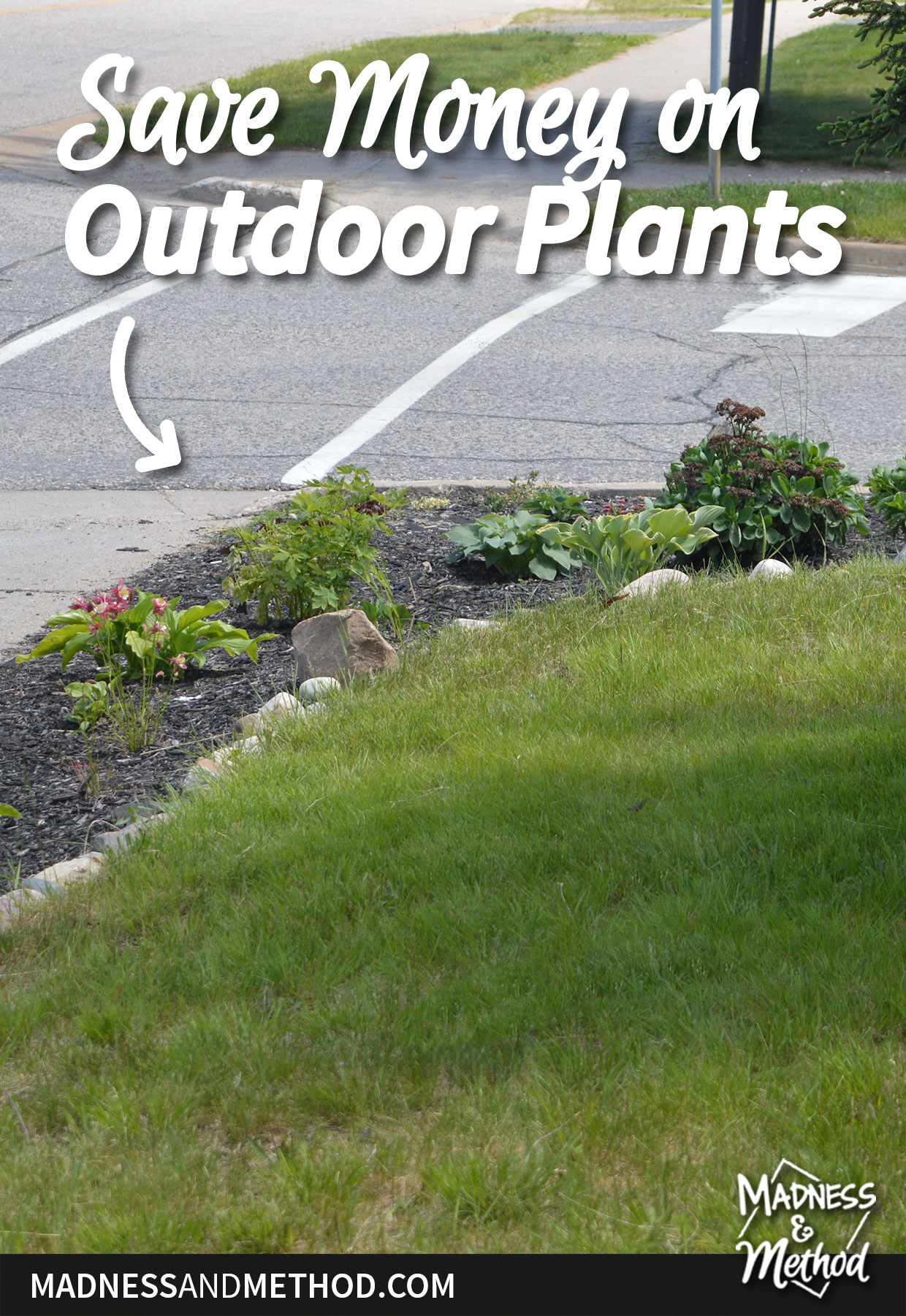 Where to Get Outdoor Plants (for cheap!)
Friends/Family/Neighbours
A majority of my outdoor plants are from my mom's garden.  Really, 100% of our veggie gardens are always planted by her :)  If you know someone that has an established garden already, it doesn't hurt to ask about taking some plants!  Remember, you can divide plants that are getting big, without having to take out the whole thing.  The other day, a neighbour came over while we were landscaping and offered to bring us some plants they were trying to thin out!
Yard Sales/Online Local Sales
I've seen a few local people with signs "outdoor plants for sale" or "free xxx".  Checking online selling places (Facebook Marketplace, Kijiji, Craigslist) is also another way to find outdoor plants.  You may be able to work out bulk discounts if they are selling a few different items.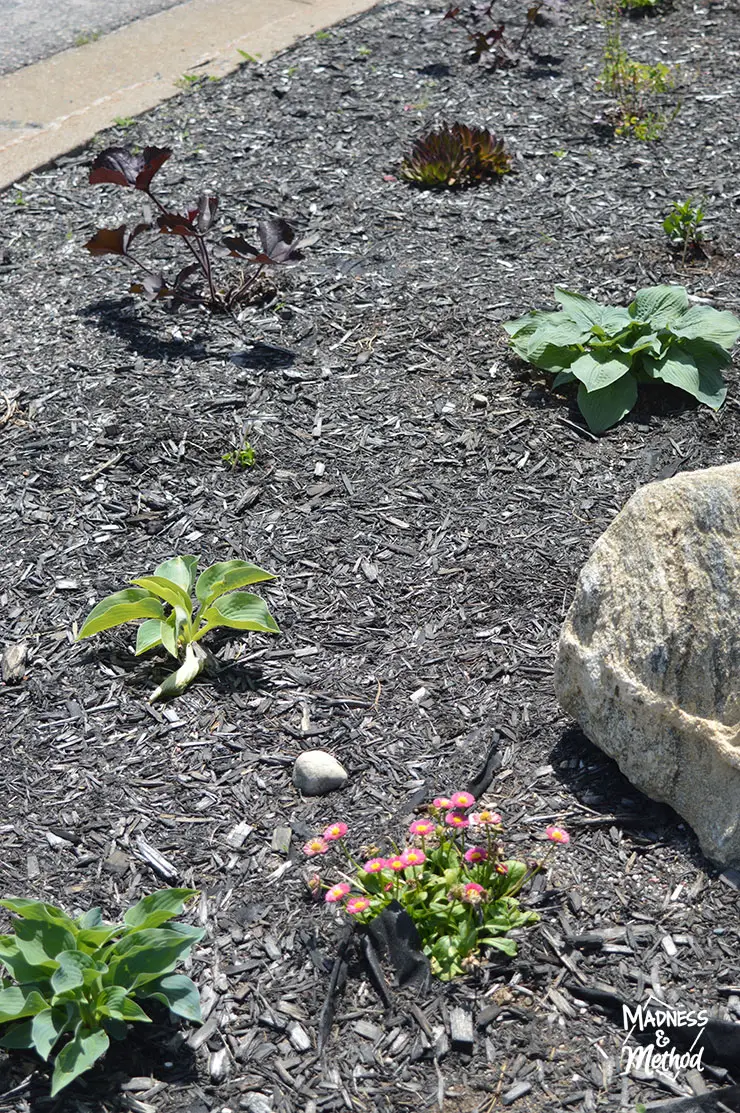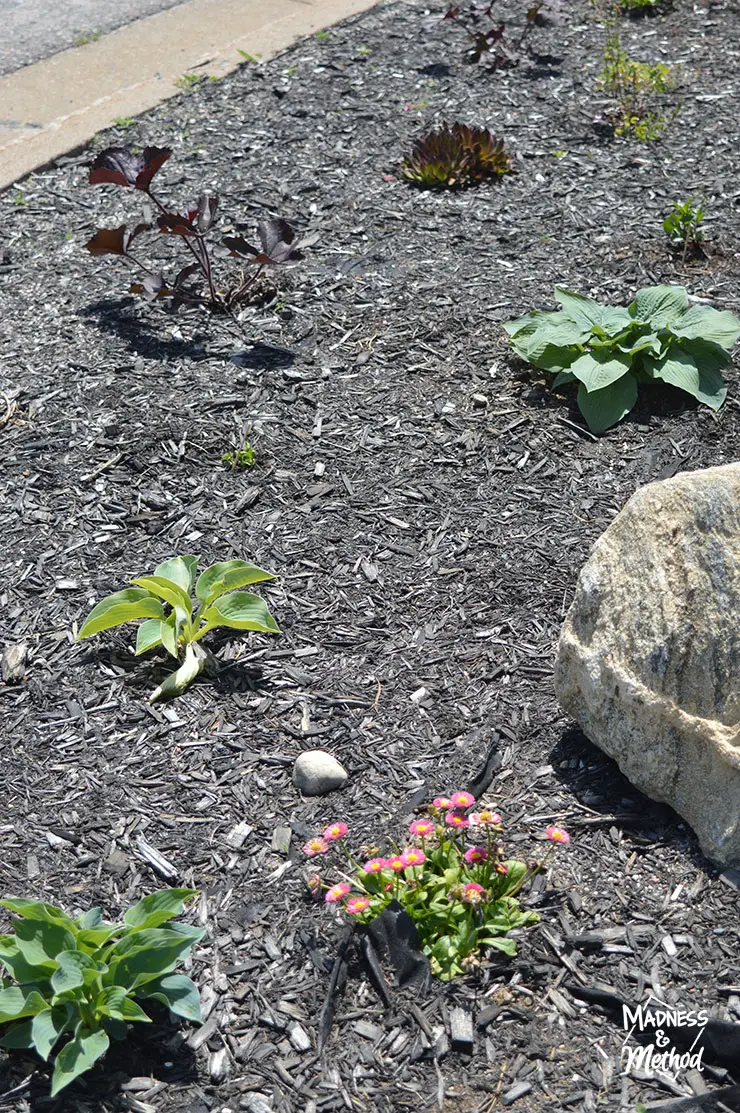 Local Greenhouses (Especially End-of-Season Sales)
Your local greenhouses are THE place to buy plants.  They'll have all the plants for your zone too, so you can be sure that your plants will have the best chance to survive.  Remember, buying big and established plants is more expensive than seeds or smaller plants, so look around for multi-packs or different sizes.  Prices may be higher during the peak growing season, so make sure to check back in later in the season for things they are trying to get rid of.
Online Retailers or Big Box Stores
This was the first year I've bought plants online, and so far so good!  Was it cheaper to buy the plants online vs. in-store?  I'm not necessarily sure, because I didn't see the exact types of plants to compare.  However, there was a larger selection and, for me, I felt like I was more in control of my budget.  Instead of going to the nursery/greenhouse and grabbing every. single. plant.  For under 100$ I got 5 different types of perennials (with 1-6 bulbs each) and some plant food, shipping included.
Big box stores also have plants and are kind of a hybrid between local nurseries and online stores.  Because they are larger retailers, their prices might be cheaper.  However, sales and pricing are most likely set across all stores.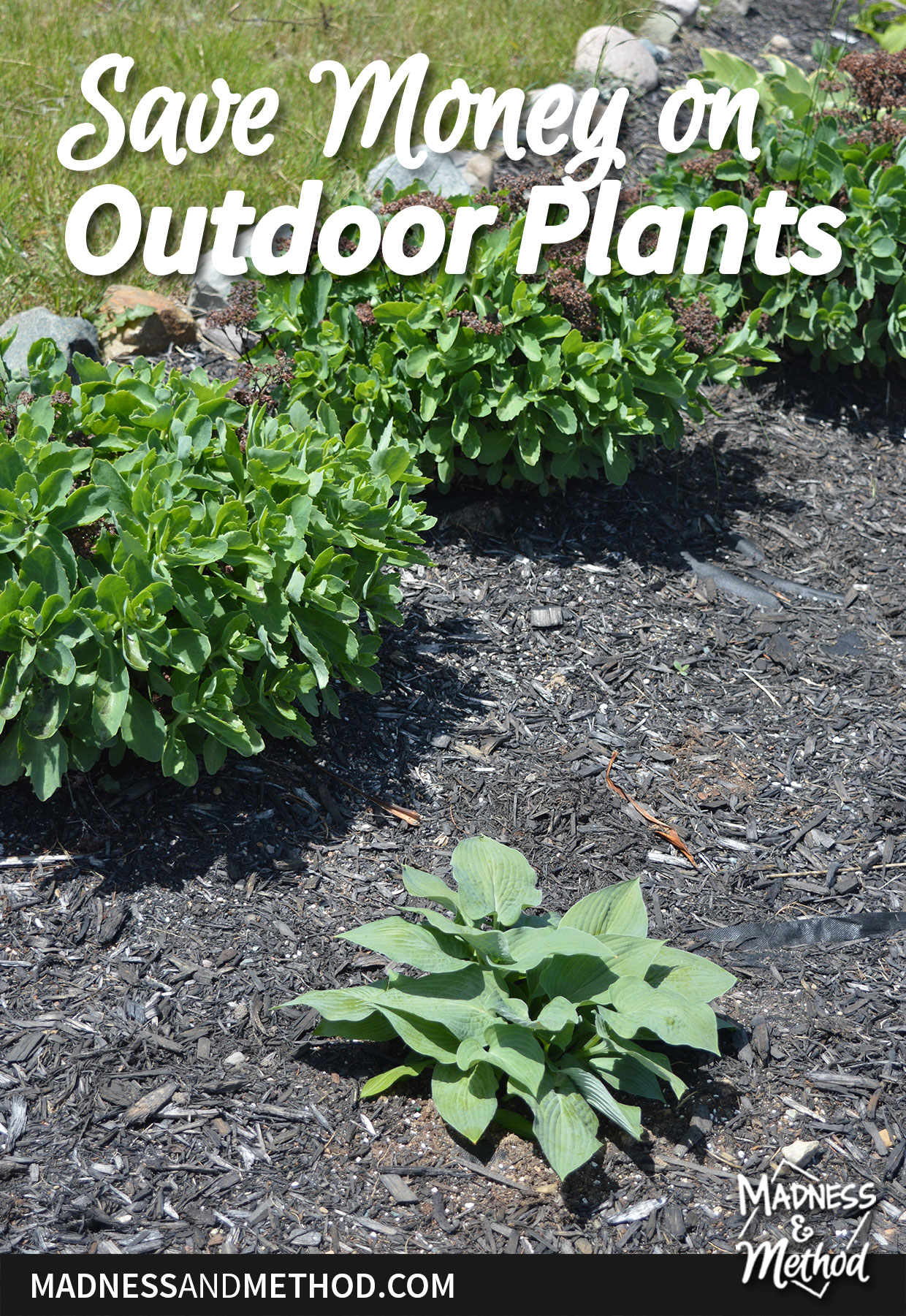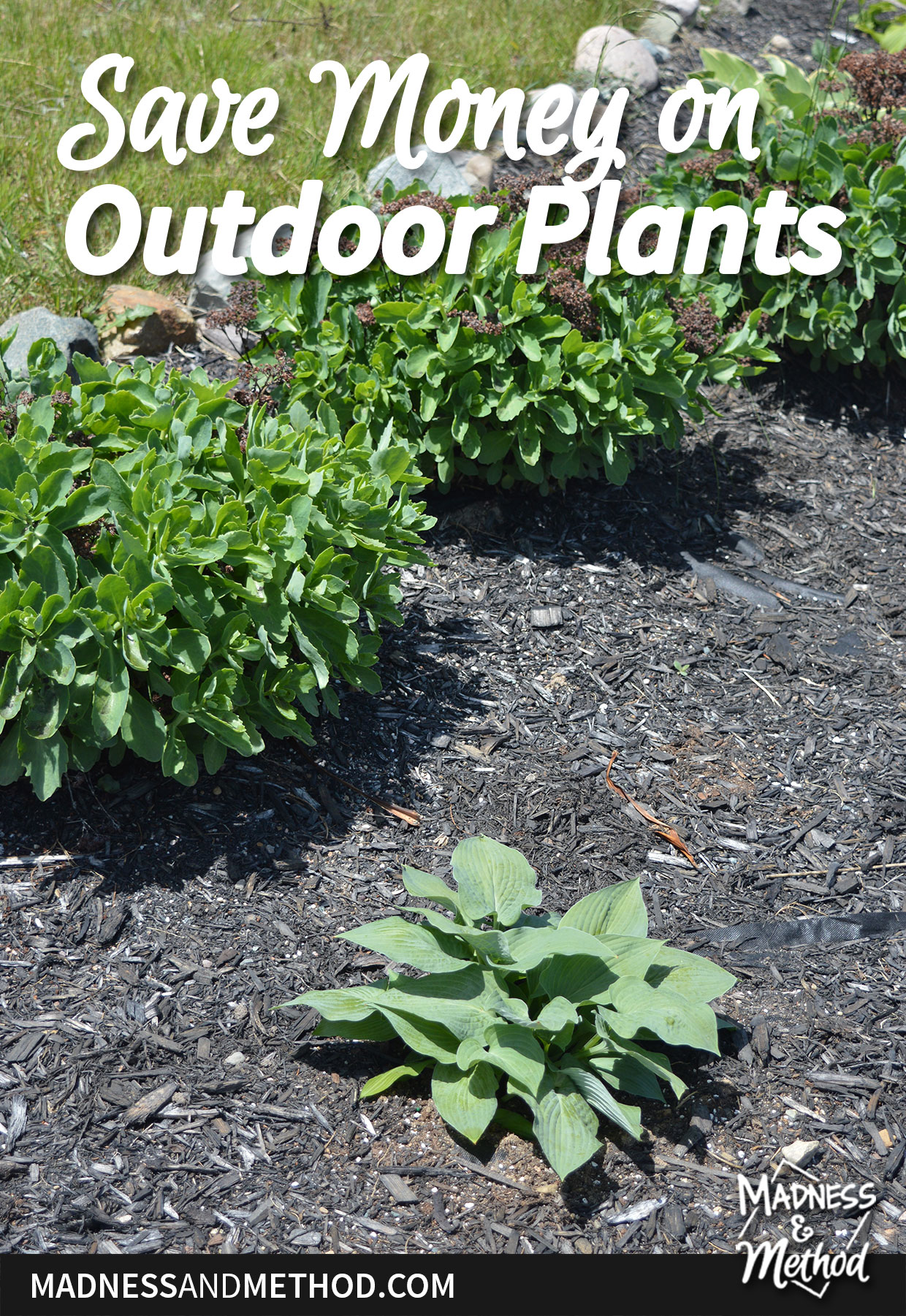 Conclusion
Hopefully, these tips on how to save money on outdoor plants and budget for landscaping have helped!  I really do want a nice luscious garden along our sidewalk (think: more plants, less mulch).  I know the long game will be best in this situation, and I'm happy to save money and work a bit each year to see it grow.
Oh, I should mention that of the 20-30 plants that we added last year, only 3-5 of the perennials didn't make it back.  Honestly though, with the snow (and snow removal equipment), I am happy we didn't lose more!  I'd say we added another 15-20 perennials this summer, and I'm excited to see how this garden will look in a couple more years :)
Related Posts