Are you hosting any holiday parties this year?  Whether you're hosting a recurring annual event, want to introduce a new tradition, or just trying to attend as many fun gatherings as possible, it's better to plan your social calendar early.  Party planning doesn't have to be hard!  Save these simple holiday party planning tips to make your next event as stress-free as possible. 
While I've hosted a holiday party or two in the past, this year I am taking it easy.  I've done traditional sit-down meals with friends, casual get-togethers and more – so hopefully you find this holiday party planning post helpful! 
Too late for holiday party planning this year?  Save this post for next year… or revisit it in a few months for all your other party-planning needs :) 
Let's get to the holiday party planning! 
Holiday Party Planning 101
Determine Party Purpose
Basically, decide on a party "theme" and make sure your guests know the plans.  Will you be having a Christmas party? Hanukkah event? New Year's Eve bash?  Cookie exchange?  Even a non-themed non-denominational casual get-together is a good idea if you want a party!   This could also involve creating a dress code and may help guide your guest list.  
Will you be hosting family only, just friends, or a combination of all the people you know?  If you're hosting a holiday work party, it makes sense to only invite your co-workers and maybe one guest per person.  For a Friendsgiving or something more casual, it's up to you.
Pick a Date/Time/Location
Often, the location of the party will determine the guest list.  For large get-togethers, it may be a good idea to rent a hall or book a room at a nearby restaurant.
Make sure to plan your holiday party as early as possible if you're having it on one of the "big" dates. Don't forget to let your guests know what time you expect them to show up (and leave).  Having your party at certain times of the day will also dictate the vibe of the event.  Food and drink choices will vary depending if you're hosting something during dinner, afterwards, or any other time of the day.  Hosting a weekend brunch is a good idea for those busy holiday times as well :)
Get the Guest List Going
If you're hosting at home or in a small space, it's best to let people know ahead of time so they don't bring a few extra guests.  Planning a fancy holiday party and have time?  Feel free to send out formal invitations and have guests RSVP.  Don't want the hassle?  A simple text message or phone call is all you need to confirm your guest count. 
Plan the Menu
I don't know who needs to hear this – but all parties need snacks!  Even if you don't have a sit-down meal, there should still be a food option or two to keep guests happy.  Drinks can be as simple as a BYOB, or a full bar set-up.  Along the same veins, make sure you have enough toilets for your guests :) (And/or that your bathroom is in perfect working order before your party).  
Plan Activities/Schedule
Not all parties need a set schedule, but to keep your holiday party planning stress-free, prepare a basic outline.  People love to know when to expect food, gift-opening or other party-related activities.  Even having a deck of cards or some board games accessible can help in a pinch.  And if you're planning on having children at your party, activities are must-haves :) 
Let me know if you have any unique party ideas or other holiday party-planning tips!  I also have a post on simple party prep, which includes information on what to do on the day of your party!  
Looking for more party-planning ideas?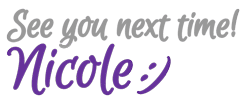 The original post was sponsored by Basic Invite and titled "Holiday Party Planning: Don't Forget the Invitations".  The updated version no longer includes any discount codes or branded information.  Stock photography by Georgia de Lotz, Viktor Hanacek and Charles Nguyen.