I know we're only in the middle of October, but it's definitely time to start thinking about holiday party planning! Whether you're hosting an annual event, hoping to introduce a new tradition, or just trying to attend as many fun gatherings as possible, it's better to plan your social calendar now!
Basic Invite reached out to see if I would be interested in sharing some of their winter holiday party invitations with you.  For those who may not know, Basic Invite is a US-based custom invitation company that offers a multitude of colour options in both the printed cards and envelopes (and they ship to Canada too, so bonus!).
Holiday Party Planning 101
Select a party theme/holiday: Will you be having a Christmas party? Hanukkah event? New Year's Eve bash? Even a casual get-together is a good idea if you want a non-denominational event.
Pick a date/time: Make sure to plan your holiday party as early as possible if you're having it on one of the "big" dates. Don't forget to let your guests know what time you expect them to show up (and leave!).
Determine a guest list: Will you be hosting family only, just friends, or a combination of all the people you know? If you have a small space, it's best to let people know ahead of time so they don't bring a few extra guests.
Order some awesome Christmas Party Invitations: There are so many different card layouts, and you can customize all the text and fonts to make it unique to your party. (PS: envelopes are included!)
Send out your invitations and wait anxiously: Don't forget to include RSVP info if you need it, and start getting ready for the big event!
Check out my post about simple party prep for more info on getting ready for guests on the actual party date!

I was able to order a few sample cards from Basic Invite (yes, you can get single custom samples to test out designs or colours!) and wanted to check out a few of the different options.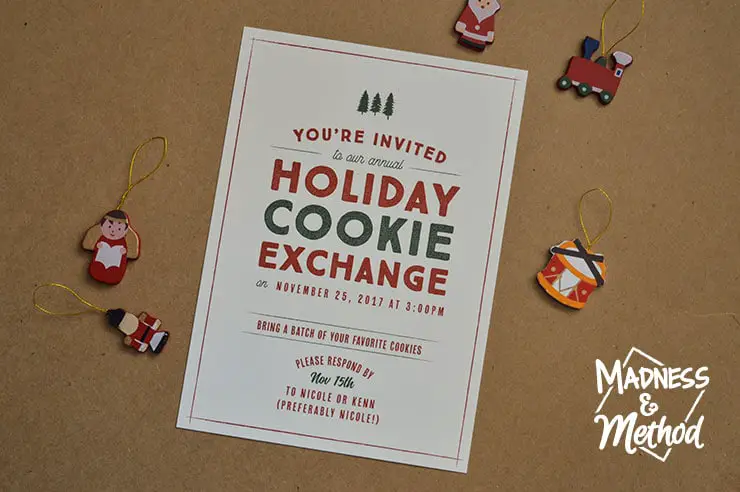 Have you read my post on must-do Christmas activities!? I talk about eating cookies, and as soon as I saw the holiday cookie exchange party cards, I thought that would be a great party that we could have!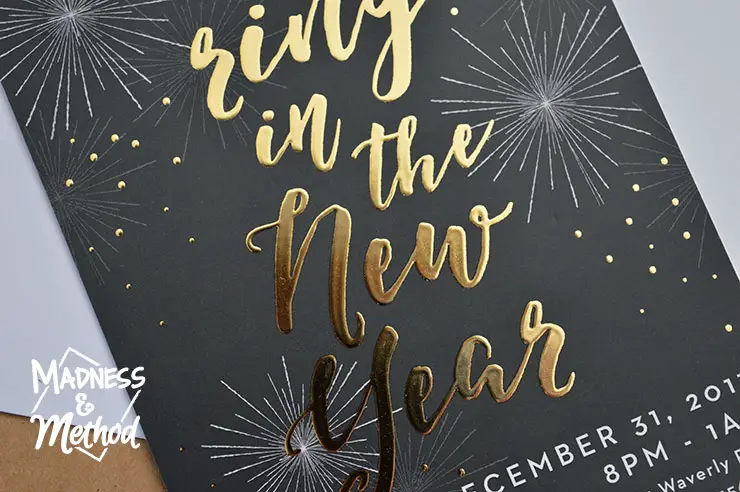 I was also able to get a foil card, and it adds a touch of glam to the invitations. (And if you're planning a wedding, foil is definitely a great added element).  Read my New Year's Eve to-do list too!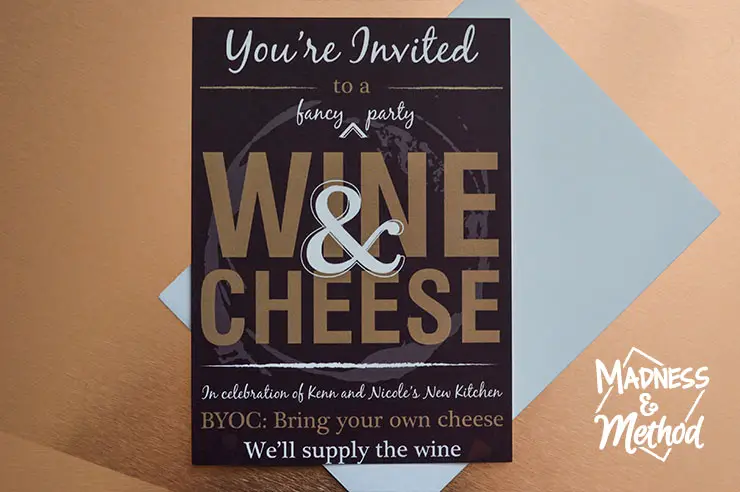 Even though there are so many design options to choose from, you can also upload your own if you have something else in mind. For those who might not know, I actually went to school for multimedia design (think graphic design, web design, etc.), and I love designing different prints.  A few years ago (after we finished our kitchen renovations), we hosted a Wine and Cheese party at our house.  This is the actual invitation I came up with back then, and I was able to easily upload it onto Basic Invite's website and have it printed.
Since we're not 100% sure if we're hosting a Christmas party this year (or just attending them), I explored some of Basic Invite's photo Christmas cards as well.
Yes, technically I used photos from our summer photo-shoot, so if I was getting my proper Christmas cards I would want something a little more seasonal.  (PS: the rainbow circle card in the back are just some of the colour options available).
But let's be honest, I think our friends and family just want photos of Tootsie and the Mister, ha!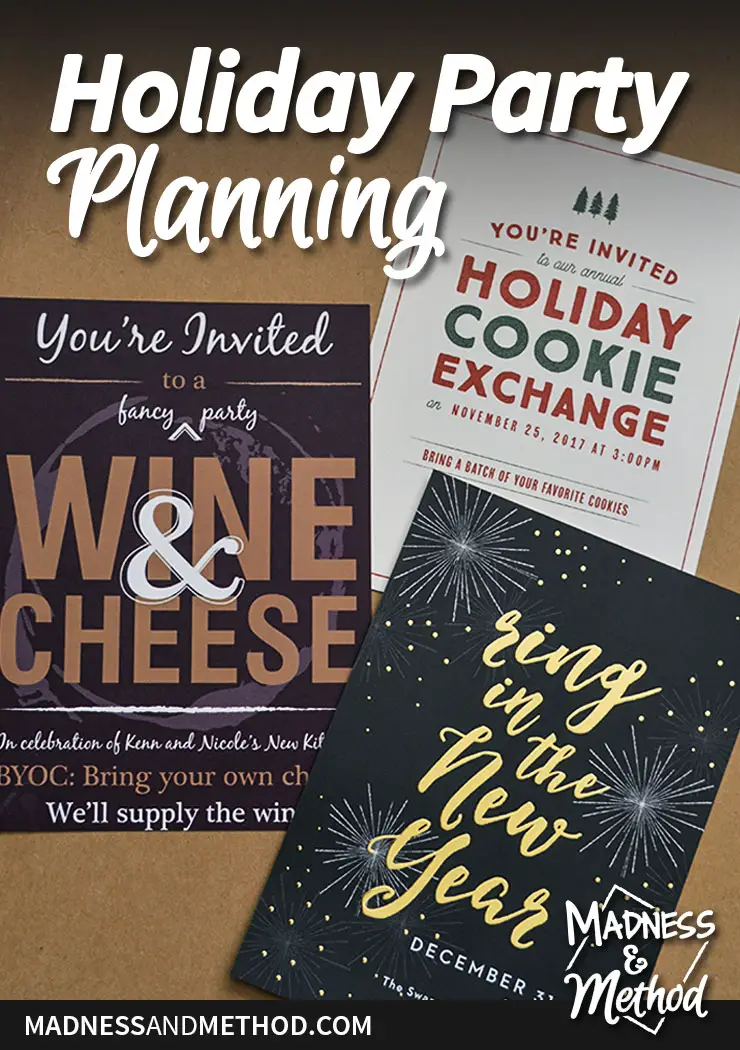 Like I mentioned, we're not 100% set on our plans for the holiday season yet, but I know that we'll probably be getting things figured out soon. I can imagine that other people are in the same boat as us, so if you are planning on having a holiday party this year… better get organized now – and don't forget the invitations!
Right now Basic Invite is offering 30% off with coupon code: holi30
Are you planning on hosting any parties this year, or just attending?
Let me know if you have any unique party ideas, and totally invite me to any cookie exchanges!