I'm slowly working on the big kids' shared room and have a bit of progress to show.  Well, it's more like I've been working at a snail's pace.  But at least we're moving in the right direction!  Nevertheless, I recorded a video on how to quickly draw and scale a room, so that will be the bulk of my updates this week.
Full disclosure, I did record the video about a month ago (when I was ordering materials).  So ya, not too much has happened in this room yet…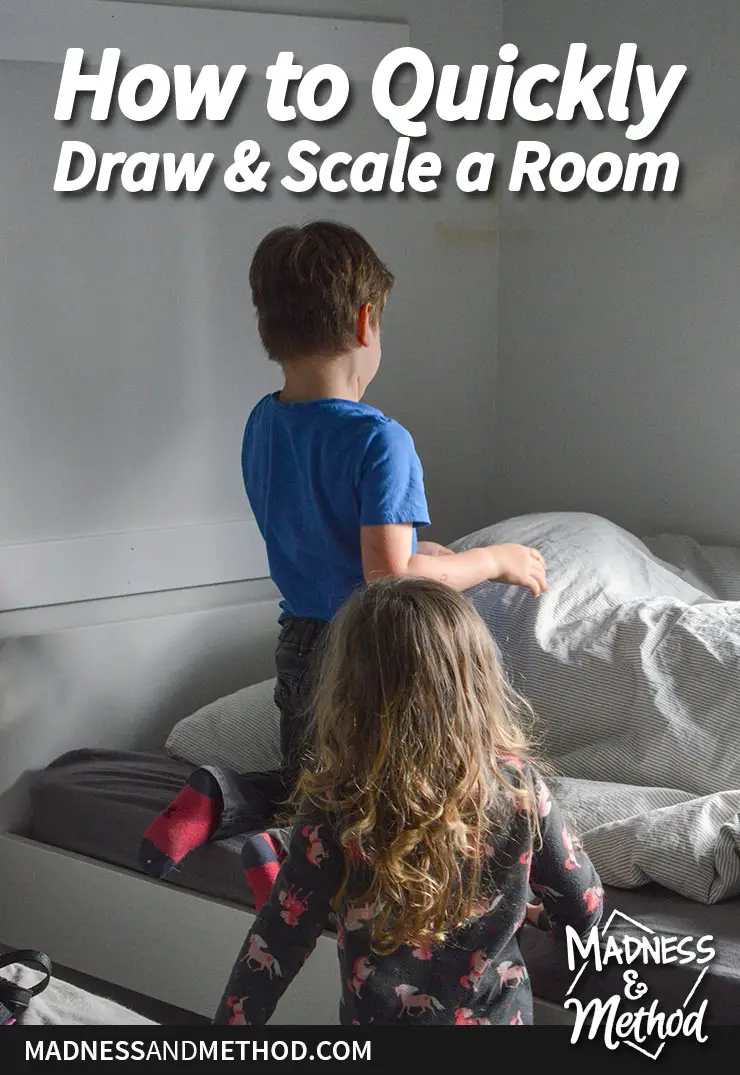 To bring you up to speed, we're renovating our two oldest's shared room for the Spring One Room Challenge.  We're at the start of an 8-week project, and last week I showed off the before photos and design plans.  I don't think it will take the whole time to finish, but I do have to wait for stores to open (we're on COVID lockdown still) to get a few of my materials.  In the meantime, I am working on what I can!
To-Do List Progress:
Removed shelves and paintings
Patched and sanded holes
Replace old receptacles/switches
Measured, cut and installed SOME trim pieces
Built closet shelves
Fixed the mirror
It may seem like a lot, but we did do the first three before last week, so let's see what I started this time: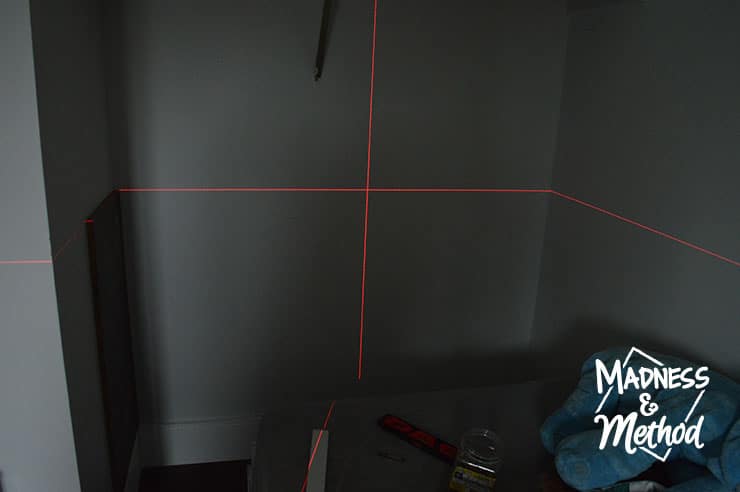 In Zachary's closet turned nook, I decided (pretty last minute) to add shelves.  I've known for a while that I was doing custom padded headboards, so this will sort of workaround that.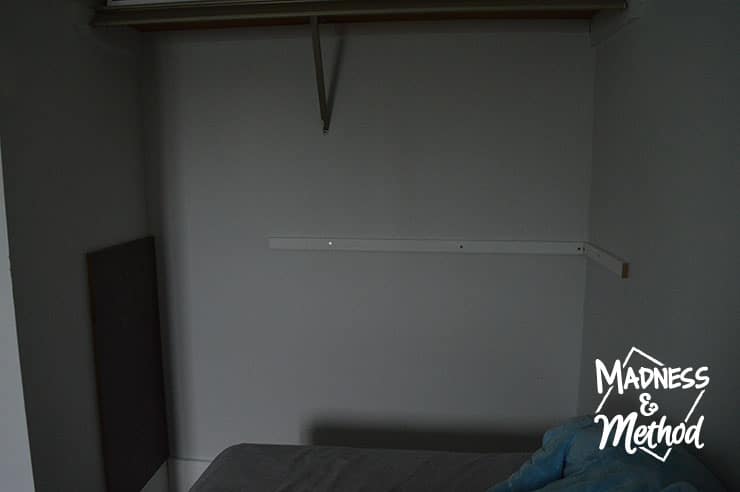 I built them in place (the left support is sitting on the baseboard) so that I could use up leftover material from past projects.

The bed sits in the big section, then there are three shelves on the left.  Right now, the bed is pushed back in the hole since the headboards aren't made yet.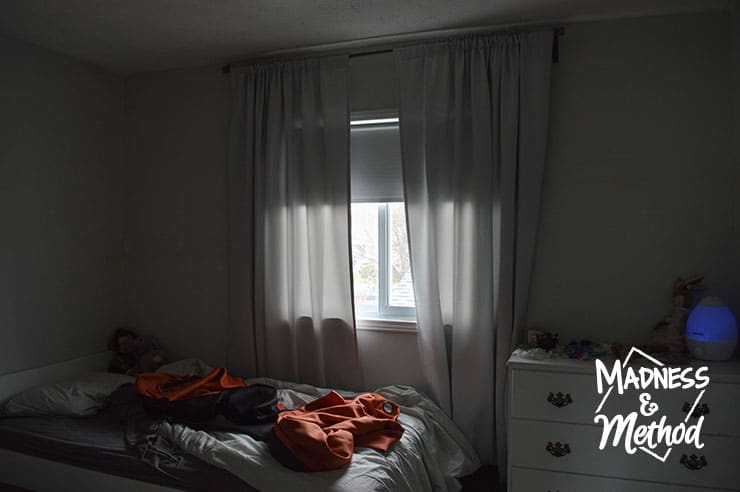 In other news, I put up the new curtains.  The photo above shows the old ones (which were just liners actually).  I was going to do a before and after, but the photo was just black, ha.
The kids are going through a "we don't want to go to bed" phase, so I need to block out as much light as possible.

I took out the old window casing and we have a solution on how we'll address the exposed drywall (sort of).  I was going to double up the top thickness and fade down to the bottom.  BUT the Husband thinks we can just get a little cover piece (kind of like an exterior sill) to hide the exposed drywall).  We shall see…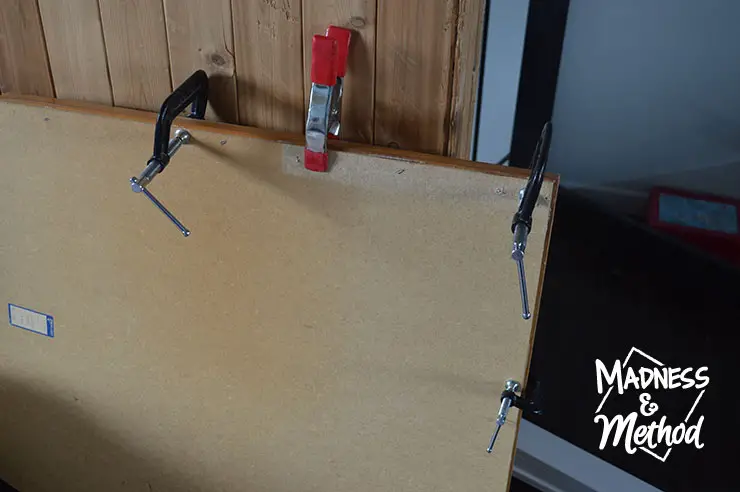 I briefly mentioned this in the post last week, but I picked up a free mirror for their room.  It was attached to a dresser, so when I removed those supports, it was kind of loose.  Nothing that glue can't fix :)
Ongoing Projects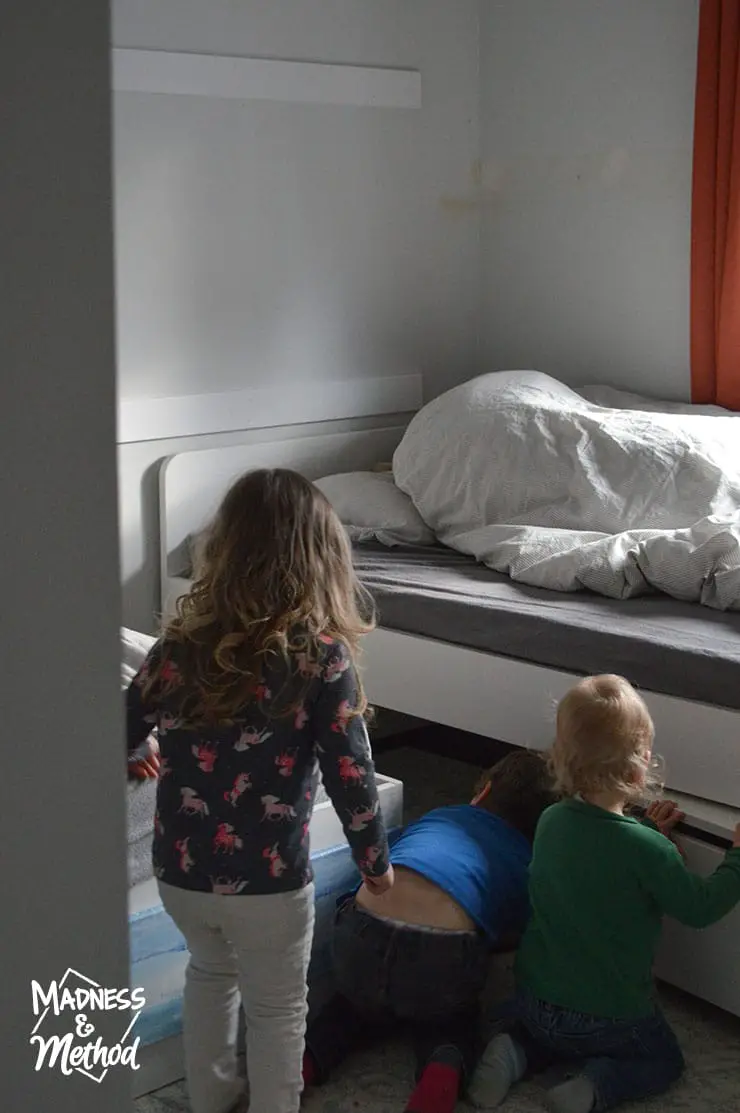 Ha, I took the photo above when the kids were playing hide and seek with the Husband last night.  You can totally see him right?!  They needed a lot of clues haha.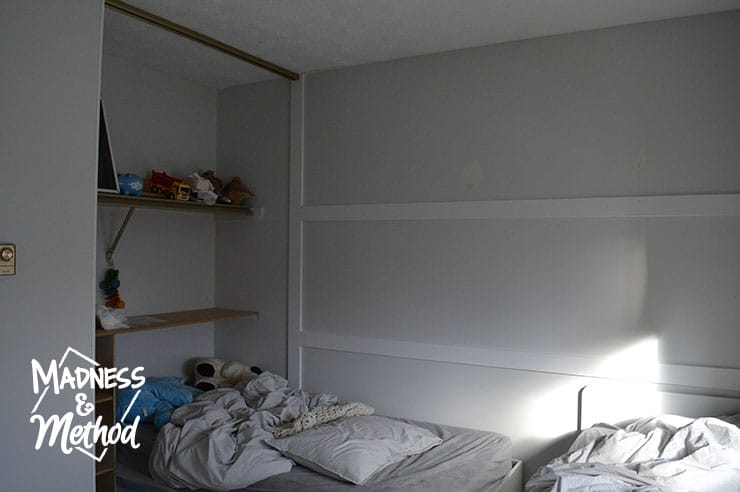 You might have peeked that some of the board and batten trim is installed.  I'm doing a very similar style to our bedroom (minus the accent wall).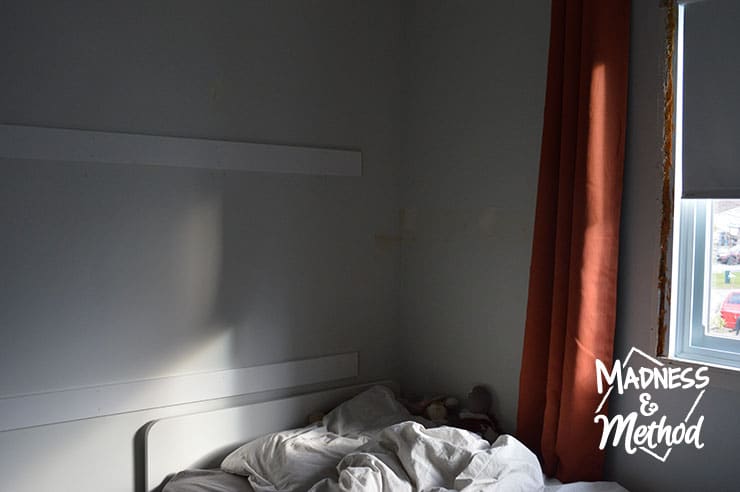 Essentially, I've been measuring and cutting all the pieces that I can.  Then I bring them in, test fit and do a power install when all the kids are awake/busy.  (I can cut pieces in the garage when the little two are napping, but obviously can't run the compressor or nail things then ha).
Today was a daycare day for the little ones (our oldest is doing school at home for now) so I did get some more accomplished!  I share some things over on my Instagram, so check that out :)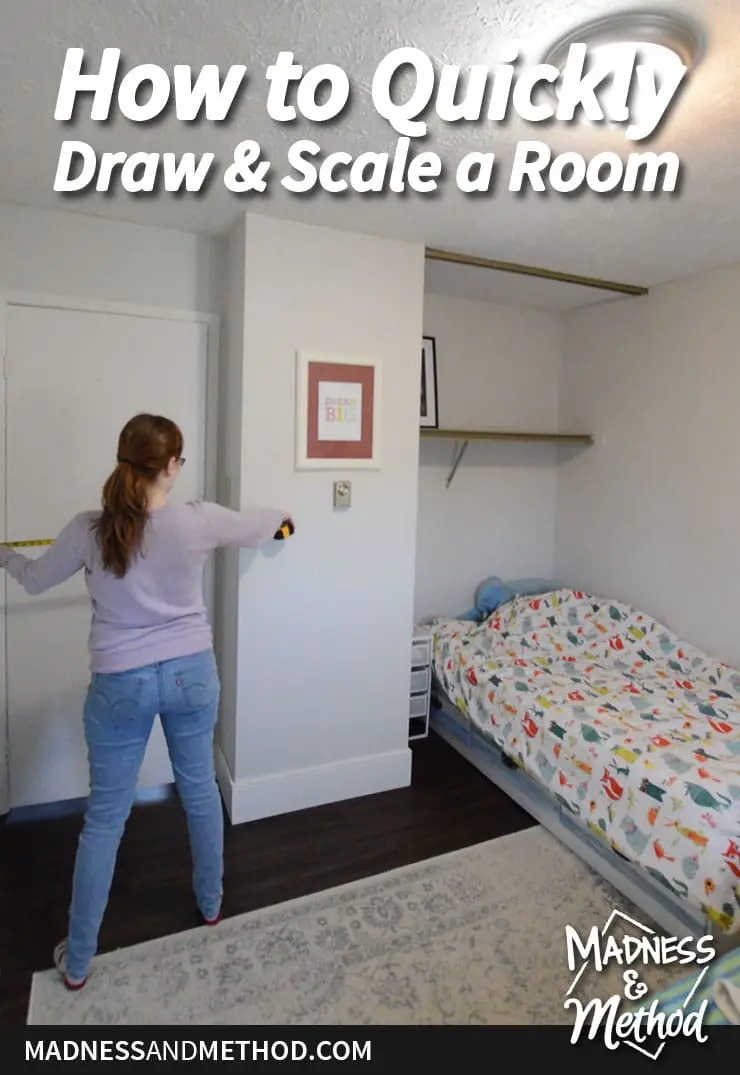 Check out the video below for more information on how to quickly draw and scale a room:
All you need is a measuring tape, ruler, paper, pencil and calculator! I've also written about how to measure a room and create a to-scale floorplan with graph paper, so this video could work with those.
If for some reason the video above isn't loading, you can always check it out on YouTube here.
About the One Room Challenge
That's all I have this week!  Make sure to check out all the other linking participants (and 20 featured bloggers!).
Quickly Draw & Scale a Room (this week!)
TBD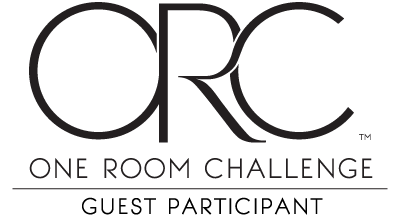 (We also FINALLY FINISHED the kitchen backsplash this past weekend, so that took up a lot of our time).  That project is almost done, just waiting on a few pieces of trim and final details.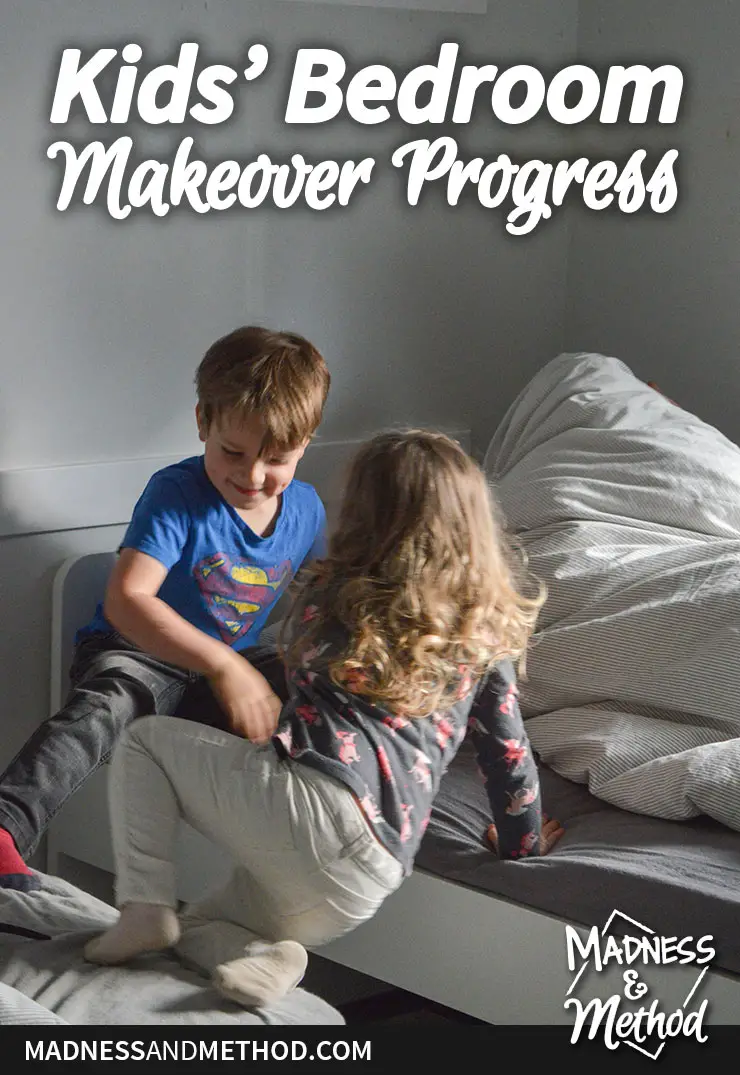 Come back next week to see our progress!  And, please let me know if you're also participating in the One Room Challenge – I'd love to check out your project too :)