Last week I joked that this basement project should be called 100 ways to paint concrete.  It's not totally inaccurate, since I'm back today with more!  This time, I worked on removing carpet and painting the concrete floors underneath.  PLUS the bathroom floors are painted too, and I've decided on the pattern I'll add.  Let's get to it! 
– Note: This post contains affiliate links. See more information about affiliates here. –
Welcome! My name is Nicole and I live in Northern Ontario, Canada. I'm refreshing/resetting my raised ranch basement as part of the One Room Challenge.  So far, I've introduced the space,  removed old vinyl flooring, and painted the entry.  Since living here almost two years, we've mostly used the basement for storage.  So, re-organizing the mess is the priority (while also spending as little money as possible).  In the end, we'll hopefully have a somewhat decent-looking space back.  Did I mention I'm not really doing a big makeover!?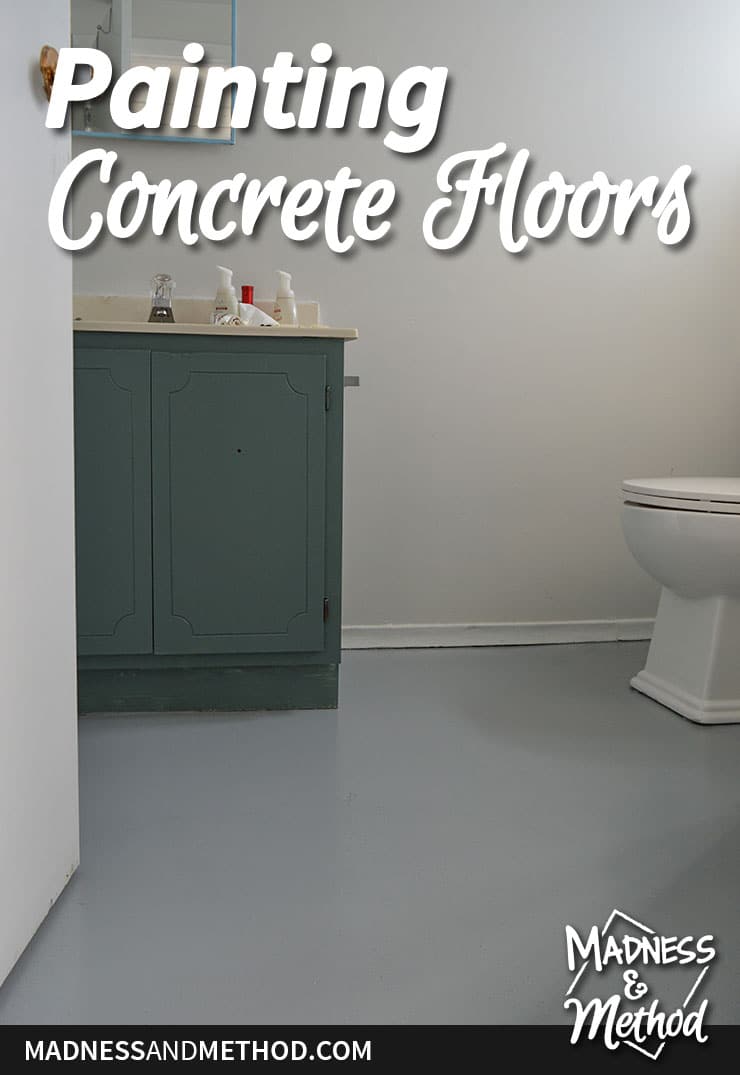 Anyways, last week I left you with photos of the mess in the living room.  And if you've been following Instagram Stories, you know that it got a lot messier!  I had to clear out the guest bedroom to do the floors – so all that stuff had to go somewhere.  Don't worry though, there's a method to my madness, because once they're done, I can assemble the new bedframe and get some stuff stored away :)
Removing Carpet
Moving on to the bedroom, the whole room had to be cleared out.

It's not a huge space, but works for guests (mostly my parents).  The bed was originally on the other wall, but I like this layout so much more.

I bought a new bed frame that I'll be able to use for storage.  That way, the closet shouldn't look like a disaster zone all the time.

I'm pretty sure the carpets were original to the house (built in the 70s).  It had a subtle musky smell, but it was also tricky to clean because the dark colours camouflaged a lot.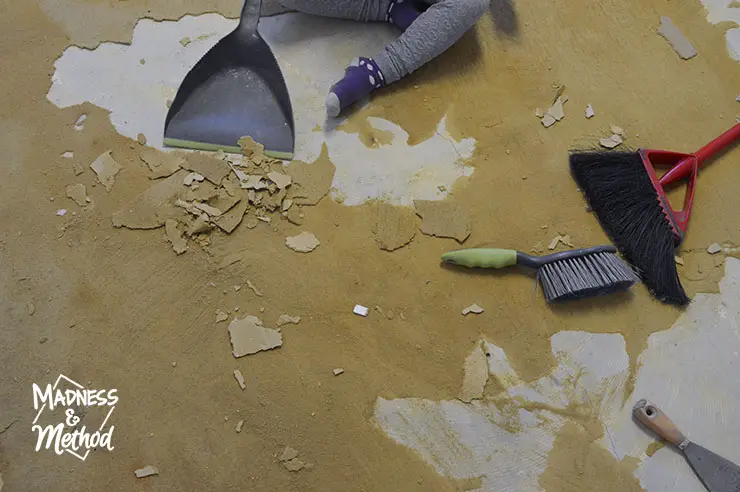 I have removed carpets (and carpet pads) in the past – and this is the first one that was ever glued to the floor.  Because it was so old, it also disintegrated in places.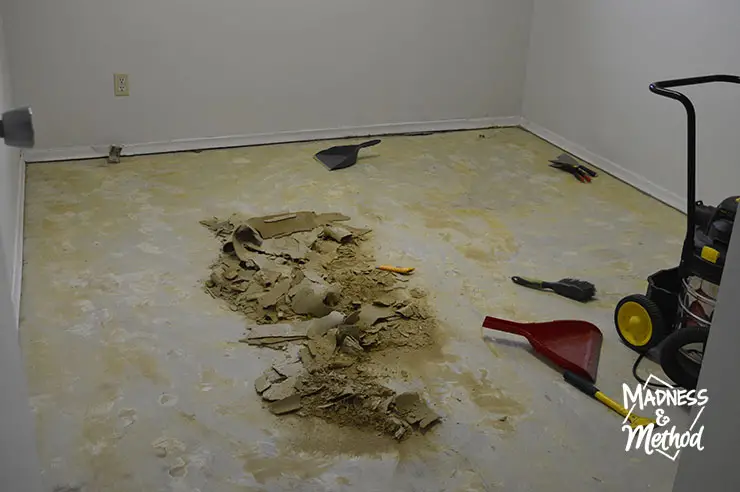 There also weren't any carpet tacks.  That was convenient, although they made up for it by installing the baseboards directly on the carpet.  I'm sure it would have been easier to take out the carpet with them out.  But alas, replacing baseboards aren't in the plans this time.  (My mitre saw is occupied at the cottage).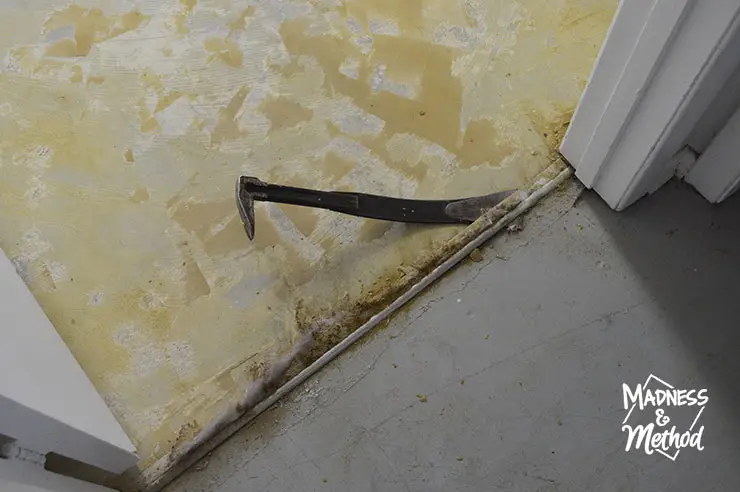 The only nailed-in piece was the transition at the doorway.  I couldn't get that thing out at all!  Well, I should say, I did break the metal into pieces, but the nails were glued in.  The Husband took them out for me (along with the other 3 to his workout room).
Painting Concrete Floors
Anyways, back to the floors!  Once the carpet pad was removed, I went in a couple of times and mopped/rinsed everything.  That loosened up a couple of stuck adhesive, so I scraped some more.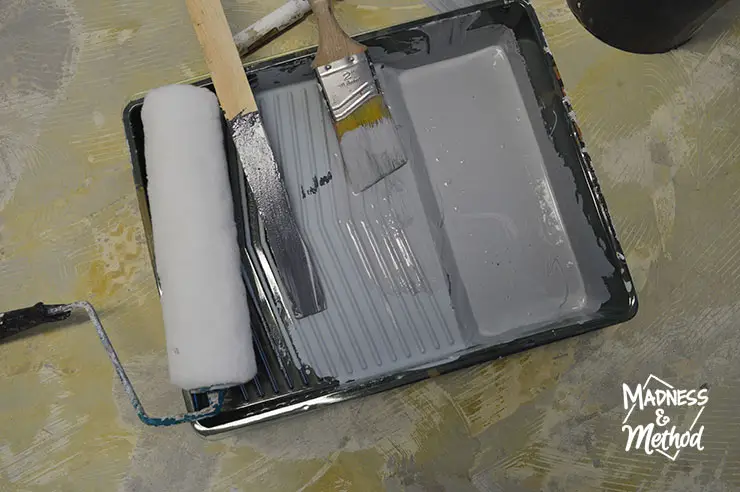 Yesterday, I mixed a couple of the floor paint colours I have (a light grey and a dark blue) to try and match the wall paint in the entry.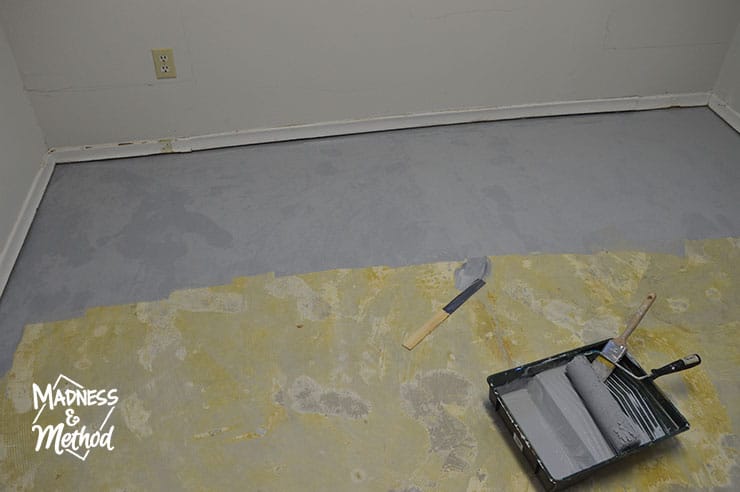 Since the bathroom floors turned out so well, I wasn't worried as much about flashing/spotting here (which turned up immediately).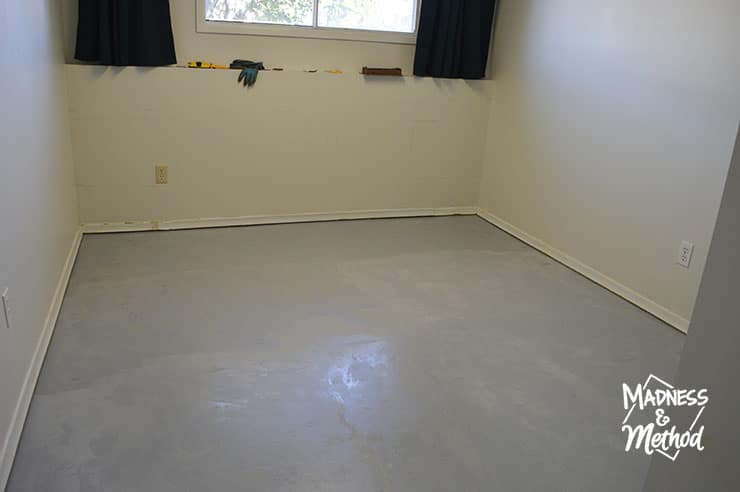 I did have to mix another batch of paint, so the colours didn't match perfectly.  Luckily, there was enough leftover paint to give everything a second coat this afternoon.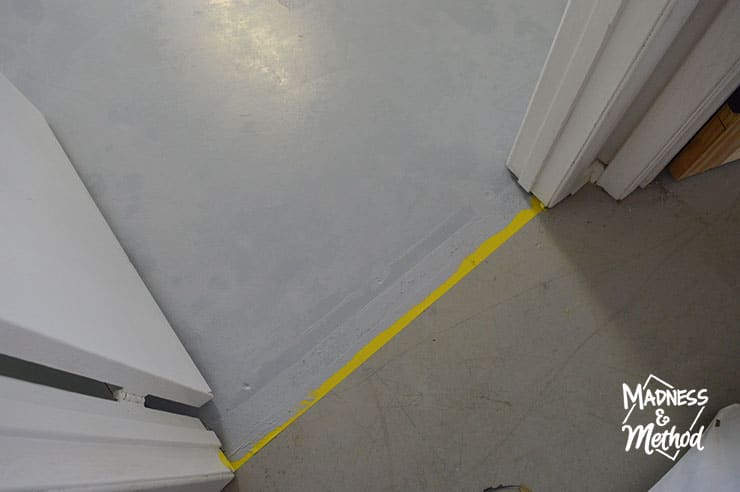 The colour is a bit different than the hallway/rest of the basement.  I think I want to do a subtle cloud sponge technique in here though, so let me know what you think!
Where We're At
Meanwhile, the rest of the basement is still stuffed to the brim.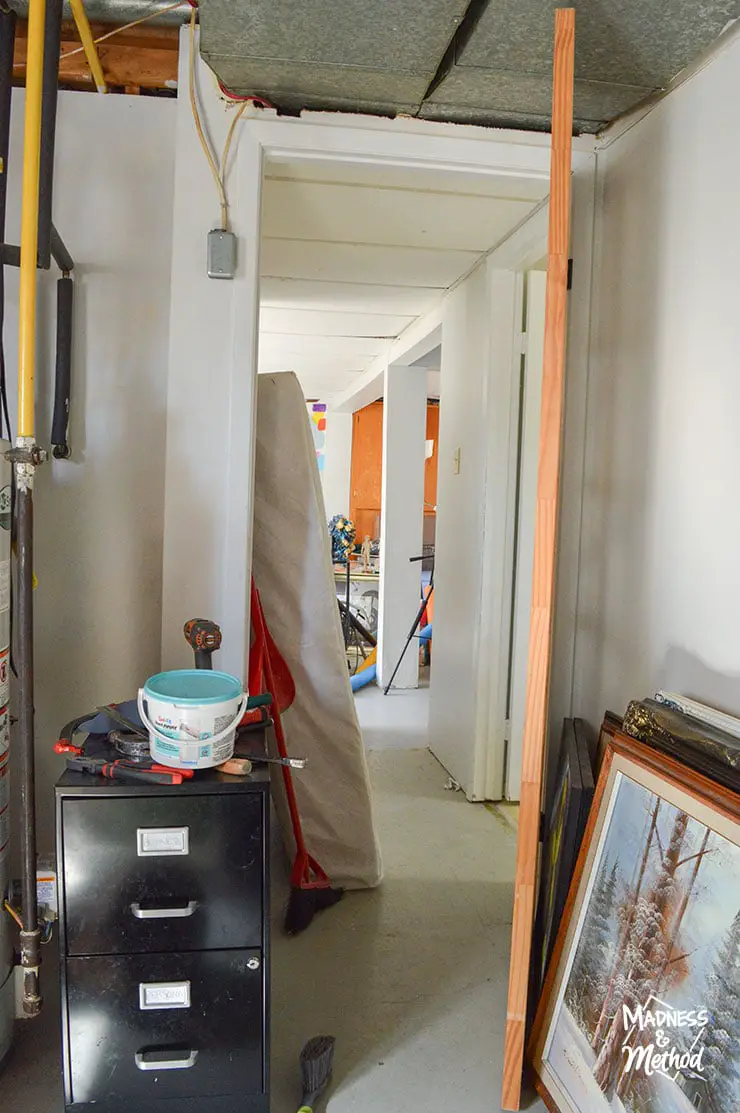 The bed frame I upgraded to doesn't need a boxspring – so I really need to find a place to store that soon!  I think we'll be really messy for another week or so, then I can load things back into the guest bedroom.  (I want to give the floors a bit to cure).

Remember when I cleaned out the Husband's workout room?  We emptied his suitcase from his trip in there, so it needs to all be sorted.  I'm not confident we'll be able to find a place to store our cottage stuff, so the laundry room may be messy for the reveal.  We'll see…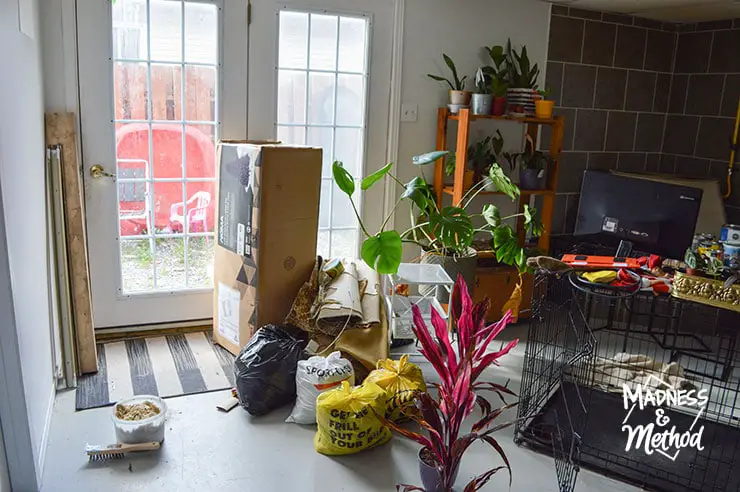 Oh!  I also worked on my accent wall, but I'm going to try and keep it secret until the reveal.  It's not done yet (maybe 75%), but it's looking fun!  There's a pile of carpet and floor garbage that needs to go to the dump, but I'm in no hurry to haul it to the garage.  That big box is our Christmas tree (it will be our first season using it!).  I bought it last year when it was on sale, but have plans to add flocking soon.  It was stored in the guest bedroom closet, but I really want to try and get it under the bed.  I think the box is just an inch too big, but we'll see once the bed frame is built. 
About the One Room Challenge
Check out all 20 One Room Challenge featured designers and hundreds of linking participants!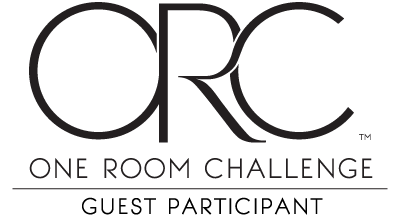 Follow my basement project:
Basement Reset BEFORE (ORC Week 1)
Removing Old Vinyl Flooring (ORC Week 2)
Painted Basement Entry (ORC Week 3)
Removing Carpets & Painting Concrete (this week!)
And my budget breakdown: 
Week 2 Difference: – 2.95$
Week 3 Spend: – 7.20$
This week I sold some plants and a baby rocker and made 29$
Total: 18.85$ positive (aka I made more than spent so far) 
I need to buy some plywood this week, so my budget will be back up again.  I still have a few things that I'm trying to sell, but so far, no takers.  Actually, there are a couple of more things I need to list… so fingers crossed!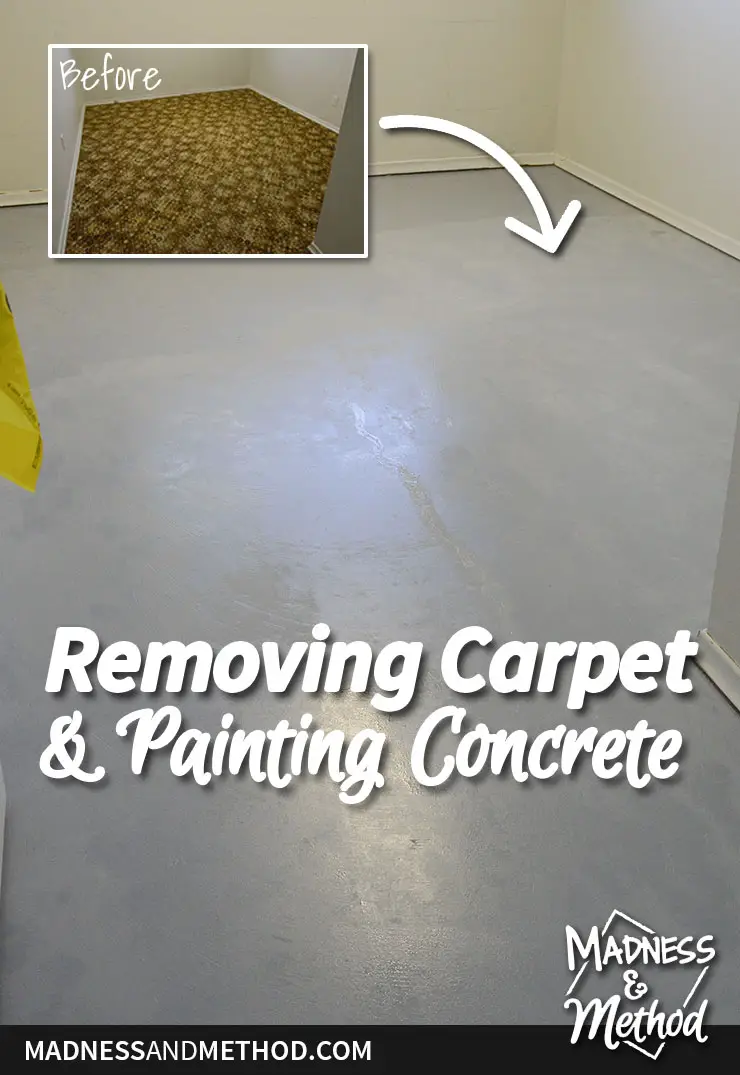 I hope you're enjoying following the basement project so far!  Having a project to do again has been really fun. I'm spending an hour or two-ish a day (while the little children nap) so things are slowly coming together.  
Here's a recap of what's been done/to-do:
Finish painting the baseboards at the staircase
Remove staircase vinyl floor and paint concrete
Remove bathroom floor and paint concrete (still want to do a fun pattern)
Paint half wall in living room? (gave this up and painted the entry PLUS will do an accent wall) 
Finish nightstands
Fix blinds/curtains in guest bedroom and living room (going to use the guest bedroom ones)
Headboard fix/build
Remove bedroom carpet and paint concrete (may do cloud pattern
Replace light fixture in basement entry – Husband task
Reorganize workout room (did, but now messy again)
Reorganize living room (including plant placement)
CLEAN AND ORGANIZE EVERYTHING
Added: finally install the doorknob on the laundry door
Tomorrow, I plan to do the bathroom floor hex pattern.  Not sure how long it will take, so hopefully it's not forever.  Let me know how you feel about a pattern in the bedroom floor too :)  I may do the headboard before the sponge painting, then give everything a good week to cure before the rug and bed/stuff go back in. 
See you next week!