It's that time of year again: One Room Challenge time!  It feels like it came back really quick this round, I mean, didn't I just complete the kids bedroom?!  I'm going to blame the summer for going by way too fast :)  ANYWAYS, this time I don't have a huge transformation planned, but I do have a big space.  If you couldn't guess from the title, we're doing a basement reset, and today I'm sharing all the before photos.
I'm happy that the One Room Challenge is going to be 8 weeks again this time.  While there isn't that much that I'm planning change-wise, I still have a pretty hefty project.  Add to the fact that the basement is currently our holding zone for the cottage stuff.  AND we've stalled a bit there.  So I honestly have no idea if I'll be able to get the stuff out.  Oh, and the Husband is gone for another week THEN will be on bed rest for a while after he gets back…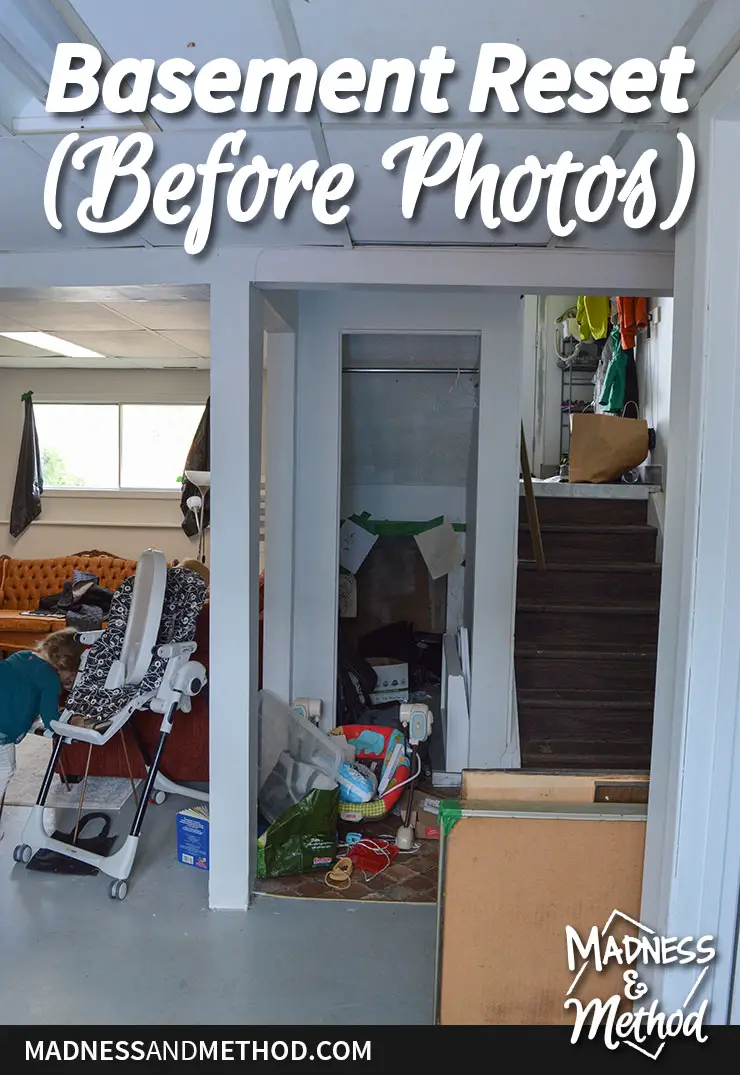 So it's really just me alone crying in a pile of stuff :(
Don't know what I'm talking about?  Let me share with you the current state of our basement…
Basement Living Room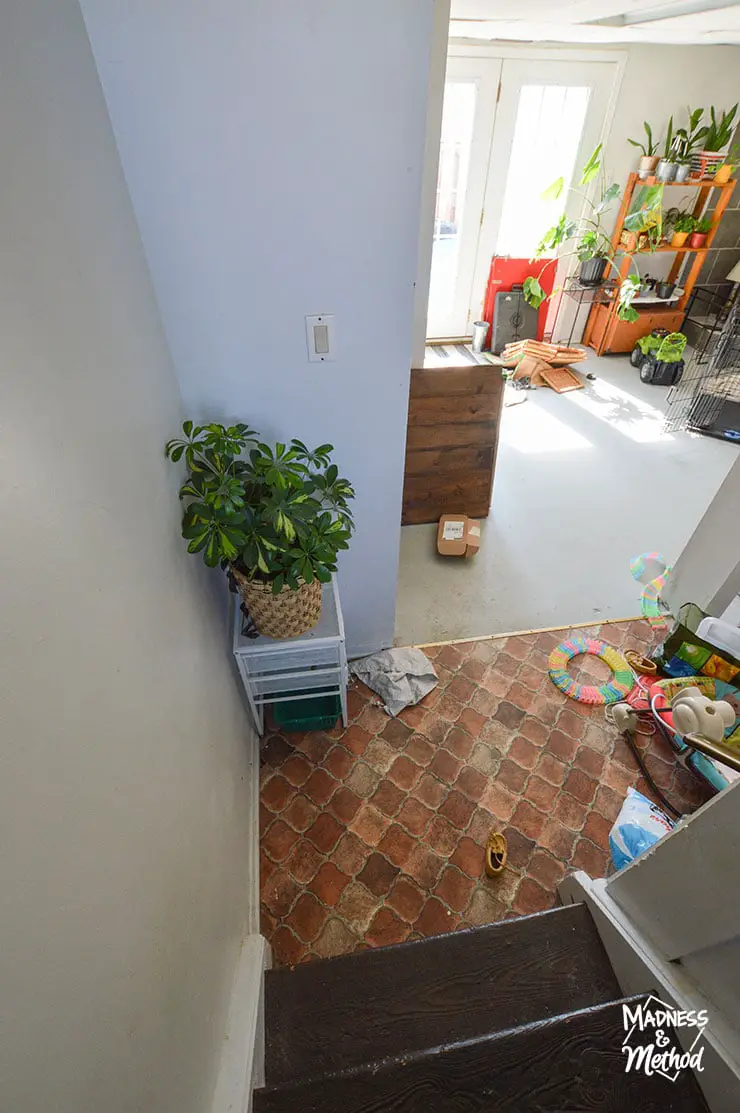 We live in a raised ranch so the entry has a split staircase going up or down.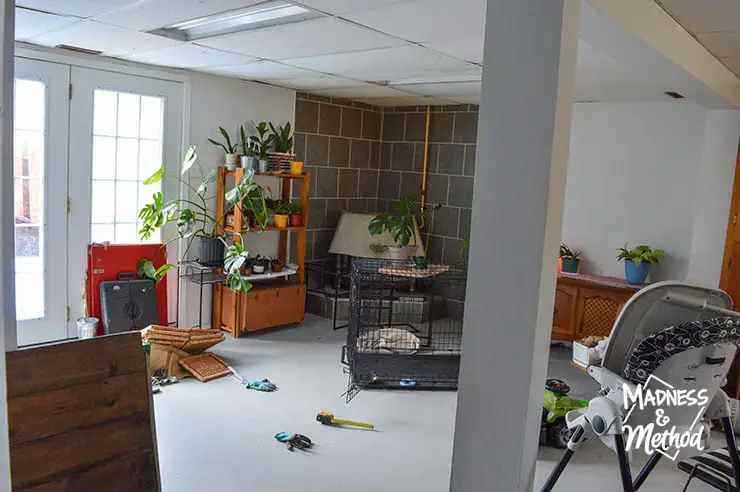 Our basement is surprisingly bright thanks to big windows and walkout patio doors.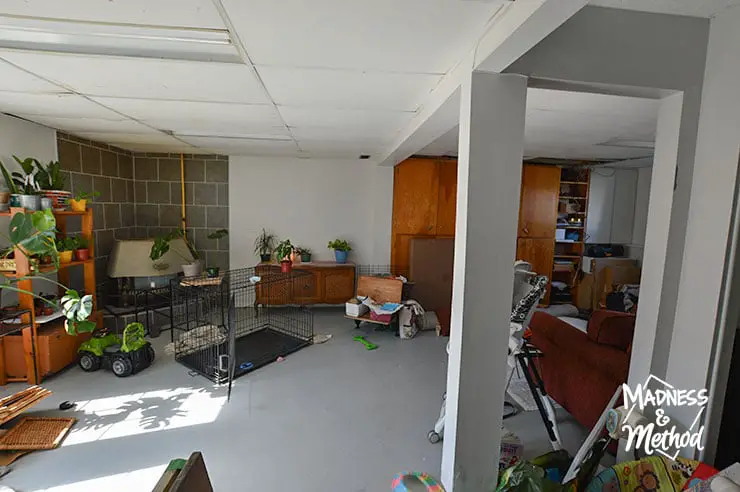 There's a living room on the one half and everything is pretty basement basic.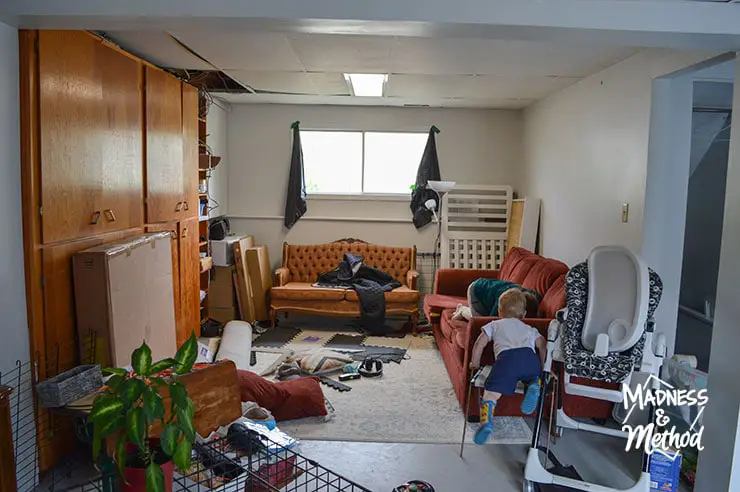 I took some photos in the morning, and some in the afternoon.  So forgive if some things float around.  (Also blame the children ha).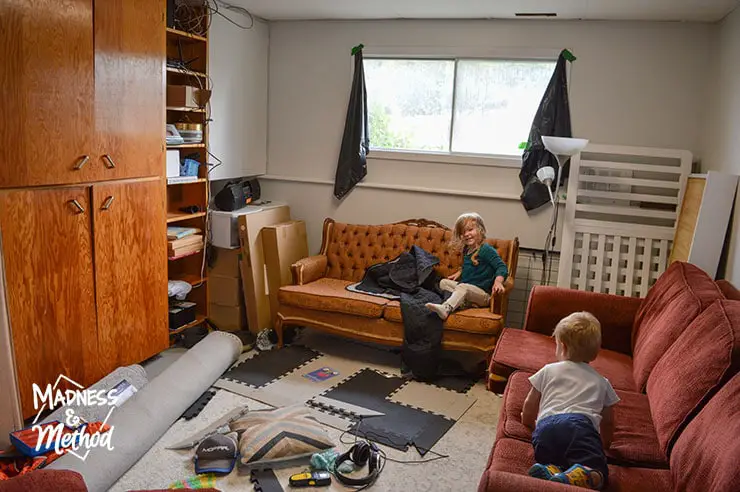 Spot those lovely blackout garbage bag curtains?  Ya, the red sofa opens up to a bed, but obviously it's not very dark for people who sleep.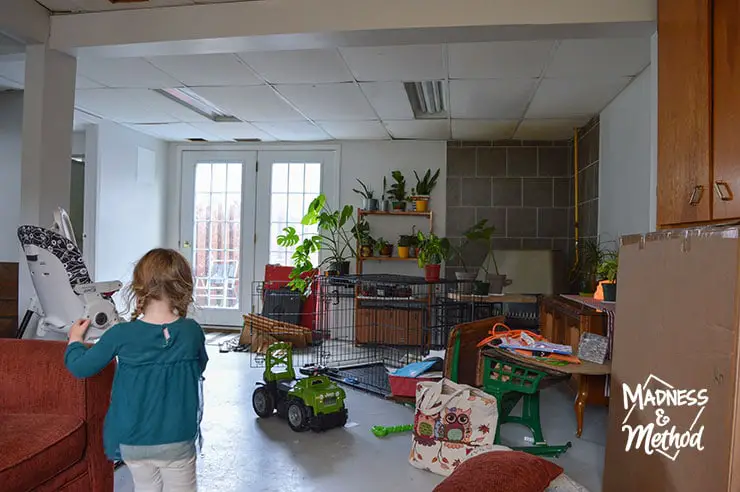 This room could use a big cleanup, but I do need to find a better spot for the dog crate.  It's moved around, and we just added a new cabinet and so it's floating in the middle of the room now.
Basement Bathroom / Floors
One of the changes I do want to make down here, is removing the old flooring.  Most of the basement is just painted concrete, and I'm totally okay with that.  We have 3 young kids, so it's good for them to ride/run around.

There is a patch of old linoleum/vinyl sheet at the bottom of the stairs (and into the closet).  Then, the bathroom has vinyl tiles that I started removing when we installed the new toilet.  (It was a whole year ago!  Aka when we realized it was too big for our new bathroom).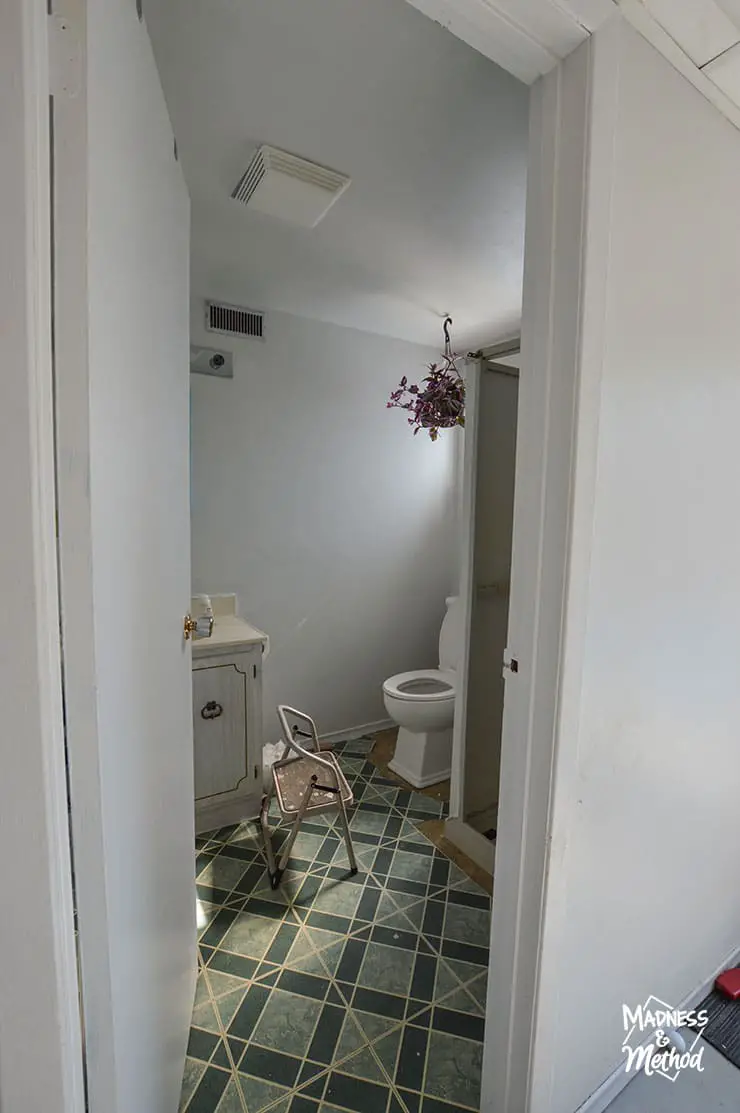 This bathroom is a whole project in itself.  I have ALL the plans already, but can't commit as much time and money to this space right now.  Oh, and I maaayyyy want to change the layout in the future – but more on that next week.
Basement Guest Bedroom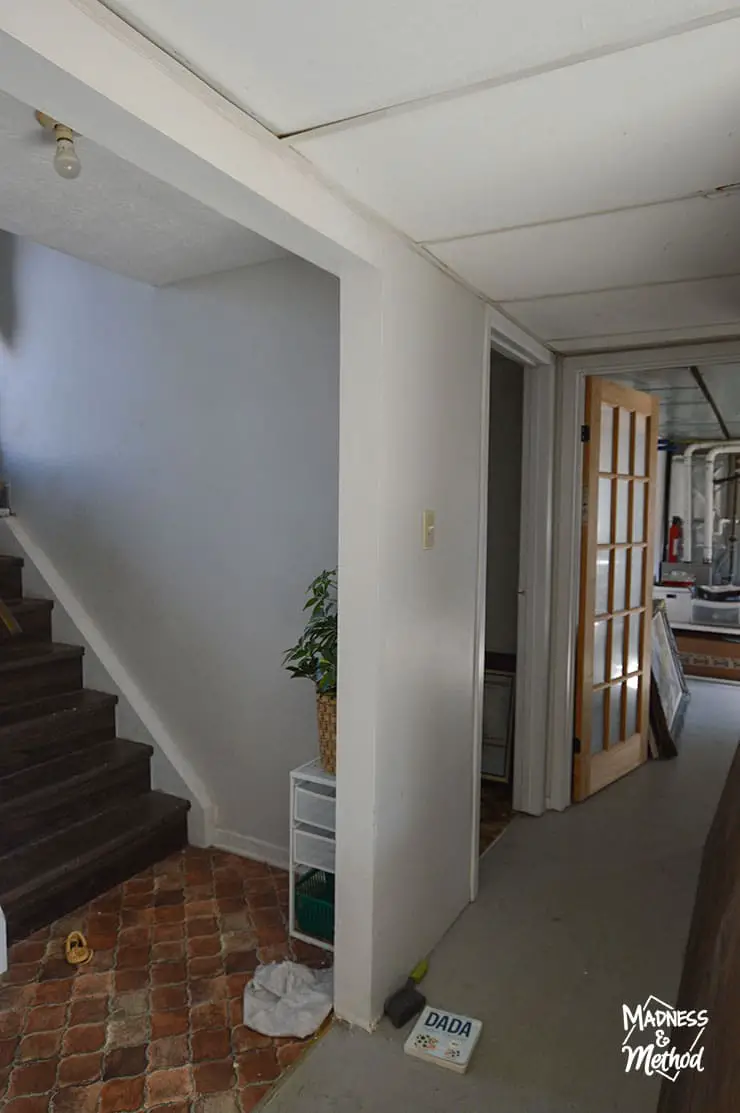 If you turn left past the half wall at the staircase, you reach a little hallway towards the bedrooms and laundry room.  I added that pine door a while ago, but the knob needs to be installed…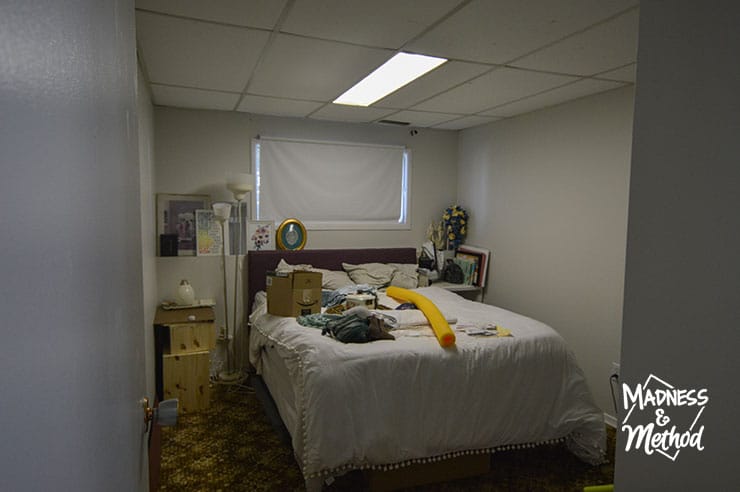 Ahhh the guest bedroom.  This room wasn't too stuffed when I took these photos last week, but that quickly went downhill.  I'll be focusing the most of my DIY projects on this space, and again, it needs a good cleaning.  And the carpets!  You can't really tell, but I'm pretty sure that's the original 70s brown.
Oh, and I need to build 2 more (and finish) the nightstands that I started.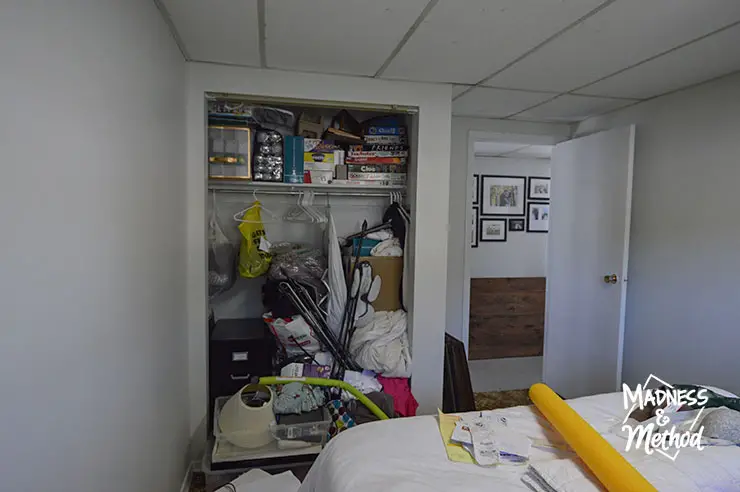 Turning around, we have an open closet overloaded with stuff.  You know, Christmas decor, board games, old clothes…  It looks worse than it is, but it's mostly because everything in this closet has weird shapes/sizes…
The problem with this room is that I have to take everything out to do the floors.  And we'll have guests next week too, so that project will be delayed :(
Basement Laundry / Workout Room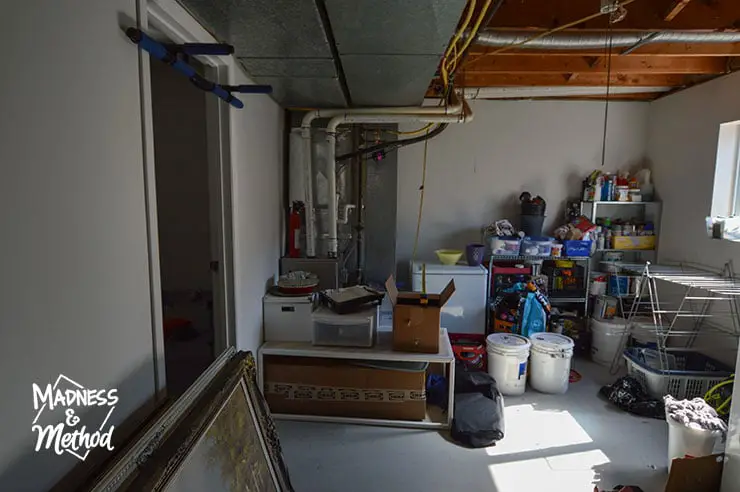 Finally, we get to our laundry room and 5th bedroom (through the door on the left).  This is the biggest laundry room I've ever had, and could really just use a bit of a cleanup.  Most is cottage stuff and/or paint supplies, and I already sort of started that organization.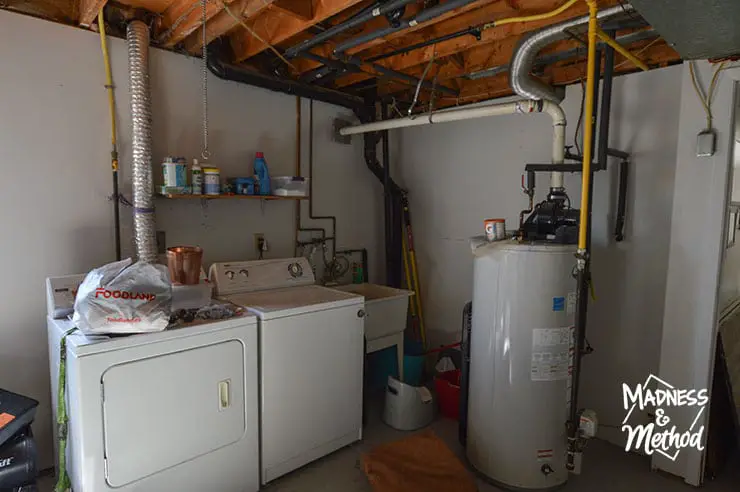 Turning around, we have the worst hot water tank placement ever.  And sink for that matter.  It's SO dark when you're trying to clean things (there's only one light bulb in this whole room).  But ya, won't be changing that anytime soon.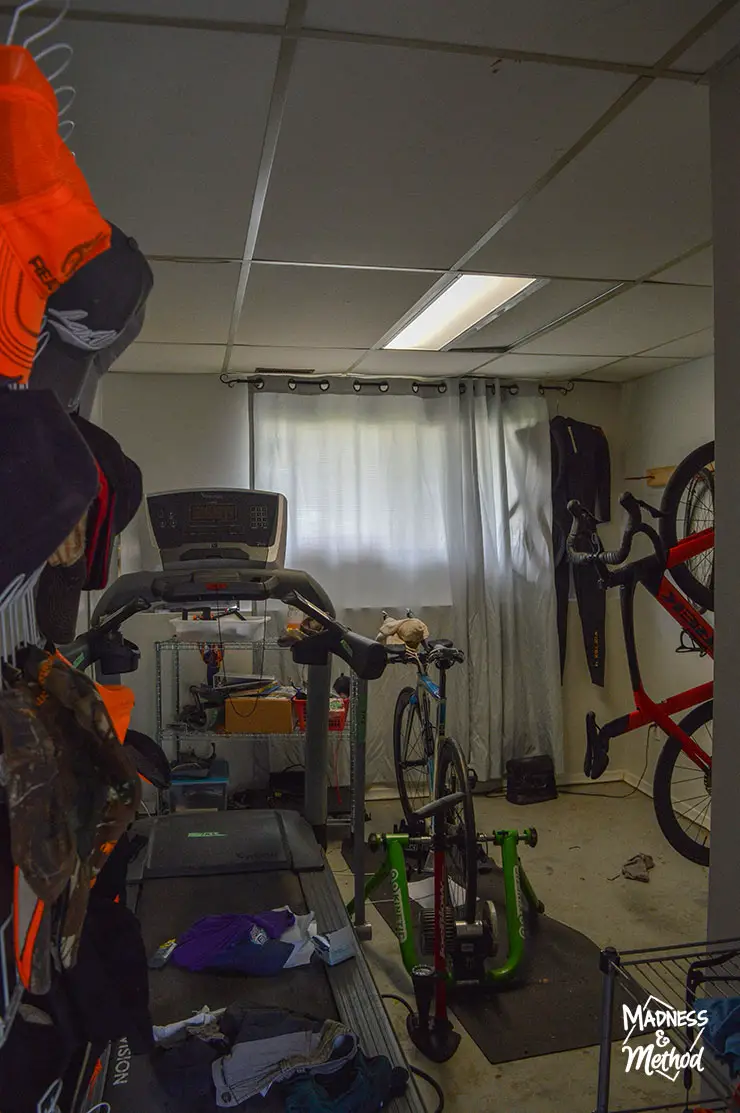 FInally, we have the Husband's workout room.  I redesigned the whole layout of this space on paper, and now that he's gone, it's the perfect time to do it muahahahah.  The biggest hurdle is obviously that huge treadmill, which I cannot move on my own.  SO I think I'm going to re-arrange everything else, then maybe force him to move the treadmill?  We'll see!
To Do List
Okay, here's a bit of a breakdown of what I want to accomplish down here:
Finish painting the baseboards at the staircase
Remove staircase vinyl floor and paint concrete
Remove bathroom floor and paint concrete
Paint half wall in living room?
Finish nightstands
Fix blinds/curtains in guest bedroom and living room
Headboard fix/build
Remove bedroom carpet and paint concrete
Replace light bulb fixture (I have another one, but this is a Husband task)
Reorganize workout room
Reorganize living room (including plant placement)
CLEAN AND ORGANIZE EVERYTHING
I think that's about it.  However, I have an added challenge for this project.  I do NOT want to spend any money!  Now, there is a bit of a cheat here, in that I can only spend money that I get from selling things in the basement.
And technically, I have a bit of a headstart since I found 150$ down there last week.  Yes seriously!  Did I mention I need to organize this space?  I don't have many things to buy, but here's a bit of what I may need/want:
Blinds for the patio door
Blinds for the living room window
Rug for the bedroom
Rug for the bathroom?
Headboard DIY (includes wood, foam and fabric)
Lamps for the bedroom
New bed frame (although technically I'll be bringing the old one to the cottage…so does that count?)
I have SO much paint, so I'm also trying to use up what I have… I think that's it!?
About the One Room Challenge
Haven't heard about the One Room Challenge?  The ORC is a twice-yearly event where 20 featured designers (and a bunch of linking participants) makeover a space in six weeks (8 this time again).  This is my 10th time participating, and here are all my ORC spaces: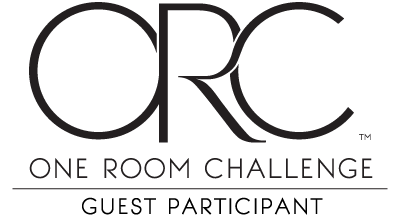 Where We're Headed
I have no idea!  In my notes I wrote that next week I'd share the bedroom cleanup and floor.  BUT my mom is coming back to stay with us for another week or so.  My parents were here and just left this morning ha.  They came to help with the kids, and now for the few days after the Husband's surgery.  ANYWAYS, that means that I can't really tear apart the guest bedroom now can I?
Next week I will for sure share the layout of the space and probably the future bathroom renovation plans?  But also the potential other super future renovation plans?  If you follow me on Instagram stories, you can see how the basement currently looks.  Be forewarned, if you thought that these before photos were bad… it's a whole lot worse!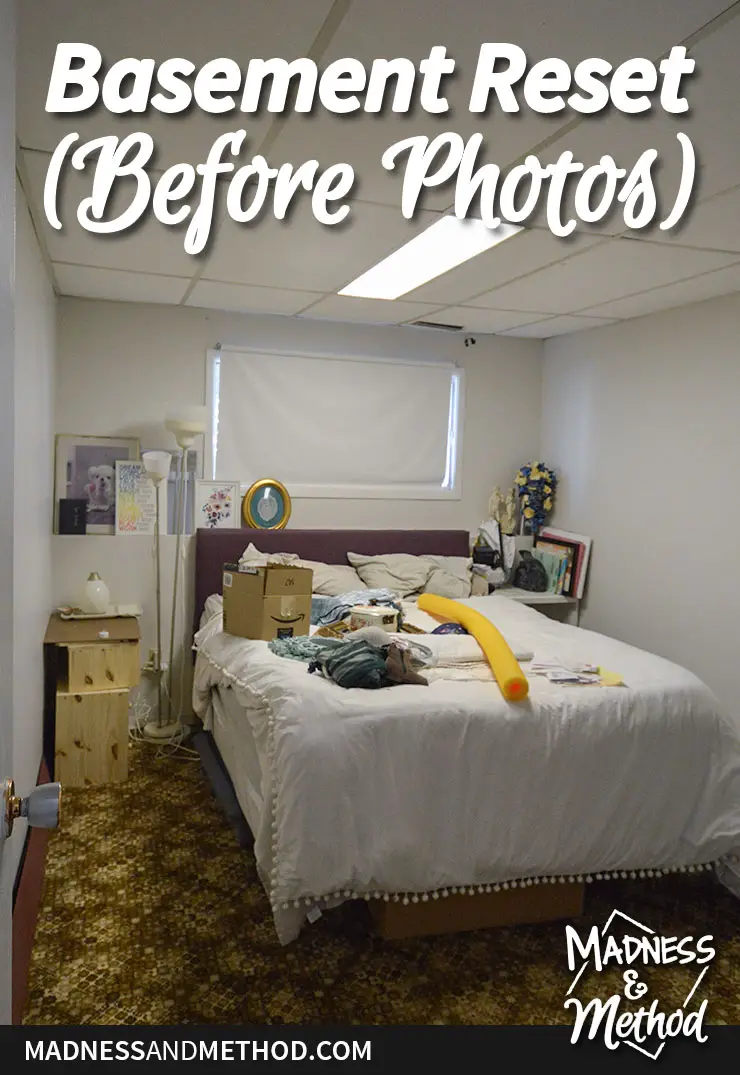 And a random tangeant – I used to think that some (other DIYers) before photos were "too bad".  Like, there's no way people live like that, they just want a better before/after transformation…  Until I took these photos.  I didn't add a mess to make it look bad.  We seriously have been living like this for a while.
But also, be warned that there won't be that many changes in my basement!  I'm barely touching the walls with paint (mostly the floors).  And like 90% of the changes will be from getting rid of stuff and rearranging the rest.
So you know, if you have any suggestions on how to hide messes, I'm all ears :)