We had a gloomy rainy weekend and I spent most of it working on my basement project.  Actually, rather than only work on the basement, I also came up the stairs into our raised ranch entry.  Everything is sort of connected, so it counts right!?  Either way, let me talk about our newly painted basement entry, the workout room refresh, and where we are headed.
– Note: This post contains affiliate links. See more information about affiliates here. –
As a recap, my name is Nicole and I am refreshing my messy raised ranch basement as part of the One Room Challenge.  Not a full-on makeover, but more of a reset.  Things like removing old vinyl flooring, and re-organizing the mess are the priorities.  I'm trying to keep my budget at zero dollars, and remove more things than I bring in.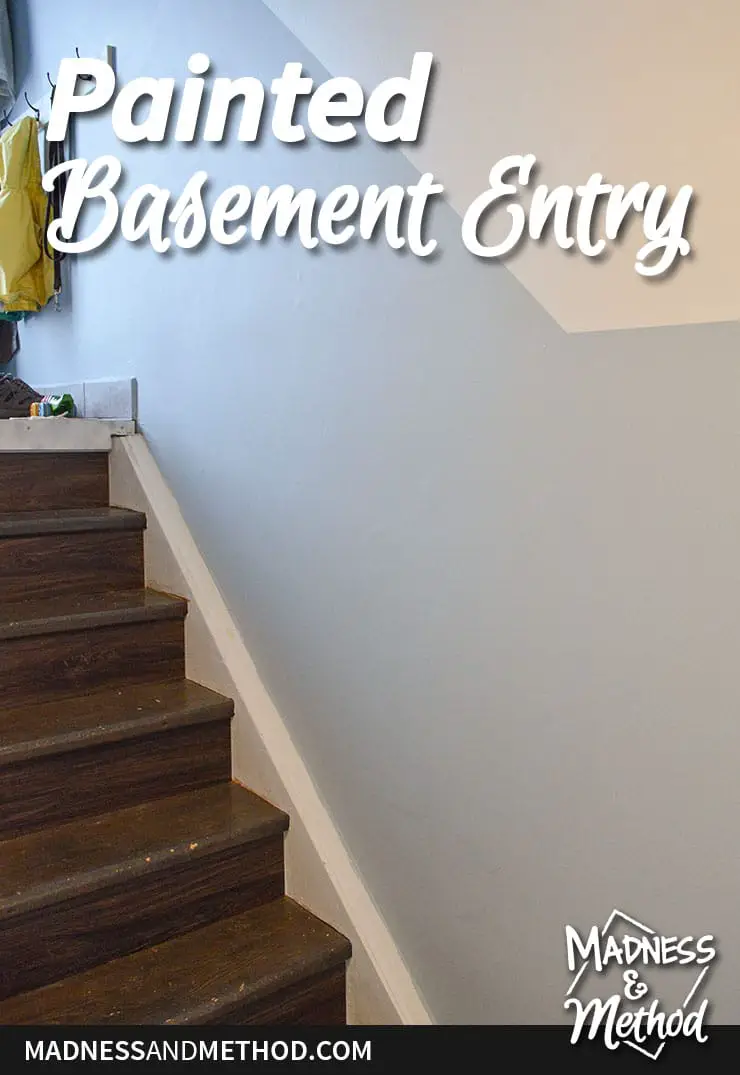 Most of what I completed this week involved our main entry, but I'll lump it in with the basement project since they are connected :)
I gave a mini update to this space a few months ago, and recently picked up a new rug.  As our main entry, this space is heavily used.  White walls and little fingers don't mix, and unfortunately, we didn't have any paint leftover from the previous owners.  Wiping/washing the walls didn't really help, and I was not looking forward to painting to the tall ceiling (I think 14′)?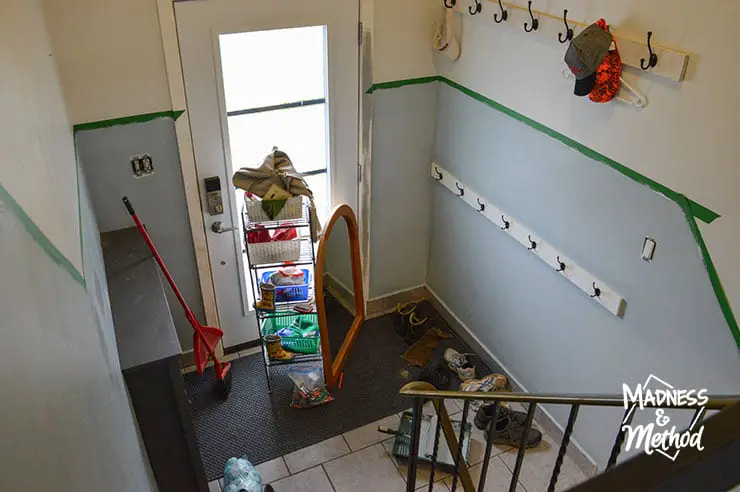 So, I copied the living room look and painted the bottom 5′ of the walls blue (Behr's Half Sea Fog).  I had plenty of paint leftover AND was originally going to do the same in the basement.  (But now I don't want to move all the furniture – so this is like a compromise, ha).
Painted Basement Entry (Raised Ranch Staircase)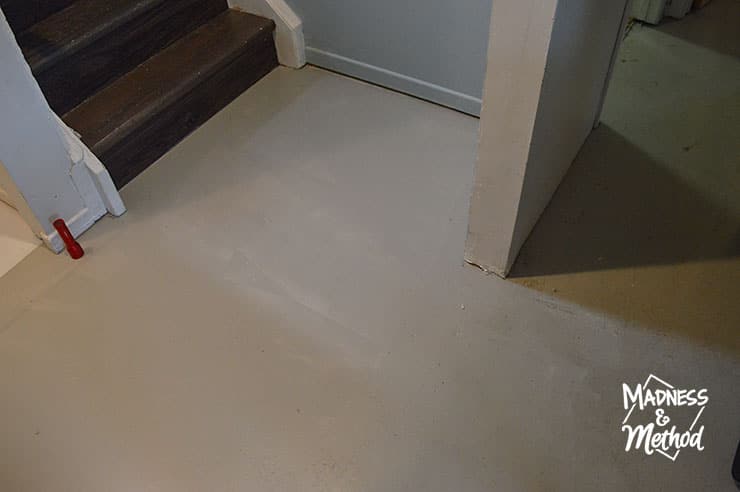 Last week I removed the vinyl sheet that was here, and this is the first coat of the floor paint.  I had a plank of wood across so we wouldn't walk in the wet paint.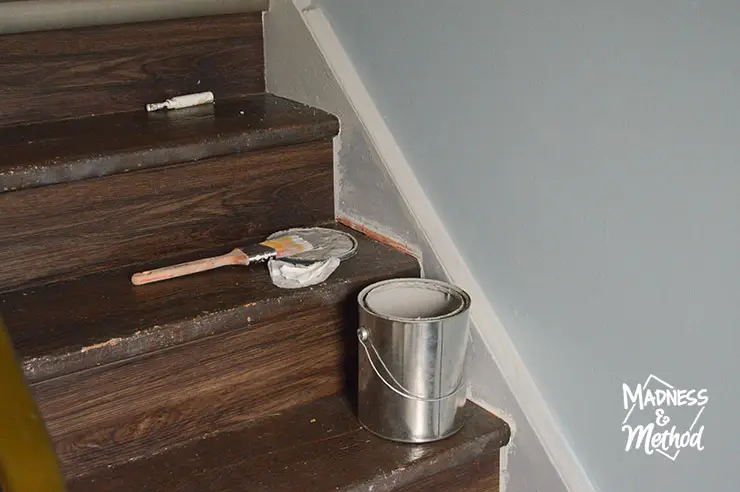 I also painted the wall stringer to match our kitchen cabinets.  Again, the white was getting dingy looking AND there was paint/stain on the sides from when I painted the stairs.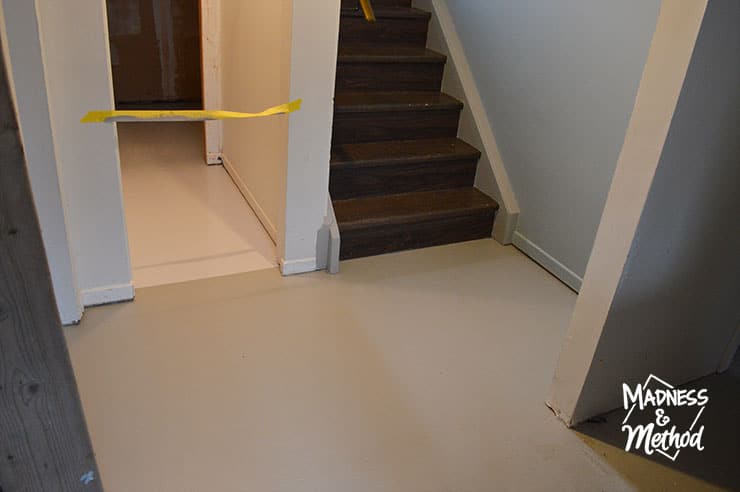 Coincidently, it's almost an exact match for the floor paint!  I didn't have enough leftover paint to go into the closet, so kept that the light colour.

Since it looked weird that the paint ended just before the hole, we went in there (myself and Zachary, our 5-year-old) and painted more of the floor.  We didn't do the whole thing, but you won't tell from the outside :)
I really wanted to get this floor painted so I can start using the storage again!  Up first, the old closet doors (from the kids bedroom) and our cottage table top.
Organizing the Workout Room
From there, I decided to get into the Husband's workout room and re-arrange the layout.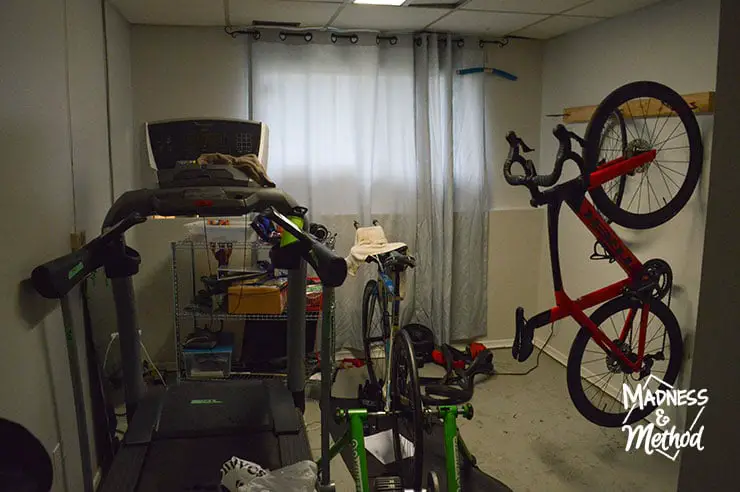 The treadmill use to be in line with the door, so you'd almost trip on it coming in.  I knew that rotating it under the window would clear up some visual space.

First thing I did was clear out all the small items.  I didn't think I could move the treadmill on my own, but luckily it was just a little stuck to the floor.  (The Husband had a little surgery on Friday, so had to rest up the whole weekend).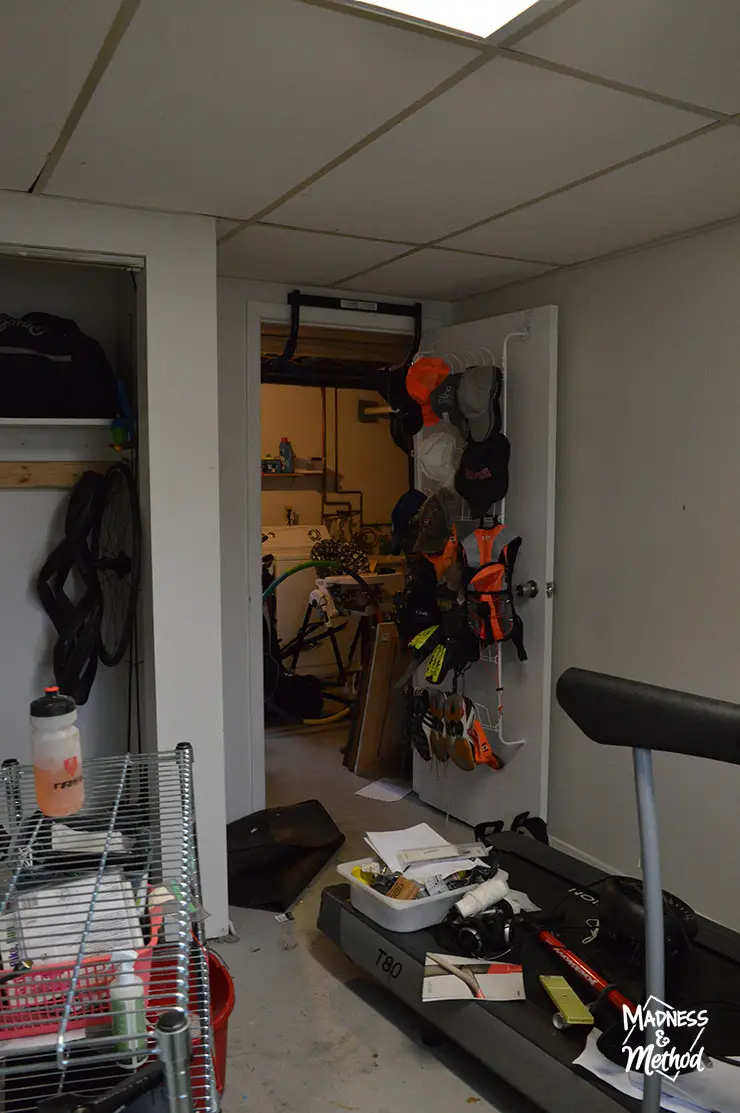 The photo above shows the old treadmill location a bit better.  See how there wasn't that much space to walk in?  The doorway was also shrunk a bit from the hat/shoe rack I put up.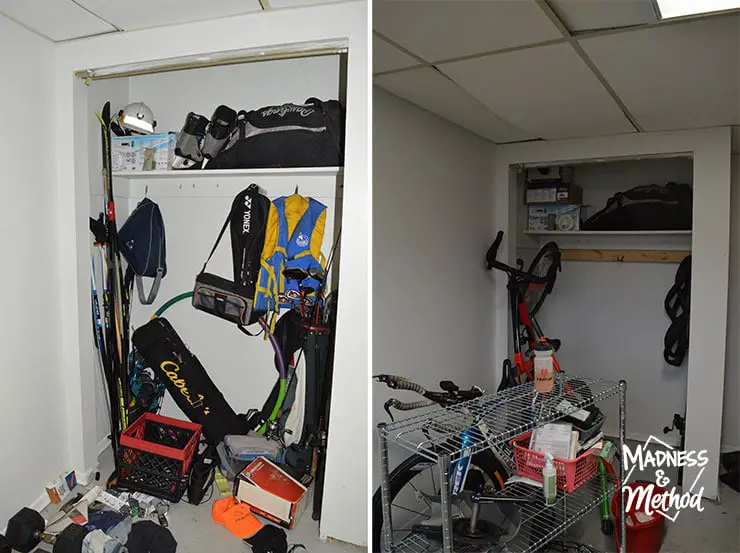 In his original layout, he had all his bikes stored on the wall.  (To the right of the room from the door view).  I thought that it made way more sense to have the bikes tucked into the closet.  Most of his stuff was placed in here since we didn't have a garage when we moved in.  Now we have one, so a lot can be relocated there (especially the in-season things).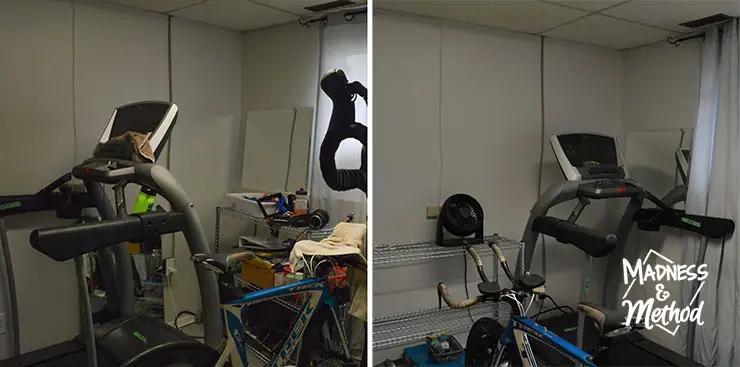 And the photo above shows the treadmill/bike trainer corner a bit better.  The shelf is more accessible now, so hopefully it won't be a catch-all for junk.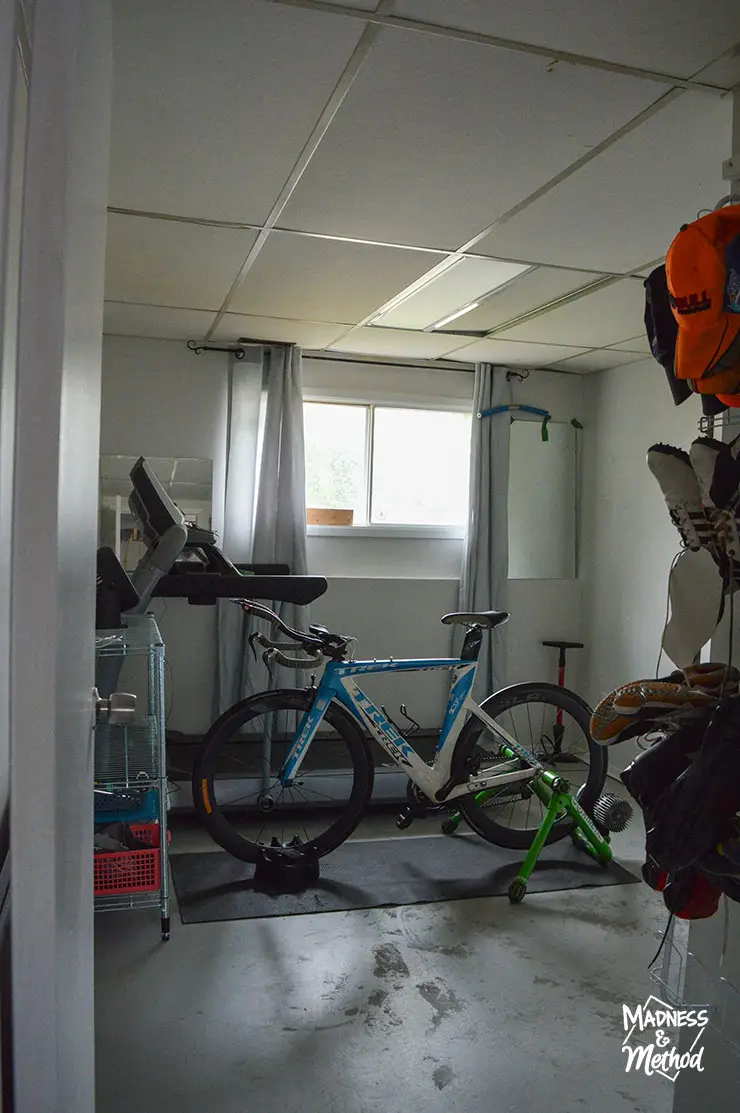 I also installed the shelf/hat rack on the little closet bump-out, so now you can actually close the door!  So helpful for keeping little kids out :)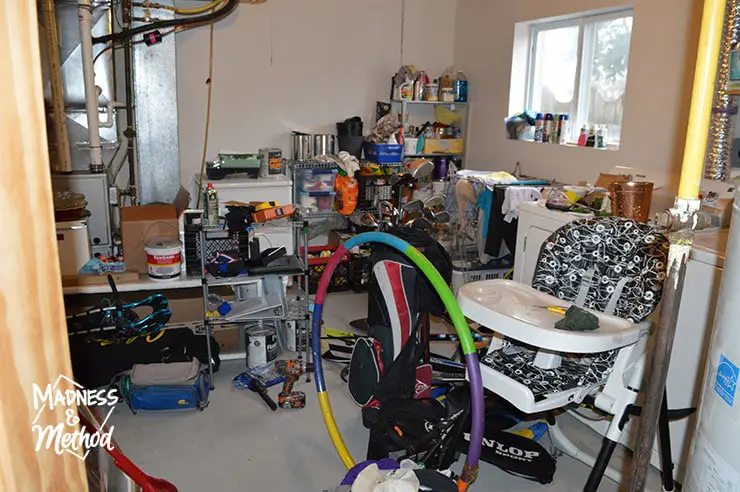 Unfortunately, a lot of the workout stuff ended up in the laundry room.  I just picked up some hooks for the garage (and to finish the closet setup), so will work on that soon.
Where We're At
Thank goodness this is an 8-week challenge as opposed to the usual 6.  We're not at the halfway point yet, and I am grateful since my basement still looks like a hoarders cave.  (As evidenced by that laundry room picture, ha).

I wanted to have the bathroom floors painted, but they are still so sticky!  Plus, my mom was here and using the bathroom, so couldn't really do it then.  We both tried scraping/cleaning the floors a few times.  I'm going to attempt one more round of hot water and scrubbing, then may try to paint them and see what happens.
The vanity will probably get painted too, even though it's in rough shape.  Figured fresh painted floors would make the old faux-wood look stand out in a bad way.  Having it all one colour will hopefully disguise the flaws :)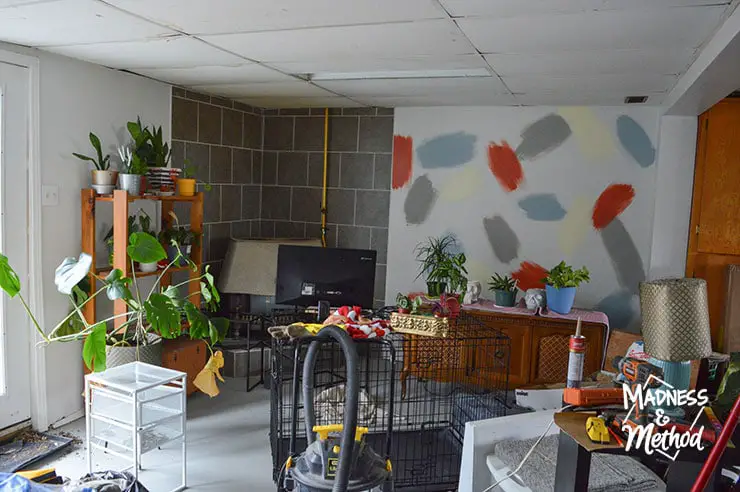 Turning around, you can see a sneak peak of the accent wall.  I knew having a fun graphic wall would be great here (once the mess is gone) to highlight my old stereo cabinet.  I'm sorta winging the design, so hopefully it turns out!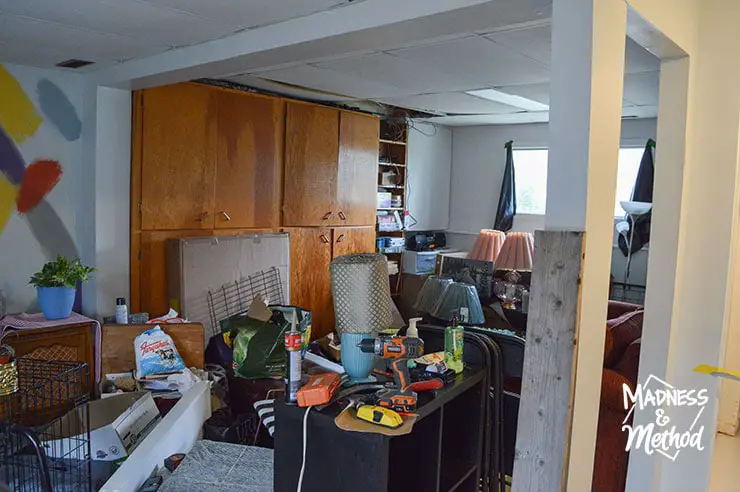 The rest of the basement is still a hot mess, and I'm doubtful that all of this stuff will fit in my storage closet.  It might, but I'm not sure how much I could still access, ha.  The idea is that our cottage would be built more and I can bring the stuff there (since that's where 75% of the things go).  But we STILL don't have windows, so that's holding up everything :(
Next week I'll either be talking about the bathroom floor paint, or starting on the bedroom.  You guessed it, also painting the floor!  I think this basement renovation project should just be called the 100 ways to paint concrete floors…
About the One Room Challenge
Check out all One Room Challenge 20 featured designers and linking participants!  (There are HUNDREDS of people partipating this round).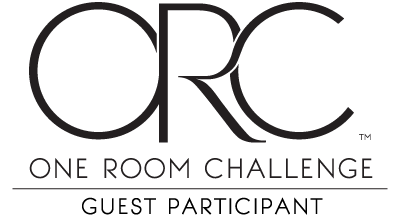 Follow my basement project:
Basement Reset BEFORE (ORC Week 1)
Removing Old Vinyl Flooring (ORC Week 2)
Painted Basement Entry (this week!)
Week 1 Spent: 2.95$
Week 2 Purchased: Bungee Cords and Lag Bolts 7.20$
Total: 10.15$ *
* I also purchased this bed frame and some hanging hooks/hardware for the garage.  Since I'll be using our old bed frame at the cottage, I figured I could count that as a cottage expense?  But let me know if I should include the hooks/garage stuff in my total.  Technically, they aren't going in the basement… but the workout room cleanout did push me to buy them… so…?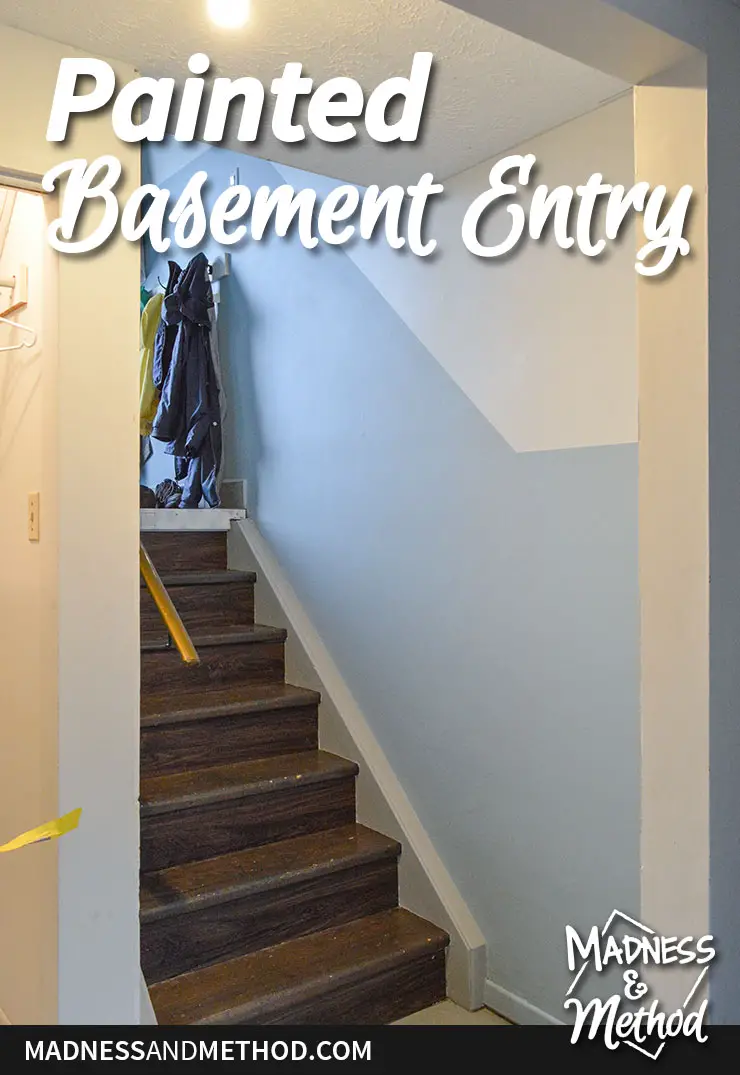 I'm taking a break on the basement today to write this blog post, but I'll be back at it tomorrow!  Should hopefully have the leftover workout stuff cleared out of the laundry room.  Then one more scrub of the bathroom floors?  I think I want to do a fun pattern on the floors (maybe similar to my brother's floors?), but we'll see!
Also, in order to start on the bedroom, I need to take everything out of that room.  Not sure if you guessed it from the photos above, but space is at a premium down here!  So, that means I may have to start loading things into the storage closet.  The kids will miss their playing zone, ha.
Let me know if you have any painted bathroom floor suggestions!