We just celebrated our 8th wedding anniversary!  To mark the occasion, I figured I'd bring back the post about my wedding day regrets.  Aka all the things I would change about our wedding day (if I could go back in time).  Don't get me wrong, I LOVED our wedding, and there were so many great things.  But, as someone who loves reflecting, I feel like I can always find things to update :) (Although, that may or not be a good thing, ha). 
Note, all the photos from our wedding day were taken by our photographers Rosie and Jamie.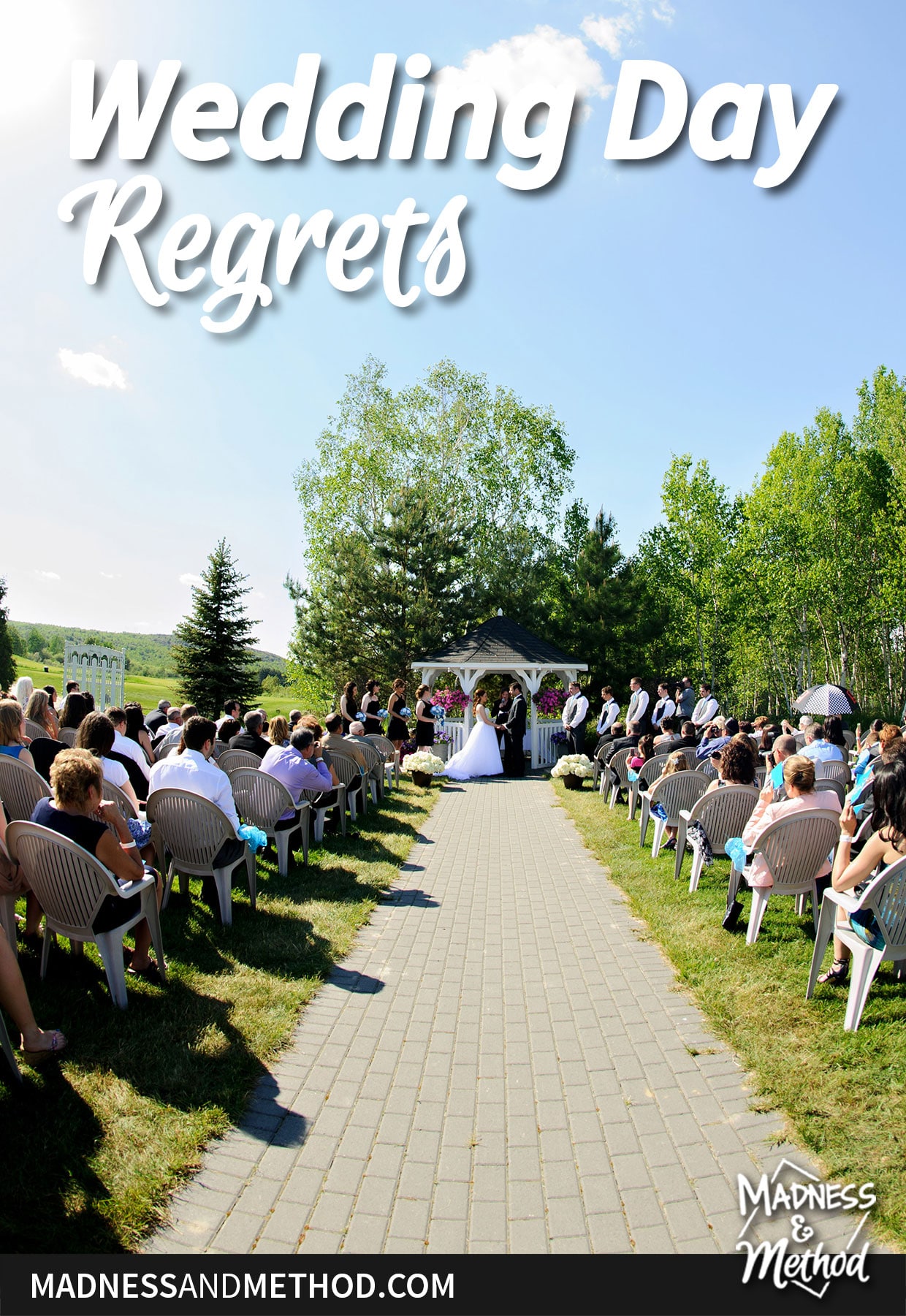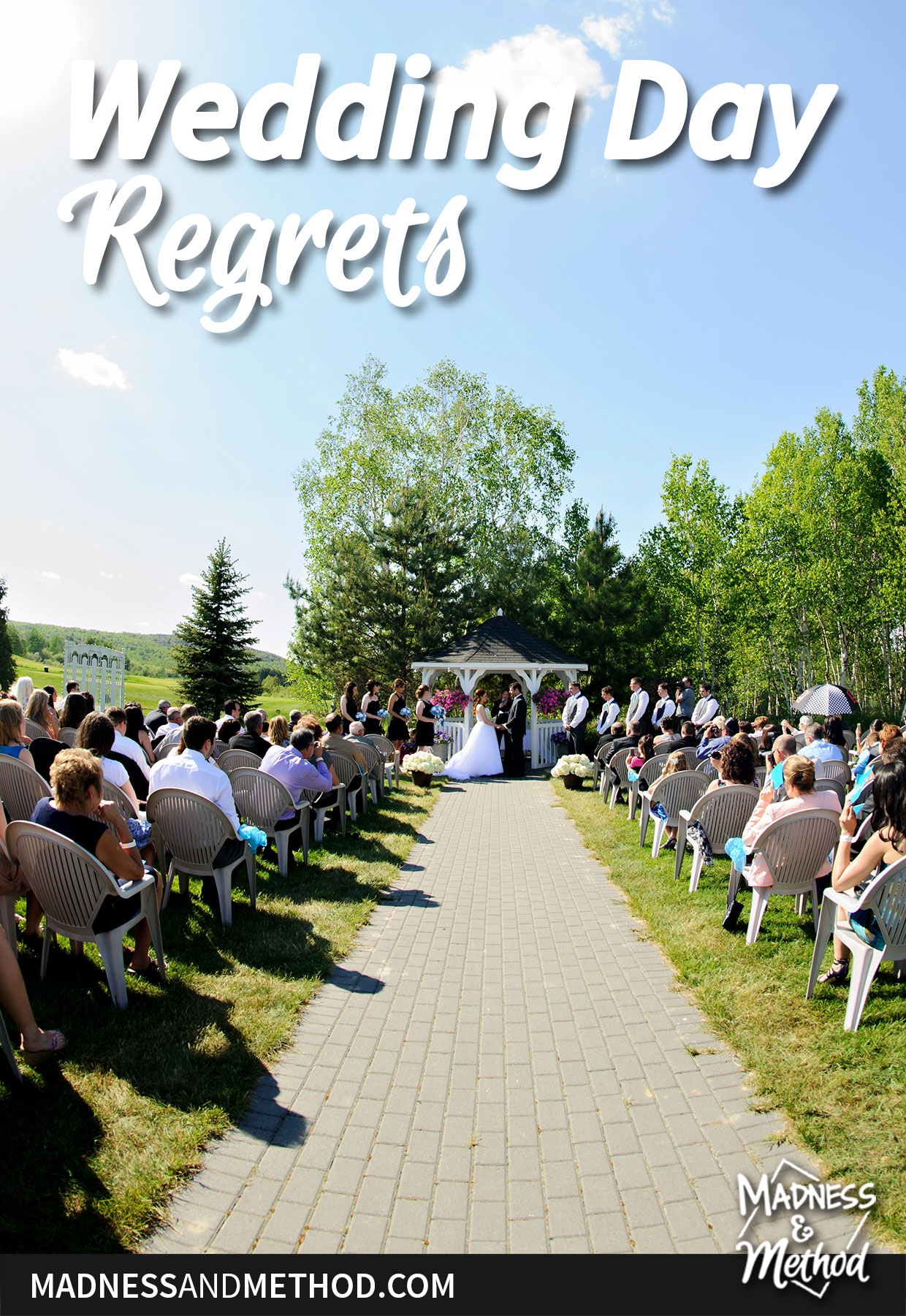 Looking for other wedding-themed posts?  Check out: 
Without further delay, here are my biggest wedding day regrets (in order):
Wedding Regret 5: Not Practicing our First Dance
The Husband and I danced to an acoustic version of "Sweet Child of Mine" from Guns N' Roses.  We hadn't practised any sort of coordinated dance, so we basically just went up and danced how we normally do.  This is fine, except that obviously everyone was looking at us, so our "moves" could have been a bit more polished I guess.  The song was also very long, and sped up and slowed down at different points. If I were to do it over again, I would have perhaps edited it down to half the length.  Either way, we were super happy, but I don't know if our guests liked watching us for what seemed like ages!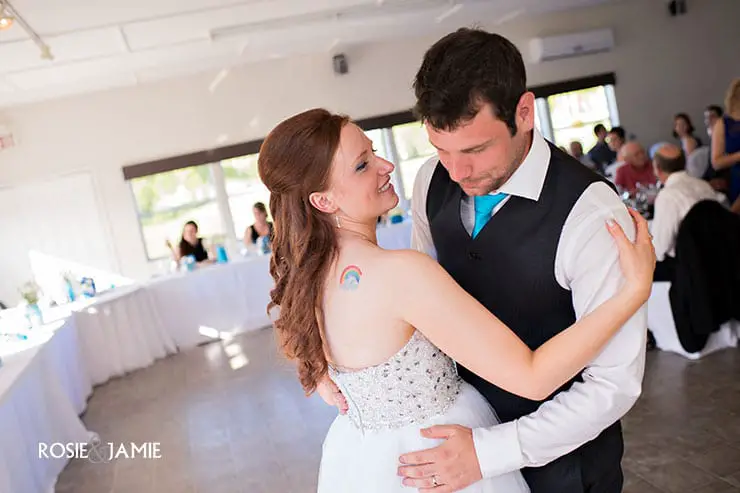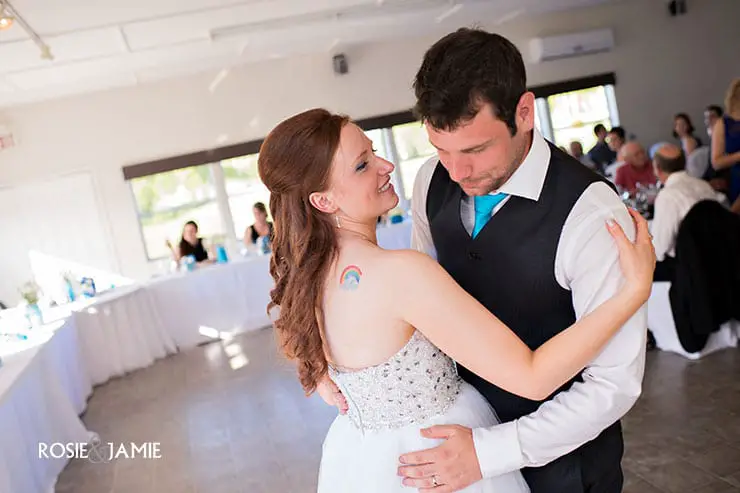 Wedding Regret 4: Not Giving Programs to Everyone
The bridesmaids and I painstakingly worked hours to complete custom-made wedding programs.  Before the ceremony, I had instructed the groomsmen to pass them on to every guest.  I think they only gave them out to those who asked, so we ended up with A LOT extra.  If I could go back, I would have forced everyone who attended to take one, whether they wanted it or not (sorry for being pushy!).  This would have also eliminated questions/comments that we received "Oh I didn't know about this" or, "what time was this at" because it was clearly marked in the program :)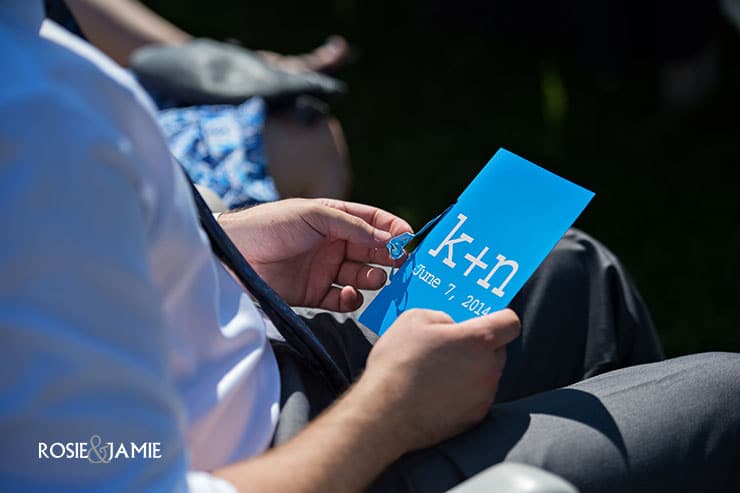 Wedding Regret 3: Forgetting About Transportation
I didn't want a limousine for our wedding day as the entire event was happening all at one location.  I still stand by that, because I honestly didn't care about being fancy on our wedding day (so we just took regular vehicles).  Problem was, that I never actually assigned anyone to be the driver, and didn't plan ahead of time how we would get to each location (ie: makeup to the hotel, to photo location to ceremony site). I think the guys also thought I would tell them what to do, so they were in the same confused boat as the ladies.  Thank goodness we had great photographers (Rosie and Jamie of Photo Captiva, now Parent Photography!) who were able to chauffeur us around town.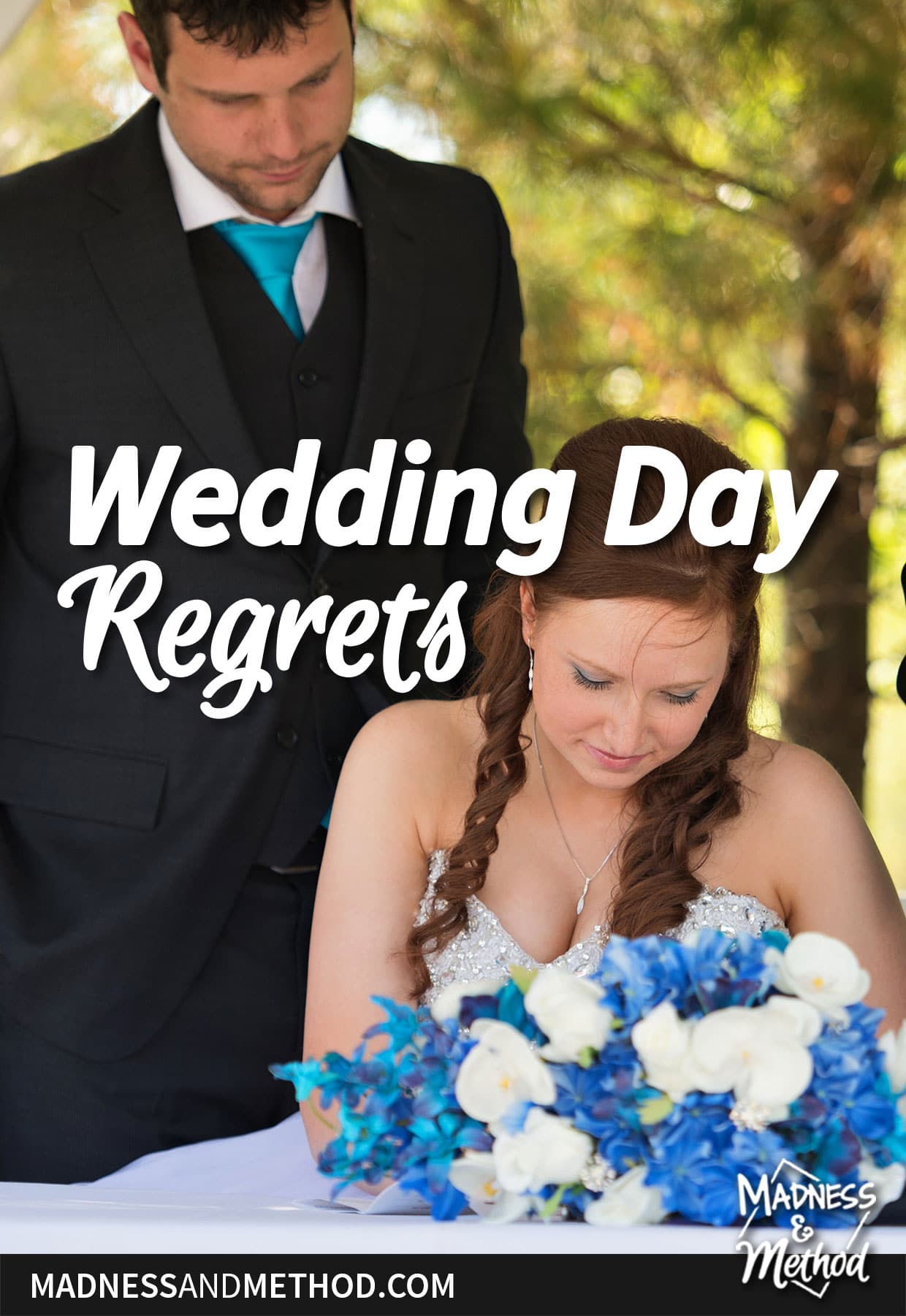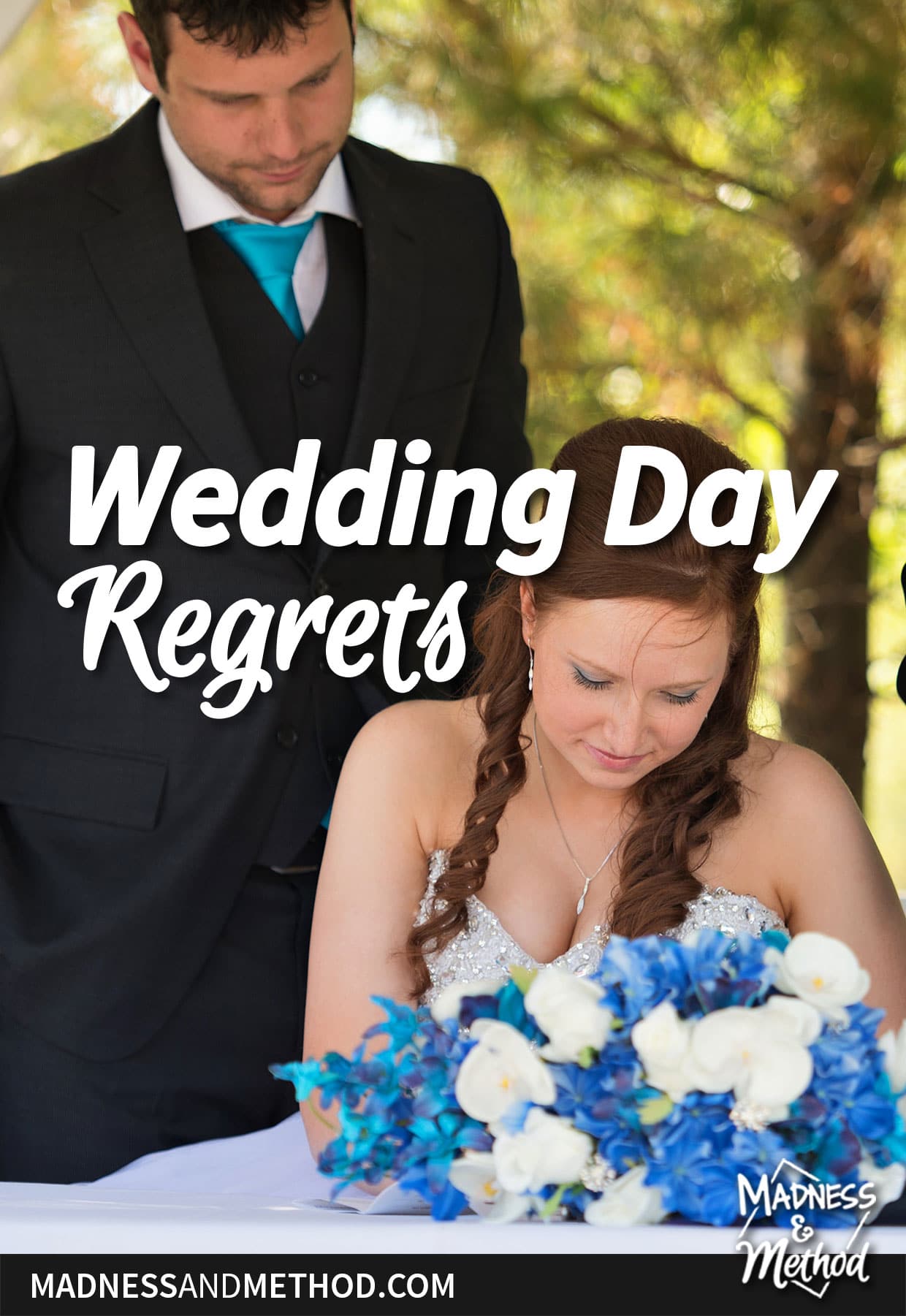 Wedding Regret 2: Not Having a Second Dress
I always thought that getting two wedding dresses was excessive.  I loved my wedding dress.  When I went shopping for dresses, I didn't have a particular style in mind and ended up loving a bright white, sparkly and poufy one from Maggie Sottero.  I liked the fact that it wasn't tight all over and I didn't have to do any pre-wedding work-outs to try and fit into it.  I thought I was set!
Unfortunately, after stuffing my face with food all throughout the day, the inner corset got tighter and tighter as the night went on.  I kept having my bridesmaids unzip the dress and loosen the strings throughout the night, but by 10:30 pm I couldn't take it anymore.  I had to take this dress off or I wouldn't be able to enjoy my wedding night (I had spent the last hour sitting at the head table, trying to contain the pain of my collapsing lungs).
It just so happens that my Dad brought the clothes that I had been wearing all day, so I had something to change into!  The problem was, it was a black strapless tank top and ripped jeans… not very wedding-y!  If I would have known about the uncomfortable situation I would have been in, I would have definitely bought a second dress.  No, not something expensive or fancy.  Honestly, a 20$ white casual dress would have been just perfect at this point!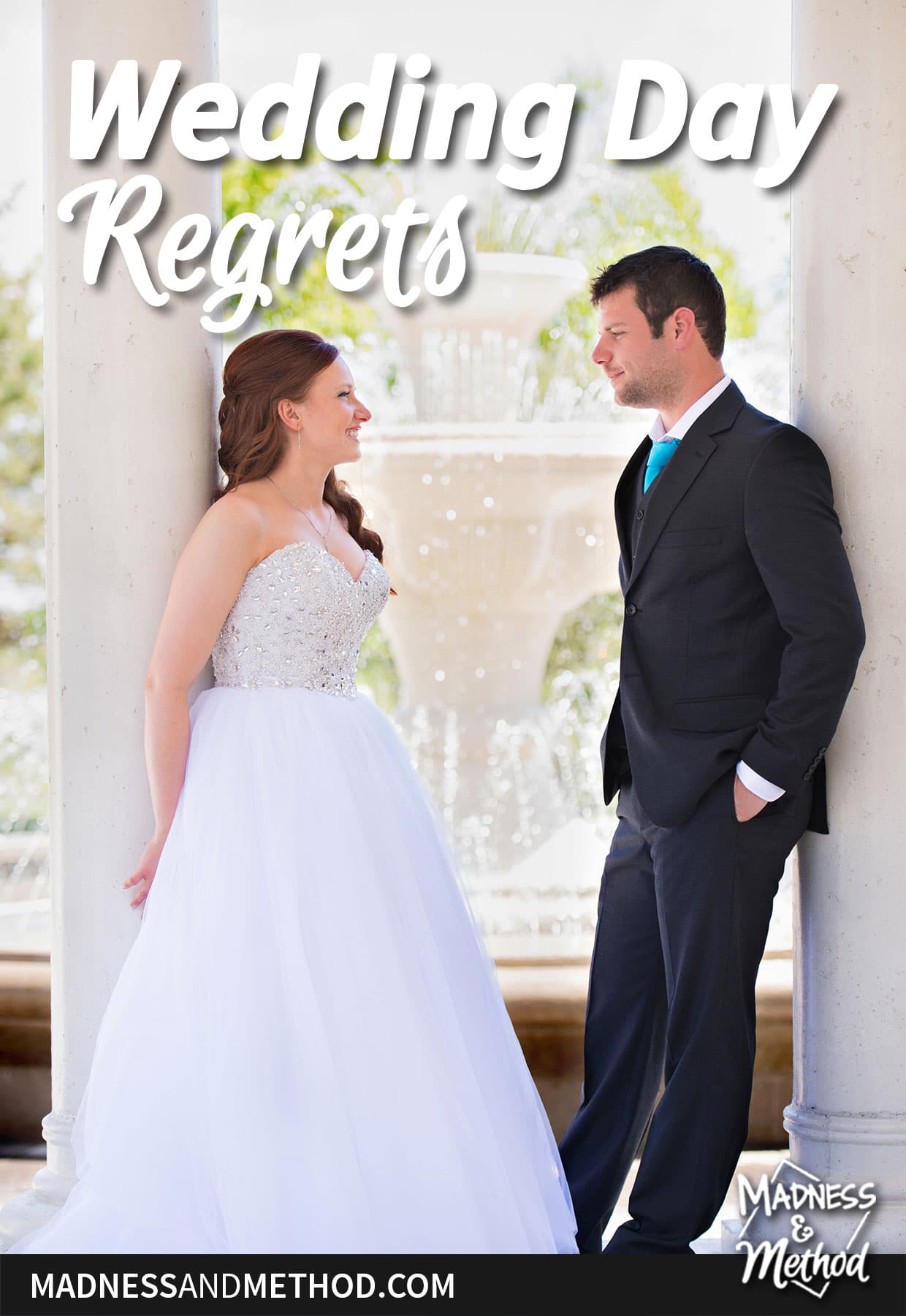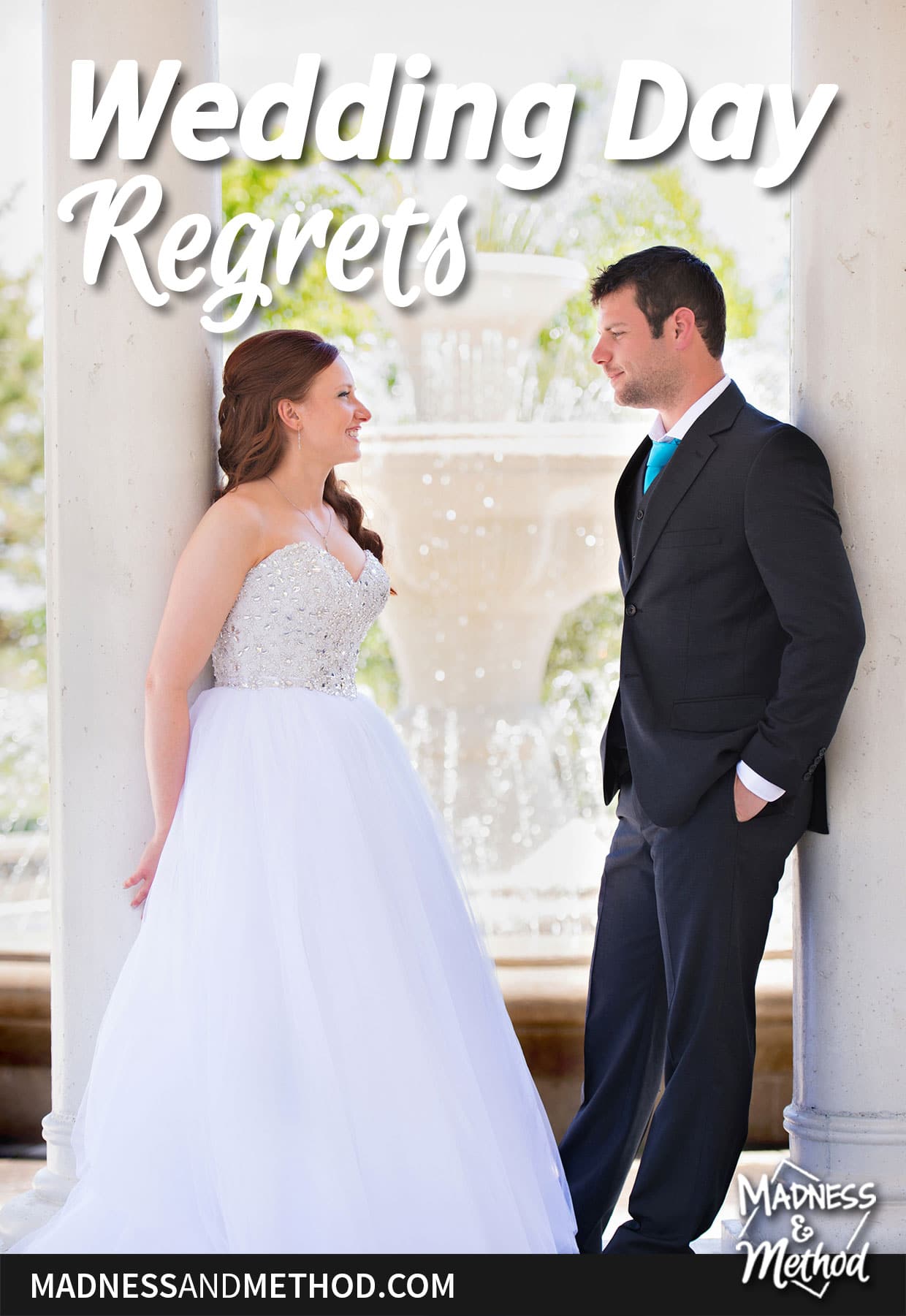 Wedding Regret 1: Not Talking to All Guests
This is probably my biggest regret from our wedding day.  We had so many guests from out of town, and even guests that live near us that I didn't get a chance to talk to.  It was a whirlwind day, and it seemed like I always had something to do, so I can rationalize it.  But it still bums me out that I couldn't personally thank each person for attending.  I wish I would have incorporated a block of time to visit each and every table in order to talk to all the guests. (Rather than just stop at random tables on my way to the bathroom, or to go take pictures or something).
Conversely, now that I have gone through the wedding experience as a bride, I will know that when I am a guest at another person's wedding – that I will understand if I can't reach out to the happy couple during the day.  I'll also make sure to try and approach them to get a quick "hey congrats" in too.
A way to solve this would have been to have a receiving line; however, I personally hate all aspects of wedding receiving lines (ie: waiting in line, hugging people) and knew that I would never subject my guests to something I wouldn't want to do.  I've also been to a few weddings where the receiving line is the first time I've actually met the bride or groom – so it's a bit awkward to meet someone that way.
All photos from our wedding day were taken by our great photographers Rosie and Jamie of Photo Captiva, now Parent Photography.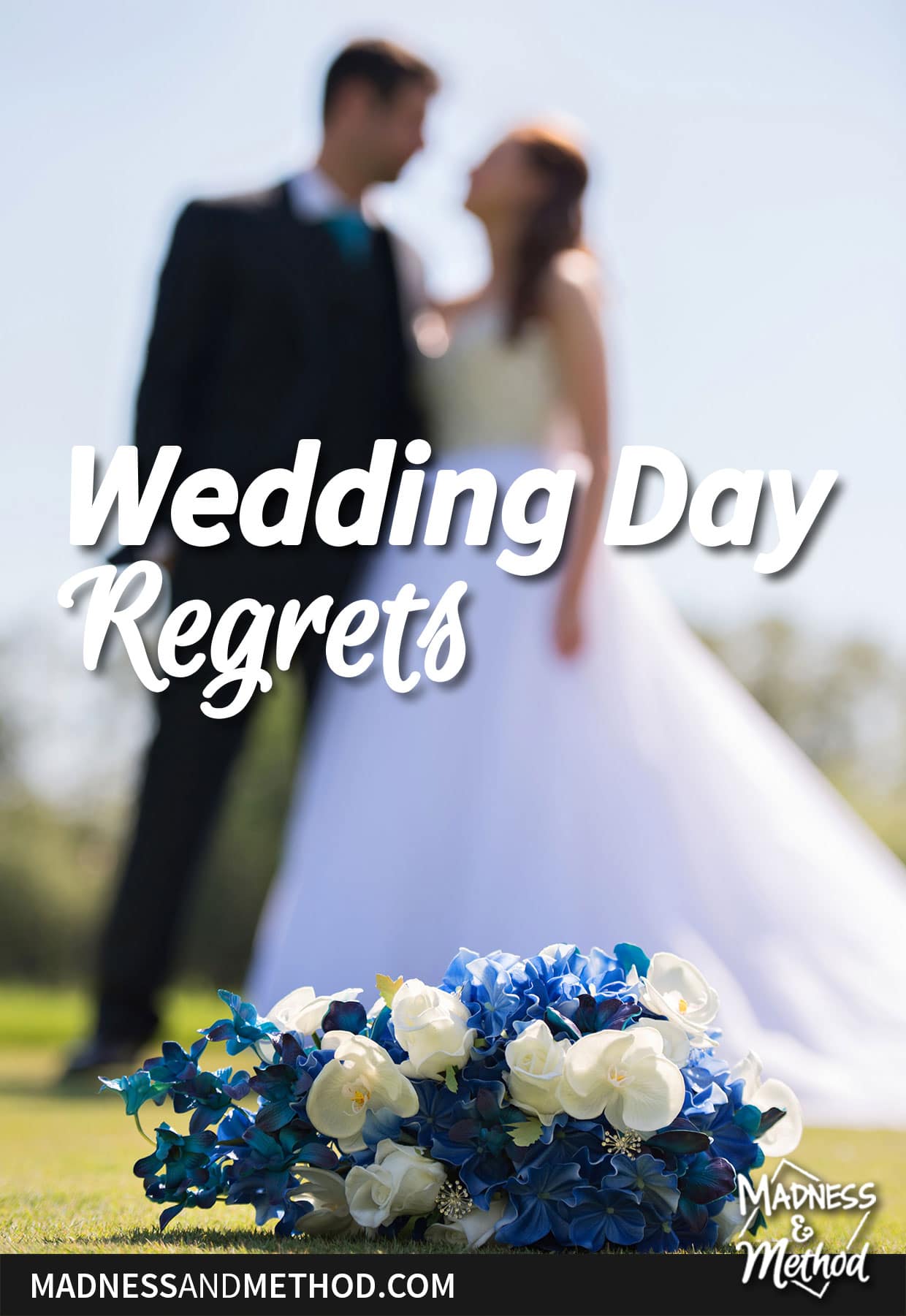 Conclusion
Nevertheless, our wedding was a perfect day, and it just happened to be one of the only nice and sunny weekends all summer that year, so we were lucky! If you're planning a wedding, I hope you consider these tips to help you avoid some regrets! 
What about you? Do you have any wedding day regrets?  Or things that you'd wish you had done differently? 
I'd love to hear your thoughts in the comments :) 
(And see these other wedding posts too: DIY wedding vases, our alternative guest book, DIY wedding programs and a wedding decor shelf).