With the major projects in the basement nearing the finish line, this sofa slipcover makeover is one of the last things to get done.  Next week I'll do a proper tour of the updated space (with a list of all the things still to do) – but today I'm sharing this super-quick, easy peasy change that made a BIG impact!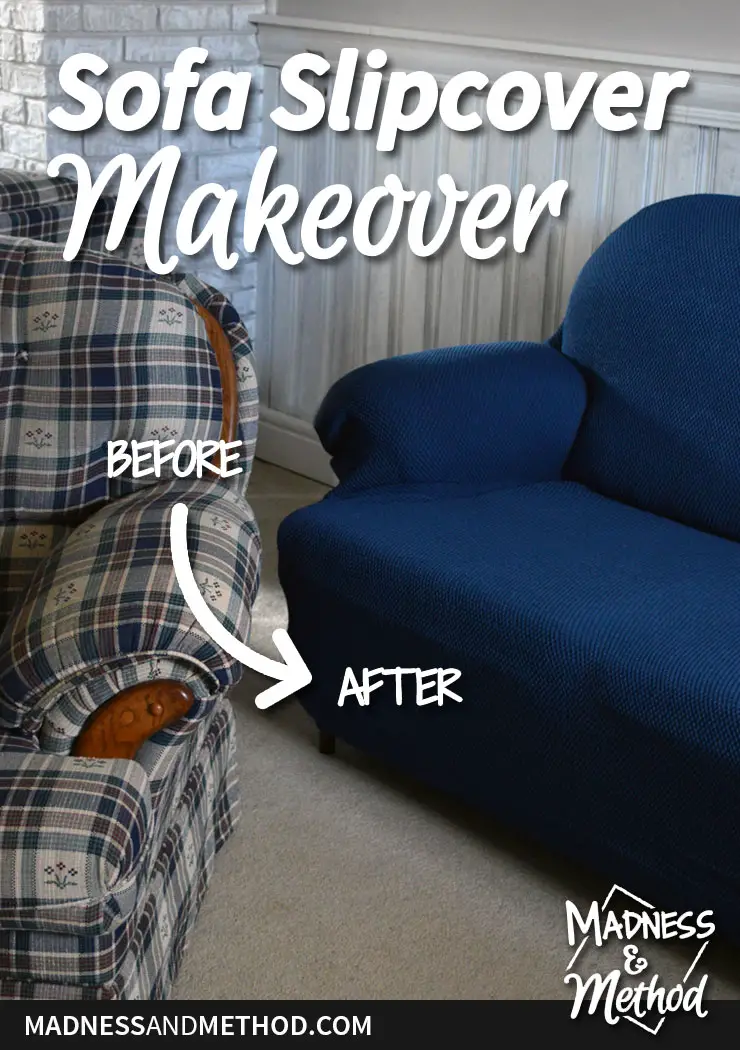 – Note: This post contains affiliate links. See more information about affiliates here. –
Ever since my parents gave us these couches, I knew that they've needed some visual updating. Actually, ever since my parents bought them (when I was super little) I knew they needed some updating. Ha!
I remember thinking that there was way too much plaid, and maybe if the seat pillows were a different colour they wouldn't be so bad?  They do have one thing going for them… they are SUPER comfy!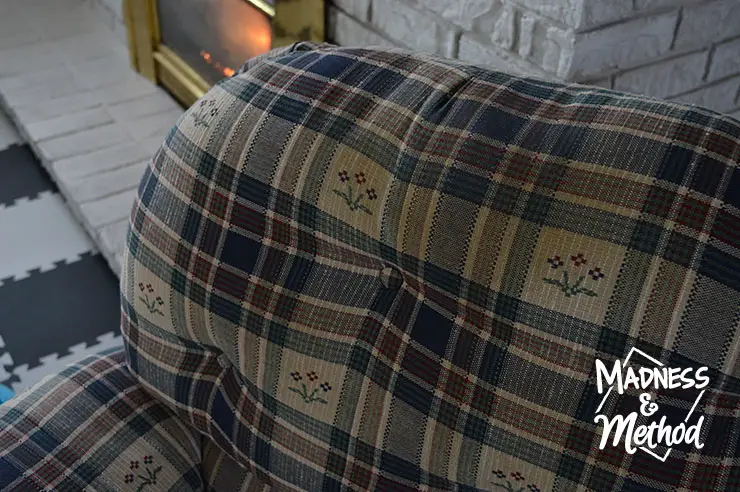 Over the years, they've still maintained their shape, but some of the fabric was getting a little dingy.  Even one of the legs on the couch broke, but nothing some spare lumber can't fix.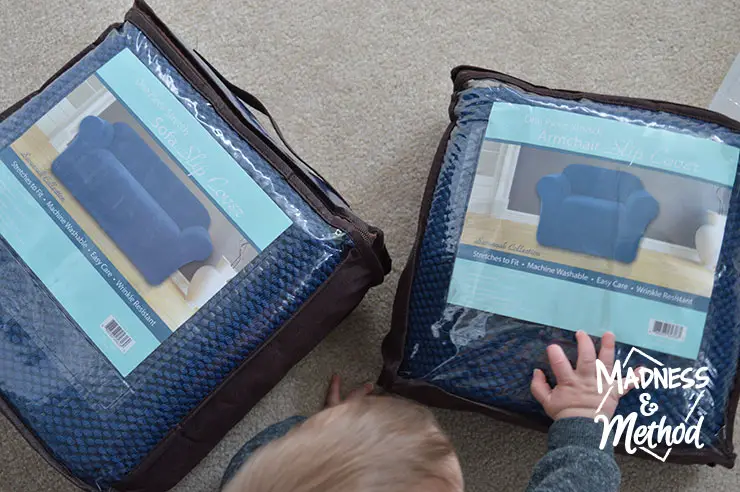 After determining that I wanted navy slipcovers, I bought two for the sofas and one for the chair (browse blue slipcovers at Wayfair.com). We have t-cushions, so it kind of narrows down the slipcover options I can select; and I also wanted to get the same brand/colour for each piece we had.

I did a quick test fit on one of the couches and everything fit just fine.  I didn't find any instructions, so kind of just guessed where everything went.  Thankfully there were seams and I'm guessing that's where the edges were supposed to go.  (I later found the instruction sheet, but it wasn't very helpful).
It was easiest to drape the sofa slipcover over the whole couch, then go in and tuck all the edges afterwards.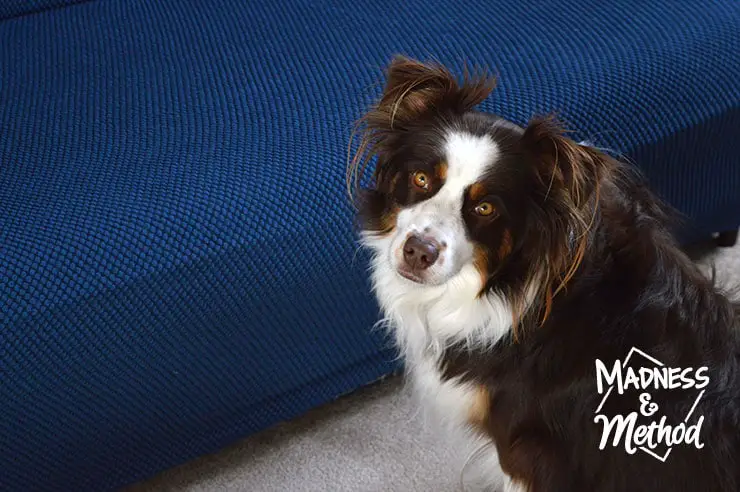 Tootsie was very interested in what I was doing (this is her "can I sit on it" look).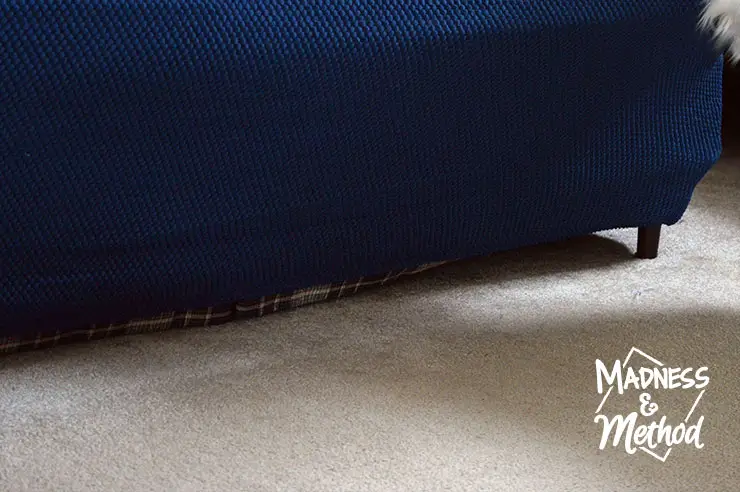 Our couches also have a skirt, and although the slipcovers say they don't work with skirts, I knew there would be a few options.  You could cut/tear off the skirt (assuming you don't want it in the future), fold it upwards and hold it in with the slipcover, or fold it backwards and affix it to the bottom of the couch.
I went with option #3 and decided to use some Velcro to make sure that it wouldn't creep down.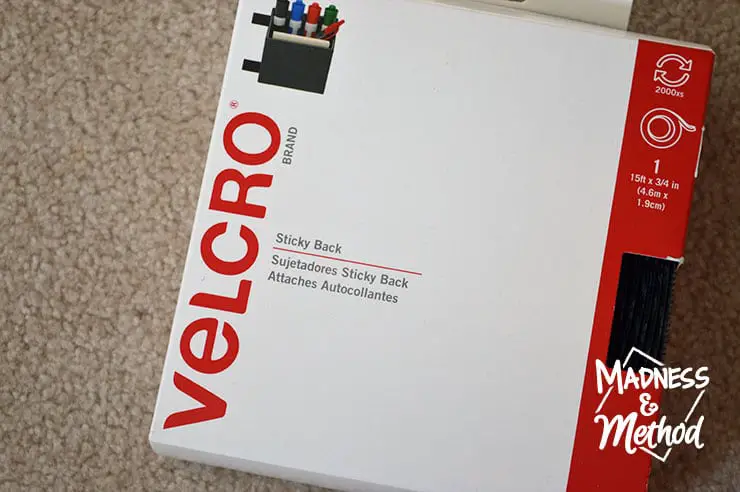 Technically the Velcro that I bought says it's not supposed to go on fabric, but I wasn't too worried.  I had actually bought it to stick the cushions on so we wouldn't have to adjust them as much.  (Which I figured would be harder to do with a slipcover on top).

I gave everything a good vacuum, and cut the Velcro into 18″ strips.  I put them together and stuck it on the cushion, then carefully put it in place and squished it down.  I went in afterwards and separated the fuzzy side of the Velcro from the plastic side and left them apart so that the adhesive would stick.  I found that the Velcro was adhering more to itself than the sofa fabric, so it would have probably been better to get fabric-specific Velcro.
I cut a few small strips and placed them on the couch skirt, then folded it back towards itself and held it in place for a bit.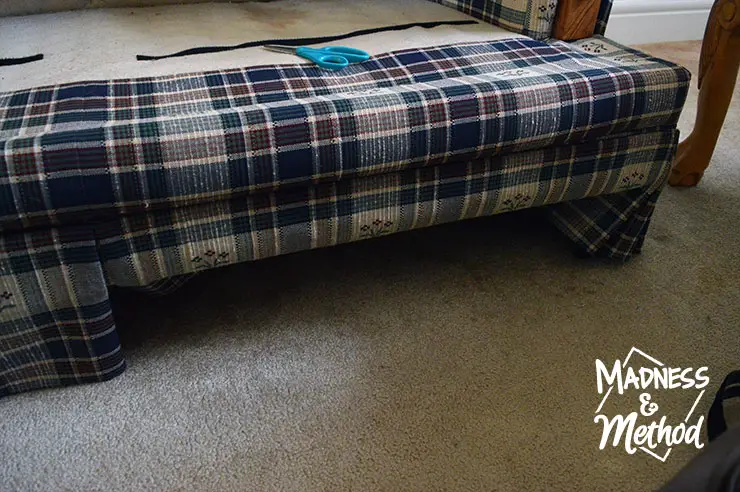 It did a good job holding the skirt in place, and I knew that the sofa slipcover would also hold it up a bit (there's an elastic section along the edges to keep everything tight).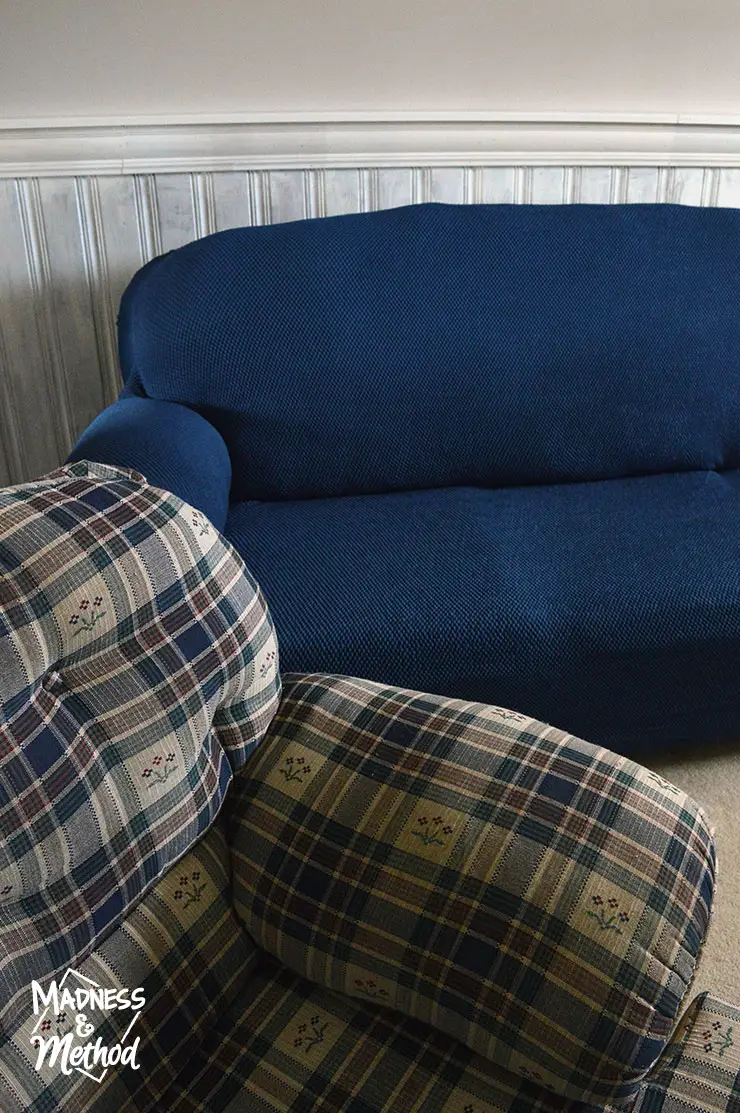 And look at the transformation!  Honestly, putting on the sofa slipcover was actually SUPER quick, and if you wanted to do all the Velcro-ing, it would only add another 10ish minutes per sofa.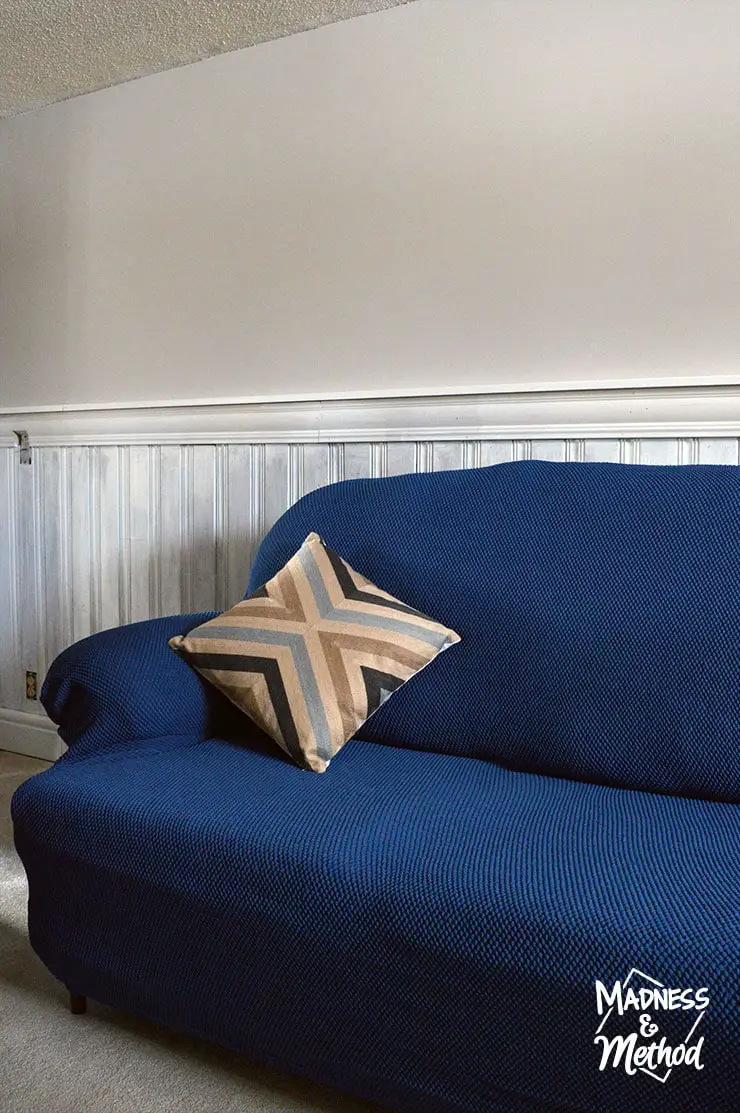 And here's what it looks like with my little accent pillow (from my original basement design here).  Yes, I need to finish painting the panelling… and no, the rest of the sofas aren't slipcovered yet and are still in the middle of the room (trying to avoid paint splashes of course!).
Shop This Post
The sofa slipcover makeover not only makes the couches look brand new, but it's also much more convenient because they will be so much easier to clean.  I can simply take off the covers and throw them in the wash!  Plus, having them one colour (as opposed to a pattern) will show Tootsie's hairs more.  Which sounds like a bad thing, but I'll be way more inclined to vacuum them to keep them looking good.
Are you excited to have this basement renovation complete and see the updated pictures next week?
Me too!
Which means that I need to get on that painting…