I'm here with a quick update on how our basement makeover progress is going!  I also wanted to clarify why I decided to paint the panelling in the first place (instead of whitewashing like I experimented with).  So let's go into a few reasons why I painted our panelling :)
Reason 1: Continuity
I knew that I would be painting the different areas in our basement at different times.  It would have driven me crazy if the whitewashing didn't look the same on all the walls (maybe I added too much water, maybe I didn't wipe enough, maybe I waited too long, etc.).
Reason 2: Future Blending
If we ever changed an area of the panelling or trim in the future, it would have been pretty hard to match any whitewashing from before.  This ended up working in our favour, since we decided to rip out the bricked area.  If I wanted to go with the whitewashing, would we have had to add the new wood, stain it to match, and then whitewash it after?  It would never have blended properly as it would be "fresher".
Reason 3: Style
I definitely like a more modern and clean design style, which "straight" painting fits.  Whitewashing is more of a shabby chic, or farmhouse type feature – so I don't know if it would have mashed well with what I like (and have in my home already!).
What else? 
Well… same as last week when I talked about filling gaps around the basement – there were a bunch of gaps along the different pieces of panelling boards and I really wanted to fill them.  Let me show you what I mean: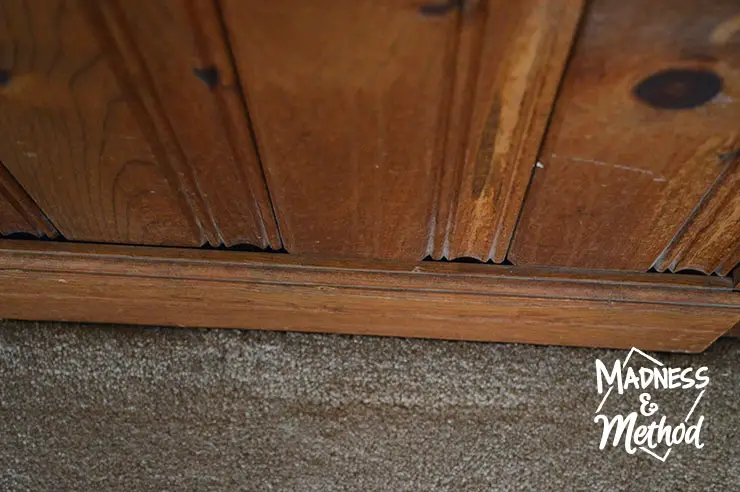 The largest (and most annoying) gaps were definitely those along the baseboards.  I felt like it collected dust (you can see it haha!) and could also harbour spiders (my sworn enemies).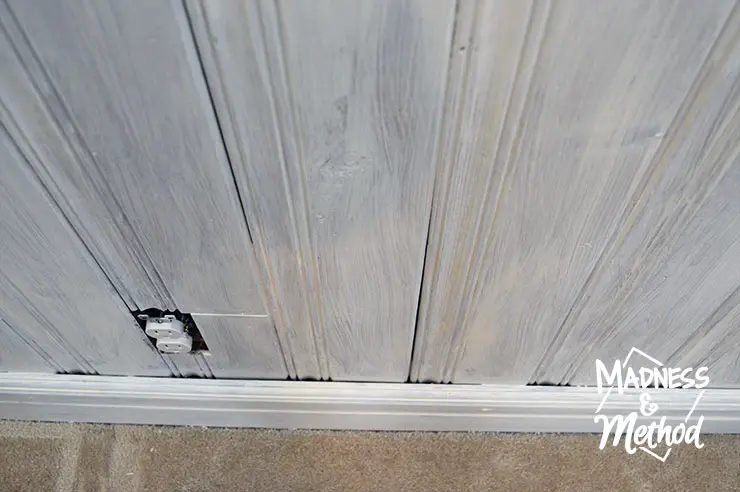 My technique (which I briefly discussed when I talked about the primers we had to use) was to paint everything white with our normal paint.  You could definitely see the gaps even though I tried stuffing them with paint to lighten them up.
I then went in and caulked along the top casings, bottom baseboards, and even the gaps between the vertical pieces of panelling.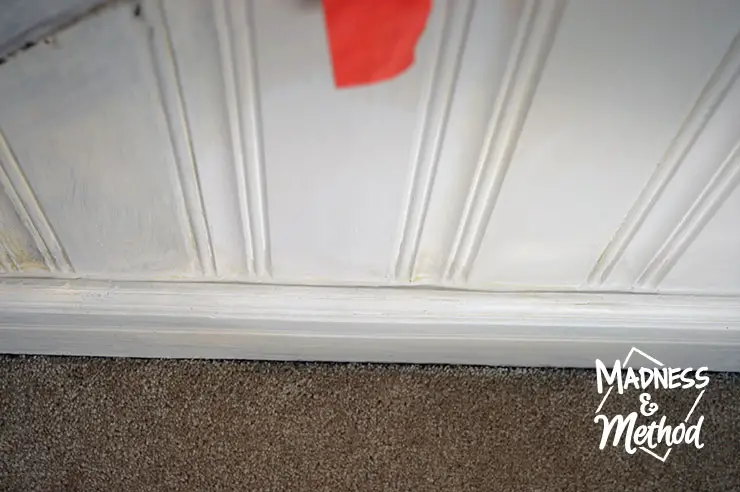 Once everything was caulked, I went back and painted everything with another coat of regular paint.
Then I went in with the "toxic" primer and coated everything.  Then one more coat of the regular paint again… and that's where we are now!  (About 4 coats if you are counting).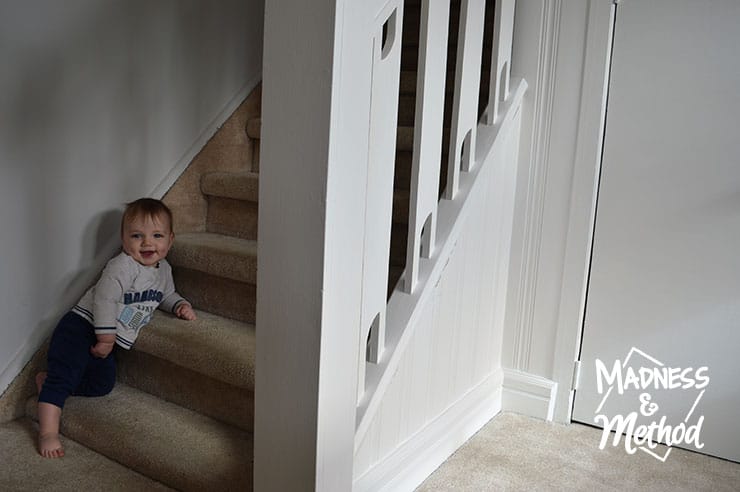 Here's my little model showing off the newly painted basement and super white panelling!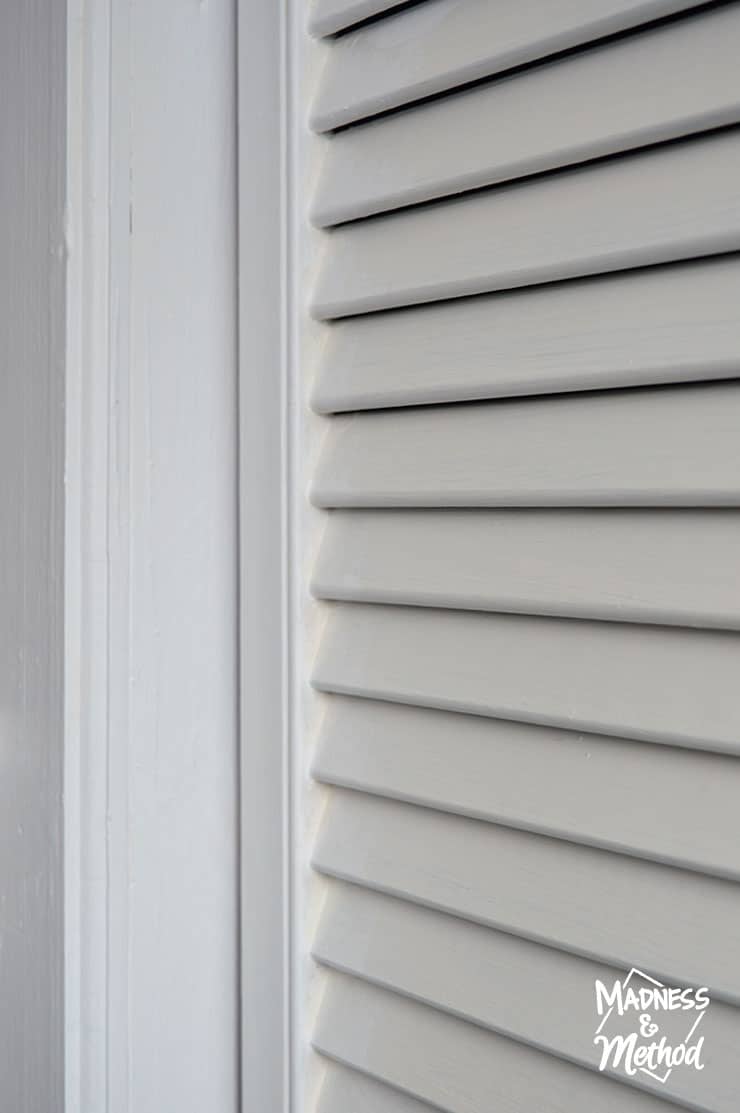 There's just one area that I didn't get to in this section (he woke up from his nap) but I took this photo to show how different it looks when it's actually white.  (You know, just in case you didn't believe me before).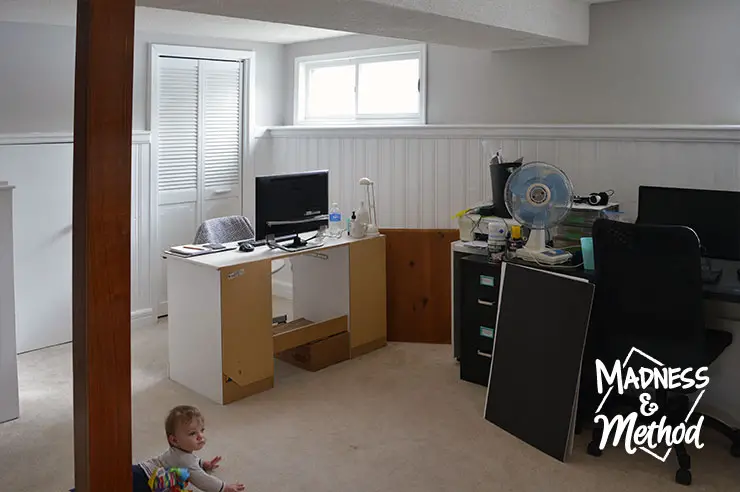 These two walls were my first two areas to paint, and the door is the last thing I have to do.  Thankfully I can still access it so I was able to move the desks back along the (south) window wall.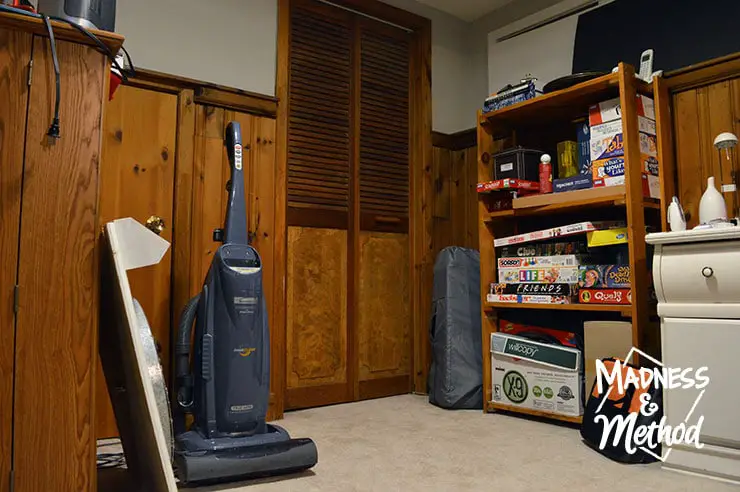 And just in case you wanted a blast from the past to see how this same area used to look.  The panelling was much darker, and everything looked boxed in and cluttered.  Okay, this photo was taken at night, and I did get rid of a lot of the stuff too (and moved the game shelf!)… but you know what I mean.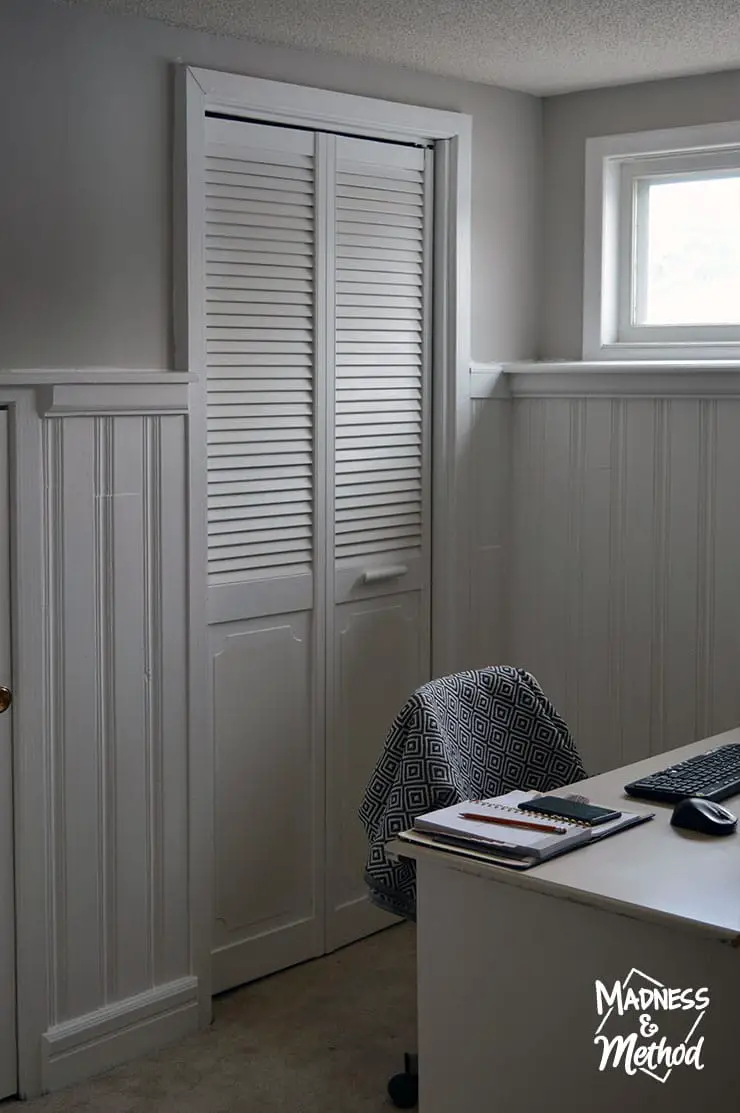 It's so much brighter and whiter now (ignore that patchy beige bi-fold door – I'll get to it soon!).  Maybe you also noticed I updated the blanket that was on my chair too?  (I like being able to wrap myself up when I'm cold).  This is the one I mentioned in my fun Wayfair roundup.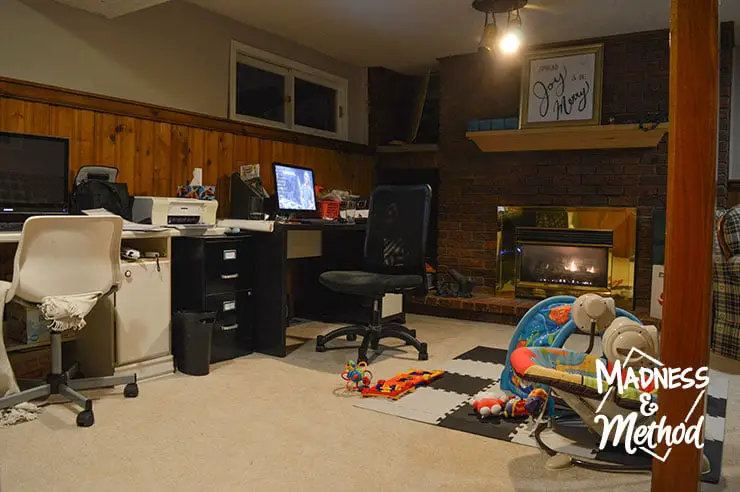 The one I had before was off-white and it was supppperrrr static-y, which did not go well with the plastic chair.  Anyways, here's another view of the basement before I painted the panelling (and before we painted the fireplace too!).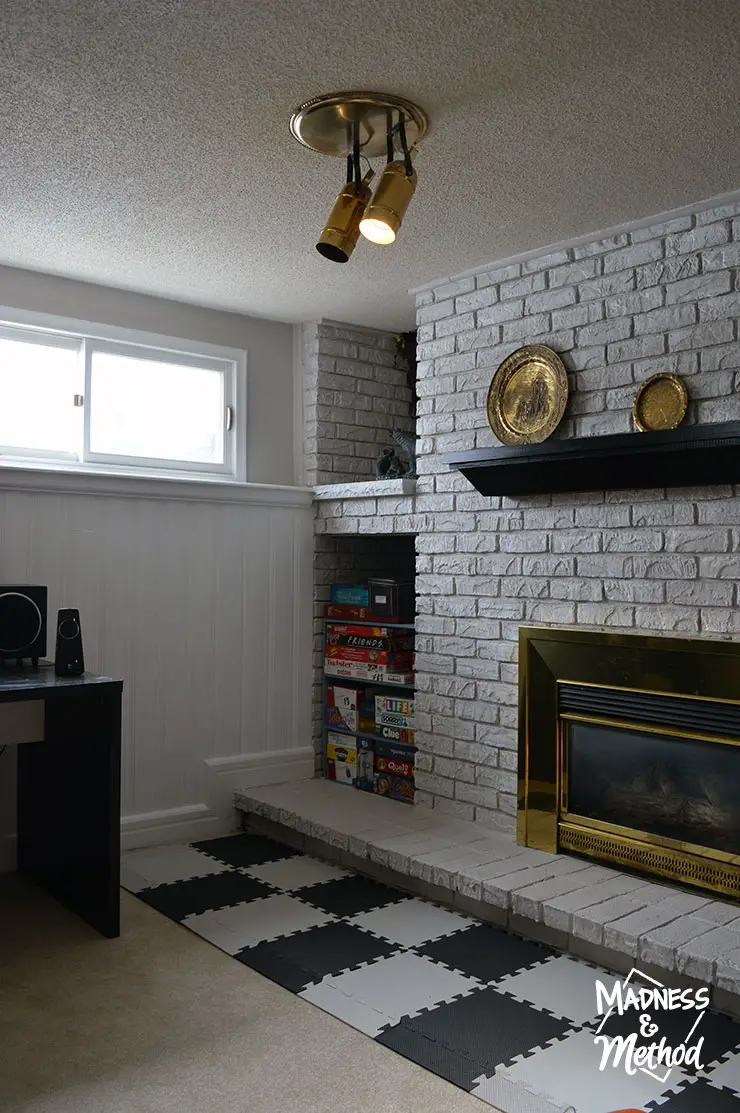 Here's the same view now that everything's been updated (although it's in the daytime now).  Taking out the shelving unit and moving the games here also allowed me to move the desks over so they were more centered on the wall.  Look at how nicely everything looks finished without gaps!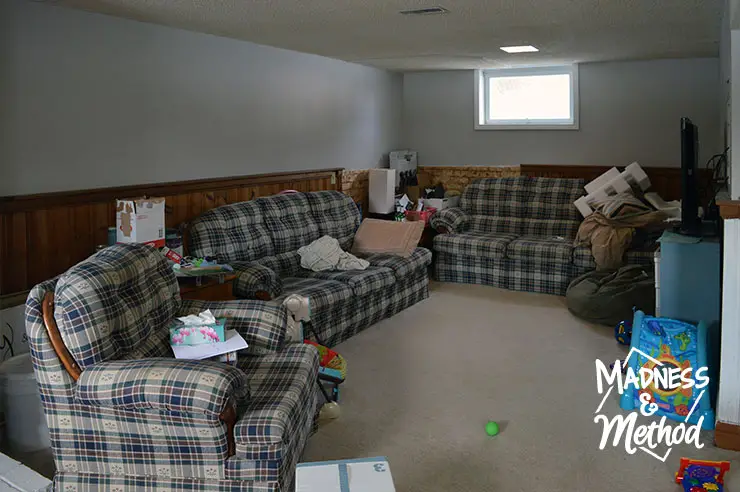 Womp womp.  Unfortunately when you turn around to the other side of the room, everything is in disarray and still needs to be painted.  I didn't want to paint these walls yet because we have to fix the panelling in the corner where we took out the bricks.  There's also more moulding needed to fill in along the top (and the baseboards) so it would not have made sense to paint and caulk everything if it wasn't complete.
But let's just turn around and forget about that for now :)
Ha that's what I do!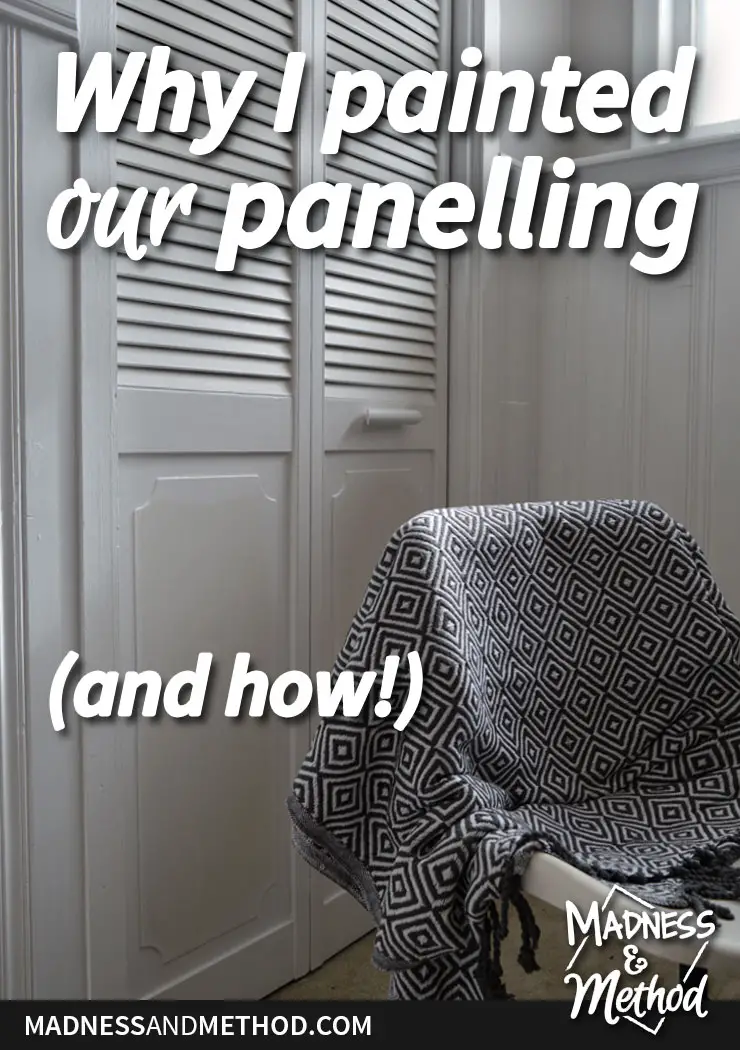 Now you have a bit more insight into why I painted our panelling, and I hope these pictures have given you a better idea of how everything is turning out.  I actually used a brush to paint everything, although I was originally planning on using a foam roller for the wide sections.  I think I still may go back in the future (once all the panelling is painted) and roll everything together just to cover up any brush marks and make sure it stays super white.
I'm giving myself one more month to finish the basement, then I'll be heading off to my brother's house for a fun bathroom makeover (stay tuned!) and after that it will be time for outdoor projects :)