Eeh I'm super happy with this project (do I say that every time?!).  I actually completed this striped stool makeover the last week of February, and I'm LOVING how it fits in perfectly with the black and white striped décor I have in the upstairs living room.  I had originally purchased the stool for another DIY, but I'm happy I changed my mind and went with the stripes – let me show you what I mean.
– Note: This post contains affiliate links. See more information about affiliates here. –
It all started when Chris Loves Julia shared their pregnancy news.  I fell in LOVE with the gold and fur ottoman she had in the nursery, and I browsed the website to find out where it was from.  Turns out, it was a DIY stool makeover!  Then, a few days later I was catching up on the blogs I subscribe to and Sue from A Purdy Little House shared a similar reupholstered stool project.
It was like the internet was FORCING me to do this project!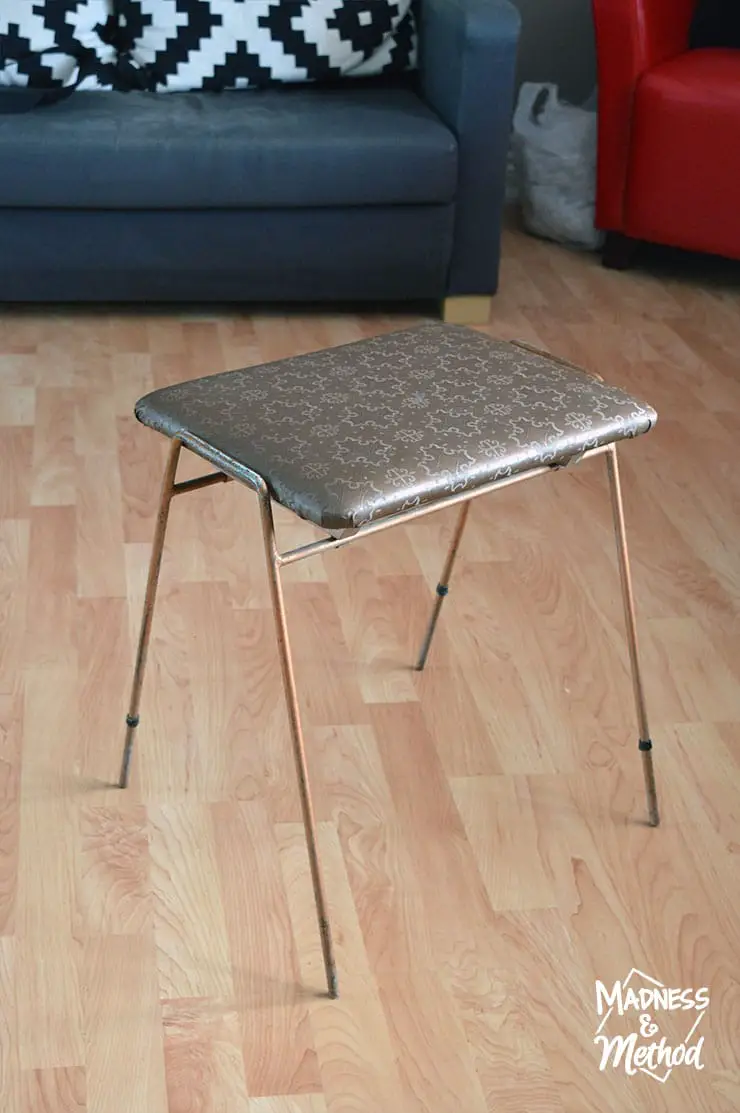 Well, fast forward to a few weeks later when I was browsing the Habitat ReStore looking for some hardware (for an upcoming project at my brother's house) and this cute little stool was just sitting by the entrance.
I HAD TO BUY IT.
(This is probably when the Husband said I was the worst minimalist ever.  But he didn't know all the signs were pointing to me buying this stool).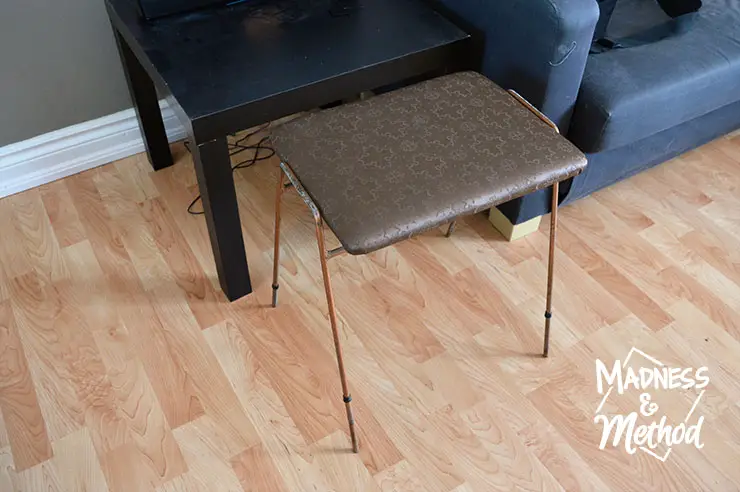 I realized it was pretty similar to the height of our Ikea Lack side tables, and I knew that I would be placing it somewhere in the living room anyways.  I was also thinking of eliminating the side tables in the near future, and figured my stool could do double duty as a side table when people weren't sitting on it.
Which meant that it wouldn't make sense to add the faux fur :(

I liked the copper colour of the sides, but it was worn out.  Nothing a coat of spray paint can't cure :)  The fabric was a plastic-y vinyl, and I figured I could spray paint it too for the time being.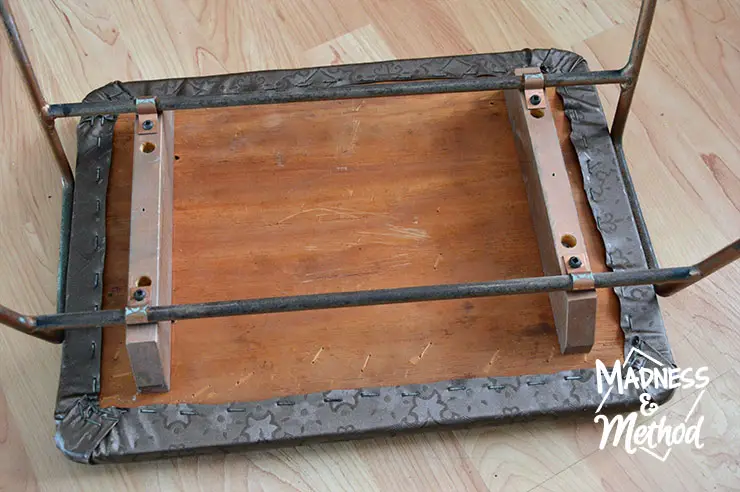 I still wasn't sure how it would look at this point, so I decided to give it a good cleaning and take it apart to spray paint.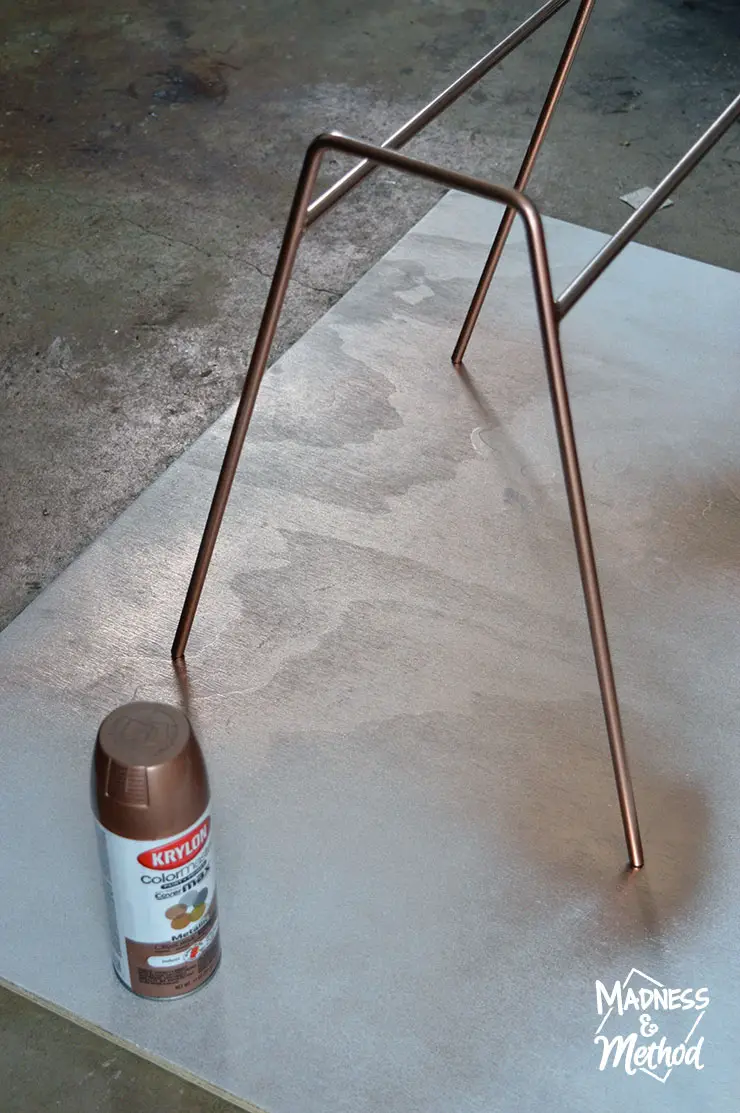 I ended up painting the metal sides with Krylon Metallic Rose Gold.  It was a really good match to the colour they were before, but it just gave everything a nice refresh.  (I also removed the bottom rubber feet, aka the small broken things you see dangling on the sides in the first few pictures).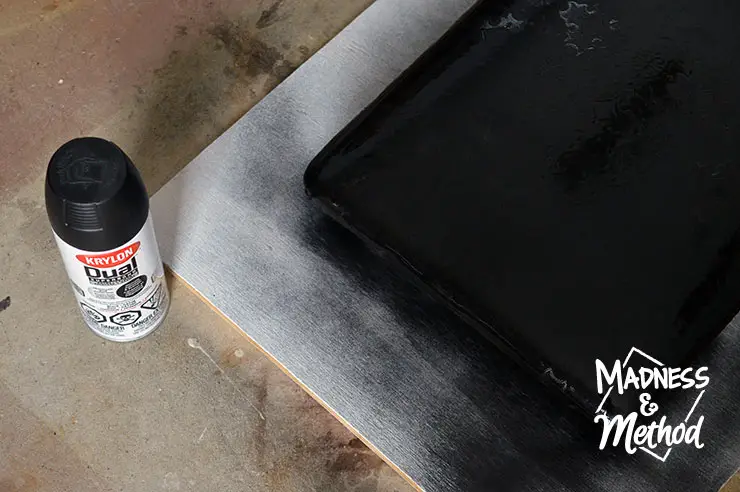 I also had some leftover Krylon Black Satin (from the Halloween projects) and gave the top a couple of coats of that.  Once it was dry, it literally just looked like black fabric (the texture was the same as before) but I haven't sat in it too much to see if it flakes off.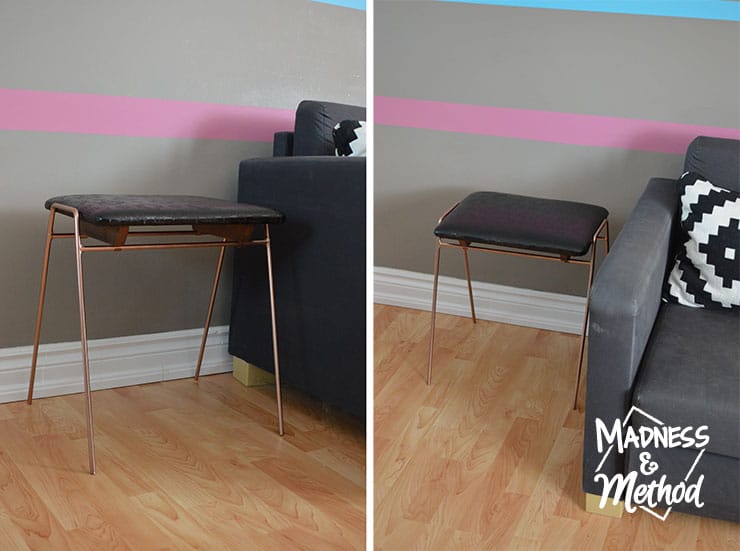 Anyways, once I got the stool in place, I realized two things: 1) the black top didn't have as much contrast against the dark gray couch as I would have liked.  And 2) those pieces of wood under the base looked super weird if you saw the stool from this angle.
At this point, I had already thought about three options to cover the stool:
Painted black (tried, liked the texture but the colour was too "plain")
Buy a fabric to recover the top (maybe black and white stripes?)
Get the faux fur like I originally wanted (but then it would be an awful side table).
I decided that, rather than buying an extra piece of fabric, I could make my own stripes using more spray paint, or some sort of tape.  I opted out of the spray paint route, because I didn't want the stripes to bleed (it would have driven me crazy).

I ended up using some white Duck tape and spacing the stripes evenly across the top (the same 2″ width as the tape).  My stool measured 16″ across, and rather than have a weird tape section that went along one of the sides (and would probably come up), I just moved the starting point over by an inch.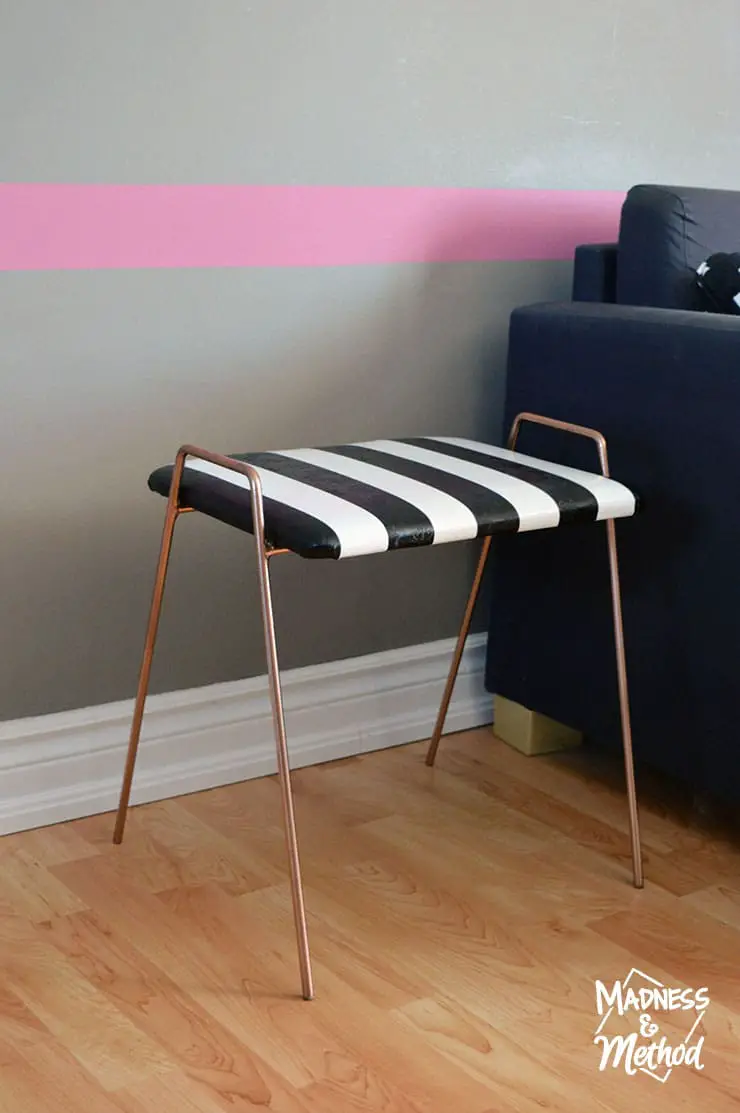 I was hesitant to use Duck tape at first because it's so sticky (what if I didn't like it, I was afraid it would pull up the black paint if I tried to take it off).  But I'm REALLY happy that I did because it has almost the same "vinyl/plastic" feeling as the original fabric.  And now that I do love it, I'm not worried that it will come off easily.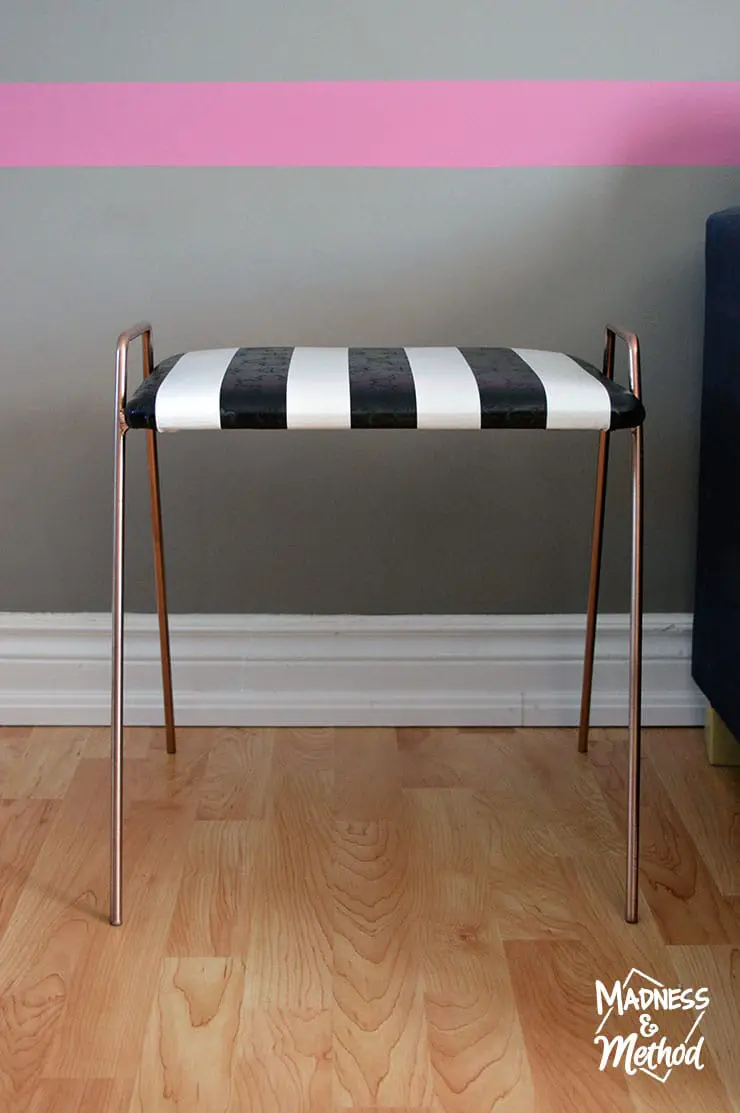 Oh, I also took out those extra pieces of wood too, so now the striped stool part rests flush on the metal frame.  It looks so much better, and it's actually easier to grab and move the stool now too (there's more "handle" room).
I haven't sat on it too much, so I can't say if those pieces of wood were necessary (or if the paint/tape will rub off).  I'm actually trying to not sit on it for now because the "feet" are still bare metal, and I don't want to scratch the floors.  I did buy these wire end caps hoping they would fit, but the largest size is still a bit small.  Whatever I do end up getting, I'll probably spray paint them Rose Gold so they blend in.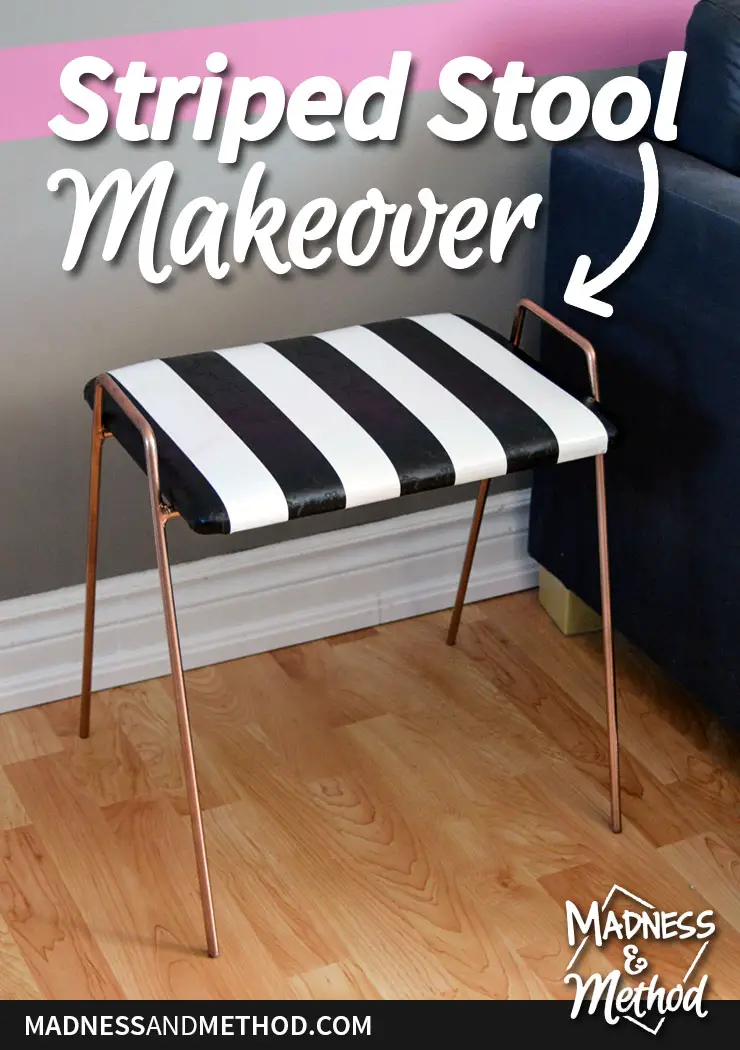 But seriously, this striped stool makeover was SUPER simple and it goes so well with the rest of our living room décor.  And, if I want to update it in the future, I can easily buy another piece of fabric for the top (like the faux fur!) or even spray paint the metal frame another colour.
It takes up less space than the original side table (literally and "visually") and it makes me so happy every time I glance over and see it.  This is kind of like what I talked about in my Great Home Basics post, investing in pieces of furniture and décor that you love.  And this "investment" ended up costing less than 10$ and under an hour of work (not including paint dry time haha!).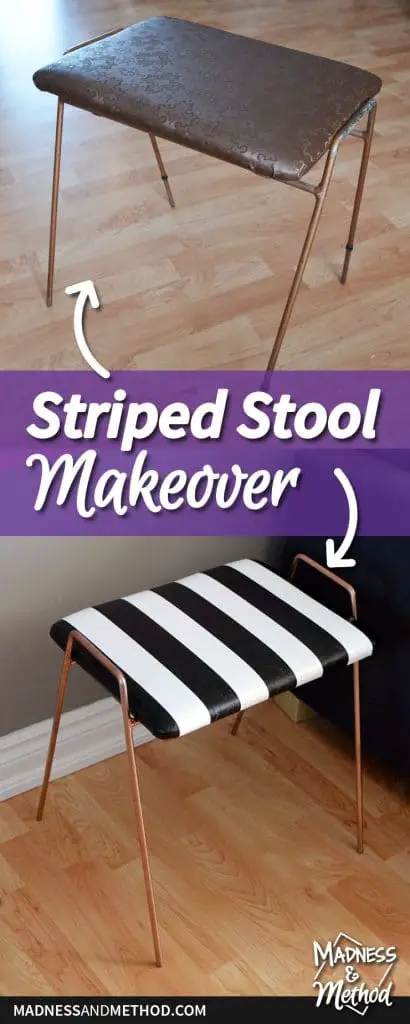 Oh, and I also made this "before and after" graphic for Pinterest too, so feel free to choose whichever one you prefer to save :)
Hint hint.
(And, remember when I mentioned that I completed this project in February – didn't buy anything against my Lent challenge!).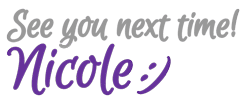 Shop This Post