Last year, I decided to officially start collecting reindeer Christmas decor.   In honour of this new venture, I thought that it would be fun to highlight some other Christmas items that people collect.  So, whether you are deep into a nutcracker obsession, just starting a holiday collection, or trying to decide if/what you want to collect something – keep on reading!
About My Collection
I've had a clear plastic reindeer for a while now, and I added a few more pieces last Christmas.  It all started when I adopted two large greenery reindeer decorations that we had as children.  Then, it grew from there!  I'm pretty minimalist with our Christmas stuff (just the tree and stockings really), so this new foray will hopefully keep that in mind.  I don't want a whole house full of things, but a little corner (or area) to put reindeer should be good! 
To keep me from buying all. the. reindeer. I am trying to keep things to a more neutral colour scheme.  Think black, white, silver, grey, gold, copper, wood, etc.  I don't really want anything painted in bright colours, so having a "plain" anchor is helpful.  And they have to stand on their own – so no ornaments!  
On an unrelated note, we have also added one new "sentimental" ornament to our tree each year.  So that's sort of a slow building collection too.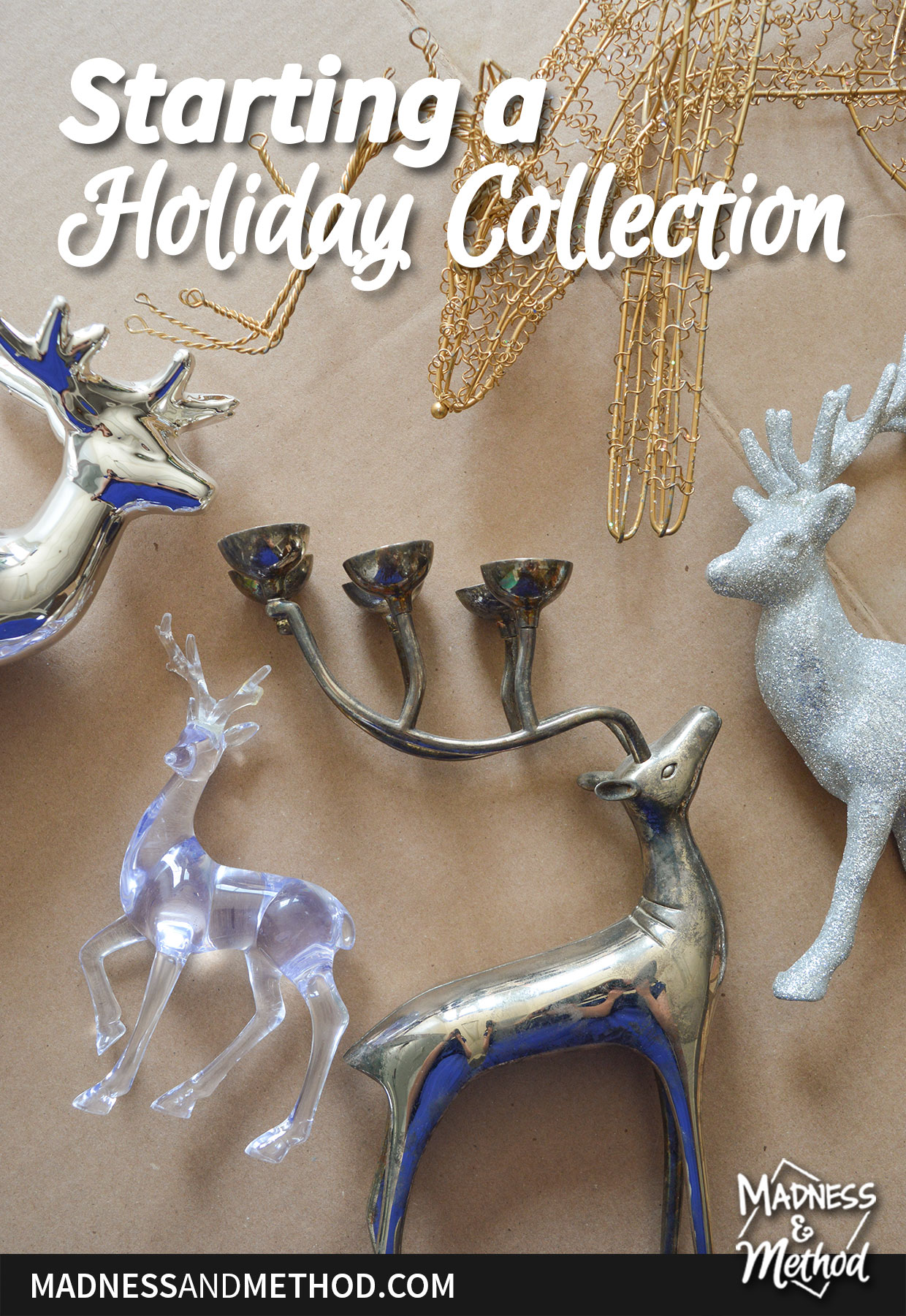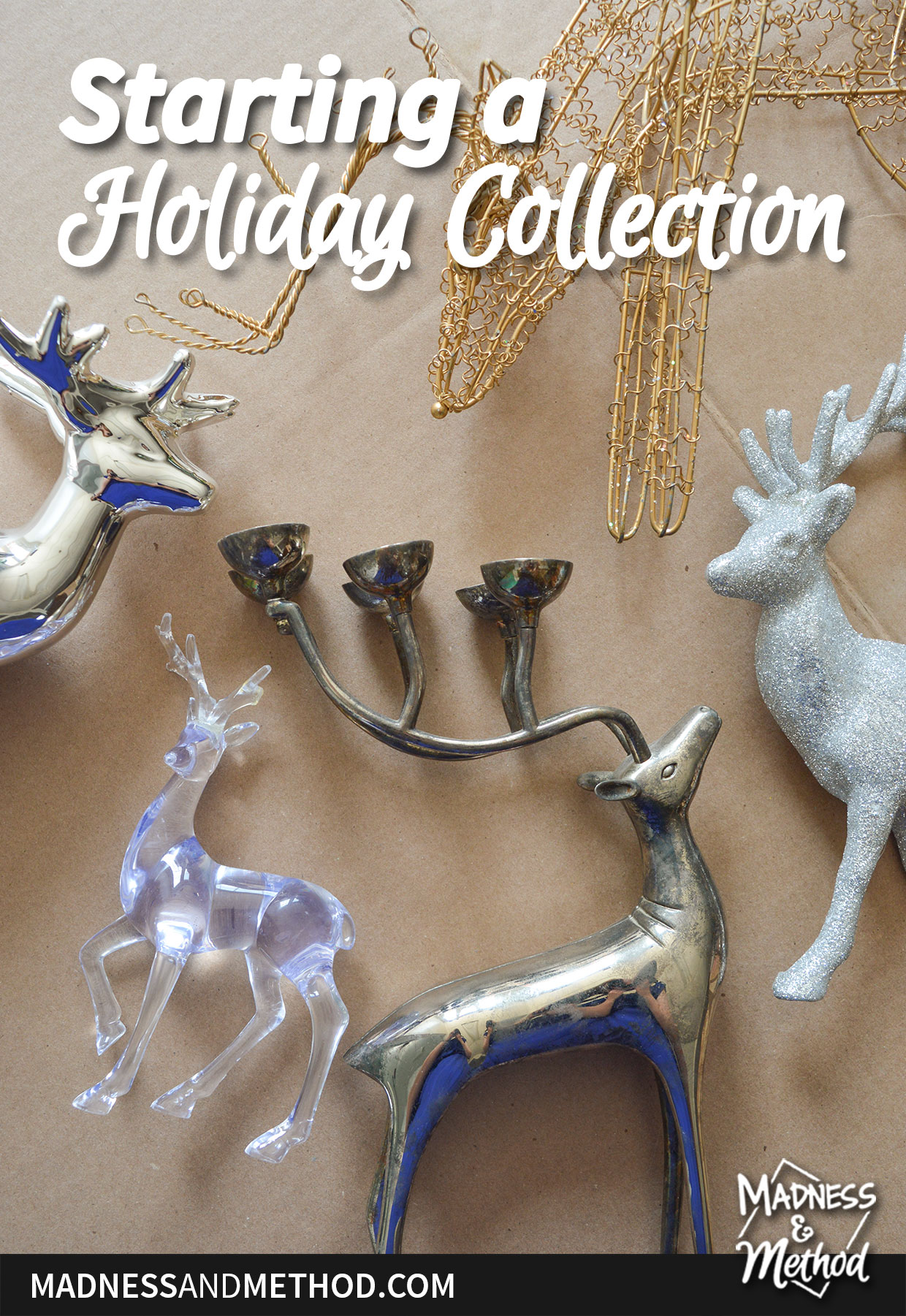 Tips for Starting a Holiday Collection
Looking to start a Christmas (or another holiday) collection?  First, decide what you like!  Is it something that makes sense for the season?  Maybe something that brings nostalgia, or even a tradition to create new memories?  Whatever it is, make a conscious effort to look for items to add to your collection.
Add Items to Your Wishlist
See some items in your collection, but not sure if you want to buy them all right away?  Add them to your Christmas list!  Putting a bug in your friends/family's ears will let people know you're on the lookout for "x".  It can be as simple as letting them know you collect a certain item OR even the exact one(s) you are looking for.
Shop End-of-Season Sales
This is especially helpful if you are collecting a Christmas-specific item (or other holidays).  Browse the stores once things are on clearance, and you'll save a bit of money (plus have new items for the next year).
Buy Secondhand
Secondhand stores, online buy-sell sites, yard sales and estate/auctions are also great places to search!  While it may be harder to find things out of season, what you do find may be a lot more unique.  Plus, it's SO much better for the environment to reuse items in this way, win-win!
Don't be Afraid of a Makeover
This is more of a reminder to myself since I have more stringent collection colour scheme ideas.  You can always paint/update your items to match a cohesive theme.  Heck, THAT could even be your collection!  Imagine a Christmas village painted black for a Halloween collection.  Or a random assortment of holiday tchotchkes all painted in the same colour.  Giving your items a makeover can even add to the fun of collecting things since it adds a tangible and time-added value to your tradition. 
Christmas Collection Ideas
Excited about starting a holiday collection, but not sure what to collect?  Check out these ideas for inspiration!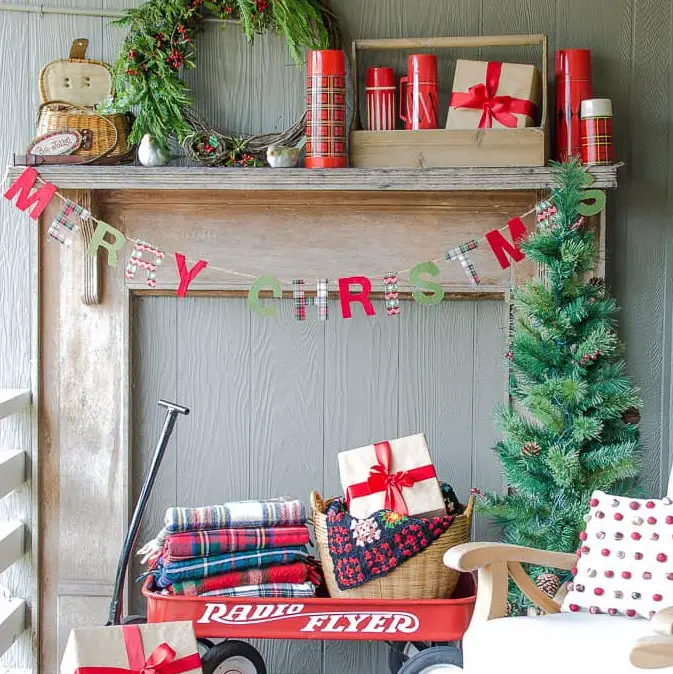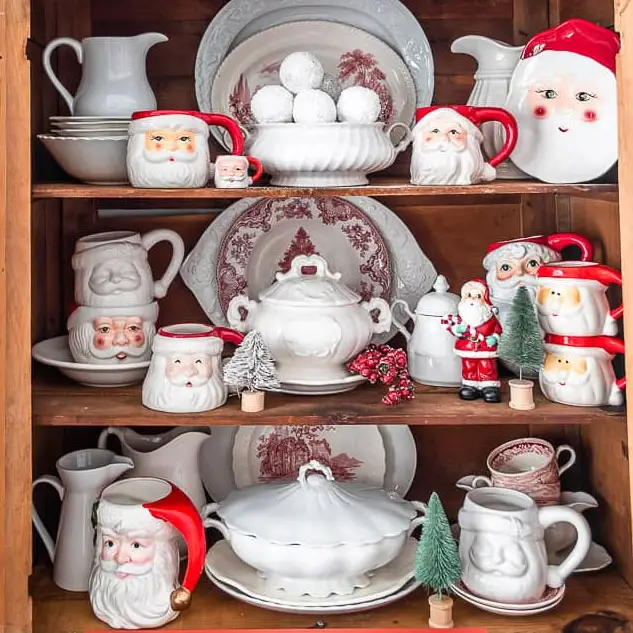 Cindy of DIY Beautify collects vintage Santa decor and mugs. You have to see her tree too… it's so much fun!
Looking for more collection ideas?
Heather of The Heathered Nest hand-paints one new house/store for her village each year.  Ann of Dabbling and Decorating hangs a collection of wreaths on her front door.  Stephanie of Celebrated Nest highlights her white serving dish collection with contrasting greenery.  Betsy of Happily Ever After, Etc. collects Mary's Angels.
Other collection ideas: angels, Santa Claus, nutcrackers, trains, snowflakes… etc!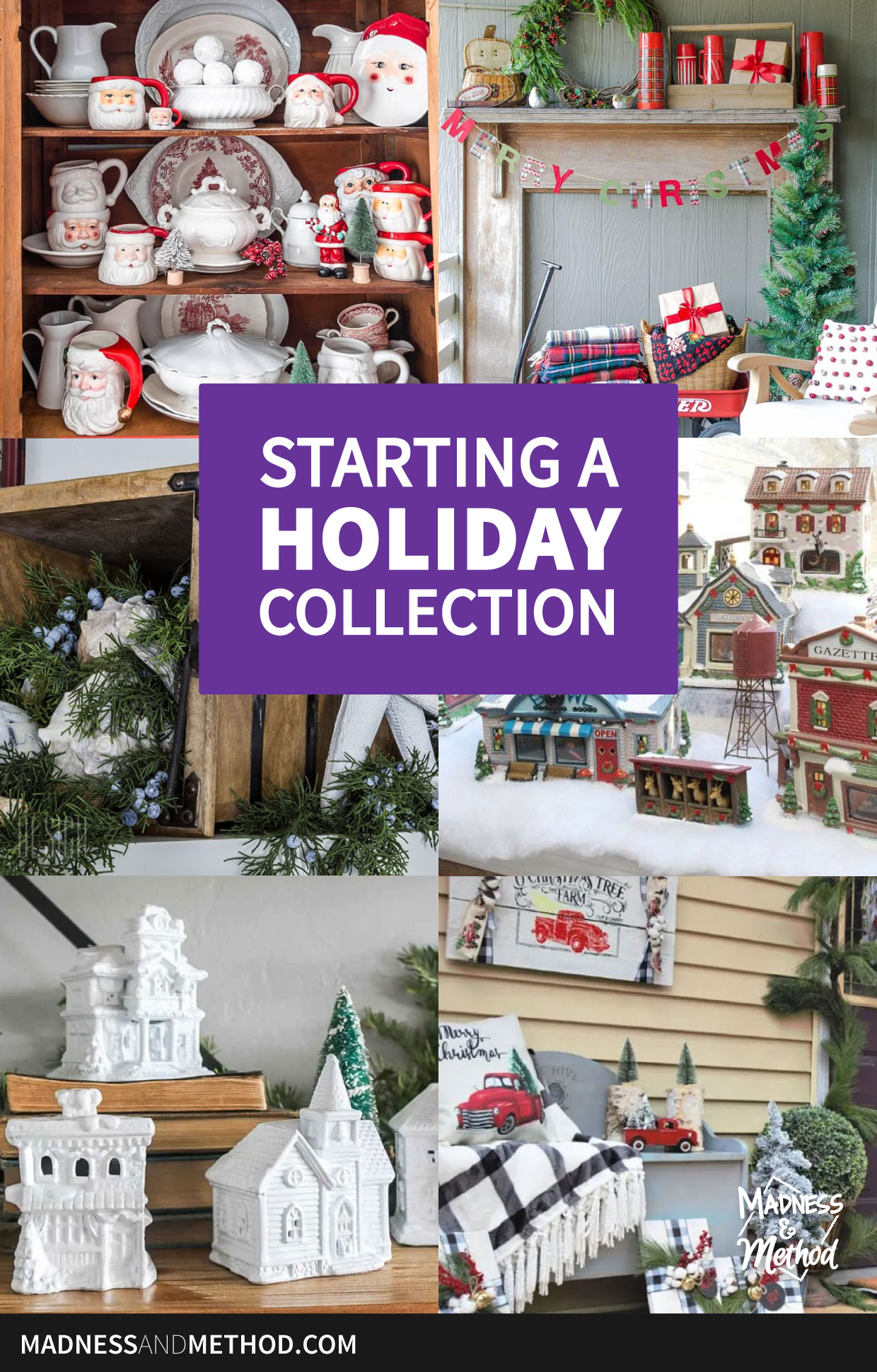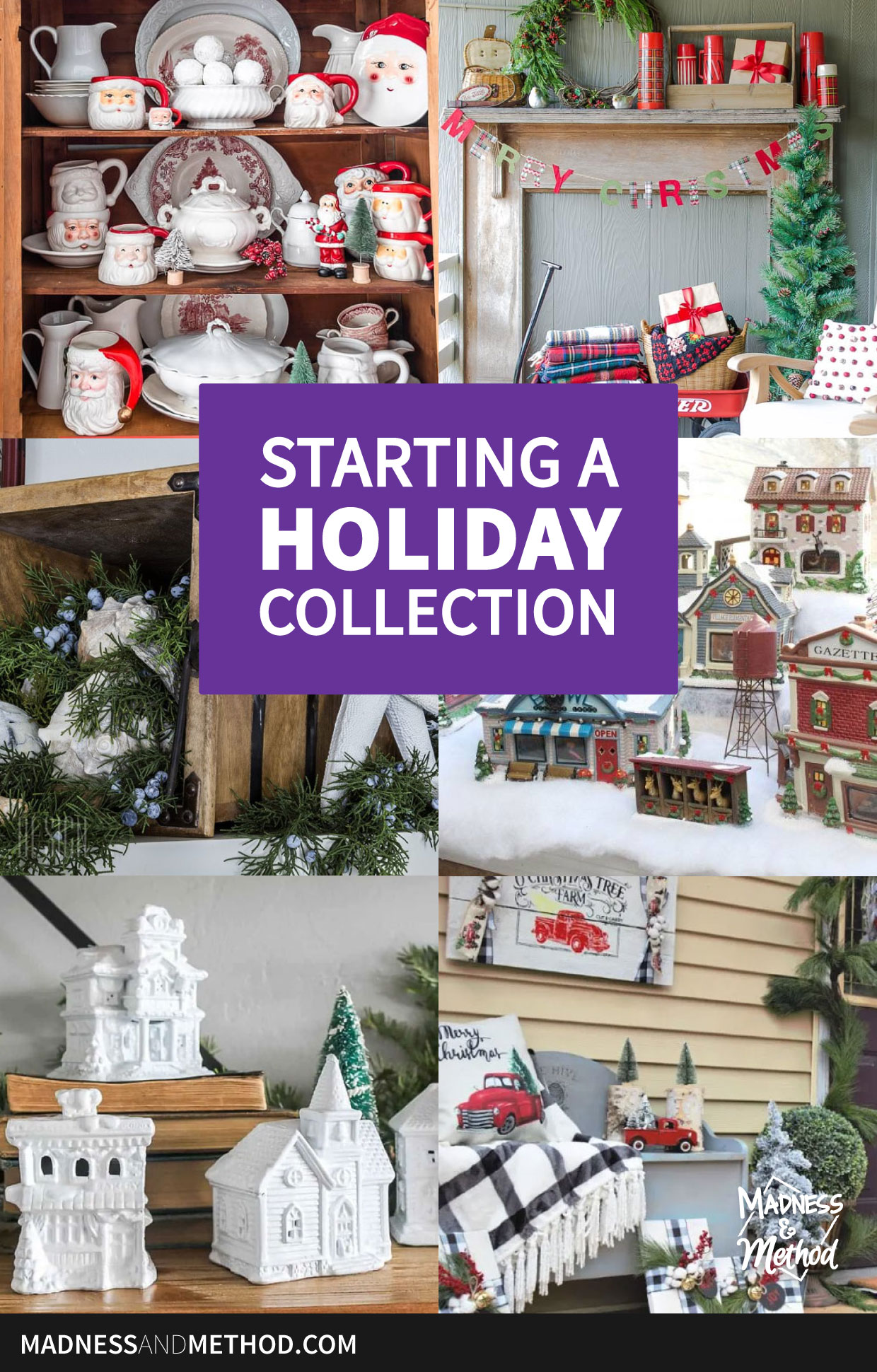 Of course, you can always start a collection for another holiday too.  Think, skeletons, pumpkins, and turkeys for Halloween.  Or cupids and hearts for Valentine's, bunnies for Easter, etc.  Just make sure to stick with ONE collection so that you're not overwhelmed :) 
Do you have any Christmas collections?  Or, are you thinking of starting one!?  I'd love to hear about unique collections! 
(I'm super excited about growing my collection this year too!).