Last year we had built a couple of raised garden beds along our shed.  By the time we had filled them and planted veggies, I felt like I had missed the optimal time for planting and most of our veggies didn't even get a chance to grow.  Of course, in the area that we live in we can't really plant too early because there is a chance of frost until pretty much June – but this year I had vowed to plant everything earlier.  It's the starting of July, and our veggies (and some fruit) have been planted since mid/end of May – and I'd like to share their progress so far.
We didn't add any extra dirt to our raised garden beds this year, just removed the old plant remnants from last year and got to planting!  Now, I need to be honest – I'm not even much of a vegetable eater, so over half of the things I planted are just for the Husband (or maybe for times when I am feeling "adventurous").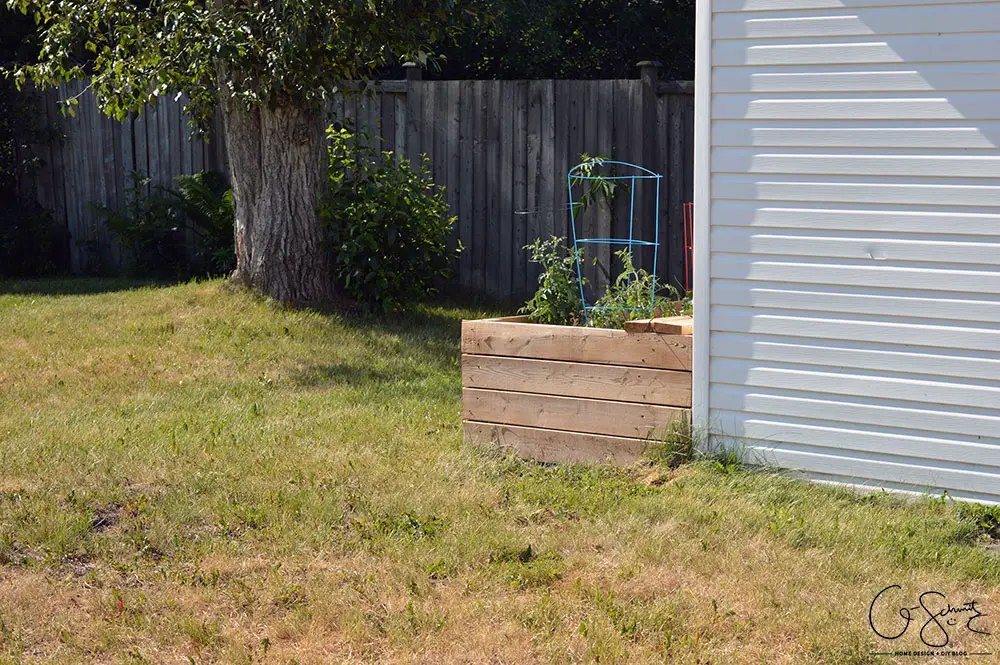 Like last year, I tried to plant the same/similar veggies in both of the gardens; that way I can see which side is better.  The left side of the shed gets the afternoon sun, although the big tree in our backyard does block most of it.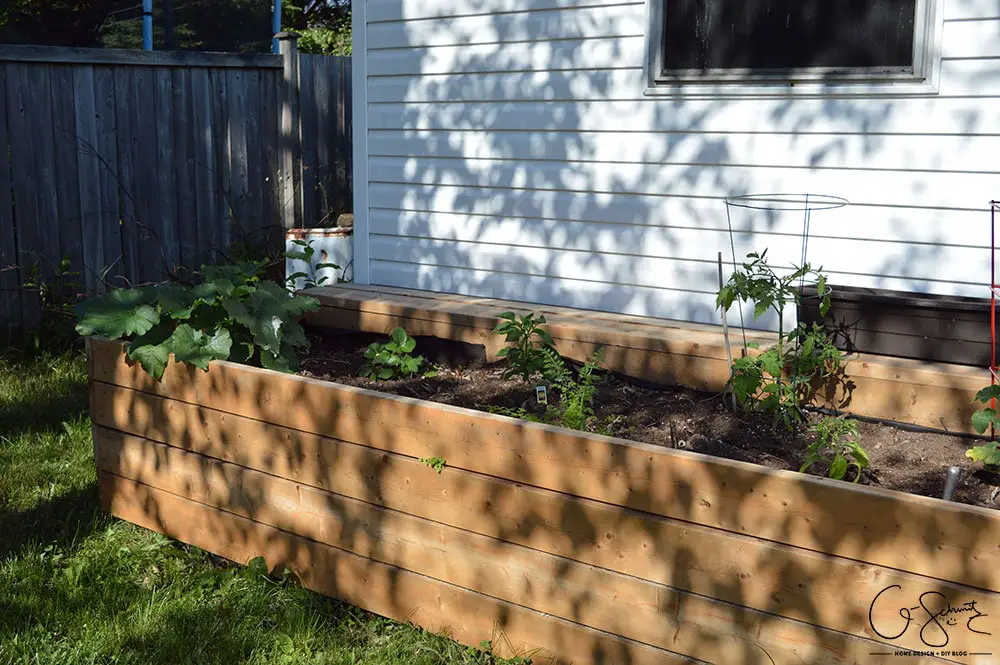 Considering we had a super dry month of June (and I didn't water the garden for over a week after I had the baby – and it was very hot), I'm surprised most of our plants made it!  Apparently we also had a frost in May after I had planted them… but they're still alive :)

I had to buy more tomato baskets this year, and they didn't have the same bright blue ones anymore.  I also got some red climbing things for the cucumbers, because the Husband complained last year that the plant couldn't grow big enough and he wanted MORE cucumbers.  I will also mention now that I love cucumbers, but they mysteriously all got eaten last year before I even had a chance to taste them!  Seriously… I think the Husband just went to the garden and ate them straight off the vine…
Because our growing season is so short, I tend to buy little veggie plants that are already started.  It would be much cheaper to buy the seeds (and even start them indoors earlier) but I'm impatient and don't have time to wait for them to grow!  We're starting to get some tomato flowers already… so they should be coming up soon!
Last year we were only able to harvest our cherry tomatoes because the big ones kept splitting before they could fully grow.

The right side of the shed is on the East, and therefore gets the morning sun.  There is also nothing that creates shade here (although we did plant a pine tree on this side – so it should be big enough in like 10+ years haha).  The veggies are all pretty much the same, and they are all slowly growing.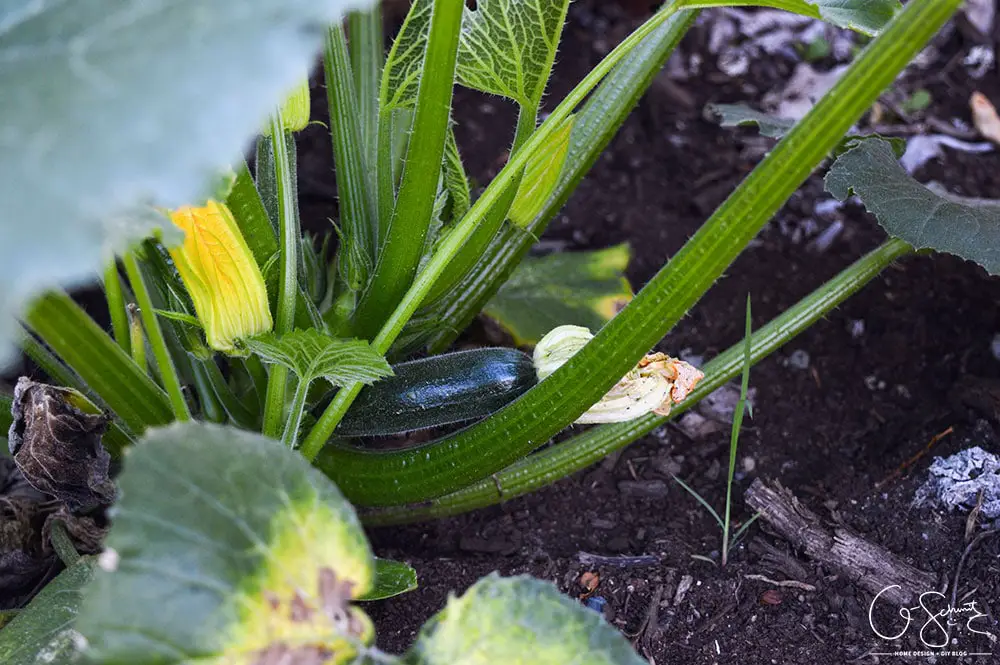 On this side I can even spot a little zucchini that is starting to come up, and for some reason zucchini is like the only thing that I am super good at growing (even though I only really use it to make zucchini bread/muffins).
Because I am probably the worst gardener ever, I have to keep the tags next to the plants or else I would have no idea what the heck the plants are!  I'm attempting carrots this year, and I do actually enjoy eating those, so we will see how that goes :)
We have these skinny planter boxes that normally sit along the back edge of the raised garden beds, but my Mom left this one on the porch so that we could easily bring it in the house when there was a frost warning.  She planted a few varieties of lettuce, and they were actually doing super well (until I didn't water them for over a week in the super-hot temperatures and they all wilted…).
My Mom pruned back the wilted leaves and is hoping that the plants will grow again.  But how do you even know when lettuce is ready to pick?  The leaves look the same as normal lettuce all the time; you could probably take them off now and just have a mini salad haha!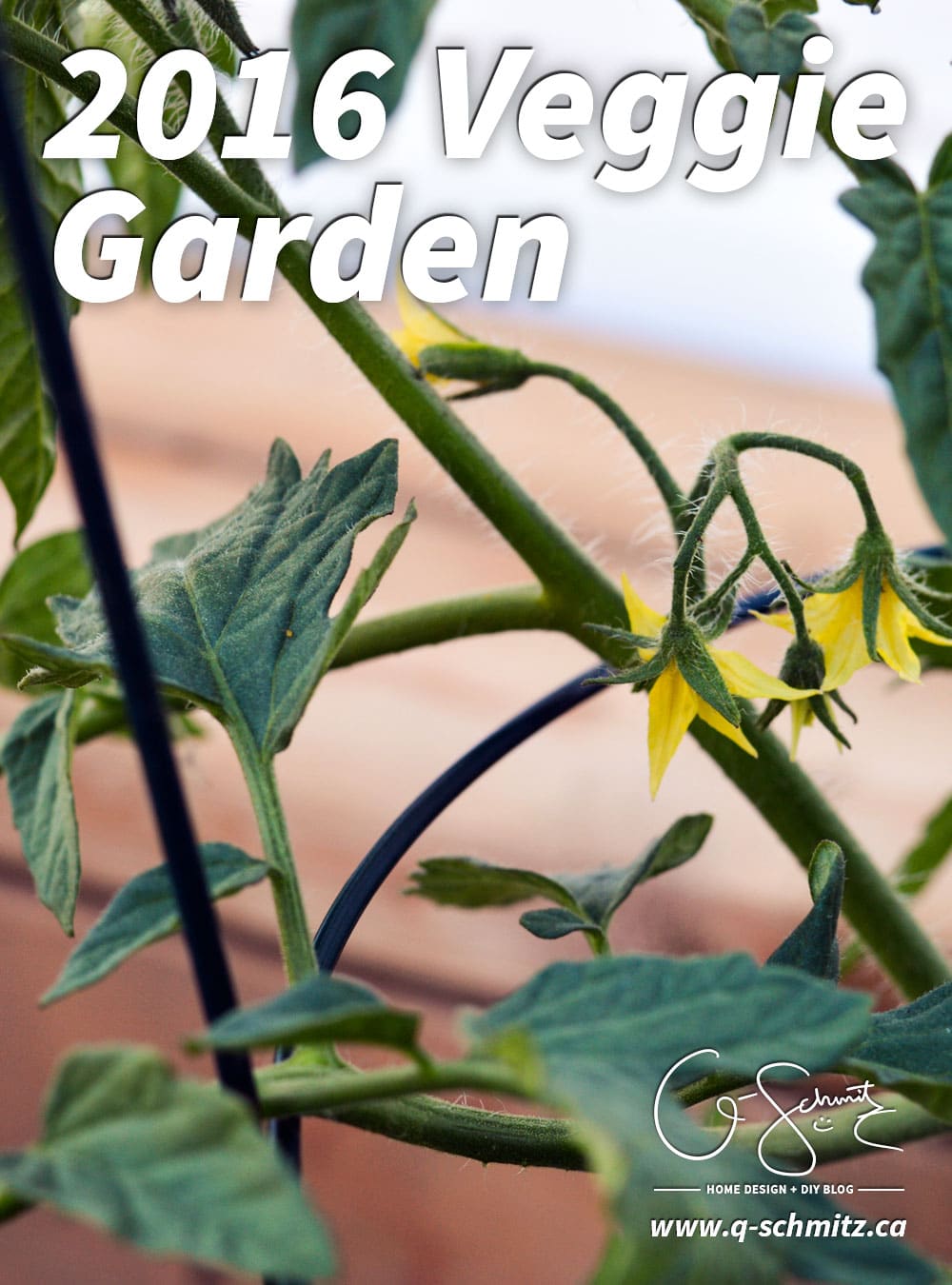 All in all, I think we planted cherry tomatoes, regular tomatoes, zucchinis, cucumbers, carrots, eggplants, red peppers, hot peppers, eggplant, lettuce, and some strawberries.  I love strawberries, and if they end up coming back next year (they are a perennial plant) then I may get some more of those planters and move them in there.  We could probably have used the planters for herbs, but I don't really use herbs for cooking, so would have had to find someone to give them too.
I think next year I might attempt some potatoes (my favourite veggie!) and plant whatever works well this year again.  Our raised garden beds area actually quite large, but I never really know how much room plants are going to take up, so would rather leave extra space.
Do you plant a veggie, fruit or herb garden?  This is actually only my second real attempt, and I'm thinking hoping that it's a skill that gets better over time, year after year.  My parent's garden is humongo and is definitely something that they have down to a science.  (But they also live in a warmer climate and have a much longer growing season… so there's that).
Wish my veggies luck, and see you next week for some more outdoor updates!