When you hear the words "black dining rooms", you're either thinking a) ooh show me more, or b) ugh, black is soooo dark, I would never use it in my home.  Well, hopefully I can try and convince you dark paint naysayers that black doesn't have to be dark and gloomy, but that it can be used to add sophistication and glamour to your spaces.  And what better way than to show you a few awesome black dining rooms as examples!
While our current house doesn't have any black walls, I dabbled in the dark-side in the very first room I painted, my teenage bedroom.  It wasn't until I spotted this beauty of a makeover that I was hooked on the idea of having a black dining room:
I mean, the wrap-around black walls, lovely bright white moulding and brass accessories are amazing right!? 
From that day forward I knew that we would have a black dining room in our future/forever house… and in the meantime I would just pin all the fun black dining rooms I saw.
But along came my brother's kitchen renovation, and after he nixed my original idea to do a cool turquoise theme, I convinced him that black was the way to go!
Actual email conversation:
Me: I'm also supposed to ask you what colour you want painted
Brother: I'd prefer a lighter colour, keep the kitchen bright.   A white to match the cabinets?   Or perhaps a shade or two darker for slight contrast.
Me: right right right….
Soooooo no black then?
I don't know what people have against it…
Brother: You know, I just looked up some images of white cabinet black walls.   I find it really nice and striking. I just wish the countertop was black to go along with it.
So, maybe you guys are thinking – this girl (aka me) clearly has a problem with listening.  Her brother said "white" and she suggested the exact opposite.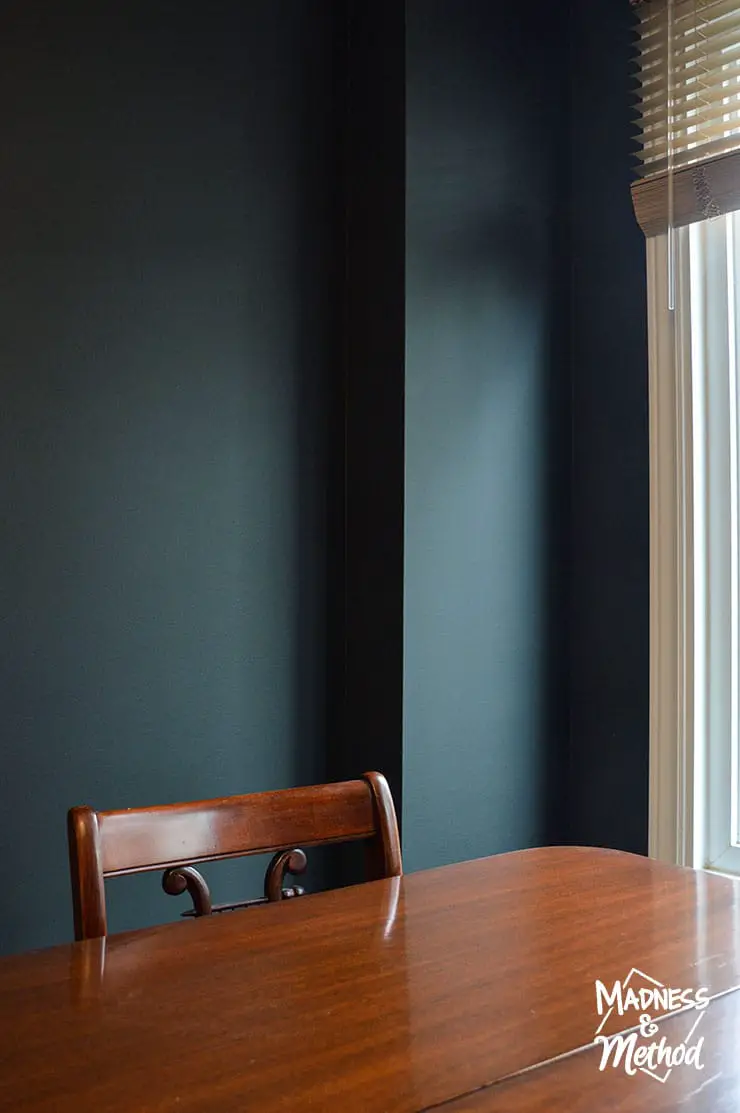 But I mean commonnnn, look how sharp those walls look! (That's a little sneak peak of his completed space btw). Black walls really make wood dining furniture pop, and bonus – much better at hiding dirt :)
Other Awesome Black Dining Rooms
I asked some fellow bloggers if I could share photos of their black dining rooms, so you can see some different examples of this versatile colour.
Behind the Big Green Door's black dining room walls are the perfect backdrop for her minimalist space. She even shares some great tips on decorating around carpet!
This black dining room from Whitney J. Decor's was done for a client and really shows off their eclectic art collection.
My Fabuless Life shares the evolution of her dining room and explains why the previous (lighter) colours in the room didn't work out.
And here's another sneak peek from my brother's house: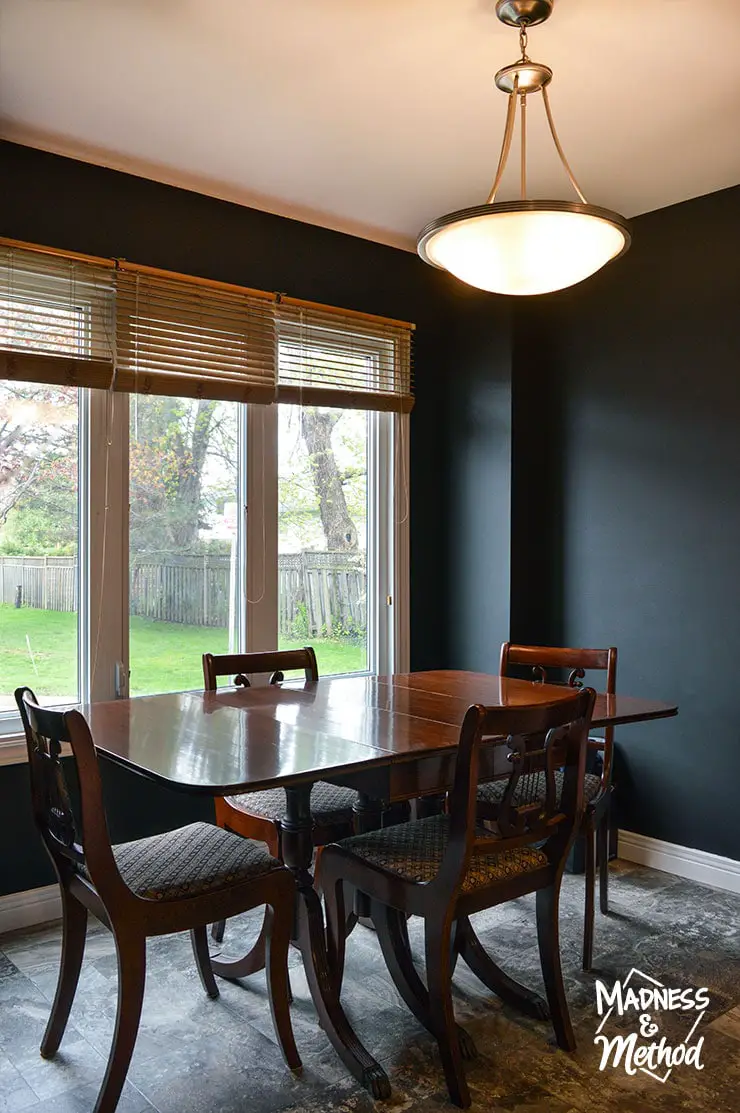 The dining space doesn't look the same as the before photo here – but my guess is that it probably doesn't look like this every day either, ha!
You'll have to come back later this month to see the final reveal of his kitchen renovation :)
In the meantime, feel free to browse (and follow) my dining room Pinterest board:
Madness and Method Pinterest Dining Board
You can also pin the following graphic to your boards to remember this post: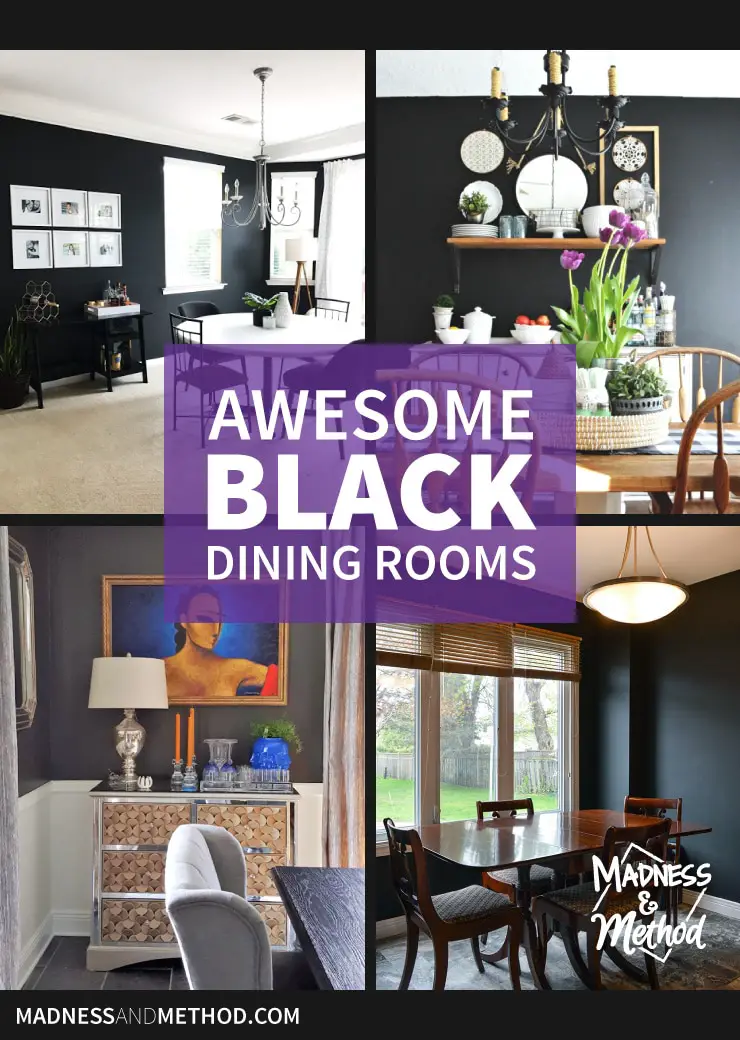 And, remember to visit the individual blogs I linked to if you wanted to save their images on Pinterest :)
Have I convinced you how awesome black dining rooms are yet!?  I don't have plans to paint ours anytime soon (we have the cool striped accent wall and all), but like I mentioned, black will definitely be a big feature in our future house's dining room!  Until then, I got my fix painting my brother's dining room and kitchen :)