I'm diving into something a bit different today – talking about all the things I love, like and would change in our basement rental apartment.  Basically, things that I would do differently if we did it again, but aren't totally bad.  I'll try to focus on the design/decor, but I'll also quickly mention some short-term rental specific things too.   If you're thinking of setting up a space to rent out, then these design lessons from our rental apartment should come in handy!
– Note: This post contains affiliate links. See more information about affiliates here. –
If you didn't know, we completely renovated the basement of a bungalow in Northern Ontario.  We lived there part-time for about a year, and have been Airbnb'ing it full-time for about a year.  Up until we built our garage, that was the largest renovation project we had ever tackled.  Well, it's probably still more extensive since there are multiple rooms, plumbing, more electrical, etc.  We basically had to design and install a mini house into the existing basement shell.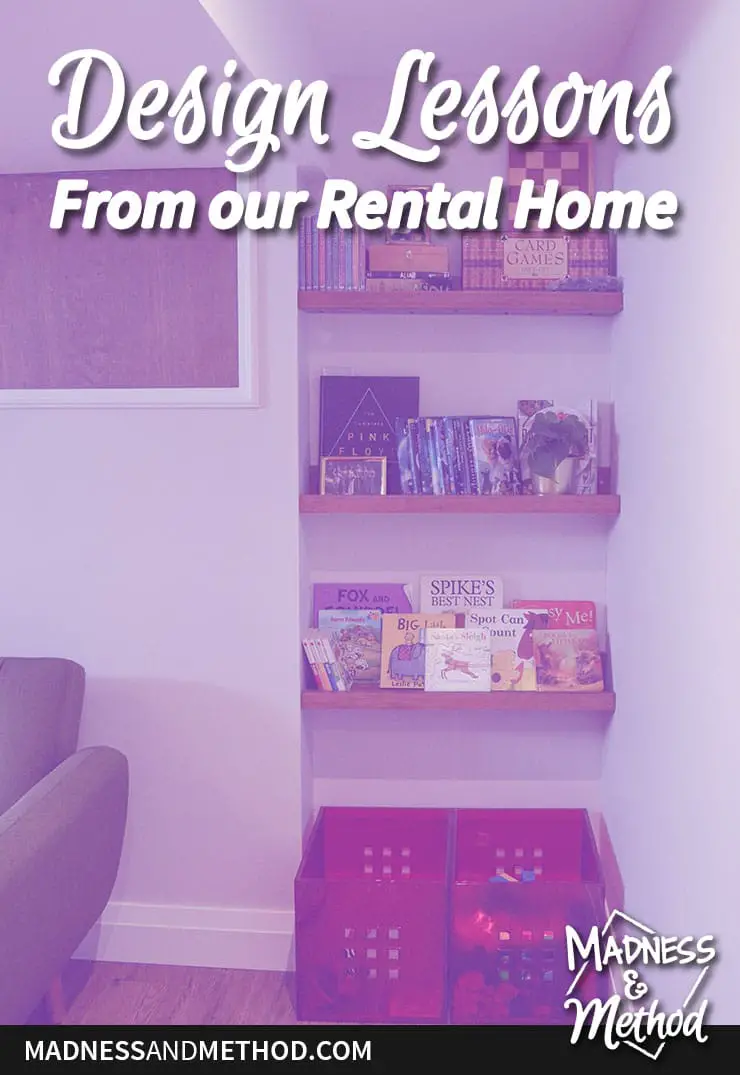 And yes, we did get contractors to do most of the work – from demo to drywall.  We took over once all the floors were installed/walls painted and did all the finishing work.  We just had our second baby and could not take on a project that size with just the two of us.  
Either way, let's get into it! 
Things we Love
Cohesive Colour Scheme:
When we painted the upstairs and prepped for the basement, I had decided on a whole home colour scheme.  In our first house, I painted the walls in all different colours and our furniture was more neutral.  But in the apartment, I decided to paint neutral walls, and have colourful furniture.  Choosing the colours ahead of time made furniture/decor selection a lot easier.  Plus, I'm sure the light walls are more universally liked.  (Plus, paint touch-ups are a lot easier when you have only one or two colours to do!).
Minimal Furnishings/Decor:
Because we'd be renting out the apartment, and as it was our second home, it made sense not to pack it with a lot of stuff we wouldn't need.  When you move, you typically bring as much as your old stuff into the new house, regardless if you need it or not  (ask me how I know, ha).  For the apartment, everything was bought specifically for the space, and we only added things as we needed them.  
This is especially true for all the kitchen tools/accessories/stuff.  Especially as a short-term rental, you don't need every single gadget.  And decor?  There is nothing on the floor that isn't needed, and I try to keep all surfaces empty so that guests can put their stuff down.  We've stayed at some places with our family where the people had way. too. much. stuff.  Like small knick-knacks all over the place.  Having to patrol young children so they don't touch everything is tricky.  Because our place is set up as a kid-friendly listing, we do have a couple of bins of toys out (and kid-friendly things) nearer to the ground.  And the DIY shelves have been great!
One Type of Flooring: 
We chose to install the same vinyl plank floors throughout the entire apartment (and mudroom/entry).  It makes cleanup so easy, and there are no floor transitions in between the doors where dust can get stuck.  We liked that so much, I did the same thing in our house now!  It also makes everything seem a lot larger because there aren't different zones marked by the floor.
Bathroom Ledge: 
I remember getting pushback from the contractors about the ledge in the bathroom.  Essentially, we added a half wall along the whole length of the bathroom, and they didn't see the point.  Cue the finished results – so much extra storage!  It's a great spot to add soaps/shampoos and comes in super handy in this smaller bathroom.  I would always add a shelf/ledge if it made sense!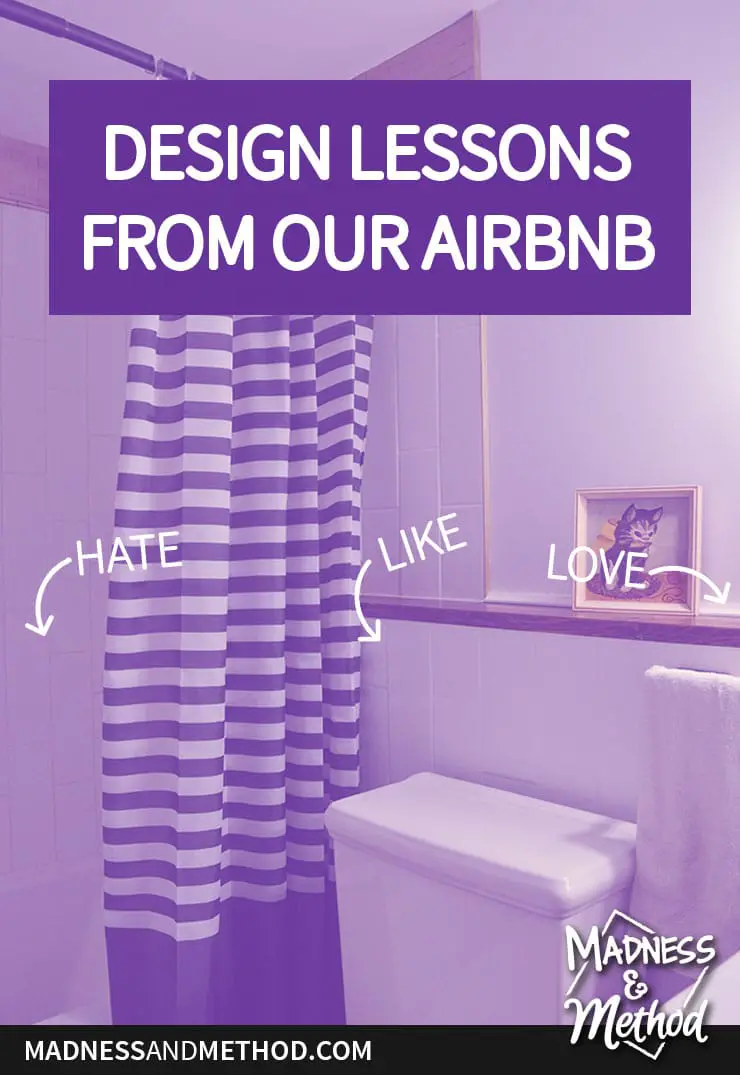 Things we Like
Open Shelf in the Kitchen: 
Open shelving is such a hotly debated kitchen topic, right?  We did lots of upper cabinets but put the dishes that people would use the most on an open shelf.  And guess what?  We're doing the same thing in our kitchen now, so I still love the idea!  What I don't love?  I think I would have found a way to completely remove or minimize the rest of the upper cabinets.  Especially for a rental, the less opening and closing guessing games that the people have to do, the better.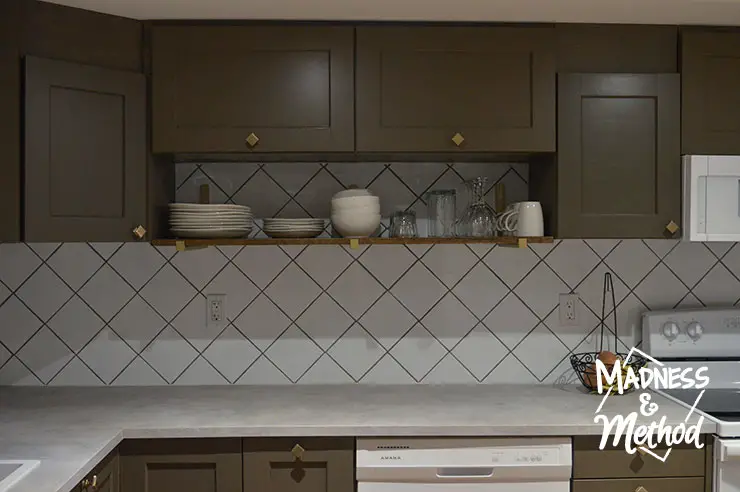 Tall Bed:
When we stayed in the apartment, we had one bedroom for us, and one for the kids.  After moving out, we purchased this bed frame and set up a second adult bedroom.  Getting a bed with slats makes more sense since you don't need to buy a box spring.  (Which we couldn't fit into the basement anyways).  Plus, it's super high off the ground so it makes cleaning underneath super easy!  The only reason this is a "like" and not "love" is that I stubbed my toe on the leg once.  Hope none of our guests did!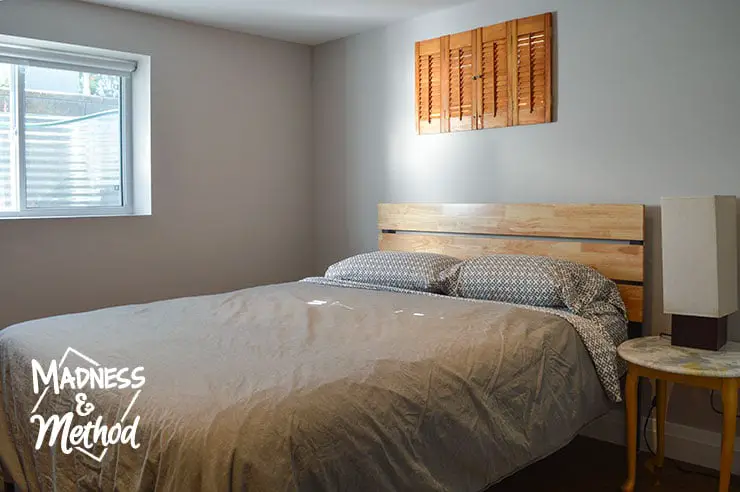 Bathroom Tiles Behind the Toilet:
I really like the almost fully tiled bathroom we did.  There is a wall (and a half) that isn't covered in tiles, but the rest of the bathroom is the same subway tile.  It's super easy to clean, especially behind the toilet and the sink.  I did go with a matte tile but think that glossy would have probably been even easier to clean…
Things I'd Change
Bathroom Grout: 
Speaking of the bathroom tiles… I HATEEEEE the grout I used.  I went with a couple of recommendations about this product, and I wish I would have just used the grout I had.  (Well, I did use it in half the bathroom when I ran out of the first).  It was hard to work with, dried super fast (ie: I had to chisel the mess off the base of the tub) and is more yellow than the white grout I had.  We've had people mention that the tub wasn't clean, and unfortunately, it's grout haze that will not come off.  I think I'm going to try to use a grout whitening pen to lighten it up.  Never again.
White Baseboards:
White baseboards are like the go-to right?  I love the style of baseboard we chose, and the white does pop against the walls and floors.  It's just a pain to keep clean.  I will say after I painted the caulking, they did hold up a lot nicer than before.  But they still show the dust (maybe that's a good thing?) and worse, any dings.  And, because they're white, it usually takes a couple of coats of paint to cover it up.
Duvets and Covers:
This is more of a furnishing choice that could be changed, but I thought I'd mention it. Don't get me wrong, I love love love a nice big duvet all year round.  But guess what?  You probably don't clean and change out your duvet cover a lot.  At least not as much as I have to do for the apartment (ie: cleaning it between each guest).  I've gotten quick at putting a duvet cover on, but it still takes a lot more time than just putting a comforter on.  Plus, the duvet covers always trap other blankets/sheets in the dryer so I usually have to wrestle things out and re-dry the damp items.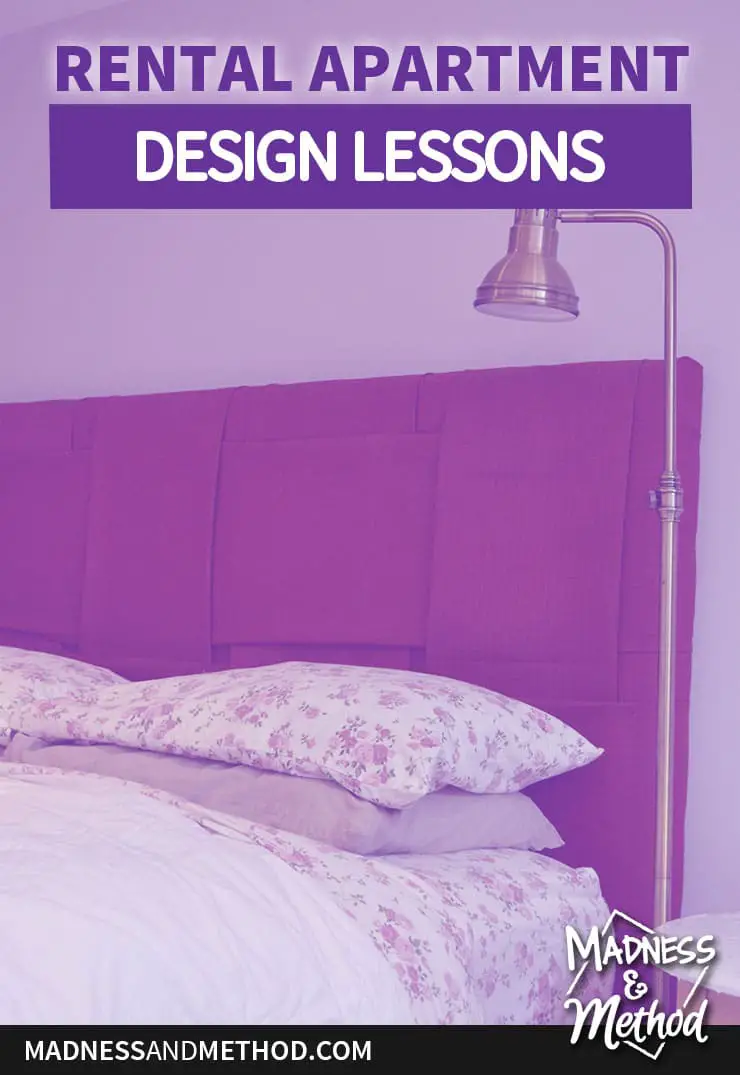 Conclusion
I think those are all the things I wanted to mention!  If I do think of anything else though, I'll make sure to add it to this list. 
In the meantime, here are a couple of honourable mentions:
Matte black faucets (virtually no water spots!) 
Light grey counters (easy to clean/see the mess)
Big kitchen sink (although the white is getting a little dingy looking now)
Blackout blinds vs. curtains (curtains seem like another thing I'd have to launder)
Wipeable chairs (but I figured that out before)
Coloured doors (so fun and different!)
Is there anything else about our Airbnb apartment you'd like to know about?  Maybe what exactly we keep there, how the kitchen is stocked, what we provide to guests?
I do have to admit, there is another madness to the method of writing about these design lessons (yep, I went there ha!).  
Can you guess what it is!?  
Drumroll, please… we're designing another space to rent out!  It's completely different from the apartment, and I can assure you that it will be the BIGGEST project we've taken on to date.
Don't worry, I'll have allll the details soon!