If you're like me, you've probably watched a home renovation show or two.  Often times, there are things that arise – and you must think to yourself, "how did they NOT know about this before, it must clearly be amplified for TV".  Well, my friends, during the demolition on my brother's closed, cramped kitchen… we certainly ran into our share of problems!  Today I'll be sharing photos of the demo work and go over some of the kitchen renovation issues that you can come across.
If you didn't get a chance to see the before pictures and plans for the kitchen, don't forget to check those out!  And, in case I forgot to mention it, we actually planned to renovate my brother's kitchen in less than a week (like Chris Loves Julia's 6-day kitchen makeover).  It definitely didn't work out like that, and next time I think I'll be more realistic on my timeline :)
Potential Kitchen Renovation Issues:
Plumbing
Electrical
HVAC
Other (structural, mold)
Essentially, the big three items (plumbing, electrical, HVAC) would be problems if they are either in the wrong location, or are outdated/defective.  You may run into these when renovating any room, but the plumbing is usually confined to the wet rooms.  Other kitchen renovation issues that may come up could be mold (caused by a leaky plumbing line, bad window seal, etc.) or structural issues (like foundation cracks, structural walls in the way, etc.).
Luckily I've never had to deal with those two!
Because I was changing out the layout of the kitchen by moving the sink, I knew that we would have to deal with some minor plumbing location issues.  I made sure to check and see that the lines weren't covered or obstructed (my brother's kitchen is above his unfinished laundry room)… but apparently forgot to see if anything else was in the way.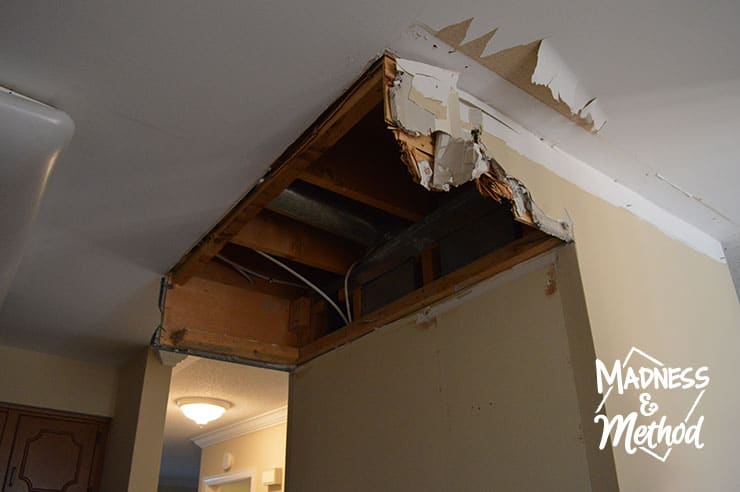 After we pulled out all the cabinets, including the large pantry attached to the closet we were taking down, we realized that the HVAC and plumbing lines going upstairs were all located within this wall!  Turns out, you could easily see this from the basement – and now I know what to look for in the future…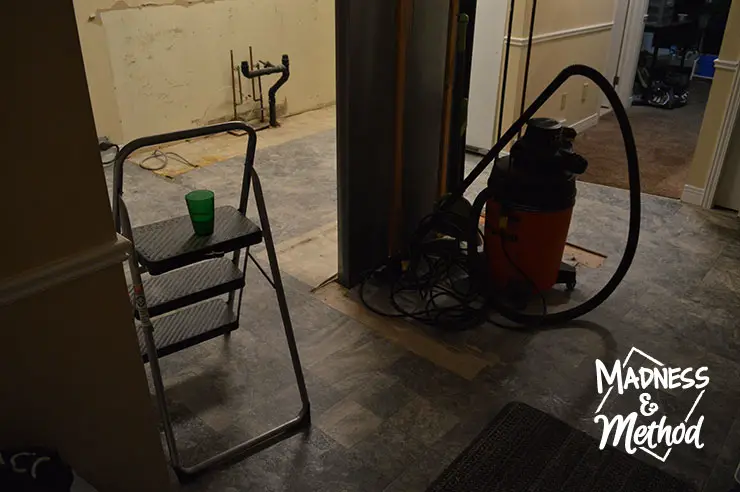 We continued with the full demolition as planned, but definitely had to address these big obstacles! Removing the closet definitely opened up the view from the front door.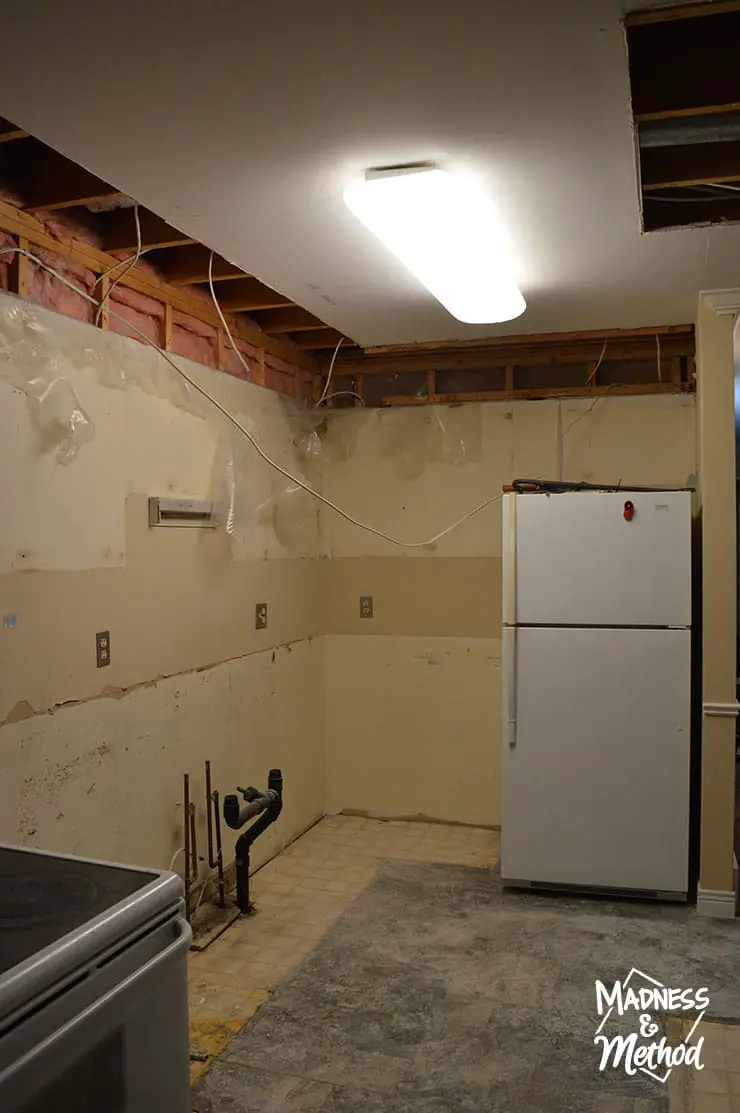 We also took out the bulkheads above the cabinets, as I was really looking forward to maximizing the cabinet space!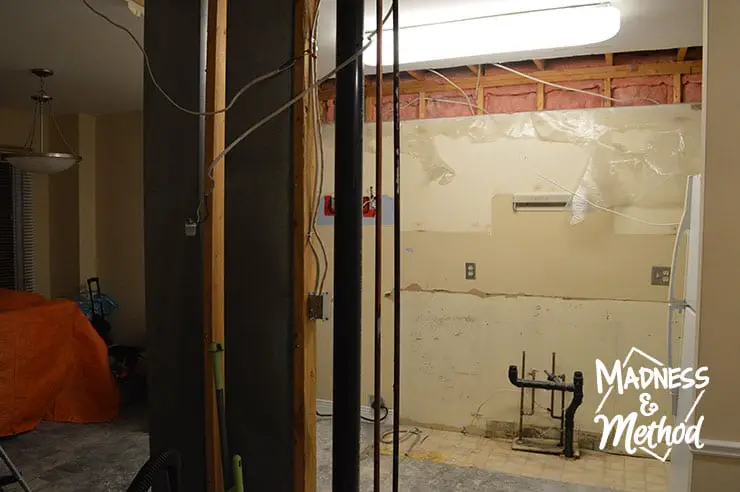 My brother wanted an open-concept kitchen, so building a small wall to box the HVAC + plumbing in was not an option.  All the houses in his neighbourhood have a similar layout, and one of his neighbours had their kitchen opened up – so we wanted to achieve the same look.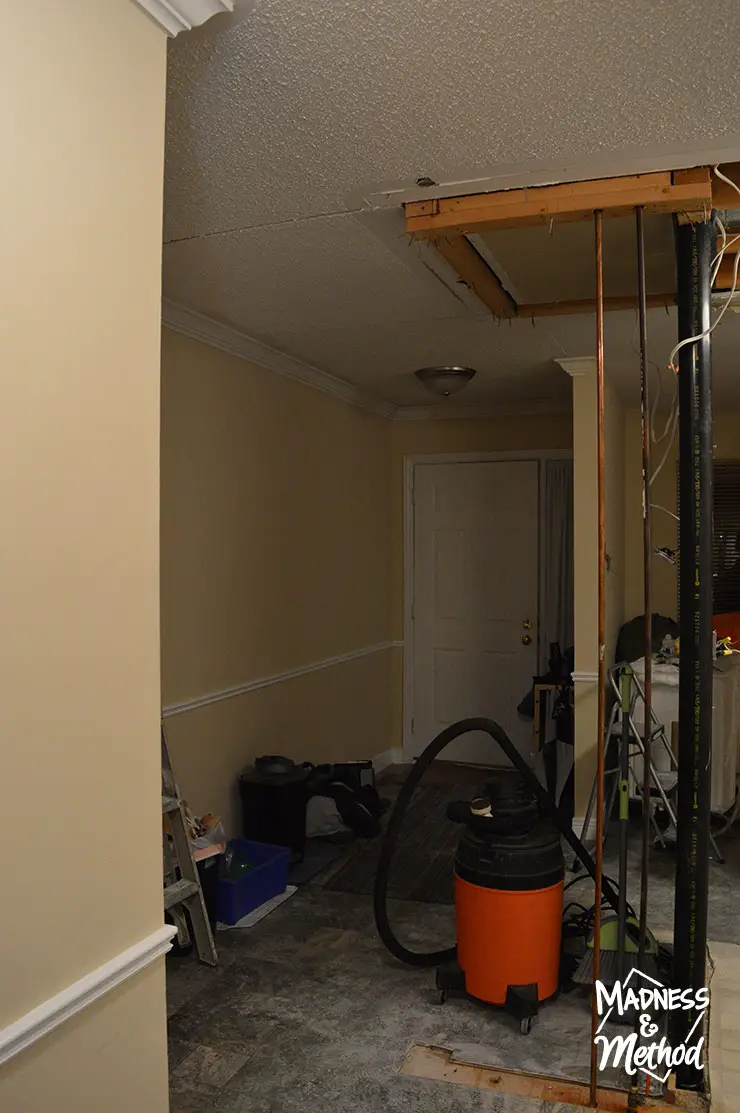 We decided to move the lines to the wall next to the garage door (the one on the left in the image above). Because we had opened up a small part of the ceiling, we could see that the area was clear, so there would be nothing else in the way. Ha, I should mention that I was the one to look through it and convinced everyone else that it would be possible (my Papa did not want to get this stuff moved at all).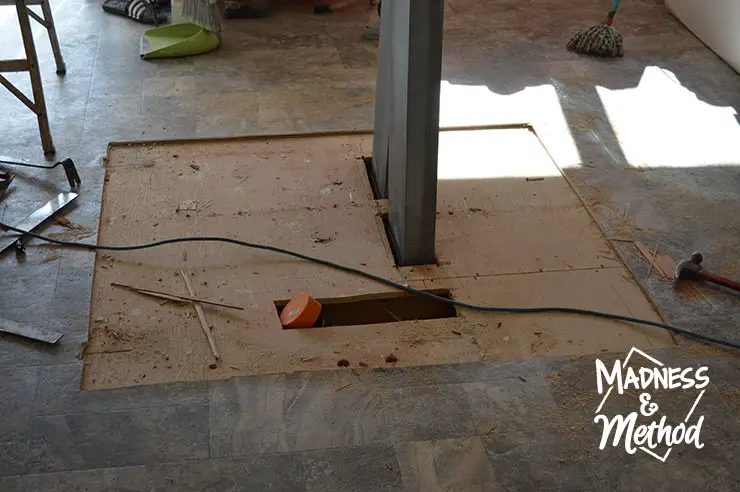 Once the plumbing "out" pipe (the black plastic ones) were moved for the upstairs, we were able to move the one for the sink here.  The island would be slightly smaller than the hole left from the closet and pantry, but luckily my brother had some extra pieces of flooring.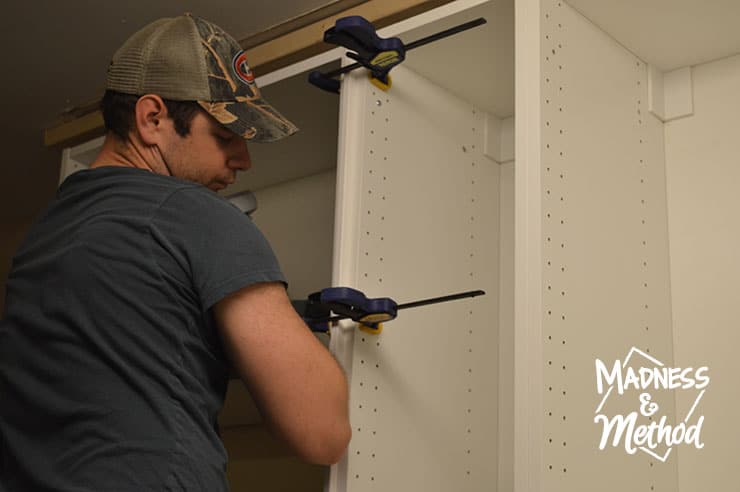 In the middle of all this demolition work, we also received the shipment of Ikea cabinets that had to be sorted and built (remember, we were trying for a quick turnaround). The Husband wasn't supposed to help with this renovation at all (it was going to be just my family and me) but thankfully he came to help us and everything went much quicker :)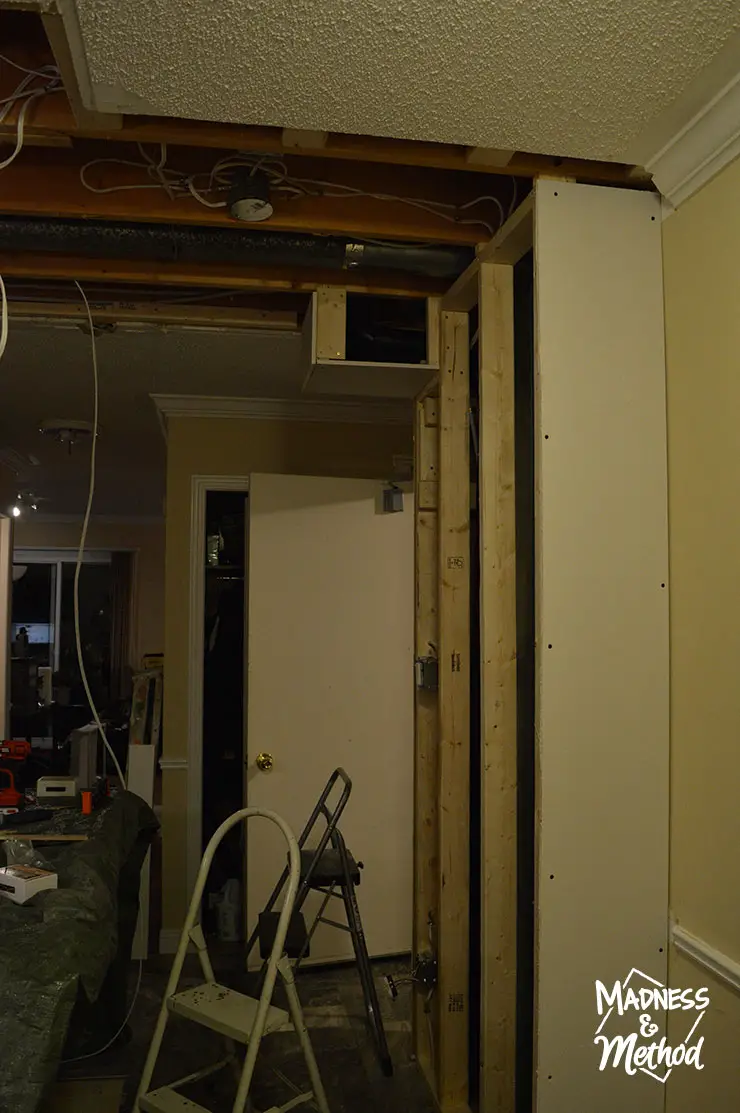 Unfortunately, I had to go back home, and we were nowhere near being done! Most of the cabinets were installed, but there was a big hole in the ceiling and mess everywhere.  My Papa did come back a few times afterwards and coordinated a few things so that my brother and his roommates could at least use the kitchen.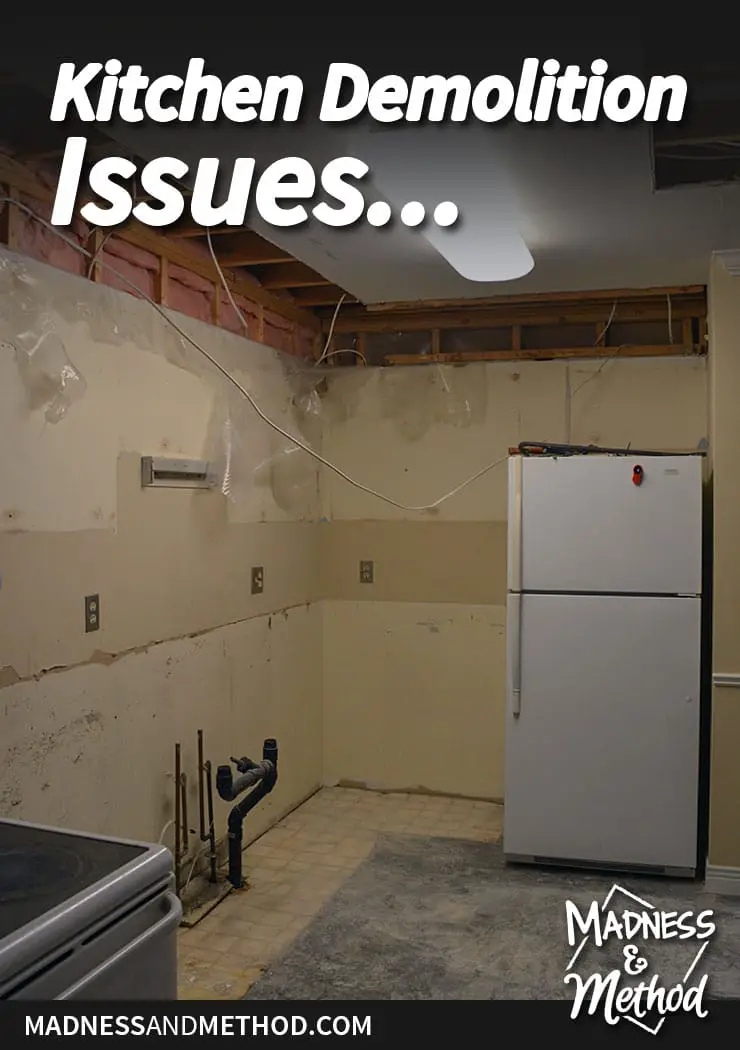 When we demo'd our kitchen a couple of years ago, we definitely didn't have as many kitchen renovation issues or problems come up!  As the person who was in charge of designing and planning this space, I felt really bad that I hadn't noticed the HVAC and plumbing stack beforehand. I told my brother it was going to be a quick project, but we overshot our timeline by a few months. Thankfully, he did trust me again and let me update his bathroom… or maybe he just knew I would have to come back and finish the kitchen anyways?
Next week I'll share some more sneak peeks at the updated kitchen, talk about how we did a cool feature on the ceiling to hide those holes AND then it will be the big reveal!