I'm just going to get this out of the way now… I'm SUPER excited because it's One Room Challenge time, I LOVE having a new room to do AND we're renovating a nursery…. and that means another BABY!  Okay, I really did contain myself there, so hopefully you're not too scared :)  If not, please read on to learn all about our yellow, grey and teal nursery plans!
– Note: This project was sponsored by Wayfair Canada and may contain affiliate links. See more information about sponsored posts and affiliates here. –
Alright, before we dive right into it – let me give a bit of a preamble to everything, in case you haven't been following along…
OH and a pre-preamble.  In case you didn't know, the One Room Challenge is a twice-yearly event where 20 featured bloggers and hundreds of linking participants work to makeover rooms in 6-weeks.  You control what space(s) you do, what you want to do, etc. and just share the links each week here.
Past One Room Challenges
Yes, the last One Room Challenge, we remodelled both of our bedrooms (we have two houses btw), but I was mostly feeling bad for not completing the kitchen and wanted to make up for it.
Past Nurseries/Family Info
If you check out the list ahead, you may notice a couple of One Room Challenges that we didn't participate in.  Mostly because we had a baby just after our first challenge, then another one right in the middle of Spring 2018.
AND NOW WE'RE COMING WITH BABY #3!!!
And the little peanut is due at the end of November… so perfect planning for the Fall One Room Challenge :)  But either way, here are some other nurseries we have done:
A neutral nursery: This is the room we are making over now.  I'm hopefully going to take the same room function and transform it into a "not-so-neutral nursery".
Dark teal nursery: I'm taking inspiration from this bold and colourful room (one of my favourites), but hopefully reeling it in a bit with some different design choices.
Current-ish Nursery Room Setup
Okay, so here is what the room looked like about 2 months ago when our oldest was still using it as his nursery: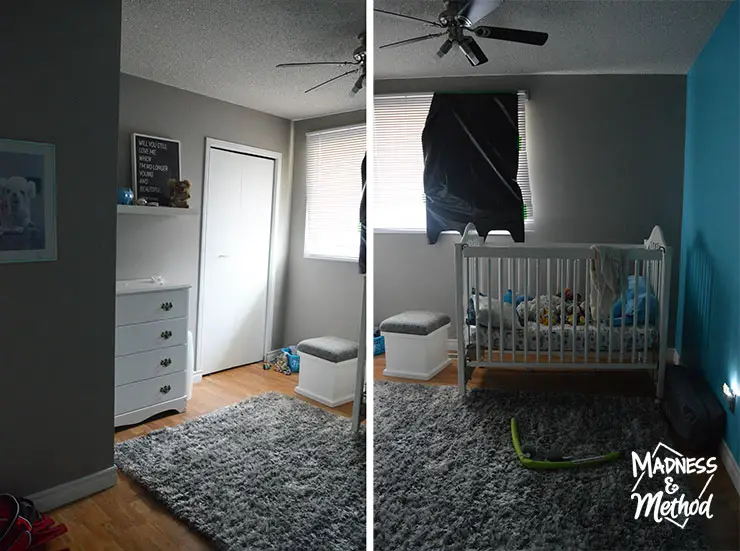 Then, we moved him into a big bed and into the teal room to create a combo kids/nursery room.  Notice his makeshift sun blocking curtains?  Why yes, that is a garbage bag taped up :)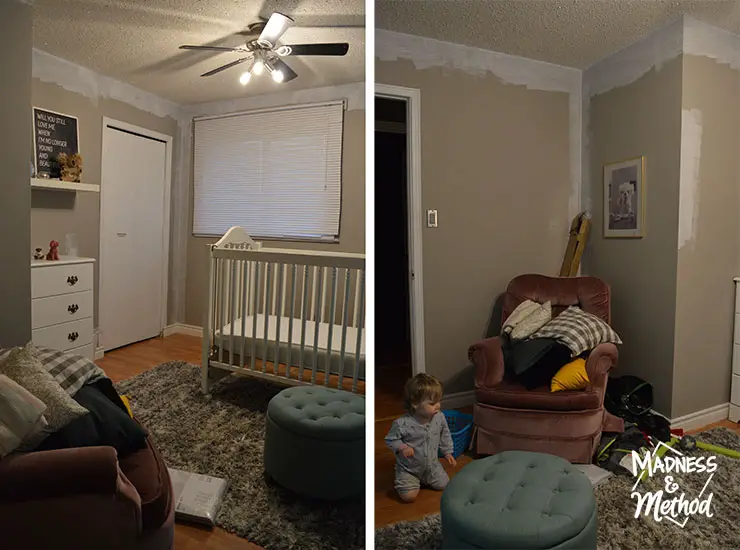 I moved the stuff that was used in the nursery back into this room and swapped out the ottoman too.  Notice the added band of white paint along the perimeter?  I had some paint leftover on my little sponge roller and used it to edge the room so I wouldn't have to get a brush dirty later.
Ready to see where we are actually starting, and what's been done so far?
Alrighty, so here is the room with most of the stuff that will be staying.  The crib, dresser, shelf and blinds are all going to come back into the room – although the layout will be a bit different.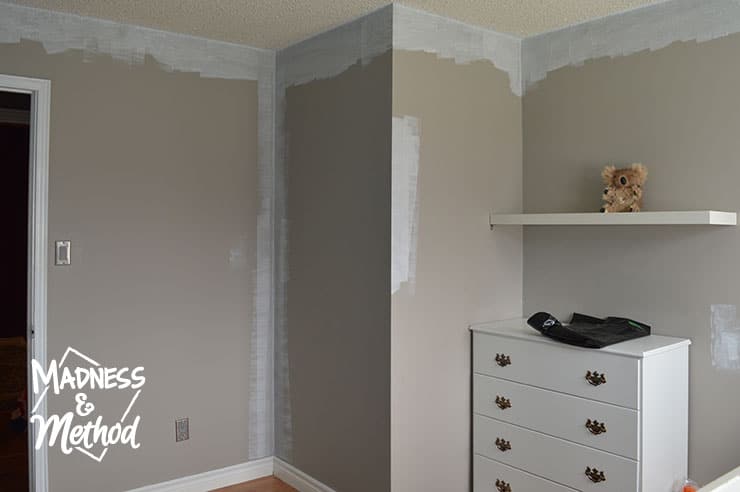 Last time I used this room as a nursery, I had the chair by the door.  Now I'm going to swap the position with the dresser and bring in a lamp for some extra night-time lighting.
I know I referred to this room as the neutral nursery, but there was still a bright blue accent wall.  Originally, the room was an all bright blue guest bedroom, then I painted some of the walls grey to "tone it down".
SO, now that you've seen the room as-is, ready to see where we're going!?
Yellow, Grey and Teal Nursery Plans
My original design process was to replicate this nursery theme, and I was thinking of doing bright yellow walls with grey wainscotting.  We don't know the gender of the baby, and everyone always does a yellow and grey nursery, so it made sense.
But then, I thought that instead of doing bright yellow (my go-to), I could challenge myself and do the palest yellow.  Something almost white maybe?
Here is what I came up with: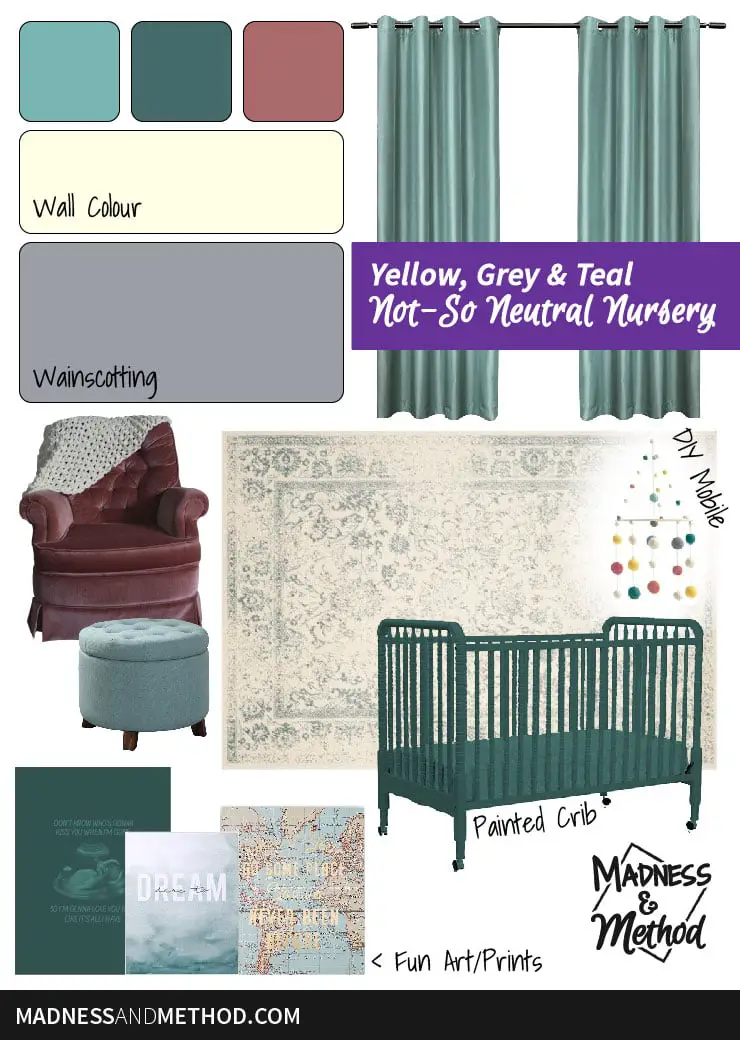 Essentially, we will be adding grey wainscotting as we did in the last nursery.  The walls above will be painted a pale yellow, and all my accent colours will be either a dark or light teal.  Except for my dusty rose rocking chair – it was a free secondhand find and the most comfortable nursing chair ever.
The ottoman is the same one from the last nursery as well, and still has all my leftover nursing pads and feeding supplies.  The crib will be painted a dark teal colour, and was mine as a baby (it's gone into many nurseries!).
After saving over 100 potential rugs on Wayfair.ca, I narrowed the list down by half, then started placing top-contenders in my moodboard to see how they would fit.  We had a grey rug in the room before, and although I love how comfy and plush it is, it was a bit tiny.  I'm hoping this ivory area rug goes with the new room perfectly… it has a lot fewer colours than some others I was looking at!
I ordered these seafoam curtains and am hoping the colour will match the ottoman.  If not, I may return and try another one I have saved to my list!  We also have some blackout liners (I learned my mistake last time) and a double curtain rod that hadn't been installed yet.
I'll be attempting a DIY pompom mobile, and bought this Dream Print and this Map Print to decorate the room.  Once again, I'll be (eventually) working on the baby handprint art and will do a custom ultrasound/quote print as well.
I think that's pretty much it for the "stuff" going into the room, so here's a layout of how it will all go: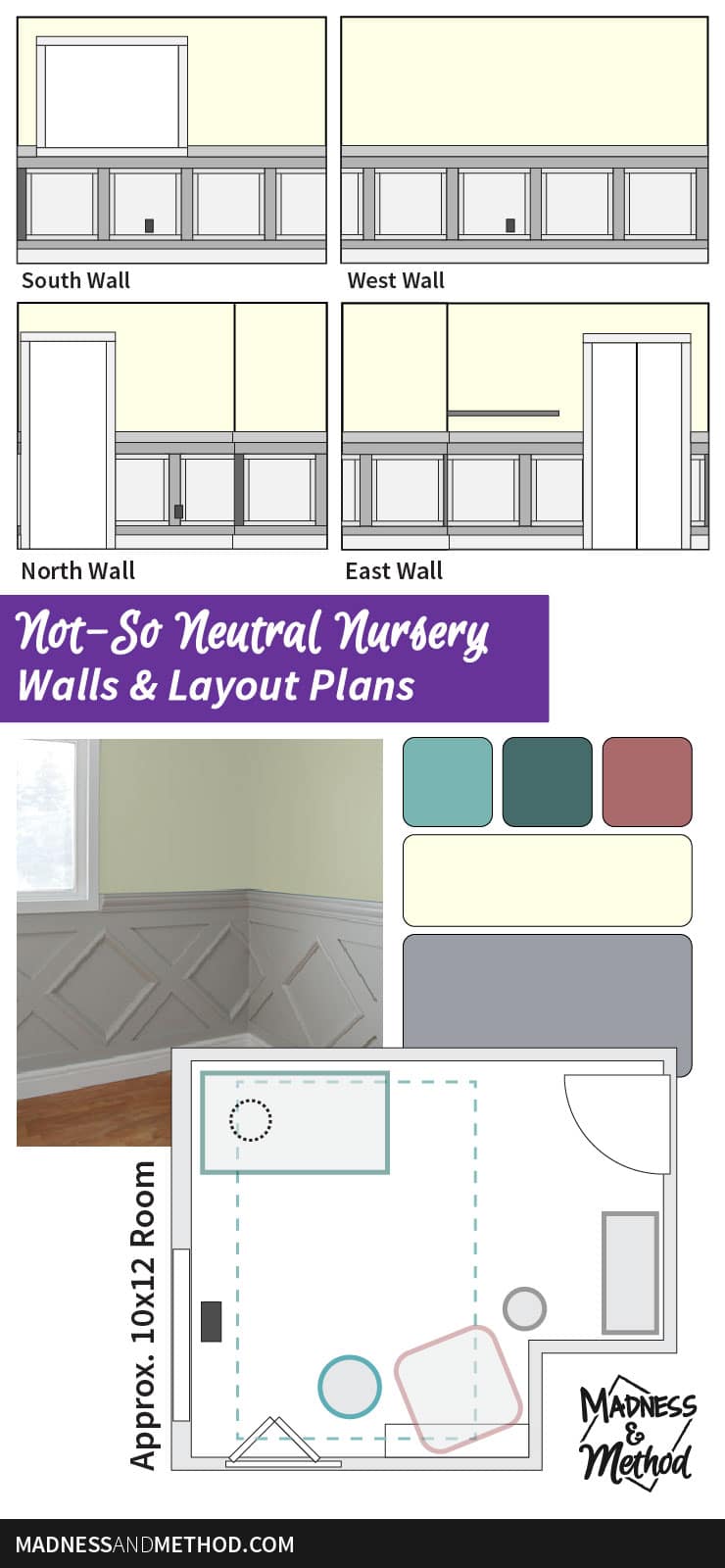 I'm doing a similar (but hopefully simpler) wainscoting pattern on the walls, and perfectly planned out where everything will go.  We're keeping the crib in the same corner, but will rotate it around a bit.  The nursery chair and dresser are getting swapped around – but other than that… it's pretty much the same room :)
Work Schedule Breakdown
Here's a list of everything we need to do to complete this new nursery:
Clear out the room (including blinds)
Remove old trim and unattached phone cable
Patch any holes and prime top parts of walls
Paint light yellow (decide colour)
Install new trim (first casings, then flat pieces, baseboards, angle sections, door panels, chair rails)
Patch, sand and caulk new wainscotting
Prime and paint grey wainscotting
Paint white baseboards and casings
Clean and paint crib
Build a mobile and hang from the ceiling
Reinstall blinds, install curtain rod and curtains
Clean everything, bring in furniture
Hang artwork and take photos!
(Prep for baby by organizing clothes and drawers)
I've already gone ahead with the first three things on the list, and by next week I'm hoping to have my yellow colour narrowed down (and painted) AND have started a good portion of the wainscoting.
Like I learned last time, that will be the part that will take the most time.  I'll pretty much be cutting and installing trim (or patching/caulking it) for the next month.  Thankfully my other projects shouldn't be that time-consuming, and I've already bought some pom-poms… so that project's pretty much done, ha!
Follow the One Room Challenge
Check out all the other bloggers and linking participants for the One Room Challenge here.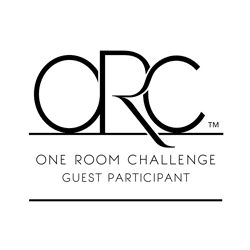 Week 1: Yellow, Grey and Teal Nursery Plans
And that's pretty much it!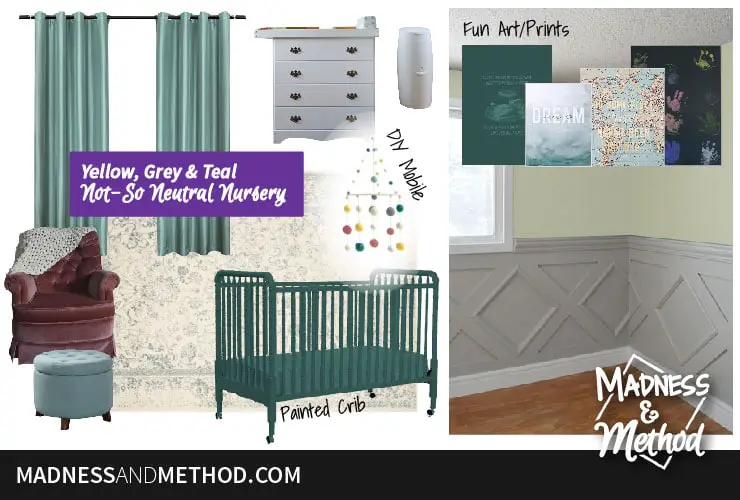 Here's another look at the nursery moodboard/inspiration to remind you where we're headed :)