My brother moved into his townhouse a year or so ago, and originally wanted me to renovate the master bathroom (it's carpeted…).  Then he got roommates and realized that sprucing up the kitchen would be a much more needed project, since that was the only area they all shared, and it was desperately in need of revamping.  Here are the before pictures and plans for a closed, cramped kitchen!
(I went home last week and all my family members were wondering when the heck I was going to talk about this renovation since we've been done a couple months now…)
Today I'm going to introduce you to the first project I started working on at my brother's house.  I updated his powder room as part of the Spring One Room Challenge, but we were also completing his kitchen at the same time.  I was hoping it would be a super quick renovation… but that's never the case, right?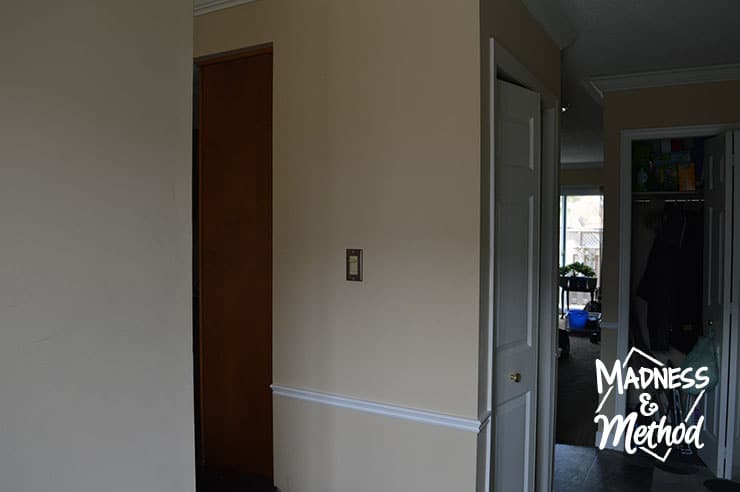 This is the view of my brother's kitchen as seen from the front door of the house.  Oh you don't see it?  It's behind that closet – and this was the #1 thing my brother wanted to get rid of (since he has another entrance closet, and they never used this one).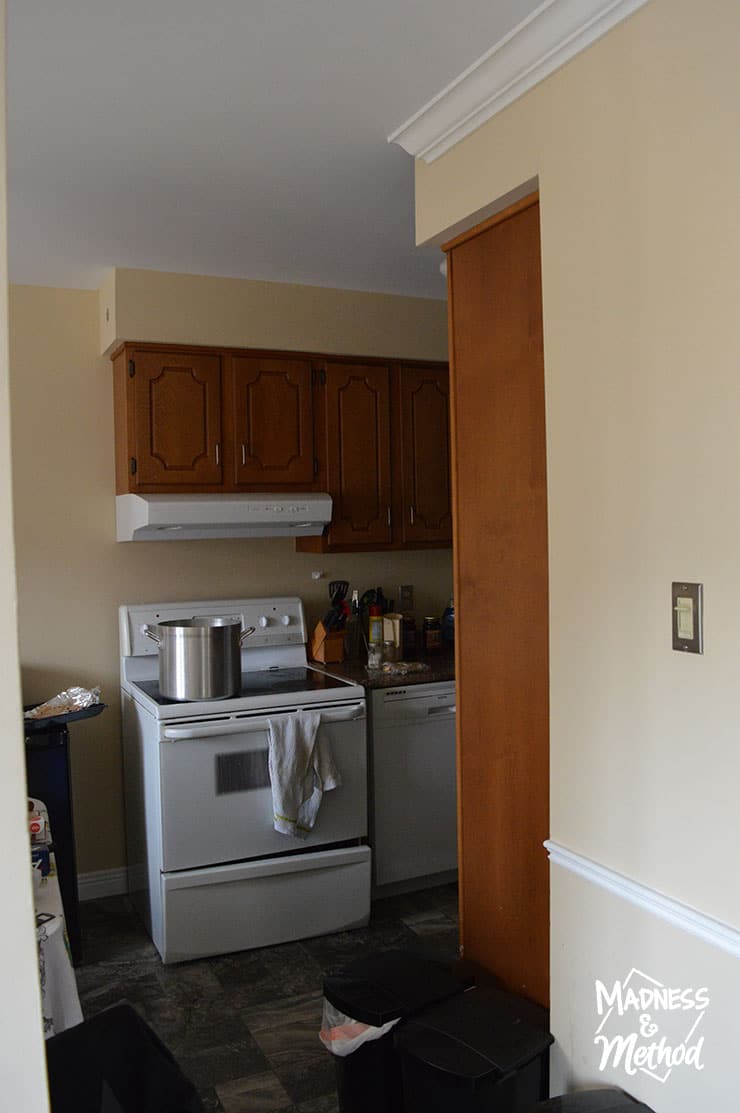 A few feet into the entry hallway and we can start to see the kitchen.  There were three of them living together at this point, and for some strange reason they all had the same garbage can (and kept them in the path to the kitchen).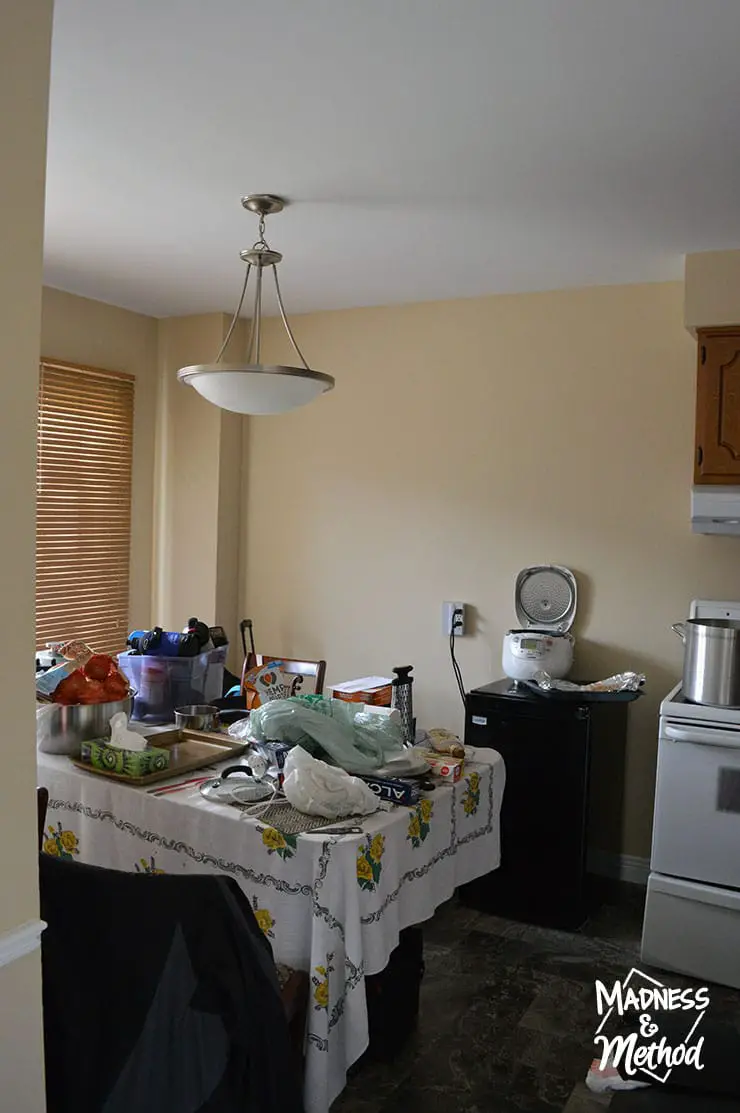 The dining room is right off the kitchen, and they didn't have enough room in the cabinets to store all their stuff (hence the mess on the table).  I'd like to think that now that the kitchen has been renovated that the table is clear, but I haven't been back in a while to see!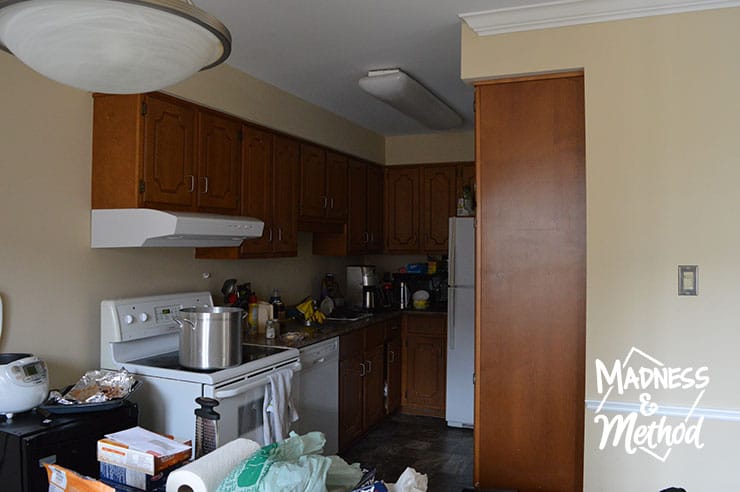 There is a big window in his dining room, but it really didn't help brighten the kitchen too much.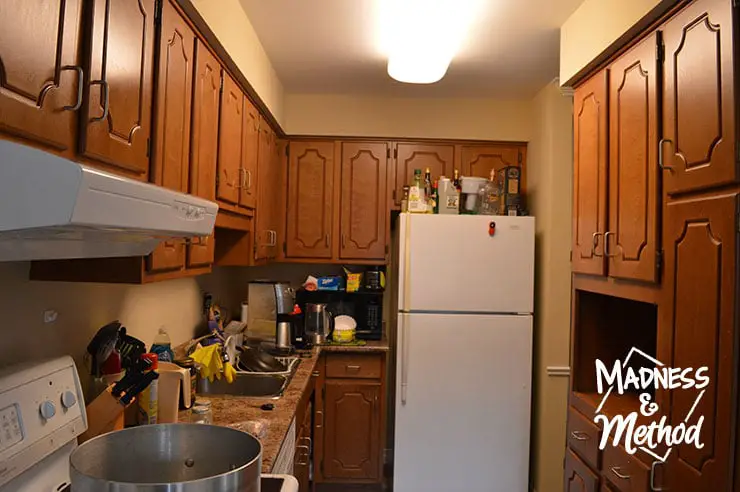 There we go, a bit better!  When I was talking to my brother about the plans for his closed, cramped kitchen, he originally just wanted me to remove the closet and pantry area (essentially opening the whole room up).
We were going to put a little island in, and eventually he was going to upgrade his appliances.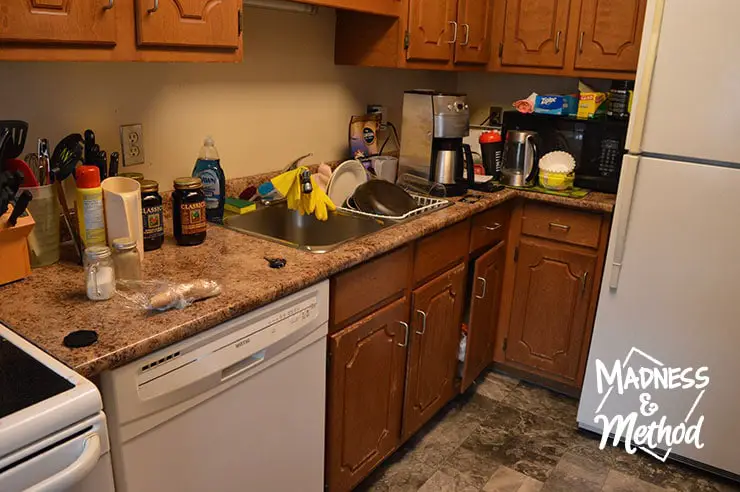 As a temporary fix we would have also painted the old cabinets white to match the new ones, but unfortunately they were pretty beat up.  I also had the crazy idea to move his sink to the island, but more on that below…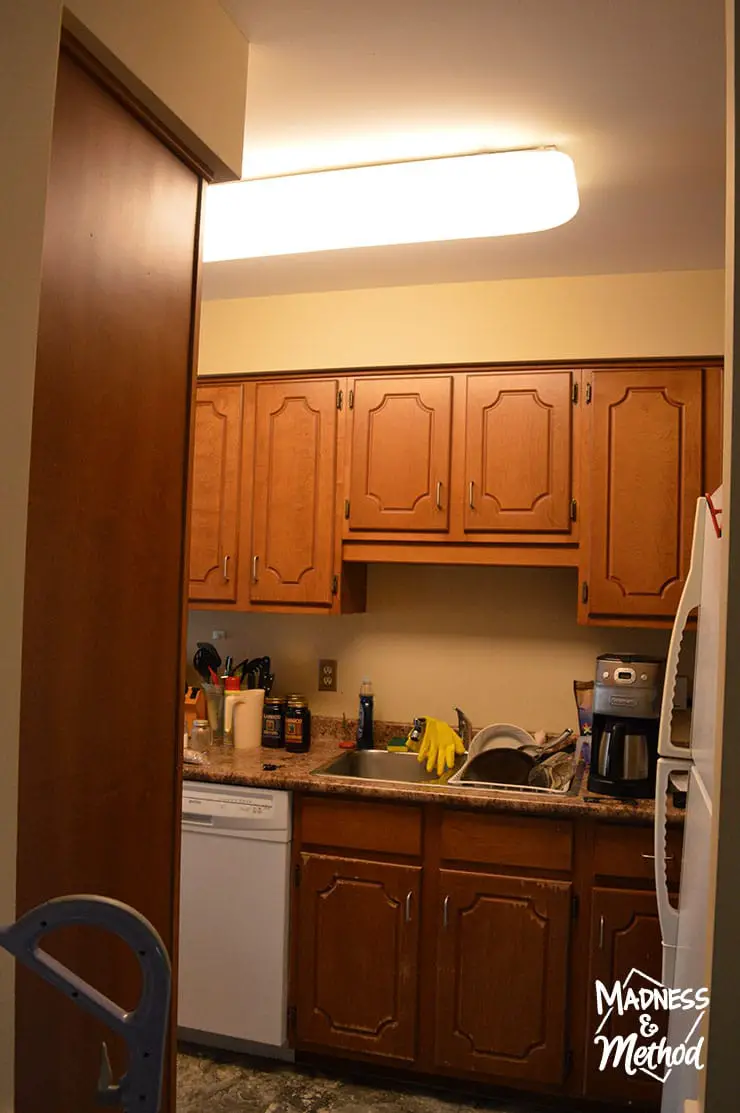 There's another entrance into the kitchen next to the refrigerator (beside the pantry) and removing the closet/pantry wall would create an open-concept space.  They never actually used the pantry (notice the microwave on the counter, and remember all the stuff on the table?) – so while most people would love the tall storage, it was completely unused in this space.
Design Plans
If you weren't aware, my brother lives about a 6+ hour drive away from me.  I had been in his kitchen a couple of times, but had him measure the room for me so I could start figuring out some layouts.  We were also thinking of doing a two phase renovation: phase 1) demo the wall/pantry, add an island; phase 2) replace the rest of the cabinets.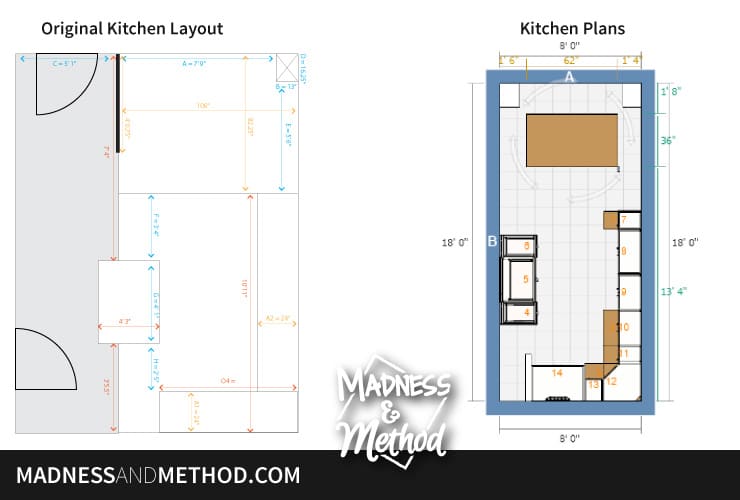 Because I had been through a few renovations, I convinced him that it would probably be easier to do everything all at once.  I also thought it would be much better to move the sink to the island section, so we planned the new layout based on this.
Once again, I decided to go with an Ikea kitchen because I really like their cabinet sizes and finishing options.
We were going to keep the main L-Shaped layout as before, however I planned to shift the oven a bit to the right, and put the dishwasher beside it.  (Not sure if that's allowed under building code, but we ended up having to swap some things around after we started the cabinet install and it didn't end up like this).
Another proposed change was the removal of the bulkheads to allow for extra tall 40″ wall cabinets (it's what we have in our kitchen).  My brother wanted a lot of extra storage space, and I knew that "going up" was a good way to go!  I also suggested he purchase an over-the-range microwave, because it would free up even more counter space.
After checking out an Ikea showroom, I was really drawn to the Kallarp high-gloss gray-turquoise colour (similar).  Just picture a super-cool/masculine high-gloss kitchen with stainless steel accents.
Unfortunately the brother vetoed that idea and wanted white. White. white. white.  Luckily there were lots of white options, and he ended up choosing the Veddinge style.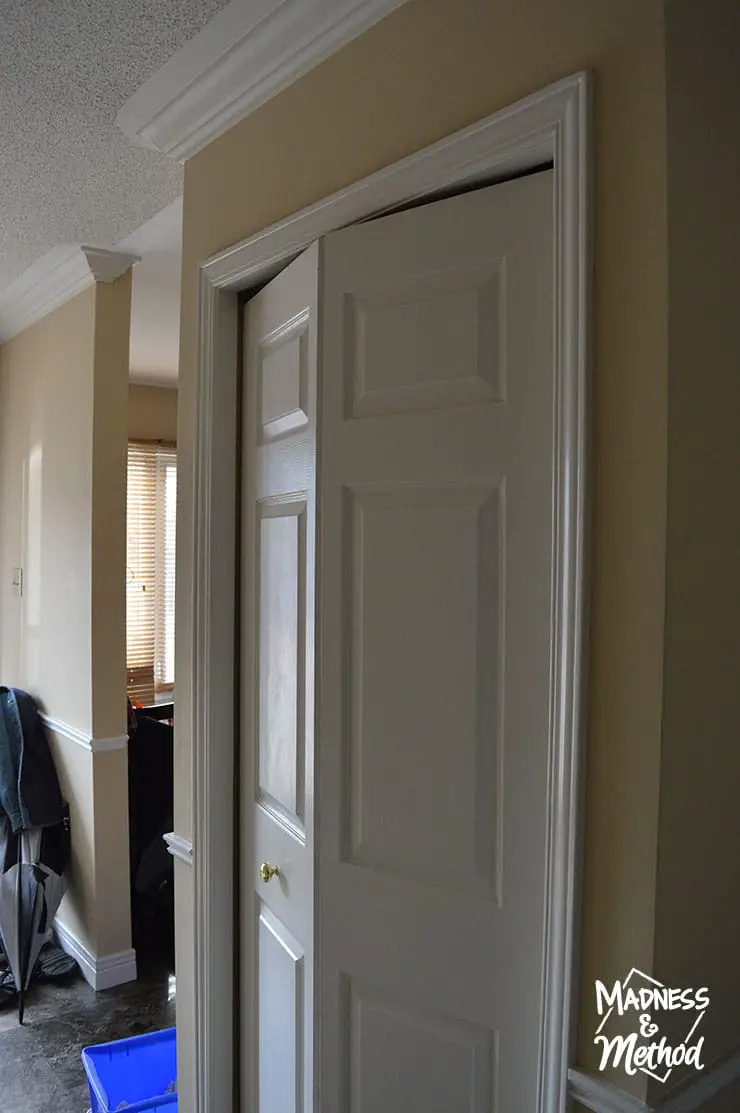 But before any cabinet assembly could start, we needed to start demolition and remove the wall in the middle of the space.
And wouldn't you know it that it wasn't as simple as we were hoping…
But that's a story for next week :)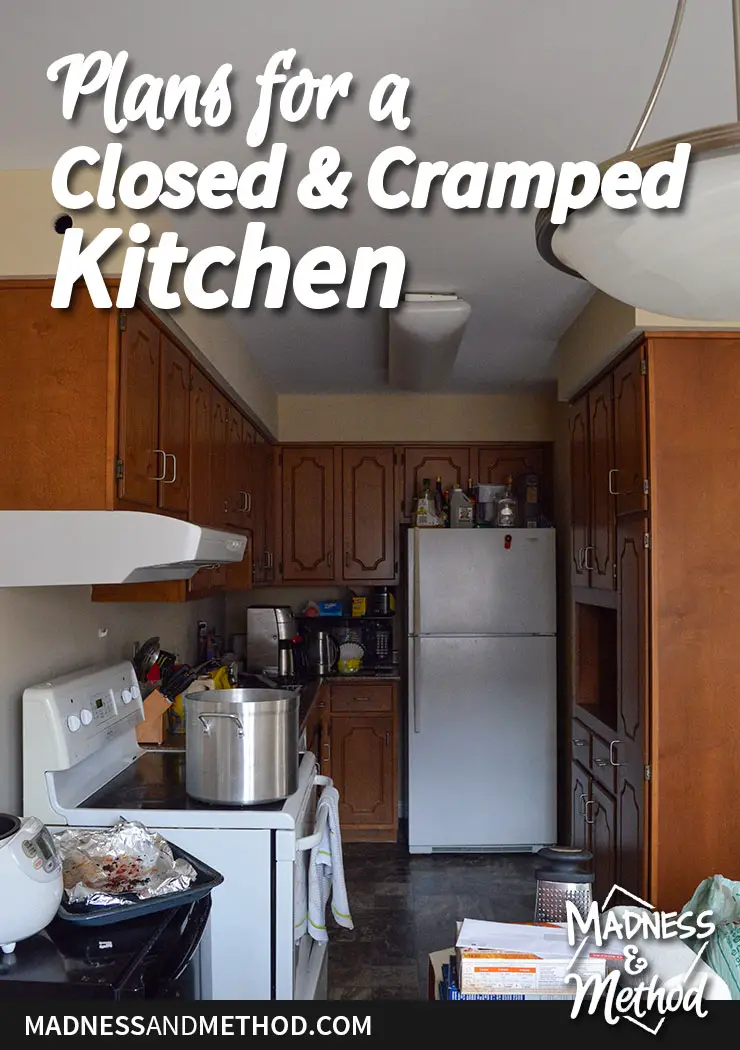 Do you understand the layout of the space and see how the new plans for the closed, cramped kitchen will work much better?  His kitchen isn't large (just about 8′ x 11′) but I think it's a typical size and layout in a lot of homes.
I'm hoping you'll get some good ideas and tips if you're planning your own kitchen renovation, and I can't wait to share the reveal with you guys at the end of the month!