I'm sharing some basement bedroom progress photos today, and as it stands now, we're doing some last minute super-small finishing touches in the rest of the basement too.  We're hoping to get our final inspection for the whole apartment very soon, and until that happens we can't actually bring down the bed (cause we're still using it upstairs!).  Anyways, let's get on to some photos and work details!
Alrighty, we're nearing the end of the Spring One Room Challenge, and as I just mentioned, this room is on hold until our final inspection.  BUT don't you worry, since this round I am completing TWO master bedroom makeovers, and next week I'm planning on showing off our completed main master bedroom (that I still have to do…).
You can see the design plans for both spaces here, check out the dresser I painted for the basement bedroom here, the marble nightstands I painted here, and finally the custom nightstands I started building here.
I still have a lot of in-progress work, and the main master bedroom literally looks almost identical to when we started – but I'm hoping a big push this weekend will get it done :)
But let's check out some basement bedroom progress photos to tide you over until I can finish and reveal this space!
Basement Bedroom Progress Photos
So this was the first room we "finished" in the basement, basically meaning that I cleaned out the renovation stuff and mopped the floors a few times.
You may notice the addition of a humongo rug.  While it wasn't in the original plans for the room, I found it last week on Kijiji, the colours matched our scheme perfectly AND I was sort of always hoping we could get a rug in here.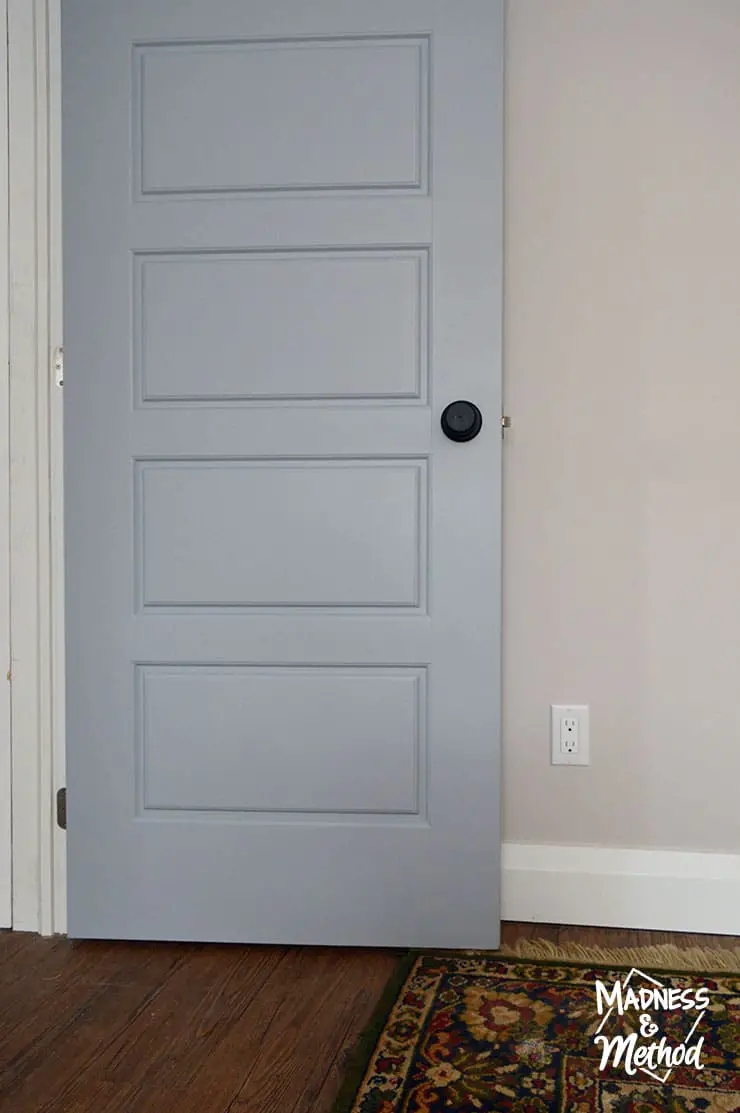 I patched all the nail holes in the baseboards, painted all the basement doors our Sico Slate colour and added matte black knobs.
Just beyond the bedroom is the kitchen, which is still not complete either, but things are moving forward slowly at least.  It seems like all the tasks now involve a lot of waiting time (like painting, patching, caulking, etc.).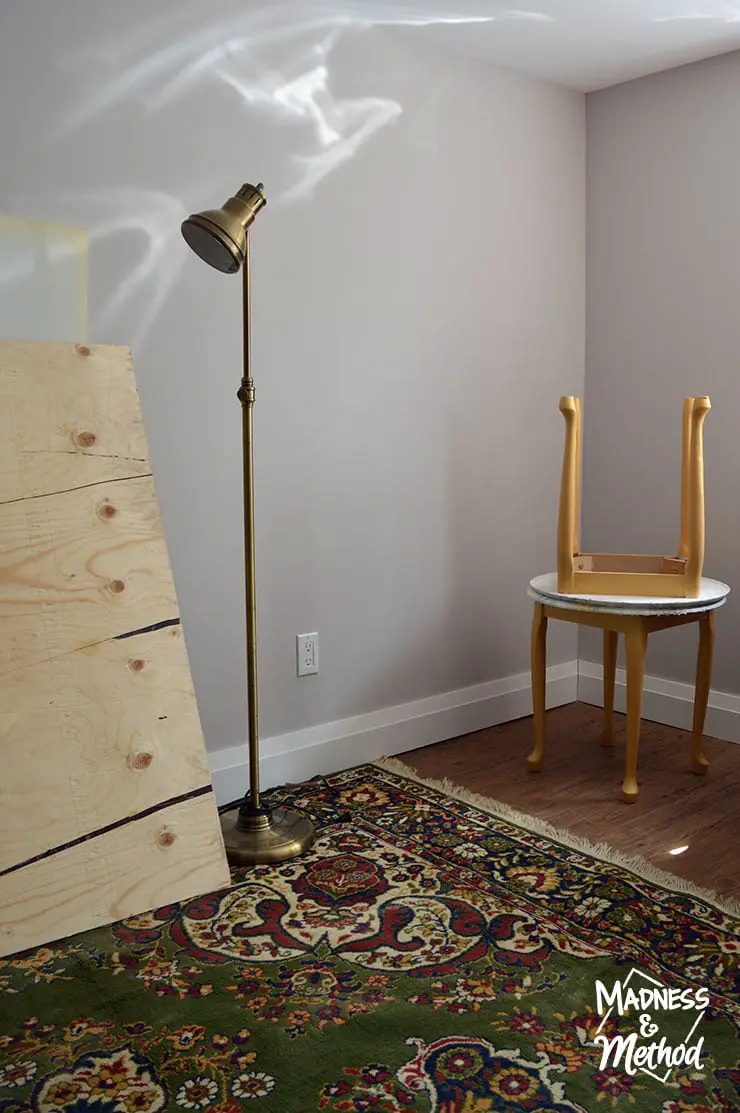 We had the plywood piece (soon to be custom headboard) sitting in the other room, so now it's just here waiting to be transformed.  I moved the gold lamp I picked up into the basement, and I'll be bringing the other lamp we were using to our main bedroom instead.
When I was taking photos, the little mister was pretty upset that the drawer wasn't installed on the dresser I painted.  A piece had fallen off, and even though I had fixed it, I just never got around to installing it again.  Good thing he keeps me on my toes!
(I purchased a bolt to replace one we had lost, but you have to cut it to size so it's still not done, ha!).
And, speaking of the painted and stained dresser; I had mentioned that I was planning on doing another two-tone look (but reversed).  I also had a chance to work on that in the last couple of weeks… so yes, although I have been doing a lot of work… there isn't much to show in the actual bedrooms, ha!
Anyways, here's the same to-do list from Week 1 that I shared (and I added some notes to the list in Week 3 as well).
Bright Basement Bedroom To-Do List:
Install casings + baseboards (just need to caulk and paint)

Paint door and add hardware
Paint/refinish the dresser (95% done, want to add gold to the knobs and fix last bolt)
Build headboard (still need to do this)
Bring everything into the room (just waiting on final inspection before we bring the bed in, everything else is ready and pictured above!)
(Added: vacuum rug)
(Added: install blinds)
Next week I'll be revealing the other master bedroom, so you'll have to wait a teensy bit longer to see the full reveal for this one.  But check out the One Room Challenge website to see other projects being completed… I'm sure they're farther along :)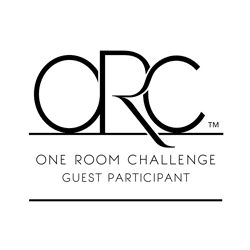 Week 1: Two Master Bedroom Makeovers | Week 2: Painted and Stained Dresser| Week 3: Marble Pour Nightstands | Week 4: Building Custom Nightstands
And that's a wrap on the basement bedroom progress photos!  I realize I haven't been doing videos for the last couple of weeks, and it's been a combination of having a lot of other work to do, and doing small tasks that probably don't warrant a video. 
I'm getting tired of these renovations (it's been close to a year I think!), so I'll be taking a nice break before I commit to anything else.  (But, who am I kidding, they'll be small touch-ups for weeks to come!).