One thing that has always bothered me was the amount of stains that our basement living room carpet had.  Stains that we inherited when we moved in and some stains that the Husband just let sit because we would eventually be replacing the carpet.  I've been experimenting with a few DIY carpet cleaning solutions (that I will be sharing with you today of course), because I figured, if I can just remove all the stains that annoy me… why would we have to replace the carpet?  Here are a few methods to clean unknown carpet stains, and some pros/cons of each.  Just a pre-warning for this post, you're about to get up close and personal with some of our nasty stains!
– Note: This post contains affiliate links. See more information about affiliates here –
Disclaimer:
Our carpet is old and we will have to replace it in a few years (I completely forget that we have a gap missing where we tore out a wall to add our basement bathroom) so if you are going to be using any of these methods, please test in a hidden area first!  (Or you know, somewhere you could cleverly hide any messes by adding furniture or a rug haha!).  Some of the mixes I show are more potent than the others, so you can also try using the "safer" methods first (why go for the big guns right away?).
Okay, now to a few tests…
Since moving our desks/office to the basement, I've been kind of carpet vacuuming obsessed.  You can blame it on pregnancy nesting, but I'm going to say it has more to do with the fact that I am actually down in the basement every day, staring at the carpets.  With owning a hairy shedding puppy (who now comes downstairs more regularly), I actually do have messes to clean (also, I just read that you're supposed to vacuum carpets daily… but I'm not that crazy yet!).  Last month I made a DIY laundry soap, and I was surprised to read on both the box of Borax and Washing Soda, that they can be used to clean other stains and messes around the house (including carpets!).  I made sure to keep a separate mixture of just Borax/Washing Soda (close to 50/50) in a little container for cleaning purposes.
Washing Soda + Borax Carpet Cleaning
I then set off to try and use my custom concoction to clean out some unknown stains from our carpet.  After vacuuming up any loose dog hair or random basement debris (drywall dust perhaps?) or course.
This unknown carpet stain was right in front of our couches, and I'm going to guess that it's a Husband stain… possibly some sort of old liquid from months (maybe years) ago.
I simply sprinkled some of the Borax/Washing Soda mixture directly on the stain.
Then used an Ikea scrub brush dipped in plain water to get the powder mixture deep into the carpet bristles (and form almost like a paste).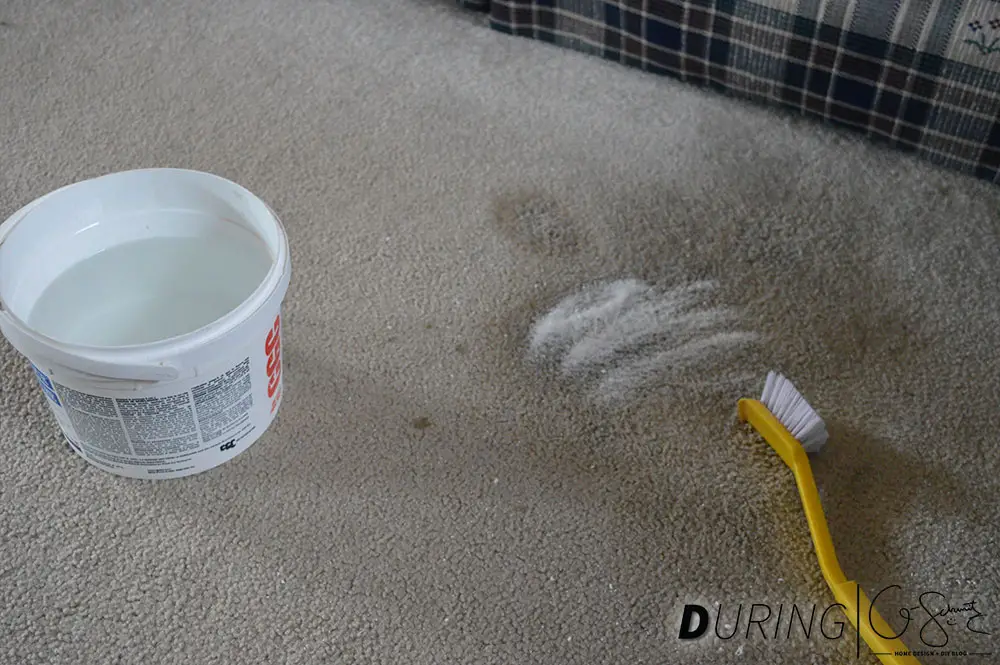 Sometimes it was easiest to do a few layers of water and the Borax/Washing Soda mix.  I let it sit until it dried, then used my normal vacuum hand brush attachment to clean up any loose mix.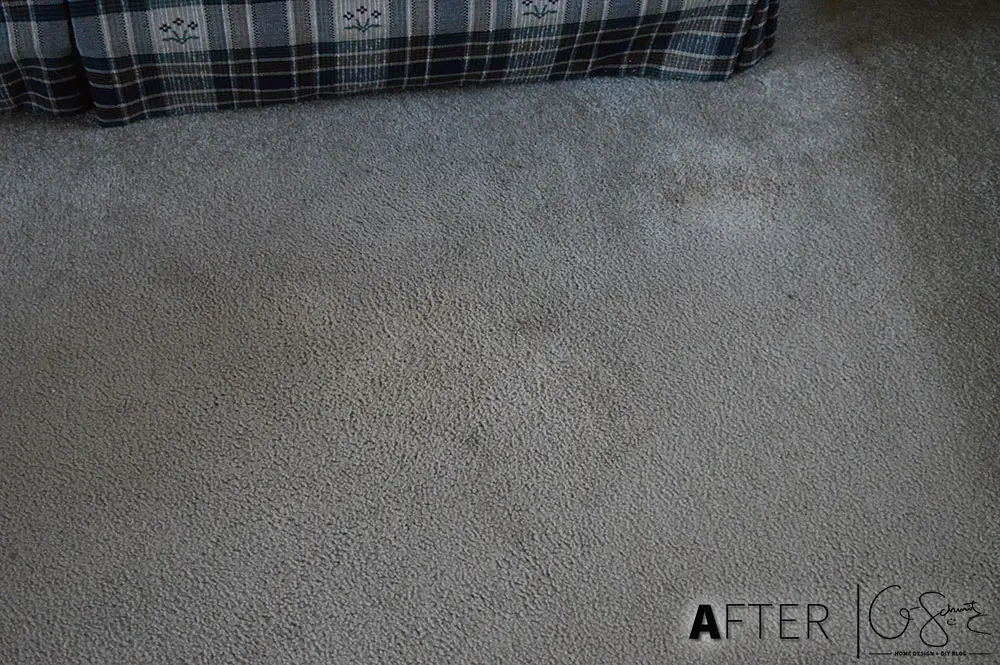 The stain was mostly gone, but I was feeling kind of lazy and thought – there must be a better way!  (Maybe a magical carpet cleaning method that didn't involve so much work).
DIY Carpet Stain Removers
I also mentioned at the start of May that I had been reading Extraordinary Uses for Everyday Things by Reader's Digest, which was a book I had sitting around on the shelf for a while.  In it, there were multiple ways to clean carpet stains, so I picked all the ones with ingredients I had on hand (which was most of them) and performed a little experiment.
Here is one of those inherited stains, and I'm going to say it was another pink/reddish liquid spill (there is a much bigger pile at the end, just out of the photo) and I knew this would be the perfect candidate to test the other DIY methods.
I separated the stain with little pieces of painters tape, then gathered all my supplies and labeled the areas.  Here is a breakdown of the different solutions:
Windex:  Now, the book says you're supposed to use clear ammonia.  I don't have any of that, so Windex was my next closest option.  Spoiler, it didn't really work.
Beer: The book does say that beer works great for removing coffee or tea stains.  The beer I chose was medium/dark and I was scared that it would leave a bigger stain than what I started with!  This method also didn't work too well.
Salt and Rubbing Alcohol: (1 part salt to 4 parts rubbing alcohol) is supposed to be great for removing greasy stains from carpets.  Apparently you can also sprinkle salt on a red wine spill (that you've soaked with white wine) and it will clean that too.  As far as getting rid of this unknown stain, this mixture wasn't very effective.
Shaving Cream:  Maybe the fact that I used a pink shaving cream, but this didn't really seem to do much on this stain.  It's probably one of those "right-away" stain cleaning solutions.
Hydrogen Peroxide and Cream of Tartar: These are supposed to be mixed into a paste and wiped away with a cloth, they worked pretty good – but was another one of those methods that involved some work.
Baby Wipes: I think baby wipes are to remove stains that just happen and are still fresh (the book mentions they are great for coffee).  But surprisingly they worked like magic to lift whatever set-in, unknown stain this was!
Vinegar and Salt: Vinegar is a cleaning powerhouse, and I tried 3 different mixes to clean this carpet stain.  The first, 2 tablespoons of salt to 1/2 cup white vinegar, pour on the stain and then vacuum when dry.  Easy.
Vinegar and Cornstarch: Equal parts vinegar and cornstarch, this paste worked pretty similarly to the salt/vinegar mix, but did involve a few more steps of cleaning (actually, the cornstarch solution was the one that took the longest to clean afterwards, so I didn't really like that).
Vinegar and Borax:  I did use my Borax/Washing Soda mixture with the vinegar, and felt it did a good job, but couldn't tell if the vinegar added anything extra compared to just using water.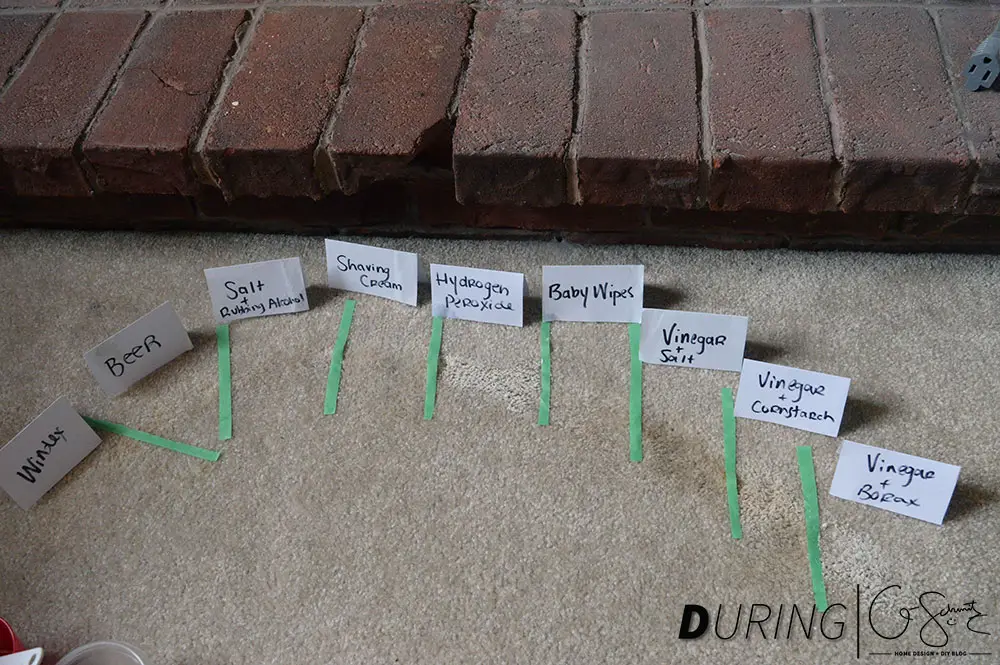 As I mentioned, some of the mixtures were more effective than the others.  Here is an image of the "just cleaned" area, and you can see how each solution fared.  Keep in mind, I tried to separate any concoctions that might not do so well if mixed together, and you always want to be extra careful if you're planning on mixing household chemicals.
As I may have mentioned when I listed the different mixes, there were some (the pastes) that required additional follow up.  I waited a few hours/days so they could dry fully, then I just went back over them with some water and used my scrub brush to clean them up.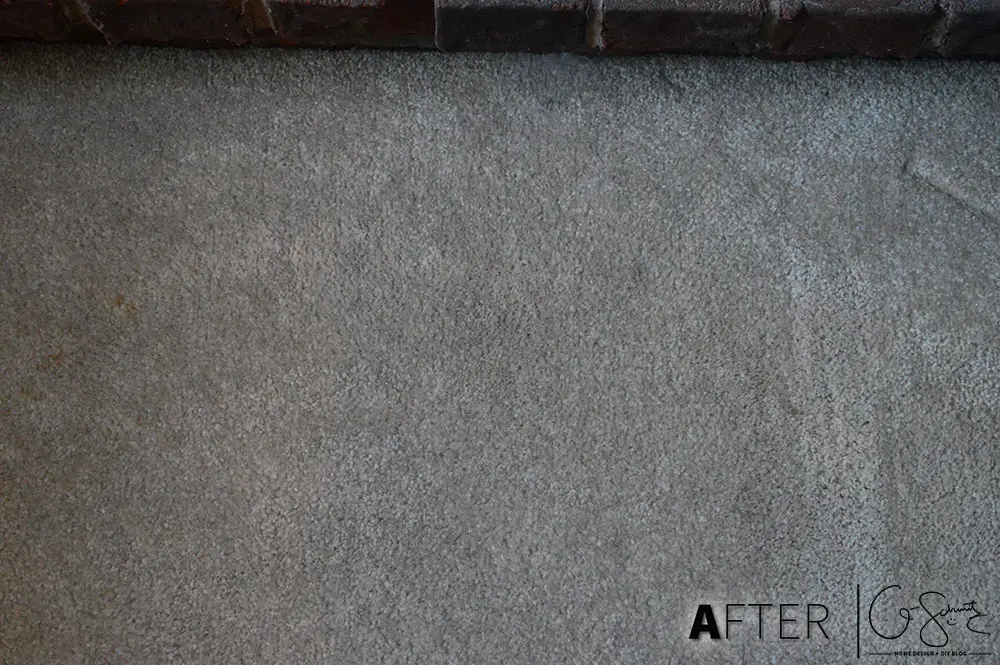 Here is the same stain with all the little pieces of tape removed.  You can still see the original stain on the left side where the Windex, beer and rubbing alcohol mixtures were, but as we move to the right it disappears as the solutions get tougher/better.  See that scrubby up-and-down area just above my logo/watermark?  That's where the vinegar/cornstarch mix was, and I did warn you that that was the toughest one to clean out.
Stain Cleaning Conclusion
Honestly, I would try and use baby wipes for all stains, whether or not they are fresh and new or set-in and unknown like all my stains are.  It was the quickest, easiest method that actually worked for this stain (I will be trying it on the 500 million other stains down here soon, and will let you know); and now that I am expecting a baby, I actually have these in my house!
Maybe next I would try just throwing some white vinegar + salt onto the stain, then waiting for it to dry and see what happens.
But… for your tougher stains, you're going to have to suck it up and do one of the longer, more tedious methods to try and remove them.  I'm going to stick with my Borax/Washing Soda mix, just because I have a lot ready to go and it seems to do the trick just fine.
Don't believe me that the stains are actually gone?
The picture on the left first appeared on the blog when I was talking about tiling our basement bathroom addition.  Just look at that nasty thing in the bottom left corner!  Who knows what it is!?  Not me!  After using my Borax/Washing Soda mix the first time, I was able to remove so much of the stain!
And, because that little bit of remaining stain still bothered me, I cleaned up the rest this week:
I poured normal water directly on the stains (which makes them darker and more visible by the way!).
Then sprinkled the dry Borax/Washing Soda powder on top of that.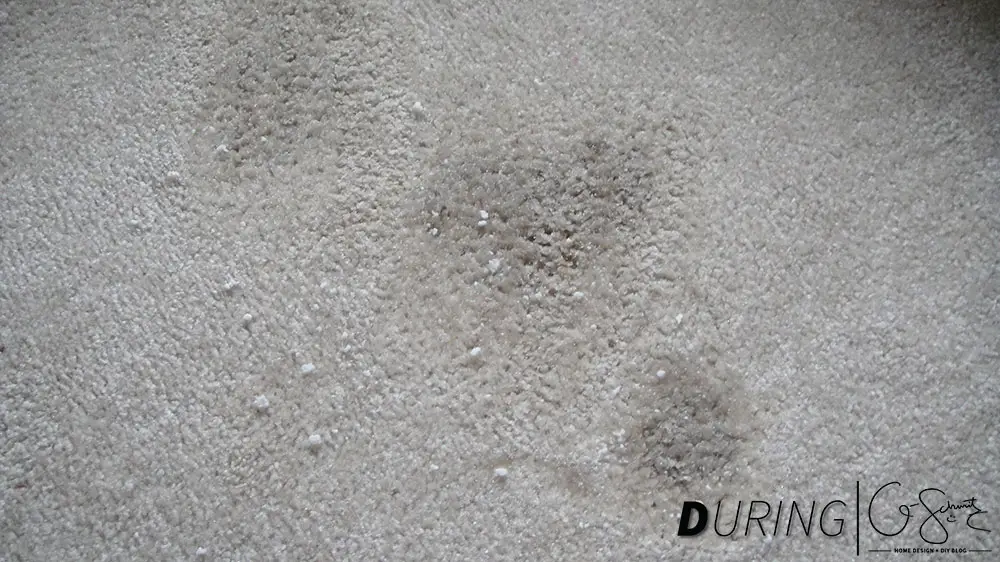 Scrubbed in the mix until it was well absorbed into the carpet.
Then, depending how bad the stain is, you can either repeat the water/dry mix a few hours later, or just wait for it to mostly dry and vacuum up with a hand brush attachment.  (I find that vacuuming while it's still a bit damp helps to restore the carpet naps so they don't dry all wonky looking).
Once fully dry and your stain is removed, you can resume your normal vacuuming routine, be it monthly, weekly or daily – depending how obsessed you are :)
Cleaning carpets is not always a fun task, but I think it's worst to live in denial and stare at gross stains all day!  I shared a few different ways to clean unknown carpet stains, and I hope that someone finds these tips and methods useful for their stains as well.  I've recently acquired a (used) carpet steamer, so I think I will be trying to incorporate it into my stain removal journey (sounds exciting, doesn't it!) and maybe one day our old stained carpet will look (almost) as good as new :)
DIY-Tip:
If you're worried about little feet getting onto your cleaning messes while they are setting, I find just throwing an empty laundry basket (with holes) upside down over the area helps inhibit any curious visitors from moving/stepping in/licking the messes.  The holes in the basket ensure that the area still has a chance to dry, and they are usually large enough to cover the area you could be working on.
If you don't have any loose laundry baskets around because you're always doing laundry… I can't really help you there haha!
See you next time :)
(Don't forget to say hi on social media or in the comments so I know you had the pleasure of staring at these stains too)