Did you have a productive long Easter weekend?  I wish I could say I spent my time searching for Easter eggs and pigging out on chocolate (okay, I did that last thing!) but now that I'm an adult it seems like my long weekends have been spent working on projects around the house.  Last week I started cleaning the basement and prepping for the One Room Challenge… let's dive in shall we!?
Now, just a quick little intro – the One Room Challenge (also known as ORC) is a bi-annual event held in blogland by Linda of Calling it Home.  This is my first year participating… and the spring event starts NEXT WEEK!  For the next 6 weeks, we'll be building a basement powder room (from scratch) and (hopefully) finishing it in time.  I have known I was going to participate since the ORC last fall.
The space I have envisioned to turn into a basement powder room is sort of underneath the staircase, and attached to our laundry room.  Here is a picture of what it normally looks like:
Basically, it was my paint supplies storage area, and I knew I had to clean it out BEFORE I could convince the Husband to start working with me to prep the space.
Cleaning the Basement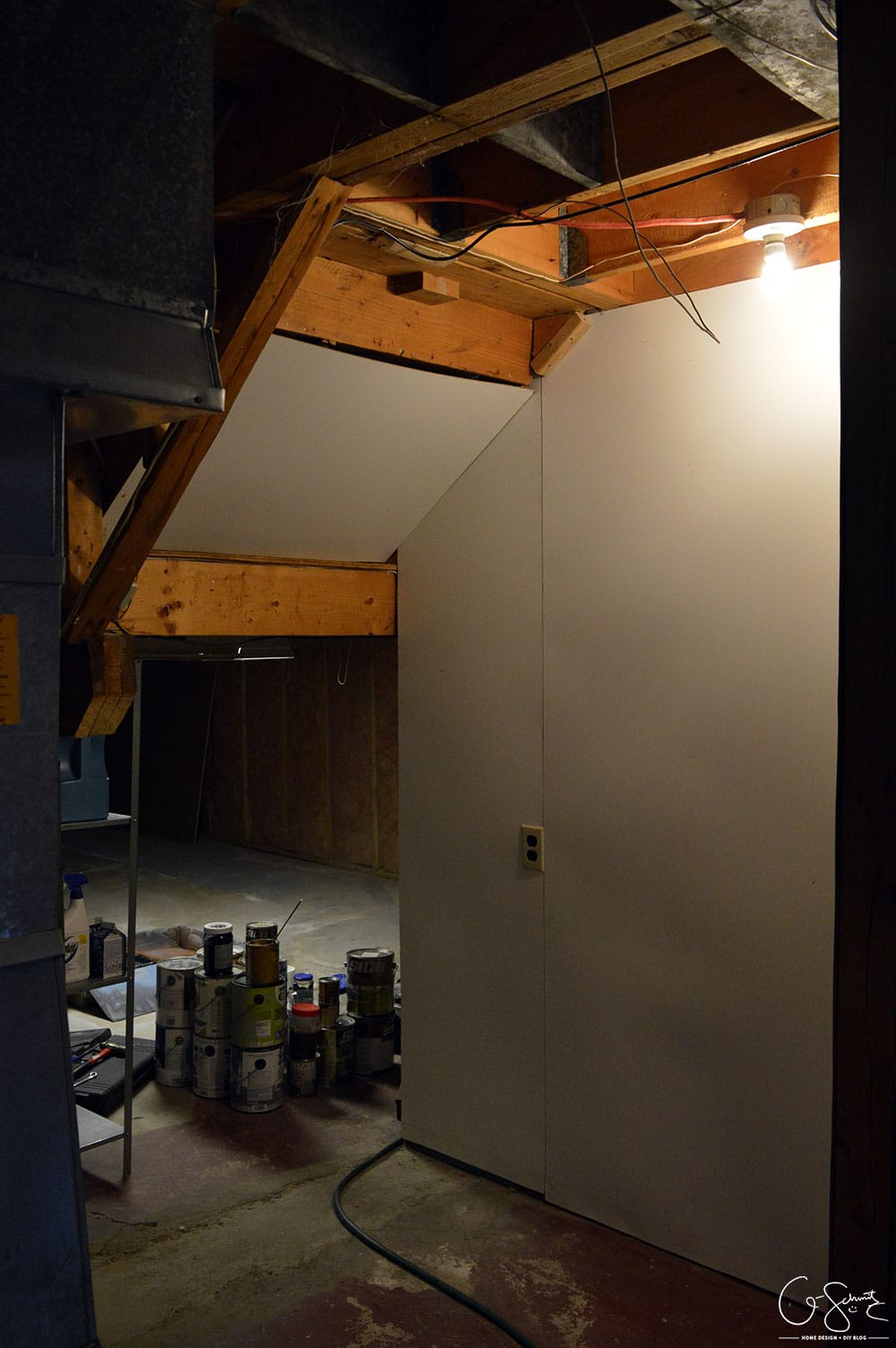 Through the magic of your computer, the room is now all cleaned!  I moved most of the paint over to the crawlspace, hopefully out of the way of the soon-to-be construction zone – and I took out the rest (what I think I may need the next few weeks) and placed them willy nilly in the basement living room.
There are some weird cables in this room that we will need to address – I'm pretty sure this is where our phone line comes in and splits to the different jacks… and the Husband has told me numerous times that it would just be easier to rip them all out.  Umm, I am old fashioned and use our house phone at least 3 times a week, so no, I would not like to just "get rid of it".
The room already has a light, but it's connected to the laundry room switch, so we will need to re-route it to a new switch (and secure those phone wires properly…).
There's a bunch of cables all in a mess in the laundry room (trust me – we did not wire these things in all crazily like this!) and I was able to remove like 50′ of TV cable that had been wired throughout the basement, then up into a hole in our master bedroom (a cable we never used).
All I know is that whenever we finish the laundry room, we'll have a LOT more cables and wires to deal with!  I would like to address everything now (aka sooner rather than later) but we'll see how much we want to tackle when we start with the new bathroom next week.
Prepping for ORC (aka the One Room Challenge)
From here on out I'll be calling the One Room Challenge by its shorter acronym "ORC" okay?  Deal!
As soon as our building permit came through, the Husband was gung-ho on destroying things (which is why I knew I had to clean the space ahead of time… I never know when he'll get a gust of renovation motivation to start working haha!).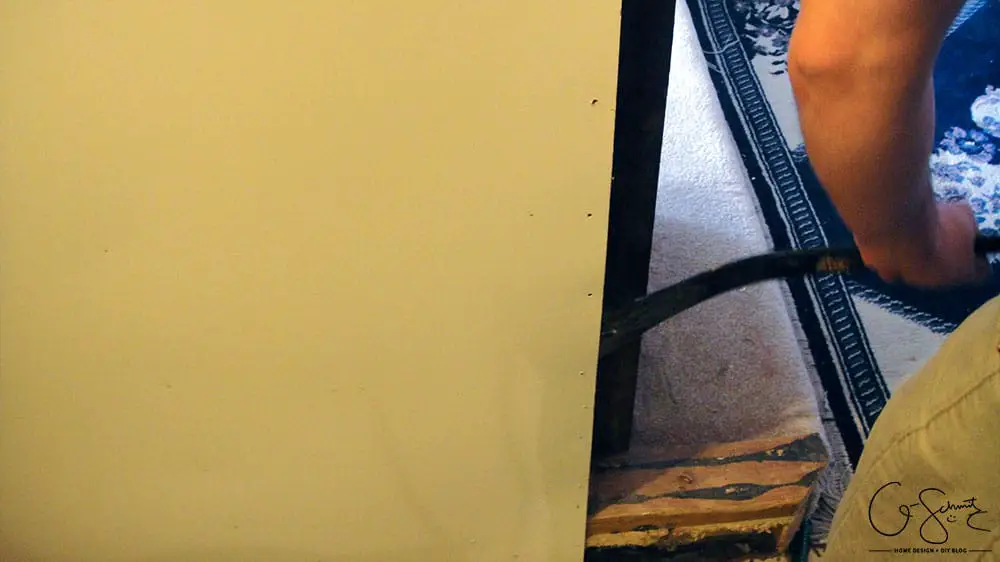 The walls inside the future bathroom nook were just thin pieces of particle board (think of the backing on cabinets/furniture), so it was not too messy to actually take them out.
There were a lot of nails though…
The Husband got to use his favourite tool (a sledge hammer) and took out the only wall that needed to be removed.
Which is the one attached to the basement living room, where we will be adding the door (that I prepped last week) and where I did my panelling test painting.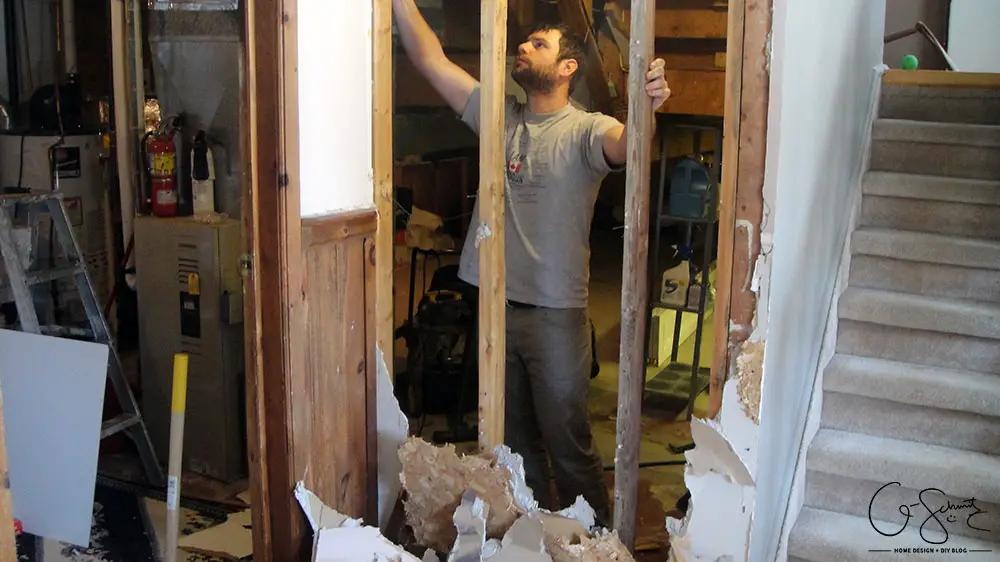 This wall demolition made a huge mess actually (isn't that always the case when removing drywall!?), and I was in charge of cleanup while the Husband hammered away.
Alas, we now have an open wall/hole, ready for framing in the next coming weeks, then drywall, then paint and all that fun stuff!  And no, I don't consider this "cheating" for the ORC and jumping ahead – I call it prep work :)
On another note, I found this article online on Family Handyman about plumbing a basement bathroom, and I sent it to the Husband to read over and prepare himself for what he had to do.  He thought they were crazy because they said that you can go through the concrete with a sledge hammer…
But nonetheless, he gave it a go and now he considers himself a super macho man that can do anything…
Great?!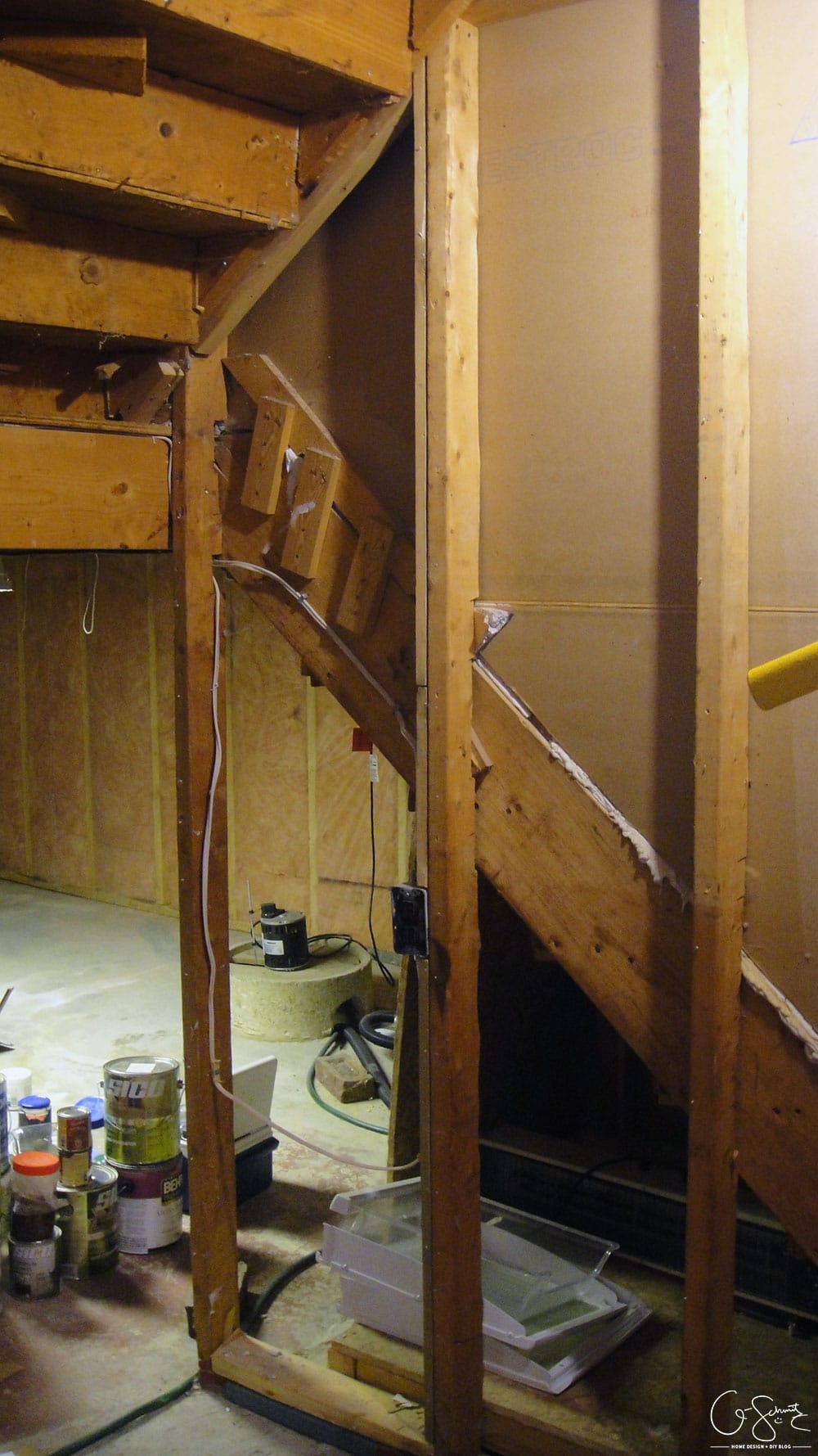 So now at least we know that we don't have to rent a Jack Hammer, and I can better plan the rest of the renovation!  The space is all ready for us to start working next week, won't you come back and visit me to check out the design plans!?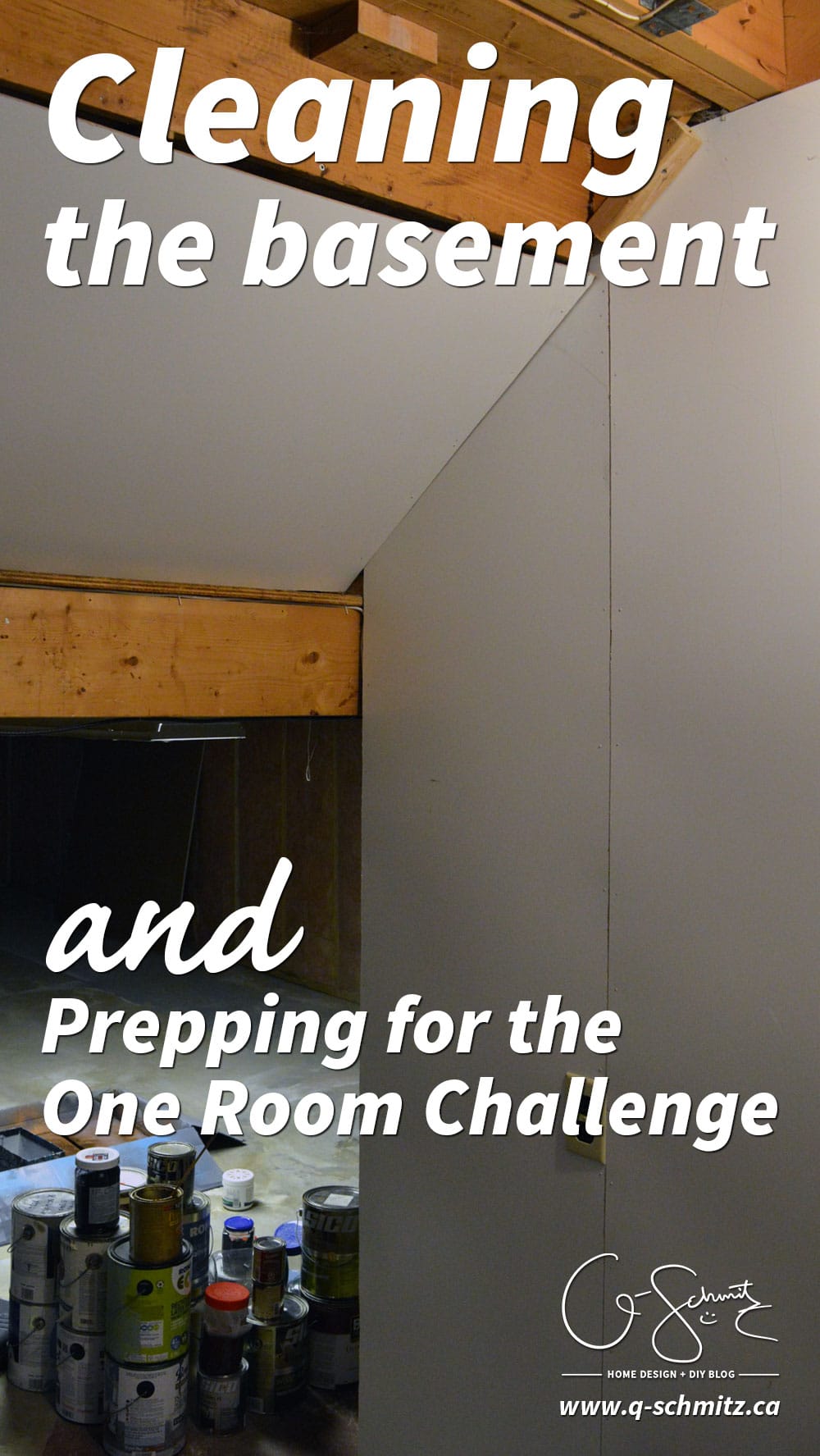 Cleaning the basement and prepping for ORC has got me just a bit more excited to share with you all the plans I have for the space.  The whole work involved?  Ya, I guess I'm excited for that too (I'm a DIY'er after all!) but still a little scared by the amount of stuff we need to get accomplished in such a short time.  Everything depends on the other, so if we're just a few days off of my super tight schedule, then it will throw everything off!
See you guys next week for the official launch of the ORC here on Madness and Method :)