Hello everyone!  The One Room Challenge (also known as ORC) by Linda of Calling it Home is kicking off this week, and today I'm going to share with you the design and our basement half bathroom plans.  I talked a bit more about this space last week when I cleaned it out, so make sure to check out that post if you want some true "before" pictures and details.
Check out all the linking participants from the One Room Challenge Week 1 here!
Now, I came up with (what I thought) was the most awesome half bathroom ever… but then the Husband chimed in and said he hated everything about the space I had envisioned.  Ummm… not cool… so just know that I am sharing with you my original idea today, and you'll just have to follow along each week to see how I have deviated from this original / awesome plan.
First up, the layout of the space.  This is pretty much how it will be, because we are working with limited space, and a weird ceiling angle (we're partially under the staircase).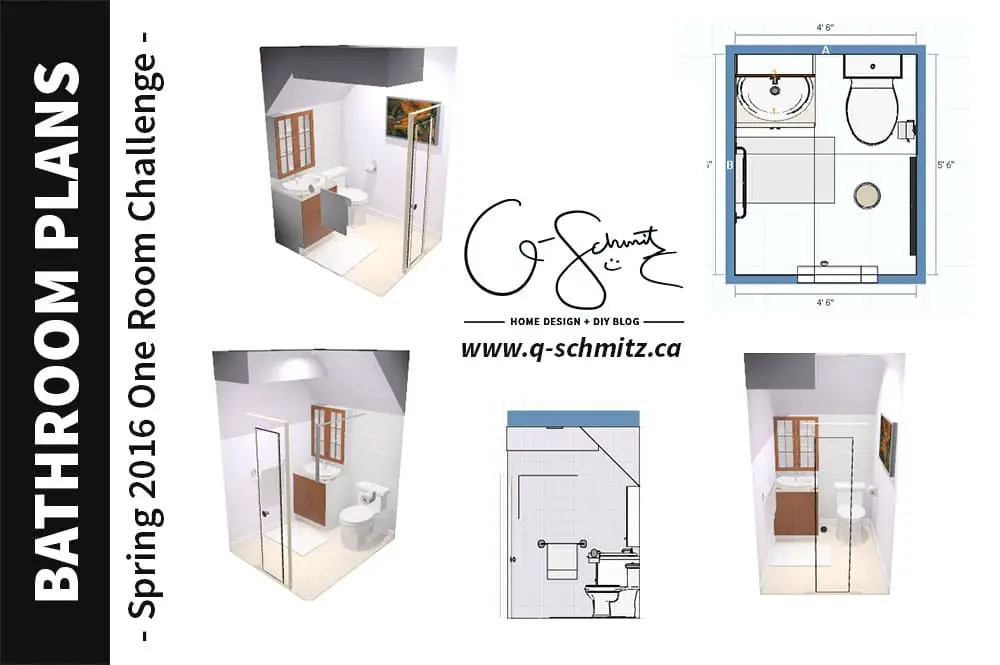 In fact, I had designed this layout MONTHS/YEARS ago using Lowes 3D Virtual Room Designer; so other than changes to the design elements, this is and will be how our bathroom will look!  Real simple, 24″ vanity on the left with a toilet on the right.  I've since vetoed the medicine cabinet (we were going to re-use the one we took out from our main upstairs bathroom) because clearly the ceiling height doesn't allow for it (where would the faucet go?).
Okay, just in case you were too lazy to read the post last week where I cleaned out the space, here is a picture of what we are starting with:
We don't have any rough-ins for plumbing, half of the electrical we need is there (although controlled by another switch) and we need to build out 3 walls to enclose the room from the unfinished laundry room.  Because I had known that I was participating in the ORC since last fall, I knew there were a few things I would need to plan in advance before the challenge started (namely, finalizing the design and getting building permits!).
Ideal ORC Timeline:
Week 1: Sharing Design Plans (that's today!)
Week 2: Doing all the plumbing, electrical + framing
Week 3: Installing drywall, patching, priming and painting
Week 4: Tiling (floors and walls)
Week 5: Grouting / installing trim + furniture (ie: vanity + toilet)
Week 6: Bringing in accessories for the final reveal!
Now, "behind the blog" I will be trying to accomplish these things a week early so that I have everything ready for pictures and posting purposes.  (As of now we have started the plumbing and framing).  But I should be completing this space in the allotted 6 weeks.  (Note that when I say "I", I really mean the Husband AND me, plus any random friends/family we can force convince to help haha!).
Bathroom Budget:
I kept all my Christmas money (and some of the Husbands, shhh don't tell) and saved a total of 1500$ specifically for this bathroom.  I then divided it up as follows:
500$ for construction materials + building permits
500$ for tiles, lighting + hardware
500$ for toilet, vanity and small accessories
Now, I've ordered/purchased maybe 90% of the things we should need and have everything waiting in a big heap in the basement living room.
Unfortunately… we are already over budget :(
I told the Husband how I was upset that I spent more than I had budgeted and this was the conversation that ensued:
Husband: Wait, we have a budget for our bathroom?
Me: Of course we have a budget, what do you think it is?
Husband: I don't know… 4730$
Me: OH MY GOODNESS I should have went with your budget!  What a random number you chose… we're at like half of that amount!
Moral of the story, even though I am over what I had saved for the bathroom, I will be way under the amount the Husband thinks we are spending on this room :) 
(Now, assuming we don't get in over our heads and have to bring in a professional contractor… I imagine that will take a big chunk of our money!).
Bathroom Design Plans
Enough chit-chat and show me the bathroom plans you say!  Okay, okay, here we are: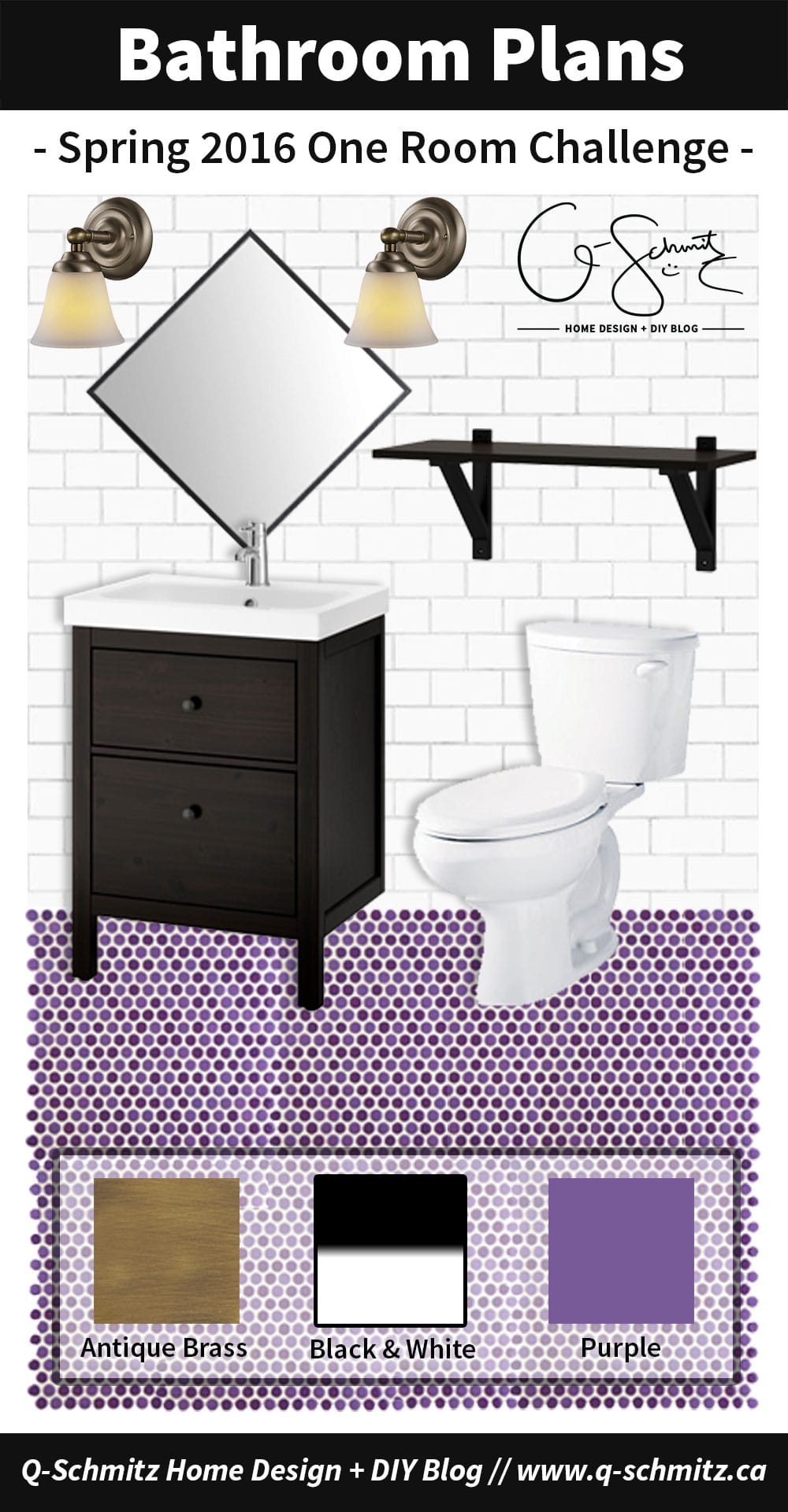 If you're a regular reader here at Madness and Method, you may remember that I had hinted at using purple in our bathroom design way back in December.  Don't remember that?  I still love you anyways :)
The colours for our bathroom will be black, white, purple and antique brass!  I always liked a black/white and copper bathroom, but I decided to use antique brass because it's the metal element in the French door that I painted/frosted (that we will be using for this bathroom).
Now, you might be accurately wondering: this is the most awesome bathroom design I've ever seen, what could the Husband possibly dislike from this?
Well, apparently penny tiles (the shape + size) shouldn't exist and/or belong in our house AND white subway tiles are the ugliest/cheapest thing ever.  Now, I had a box of leftover white subway tiles I was planning on using (and WILL be using) for our bathroom, but I've had to completely re-envision the flooring choices to something less "wild and crazy".
For the next 6 weeks I will be sharing our bathroom renovation progress with you, along with the different design elements and accessories that I contemplated bringing into the room.  I'd love for you to follow along with me (it's easy to do by subscribing to RSS, liking on Facebook or following on Instagram)!
To all my blogging friends participating in the One Room Challenge, good luck :)
Oh, and I should mention that as of last Friday I am officially 30 weeks pregnant… so we really need to get this bathroom finished in 6 weeks so I can actually start organizing and prepping the nursery!