It's been a while since I've shared photos of the completed spaces in the basement apartment at our rental renovation.  We've tweaked a few of the rooms since then, so I did a full basement apartment tour (in a video!) to share what it looks like currently.  But don't worry, I have some photos of the rooms too if you don't have time to watch the video right now :)
– Note: This post contains affiliate links. See more information about affiliates here. –
For a bit of history, you can see the basement before tour and video here.  This was the largest renovation we've taken on to date, so there have been a lot of posts updating along the way.  Essentially, we took a plain bungalow basement and created a two-bedroom apartment (with a shared hallway and laundry room).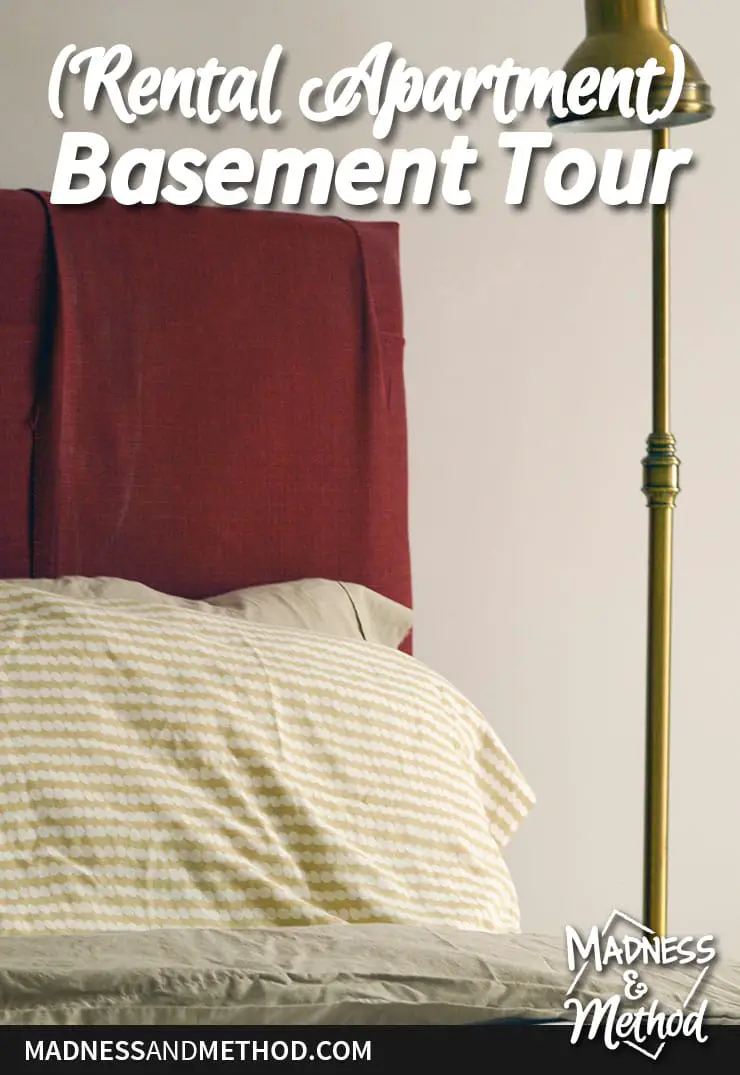 I also made a dedicated page with before/after photos for the Rental Renovation.  BUT the images in this post are even newer :)
Check out the video, or scroll down a bit for photos of the bigger updates.
I go through the space and do some cut-backs to how it looks before (you can watch the original video tour here).  Then I share another walkthrough tour without the edits at the end.  It's not a huge space (maybe 800sqft?) so it doesn't take too long.
Updated Rooms
The biggest updates have probably happened in the living room since I last shared the progress.  We've since moved the TV, added an electric fireplace and decorated with DIY throw pillows.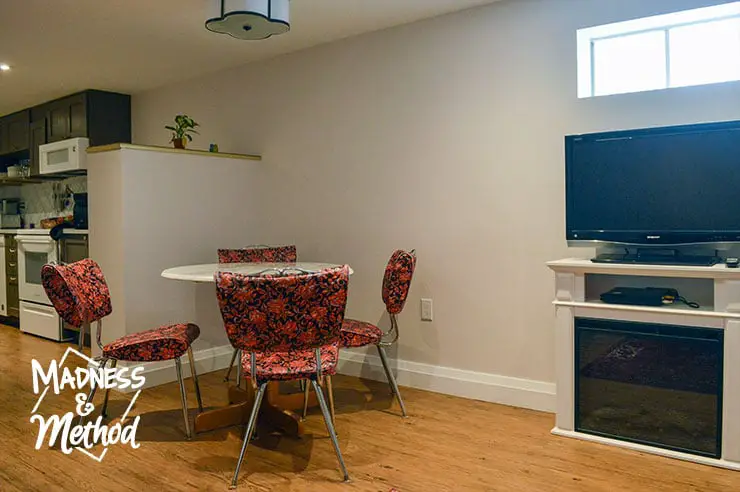 I also added some display/storage shelves, and I'll be sharing the tutorial and details next week!  This room is now 95% complete, and the last bit is whether I decide to add a window treatment or not.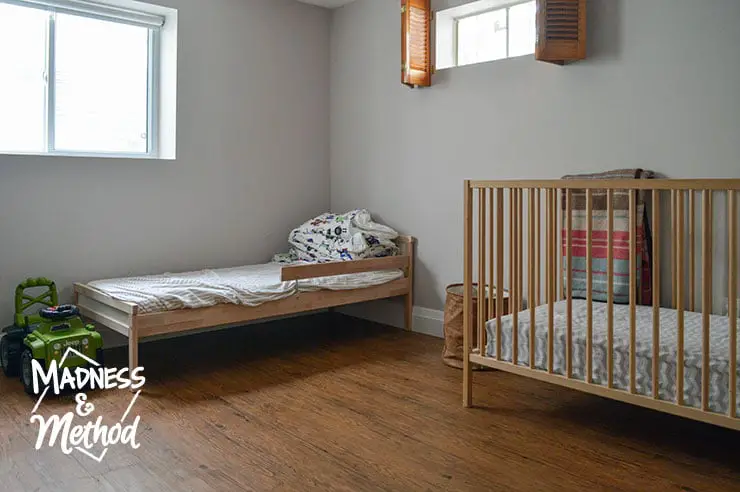 The kids' room used to be set up like a "nursery" with two cribs and a change table.  Zachary has been in a big kid bed for around 6 months now, and we moved the second crib to the master.  There was a change table in here until last week when we thought we would potty train Élise.  But if you saw on my Instagram stories, it didn't go so well.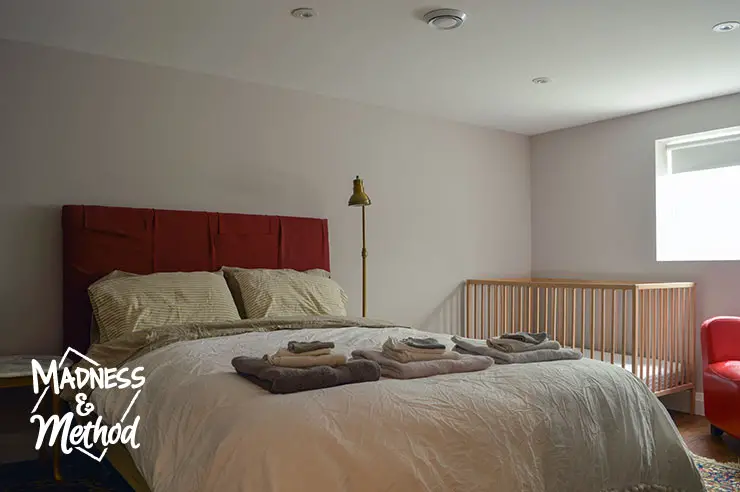 Last year, we were just moving into the basement apartment and I put the master bedroom together for the Spring One Room Challenge.  The crib has been in here for a few months (although I only started coming back with the kids in mid-January) and we brought the red leather chair for nighttime feedings.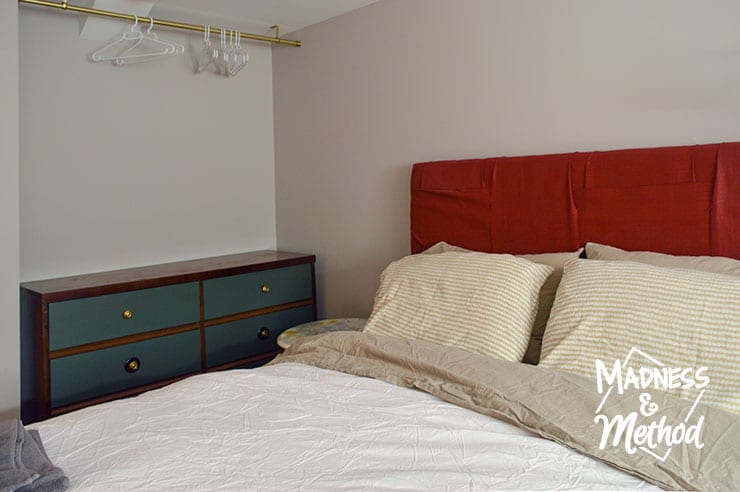 The dresser got moved to the closet alcove (I originally bought it because the dimensions were perfect for this spot).  And we added a brass curtain/closet rod above with some hangers.  Since we only live here part-time, we don't store close here – but I thought it would be a good idea for the Airbnb guests.
The Other Rooms
Nothing has changed since I shared the kitchen tour – except that we now leave the coffee maker and toaster out full-time.  I used to store them in the cabinets when not in use, but it's more convenient for renters to have them out and visible.  I also purchased a screw-in paper towel holder (and spray painted it gold), and it's nice to have it up and off the counter!
The bathroom is un-touched renovation-wise (and yes, that means we still have not hung the mirror).  I like how a lot of the items in this room function, so I'll be taking a lot of notes for our next bathroom renovation :)
And finally, the mudroom/shared entry has been holding strong!  Again, I'm taking a lot of notes for our future mudroom space, and I was right when I told the Husband we needed all the hooks we could get!

I hope you enjoyed this basement apartment tour and checking out all the minor updates we've done.  Remember to come back and visit next week to read about the storage shelves (seen in the photo above).  They were such an easy addition that function so well for our storage needs.
Oh, and if you didn't catch any of the hints in this post… I'll be sharing some BIG news very soon too :)
(If you're an email newsletter subscriber – you already got the secret info ahead of time!).