Are you looking for design inspiration to fancy-up some walls in your house?  Maybe you're looking for something quick, simple and easy to do, or even have a bit more time to tackle a larger project that will add some wow-factor to your space?  Today I'm rounding up some DIY wall transformation ideas, starting from easier, non-permanent solutions to more time-consuming (woodworking involved) projects.  Check out these great ideas from some great bloggers!
Just a little pre-ramble that I have included pictures of these projects to show you; and they are all linked to the respective blogs they come from.  SO if you are super inspired and are planning on saving any one of these images to Pinterest, make sure to do so from the original source (ie: click on the links and pin from their sites).
To the inspiration!
Quickest Wall Transformations
First, let's start with some easier projects that add instant drama to your walls.  To me, a quick DIY wall transformation is something I can get done in less than a few hours, and that doesn't require me to wait for multiple coats of paint to dry.
Graphic Washi Tape Wall
Kathy from Up To Date Interiors lives in a rental, so is limited to the types of wall treatments that she can add.  Nevertheless, some washi tape was all that was needed to create a great feature wall behind her piano.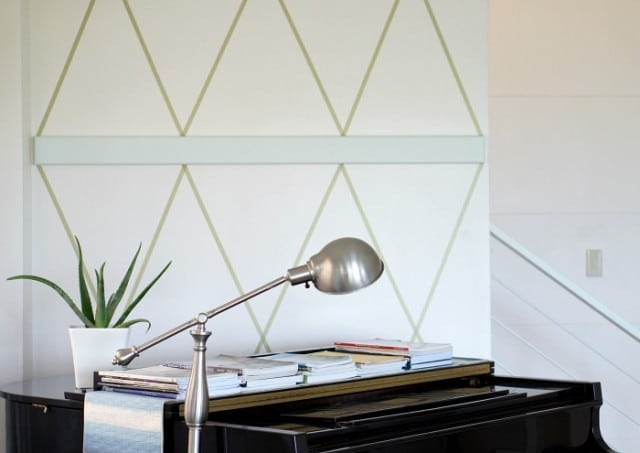 I've never actually used washi tape yet… but I do have a project in mind and will let you know if I succeed!
Painted Stencil Wall
Stephanie from Casa Watkins Living did a great stencil wall in her foyer.  The bright green colour really pops against all the plants, and it's definitely a smart way to add colour to your space if you're afraid of committing to an entire painted wall.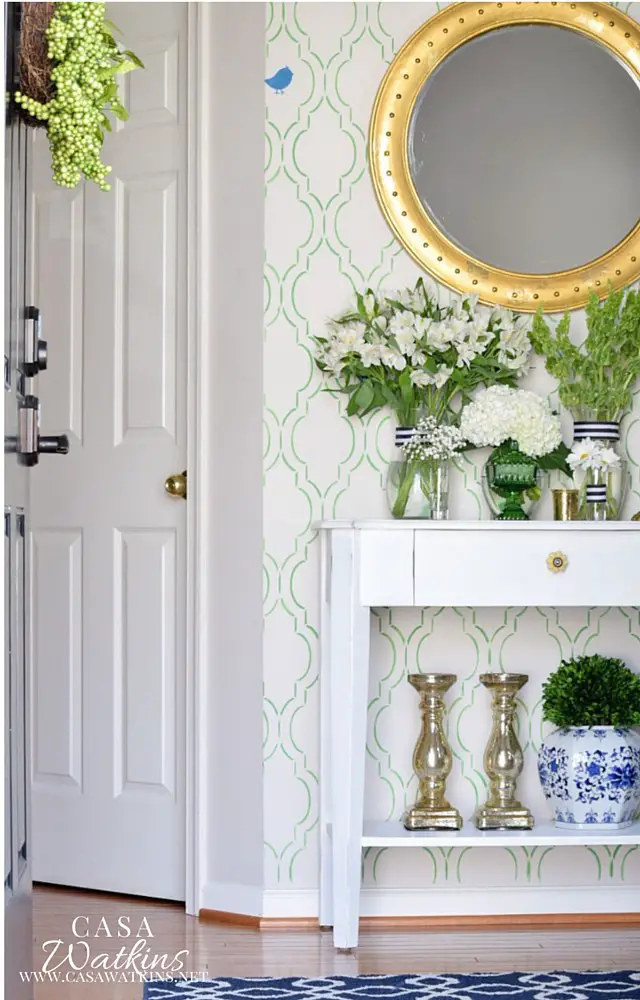 There are so many stencil options and all you need to do is choose a pattern and colour you like, and you can achieve a completely custom wallpaper look in just a few hours.  I've barely installed wallpaper in my life… but I did enough of it to know that I would choose a stencil and paint over wallpaper any day!
Creative Wall Transformations
I would classify these next three DIYs as projects that take a bit more time, and may involve a bit more skills and craftiness.  Thankfully, these ladies have easy-to-follow tutorials, so even if you can't wrap your head around something based on the pictures alone, they've broken down the steps for you!
Painted Wainscoting
Want to fake the look of fancy wainscoting?  Why not paint half the wall, then place a piece of trim at the top to add dimension.  That's exactly what Melissa at Welcome to the Woods did for her bathroom remodel.
And I loooveee that teal colour she has in the bathroom too (you remember I love bright colours right?).
Painted Brick Accent Wall
Cat from Pocket of Posies did a brick feature wall in her bedroom… you guessed it… using only paint.  She even took the extra time to do a custom brick pattern above the windows.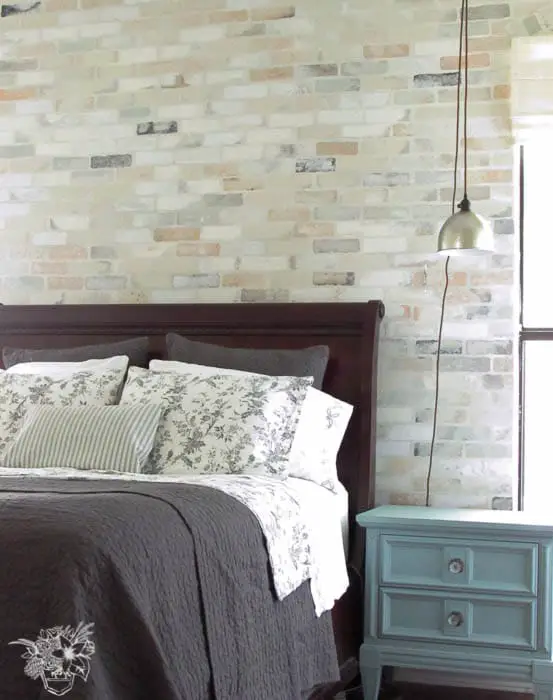 She used a bunch of colours to achieve the look she wanted… and it is amazing!
Painted Backsplash Tiles
Here's another one from Melissa at Welcome to the Woods, although I'd say this project was probably way more time consuming: a DIY painted backsplash.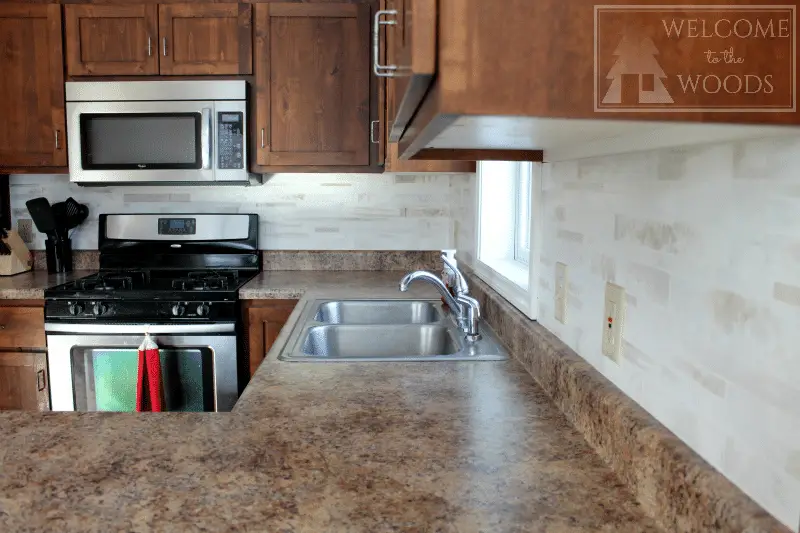 If you don't want to commit to tiling a backsplash (or maybe you're renting and you have restrictions on things you can change), Melissa shares how she was able to achieve this tiled look using only paint!
Planked Wall Transformations
Planked walls (or shiplap walls) are HUGE right now.  And if you love farmhouse style (or even just like watching Fixer Upper on TV) then you are definitely familiar with this style of stacked horizontal boards.  (Although let's not confuse this style with the vertical panelled boards from the 70s that people tend not to like as much – aka our basement walls!).
Katie from Little House of Four did a white planked/shiplap wall in her entryway.  Can you believe that it cost her less than 50$ for an entire wall!?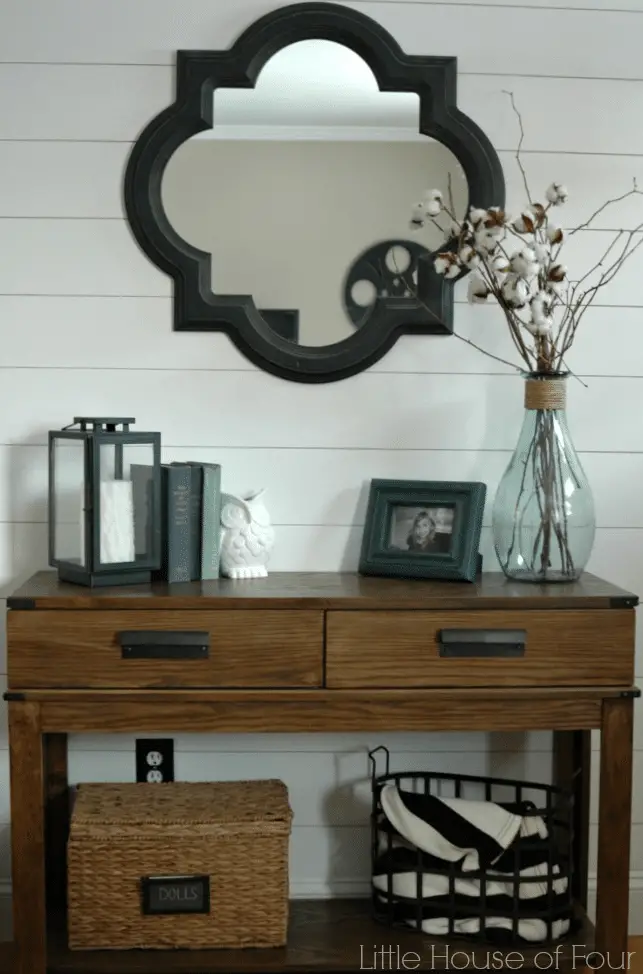 Now, the size of this fireplace looks relatively normal in this photo… but you have to see the photos of the in-progress work on Chloe from Celebrate and Decorate's blog to truly understand how massive it is.  Adding the shiplap and painting it white helped easily disguise her brown fireplace.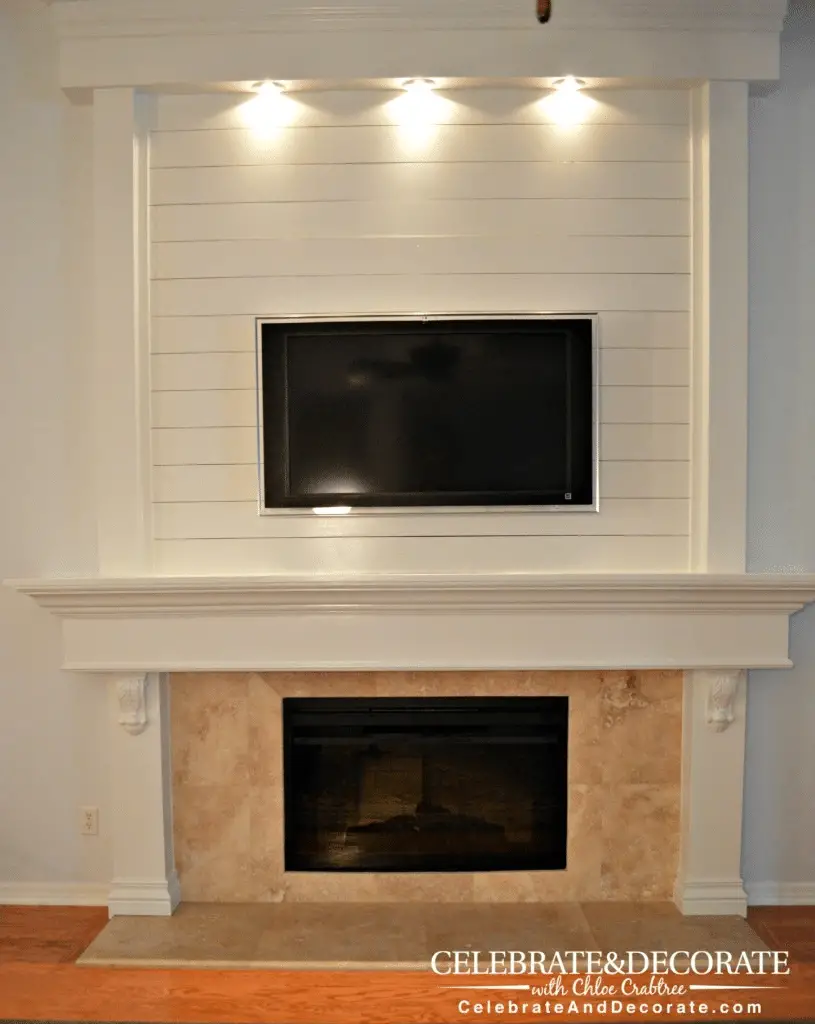 Thinking of adding something a bit more natural and rustic looking rather than doing a white shiplap?  Kati from Houseful of Handmade installed a plank wall using birch plywood… and she has a great tip if you are using pieces of wood where the colours don't match 100%.
Custom Woodwork Wall Transformations
Maybe you're not into planked walls or the farmhouse style as much, or don't want to commit to doing an entire wall (or fireplace) all the way to the ceiling.  Hey… maybe you're afraid of ladders/heights… no judgement here!  There are still some great woodworking wall transformations that you can achieve.
Emily from Our House Now a Home completely transformed the look of her hallway by adding custom wainscoting.  She has a BUNCH of other great hallway projects too, including a gallery wall and command center, so make sure to check those out!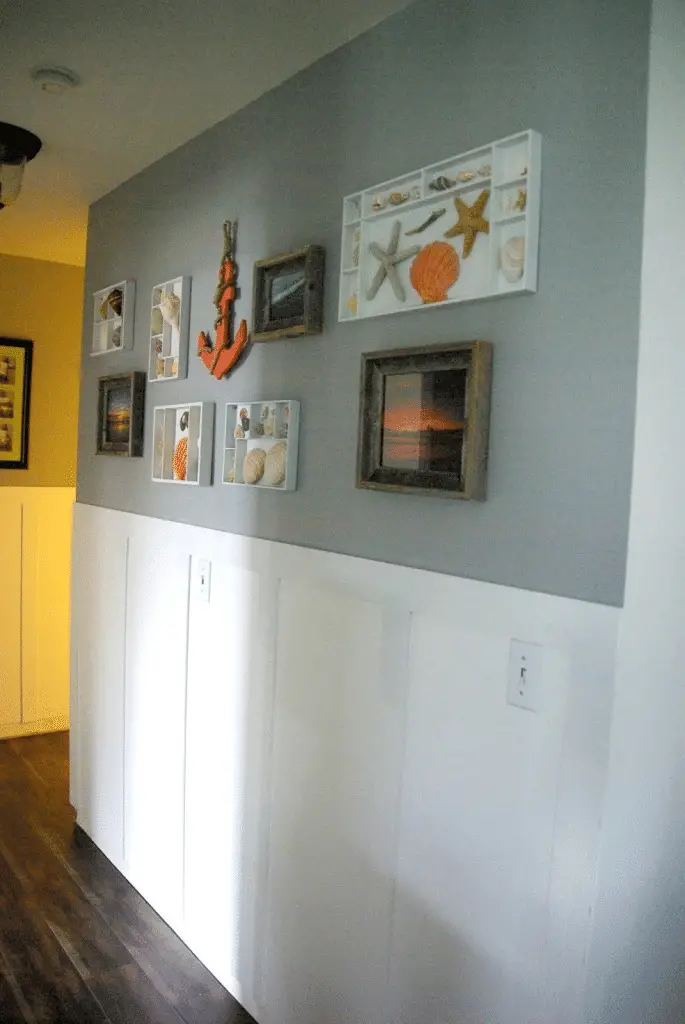 Last, but not least, Tara from Just Call me Homegirl installed a board and batten wall in her entrance way, and I love the practical addition of hooks for coat storage.
Doesn't adding custom woodworking just make everything look fancier and more "complete"?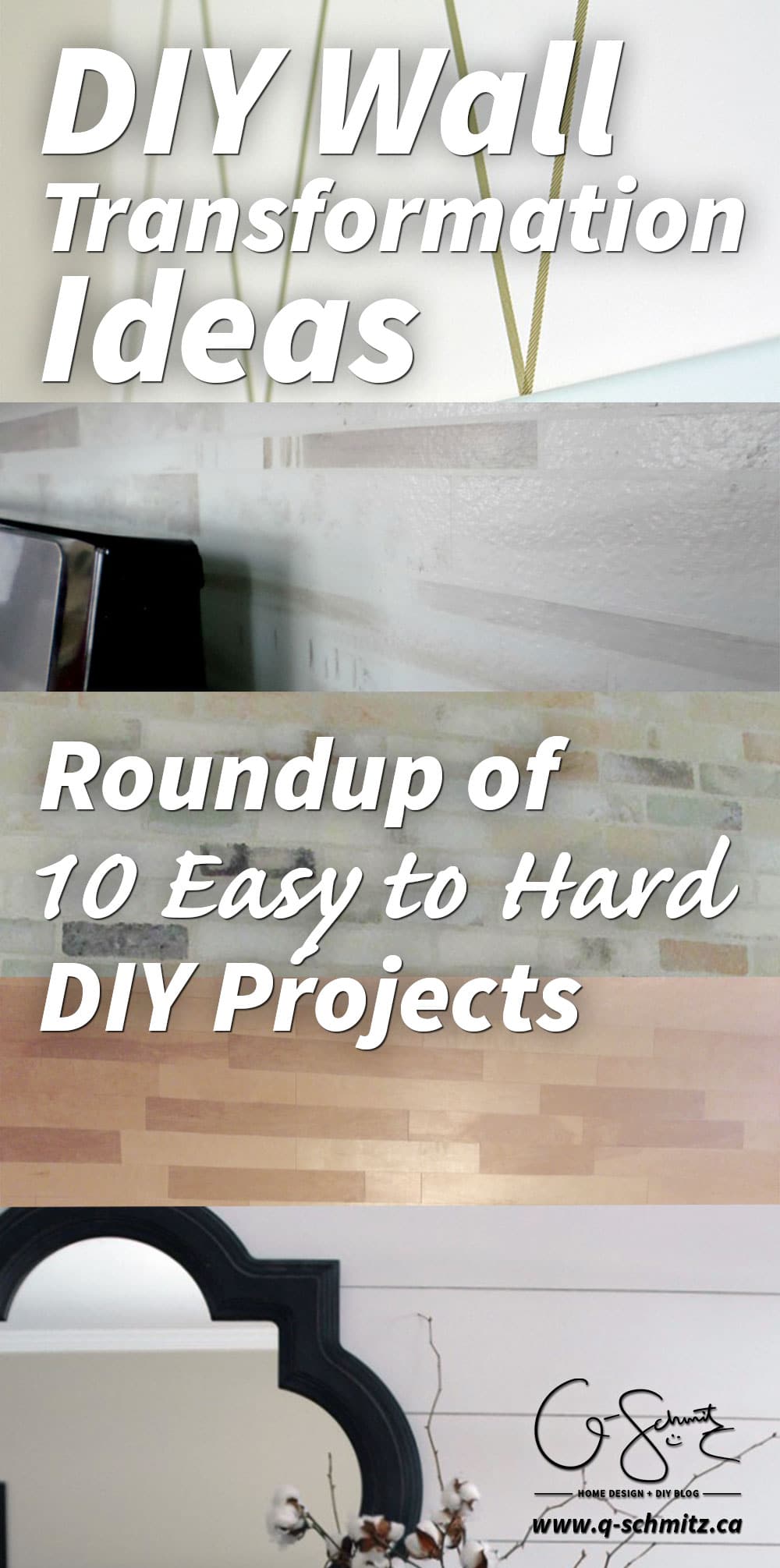 Whether you're looking to finish a quick DIY, or have extra time to spend, I'm hoping one of these DIY wall transformation ideas has inspired you to start thinking about your next project!  I know one thing, I kind of wish I had more walls so I could implement all of these… but I may just have to settle for one or two ideas or it may be overkill.
Which wall project are you inspired by?  I'd love to hear your thoughts in the comments!
Can I let you in on a secret?  We've actually tackled one of these types of projects in our upstairs hallway, and I'll be sharing our how-to and before and after pictures soon!  (I'll give you a big hint, it looks a lot like one of these great projects, so don't expect anything wildly different than what is included in this roundup!).