I may have mentioned a few times, but last weekend we were busy!  We had to finish all the details and projects for our One Room Challenge garage makeover AND the Husband and I were also vendors at a local wedding show too.  Since it was our first show setup, we definitely learnt a few things – and today I want to share a bit about our booth and what we do.
Now, I did mention we were also working on our garage makeover, so trying to get everything finalized was a bit stressful.  Luckily, my parents came up to visit us and take care of the mister and it was all hands on deck to try and get our projects completed.
Two weekends ago, I finally finished building our metal and wood coffee table, as we were planning on having that as a display piece at the show.  We also had to build the top for a dining table (the base is made out of metal) so I tried to get all that done throughout the weekend.  On Friday, we purchased, cut, sanded and stained the pieces, and then Saturday we assembled in together, sanded it again, and re-stained where we needed to touch-up.  (I was planning on doing a more rustic staining technique, but I think next time I'll just stain everything once at the end!).
Our booth setup area was just under 8′ x 8′, so our table fit tight in along the side.  We were promoting our new business, Kennville Custom, wherein we fabricate custom metal signs, furniture and more!  I got most of the products we prepared on our website, but I still need to add them to our Etsy shop…
We shared our K+N logo from our own wedding, along with some ideas for other wedding-type décor, like a metal guest book, guest favours, etc.  We handed out a lot of business cards, so hopefully it pays off to get our name out there!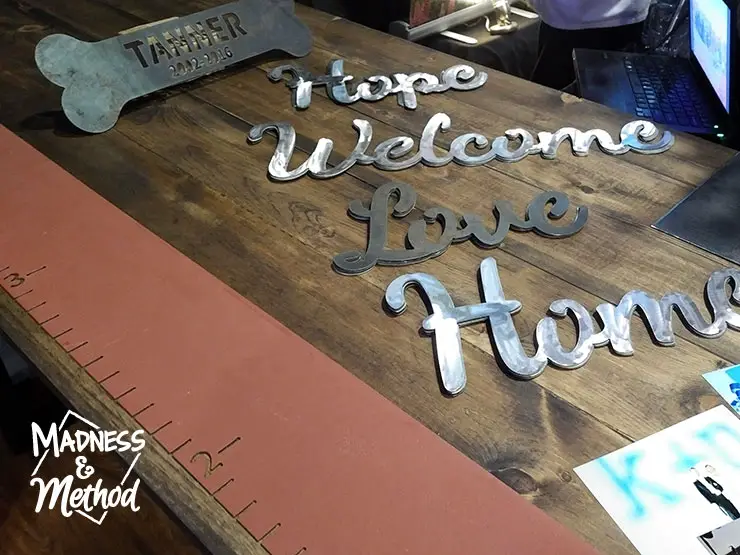 Because our business is mostly custom-made signs, it's always a bit difficult to show examples of what we can do AND come up with product ideas that could be more (mini) mass-produced.  We brought a few growth charts and some other sign multiples we have.

A fun thing I've been working on lately (just in time for the holidays!) is coming up with different ornament ideas.  We have a bunch of fun seasonal shapes, but also letters that you can gift to friends and family (hint hint!).  My Papa helped with our show setup, and I was thankful we had a bit of extra muscle to bring our big furniture pieces in.
What we Learned at Our First Show
While we had plenty of pieces that we could have sold, we didn't sell anything that day.  I think because it was a wedding show (and the brides-to-be were just looking for info), people didn't anticipate spending any money.  At the same time, and again because we offer a lot of customization options, things that people would want to buy would be more personal.
Had we been vendors at a craft or makers show, it would have been a completely different vibe AND we would have probably needed to bring more items (and show less wedding-themed things).
I had attended a wedding show at the same venue a few years ago, so I knew a bit what to expect layout-wise, as well as what types of vendors would be there.
We also didn't have a big sign hanging above our booth, so we might need to invest in one in the future (we did have a metal one hanging off of our table – but it wasn't as visible/obvious).
I am thankful that we had plenty of business cards AND even talked to a few fellow vendors who are at least aware of who we are and what we can do.
As a bonus, I did get a chance to talk to "real" people about their ideas that they might like to see custom made.  There are even a few things that I can definitely start designing and we can make to add to our inventory/examples.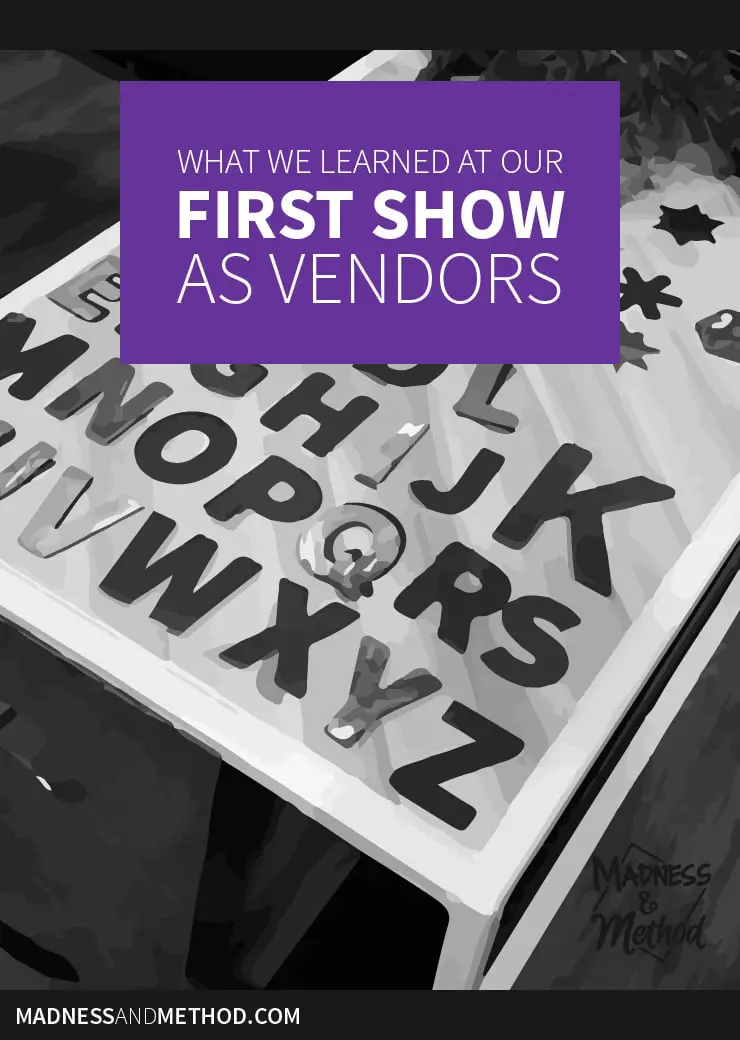 The Husband is hoping that the word-of-mouth slowly spreads for our business, because that's a big draw for local businesses.  I'm happy we took the plunge and decided to be vendors as our first show setup was a good learning experience.  Only time will tell if brides are receptive to our business idea for the wedding niche – but it was great to how people how metal can be used in different, non-traditional ways.
Oh, and if you need any metal tables too – we can totally make them :)