Phew, what a whirlwind (almost 2 months!) that has been right?!  Last week I showed off our nice and organized garage makeover, and as promised, today I have a couple more photos and details to share!  I would have liked if the Husband had organized his bike zone nicely, but he says I did a good job anyways :)  For those who saw the before, this is after our garage makeover (spoiler – there's a little something making it messy…)!
– Note: This post contains affiliate links. See more information about affiliates here. –
Just in case you're just reading about our garage now, we completed a makeover in this space for the Fall One Room Challenge, and you can see all the final photos and details here.  And, if you wanted some more nice photos, here's a super mini recap: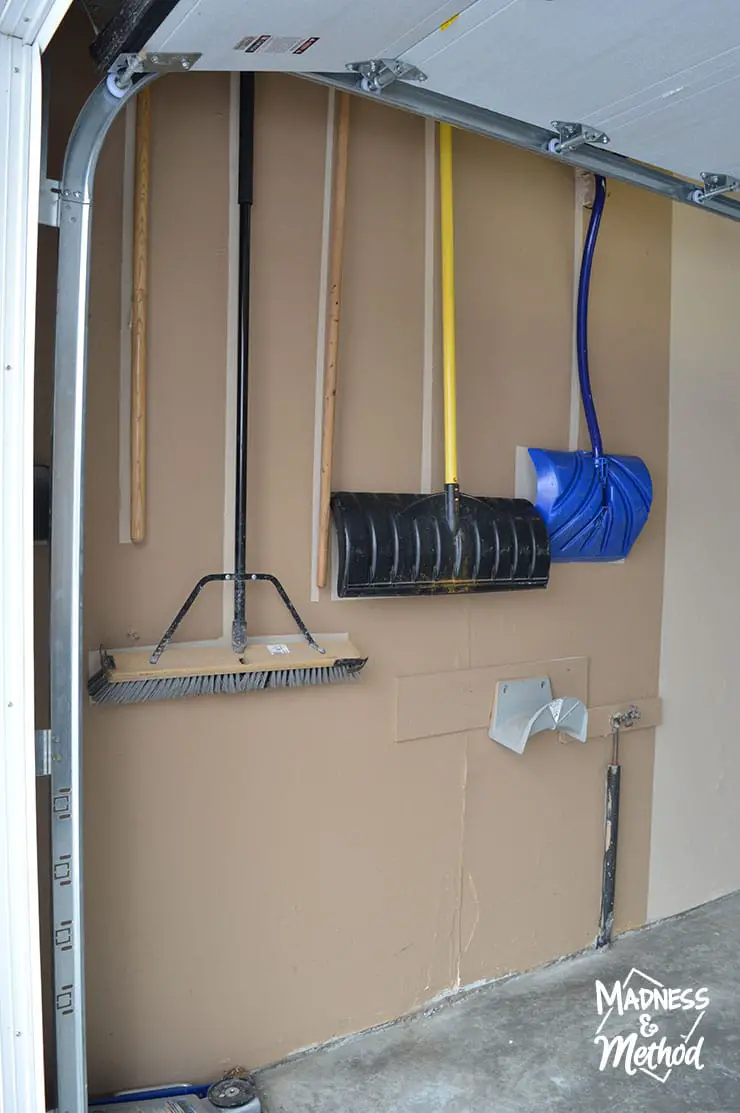 Our tools were neatly organized and hung on the left side of the big garage door, and they should always be back to their original location (except in the winter, when our snow shovels live on our front porch for easy access).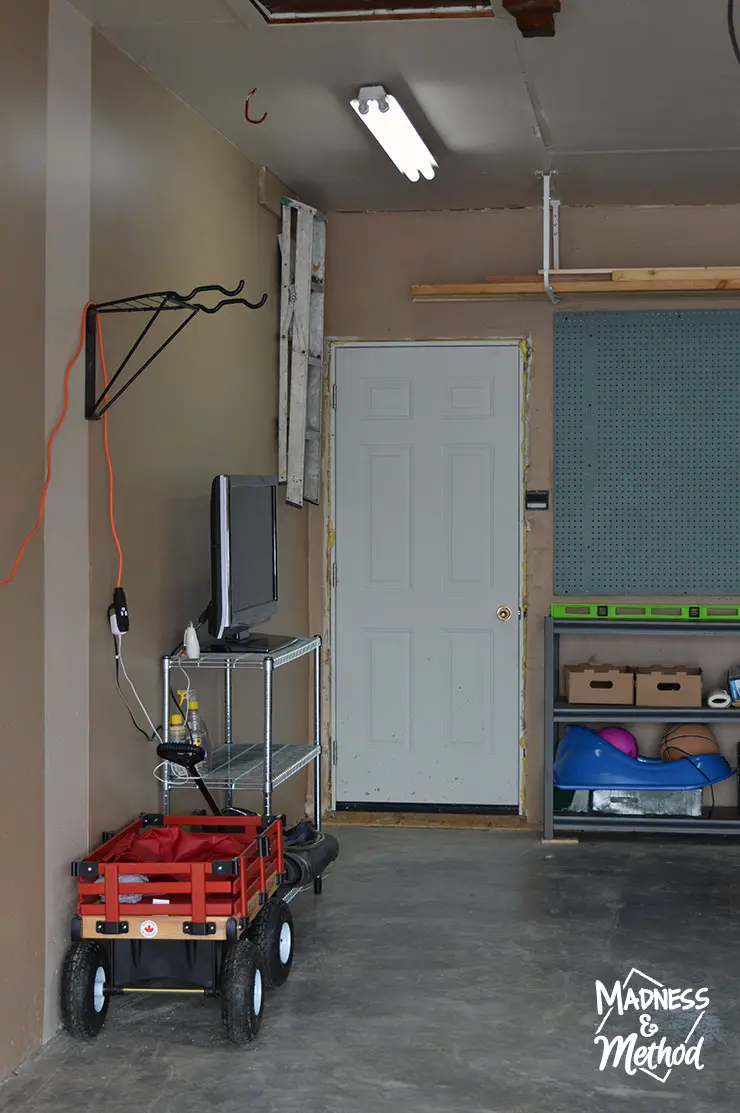 One of the main reasons for giving the garage a makeover was so that the Husband would have a designated bike zone.  We moved the TV from our living room here, and I gave him his own shelf for all his bike gear.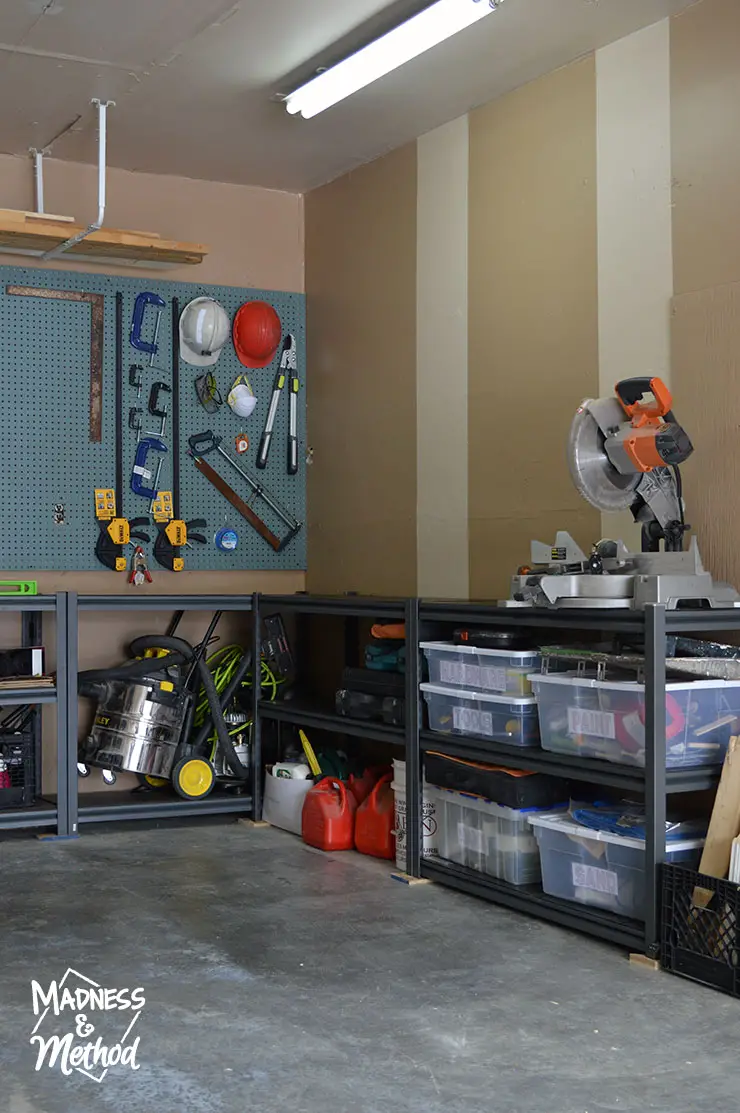 For me, I wanted a designated work zone that was both functional (I mean, it was before) but also very well organized!  We brought up so much stuff that we had stored in our crawlspace, and now that almost everything is centrally located – things will be much easier to find!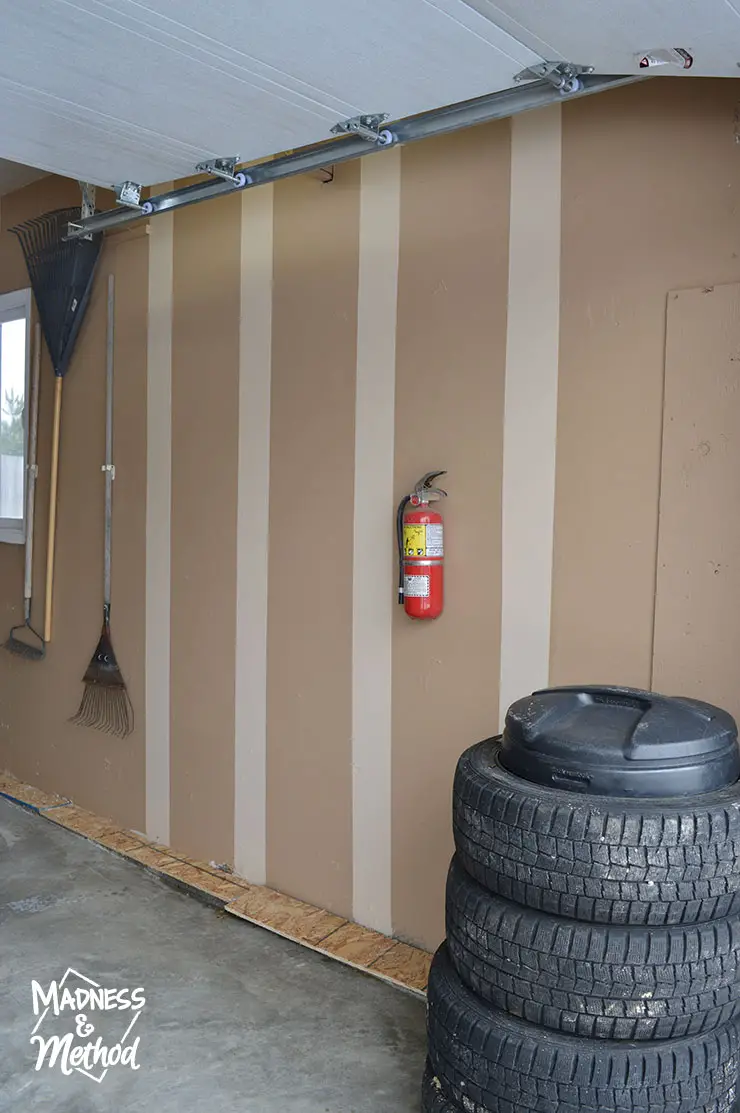 We painted everything in the garage, and I did add some fun stripes to break up all the beige.  Don't worry guys, the Husband did install my snow tires this weekend, so now they are no longer taking up space in the garage!  (I rolled the summer tires into the shed btw).
After Our Garage Makeover
Remember when I mentioned that I wanted to take some good photos of the Husband's bike zone all setup?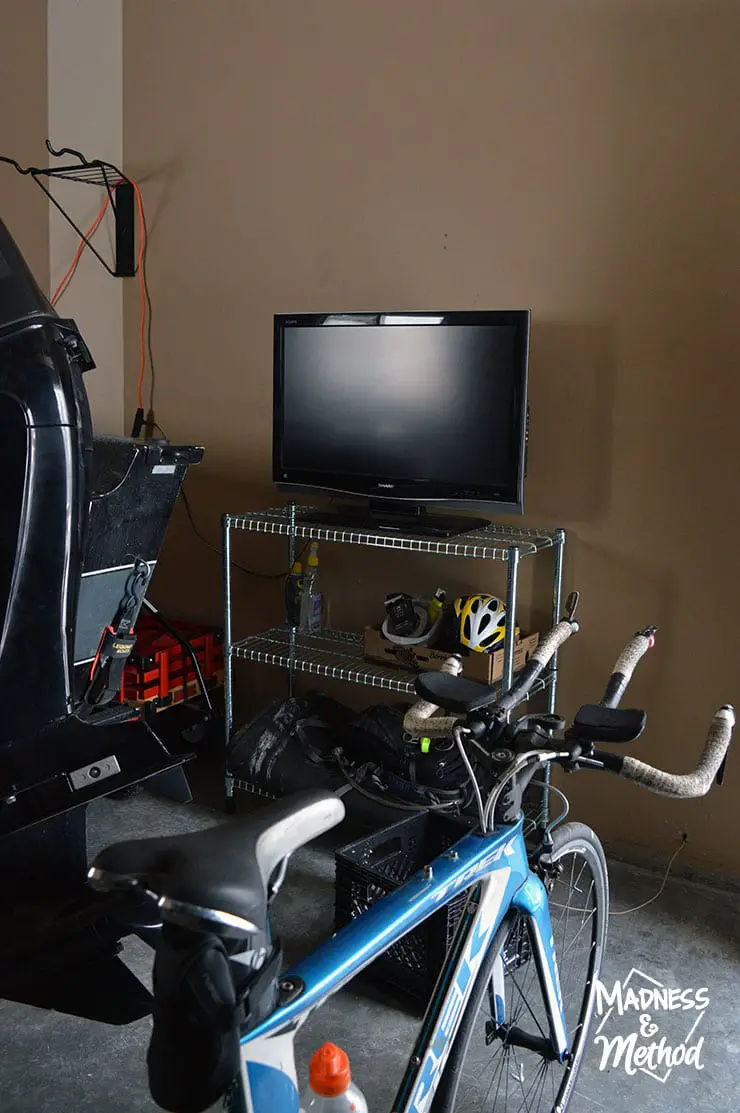 Well apparently to him that just meant putting his bike on the trainer and calling it a day.
Oh wait, do you see something on the left there that wasn't in the photos for the reveal!?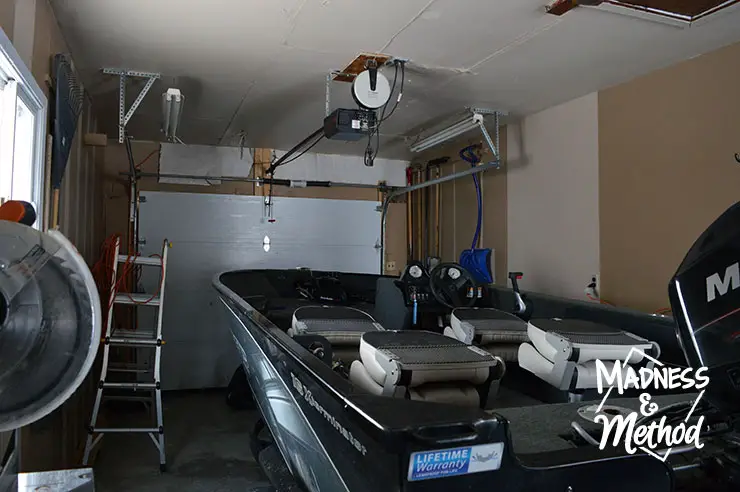 With snow in the forecast last weekend, someone decided to park their (still not winterized) boat in our brand new garage!!!  And, can you imagine if I would have had to work around this thing when doing all the final tasks!?  He's supposed to bring it to its permanent home (next week hopefully!), but for now my poor car has to suffer outside in the snow :(
Oh, and that extra ladder is one we borrowed from a friend – my plan was to finally clean the gutters this year so we wouldn't get the falling ice in front of our door as usual.  PS: the snow is here to stay and I don't think I'll be able to clean the gutters.
And by that I mean that it was actually above freezing today and some snow melted.  Unfortunately I tried getting the plants + dirt out of the gutters, but there was still a big chunk of ice.
Remember the cute plastic bin organization?  I had been planning what was going to go in these for a couple of weeks, and I think I figured out a system that should work.
Here's some more details:

Our hardware bin has all our screws, nails and fancy hardware – and I still have a few random baggies to go through in the house.  The tools bin is for all our miscellaneous tools that don't belong in their own kits (we have two on the shelves).

I actually had this empty bin leftover from when we did our big Minimalism Game purge in August.  I thought that the lid reminded me of a saw, so I knew I would use this bin for our saws (and saw blade drill bits).  Technically, the circular saw doesn't actually fit in the bin, but the lid still mostly closes.

The last two bins are for sanding (sandpaper, sanders, sanding blocks, etc) and all my painting stuff.  I did keep a couple of paintbrushes in the house, and we could probably go through and get rid of a few things (how many rollers does one household need?)
What's not in the garage?
Because it's still very much a cold space, I kept our drills inside as they are battery operated.  All our drill bit kits are also in the house and my Kreg jig too.  I also kept all the paint in the house, and left a hammer near my paint cans to close them whenever I need to.  Eventually we'll go through the last few areas in the crawlspace, but in the meantime I've also organized at least one bin that was messy before! (It's for all my adhesives and tape – again, didn't want them in the cold).
The Rest of Our House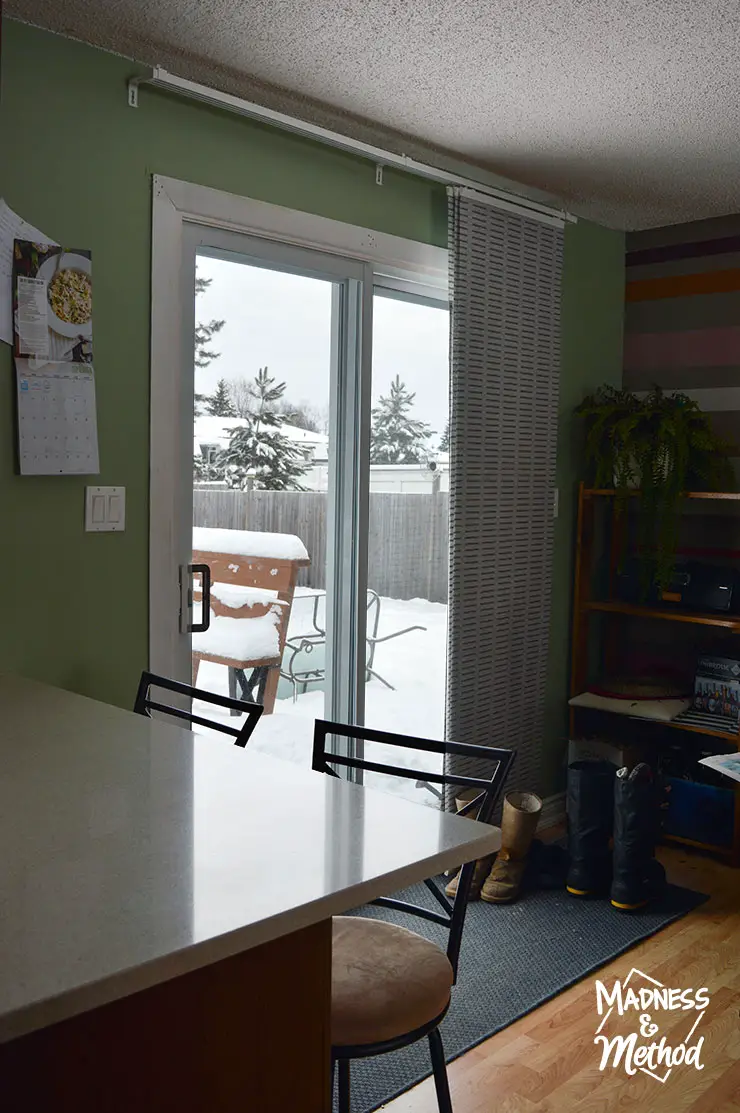 I think I shared a super messy picture of this same area in week 3? Well, everything's back to normal – and I couldn't be happier!

And this is all the snow we've gotten! I managed to clean off most of the back deck, and had I listened to the Husband, all our patio furniture would still be out here under a foot of snow (don't worry, everything will melt he said!). As I was moving things back and forth from the shed to add back into the garage, I figured I might as well put away the chairs and stuff…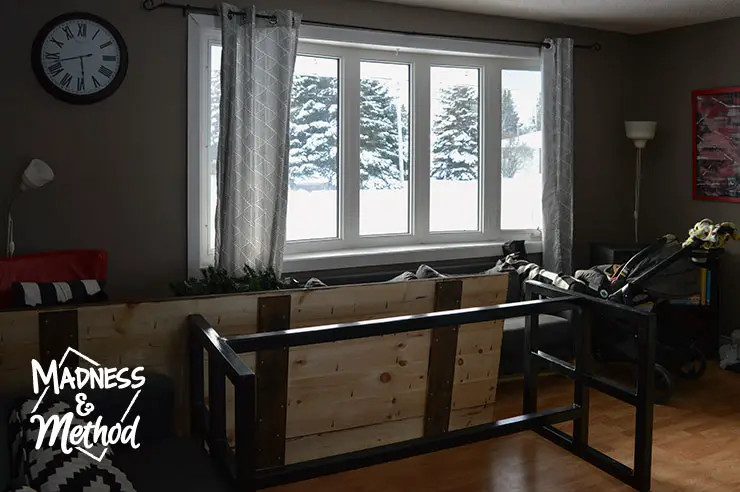 Unfortunately, our front living room is still a big messy zone (although it's more show stuff than garage stuff). Since we no longer have a TV in here, I decided to move the shelf it was sitting on into our bedroom.
We'll be setting up the Christmas tree in here soon – so stay tuned for that (and let me know where the heck to put an extra table!?).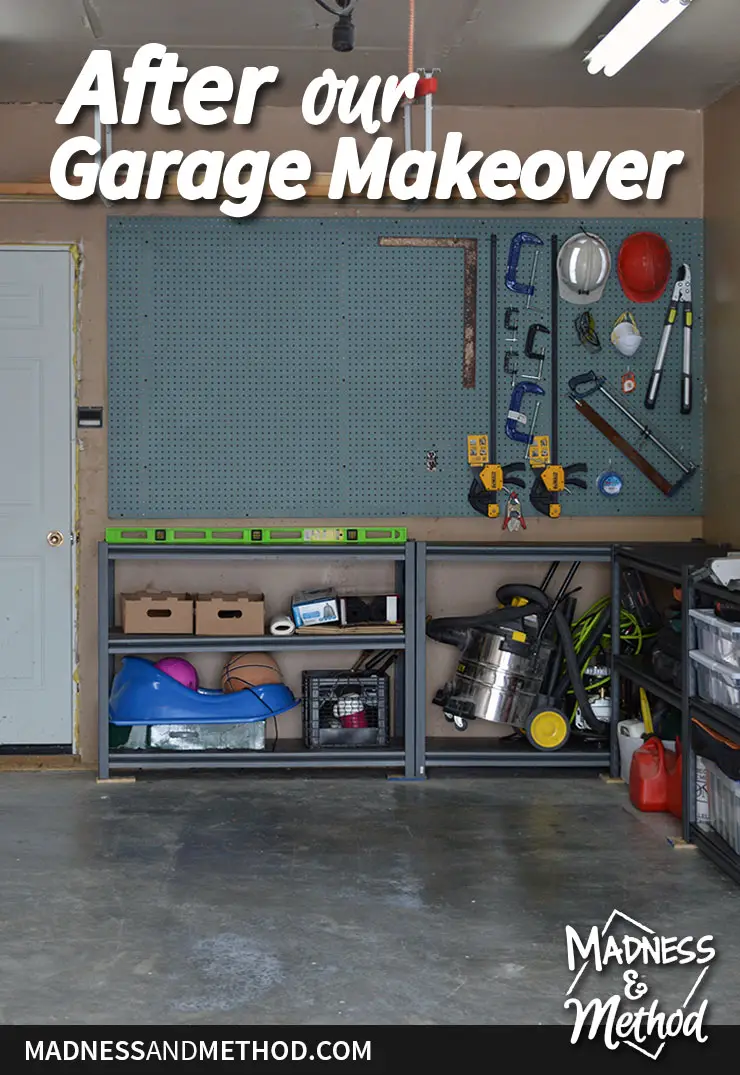 While 95% of the garage looks the exact same compared to the reveal last week, I know it's going to take the Husband a while to get used to the new setup (yes I've already cleaned up some of his things, and by golly that boat better be gone soon!).
I'll keep you guys updated when we get the heater installed and add the casing to the door :)
But for now, that's another completed renovation!