We're super crazy busy this weekend (both finishing up our garage makeover AND prepping for an upcoming show).  I'll talk more about said show next week, but in the meantime, I wanted to pop in with a small sneak preview if you will…  We built a new metal and wood coffee table for our basement, and although I did manage to take some pictures this morning, we won't be using it for another few days.  But let's look anyways!
First things first, we designed this metal and wood coffee table as part of the Husband and I's new-ish business: Kennville Custom.  Our baby growth chart was also a custom creation, and the plan is to hopefully start designing and building things more regularly.
I drew up a simple 1×1 base out of metal and had it painted white.  I then cut a bunch of 3″ poplar boards for the inset top and the plan was to stain them dark to match our DIY baby gates.
The Husband mentioned that he preferred the light look of the natural wood, so I decided to lightly whitewash it instead. There were a few boards that I wanted to lighten extra (I thought they were too similar to their neighbours) – so I did an extra coat on those.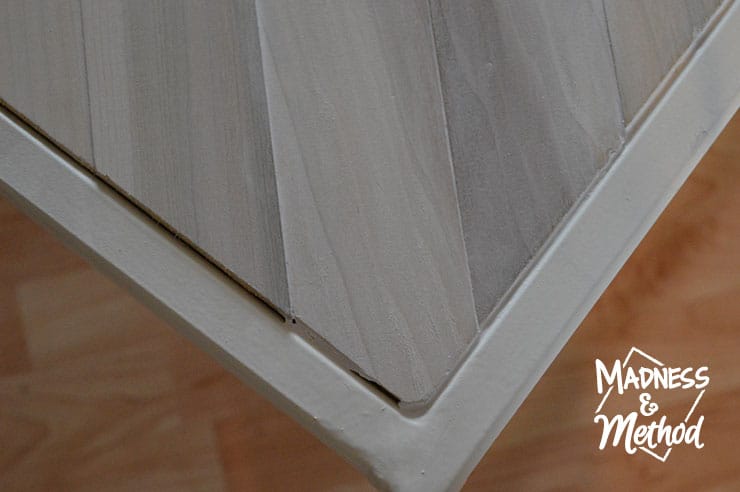 After doing a nice whitewash and letting everything dry, I went in and sealed the edges with some regular white caulking.  Because it's an inset top (rather than one that sits on top of the metal) – I wanted to make sure that no future crumbs would fall down.
I then sealed the top with a few coats of Polycrylic, and now it's ready!  And yes, I do know some of the boards are not perfectly level… but they were super tight in the metal base and it was hard to move them around afterwards.
I matched the dimensions of this table (48 x 24) to our wooden coffee table in the basement.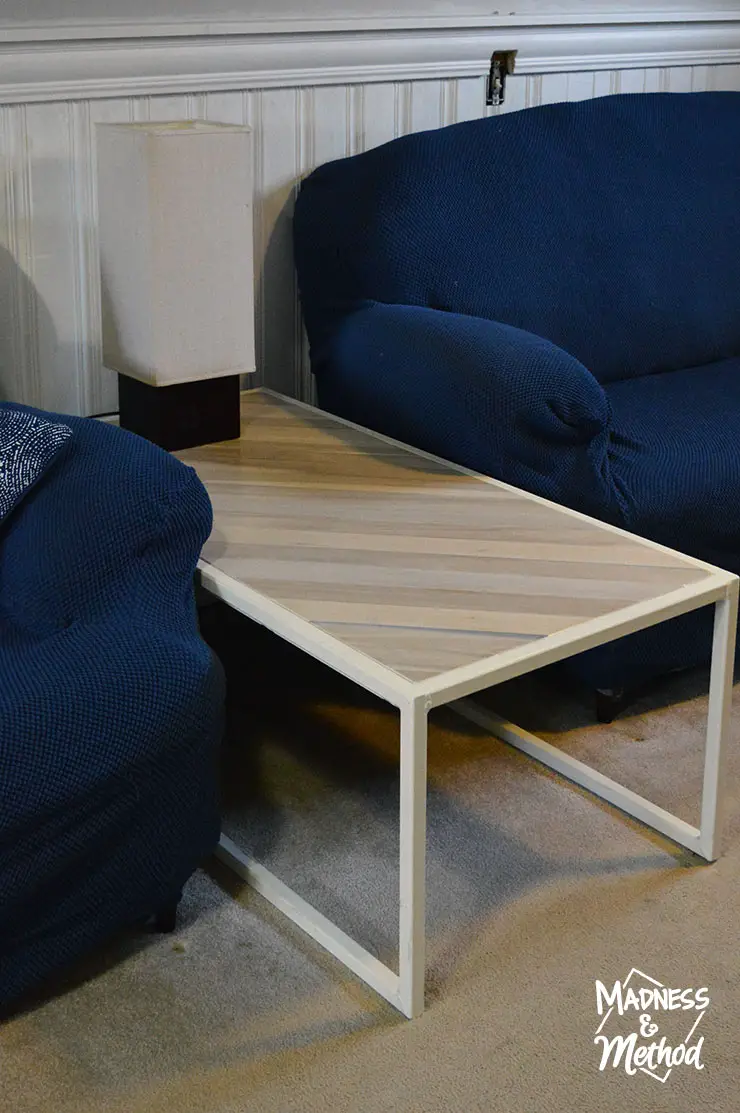 Technically, people place side tables next to couches and coffee tables in front of couches.  But we like this setup because the mister can't reach the stuff at the back!
Although the whitewashed boards don't match the dark baby gate boards, it still goes with our light and bright updated basement.
I'm hoping all the coats of Polycrylic payoff, and we don't get any spills and messes on the new metal and wood coffee table!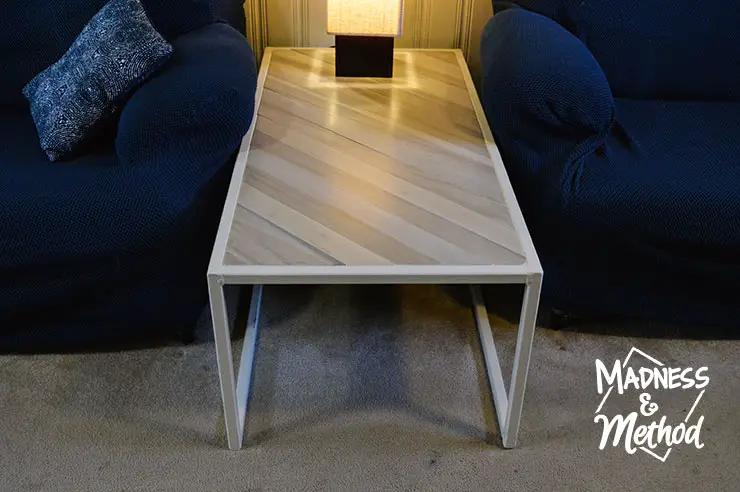 I also re-arranged the slipcovers on the sofas because they were getting a little out of hand.  We purposefully used just side bars at the base so that Tootsie (and the Mister) could still be free to crawl around under the table.
The slimmer profile of the new metal and wood coffee table (and lighter colour) makes the area look just a smidgen bigger too (or at least, less cramped).  We'll be giving the old wood coffee table back to the Husband's parents, and they'll definitely make use of it.
I really like the new white metal and wood coffee table and hope that other people do too!  The plan is to build more (not necessarily with the same inset wood and paint colour), but it's always great to show an example of what can be constructed.
Metal is a pretty versatile material, and you can almost interchange any tops to create different styles and looks (like concrete for more contemporary, rustic wood for a more industrial look, etc.).
Well, I'm off to continue working… hopefully we'll have a completed garage to show off this week!