Labour Day weekend has come and gone – now Fall can officially start (okay, well not for another few weeks!).  We took advantage of the long weekend and decided to do a big road trip down south to visit my family.  It's normally a 7+ hour drive, but this was our first time with the baby… so it took a few hours longer.  Here is my recap of our visit home, with plenty of doggy and baby pictures :)
First, I need to mention that I am still behind on my personal schedule and to-do list around here!  Long weekends and trips in general always mess my OCD-ness up and it takes just as long to get everything back to normal.  I shared this image on Instagram of my Papa (but really wanted to take a picture of the roses).
And here they are all alone.  The ones in front of the window on the left always get SUPER tall.  That's our garage window, and my Dad always claimed it was because he used to dump out the bottom of his beers out the window… and that roses must love beer.  Not sure if that is true or not, but it would explain why they are extra-large.
Tootsie loves visiting my parents because she has extra people to play with.  She also like running around in their larger yard, and she's usually pretty good about staying in the boundaries (my parents don't have a fence).  This year she did go on the road once so we made sure to tie her up if we couldn't be next to her.
While we were down, my Mom was able to schedule the burial of my grandparents' ashes.  Unfortunately, my grandpa passed away in late May, and I was unable to attend the funeral because I was extremely pregnant at the time.  I wish I could have went, but I was really worried about travelling so far, and most airlines would not have let me on (I checked the rules).  My grandpa was the last grandparent on my side of the family to pass away, and he just missed the baby by a few weeks :(
Because my extended family lives so far away from me, my parents planned a "meet the baby" event.  Little Zachary loved all the extra attention I'm sure, but he pooped out early!  We kept him outside while he napped, you know, it was his party of course.
Although I think my family just wanted an excuse to get together and eat some great food!  The big smoker was out (it's my uncle's) and they cooked chicken and ribs.  We also got some items for an ice cream sundae bar, and other than bringing the baby, that was my only contribution haha!
The Husband likes visiting my parents too, because we get to be extra lazy!  What good are parents if they can't take care of you forever right!?  As you can tell from the photos above, he spent his "daddy duties" playing games.  "He likes watching me play" he told me… umm sure…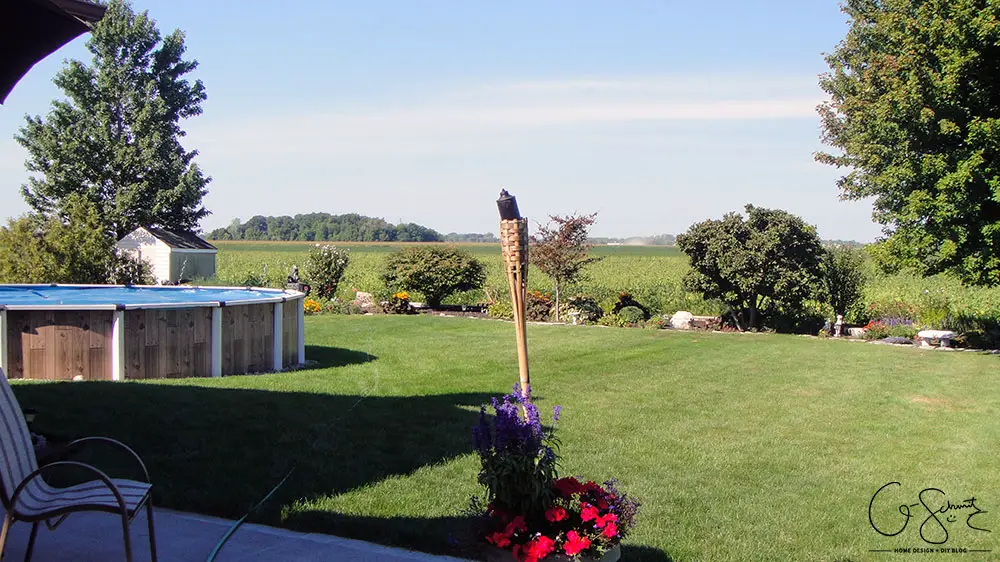 I mentioned before that my parents have a large open yard?  One thing they have that we don't (other than a super luscious lawn free of dog poop) is a pool!  It was nice because the weather got real hot at the end of our trip (like 90s-100s hot) and it also came in handy when Tootsie got a little dirty…
I didn't know what she got into (we're thinking it might have been the barbecue grease?) but she was covered all around her neck and was dirty and stinky.  I dragged her to the back yard and threw her in.  I should mention that Tootsie HATES the water.  Like we avoid giving her baths since it seems to traumatize her so much.  Also she looks real mangy when she's wet!
Actually, here's a picture from her first time in "big" water last year – which is my parent's pool again.  Can you not see the sadness in her eyes?  I don't think she could have climbed up on the Husband any higher haha!  Since then, she's only ever willingly gone in to the water maybe twice (a lake or river) and only because she was super-hot and there was another dog there (doggie-pressure maybe?).
Anyways, also in my parent's yard (along the landscaping in the back) is this old farming tool.  It was one of my Papa and I's first DIY projects actually!  It was his family's at the farm he grew up on, and he cleaned it up then we spray painted it together.  Clearly it needs another coat, but I think the first one was like 10+ years ago.
Baby took advantage of lots of nap times (there he is lying on the blanket I used as a child!) and obviously still loves his arms-out position.  (That's the same room/carpet from this picture I shared on Instagram)
He loved all the extra attention and cuddles he got all weekend, and who knows what he's thinking now that we're back.  "Oh, just you Momma… pah" – or something like that I assume :)
And, like I mentioned before, Tootsie likes all the extra attention too.  Can you spot her and my Mom walking in the photo above?
The day before we left, I had to make a trip out to Colasanti's (a local garden/family attraction) and I picked up a few plants.  The one on the top right is going to go on my new plant stand.  The Husband loves when I buy plants that we have to drive back 10 hours (sarcasm).  I think I'll take a picture of them to show everyone soon-ish (the hanging one is in the kitchen).  He surprisingly did say "Good Job Wifey, I like that plant there" which is actually a super good compliment considering how much he complained about having to transport them so far.
"I'm pretty sure they have plants in Sudbury." "Why do we need these?" You get the picture.
Our ride down was more difficult since we left so late in the afternoon and got in close to midnight (baby needs to eat like every 2 hours) – but on the way back he was only really fussy for the last hour or two.  I couldn't get a picture with all of us together, but this is close enough (the Husband was driving at the time).
I love visiting my parents, and it's unfortunate that I live so far away.  Now that we have baby, the car rides are at least 2 hours longer, and we have twice as much stuff too!  The Husband is already dreading the drive down for the Christmas holidays (traveling with the risk of a snowstorm is not fun) so I'm hoping we get good weather
The next big car trip with baby will be in two weeks for Blog Podium, and it will just be me and him, and half the time – so it should hopefully go much smoother.  We're also taking a nice big detour at Ikea, so at least he's not stuck staring at himself in the mirror the whole time!
Thanks for visiting :)
(See what I did there?)