Hello all – I have a super fun bathroom makeover to work on these next few weeks!  Spoiler, it's almost done, but I'll be sharing all the project breakdowns so you can follow along easily.  Oh, and before you think that we renovated a bathroom at our house – this was for my brother.  Ready to see all the beige bathroom before photos?  Plus the plans for my brother's bathroom!?  Let's get to it!
It's the start of April, and that means the start of the Spring One Room Challenge.  I've participated in so many other ORCs throughout the years, so it was a no brainer to do it again.  There's an overview of all my past projects below.
But let's talk about this bathroom now!
As a recap: a few years ago I renovated my brother's main floor powder room, and he wanted his other bathrooms to match.  He is very anti-beige, and his whole house is beige-on-beige-on-beige.  In the years since, I also designed his other bathroom and renovated his kitchen.  Best big sister ever :)
The big problem is that he lives about 7-hours away!  So I packed up the kids, shipped them to my parents, and brought a bunch of supplies to his house and prepped for a week of work.  The photo above shows what I brought :)
Beige Bathroom Before
Here are some photos of the bathroom cleared and ready for me to work.  Yellow beige glossy walls, off-white fixtures and shower tiles.
Beige sheet flooring, beige counters, beige sink.
It's pretty much a carbon copy of his previous powder room, with the addition of a tub.
You know, off-white with beige tiles, little flowers, and could use a cleaning (I did that too, don't worry).
This bathroom is the main one used by his roommate(s), and is right at the top of the stairs on his second level.
Did I mention that I'll be painting everything!?  Other than swapping out the toilet, everything else in the room is staying… but upgrading!
Beige Bathroom Plans
Essentially, I'm doing the same thing upstairs that I did downstairs:
Yes – those are all the same surfaces (other than the toilet).  Fun fact, that was my second time participating in the One Room Challenge, way back in 2017!
Check out all the related posts here: Design Plan | Demo | Counters | Cabinet | Floors | Mirror | Diamond Accent Wall
OR wait to see how this project turns out… since it will mostly be the same :)  Oh, and I did a follow-up on how his bathroom lasted after 3 years, if you were wondering.
The biggest change?  We'll be doing a different accent wall.
I measured the wall and presented some options to my brother.  Can you guess which one he went with from the 6 options above?  His roommate chose the exact opposite designs that he liked, ha.
Let me know what your guess is!  I'll be sharing that in a few weeks I think :)
About the One Room Challenge
Visit the One Room Challenge blog to follow all the fellow participants!  Haven't heard of the ORC aka One Room Challenge?  Over 10 years ago, Linda of Calling it Home created the first 6-week makeover challenge.  Since then, it's become a bi-annual event (now 8 weeks) with thousands of completed rooms so far.  During the ORC, people makeover a room at their house and link up their projects each week to share with everyone else.  It's become super big on Instagram too, so follow me there for more behind-the-scenes :)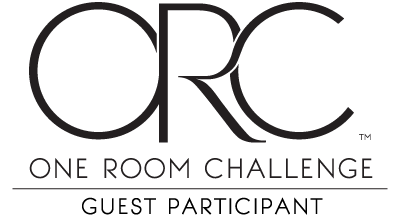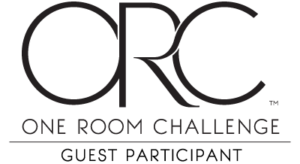 Check out my past One Room Challenges: 
So, what do we have to do to bring this boring beige bathroom before to a bold and bright beautiful space!?  Painting the walls, floors, cabinet, counters, tub/tiles and more!
As mentioned above, I completed most of this makeover during the kids' March break.  So yes, you can get a full bathroom made-over in about a week. But it was a LOT of work, and there are some things that I need to go back and finish.  Ya… need to schedule some time to get to it :)
Hopefully before the One Room Challenge is done!