We're back with the next colour inspiration post!  It seems like there are soooo many variations of green, so I tried to choose different rooms in different hues.  I could have easily included twice as many spaces, and really did have a hard time narrowing my options down.  Let's dive into some colour inspiration with green!
– Note: This post contains affiliate links. See more information about affiliates here. –
Love the colours of the rainbow as much as I do?  Check out the first post on red here, the orange post here, and the yellow inspiration post here. I did a similar thing on my Facebook Page last year, but I really wanted to deep-dive into inspiration and feature interior spaces here on the blog.
Green Inspiration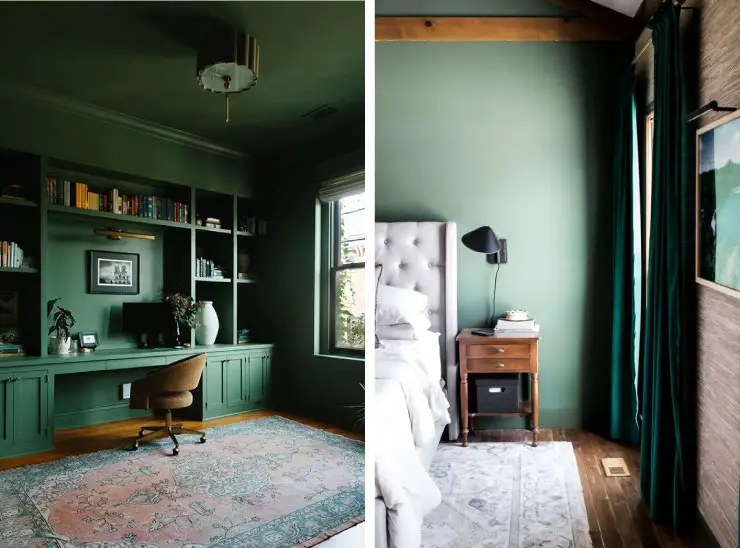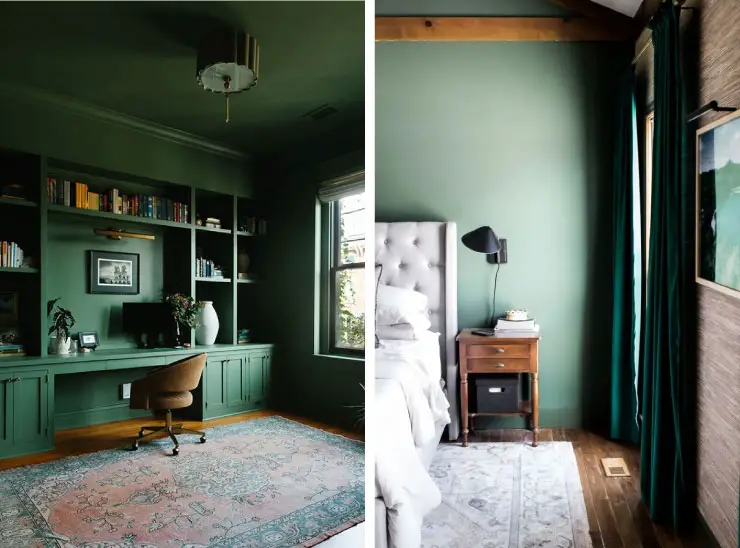 Let's start with some moody dark green rooms, both with lovely wood accents.  On the left, the grassy office painted Farrow and Balls' Calke Green was designed by Journey + Jacobs, shot by Lang Thomas Photography.  It's a bold space in a more neutral home, and I love that everything is painted the same colour!  On the right, the green walls contrast nicely against the white headboard and bedding in the bedroom by Lora of Craftivity Designs.  Those deep green velvet curtains pair perfectly as well!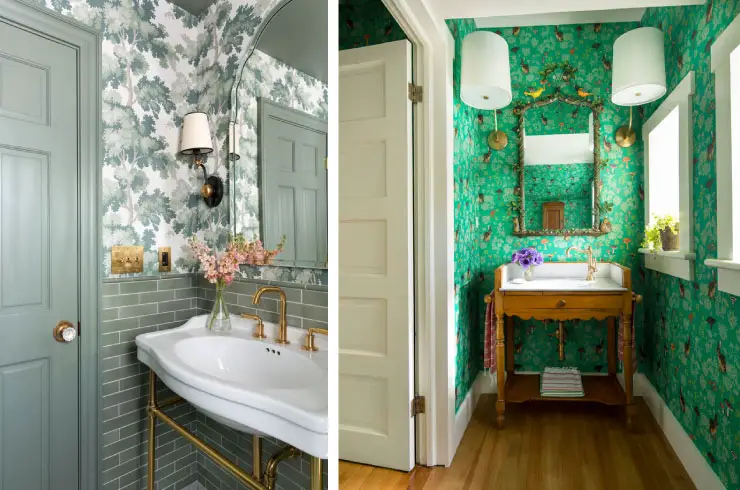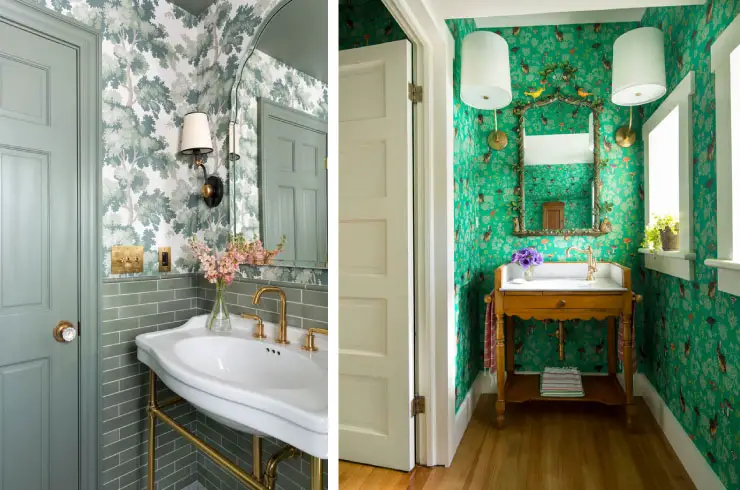 Thinking about doing a green bathroom?  These spaces are great inspiration! On the left, the beautiful main floor bathroom designed by Erin Kestenbaum is probably my dream space.  SCW Interiors designed the fun bathroom on the right, photographed by John Bessler.  I adore the oversized sconces, sweet wood vanity and, of course, the vibrant green wallpaper.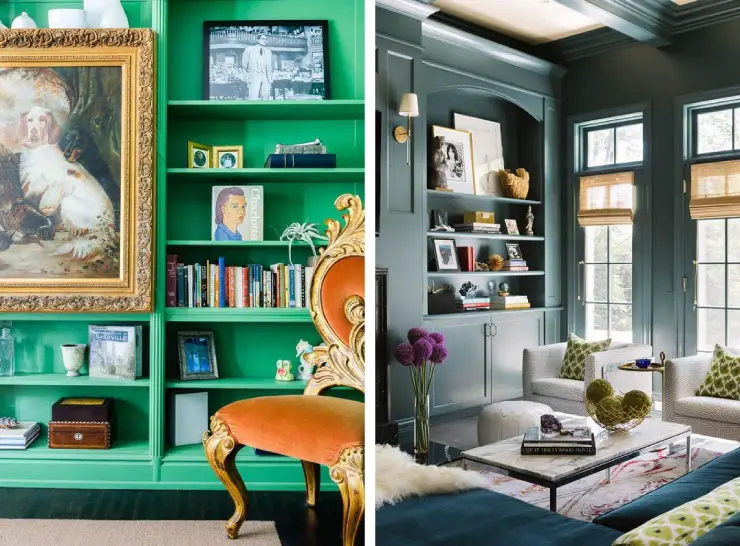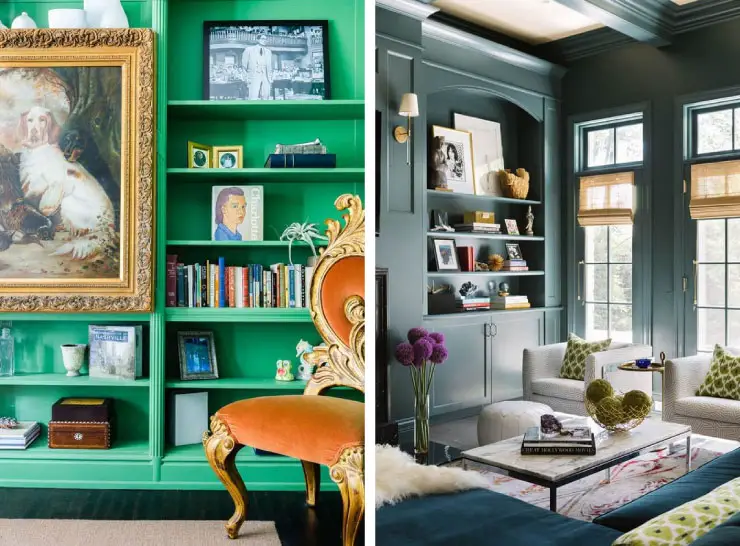 Green really does look great on built-ins, right!?  The bright green room on the left is by JL Design Nashville, and I love the saturated hue in comparison to the more traditional chair/frame.  There are a few colourful spaces in this home by Sarah Vaile Design, but the deep teal-y green in the living space on the left is definitely my favourite!  The walls shift from more blue to green depending on the light/photos, and there's also a complementary sofa that pairs really nicely.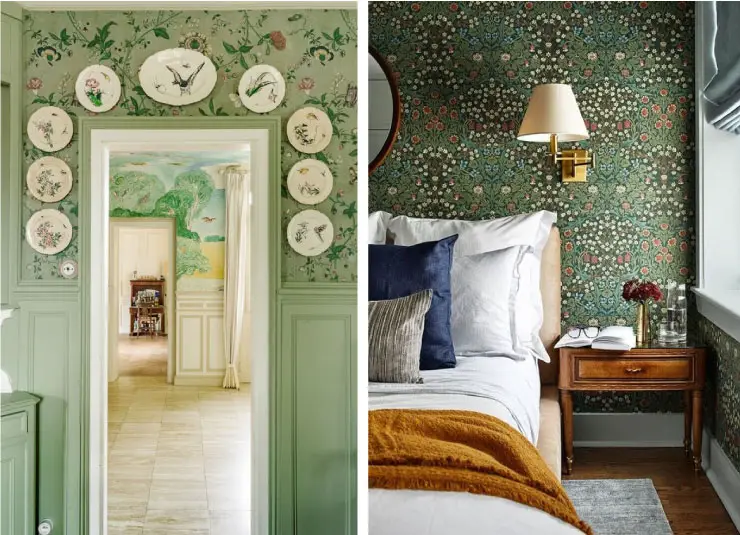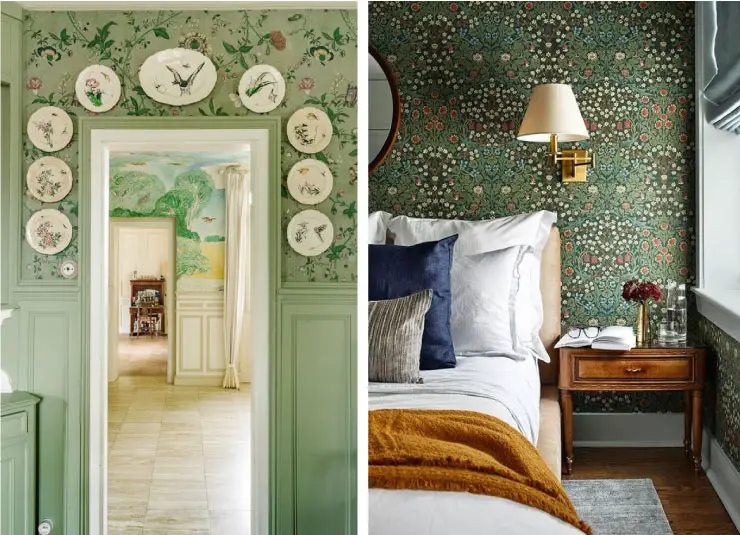 These two spaces have something in common: green wallpaper and trim work!  Going with a tone-on-tone look, the doorway on the left is in a home designed by Tristan Auer, photographed by Amaury Laparra.  Check out the mural in the next room – the whole house is amazing!  On the right, the bedroom designed by Zoë Feldman and photographed by Stacy Zarin Goldberg has the most subtle green trim (almost a light mint?).  (But also check out the green bathroom, and possibly green kitchen).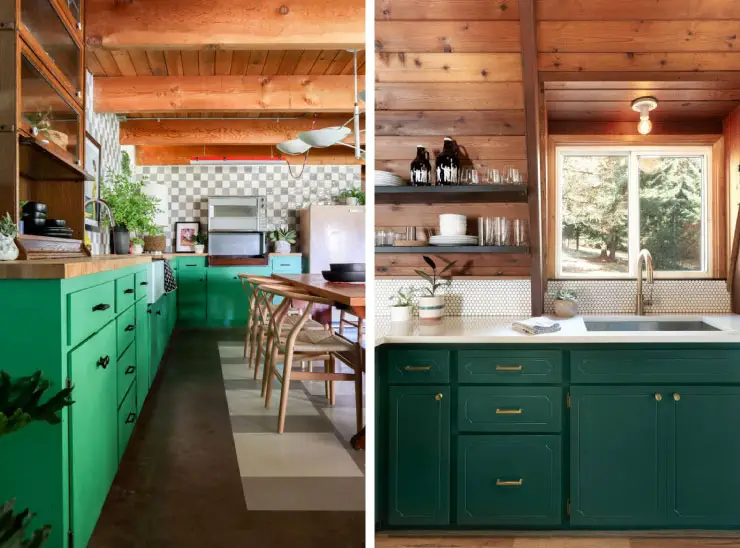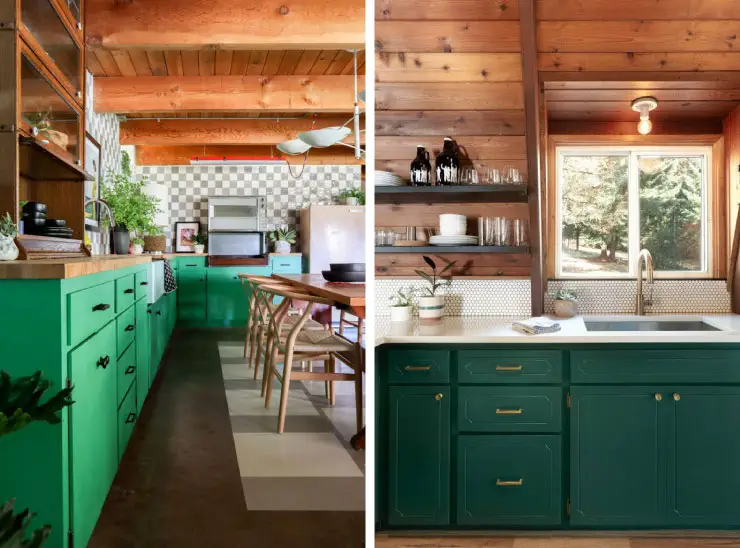 I saved the kitchen for last and I chose these two images for a reason!  Notice how they both have planked wood ceilings?  This is similar to the kitchen we'll be doing for our Rocky Retreat cottage… but I think it will be a bit different!
On the left is the basement kitchen by Rachael from Banyan Bridges (completed during the Spring 2021 One Room Challenge).  On the right, is a cabin kitchen by Copeland + Co. with darker cabinets and planked wood up the walls.
Green in my Space(s)
Whew, that was a lot of green!  I didn't think I used green too much, but I do have a couple of images to share.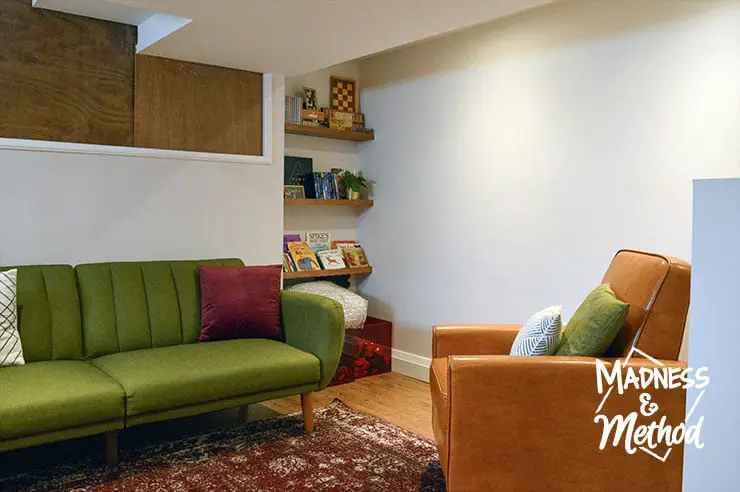 In our basement apartment, one of my accent colours is green – so we have a fun green sofa in the living room.  We also have two painted dressers in the bedrooms!
Our first kitchen had green walls both before and after the renovation.  I only remembered after seeing a photo of our striped accent wall (which we painted using all the colours of the house).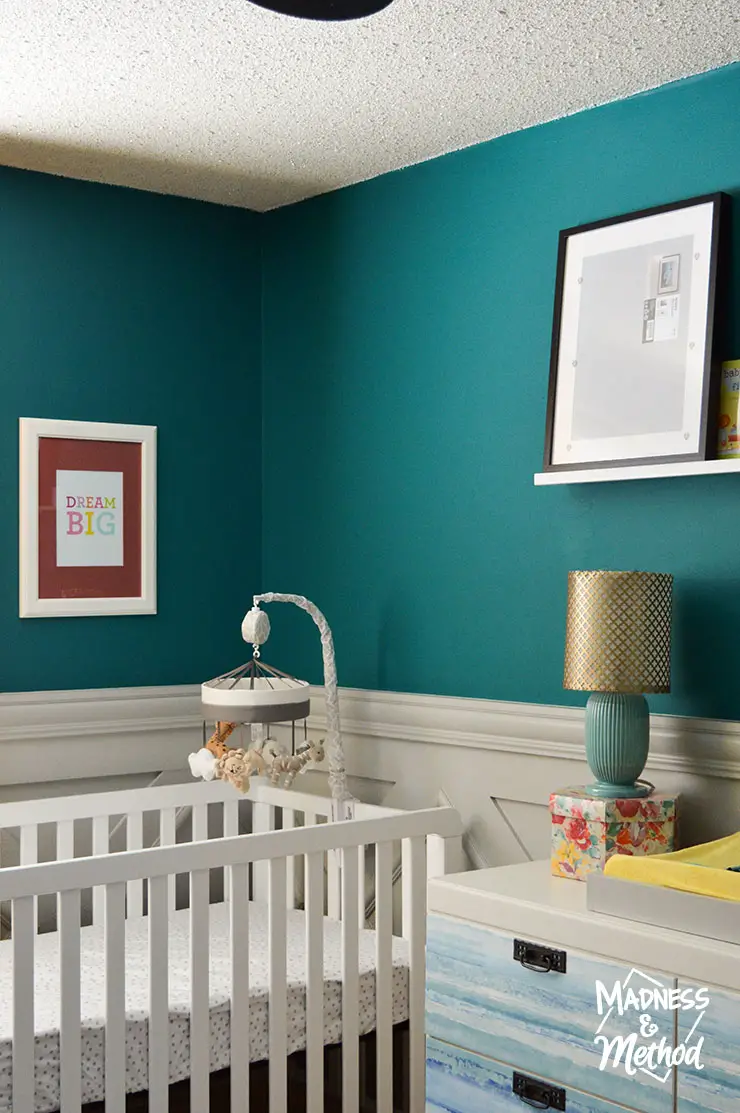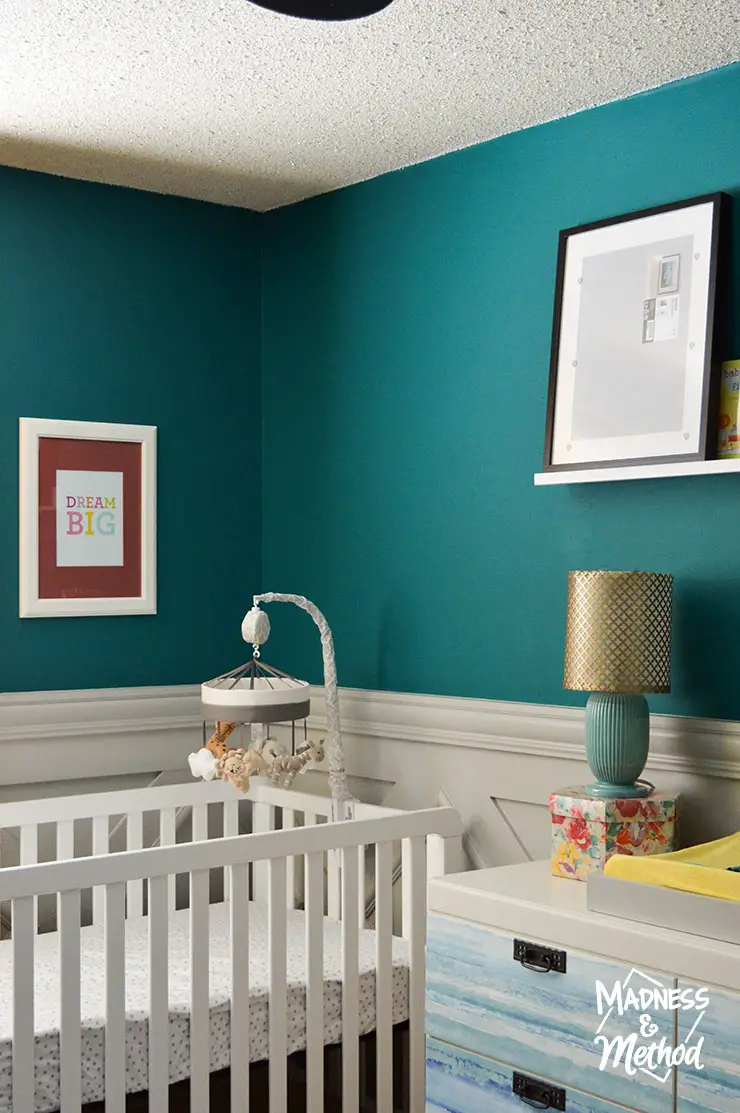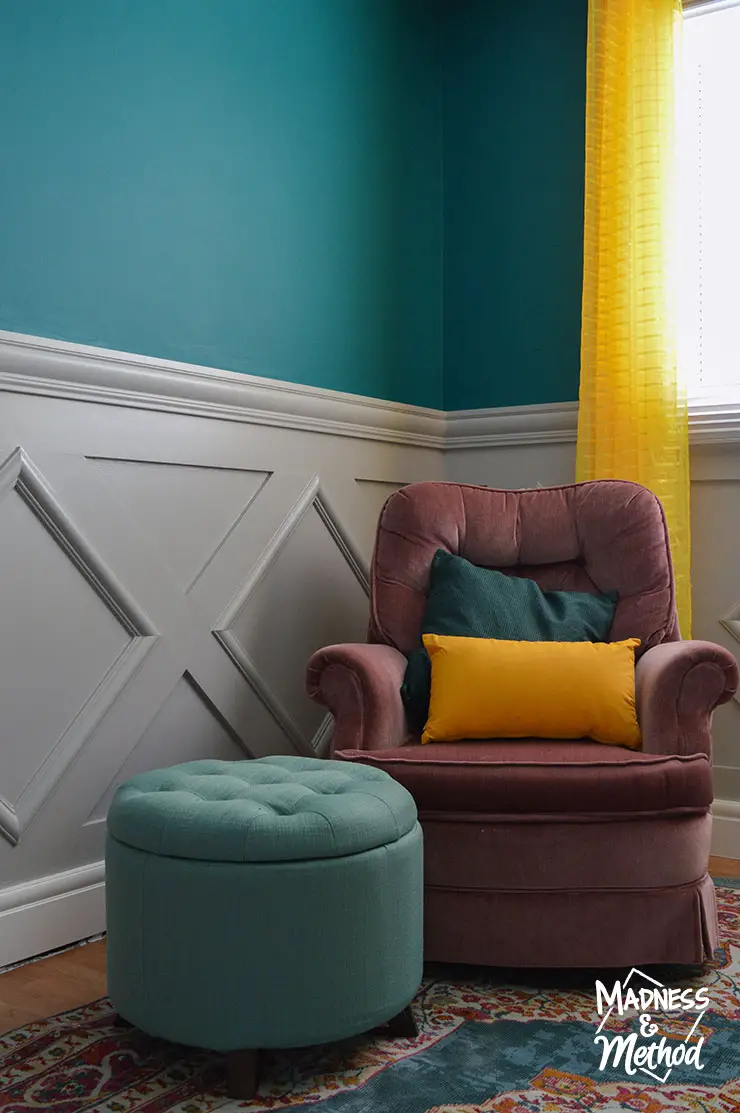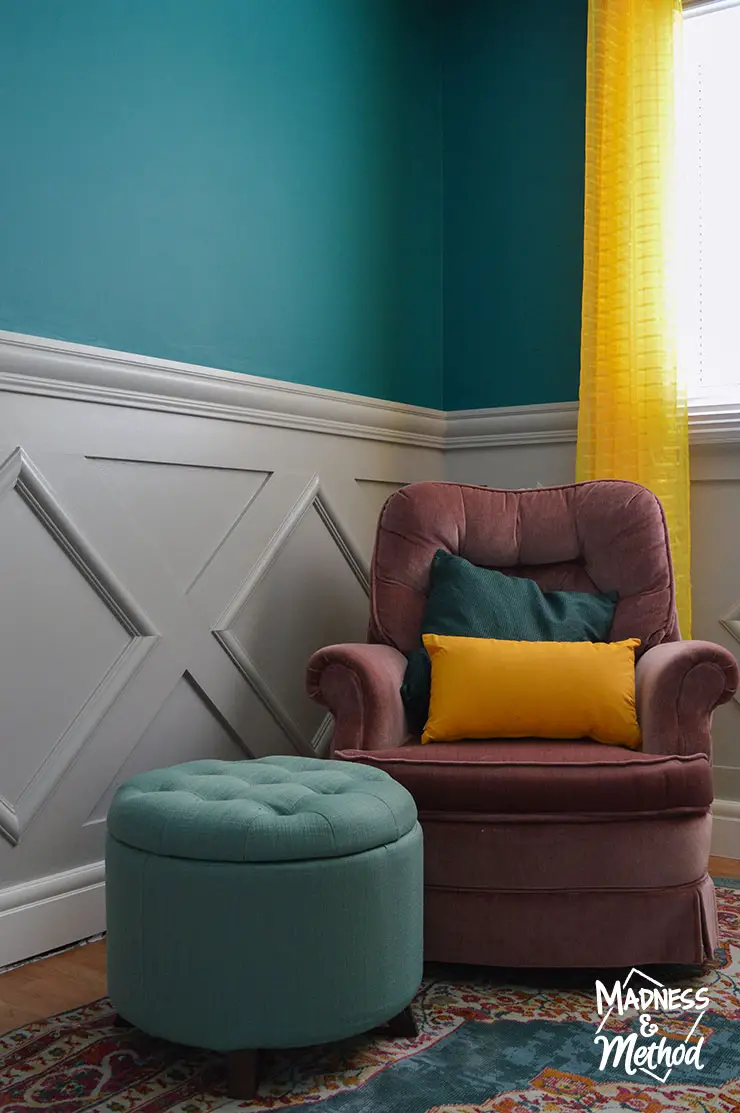 We also had a lovely deep teal nursery at the old house.  Technically, I consider teal a colour all on its own… but I really love this space so had to include it :)
I think I would have more green if the Husband liked it.  To him, green paint/interiors are "gross" and the only green you should have is nature (aka grass and trees).
But guess what!?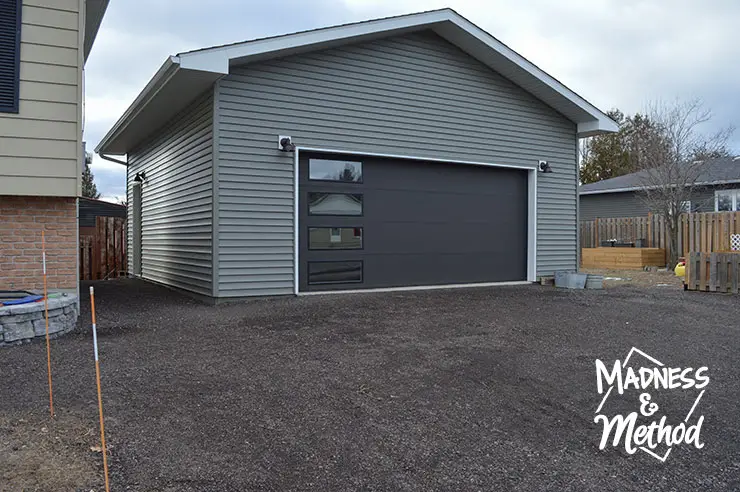 Mr. Anti Green helped choose a green siding colour for our garage!  It's called "Aviator Green" and to me, is a perfect grey/green.  I'm planning on bringing little bits of that colour inside, and we may also paint our house to match.
Green Home Products
Looking to add some green to your space?  Here is a modified product round-up that was originally posted on my Facebook Page.  Actually, it's a mash-up between the "green" and the "mint" themes that I did.  (Affiliate links used – thanks for shopping!)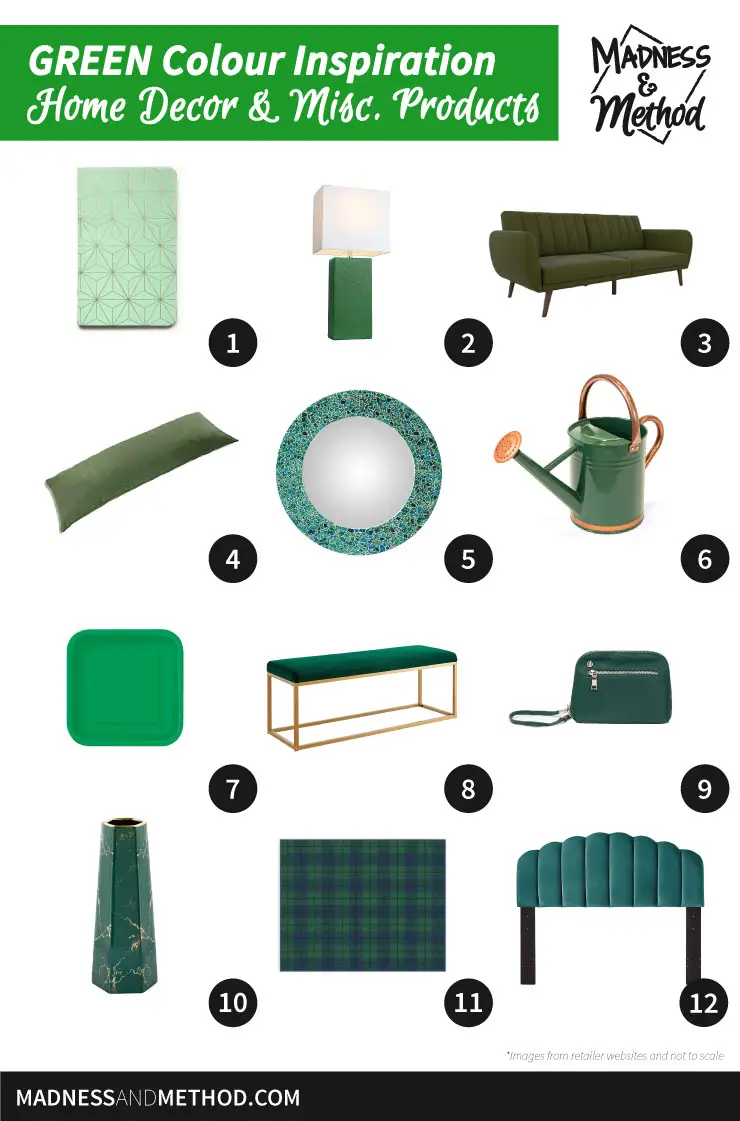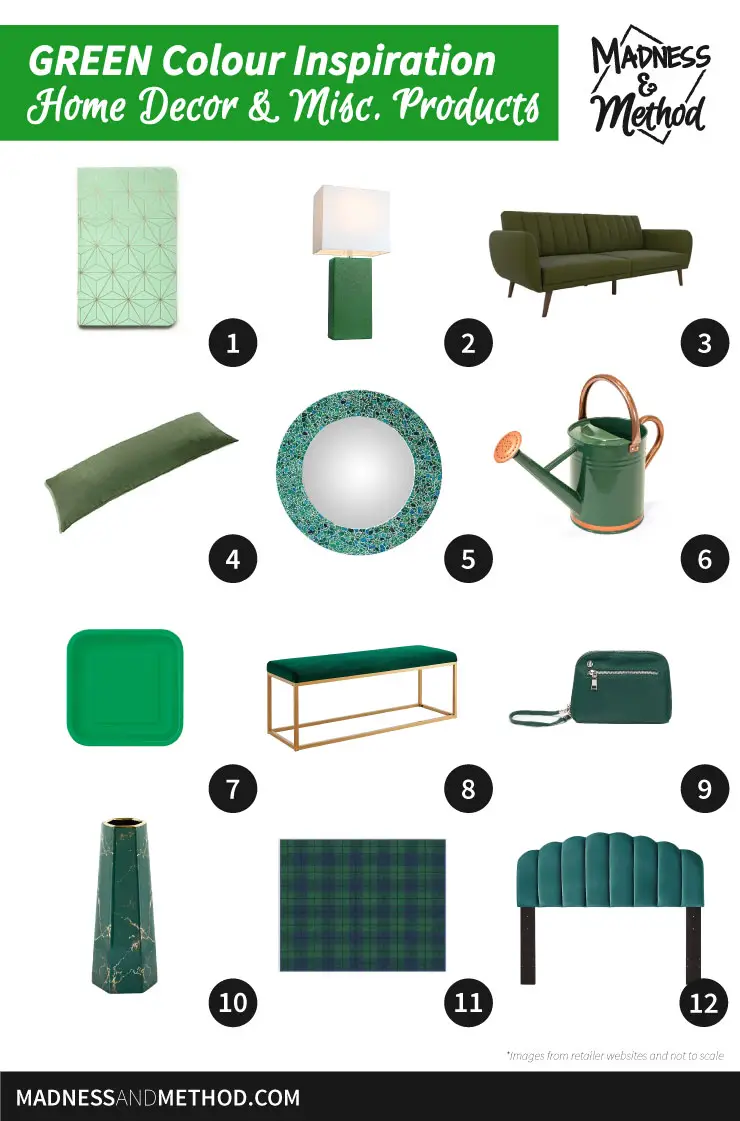 Looking for more green inspiration?  Check out these posts: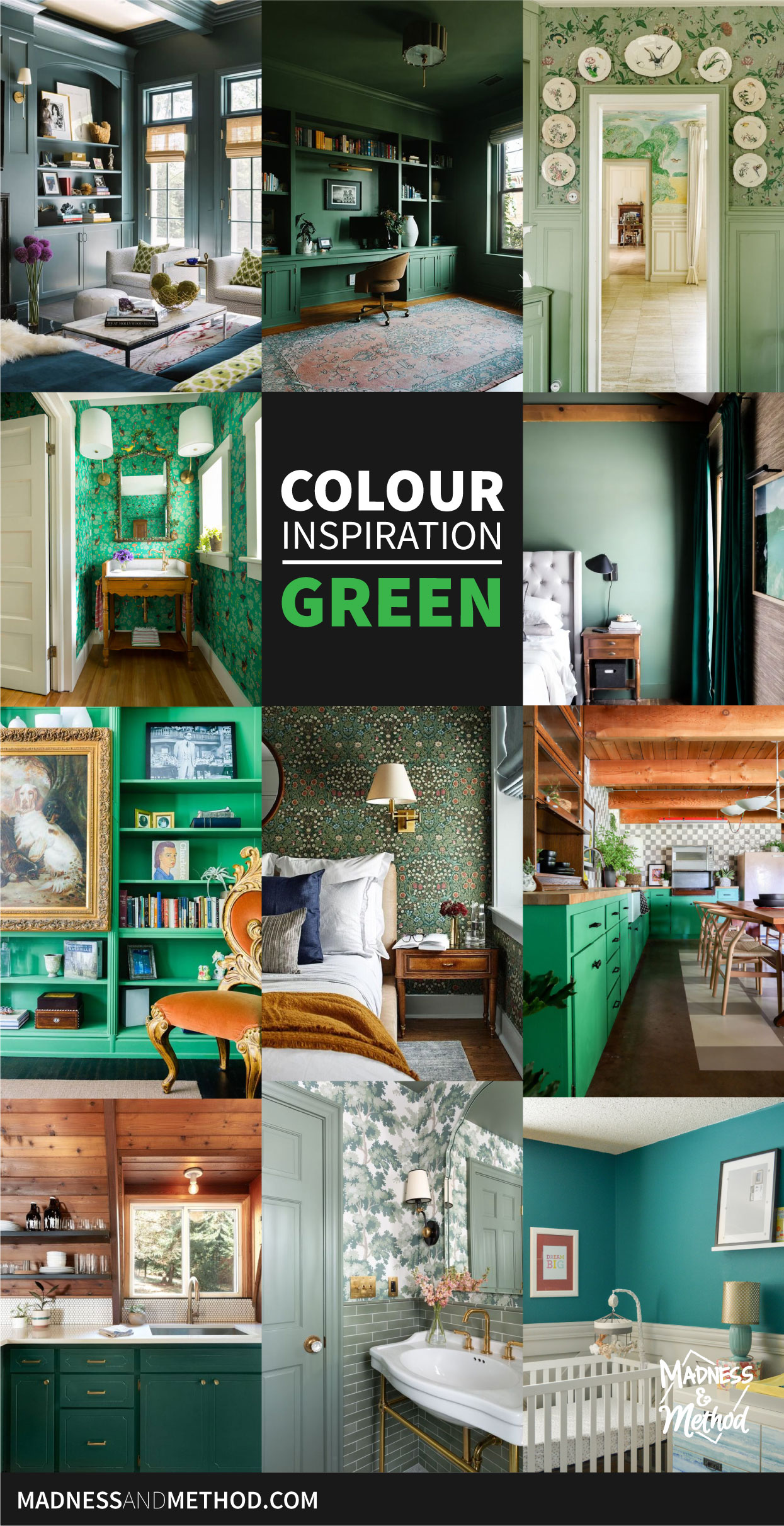 Do you have any green rooms or decor in your home?  As I mentioned, the Husband is a bit anti-green, but I do have a lot of plants… so that counts right?!  Either way, we'll see how he likes the green touches in the cottage, check out the design plans for that here!
Stay tuned for the next rainbow colour series post (blue!).
Related Posts:
Colour Inspiration Red | Colour Inspiration Orange | Colour Inspiration Yellow