It's our third colour inspiration post, and we're focusing on yellow!  Like orange, yellow is a bright and fun colour, but I think that it's definitely more loved.  Deep ochre is really in right now, and I think yellow is almost considered a neutral.  Heck, you've probably painted (or painted over) a yellow room at least once!  Let's dive into some colour inspiration with yellow!
– Note: This post contains affiliate links. See more information about affiliates here. –
Love the colours of the rainbow as much as I do?  Check out the first post on red here, and the orange post here.
Yellow Inspiration
Here are some yellow interiors that caught my eye: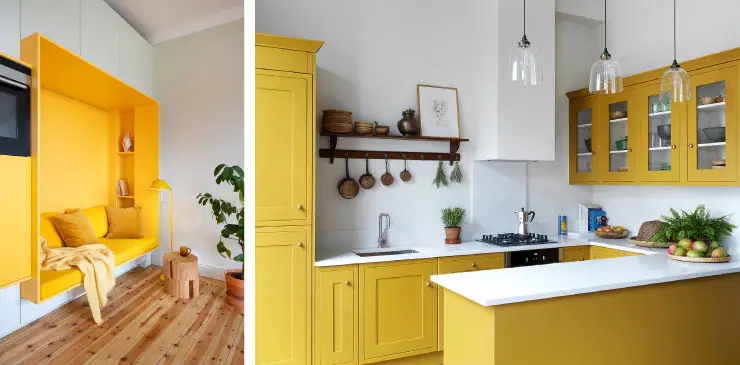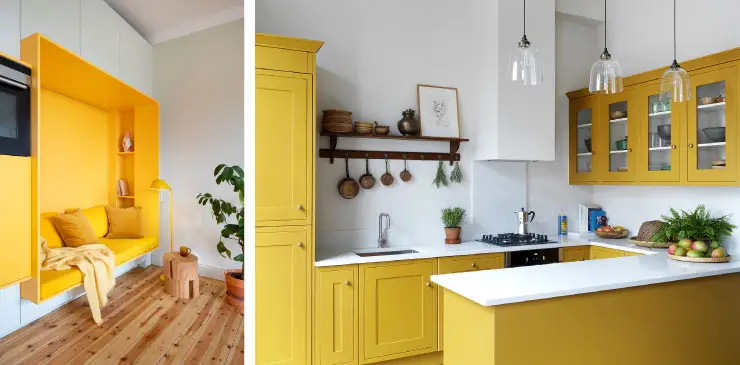 This entire Swedish apartment by Lookofsky Architecture (photographed by Mattias Hamrén, styled by Hanna Tunemar and built by Maldini Studios) features bright yellow, but I thought that the built-in bench design on the left was really clever.  On the right, the yellow cabinets in the kitchen by Lonika Chande are just one of the bold colours used in the space, and they really pop against the white walls and countertops.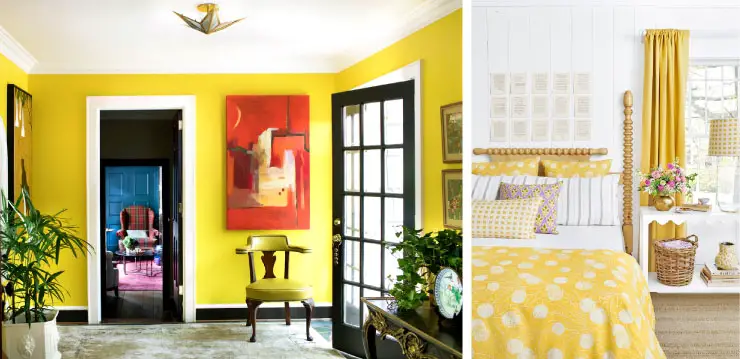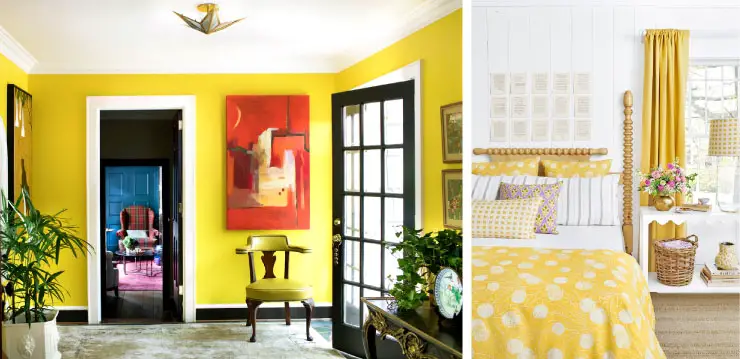 Speaking of contrasts, I just love the bold yellow walls against all the other elements (white, black, red, blue!) in the entry by Danielle Rollins Interiors (follow her Instagram and purchase her book here).  How fun would it be walking into that home!?  If going super bold isn't your thing, the bedroom on the right photographed by Becky Luigart-Stayner for Country Living might be more your style.  While the walls are technically white, the curtains, pillows and bedding offer the big pops of colour.  Even the wood tones are very similar to the main yellow.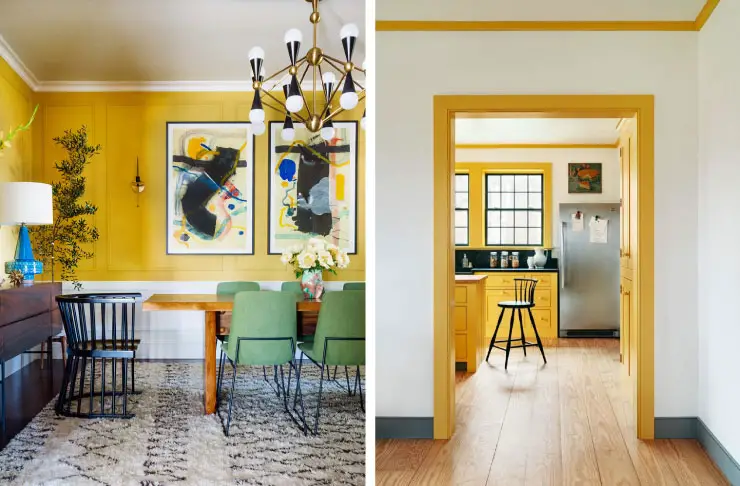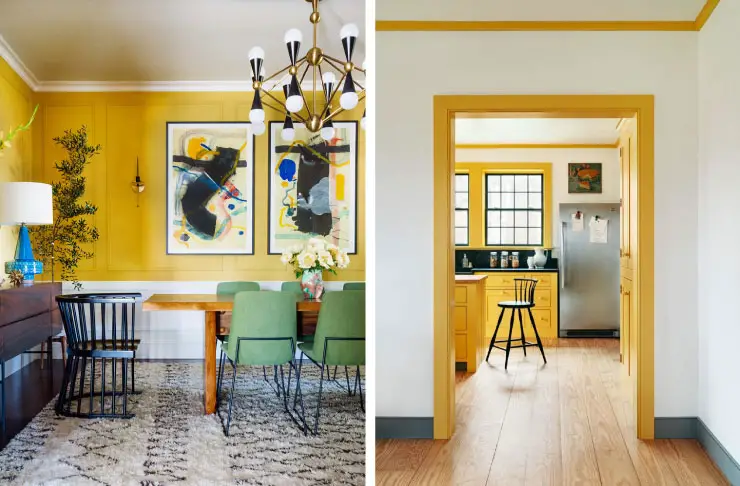 Let's talk about one of my favourite subjects… moulding!  I followed the transformation of the dining room by Dabito from Old Brand New from the Spring 2017 One Room Challenge.  That was the first time I really loved a yellow space!  (He recently painted his laundry closet yellow too).  Another amazing example of yellow moulding is in the casing in the image on the right.  The sunny yellow kitchen by Hendricks Churchill echoes the colour of the entry into the space.  I love that idea!  (And it's a repeated element in that house, which is also yellow btw).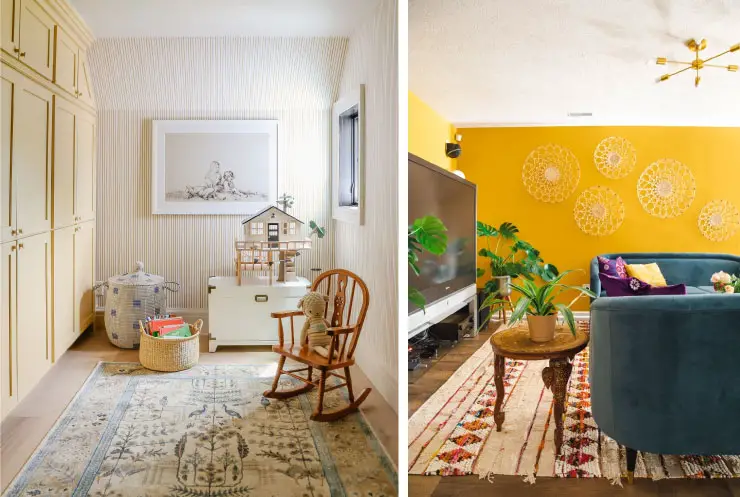 Convinced that you need yellow in your life, but not sure which hue will work for you?  Chris Loves Julia's playroom on the left uses a much more subtle yellow hue, and I love the matching striped wallpaper.  By comparison, Stephanie of Casa Watkins Living painted her basement "Saffron Strands", a deeper and more saturated yellow. It really works with her blue sofas and other colourful accents.
Yellow in my Space(s)
In our old house, yellow was the last colour we painted!  I looked at our striped accent wall mural and knew that we were missing some yellow.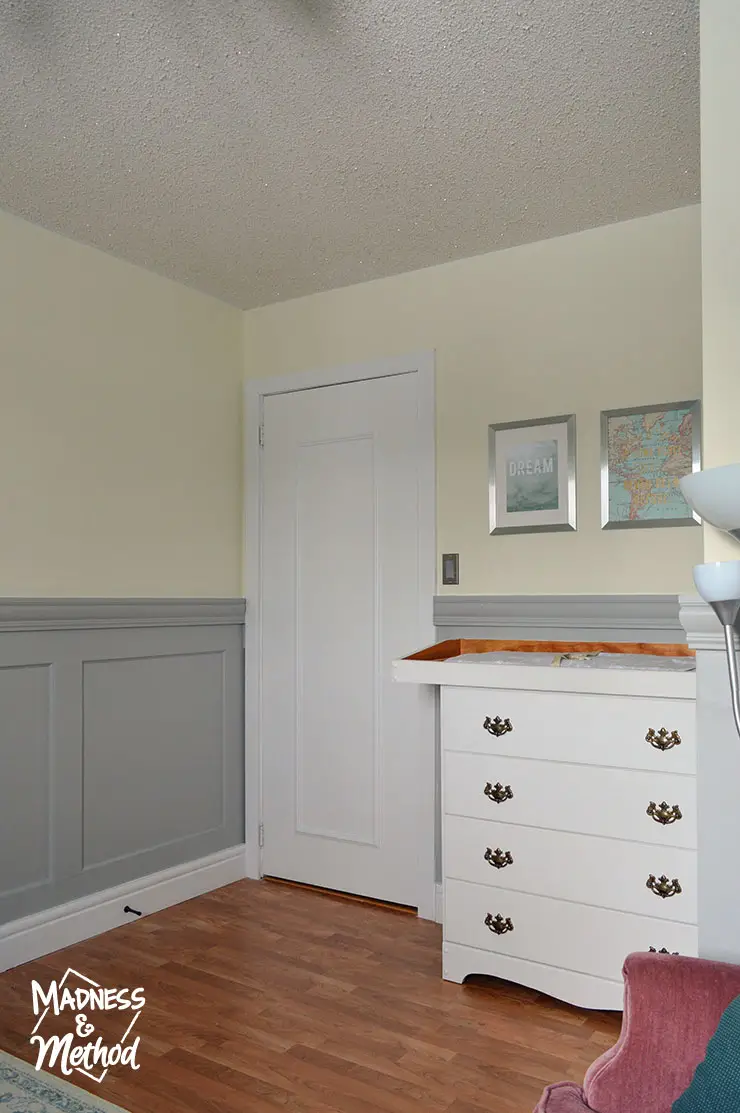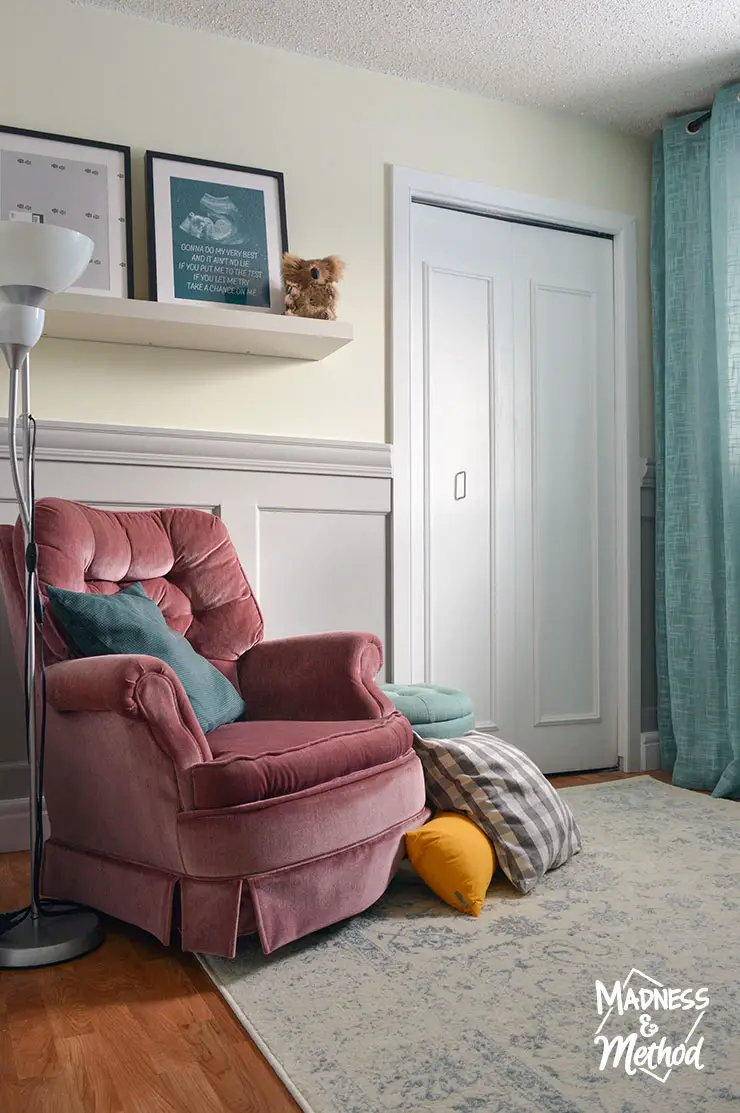 It took me a few tries to get the perfect shade of yellow and looking back on the photos I can't believe how sweet Félix's nursery turned out.  We only had that nursery for a few months before we moved, but I hope the new owners liked my space (compared to some of my other bold choices, ha).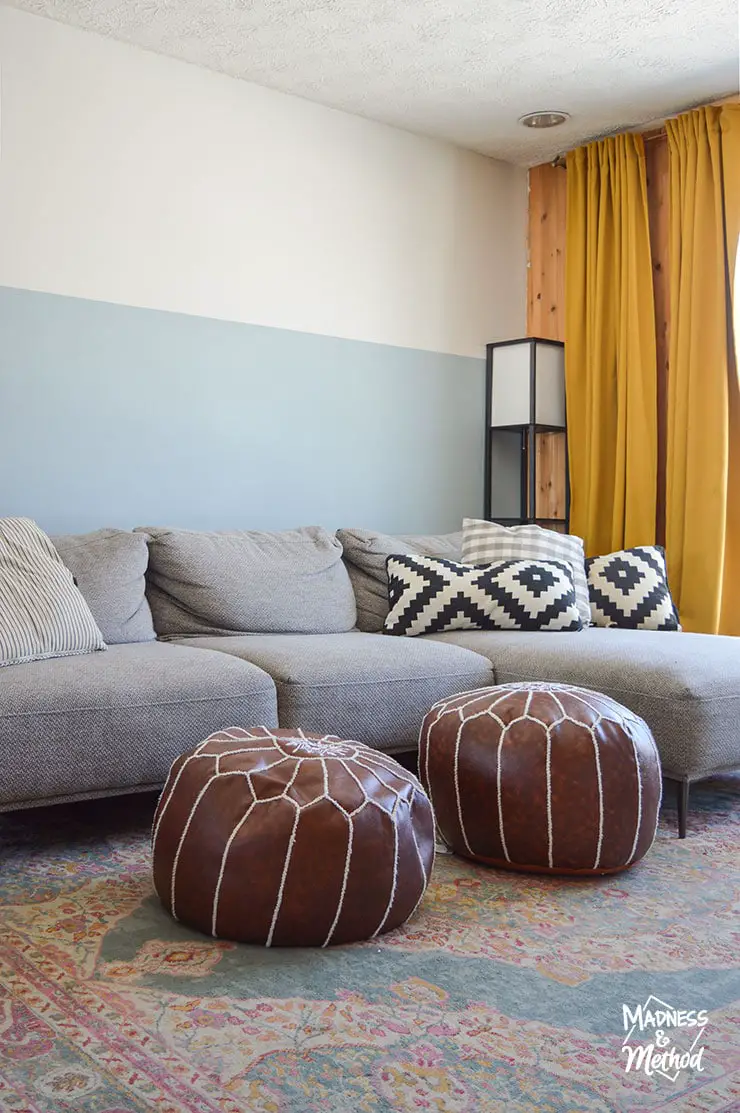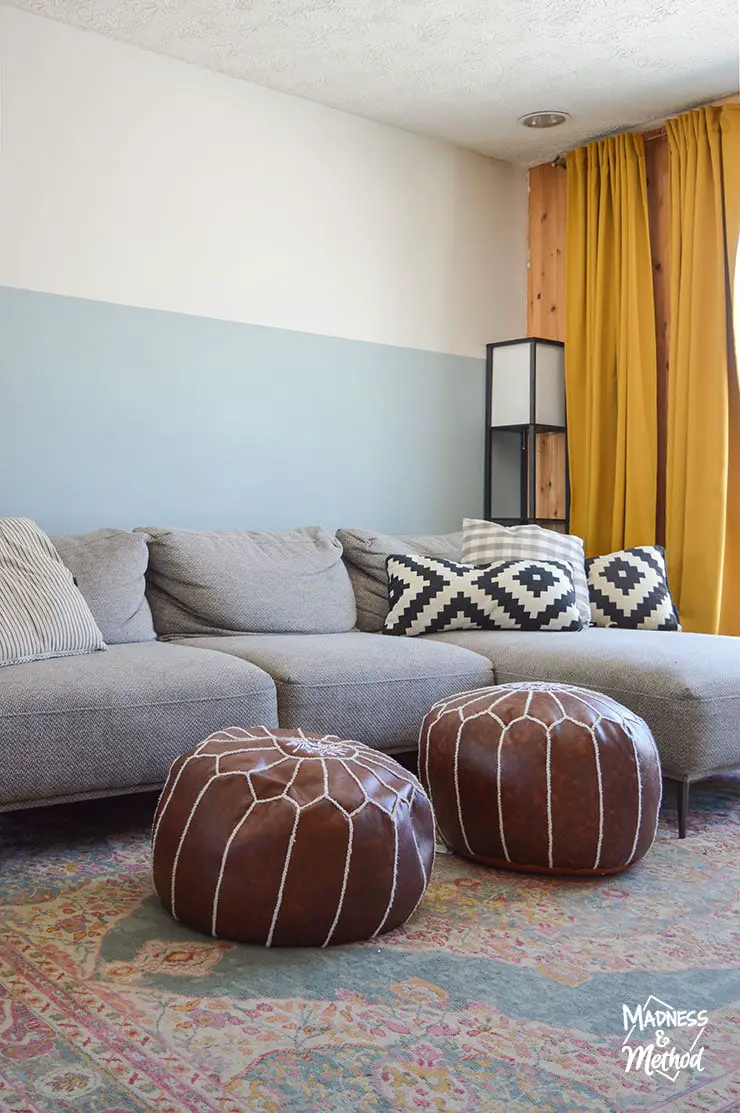 In our current home, we have yellow curtains in the living room.  It's one of the colours I chose for our whole-home colour scheme, aka a muted rainbow (are you surprised!?).  You can see more photos from our latest home tour.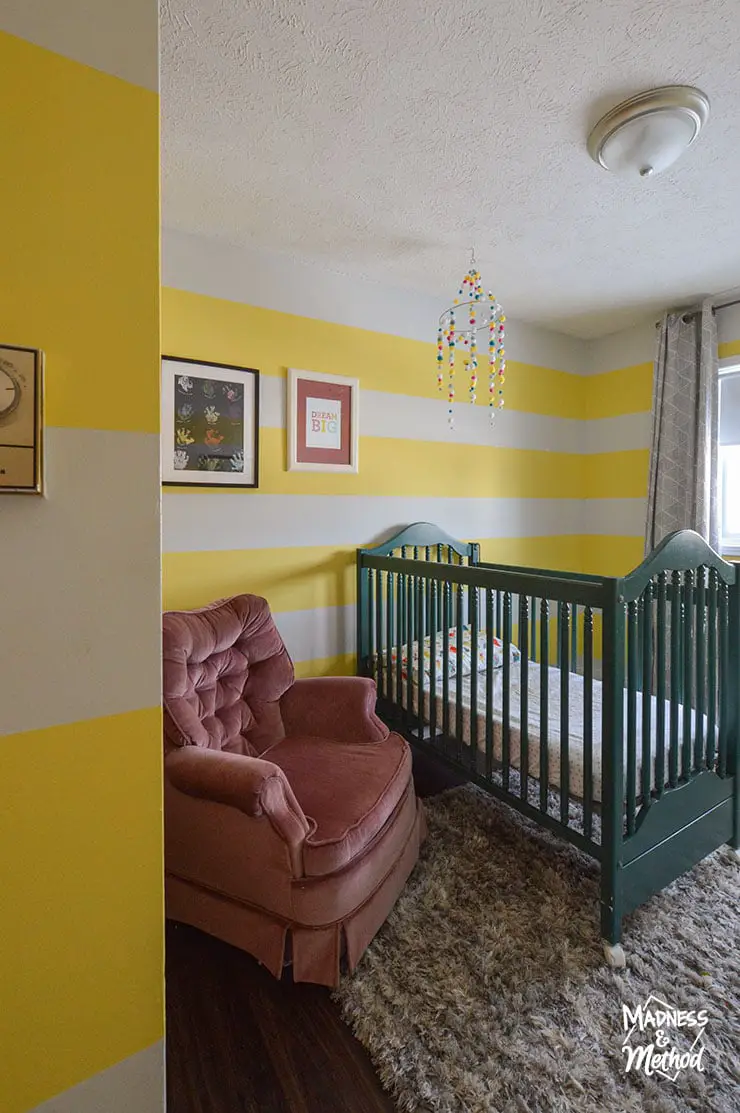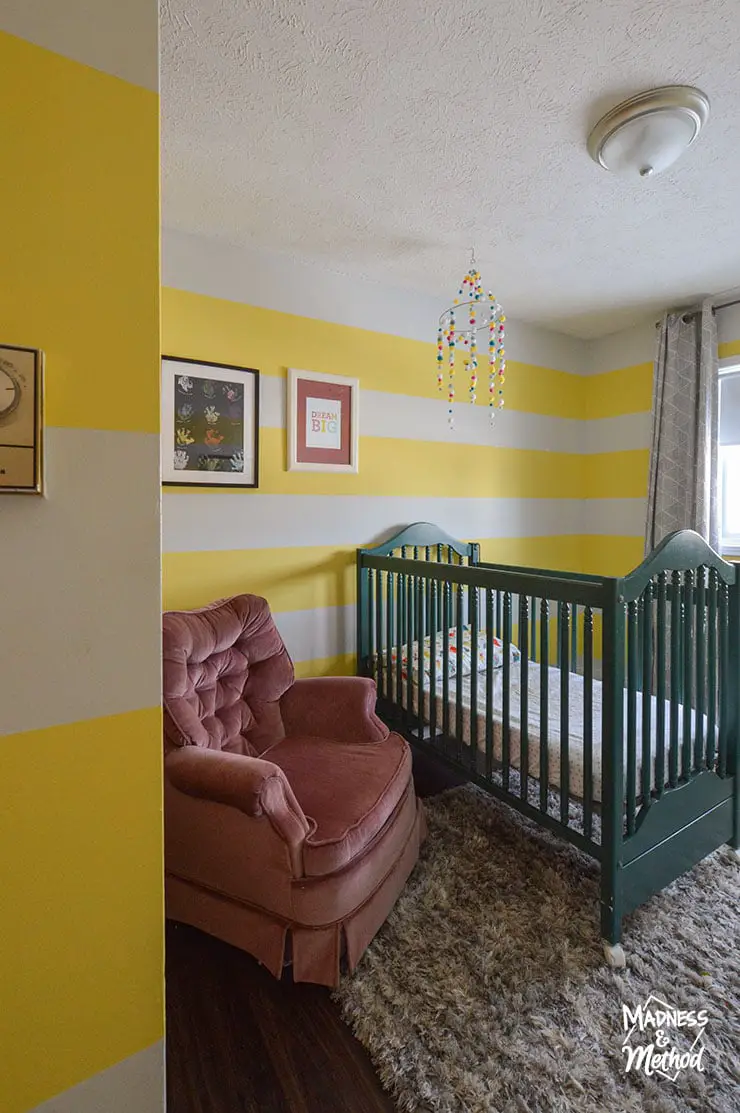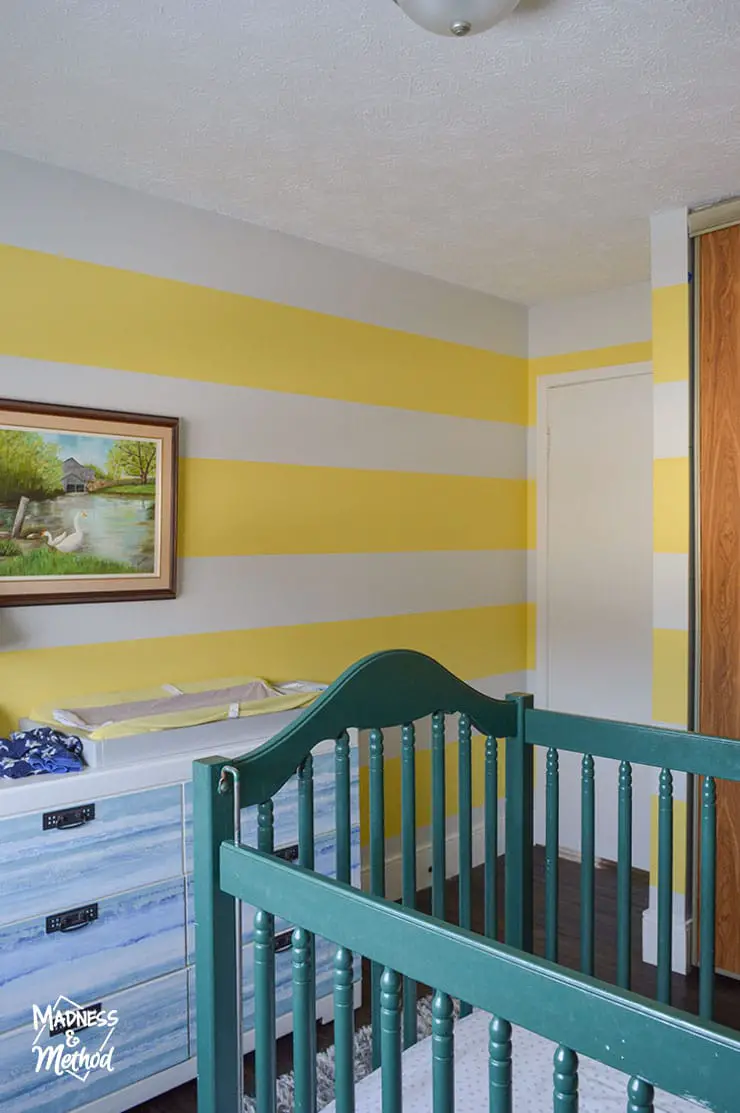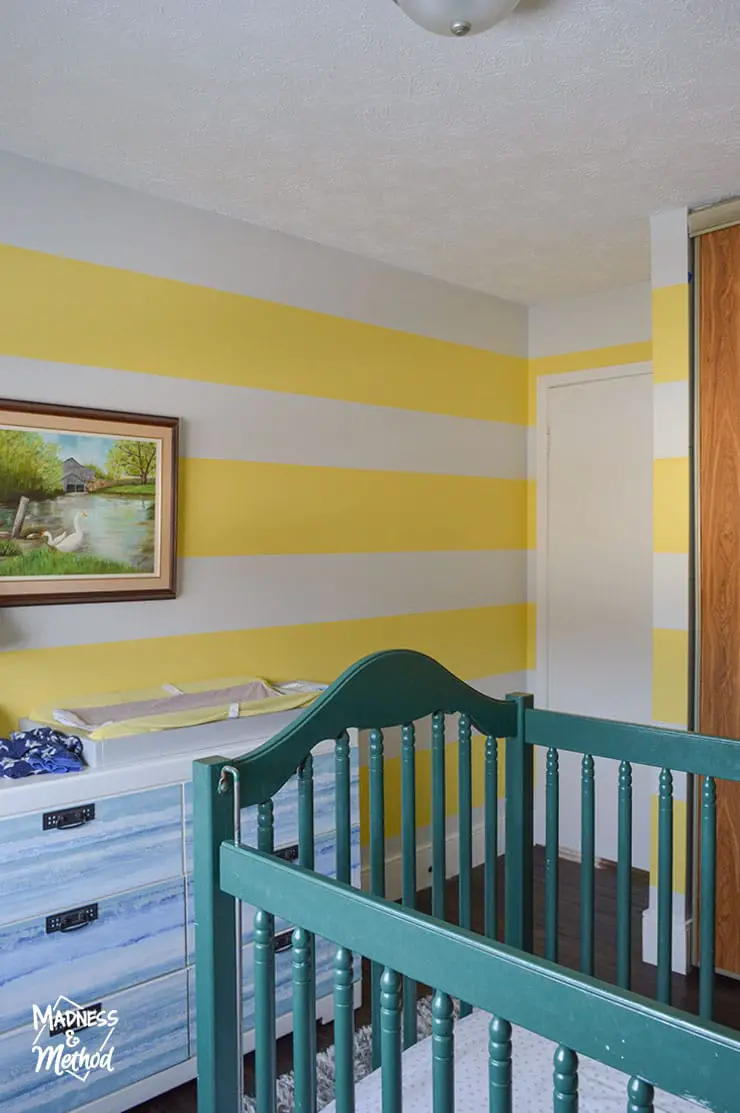 I've also recently painted fun yellow stripes too!  This is Félix's current nursery, and I really like the bold walls (he does too).  You can see more photos of his nursery here.
Yellow Home Products
Looking to add some yellow to your space?  Here is a modified product round-up that was originally posted on my Facebook Page.  (Affiliate links used – thanks for shopping!)
Looking for more yellow rooms and decor ideas?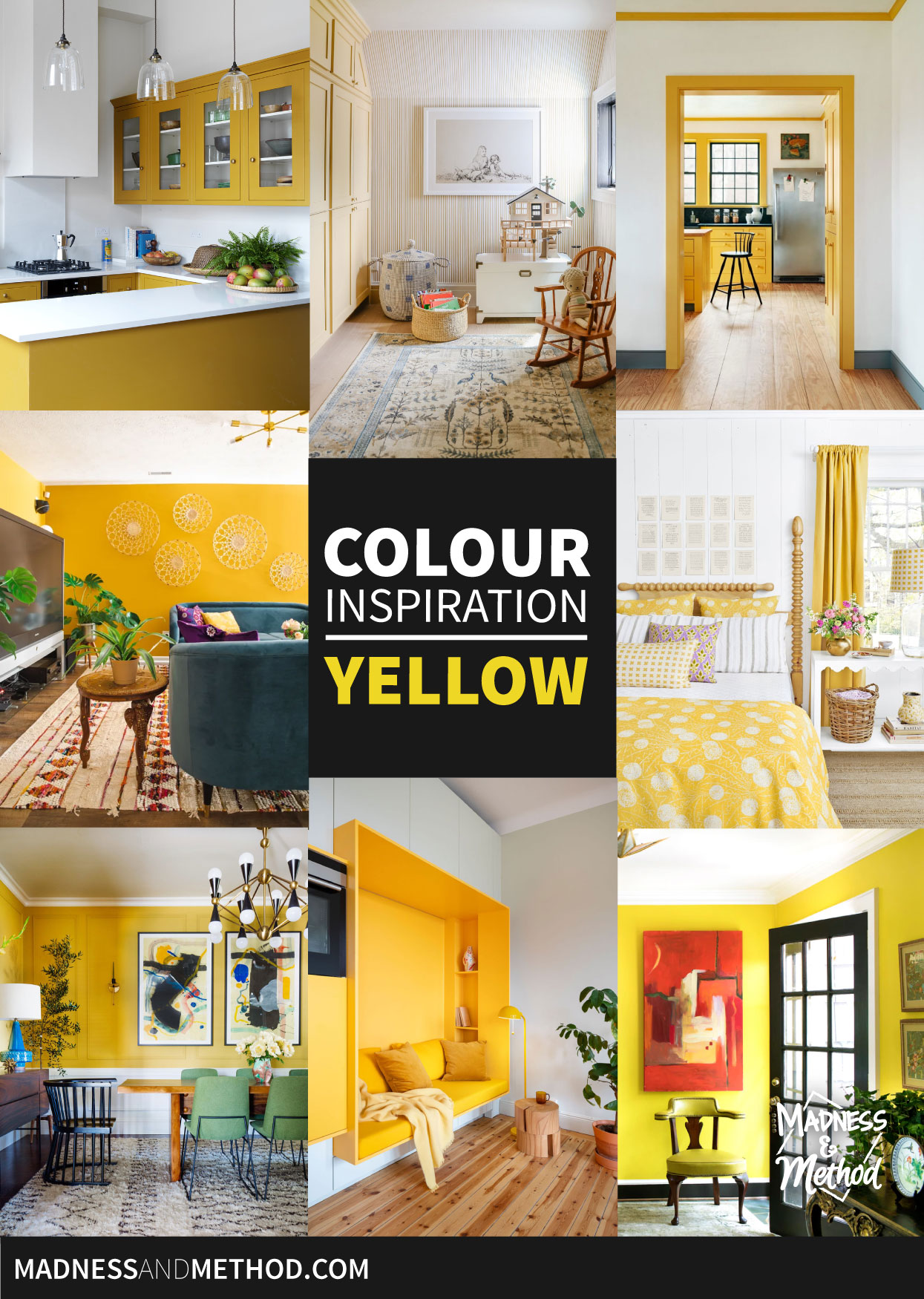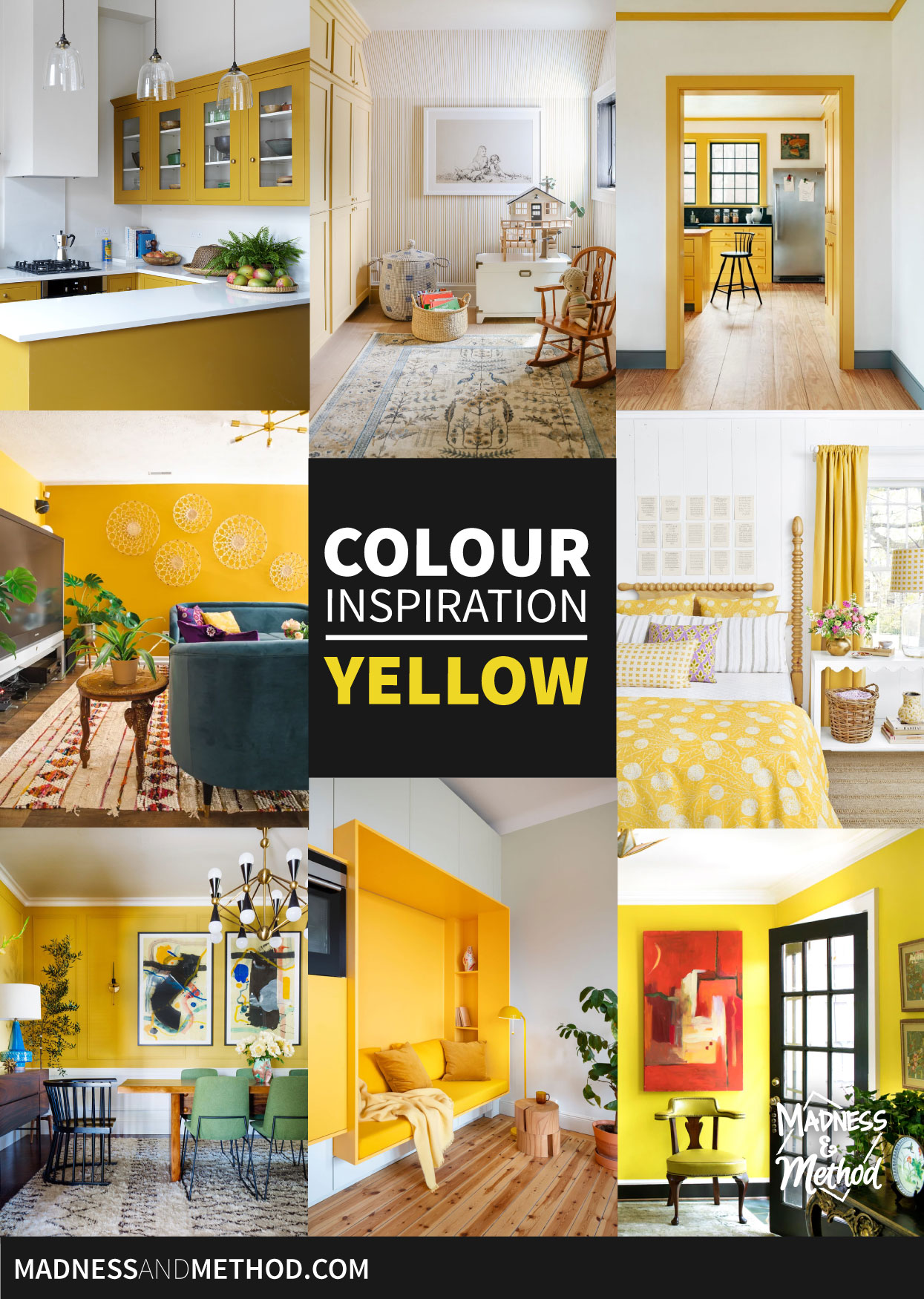 Do you have any yellow rooms or decor in your home?  Or, do you still have nightmares from the time yellow was trending back in the 70s/80s?  Maybe the yellow kitchens and dining rooms from the 90s?  Growing up, we had a yellow and brownish bathroom, with a yellow tub!  My parents renovated it after we moved out though, so I don't think I have any pictures.
Either way, I think it's safe to say that yellow is versatile and perhaps, always on-trend.  (In one hue or another at least, ha).
Stay tuned for the next rainbow colour series post (green!).
Related Posts:
Colour Inspiration Red | Colour Inspiration Orange