I'm super excited to share the plans for our basement bathroom (aka the main/only bathroom in our rental renovation basement apartment).  I feel like this space will both look and function really well, and I'm interested to see how it's going to turn out.  Because this glam black and gold bathroom moodboard looks good!
– Note: This post contains affiliate links. See more information about affiliates here. –
One element in this moodboard that you don't really see, is that I'll be painting the walls white.  I don't think I've ever had white walls (by choice)… so hopefully, it ends up well!
But first, let's look at some before photos so you know what we're working with:
There were some very rough times during construction when we had all the concrete ripped out (taken around October I believe).  The bathroom is a basic 8x5ish rectangular shape, so pretty standard, and located at the end of the kitchen near the bedrooms.
When we bought the house, the basement bathroom consisted of a raised floor room with a toilet and sink and a separate shower room/hallway past the kitchen.  See more of the original basement tour here if you want a recap!
Ready to see what the bathroom looks like with some drywall and proper floors?
Okay, yes and the toilet, tub and vanity are in place (not installed) – so it pretty much looks like a real bathroom.  But it's about to get a whole lot better :)
Glam Black and Gold Bathroom
Here are all the components I'm planning for this bathroom:
White Toilet: Not your regular "john" – but a super cool squared off one with a hidden trap way.
White Tub: With really clean lines and no extra skirt decor (this is the one I used in my moodboard because the tub we're actually using didn't have a front picture).
Wood-Look Vanity with White Top: I searched high and low for vanities with an open bottom shelf (my one requirement) and found this great looking/affordable option at the Home Depot.
Wood-Look Floors: We had vinyl plank floors installed throughout the basement, and I made sure they wouldn't clash with the vanity.
Awesome Tile Surround: So I want to do some elongated vertical subway tiles in the space to make the ceilings look much taller (which are only 7′ if you remember).  But, I'm also going to incorporate a super awesome champagne bronze/gold metallic border along the top.  I ended up choosing the Aspect Peel & Stick Mini Subway Tiles in Champagne!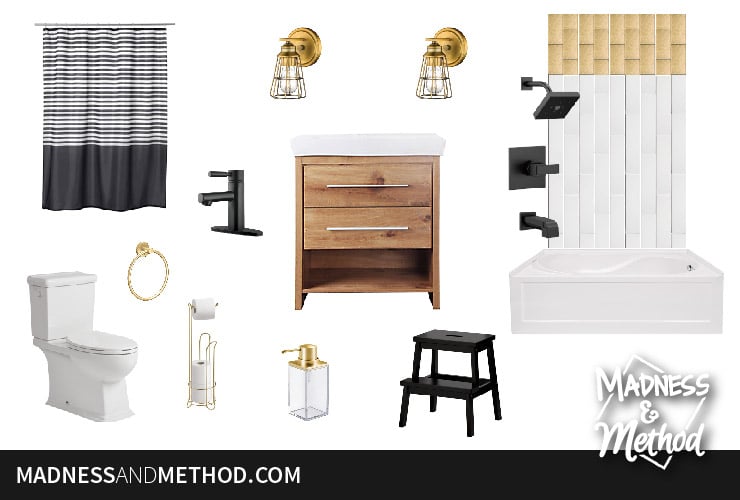 Black Shower Hardware:  I debated going with gold or black hardware, but as soon as I decided on doing the gold accents in the shower tiles, I knew I had to get some black faucets to pop.
Black Sink Faucet: I also went back and forth on if I should match the sink faucet finish with the shower pieces, and found this faucet and fell in love with the straight lines – so black it was!
Black Shower Curtain: I was going to get something basic, but saw this striped beauty on the Ikea website and I was sold (you know I love black and white stripes!).
Black Step Stool: Okay, so this isn't really a design detail per se, but I knew we had to pick one up for this house to help the toddler reach things.  So why not get one that works with your decor :)
Gold Sconces: (Buy them from Wayfair.com here) I actually purchased two of these sconces way back in September.  (The Husband said he needed all my lighting choices right away for their electrical work).  They've since been installed and are looking/working great!
Gold Toilet Paper Holder:  I included a stand-up version in my moodboard, but I may get a wall-attached one instead (we're going to live with the room for a bit before we decide).  I like the convenience/storage of the stand-up dispenser… but toddlers… (it's always fun when you're peeing and someone just walks away with your toilet paper!).
Gold Hardware/Hooks:  Not 100% sure what hardware and hooks we'll have throughout the room, but we definitely need something for the hand towel and a few for the shower towels.  I'm probably going to go with some gold hardware to echo the other small accessories/glam shower tiles – so I'll keep you posted.
Gold Soap Dispenser: I'm going to "splurge" for this bathroom and buy a proper soap dispenser (our main house bathroom and half-bath both have DIY dispensers).  I found this gold (and square!) soap dispenser for under 10$ and didn't think twice.
Missing/Not Pictured:
I still have to get a shower rod (probably a black one), and I'm looking for something that is installed (not a tension rod) that won't cost a fortune.
We also have an exhaust fan/light combo (one of my other requirements for this space) but the Husband just picked up something basic that was in stock (similar).  I had something more stylish in mind like this one (link updated) or this one (link updated), but alas I didn't care as much and we're leaving it as is.
And I still haven't decided on a mirror, I'm thinking that a frameless one will blend in nicely and not compete with the other metallic elements in the room.
I also considered replacing the factory hardware from the vanity with some matte black knobs, so we'll see how that turns out!
Umm, this glam black and gold bathroom moodboard looks amazing right?!  With bright white walls, I think this space will probably be more appealing to a larger percentage of people (you know, compared to our bright orange bathroom, purple vanity bathroom and the boldly painted bathroom that I did at my brother's house).
Not that I'm purposefully trying to target a wider design audience or anything, but I am trying to reign in my typical bright/bold design style a bit with this rental renovation.  So it's definitely been fun stretching my creativity by not relying on colourful walls (even though I honestly do love everything in this moodboard).
Oh, another fun tidbit in this bathroom is that we had a ledge along the entire length of the room built-in.  It will add a bit of needed storage space in the shower itself, and house some smaller accessories.
You can check out this Rental Renovation Pinterest Board if you want to see more images of things that have inspired me for this space!