It's the last week of the One Room Challenge and today I'm sharing my bro's budget bathroom reveal!  Twice a year, Linda from Calling It Home challenges 20 design bloggers to renovate a space in six weeks, and lots of other bloggers can participate too.  This is my second time doing the challenge (we added a bathroom in our basement last year) and I'm really excited to show off my "bro's budget bathroom"!
– Note: This post contains affiliate links. See more information about affiliates here. –
If you're visiting from the One Room Challenge linkup, welcome!  I'm a DIY blogger living in Northern Ontario, Canada and for the past 6 weeks I've been updating my brother's half-bathroom, trying to make the biggest changes, without completely renovating the room from scratch!  Oh, and my brother lives way down in Southern Ontario… so I've been driving 6+ hours to complete this challenge… so I'm extra excited that we are done :)
Here's where we started: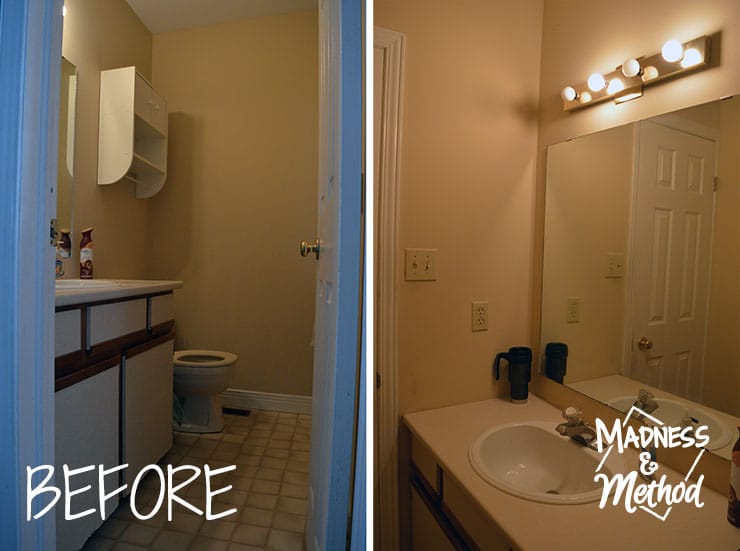 Basically, we started with a boring, beige space, which was the perfect canvas for my bold ideas.  Here's a look back at the progress throughout the challenge:
Week 1: Design Plan | Week 2: Demo | Week 3: Counters | Week 4: Cabinet | Week 5: Floors
Ready to see where we are now?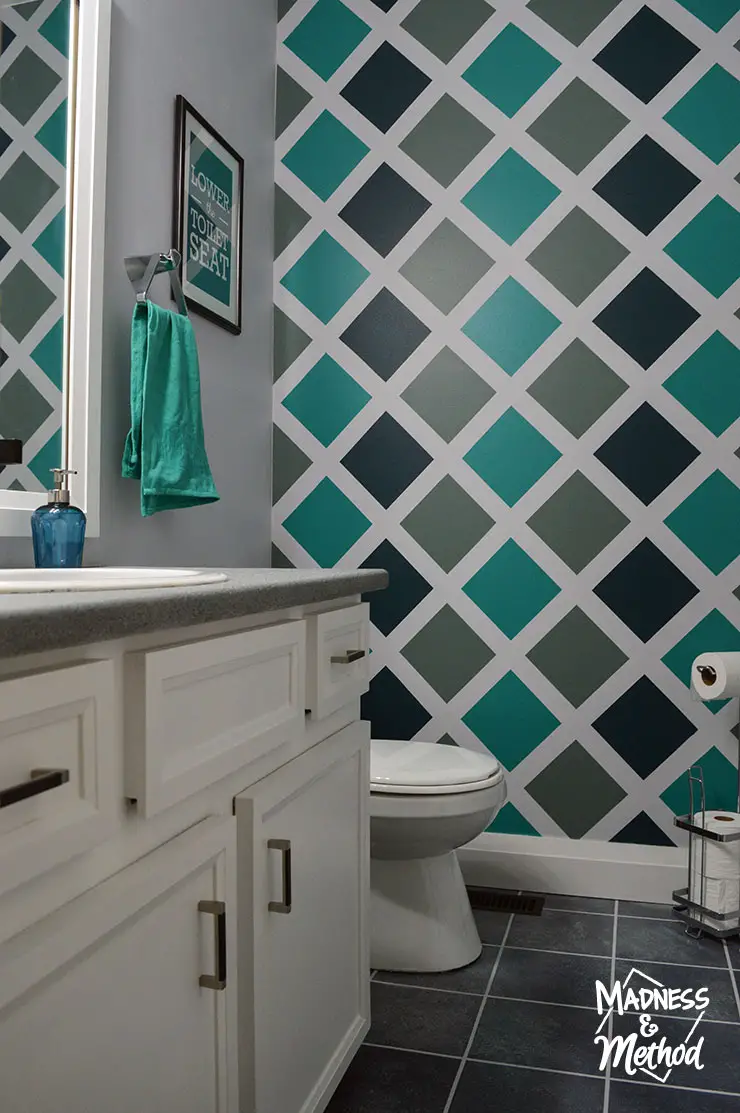 BAM!
I told you I had some bold ideas :)
I'm pretty sure I told my brother that he was getting a bathroom makeover whether he wanted it or not, and that we were going to have a bright accent wall!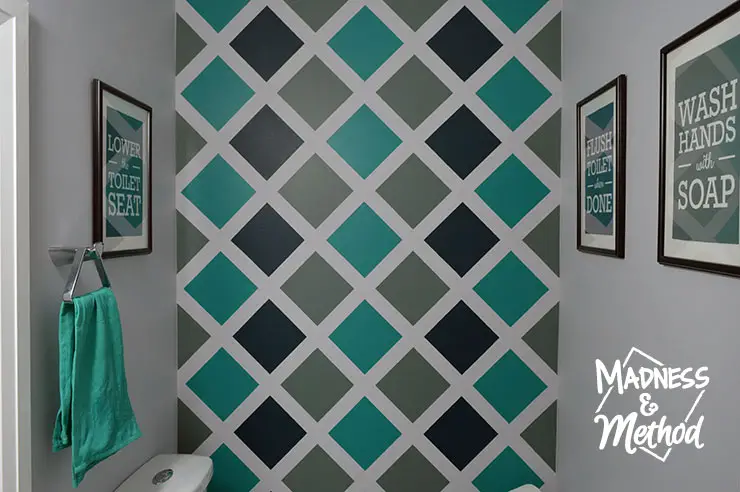 My original colour suggestions were a bit wild for his taste, and thankfully he chose some great options among Para's 2017 Trend Colours.  I'll go into more details about this accent wall in a later post, so make sure to come back and visit :)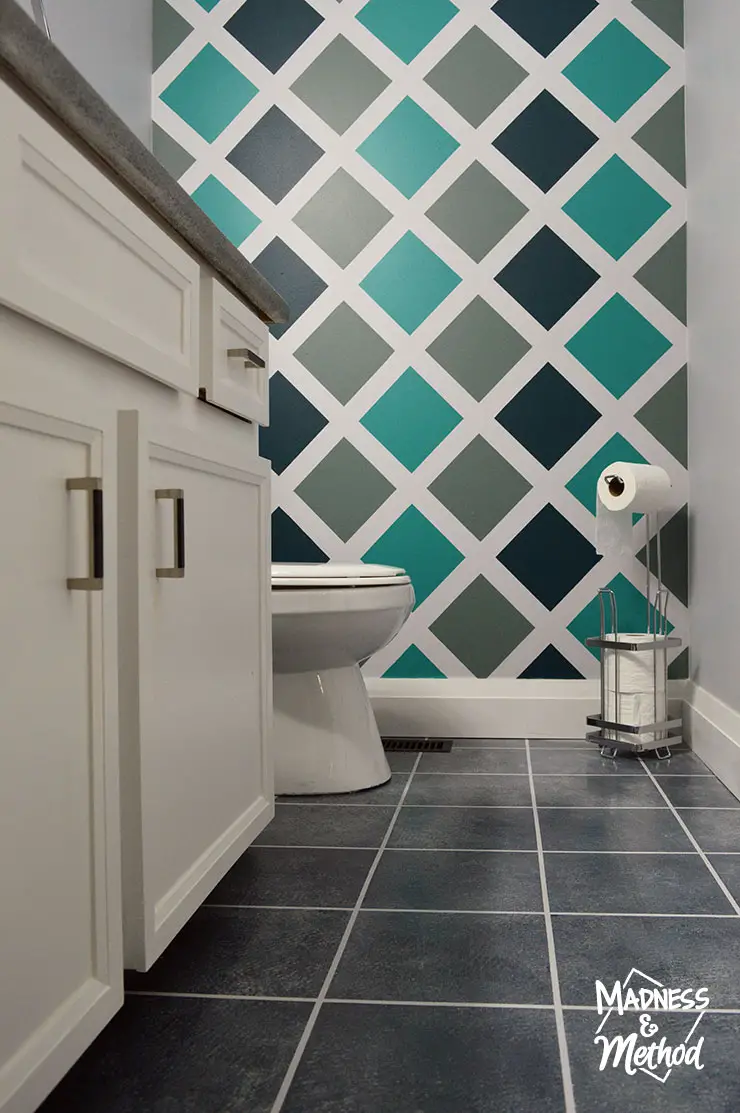 In case you haven't been following along, we kept the same vanity and gave it a brand new makeover AND even painted the floors!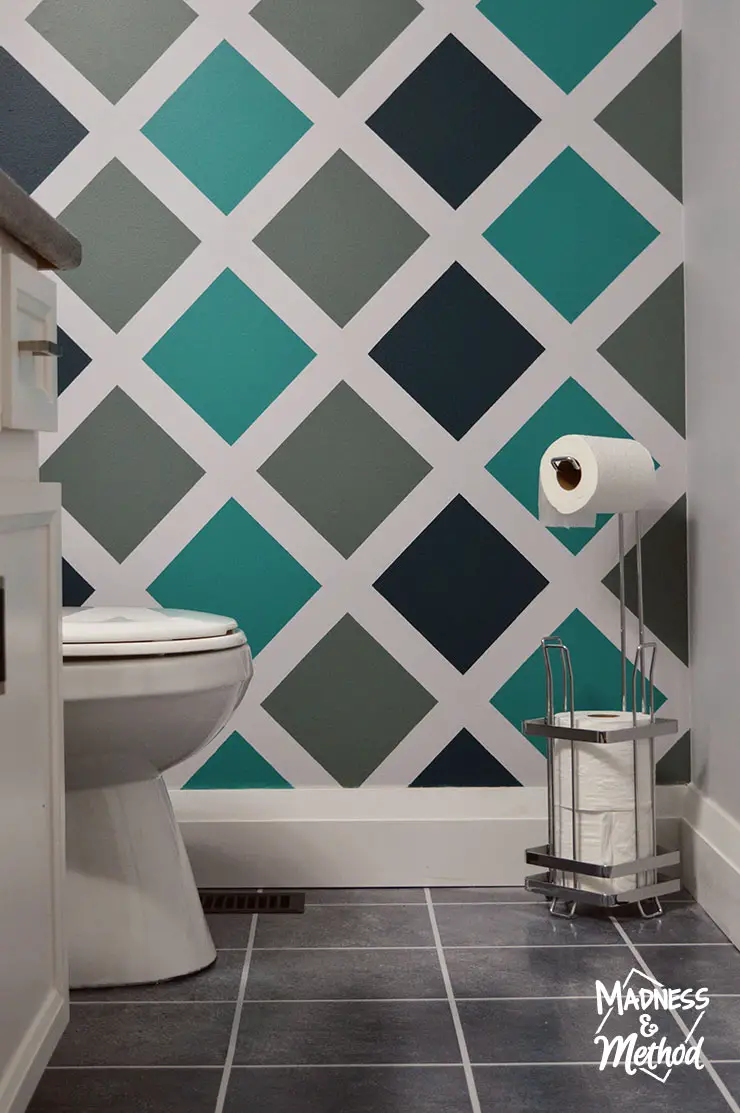 I've been team "toilet paper stand" since the start of this project, and I really like the one I found (a last minute scramble!).  My brother did not want the toilet paper roll to be directly next to him or behind him, so that eliminated the cabinet as an option.  There was no way I was mounting a holder on the accent wall, and the wall in front just seemed too far (it's where the old toilet paper holder was before).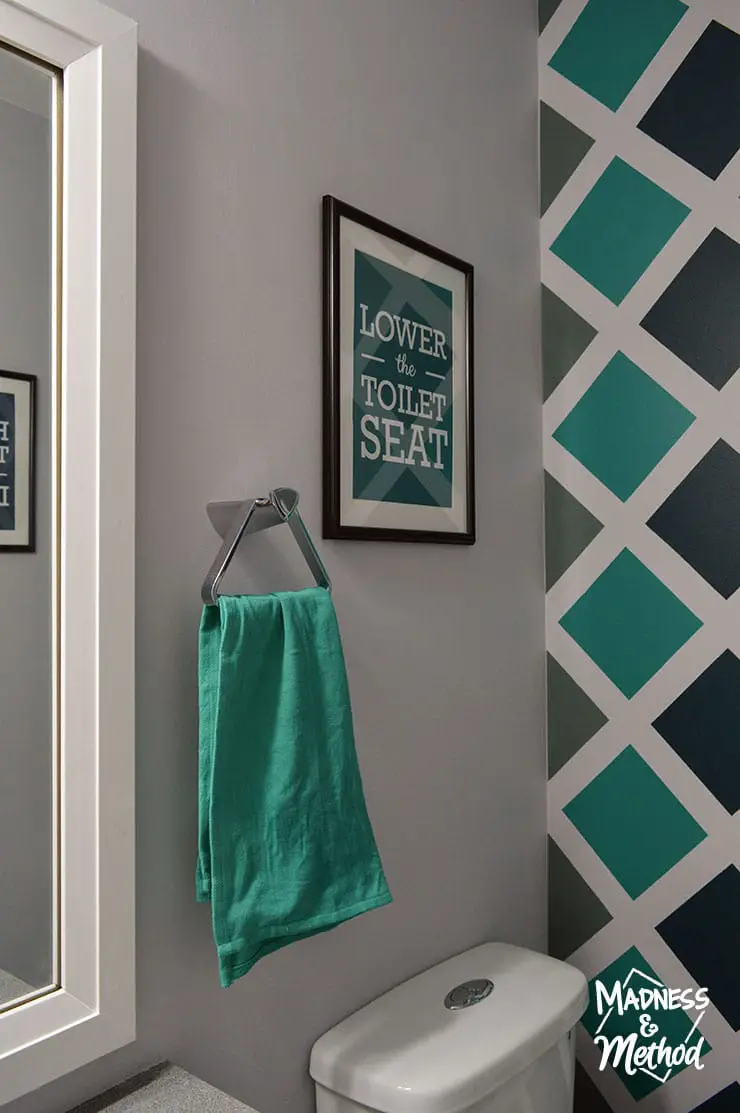 The chrome goes perfectly with the Zura triangular towel holder, and I even managed to find a bright towel to match the accent colour.  (Spoiler: it's actually a kitchen tea towel, but better than the bath towel and/or paper towels that they were using before!).
I even designed some cheeky prints in the three accent colours too.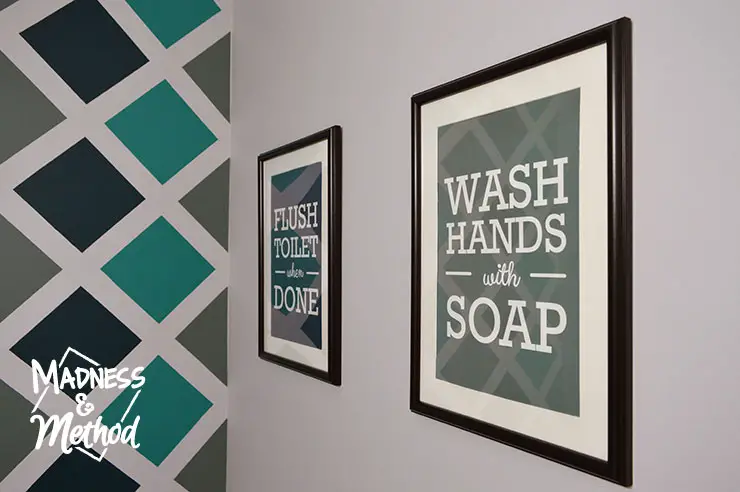 I was originally going to hang them all on the right wall, but the space above the toilet was looking bland, and two fit perfectly when the door is open fully.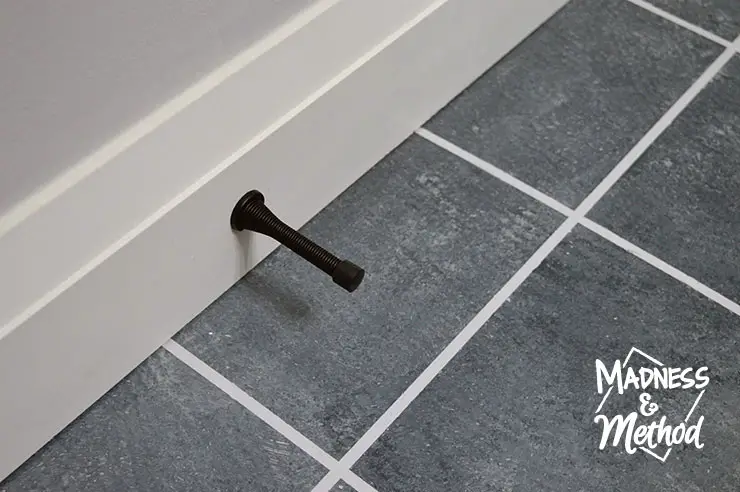 Speaking of the door, when we removed the old baseboards and installed the Metrie poplar baseboards, we even added a cute black stopper!  I almost forgot about getting one, and thankfully it goes perfectly with the black accents in the room.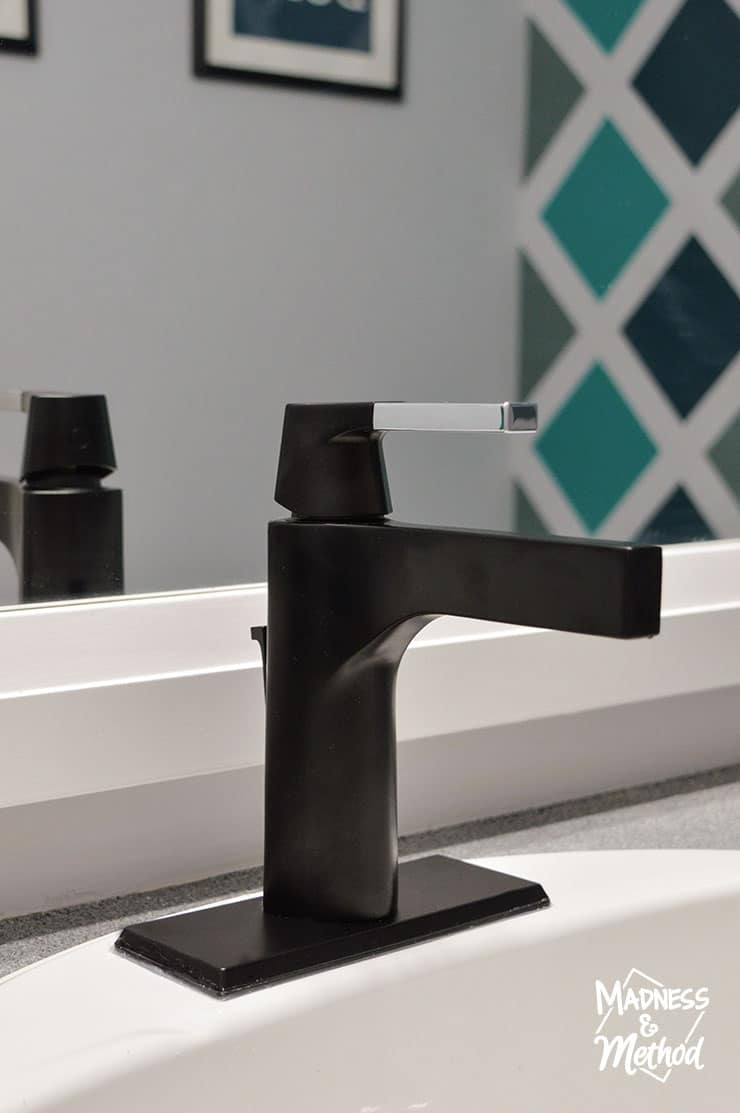 Most notably the new black and chrome Delta Zura Single Handle Lavatory Faucet!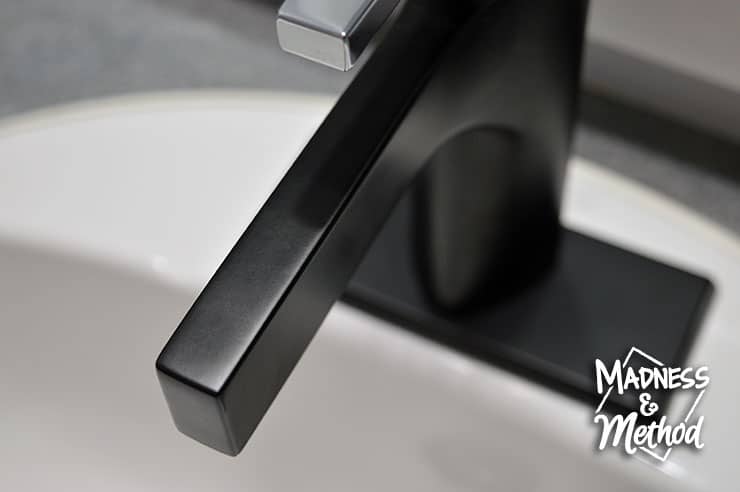 It actually inspired all my metal choices for the space, and I was really excited (and jealous) to see this go in.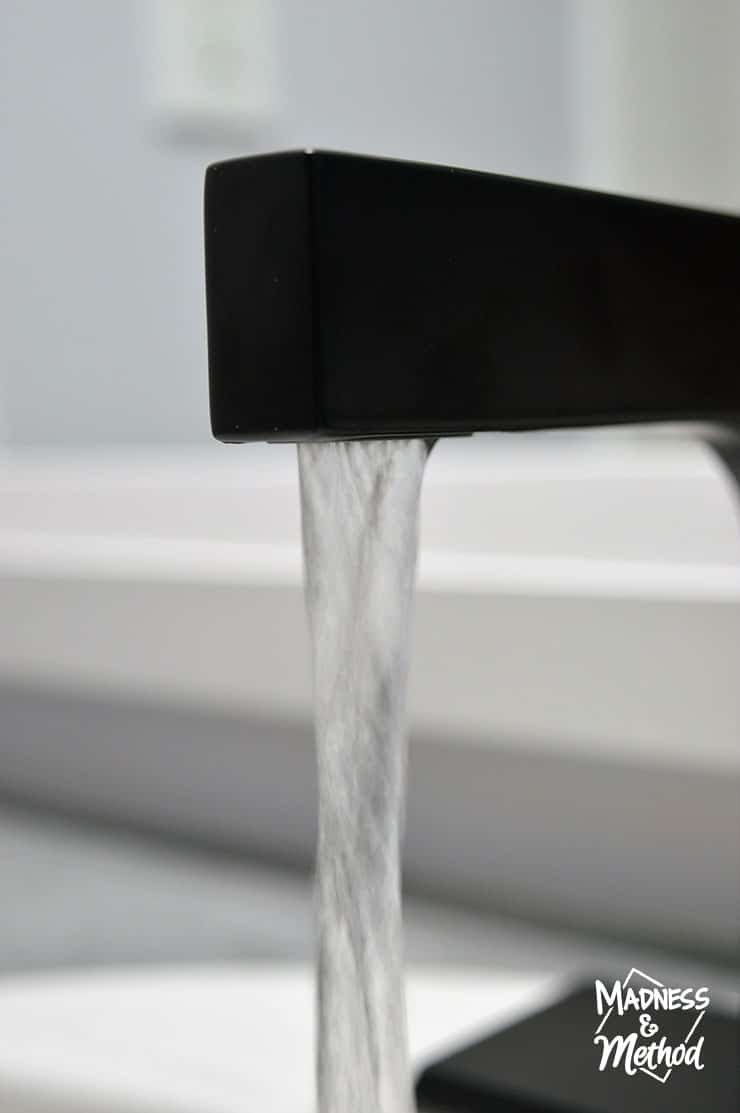 When I showed it to my brother, he was like "Whoa cool, the water is going to come out in a straight line!?".  Ha, I didn't even think of that!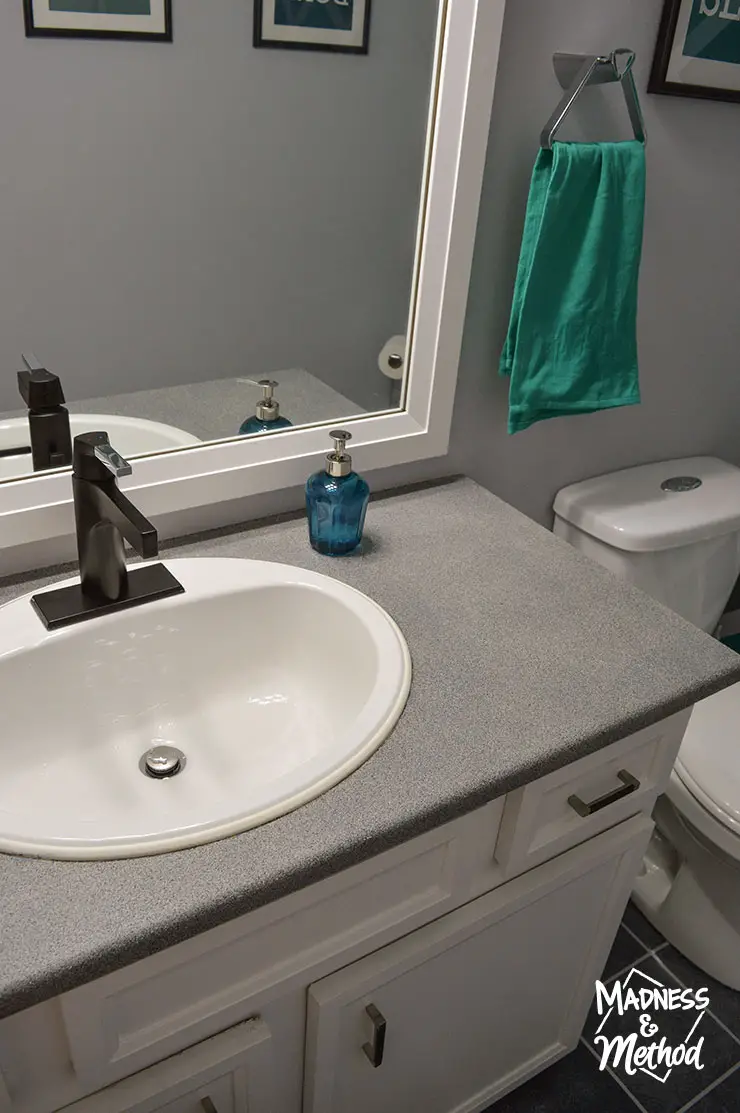 The old faucet was a little drippy, so I'm glad we upgraded to a new one. You might think we also got a new vanity and countertop. NOPE! We just painted the old counter with Krylon's Make it Stone!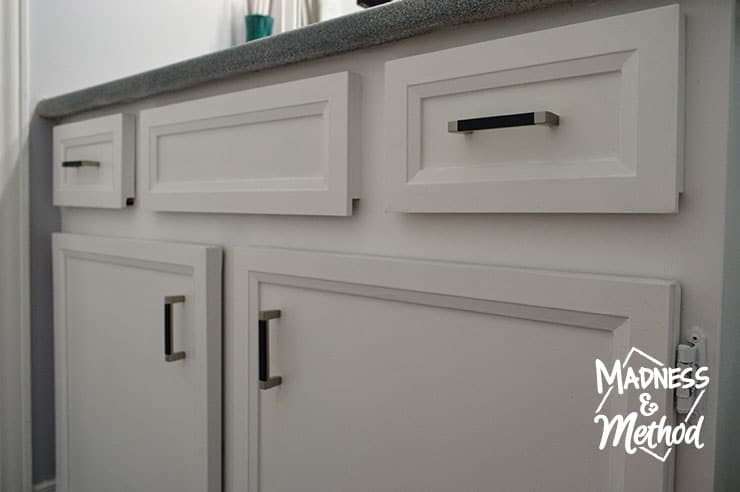 The vanity cabinet also got a COMPLETE refresh, and I got some black and silver handles to match the bathroom theme.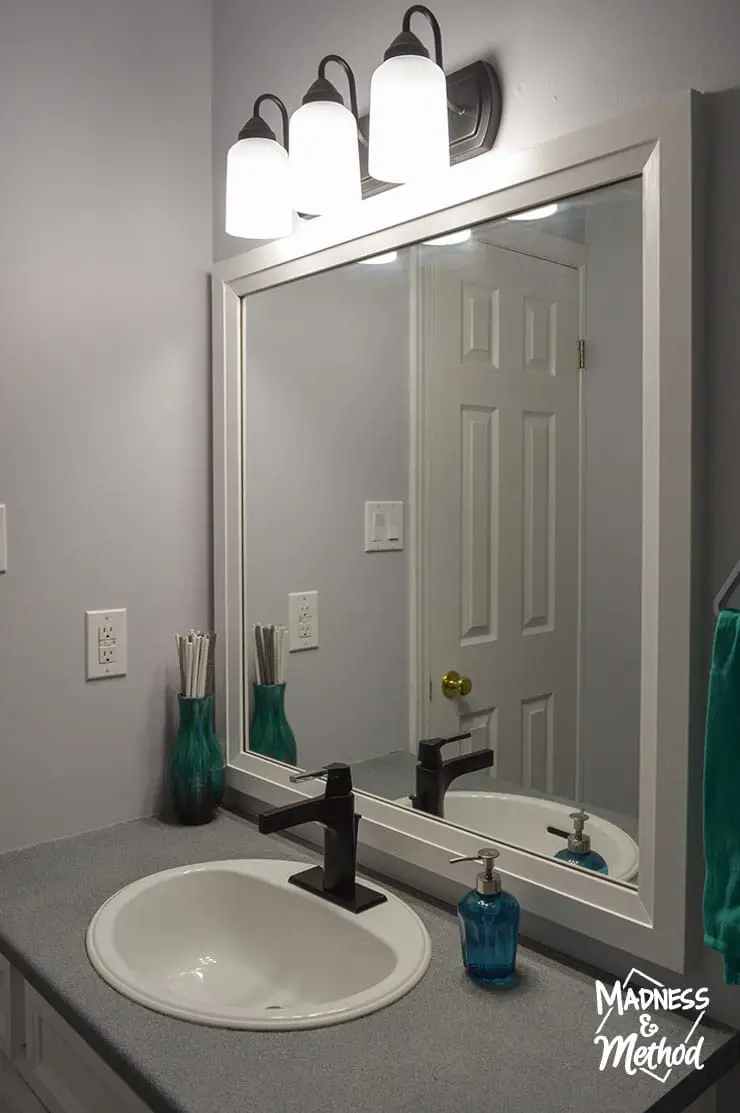 Unfortunately the light we ordered didn't come in on time.  It had just arrived at customs when it was supposed to be at our door, so we had to scramble at the last minute to find a replacement.  We went with a "build your own" vanity light combo, and thankfully I had some black spray paint and was able to get it pretty close to the one my brother liked.
Oh, and you have to come back next week to see how I made that frame for the mirror!  It doesn't just sit next to the mirror, it's actually fully framed around it.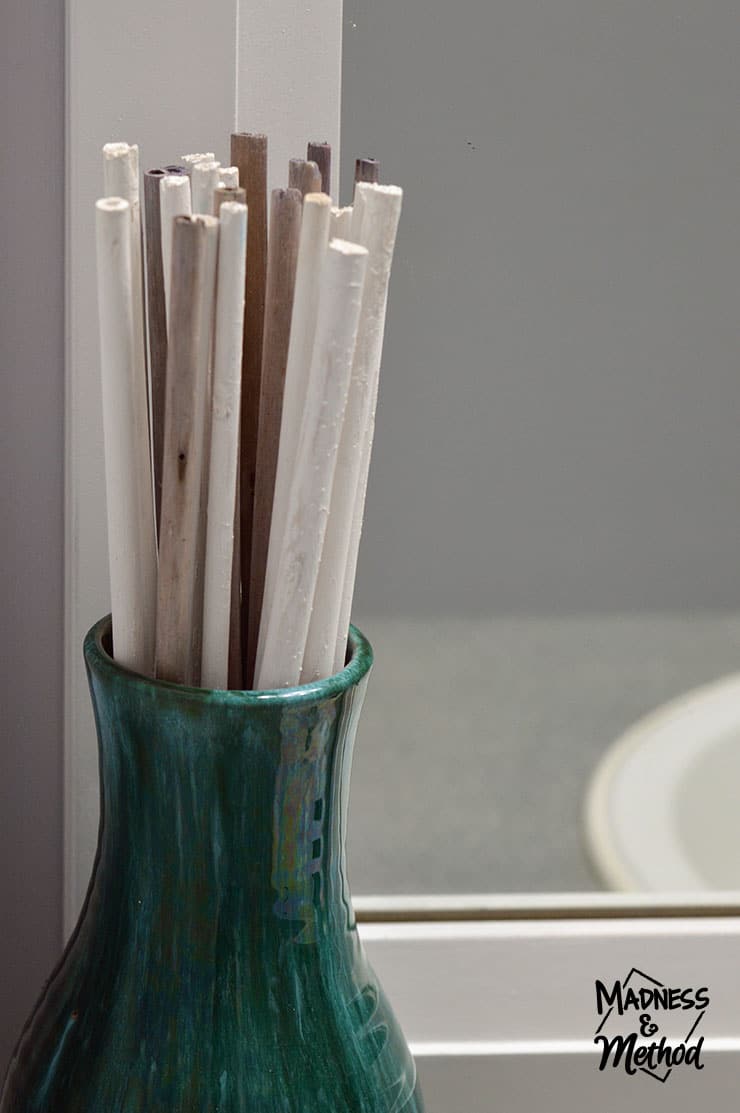 I had this vase and these sticks at home, and I knew they would go perfectly with my bro's budget bathroom!  I kind of wish the soap dispenser was a little less blue (it looked greener in the store) but I don't think my brother is that picky :)
Bro's Budget Bathroom Reveal
Just in case you missed how far this room as come, here are some reminders: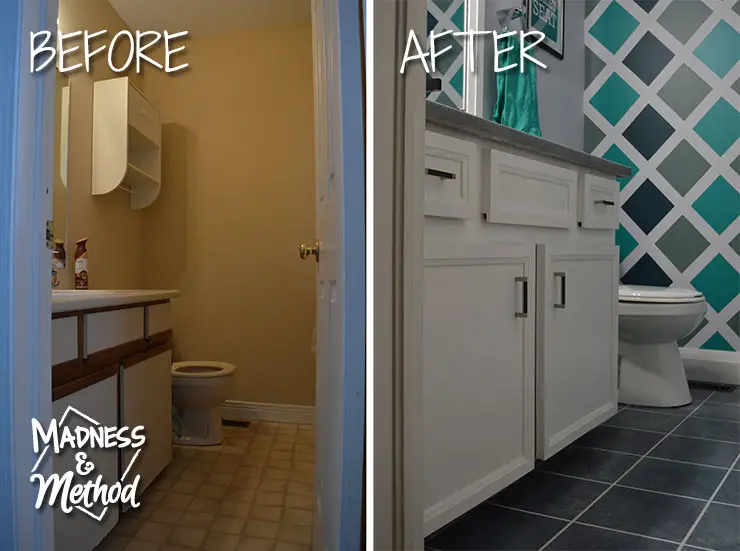 Seriously, that's the same cabinet, countertop and floors!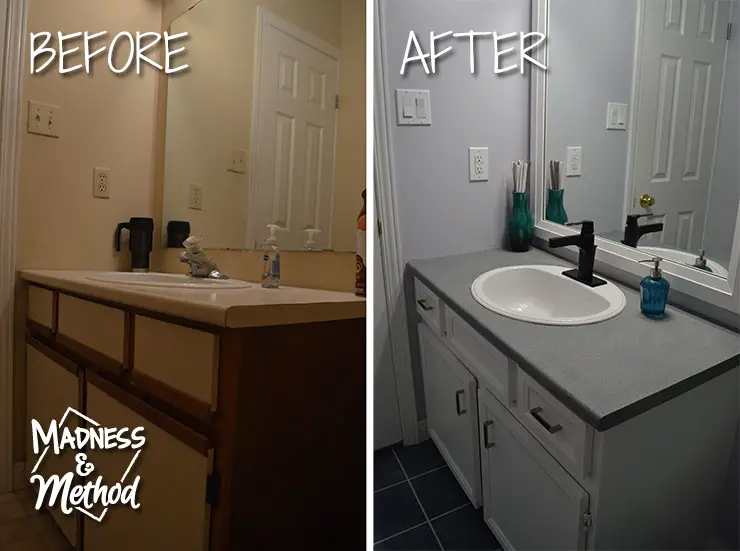 We tried to keep as many original elements in the room as possible, but it's still been such a big change!  Actually, upgrading to the cool white LED light bulbs made a huge difference, and now there literally is no more beige.
(Although that bright brass doorknob keeps staring me in the face!)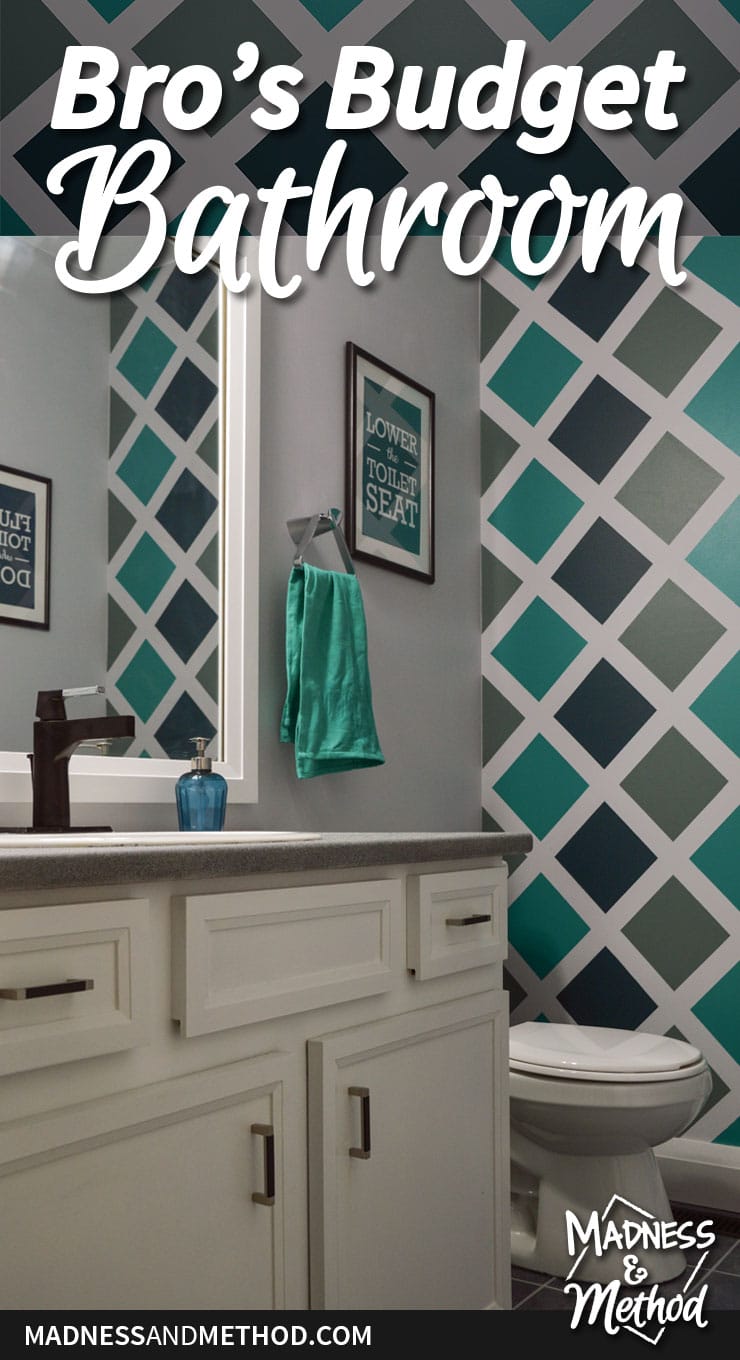 And that's the bro's budget bathroom reveal!  I have to thank my amazing sponsors: Delta, Krylon, Metrie and Para for providing so many great elements for this space.  And also thanks to my Dad who helped with a lot of the projects, (the Husband stayed home and went to work and what not!).  I could/should also thank my brother for letting me renovate his bathroom… but let's be honest here, I was going to update it whether he wanted it or not :)
Does my brother like his new main floor bathroom?  I think so… he mentioned copying this same look in the upstairs (main bathroom) and I was literally thinking the exact same thing!  Just picture the same "before" pictures, but add a bathtub.  Maybe we'll do a different accent wall pattern, and keep the same colours?
I think he's just glad I won't be visiting him for a while…
(We renovated his kitchen and just finished up that project this past week, so it's been a busy month!)  He's used to his bachelor lifestyle and it's definitely a change when I come down with the baby and completely take over his house with DIY projects and dust, ha!
Yes ladies, he's single and has a newly updated bathroom :)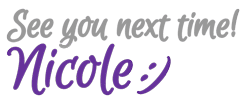 This Project Has Been Sponsored By:
Shop This Post:
Floor Paint: Para's Floorguard in The Silhouette, Dove Gray and Uniform
Baseboards: Metrie's Poplar Baseboards
Door Stop
Toilet Paper Stand (buy a similar toilet paper stand)
Cabinet Trim: Metrie's Poplar Door Stop
Cabinet/Baseboard/Mirror Frame White Paint: Krylon's ColourMaster in Satin White
Cabinet Hardware
Countertop Colour: Krylon's Make it Stone! in Black Granite
Delta's Zura Single Handle Lavatory Faucet
Vase (similar vase colour) and sticks (this vase could work too)
Soap Dispenser
Delta's Zura Triangular Towel Holder
Towel (similar striped teal towels)
Mirror Frame: Metrie's Casing
Wall Frames
Wall Colours: Para's The Silhouette, Teal Waters, Enigmatic Triton and Designer Indulgence
Vanity Light, Vanity Shades, Bulbs (similar LED bulbs) – it's pretty close to this light right?
Vent and Light Black Paint: Krylon's Dual Superbond in Black Satin