Living in Northern Ontario, we have such a short growing season and cannot plant as early (or as many) veggies as other areas. Nevertheless, we've had our raised garden veggies planted for just over a week now, and I'm seeing some growing process so am hopeful that it may just be our best year yet…
This year, my Mom was 100% in charge of planting our veggies (I had a bad case of mastitis with a fever, so was pretty useless) and she completely changed the setup compared to last year.  Actually, I do like to change things up a bit year after year (see the 2016 placement here, and the original raised gardens here), but this is probably the first time we've ever planted veggies from seeds!
(You know, because of the short season and all…)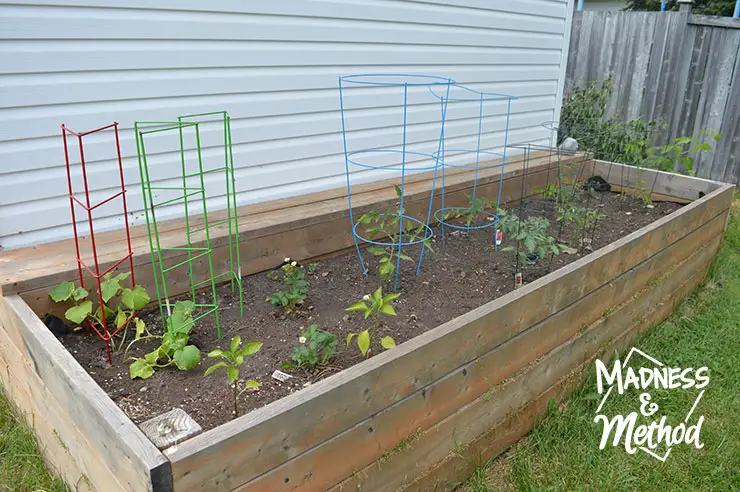 Our right/East side raised garden bed has all the tomato and cucumber plants.  There are also a few peppers I believe, and the strawberries that came back up from a few years ago.
My Mom planted the cucumbers all on one side of the little stands, and she said I have to train them to go up, down and around.  (I used to put one plant per stand and have it go up, so we'll see how this method works).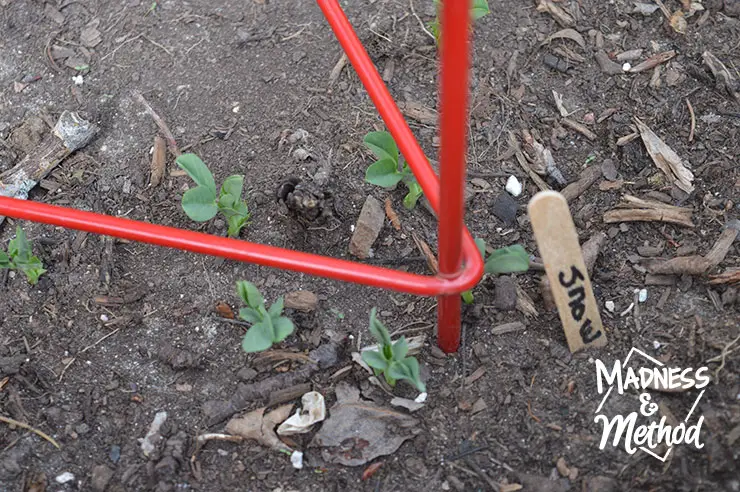 In the left/West garden bed, we have most of the new seeds.  These included some snow peas (which we've never had before) but the Husband likes them, so figured we might as well give them a try).  For some reason, our strawberry plant on this side didn't make it back up this year.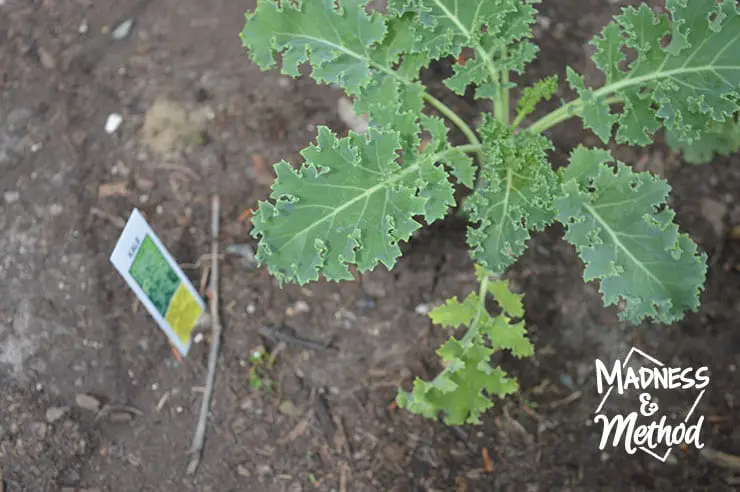 We also have a kale plant, and my Mom has had good success with hers (although she lives down in Southwestern Ontario, so it's completely different there).  She said it's very hardy and should grow and grow all season.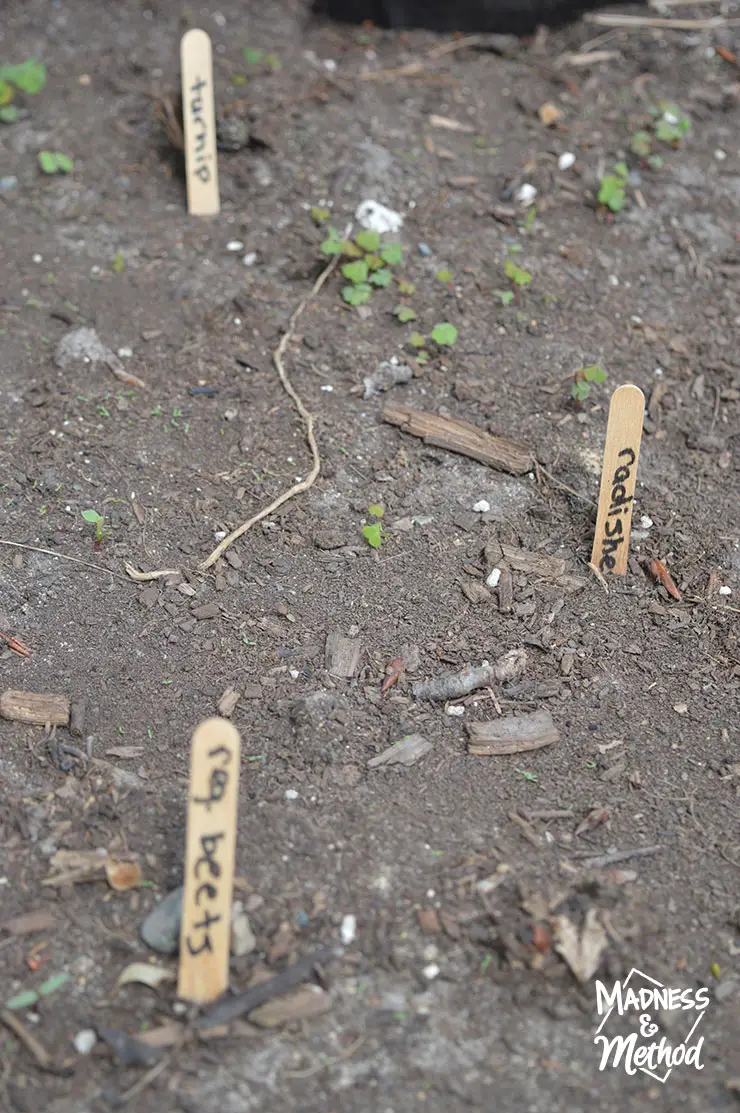 Our other new from-scratch seeds include turnips, radishes and beets.  Although I'm only a beet eater, and if we do end up getting radishes and turnips, I figure I can learn to like them?  (Although I don't even remember if I've ever had a turnip…).
They must be growing well since there are some perfect little rows of green plants coming up!  (And considering I've weeded these raised garden beds twice this summer, and my Mom has once, I'm figuring that it's not weeds again…).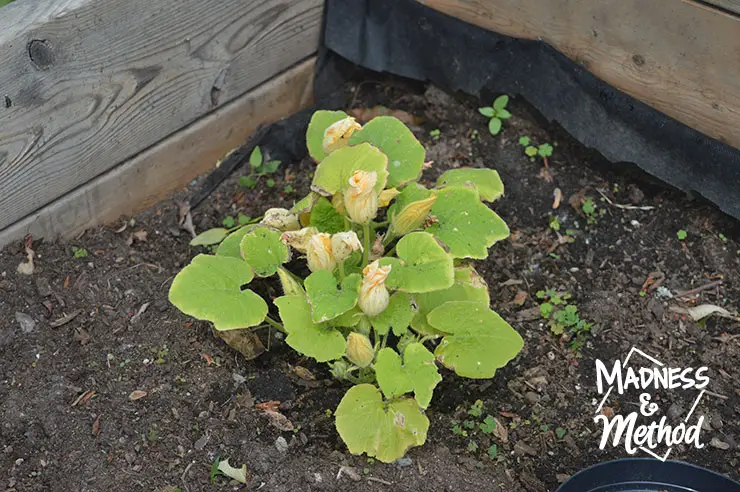 We also have a tried and true zucchini plant again this year (I still have zucchini leftover in my freezer from 2 years ago!), and considering it already has a bunch of flowers, I'm thinking it will be abundant again this season.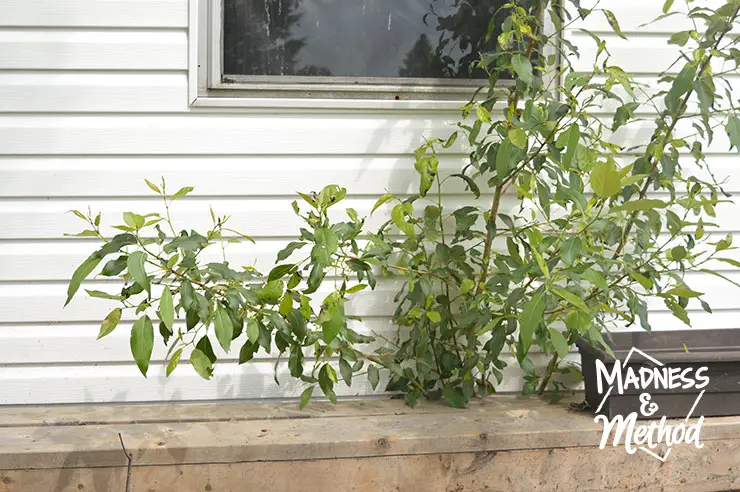 Unfortunately, we also have a tree coming up between the raised garden beds and the shed, so this will have to be taken out soon.  We had a tree growing behind/into our shed, but the Husband took that down a few days ago…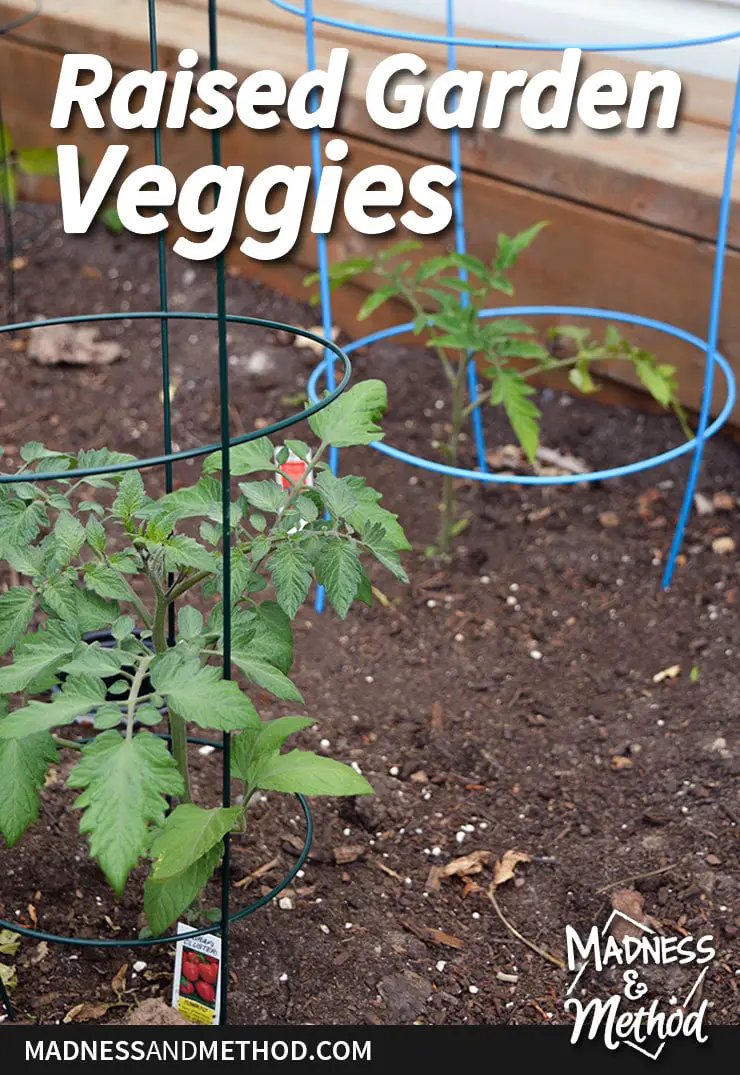 I'm interested to see how the veggies will fare this year, especially since all the tomatoes/cucumbers are on one side, and we have little seeds growing on the other side.  We also have some raised garden bed areas at the rental house, so I might just get some more plants and see how they do there.  Although, I can't tell if the raised gardens there had regular plants, or are just filled with weeds!
Do you plant veggies/fruit each year?  Have you figured out an ideal placement for your plants, or do you switch it up each season and hope for the best?
Let me know :)