Purple, purple, purple!  It's my favourite colour… but I know that not many people like this particular hue.  Why?  I have no idea!  Maybe seeing some examples of purple rooms will spark that little fire :)  It should at least give you a better idea of all the spaces that could be.  If I had my way of course.  Anyways, let's look at some colour inspiration with purple!
– Note: This post contains affiliate links. See more information about affiliates here. –
Remember to check out the first rainbow series post (red) here, the orange post here, the yellow inspiration post here, the green post here, and the blue inspiration here.  And follow my Facebook Page, where the rainbow series started.
Purple Inspiration
Please click through the links below to share and see more from the original sources :)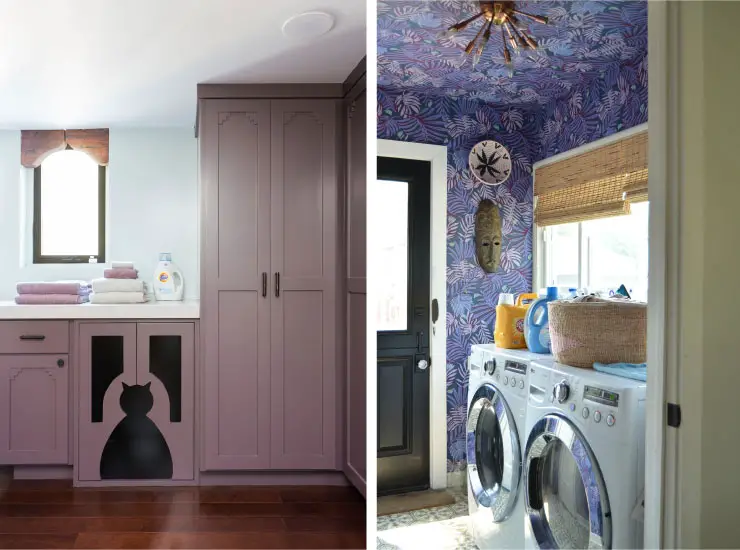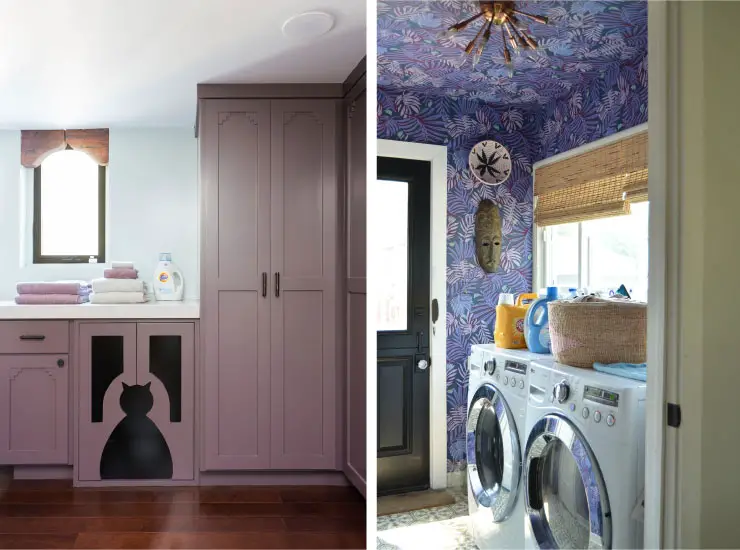 Let's start with a unique place to add purple… laundry rooms!  On the left, the purple cabinets (with the cutest cat cutout for the litter box) designed by Hive LA Home and photographed by Amy Bartlam.  For my purple round-up, I knew I had to include Shavonda Gardner's laundry room.  She also loves purple, and that bold wallpaper is amazing.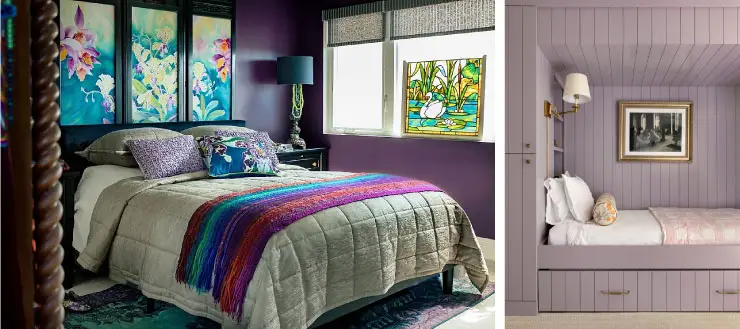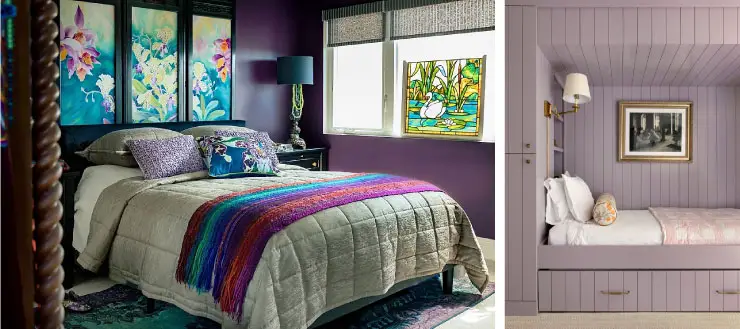 These two bedrooms are both purple, but each one is very unique.  On the left, the primary bedroom by Rachel Moriarty Interiors, taken by Deborah Shields Photography is a lovely rich shade and contrasts nicely with the all-white ensuite.  The built-in bed on the right is in a kids' room by Shannon Eddings, photographed by Molly Culver. It's a fun little pop of colour in the space!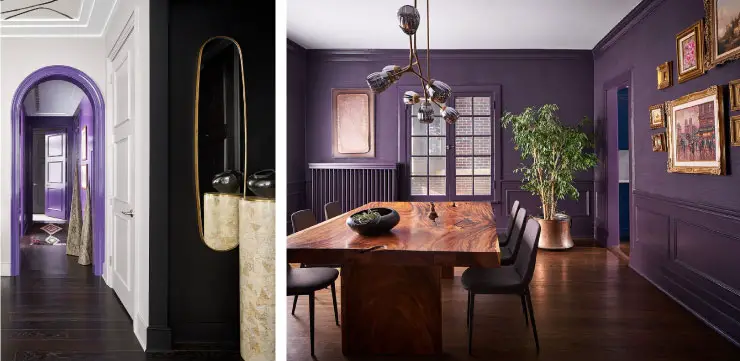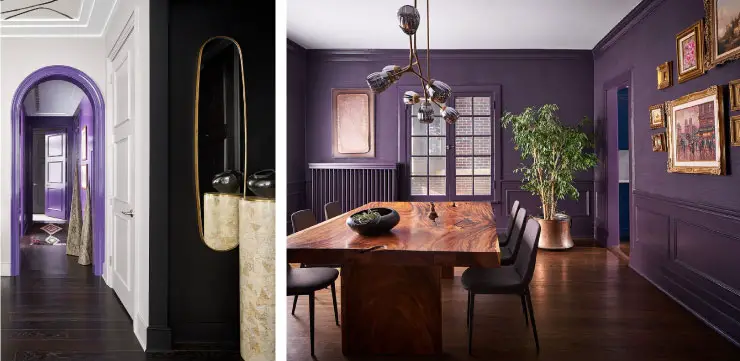 These next two purple examples were both designed by Studio Sven.  On the left, an electric purple doorway leads to a matching hallway in their Ritz-Carleton project.  Less bright, but equally stunning, the all purple dining room in the House of Jewels, both photographed by Ryan McDonald Photography.  I honestly love both purple interiors sooooo much!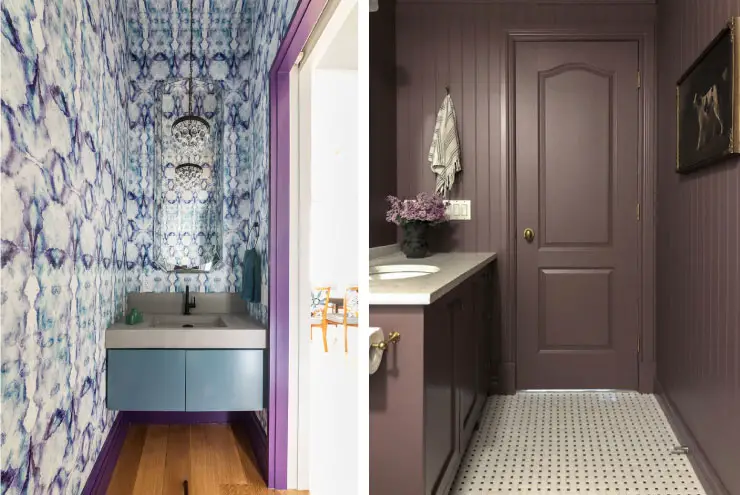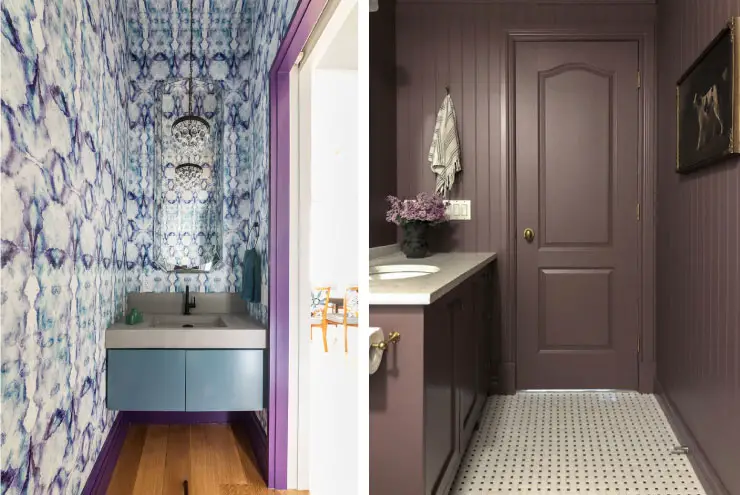 Finally, we have some purple bathrooms – which is an excellent place to bring in colour if you're hesitant.  The bathroom on the left by Tamara Eaton Design has a bold, but not completely colour-heavy wallpaper.  I love how the baseboards and door casing bring in that pop of purple!  On the right, the purple on purple bathroom completed by Erin Zubot Design for the 2021 Spring One Room Challenge is a purple paradise.
Purple in my Space(s)
Because purple is my favourite, I do have a few different examples to show :)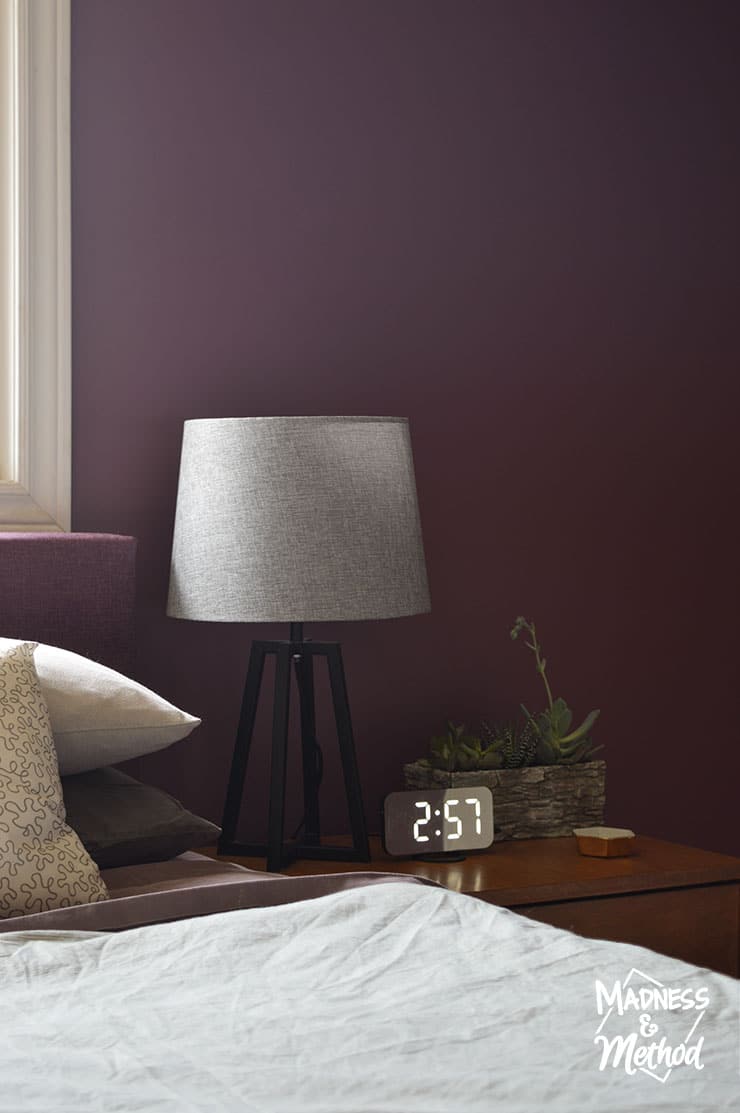 You can bet that our bedroom was purple in our last house.  At that time, it was a custom colour that I mixed, and was more of a deep plum.  See more photos of that room here!
We also added a black and white bathroom with a bright purple vanity!  I painted a bunch of bathroom accessories to match, it was really fun :)  Check out more photos of that powder room.
Most recently, I still love our purple primary bedroom completed for the Spring 2020 One Room Challenge.  I have plenty more photos of those lovely purple walls and how they went up here.  And some purple floral wallpaper examples too.
And no, my childhood bedroom wasn't purple.  BUT I did paint my bedroom in University a bright purple, so there's that :)
(Fun fact, I dream of having a purple kitchen, with cabinets along the lines of Benjamin Moore's Sleepy Hollow).
Purple Home Products
Want more purple in your life!?  Here is a modified product round-up that was originally posted on my Facebook Page.  (Affiliate links used – thanks for shopping!)
Shopping Links Here:
More Purple Interior Inspiration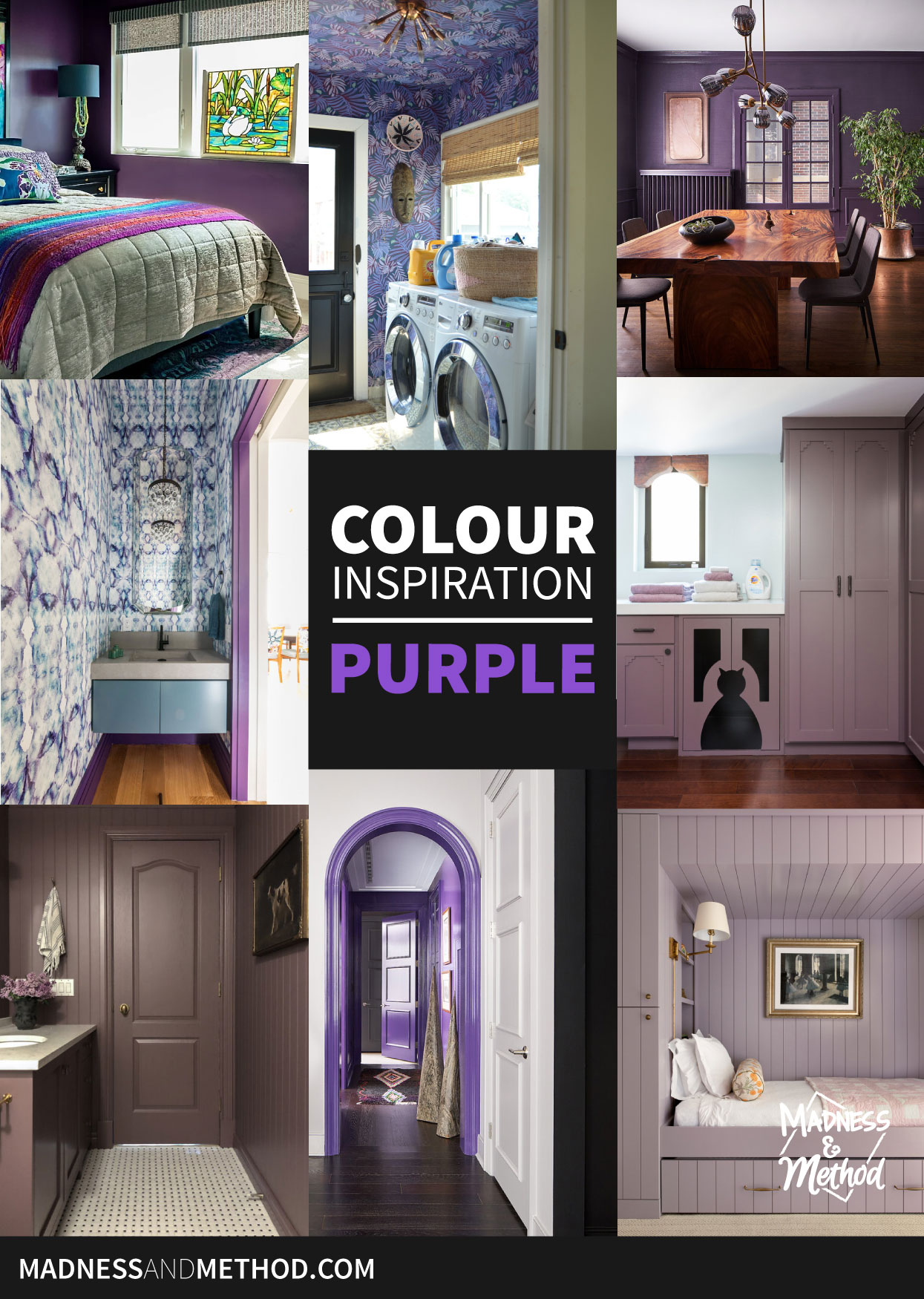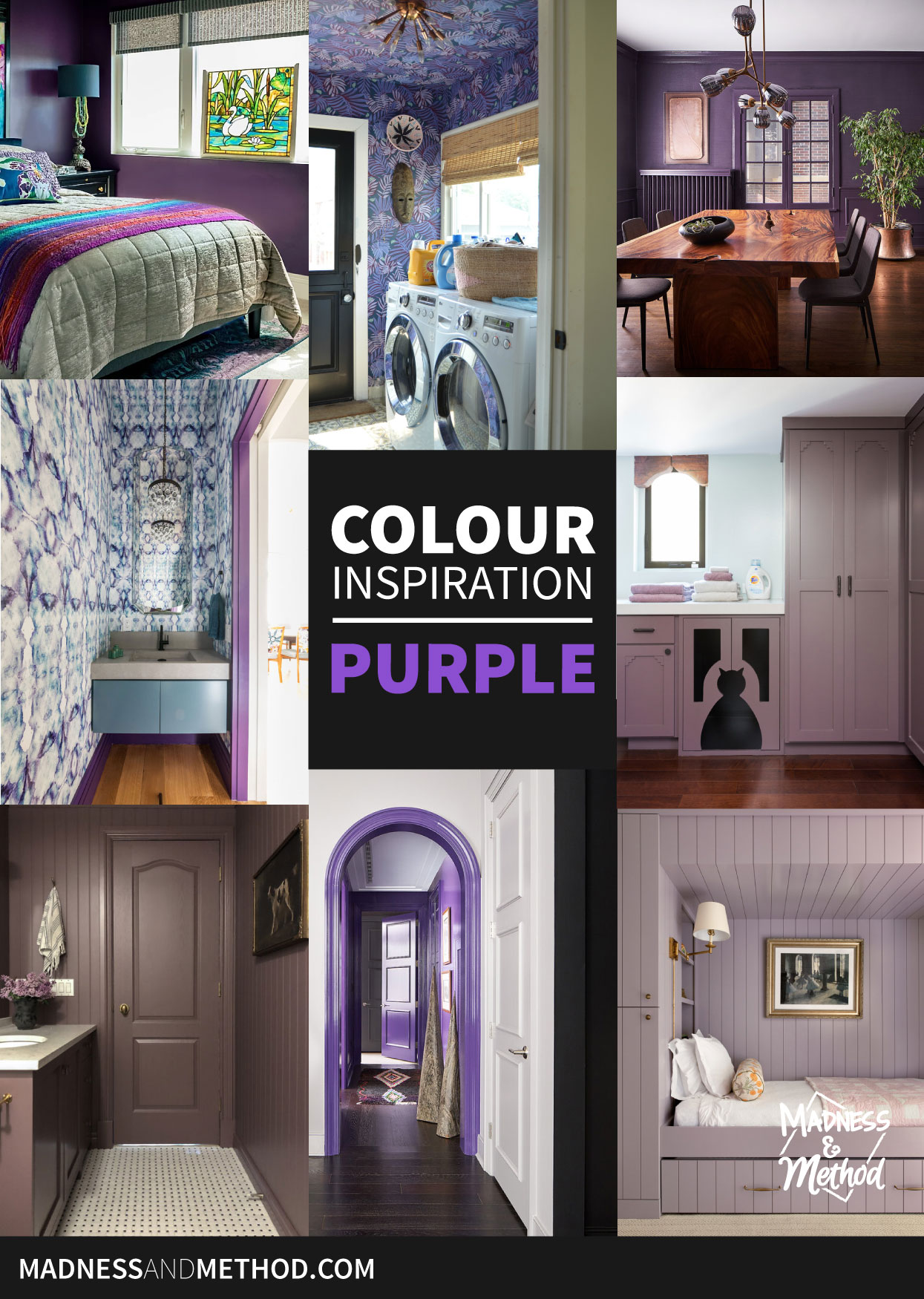 Now tell me, do you like purple!?  And/or, do you have ANY purple in your home!?  Did you know that I own a purple Christmas tree too?  For our first year with the purple tree, I decorated it in a primary-ish colour scheme, and I'm looking forward to our theme next year.
Stay tuned for the next and final rainbow colour series post (pink!).
Related Posts
Colour Inspiration RED | ORANGE | YELLOW | GREEN | BLUE