Purple, purple, purple!  It's my favourite colour… but I know that not many people like this particular hue.  Why?  I have no idea!  Maybe seeing some examples of purple rooms will spark that little fire :)  It should at least give you a better idea of all the spaces that could be.  If I had my way of course.  Anyways, let's look at some colour inspiration with purple!
– Note: This post contains affiliate links. See more information about affiliates here. –
Remember to check out the first rainbow series post (red) here, the orange post here, the yellow inspiration post here, the green post here, and blue inspiration here.  And follow my Facebook Page, where the rainbow series started.
Purple Inspiration
Please click through the links below to share from the original sources :)
"When I'm older, I'm going to have a purple office".  Haha, isn't that sort of what we always say?  "When I'm y, I'm going to x".  But no seriously, when we build our home, there is FOR SURE going to be a purple office.  And probably a purple kitchen, and probably a purple front door!
But back to the offices… the one on the left designed by Nathan Turner is very traditional glam.  On the right, the Gaztelur library by Marta de la Rica looks like it could have been there for centuries.  My office would be a darker, bolder purple.  With rainbow built-ins of course :)
For my purple round-up, I knew I had to include Shavonda Gardner's laundry room.  I know that she also LOVES purple, and that bold wallpaper is amazing.  On the right, a purple kitchen by Rita Konig with another bold wallpaper on the walls.  I would be completely happy with that kitchen!  (But if you wanted to know, I'm thinking cabinets more along the lines of Benjamin Moore's Sleepy Hollow).
These two bedroom photos are pretty similar (but click through to see the rooms for more).  The left built-in bed is in a kids' room by Shannon Eddings, and is it's own little pop of colour in the space. Jenni Yolo from ISPYDIY painted a small bedroom in that lovely hue and it's a good way to use purple without being too "wild".
Speaking of "wild" I'm going to showcase two very different uses of purple by Studio Sven.  On the left, an electric purple doorway leads to a matching hallway in their Ritz-Carleton project.  Less bright, but equally stunning, the all purple dining room in the House of Jewels.
While I was originally going to share this dark accent wall and lilac sofa combo, I found another purple example to use instead.  (And is that wall painted purple?  Or black?  Or dark blue!?).
Either way, Nickey and Kehoe use colour in a few of their spaces – this time with the lovely purple bathroom tile in the photo on the left.  I believe the floor tile also has the same shade, but it almost reads as white if you look closely.  Don't worry though, the purple on purple bathroom on the right definitely brings on the purple :) It was completed by Erin Zubot Design for the 2021 Spring One Room Challenge.
Purple in my Space(s)
Because purple is my favourite, I do have a few different examples to show :)
Most recently, our purple primary bedroom that I completed for the Spring 2020 One Room Challenge.  I have plenty more photos of those lovely purple walls and how they went up here.  And some purple floral wallpaper examples too.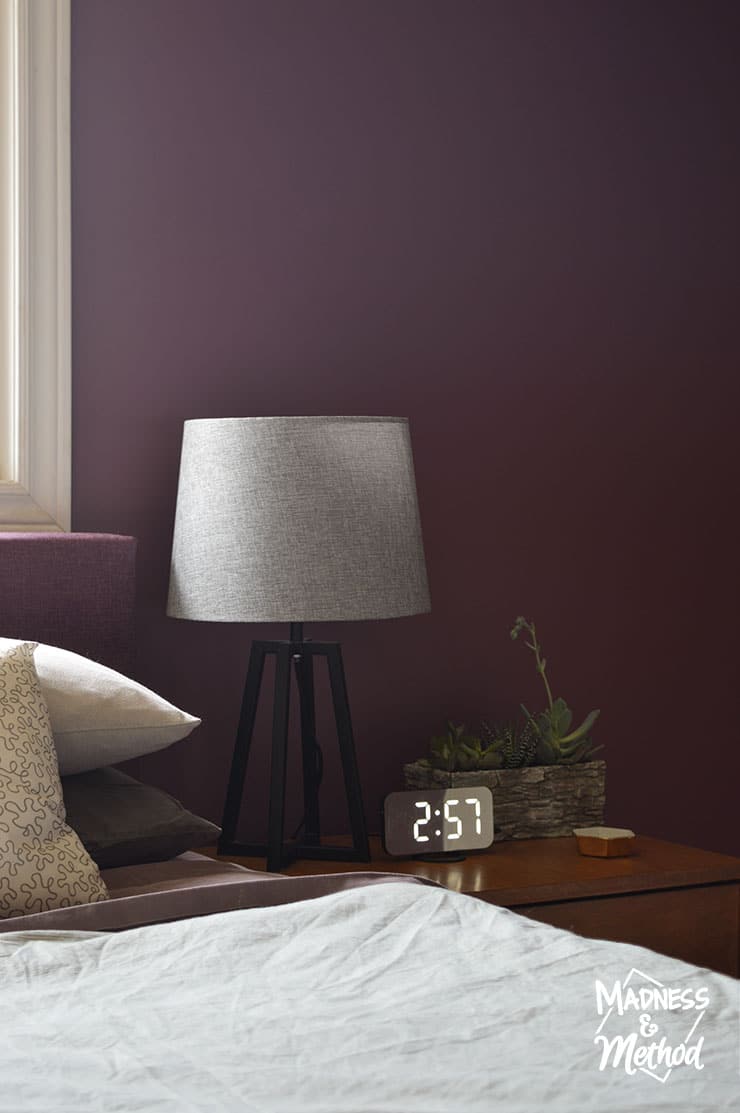 And, you can bet that our bedroom was purple in our last house too.  That time, it was a custom colour that I mixed, and was more of a deep plum.
We also added a black and white bathroom with a bright purple vanity!  I painted a bunch of bathroom accessories to match, it was really fun :)
And no, my childhood bedroom wasn't purple.  BUT I did paint my bedroom in University a bright purple, so there's that :)
Purple Home Products
Want more purple in your life!?  Here is a modified product round-up that was originally posted on my Facebook Page.  (Affiliate links used – thanks for shopping!)
Shopping Links Here:
Don't those purple items look great!?
More Purple Examples
Now tell me, do you like purple? Do you have ANY purple in your home!?  Did you know that I bought a purple Christmas tree and this will be our first year using it.  I'm really excited to see how it will look!  It's not exactly the shade I was going for (it's more electric than dark), but I don't think I could go wrong with purple hahaha.
Stay tuned for the next and final rainbow colour series post (pink!).