We're right in the sweet spot coming off of the Christmas/New Years holidays but still early enough to think about Valentine's Day without being in a panic.  And speaking of sweet spots, you know I'm obsessed with desserts – so while I could skip the jewellery or flowers, I could never give up the idea of enjoying some Valentine's Day chocolates.  Today I'm sharing some sweet ideas for Valentine's Day… aka a list of yummy recipes that you can make for that special someone :)
– Note: This post contains affiliate links. See more information about affiliates here. –
Now, I'm going to include a bunch of links to desserts for Valentine's Day, but don't feel like you have to go the sweet route on February 14.  Almost anything can be made extra "romantic" or "fancy" by just changing the shape to a heart.
This multi-size heart-shaped cookie cutter would be perfect for various food items for Valentine's Day.
Things like eggs, sandwiches, pancakes, maybe a steak if you cut it before you cook it… just get creative!
Valentine's Day Dessert Ideas
Valentine's Day Brownie Bars:  This was one of the first recipes I shared on the blog, and trust me when I say that people still talk about how good these taste.  (I used similar heart-shaped cookie cutters to make mine).
Cream Wafer Cookies: Similar idea to the brownie bars, but these look much lighter and brighter.
Valentine's Day Sweetheart Dessert: Think of the different combinations you could put on skewers!
Kissing Mustache and Lip Cookies:  I made these a couple of years ago, they're a fun shaped cookie and the sprinkles make them extra yummy.  (Get lip and mustache cookie cutters here, or this set with a bowtie).
Valentine's Day Blossoms: You could probably substitute any cookie base for these.
Chocolate Caramel Pretzels: Pretzels are totally heart-shaped – who knew!?
Valentine's Day Oreo Pops: Such a cute/simple snack, and you can use the same idea for different holidays too.
Cherry Cheesecake Tarts: Sort of a recipe-fail on my part, but the Husband liked them, so that's all that mattered :)
Valentines Chocolate Pretzel Bark: Those Valentine's x and o sprinkles are too cute.
Jelly Roll Dessert: Okay, the Husband LOVES fruit/jelly desserts, he would definitely go for this.
Valentine's Cupcakes: What a fun shape – you might even be able to make these ahead and freeze them
Puff Pasty Valentine Dessert: A perfect dessert to end the day, ice cream is always a good bet :)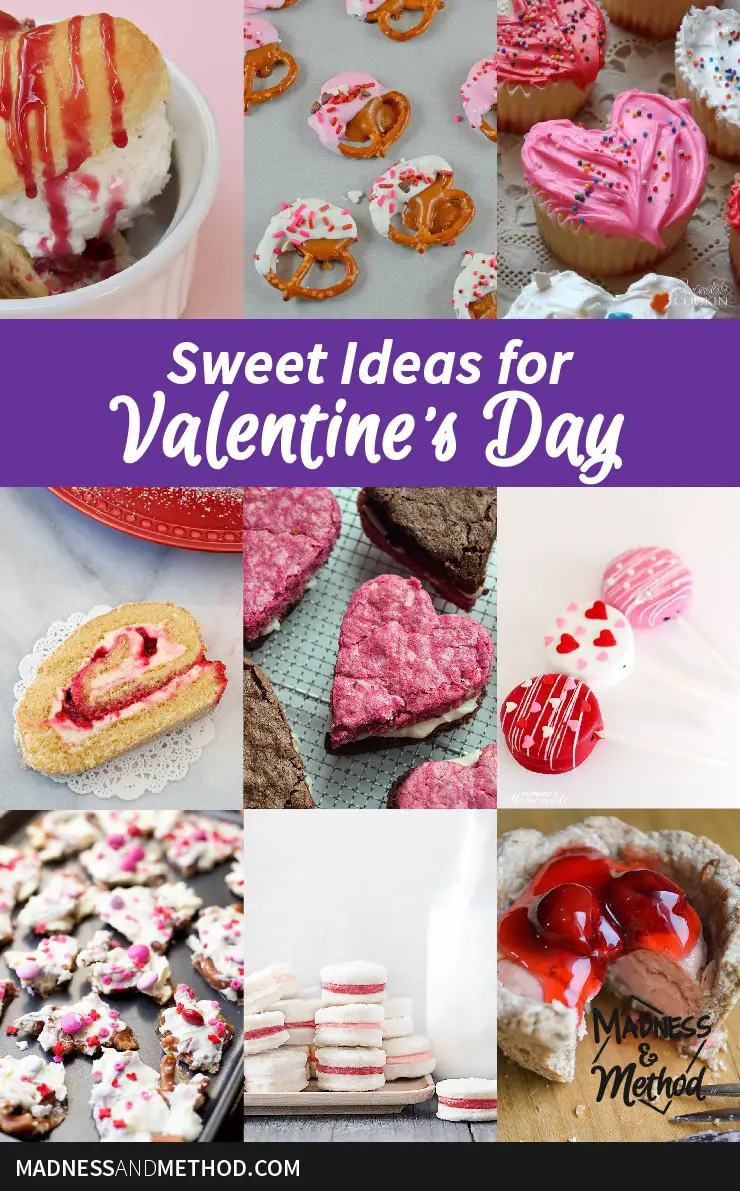 Hopefully these sweet ideas for Valentine's Day helped you to find something to make for that special someone (or for children/friends too!).  I think we'll make something along the lines of the mustache/lip cookies, but maybe just a simple heart shape instead…
Don't want to make anything for Valentine's Day!?  Amazon has a special Valentine's Day section if you're looking for more traditional gifts (but they also have some for pets and coworkers… so maybe a little less traditional, ha!).