Okay, I think we're ready to start chatting again about the work happening at the rental renovation!  Floors are being installed any day now, and that means that we'll finally be able to start all the finishing work.  Today I'm going to share my plans for the basement living room design, and I'm hoping it will be a fun and cozy space!
– This post was sponsored by Wayfair.ca and may contain affiliate links.  Are you looking to update your basement living room?  Check out Wayfair.ca for all the furniture, accessories and home things you need! –
But first, let me share some photos of where we are now (and to remind everyone where we started). You can also check out the basement tour to see the house when we bought it.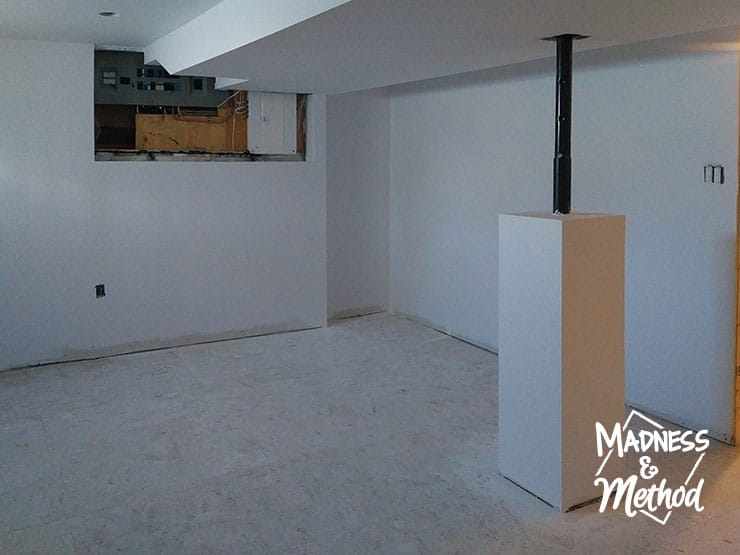 I took this photo last week before the walls got painted. They're going to be a light beige, and we'll bring in more colourful accents with the accessories.

During the worse part of construction, the living room served as a dumping ground for all the excess dirt from the plumbing.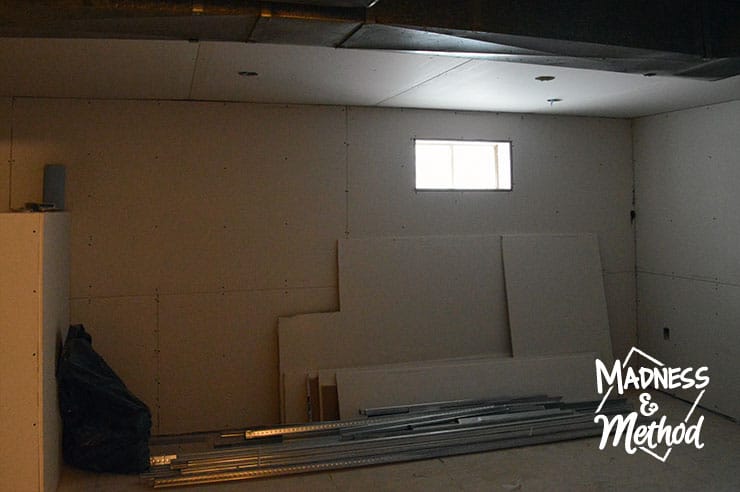 For a while, I thought that we would be able to keep the stones behind the old fireplace.  During demolition, we found old that the gas fireplace had been decommissioned years ago, but the previous owner had turned it back on!  (The pilot light was on when we bought it but there were holes in the glass and you could stick your hand in the flames if you wanted – not safe!)
Unfortunately, switching to a new gas fireplace (and one for upstairs) was way too much money, so we ended up getting the furnace switched out from electric to gas instead.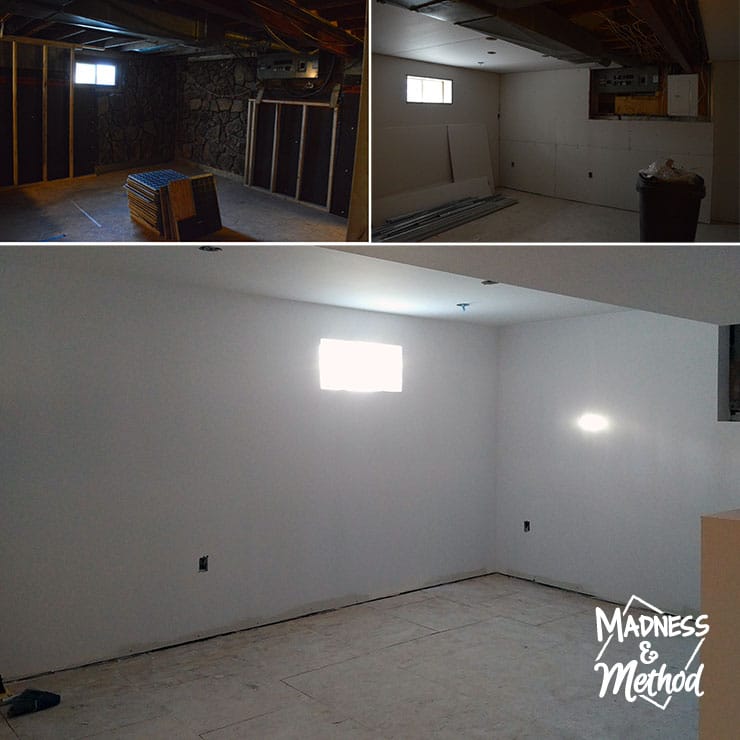 The photo above shows the process a bit better, with the semi-original rock wall showing in the top left, then the drywall getting installed, and finally where we are now-ish.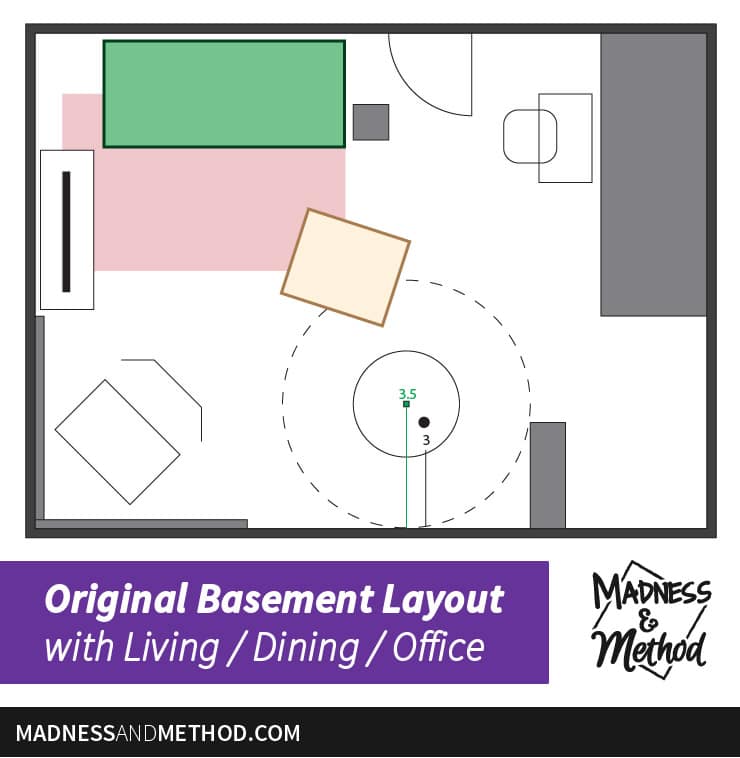 In the original layout, we had always considered keeping the stones in place, and I thought that we could get a cute electric fireplace instead.  There were actually so many options on Wayfair.ca that would heat up our space, so that was the plan!
Well, fast forward to having the furnace finally fixed, and we realized the basement is a lot warmer than we thought it would be.  I mean, it's a lot better insulated too – but definitely not something you think that would happen in a basement!
Design for the Basement Living Room
So what's going into the space!?
Well, we've been staying in the upstairs while the construction was happening downstairs, and I've slowly accumulated stuff we would need.  I already grabbed a round table and some chairs for the dining room secondhand, and we brought the TV we had in the garage (on top of another dresser we picked up).
I haul my computer back and forth between both houses, but it will be a lot better to have a proper desk setup when we move into the basement (my poor back suffers trying to shove my legs into that dresser, ha!).
I actually have no idea if we'll use the dresser in one of the bedrooms, or as a temporary console table for the TV until I decide what I actually want (oh, and I even found options on Wayfair.ca that had a fireplace built-in!).
Here are the other living room floorplan options we had thought about.  The colourful objects in the room are the ones I have already purchased (the rug, recliner and sofa bed), and the plain objects are things I'm still deciding one (which probably won't happen until we can move into the space and see how we like the layout.
Here is what I was thinking:
Living Room Accessories I'm Considering
PILLOWS
OFFICE AREA
PLANTS AND RUGS
FIREPLACES
STORAGE
Basement Living Room Moodboard
Here is a little design board I came up with for our space (remembering that I decided on the accent colours a bit ago).
Yes, I did still include the fireplace + screen I liked, but I'm thinking we might have to forgo those.  Like I mentioned, I already purchased this green sleeper sofa, this leather-look recliner, and this bold red rug.  The light fixture we bought for the dining room space, and everything is still unopened in their original boxes waiting for us to move down there!
I know we'll need to include some sort of storage (whether it's the dresser or a proper console table for the TV) and I'm thinking a basket (or two!) would be good as well.
Remember, our plan is to live in this space part-time, but do short-term rentals when we're not there, so please let me know if you think I'm missing something that you look for in a rental space :) 
Oh, and definitely come back and visit when I share the "after" of this basement living room / dining room space once we've moved in and finalized some of the details.  It should be in the next couple of months (as in when I share, not when we move it – I'm hoping that's sooner!), so stay tuned!