Are you looking to bake some fun-shaped cookies in unique colours!?  These rainbow marble cookies are super easy to make, and they can be customized in whatever colour or shape you want.  Just one extra step from regular rolled cookies, but they look so fancy.  Plus, I'm sharing how you can add some extra flavours too.  Please let me know how you will make these!
While I was originally hoping to update my Valentine's Mustache and Lip cookies this year, my cookie cutter didn't arrive on time.  And now, we're way too close to Valentine's Day right?!  So that's where the idea for these rainbow marble cookies came from!  I wanted something that was heart-shaped/red for now but could easily be adapted for other holidays/seasons/occasions.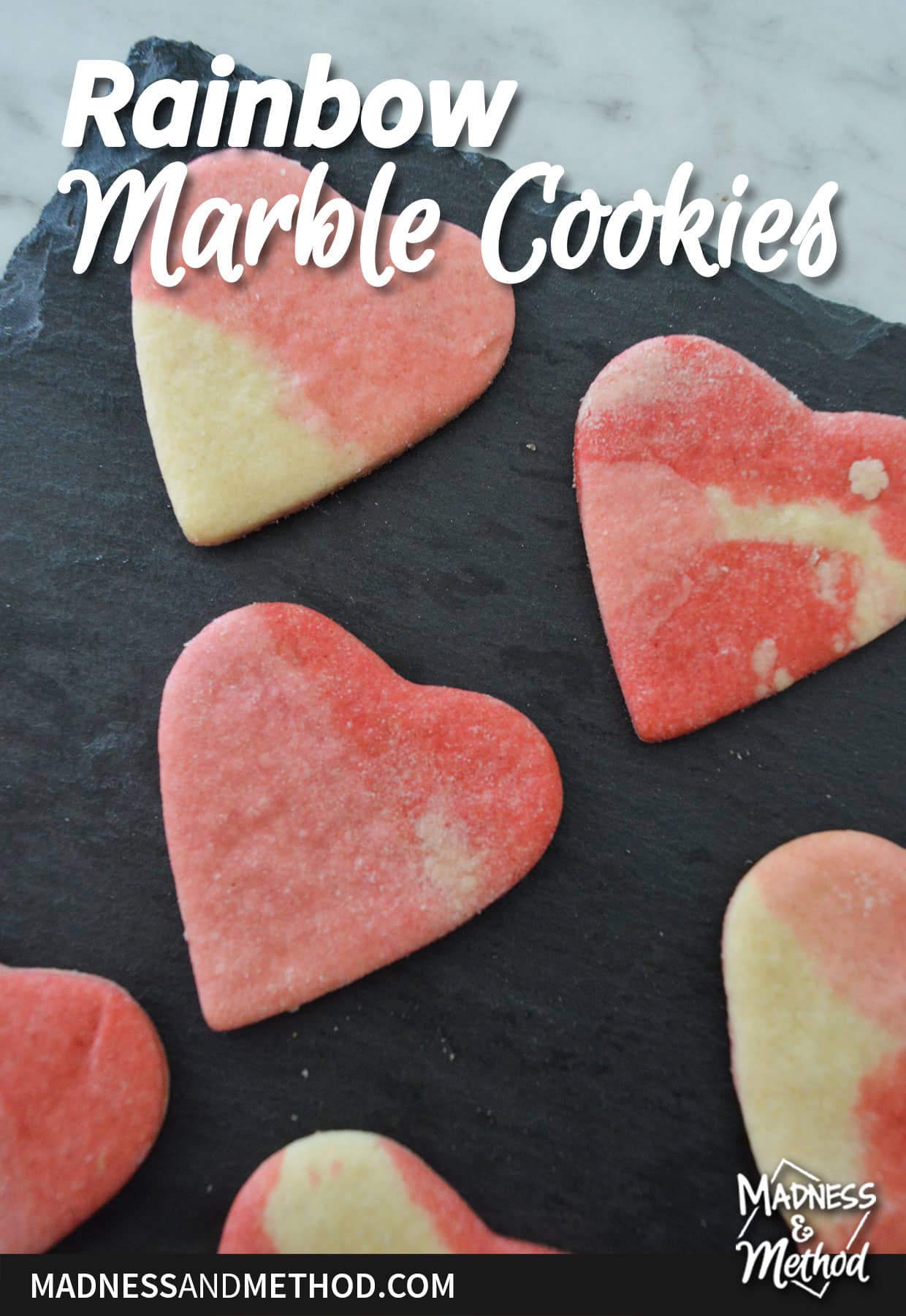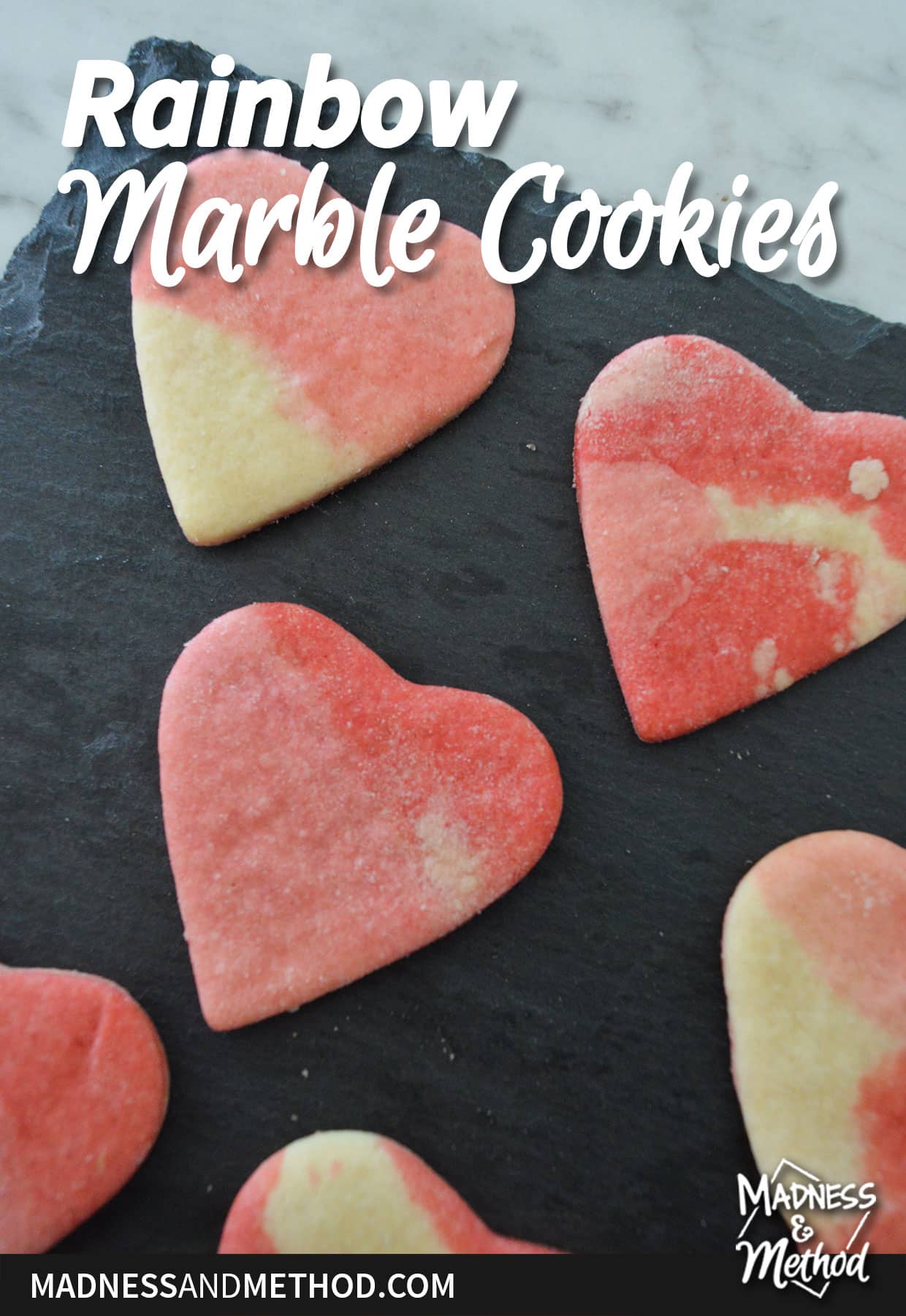 Honestly, most marbled cookies are made with regular cookies and coloured icing.  I wanted something where the cookies would be colourful and fun!  Plus, it's a lot quicker (and less messy) to skip the frosting.
You could always add frosting in between and make cookie sandwiches :)
Making Marbled Cookie Dough
I used a modified version of my sugar cookie recipe.  Something that was easier to halve/double (I made a double-batch).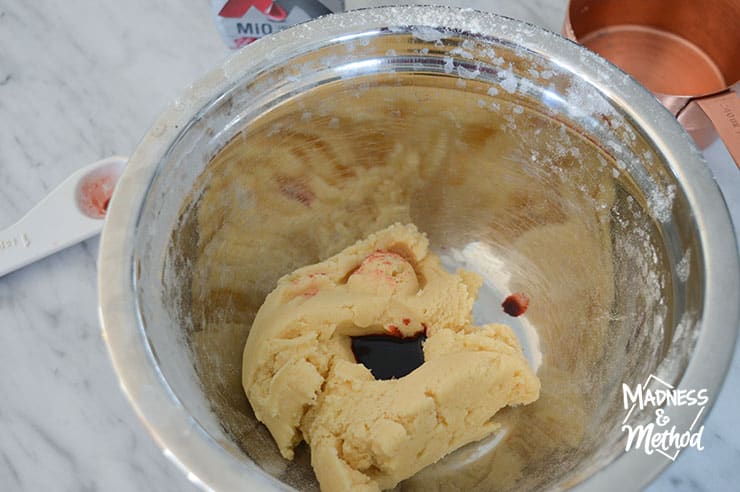 From there, you can separate out the dough and add colour/flavour as needed.  For each cup of dough,1-2 tsp of liquid food colour is good (depending on what colours you want).  I made a little well in the dough, then used one beater on my hand mixer.  Once it was mostly blended, I took a spatula and hand-mixed it to make sure the colour was even.
Similar to my flavourful rainbow layer cake, I added juice squirts to add flavour (and colour).  So for my cookies, I did 1 cup of batter, then 1 tsp of colour, and 1 tsp of squirts.


Once all the colours were mixed, I scooped a bit from each one into a random pattern on my floured surface.  For the first round, I tried rolling it out like that, but it wasn't mixed well (and was sticky).  For the next attempt, I took the random colours, then lightly rolled them into a ball to squish them together, and rolled it out from there.  That worked much better!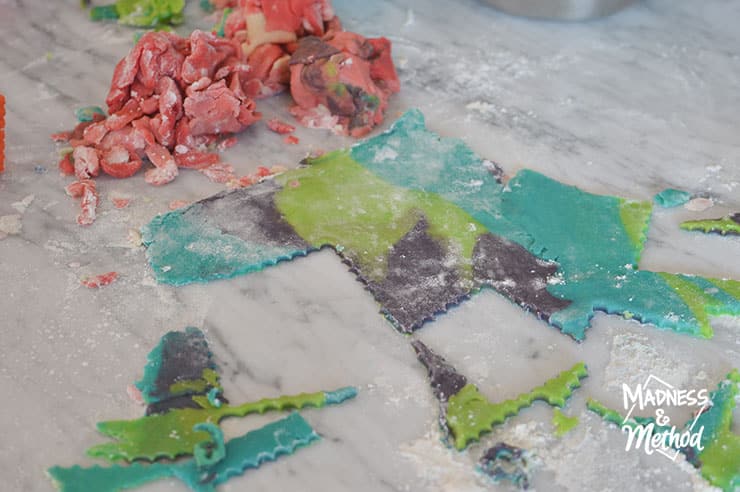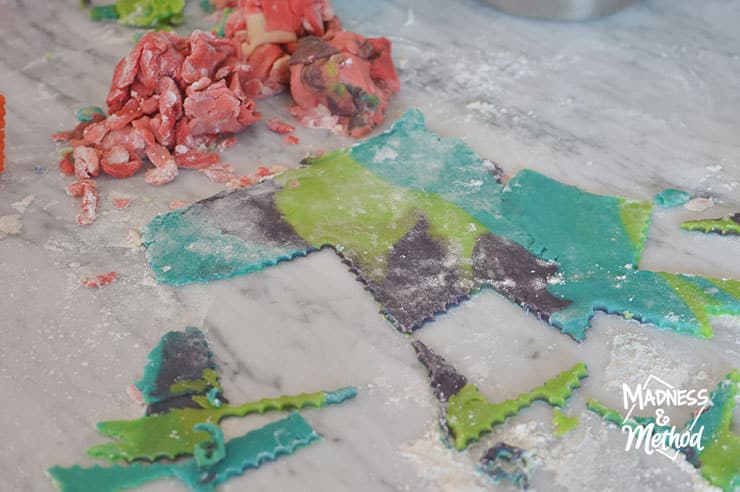 Once you have your dough ball, you want to roll out the dough as normal.  My cookies were pretty thin (and small), I'd guess about 3/16 to 1/4 inch.  Place your cookie cutters in spots where the most colours intersect.  You may end up with a bit more open areas compared to normal rolled cookies – but that's okay.
I blended all the leftovers into real rainbow marble cookies.  You'll see all three variations here :)
Rainbow Marble Cookie Colour Variations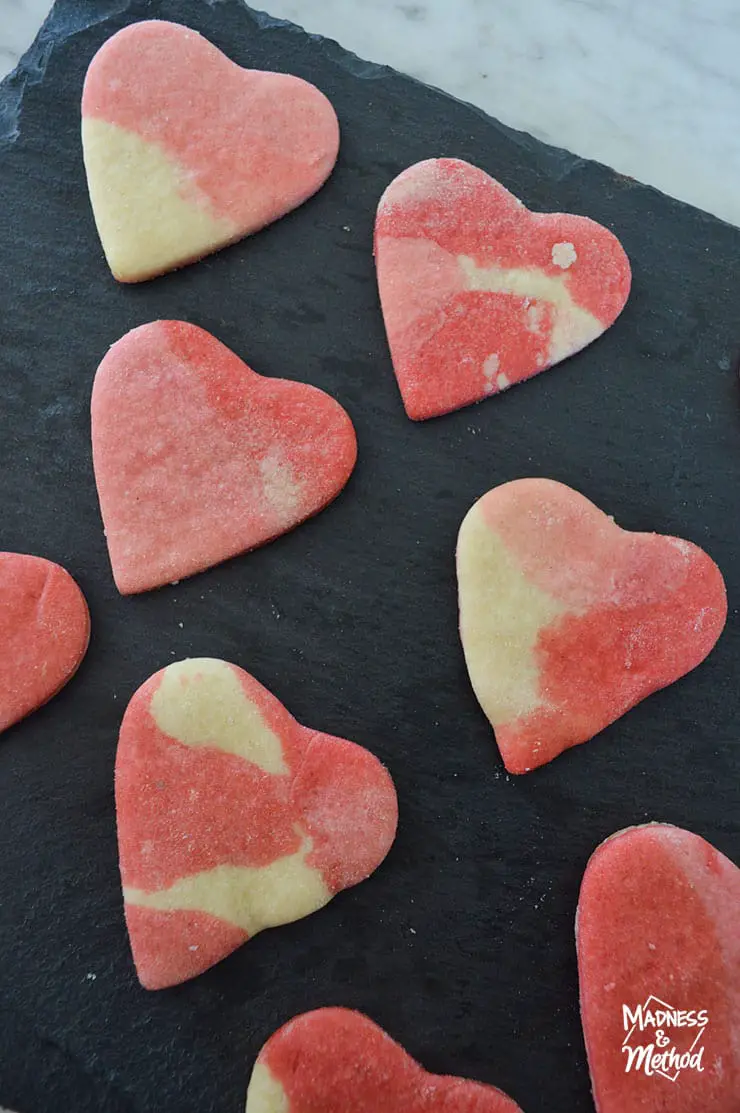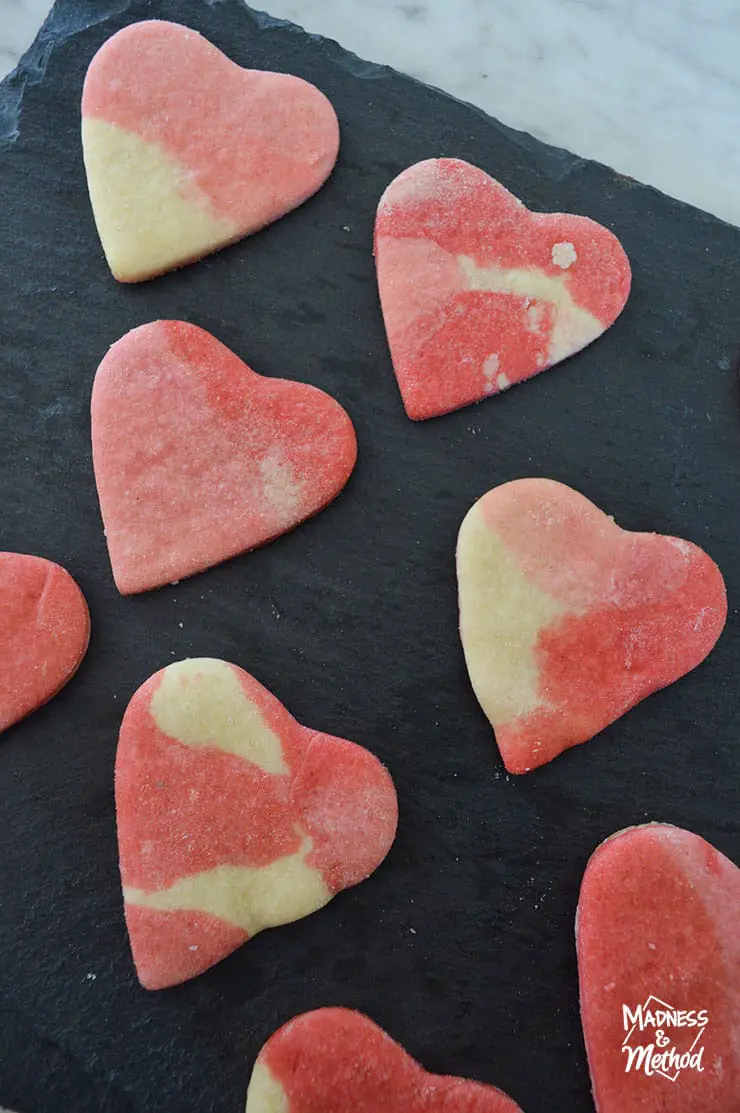 First up, my red, pink and white hearts!  For the pink, I used just 1 tsp of red Mio.  For the red, I had 1tsp of red Mio, and 1tsp of red food colouring (both with approx 1 cup of dough in each).  Then, about 1/2 cup of the white/plain coloured dough.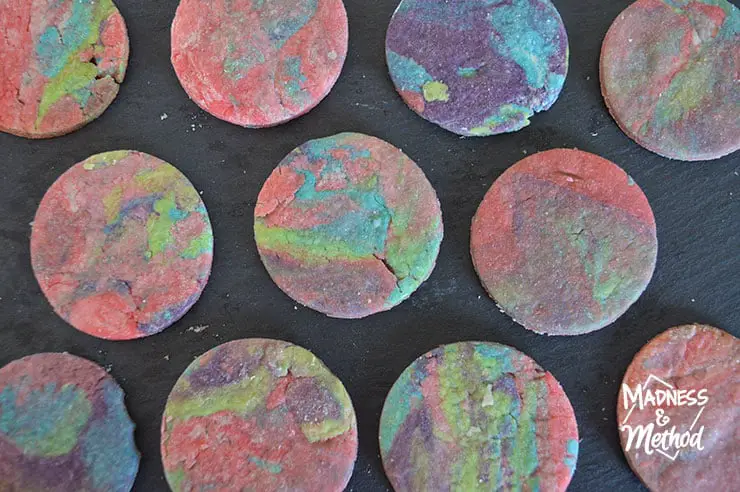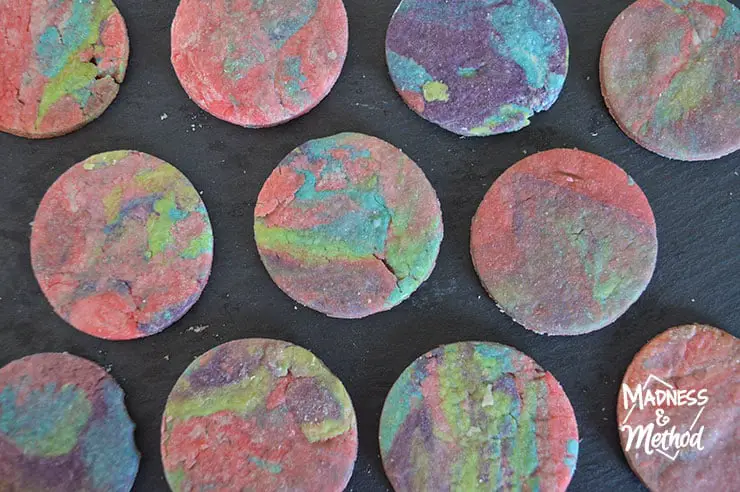 My rainbow cookie rounds were made from all the leftovers, so they didn't roll out as nicely (hence the cracks).  Some of my blue/green/purple dough also mysteriously vanished, so they were more pinky.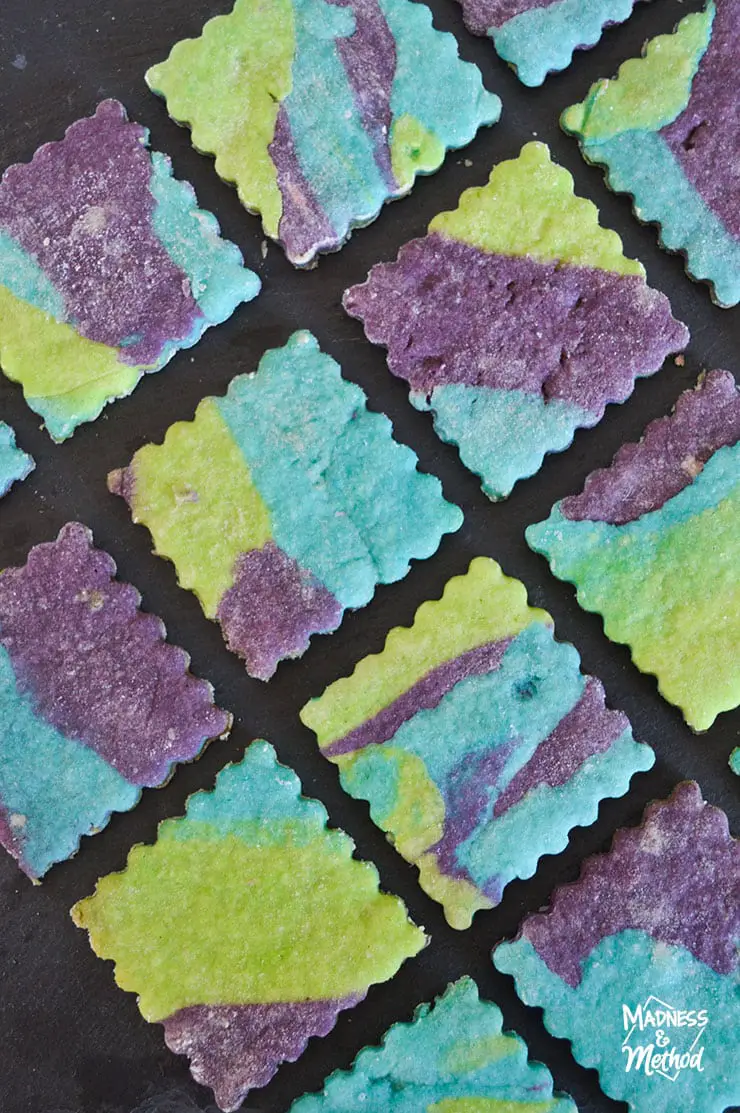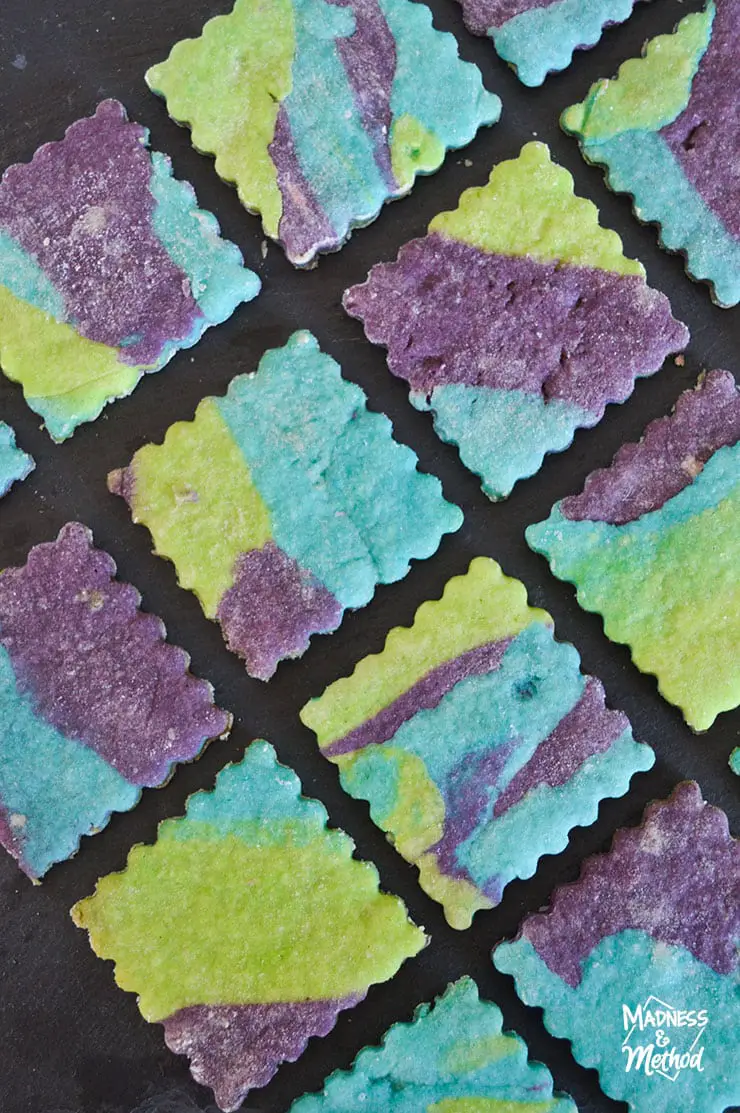 Finally, the purple-blue-green scalloped squares.  These had the brightest, most contrasting colours, and they turned out great!  I could really see people going all out with different tie-dye cookie colours depending on the occasion or holiday.  Think, pink and blue cookies for baby showers, red and green for Christmas, different team colours for sporting events, you name it!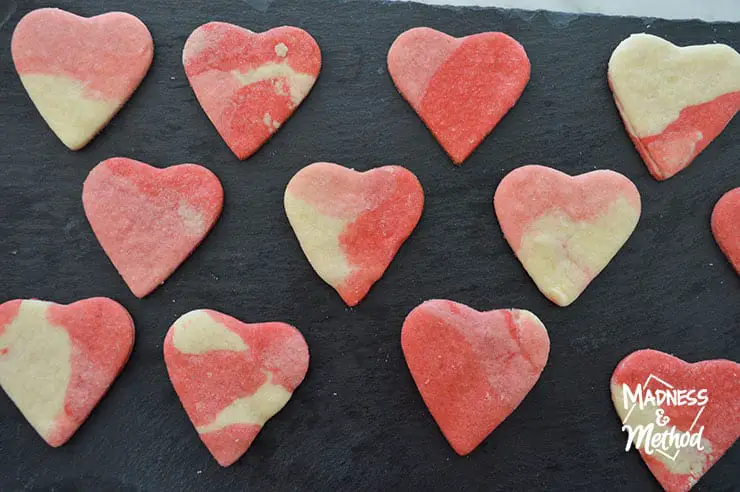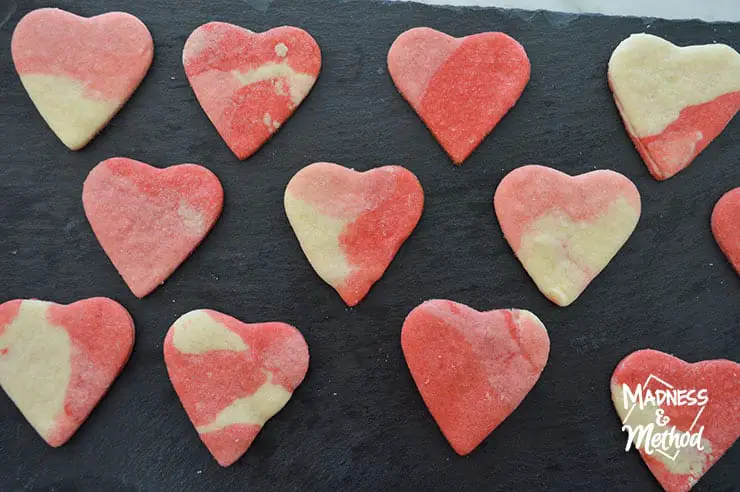 But as I mentioned, I wanted to highlight some sort of Valentine's cookie since we are in February :)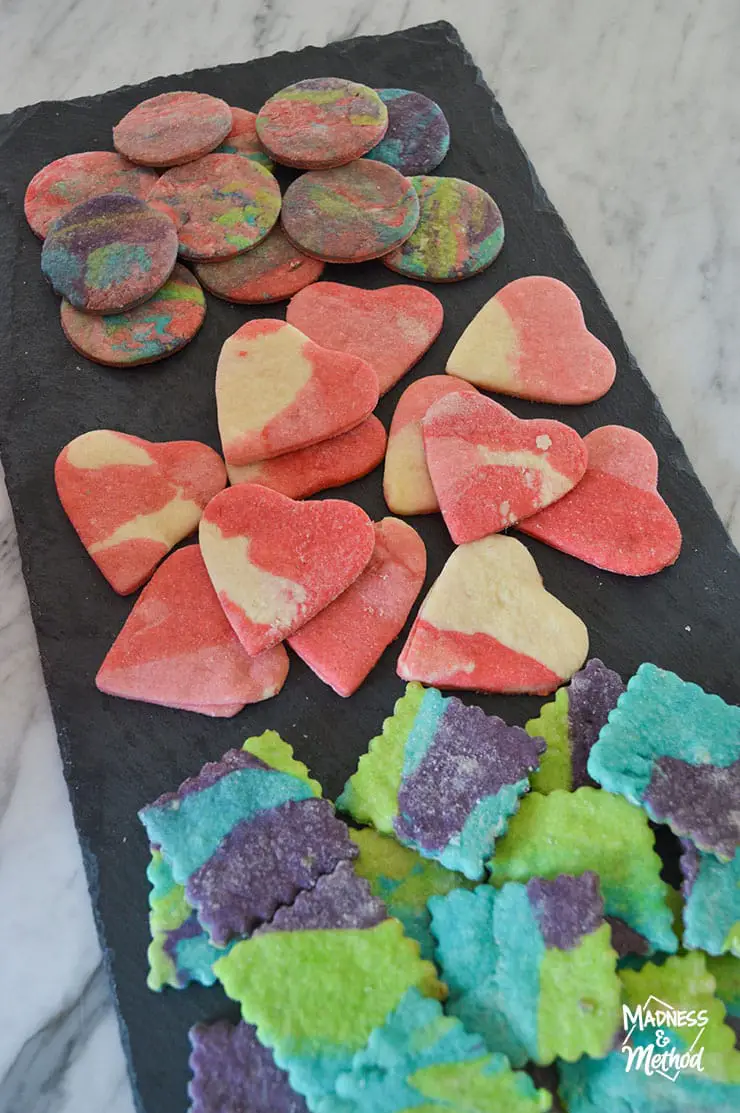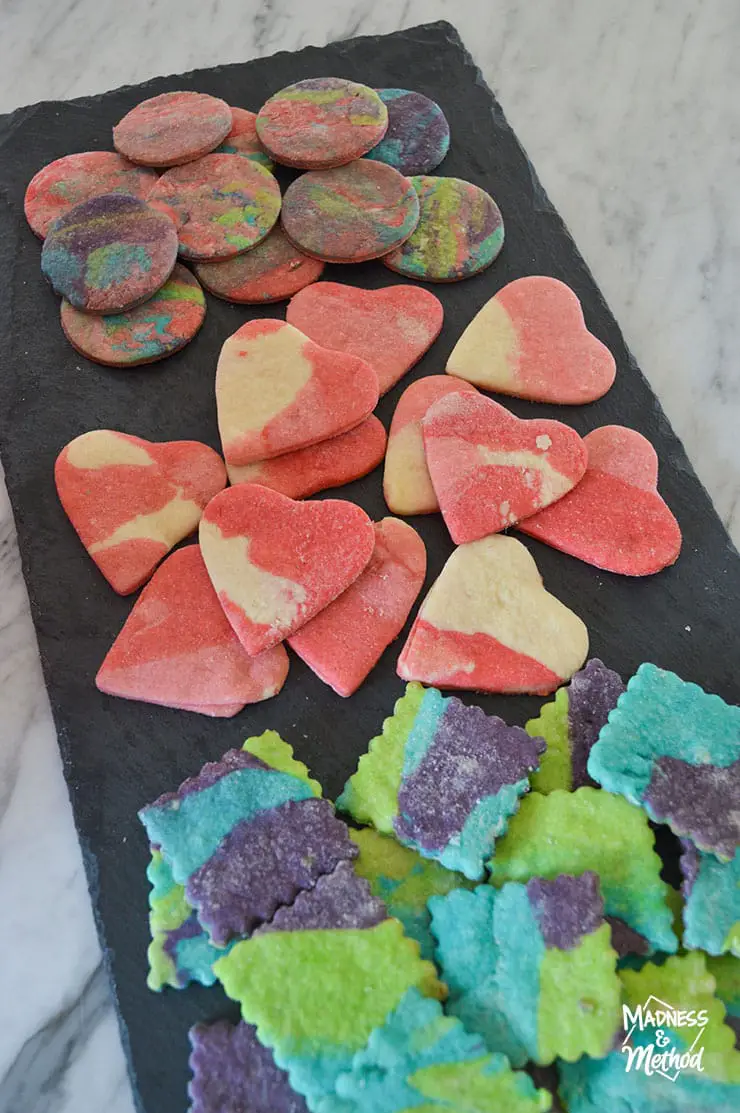 And ya, I ended up with a LOT of cookies!  I was thinking it was a good-sized batch, but I had over 120 cookies, ha.  I've halved it for the blog since I don't think normal people want that much :)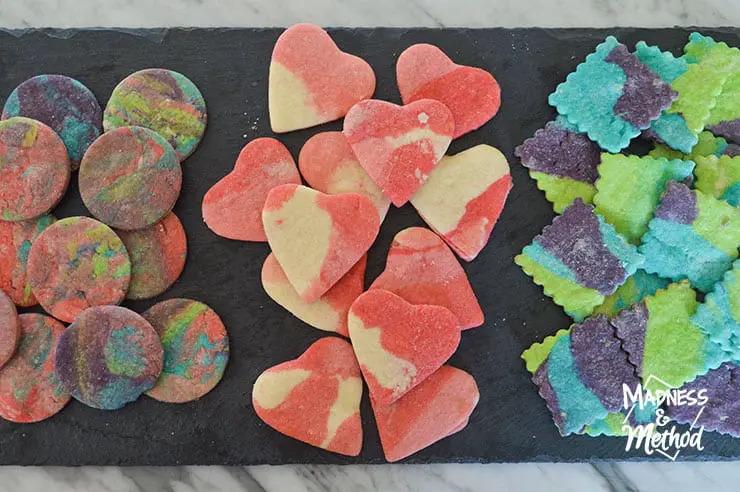 Print Recipe
Rainbow Marble Cookies
Looking to make fun rainbow marble cookies!? These customizable tie-dye cookies can be rolled and cut into whatever shape and colour you want! Plus, I'm sharing how you can easily add extra flavour to these sugar cookies too.
Ingredients
1/2 cup butter, softened (1 stick)

1/4 cup white sugar

1/4 cup powdered sugar

1 egg

1/2 tsp vanilla

2 cups of all-purpose flour

1 tsp baking powder

1/2 tsp cream of tartar

1/2 tsp salt

Liquid food colouring

Optional: Liquid juice squirts
Instructions
2
In a small/medium bowl, combine flour, baking powder, cream of tartar and salt. Set aside
3
In a large bowl, cream butter and sugars together. Add egg and vanilla, and mix again
4
Add the dry ingredients, and combine everything together (wipe and set the smaller bowl aside)
5
You should have approximately 2 cups of dough made, divide it into portions based on how many colours you want
6
Using the smaller bowl, portion out 1/2 cup of dough and add 1/2 tsp of food colouring (and 1/2 tsp of liquid squirts)
7
Blend until the colour is combined (see recipe for notes) and set aside. Continue until all dough is coloured as desired
8
Flour a clean surface, scoop small amounts of dough in the centre, and lightly form into a ball
9
Roll out to 3/16-1/4 thick and use the cookie cutters where the colours mix
10
Place on parchment lined cookie sheet, and bake 7-10 minutes
Notes
This recipe will make approximately 60 cookies sized 1.5-2". I didn't chill the dough at all, but you can before you roll it if you want.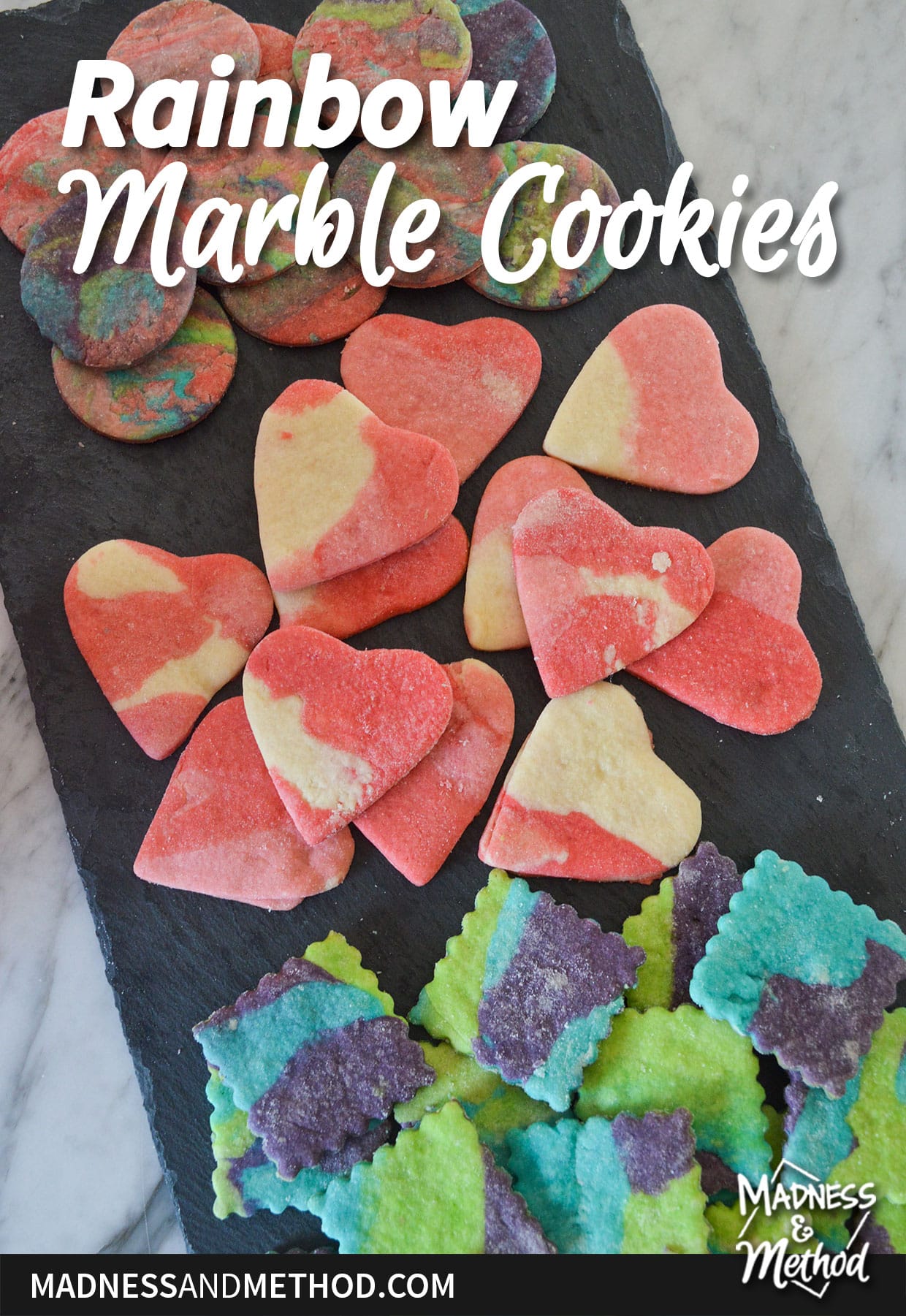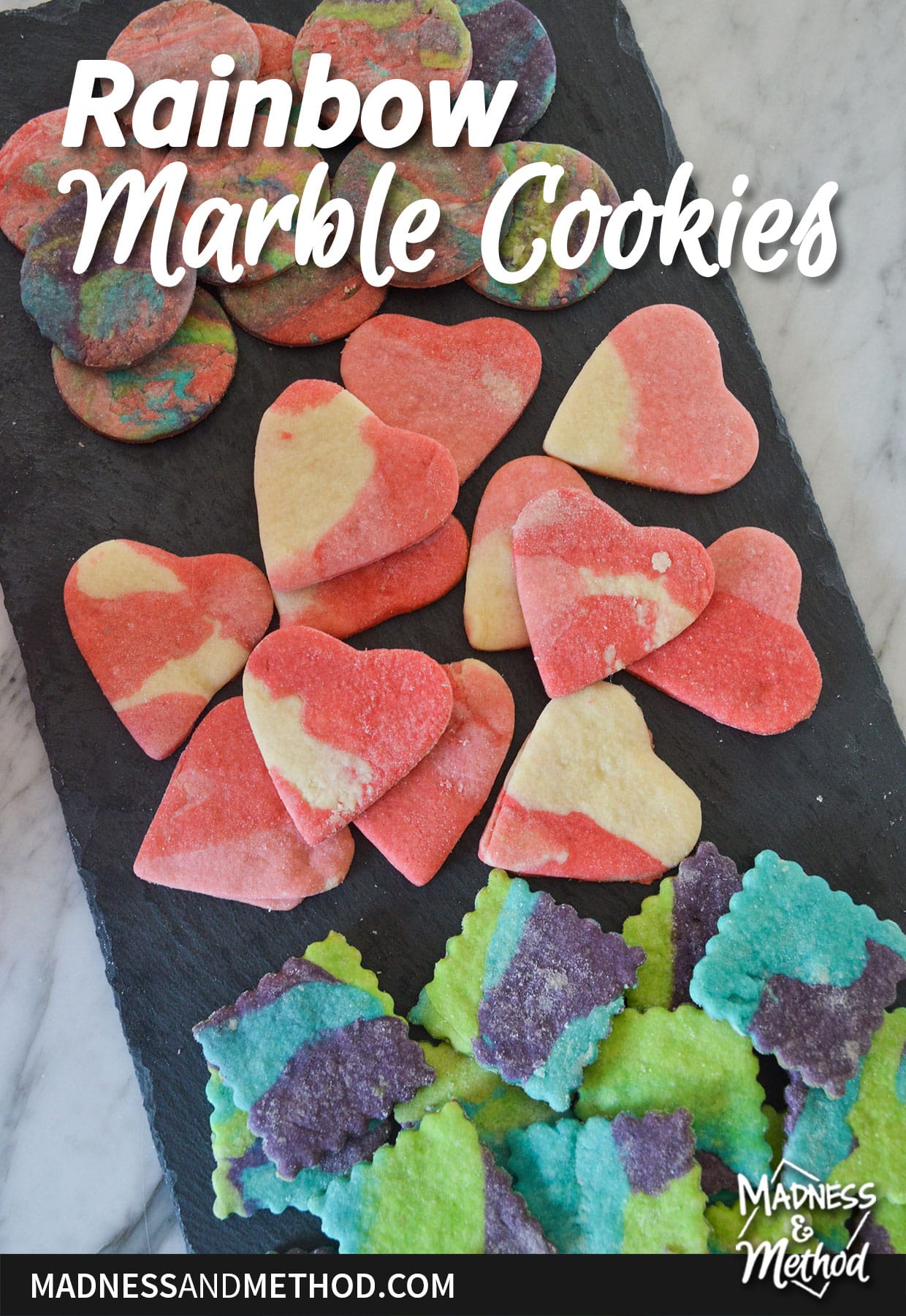 Oh, and check out how the kids wanted to place the cookies for a photo…

On the left, is Élise's "car" display, and on the right is Zachary's round plate.  I told them I'd take photos of their lovely setups.
Related Posts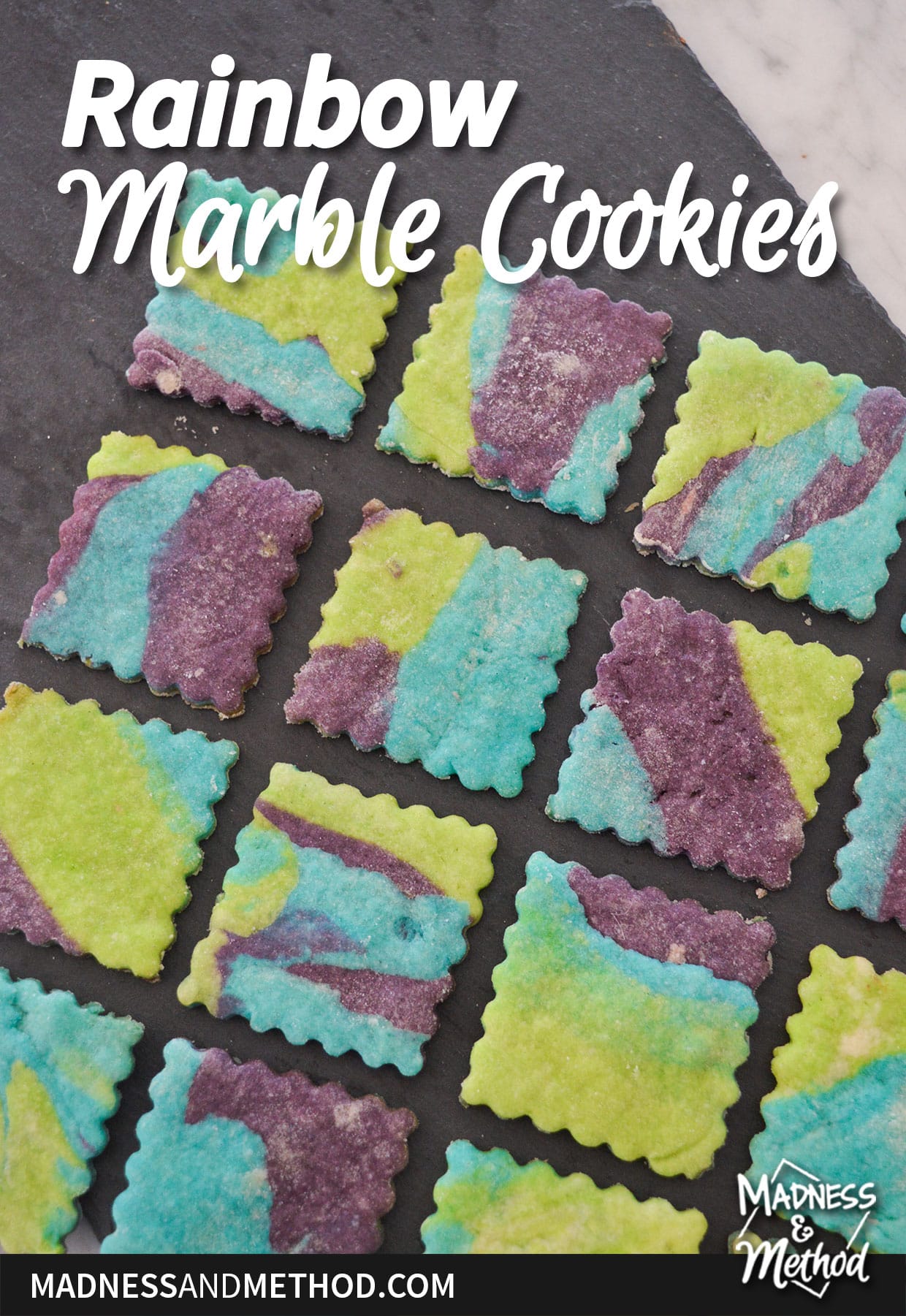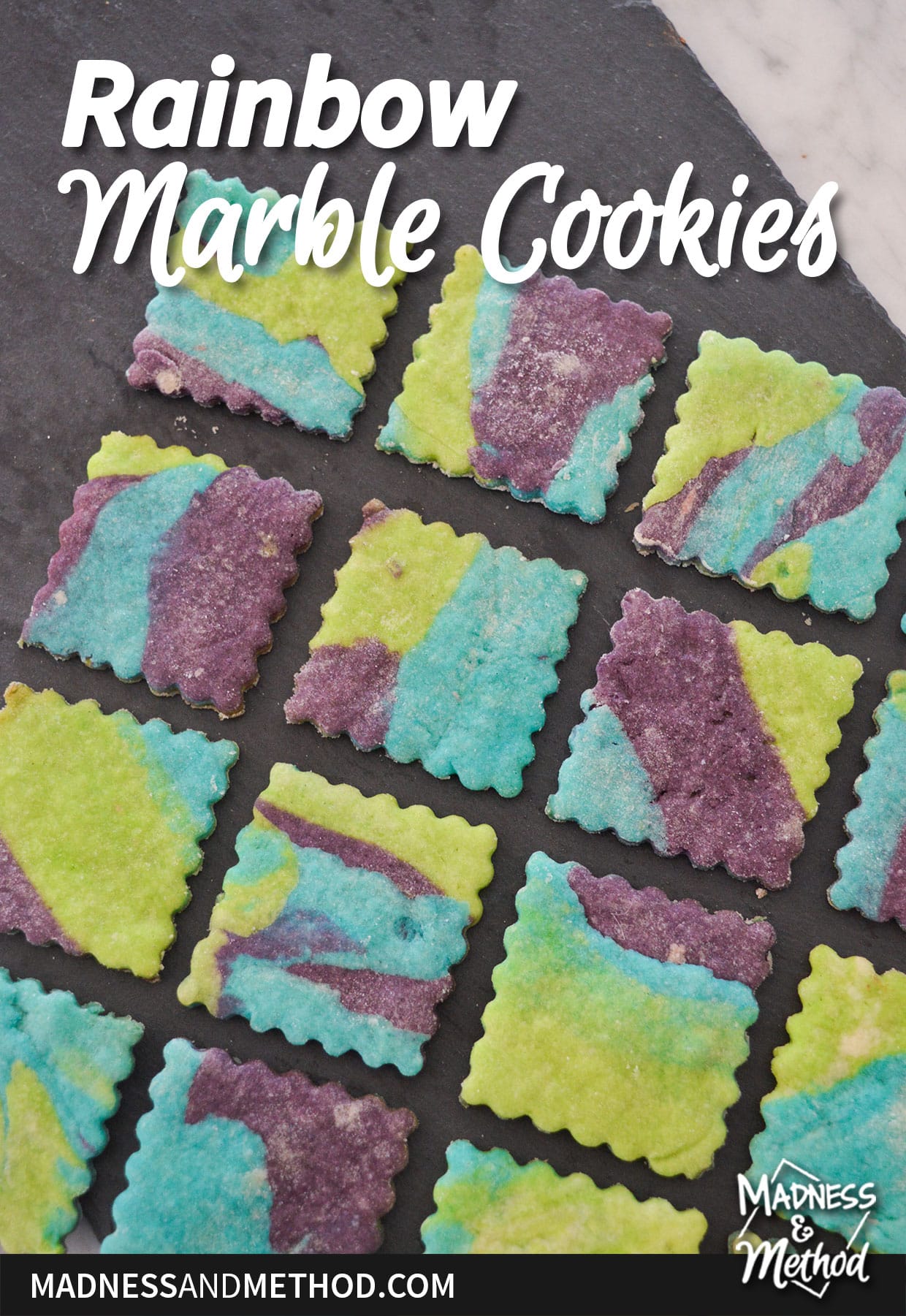 I hope this recipe for rainbow marble cookies gives you some good ideas!  Honestly, I'm already thinking of fun ways how to make the same thing for different occasions.  Picture little green, blue and brown round cookies for Earth Day!  You could even experiment
Oh, and in full disclosure, I will mention that the Husband said he doesn't like the flavour squirts in the cookies.  He finds it "too much" or "somewhat artificial" tasting.  Butttt he's also eaten the most cookies… so I guess it doesn't bother him that much.  I mean, you could totally omit the flavours and just have a regular sugar cookie taste.  OR experiment with fewer squirts, or even add 1 tsp of another flavour to the whole batch before you separate the colours instead.
Happy baking :)