It's been about 2 years since we renovated our kitchen, and I still love everything about it!  Today I'm going to do a butcher block counter review, because it's one of the things that people wonder about the most.  If you're wondering how butcher block countertops hold up over time, if staining butcher block counters is a good option, or if I would do butcher block counters again – this post is for you!  (Oh, and I talk about oiling them too). 
Almost exactly 2 years ago, we installed the butcher block counters in our raised ranch kitchen.  It was my first time working with solid butcher block, yet I had installed the Ikea veneer/particle board counters in my brother's kitchen.  There are pros and cons to each – but today I want to talk about the solid butcher block specifically.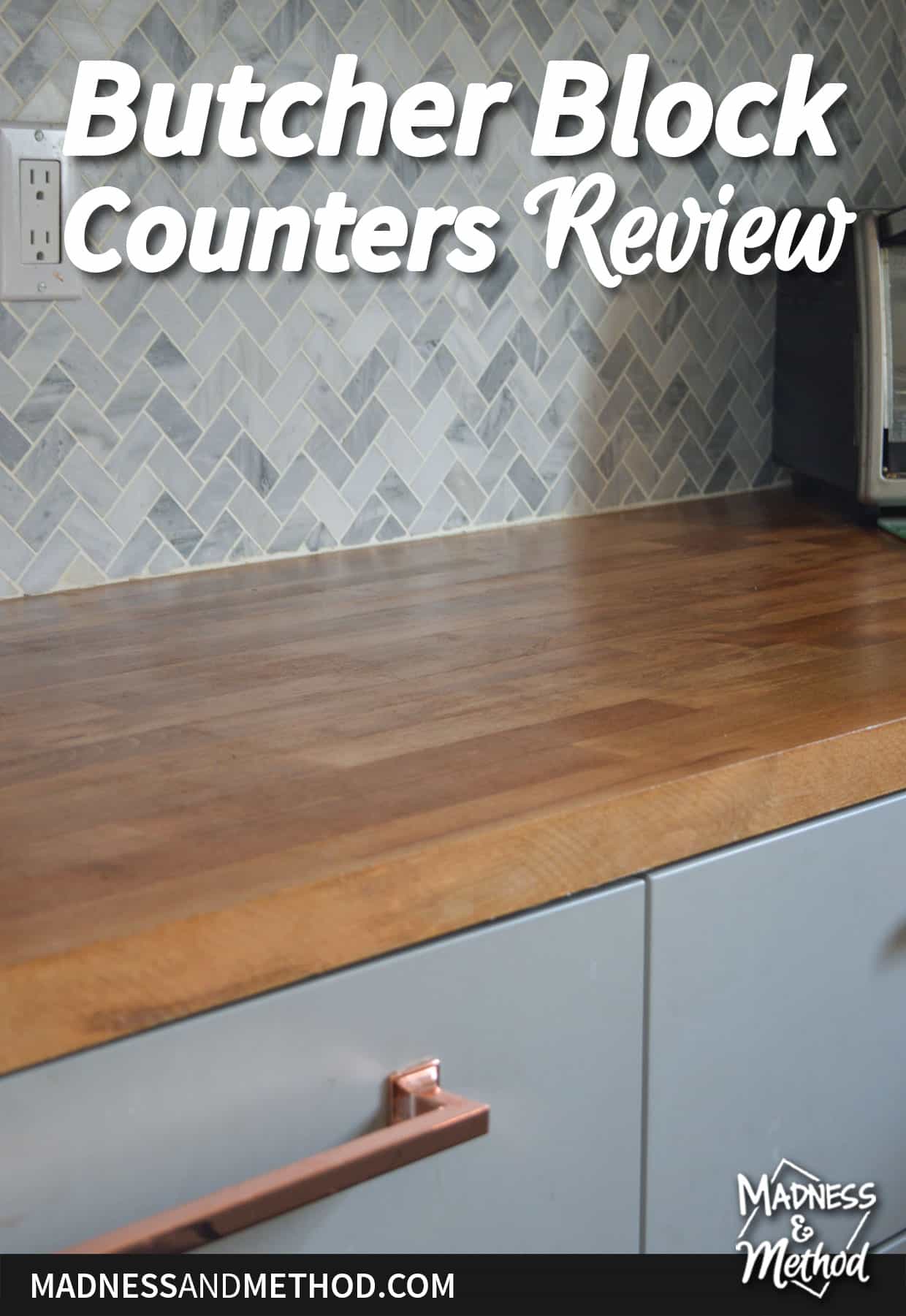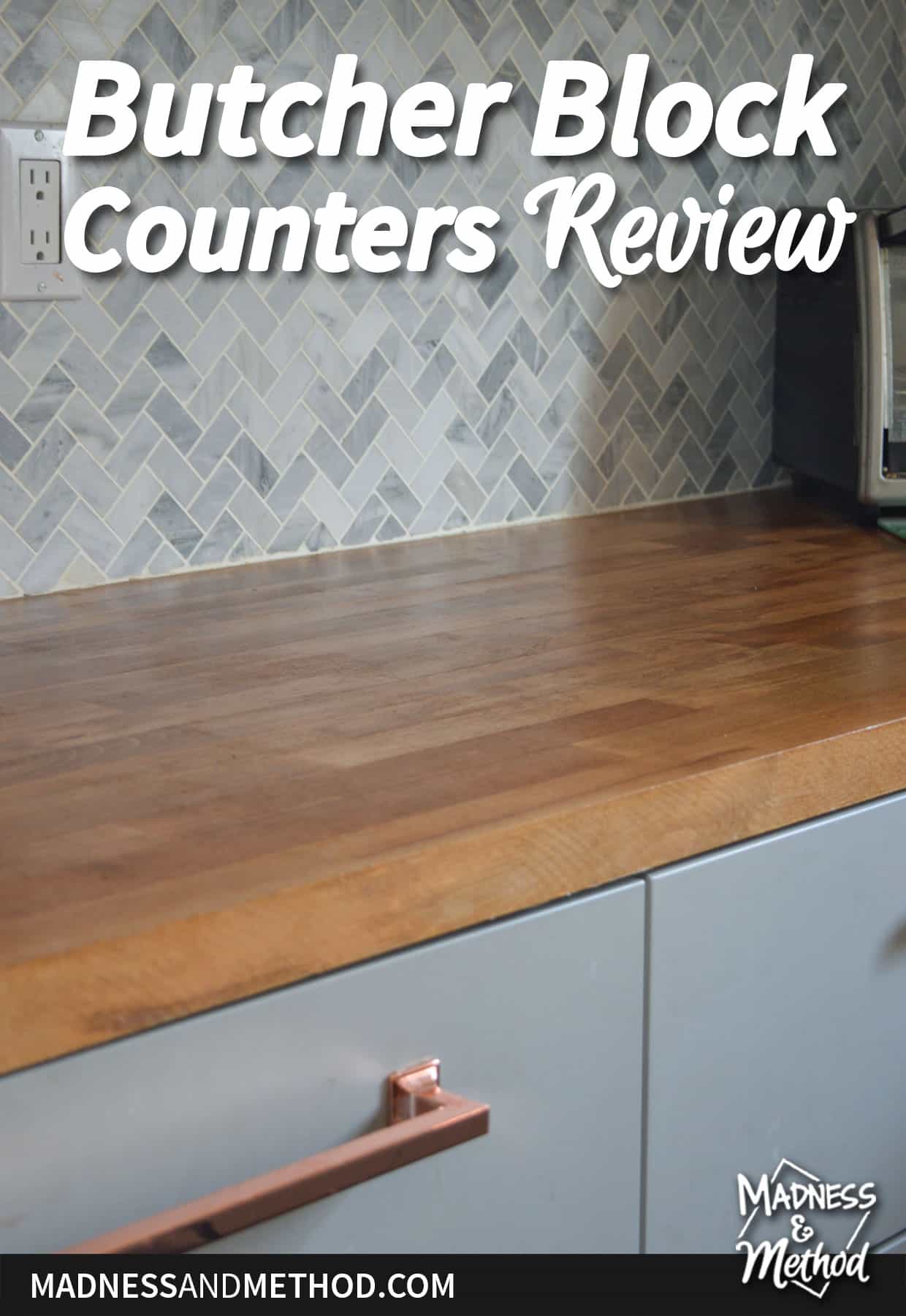 Check out the original butcher block countertop install video here, and follow our kitchen renovation on YouTube here.  We chose to stain our butcher block counters.  It goes with our house/kitchen colour a lot better – but check out the review video of what I would do differently. 
One thing that people have mentioned recently is how clean/neat my counters are.  


I had to include these photos because it's a real life view of my mornings, prepping breakfast and school lunches.  (PS: check out this bento box post for those).  The big thing with keeping  counters clear is moving things as you are done.  I have my morning routine of making lunches, putting away the dried dishes from the night before, and moving all the breakfast dishes to the dishwasher.  
And, if you watch the video and see the photos below, you'll know that our counters aren't completely free of mess. 
Close-Up Photos of Butcher Block Counters After 2 Years
Let's get to the butcher block countertop wear and tear!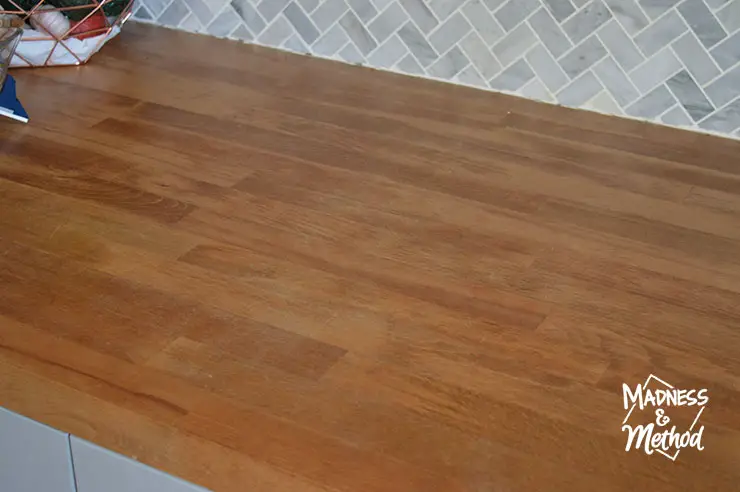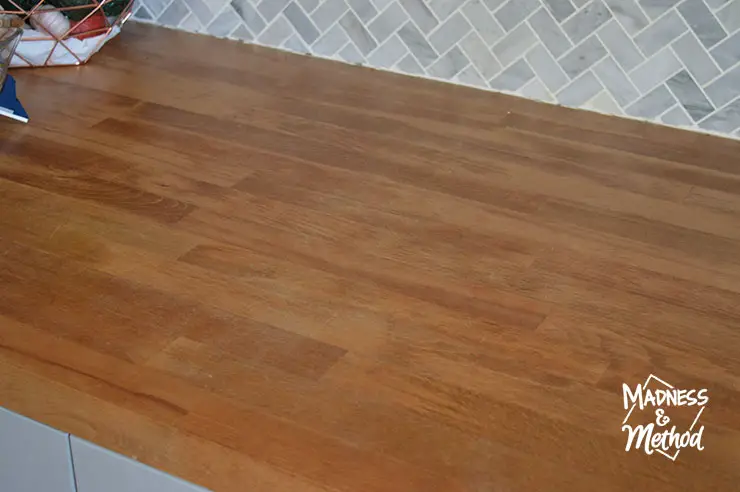 First up, the section right under our dishes shelf.  Honestly, I cut the backsplash tiles here and scratched the surface immediately, ha.  We do NOT use our butcher block counters as cutting boards, and there would probably be a lot more wear if we did.


We also have some areas with missing silicone/caulking gaps.  The edge next to our tall cabinet has a small gap that I never clear siliconed, and there is some cracking grout along the backsplash.  You will always get cracked grout joints where two different surface planes meet (aka a tiled wall and a countertop) and you're supposed to add caulk to prevent it.  Yes, it happens no matter if you have butcher block counters or granite, or laminate, etc.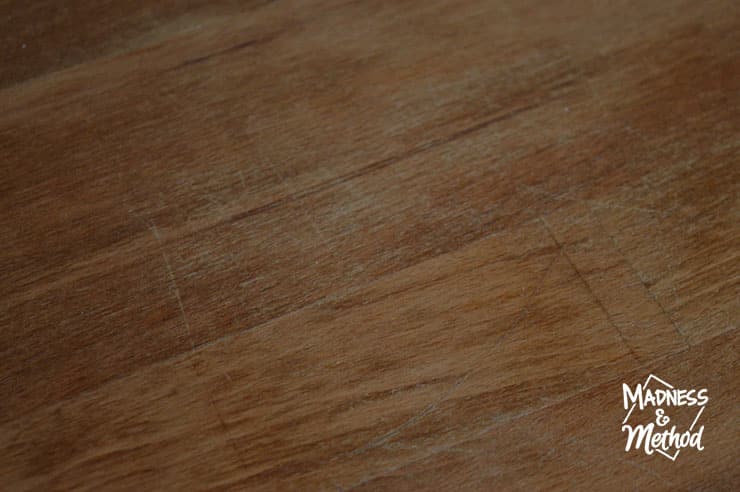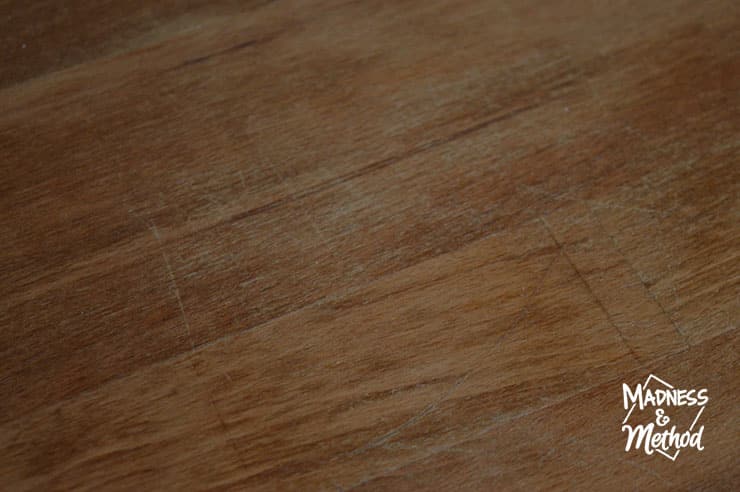 Here's a close-up of those cuts I mentioned before.  The great thing about butcher block counters is that you could always sand all the imperfections away!  (Assuming you didn't stain your counters like I did).


The area where I see the most imperfections over time is definitely near the sink.  Wood and water do not mix – and I try to wipe up any spills and messes quickly.  On the left side, there are some worn down sections.  On the right, there are some gouges (which I am 95% certain were there when we installed the counters) and some water spot bubbles.  Watch the review video to see more details on those. 
One spot I forgot to show in the video (it's under our fruit bowl) was this stain.  The kids let juice squirts leak I think?  Again, it could be sanded away – but I've only tried wiping it so far. 
Finally, the silicone around our sink could be updated.  Again, this is something that would be a normal update in any kitchen, with any countertops. 
Butcher Block Counter Review + Regrets
Make sure to watch the video for some of the details of what I will mention here.  And yes, I will embed the video below – so scroll down to see that :) 
One thing I want to highlight (and that I regret from our original install) was trying to push the sink as far back as possible.  I had to cut notches in the wood (that was a pain and time-suck) and I never got it completely flush with the back wall.  The goal was to avoid having any wood in the back at all – but I did have a small section.  To mitigate any water sitting back there, I globbed a lot of clear silicone over that area.  It's been okay for water (I don't find it goes back there anyways), just a pain to clean.  Oh, and the faucet install was trickier too!
Basically, just install your sink in the center of your counter depth, got it!?
We also have a wood burn from the saw along the only exposed edge of our counters.  This could probably have been sanded away at the time.  Or hidden had they been stained darker.  I mean, we could go back and do it still – but it's something that most people won't even notice.  
Speaking of stain…
About Staining Butcher Block Counters (and What I Would Do Differently)
A tiny thing that bugs me is the lighter line at the bottom of the counter, and in the crack where they meet.  Our butcher block countertops said they had to be stained/sealed within 48 hours of opening them – and it was a rush.  I clear coated the bottoms (the video shows with a can of "Polyurethane"), then flipped the counters, installed them and stained them.  I mention clear coating them twice with Polycrylic – but I don't have a photo or video to refer back to double-check. 
Basically, the issue is that the underneath clear coat sealed the tiny edge area – so the stain didn't take there.  Going back, I would have stained the bottoms first too, then clear coated it.  
I should also repeat that if you do not stain your butcher block countertops, you can easily sand any stains, scratches or imperfections as they happen over time.  Once stained, if you sand the areas, you do risk removing some of the colour.  (However, it would most likely be in the clear coat – so a light sand and reapply of that might work!).
One thing that most butcher block counter enthusiasts like to mention is the ability to oil them regularly.  So let's get to that :) 
How to Seal Butcher Block Countertops
While I already mentioned how I sealed my butcher blocks (polycrylic/polyurethane) – I definitely could have done another coat or two.  You can also choose different finishes (ie: matte vs. glossy) to get a custom look.  
Remember, we do not use our wood countertops as a cutting surface – so I did not need them to be food-safe.  If you are using butcher block to prep food, or if you have poly'd them and want to give them regular touch-ups, apply a wood conditioner!
I go over the super simple process near the end of the video linked/embedded below.  Essentially, you spray some wood conditioner and spread it with a clean rag.  Leave it on for a few minutes, and go back and wipe up the excess.
There are many different wood conditioners and some specify being food-safe or not.  I remember oiling my brother's counters right after we installed them too.  My bottle says to apply as needed or every 3-4 weeks… But it's been 2 years and this is the first time I did it, ha.
(I had the oil from years ago to seal my wood cutting board).  
Butcher Block Countertop Review Video
If you can't see the video player embedded above, watch it directly on YouTube here.  I realized afterwards that my dress is the same colour as the kitchen, ha. 
Let me know if you have any other questions about butcher block counters!  As mentioned in the video, yes I would for sure install them again.  They add such warm and personality to our kitchen.  I'd also consider using them for a rental, but probably not staining them in that case.  
If you're looking for a different colour, you can always get a different wood species too!