I'm super excited to introduce our 4th kitchen renovation!  We've been slowly working on it for the past few weeks, so today you're going to get a big overview.  From the before photos, to the floorplans, design overview, and more!  We still have a lot of work to do, but it's getting a little better every week.  Come check out our marble, copper and wood kitchen moodboard and plans!
– Note: This post contains affiliate links. See more information about affiliates here. –
When we first talked about scheduling our kitchen renovation, the Husband wanted to wait as long as possible.  If we had gone with his original idea, we would be looking at late-spring, early summer.  My idea was to start renovations around March… but here we are – in February and already have a lot done!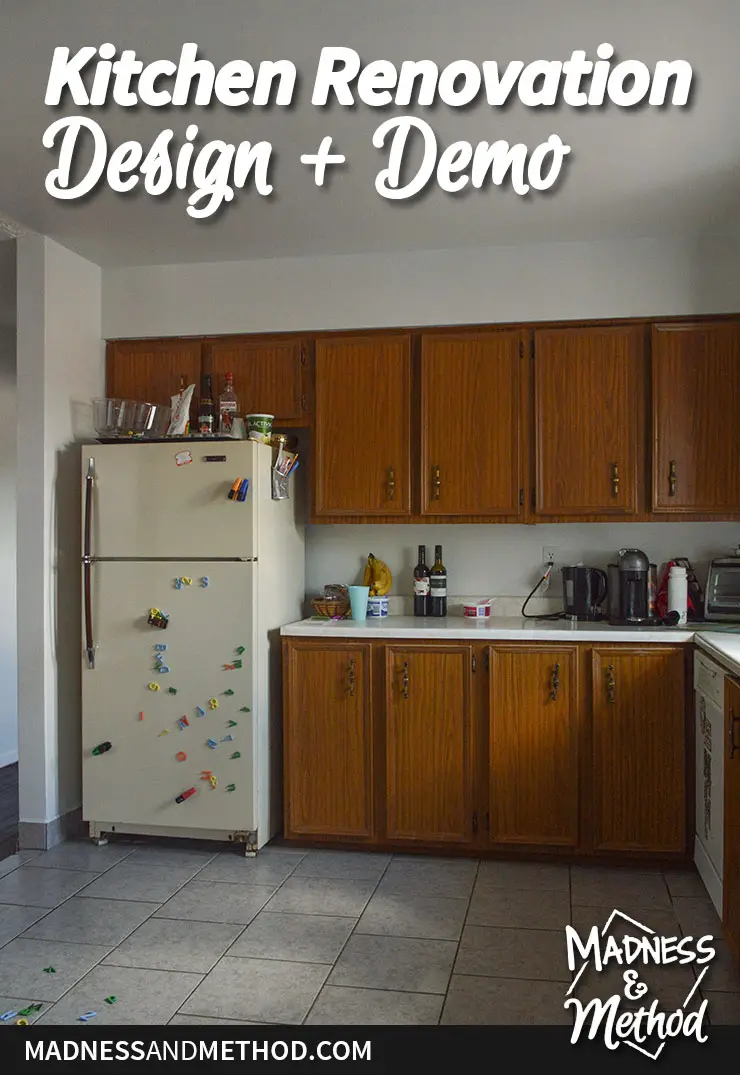 (I should mention that he is the one that pushed us to start earlier… ha!)
Before let's get too much into the new design, let's look back at where we started/where we are.
Kitchen at Move-in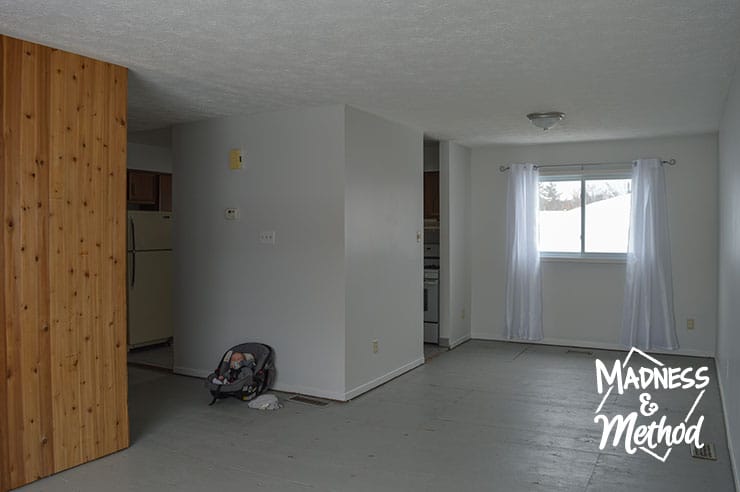 When we first moved in, we only had (painted) subfloor installed throughout most of our upstairs.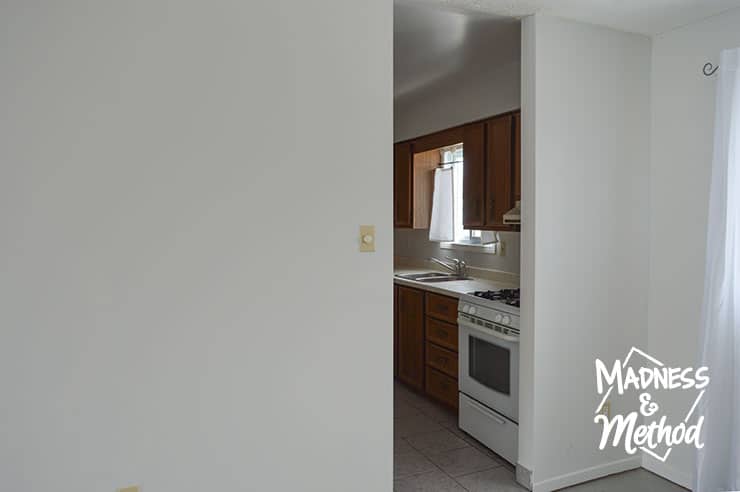 We have a typical raised ranch home, complete with a closed-off kitchen.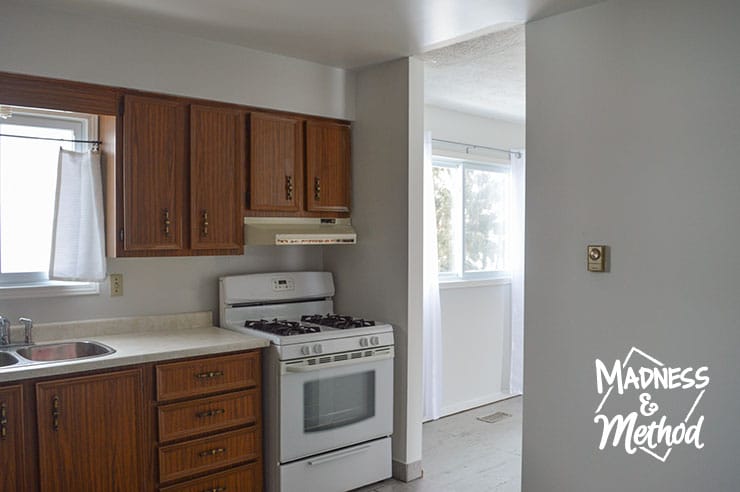 I was super excited to have a gas range – but otherwise, our kitchen was lacking in the storage department.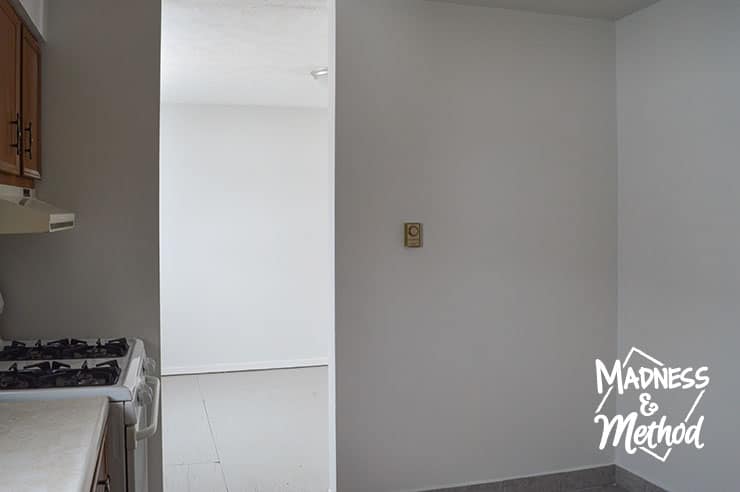 My biggest issue was that it was closed off from the rest of the house, and there wasn't even storage/cabinets in the corner section.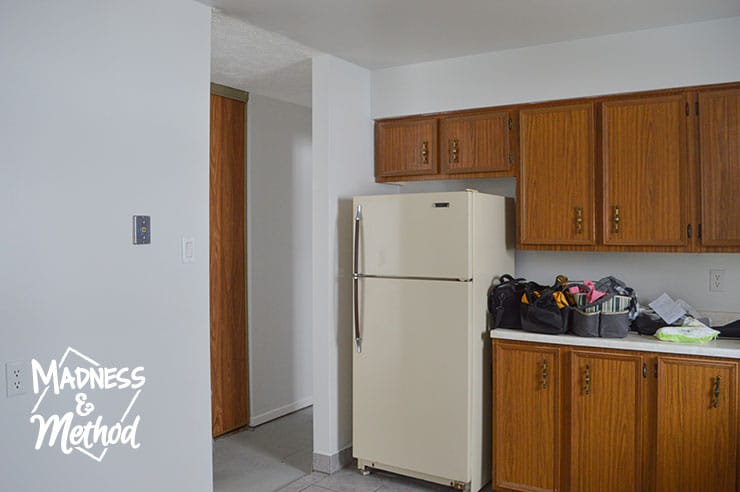 I think they must have used that area as an eat-in, but that's not something that we needed.
After living with the current setup for almost a year, we know exactly where we want to go!
Goodbye walls, goodbye raised floors!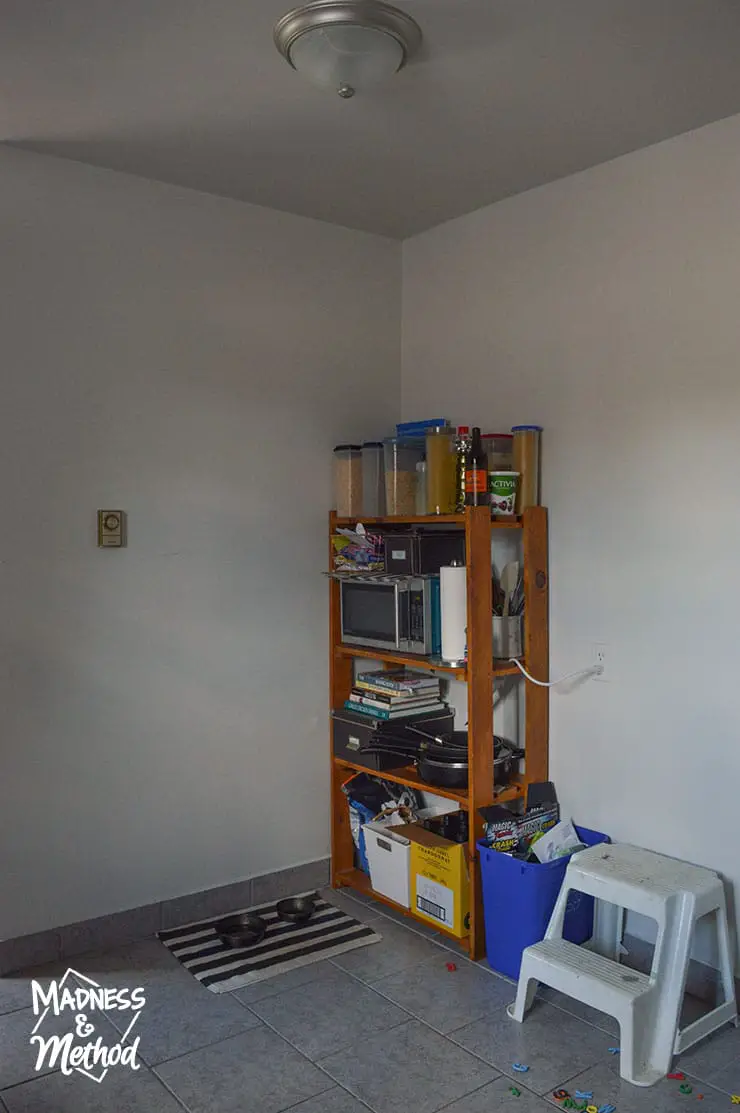 We're taking down the walls and putting in an island, ready to see the design!?
Most of the layout is staying the same, but the cabinets are getting a big upgrade in terms of storage (and function).
I've been documenting the progress on my YouTube Channel, and this one goes into the layout details a lot more.  Make sure to subscribe to my channel to get updates on all the latest videos!  (Oh, and I also share things as they happen in my Instagram Stories).
Marble, Copper and Wood Kitchen Moodboard
Let's get to the design plans!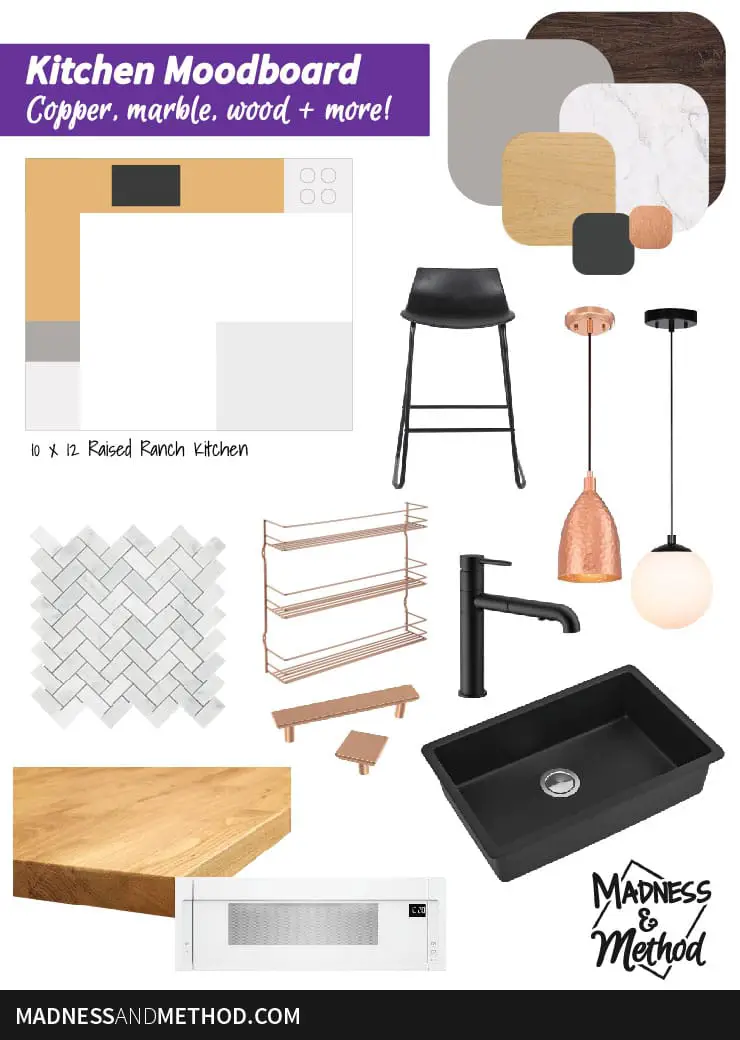 As this is our fourth kitchen, I wanted to do something a bit different.  We've done wood cabinets, white cabinets, dark cabinets and this time… grey cabinets!
(Well, I was originally thinking of blue… but the Husband vetoed that real quick).
Cabinets:  We're going with our tried and true Ikea cabinets, but this time I'm getting custom slab fronts from Kitch (in the Haze colour).  They customize fronts to match Ikea cabinets (similar to Semihandmade), but they're located in Canada and shipping is free.  I LOVE a shaker but wanted to try something new.  (Although I'm pinching myself because I should have just done the slim shaker… ah!)
Counters:  For the perimeter, we're going to do a butcher block counter that we ordered from Home Depot.  I've done the Ikea ones at my brother's house but wanted to do a full wood option instead.  They'll either be left natural (clear coated) or stained to match the wood walls in our living room.  We'll see!
For the island, I want to do either a marble or a marble-look quartz.  I underestimated the budget on that line item, but it's still happening, ha.
Appliances:  We had a white gas oven that worked perfectly fine, so we're just upgrading our outdated almond fridge and dishwasher.  For the dishwasher, we're getting the panel-ready one from Ikea (so it blends with the cabinets).  We're either getting this fridge or this one, and we bought the same short microhood we used in the basement apartment kitchen.  I wanted to do stainless for everything (with the idea that we'd eventually replace the oven in a few years), but the Husband chose white.  Not so fun fact, my mom literally broke our oven panel yesterday…
Backsplash: We're bringing in more marble with a herringbone backsplash.  There are a LOT of available options for this colour/pattern, but I think we'll get these.  We're removing the cabinets directly next to the window, so they'll be a lot of lovely tiles showing and I'm taking it all the way to the ceiling!
Black Accents:  I loveeee a black faucet, and this one was a no brainer.  I had two I was deciding between, but I think the top temperature control will be more kid-friendly.  The Husband thought it was a little expensive, but there was nothing else that came close.  We'll do a matching black sink (oh the debacle we had – more below!).  I also bought two of these globe pendants to hang above the island and this 3-pack of stools should go great!
Copper Accents: Fun fact, these copper handles and copper knobs were the FIRST design element I chose for the kitchen.  Such a good budget item, but they look (and feel) great.  We have some copper dipped stemless wine glasses, and I really wanted to display them in our new kitchen.  I also bought this storage shelf to hold our spices/oils near the oven, and this pendant to go above our sink.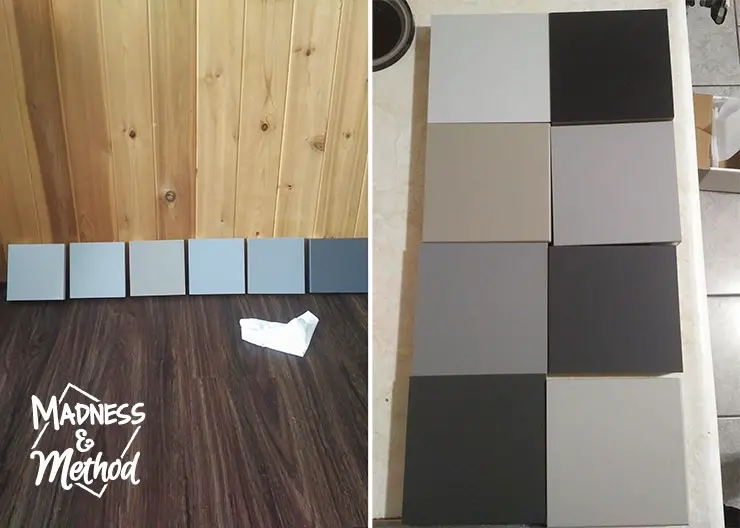 The other big thing we'll be adding is the same dark vinyl plank floors we have throughout the main level.  This is the last space to get them, then everything will be the same!  The photos above show the cabinet sample colours next to the floor and living room wall, and then on the right is at night.  The colour we chose is the second lightest (even though most people voted for the dark ones in my poll!).
Current Progress and To-Dos
We have a lot of demolition already completed!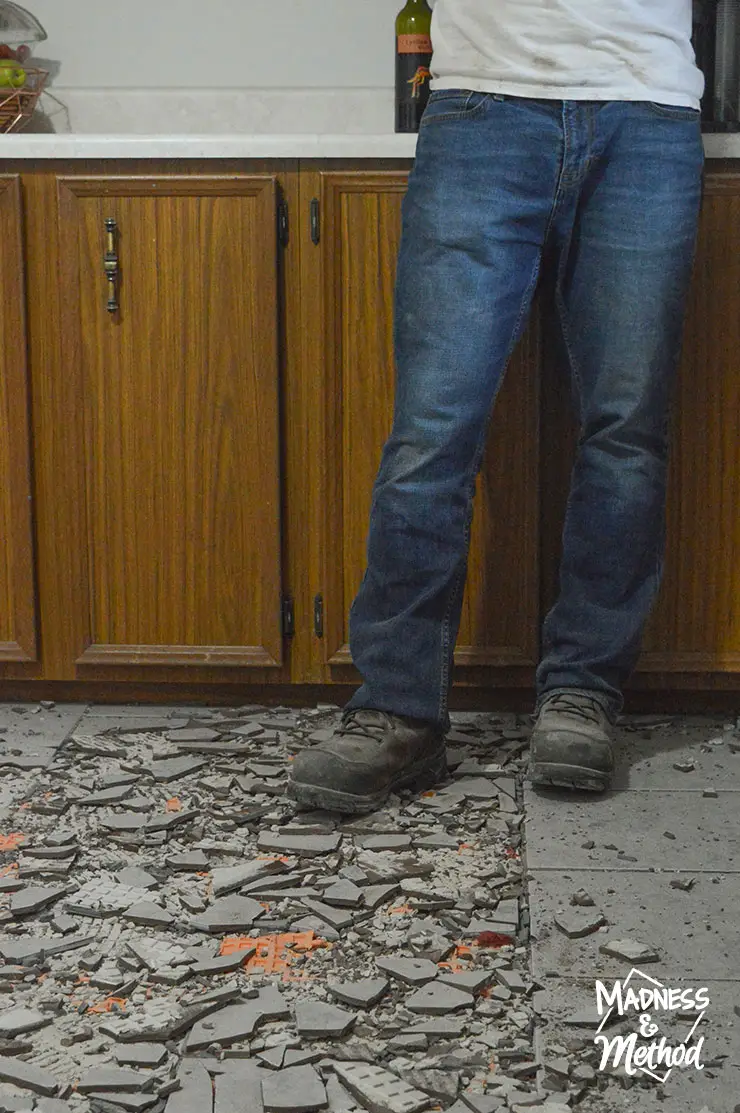 The floors were probably the most labour-intensive to remove (we had a hint from when we did the bathroom).  The next YouTube video will be all about the floor demo – so stay tuned.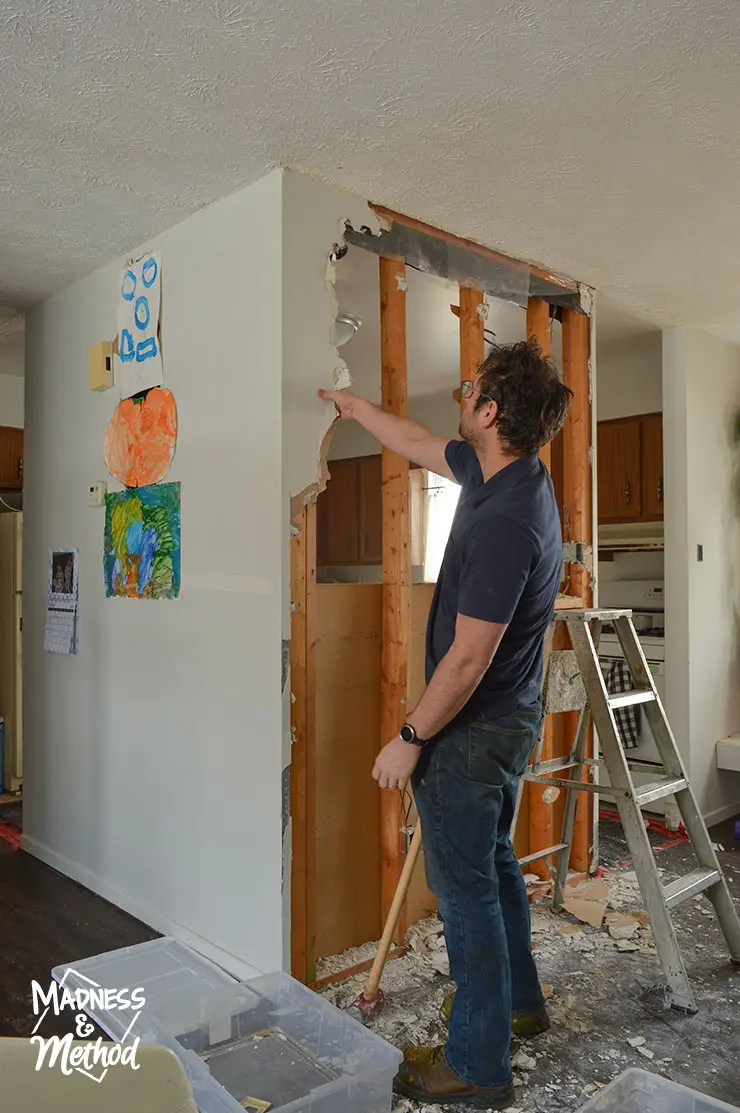 Then, we took down the drywall (and studs) on the wall that separates the dining room.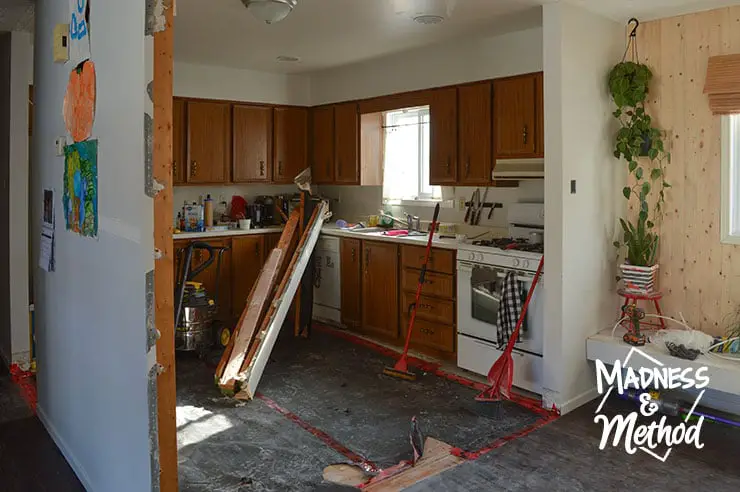 We originally suspected that the other wall was loadbearing, but after visiting the attic a few times, we saw that it wasn't.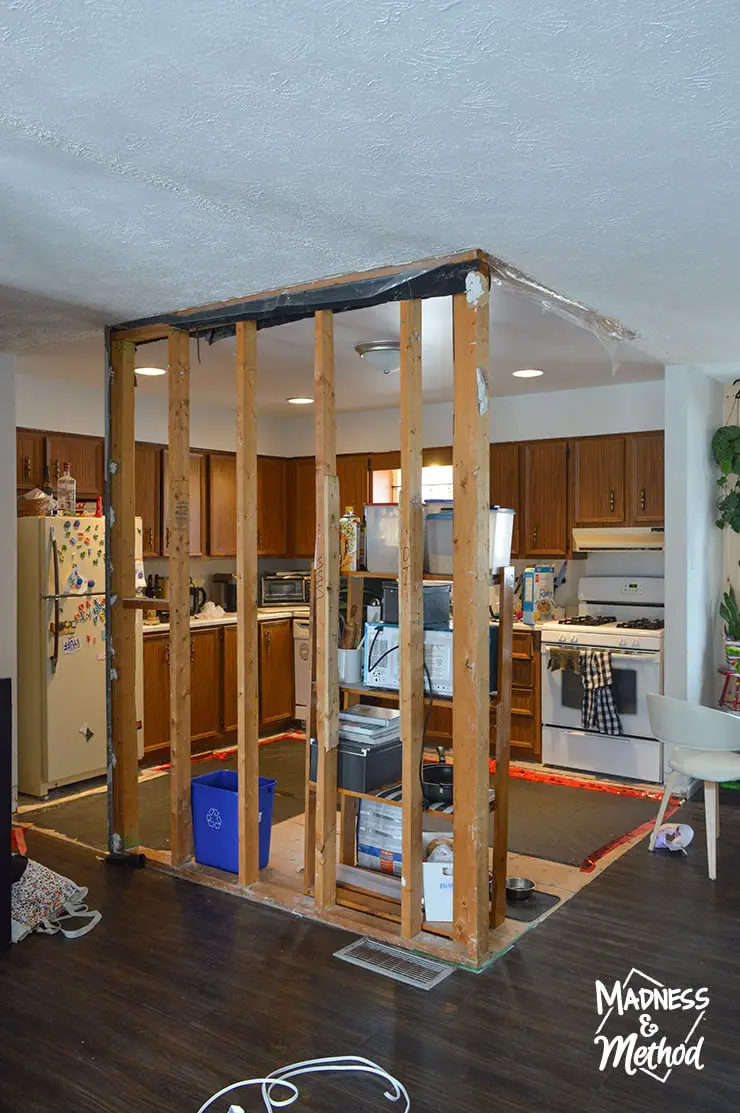 We removed all the drywall (and relocated the electrical) while waiting to hear back from the city.  (I had originally applied for a permit with the assumption that we'd have to put in a beam/post).  Just heard back this week, and we are good to take down the wall.
Right now, we have most of our Ikea cabinets, and we're slowly building them.  Bad news, we're missing two for the island (and the one above the microhood) and they are back-ordered for another month or so.  The good news, they're not really touching the majority of the kitchen, so I think we can go ahead and install the rest.
I've ordered (and am waiting for) most of everything else.  We still have to decide on the fridge, but it won't matter to use the old one for a while.  Well, and decide on the island counter.  But with the back-ordered cabinets, we can't really do anything until they come in.
Oh and the sink debacle!  I really wanted to use the large Ikea sink (it's the one on my moodboard). But it was also low-stock (it's a recurring pandemic problem right now, our order came in three different sets).  I was searching for HOURS trying to find something similar.  Large, but has to fit in a 30″ cabinet, black, single basin, and top-mount.  And less than a million dollars would be great.  I'd find one that could work, it would be a bit pricy, but delivery wouldn't be for 3-4 weeks.  Or, maybe it would juuuussst fit, but was a bit expensive.  Or an undermount (I mean, can you still install it on top?)
Then finally, the Husband was like why is this so hard.  Sinks are so cheap (then I told him my criteria), and he was like… just get a smaller one.  Okay. Fine.  It was much easier to find, cheaper, and should be here in a week.  (Plus, I think I prefer the back deck part, but don't tell the Husband!).
For more kitchen updates, subscribe to the Madness and Method YouTube Channel!  Not sure exactly when the reveal will be, but we are working as best we can.  (Considering the pandemic delays, waiting for back-ordered items, and having to renovation around three little children).