Well, it's official – our oldest little one has been moved into a "big" bed.  And, since we're awaiting the arrival of another little bundle, I figured it was a good time move him into the other/larger nursery as well.  Today I'm sharing pictures of what the combo kids/nursery room looks like, as well as the small changes I made to the bed.
– Note: This post contains affiliate links. See more information about affiliates here. –
Honestly, Zachary loved his crib, and he was definitely not one to ever try climbing out of it.  However, the crib at the rental renovation is a bit lower than his and was in a prime spot next to the changing table.  Almost as soon as I took the photos for the blog, he decided it was time to start climbing out.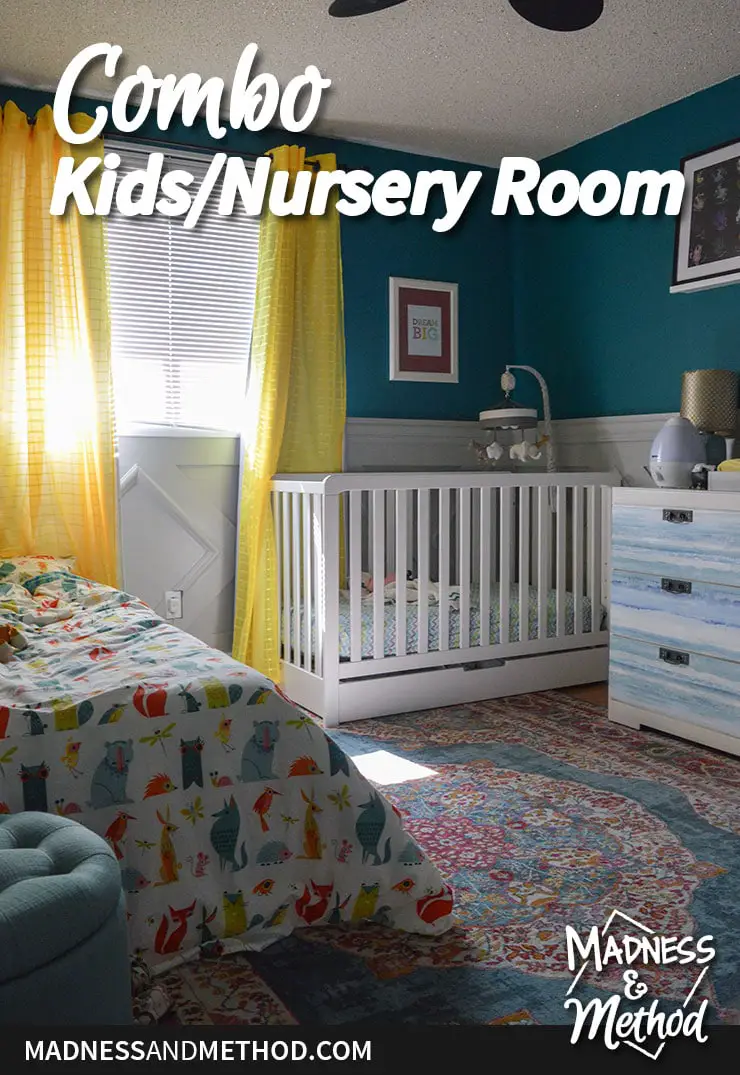 Once we were back home in his regular bedroom, he was "stuck" in the crib and didn't seem to complain.  But alas, I knew this day would come and I had already found a secondhand bed months ago, just waiting in our garage.
Captain's Bed Touch-Ups

And by months, I'm pretty sure we picked it up before last winter, or maybe right after winter?  There was snow on the ground, and I guess every time the garage would get wet, the paint started to peel on the part that was touching the ground.  (Although, the bed wasn't in perfect condition to begin with).

I started off by scraping all the peeling paint/veneer off, then gave everything a few coats of primer.  Zachary decided that he wanted blue drawers, and I was thinking of adding this wallpaper treatment so that it would match the dresser in the room.  Although, I just used the pieces I had and didn't try to match the pattern in a straight line.
(I originally jumped at this bed because the hardware was similar to the dresser already in his room, but we can always mix and match later).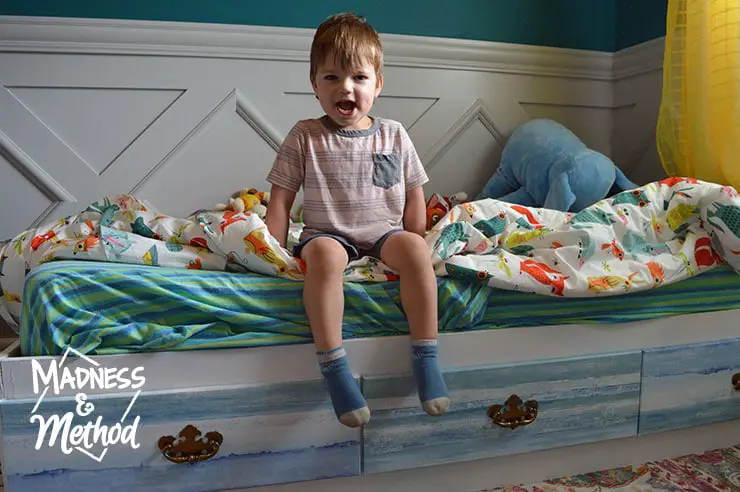 And here he is showing off his new bed!  (Actually, it was hard to get pictures without him in it – he's a big camera snob).  We've already got his things set up in the drawers, the first on the left with all his pants, shorts, t-shirts, undies and socks.  The middle drawer holds the sweaters, long-sleeves and PJs; and the drawer on the right has an extra set of sheets and clothes that are too big.
(Fun fact: the striped sheets on the bed now are actually from my University dorm days!).
Kids/Nursery Room Reveal
I picked up this cute duvet cover from Ikea, and I knew that it would match the colours in the room perfectly!  He transferred all his "friends" from his crib to the bed, and I still need to bring over his canvas and handprint art (I think I'll put them on the wall/wainscoting next to the bed).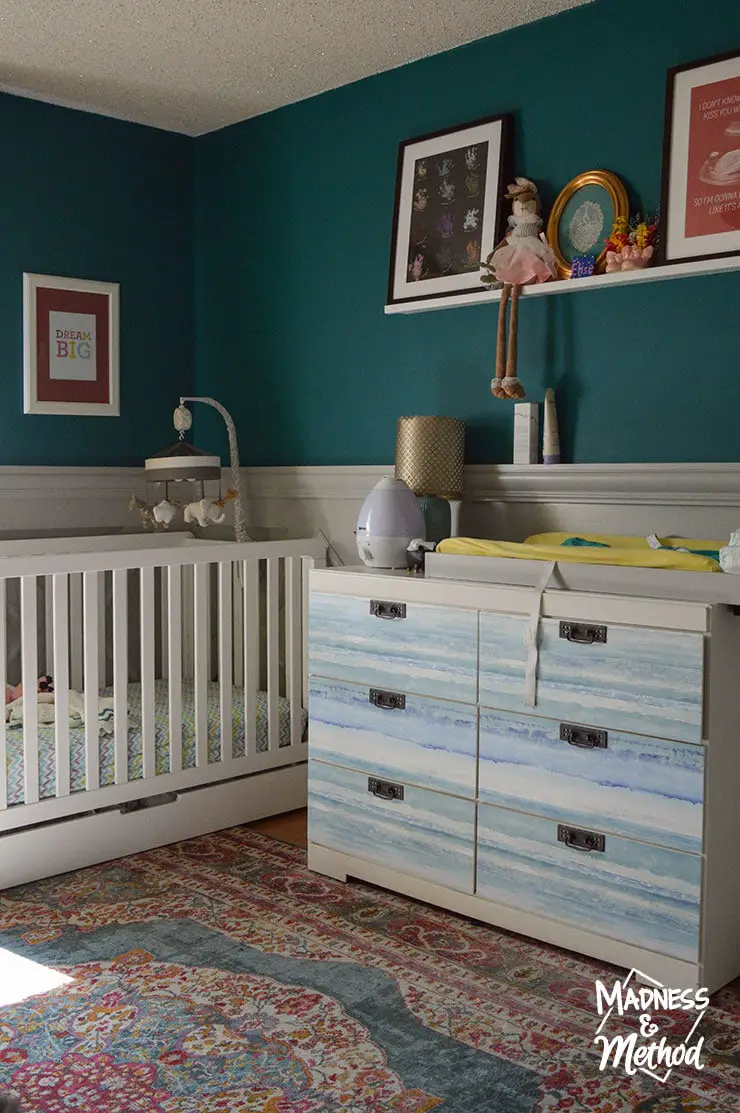 The other/nursery side of the room hasn't changed much at all.  I contemplated rotating the crib, but it works for now.  We've since completed Élise's handprints as well, and you can check out the original nursery photos here if you want to compare.
I moved the pink rocking chair into Zachary's old room, and it will once again serve as my nursing spot.  I'm not sure if I'll leave the teal ottoman in here (or swap it with the white one there), but for now, it's at the base of the bed.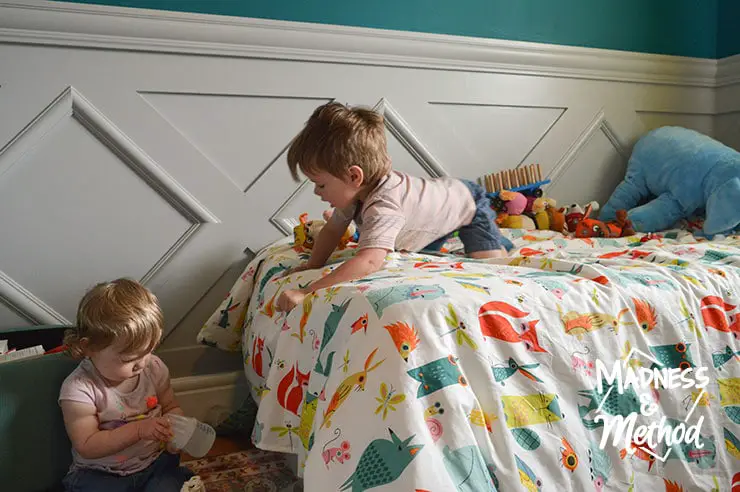 Whatever I decide, I will need to move the stuff over (the teal one has my nursing stuff and baby bottles), and the white one has books.  Either way, the littles love taking everything out and making a mess…
Room Sources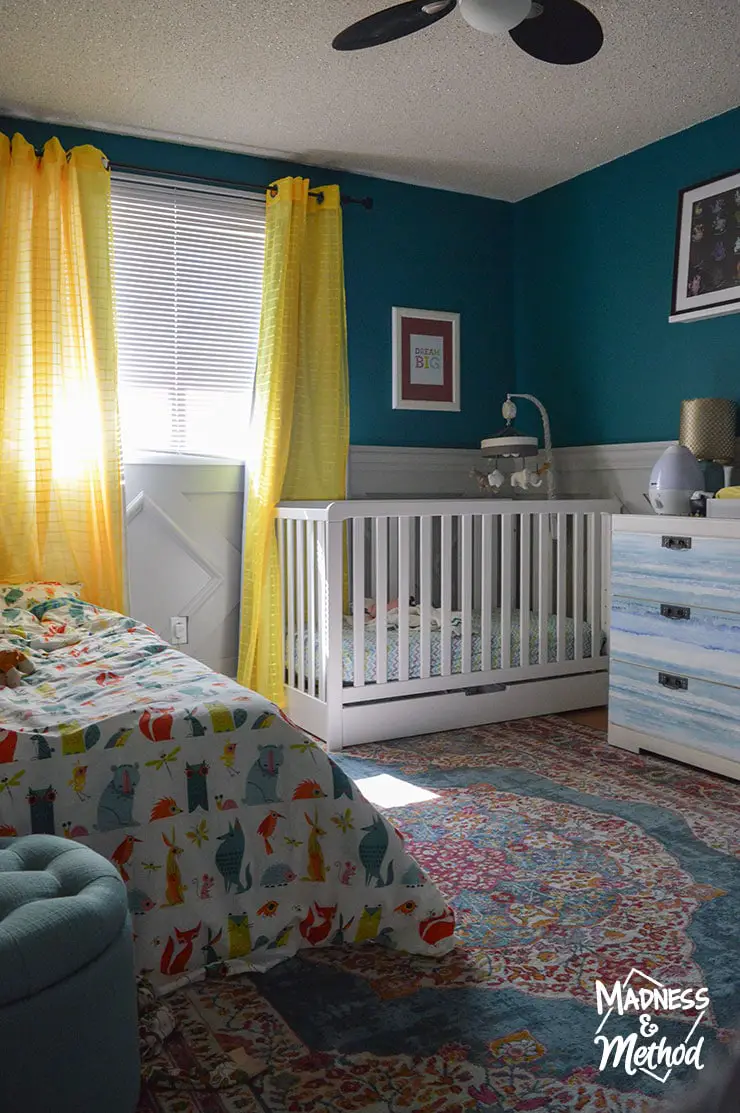 And that's pretty much it!  I was concerned with the twin bed taking too much space in the room as you walk in, but it's been working fine so far.   (You can always read this post if you need help with floor layouts!).  Besides, I didn't want to have to move everything around – so this worked out the best, ha.
Oh, and I was also concerned with Élise eventually grabbing at/pulling the curtains – but she's pretty much ignored them her whole life.  In fact, she hasn't even played with her mobile so it's still in her bed.  (By comparison, as soon as Zachary could sit up, he tried ripping the mobile down).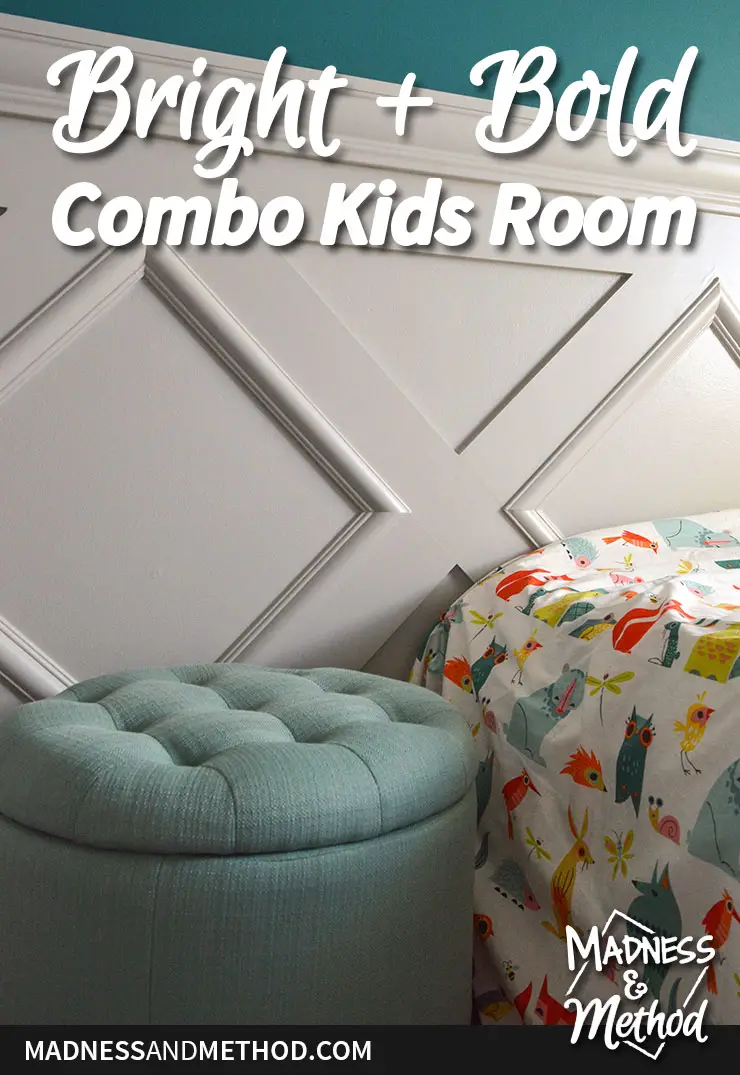 I did add this room darkening liner behind the right panel (and a regular curtain behind the other).  One morning, Élise woke up with the sun at 5:30am sharp (after getting used to the dark bedroom at the rental renovation) and I don't think I've ever bought something so fast!
I hope you enjoyed these photos of our combo kids/nursery room.  I'm excited to get the new nursery set up (yep, we're doing something different than what we have now!).  But either way, I'll be most happy for when Zachary stops crawling out of his big bed when we try to put him down.  (Apparently, he has to pee a million times as soon as it's bedtime).
But, I think/hope it's getting better…