We're on the ball again for our family Halloween costumes this year!  Actually, it's all because of this blog (and since I'm participating in the One Room Challenge next month) – so that's why we're nice and early :)  But, let's be honest: Halloween is my favourite holiday, so I had to force myself not to get our costumes ready in July.  This year, our family costumes are high school stereotypes!
– Note: This post contains affiliate links. See more information about affiliates here. –
I don't think I've seen high school stereotypes as a family group costume before.  So what exactly does it mean?  Basically, we each dressed up as a different "high school character".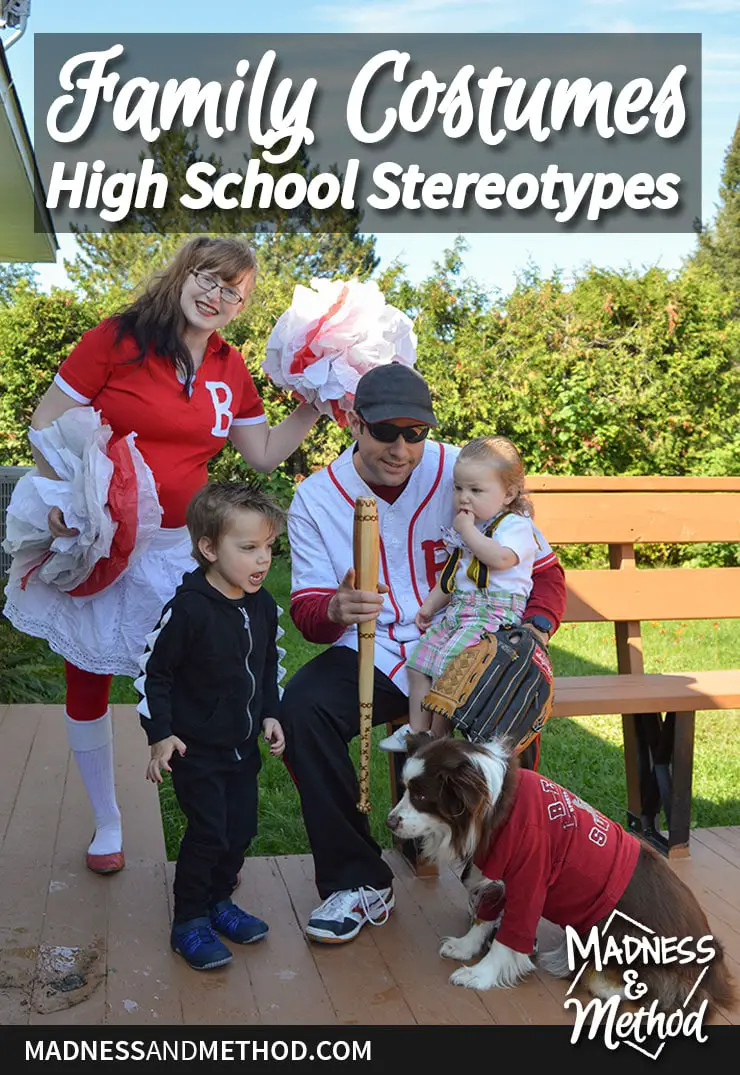 High School Stereotype Ideas
Jock (we went with baseball player)
Cheerleader (in my case, a pregnant cheerleader)
Team Mascot (Tootsie)
Goth/Punk
Nerd/Geek
And of course, you can add some more if you need:
Librarian
Science Teacher
Band Member
Class Clown
Artist/Art Club
What other stereotypes can you think of?  I tried to list those that were characters that you would typically see in movies/TV and could be easy to find costumes for.
You can also check out this list of 10 High School Stereotypes You'll Find, or these Most Common High School Stereotypes if you want more ideas.
Ready to see what we did?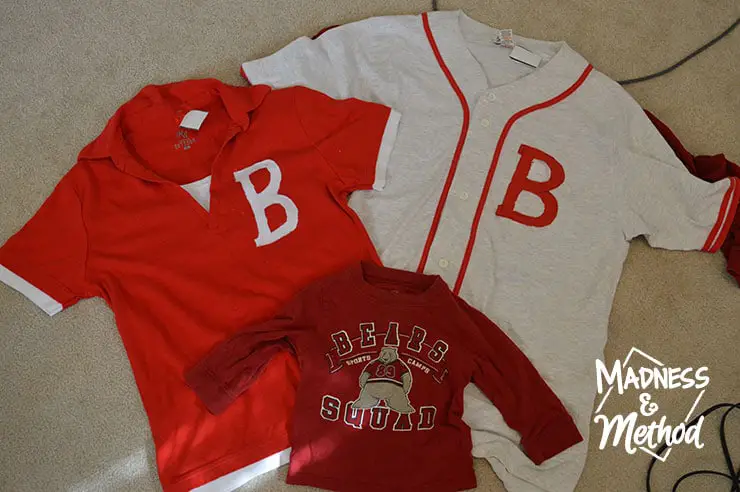 First, we hit the thrift store a couple of times to get the different components of our costumes (I'll list them under each one individually, and link some items if you wanted to purchase something similar).  I found that the Husband's outfit was the trickiest, so once we found that, I just got something to match.
We also found a random shirt for Tootsie as the mascot, so decided to go with the "Bears" as our theme.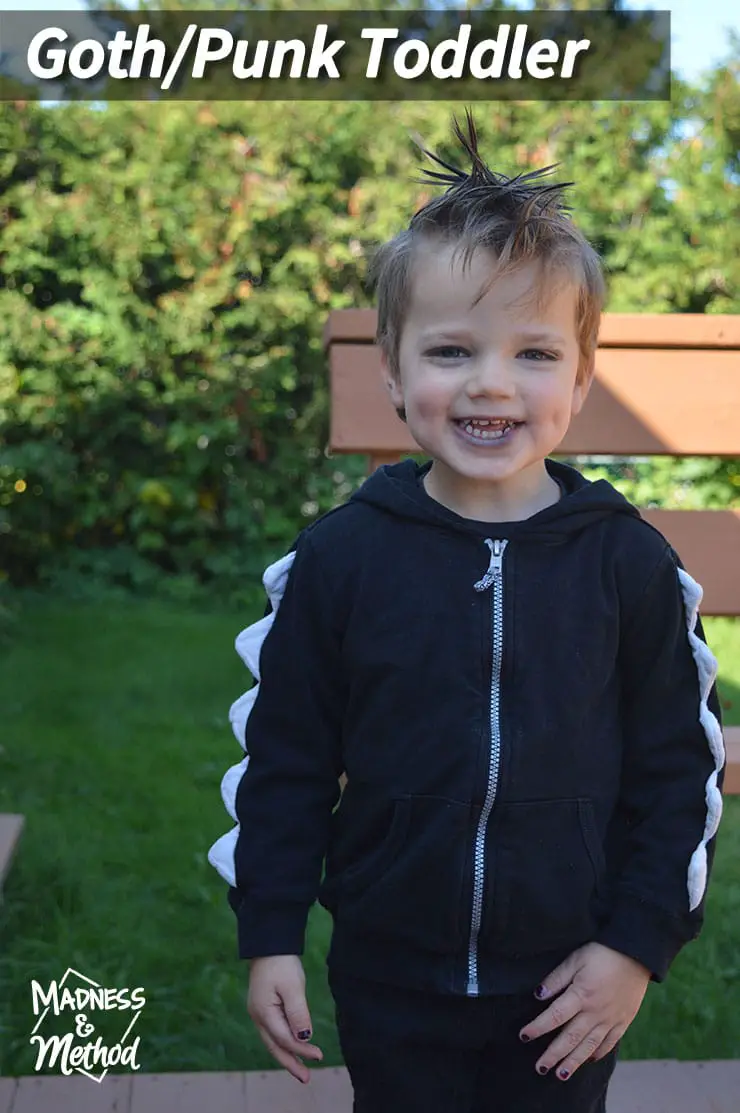 Zachary was our little goth/punk man, and I figured he would be cute with spiked hair and black makeup.  We told him he was a monster (how do you explain goth/punk to a toddler?) and he was happy with that.
Goth / Punk Toddler Costume Ideas
Black/leather pants
Black shirt with a skull decal (buy one on Amazon here)
Black/leather jacket/sweater
Black makeup (eyeliner, lipstick, nail polish)
Stud bands or chains (buy on Amazon here)
Spiked/mohawk hair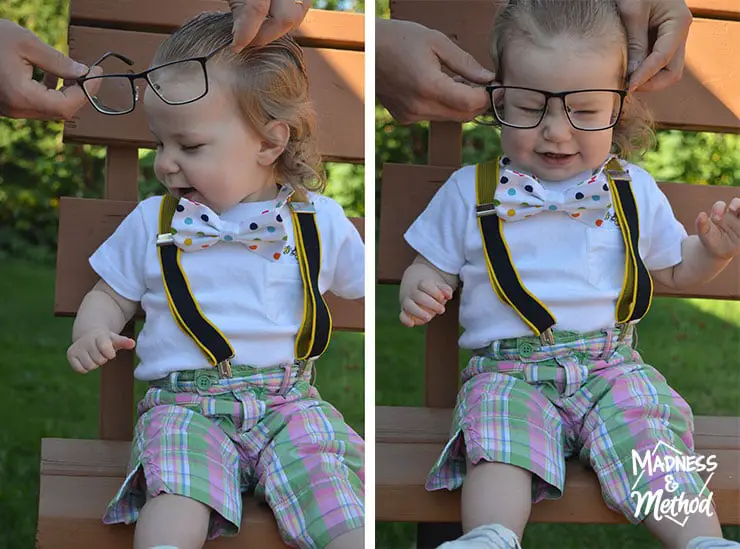 Élise was our little nerd/geek baby, and she was super cute as the part (although did not want to wear the glasses at all).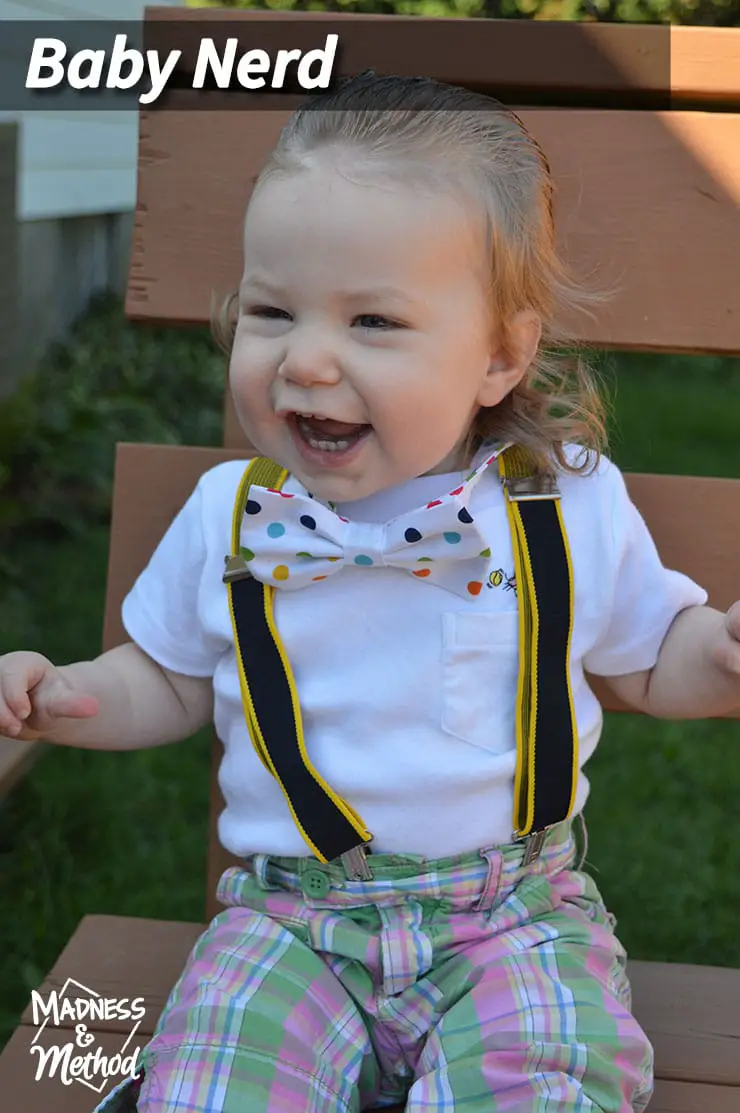 Baby Nerd/Geek Costume Ideas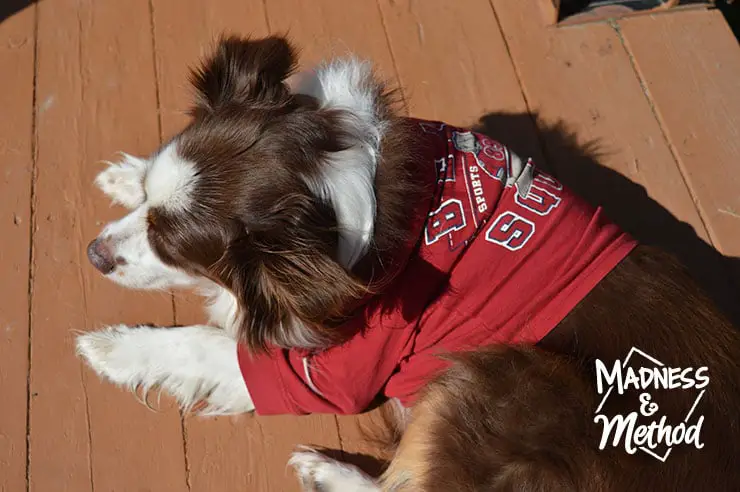 Tootsie was our "mascot" but her costume was just a long sleeve shirt that had a team logo on it.  Depending on if your mascot is an animal or a person, your costume might be a bit different!
Mascot Costume Ideas
Animal matching theme
Team colours
Possibly pompons
Large animal costume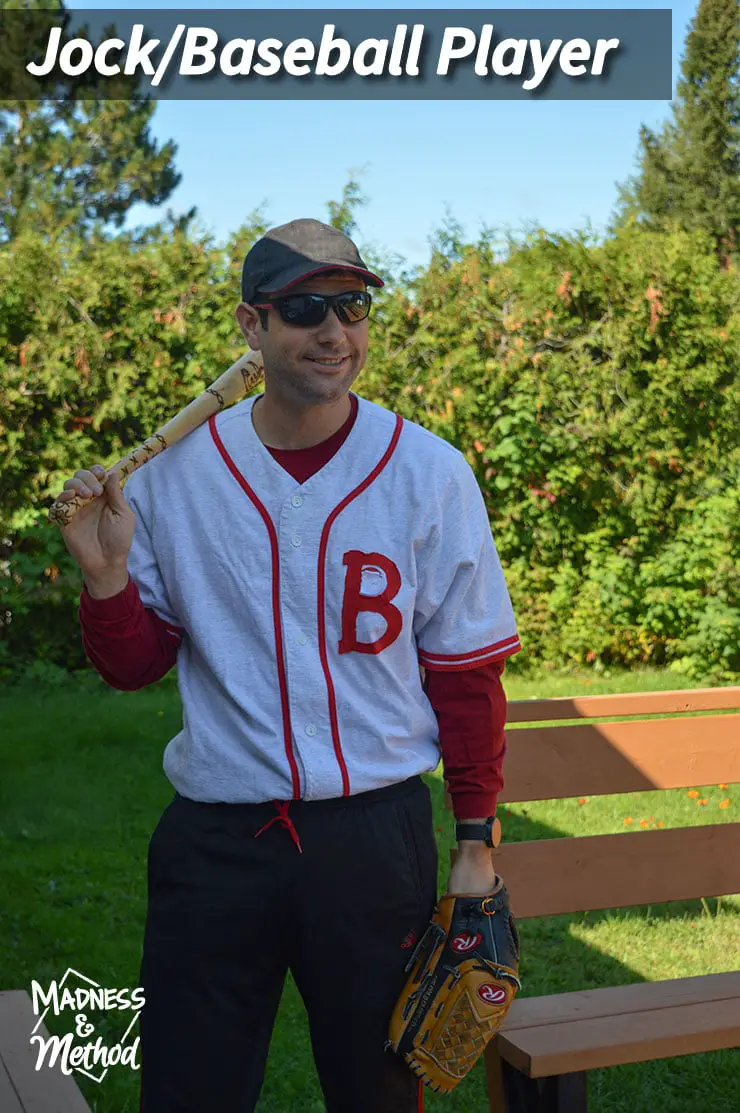 I was originally hoping to do a high school football player as the jock/husband, but it was tricky to find clothing that would match (and/or we didn't know anyone with the pads).  In the end, we found a shirt that looked very baseball-y so went with that!
Jock / Baseball Player Costume Ideas
Team jersey
"Letterman" jacket (buy on Amazon here)
Hat/helmet matching sport
Ball/glove matching sport (ie: football)
Black pants (with pads if applicable)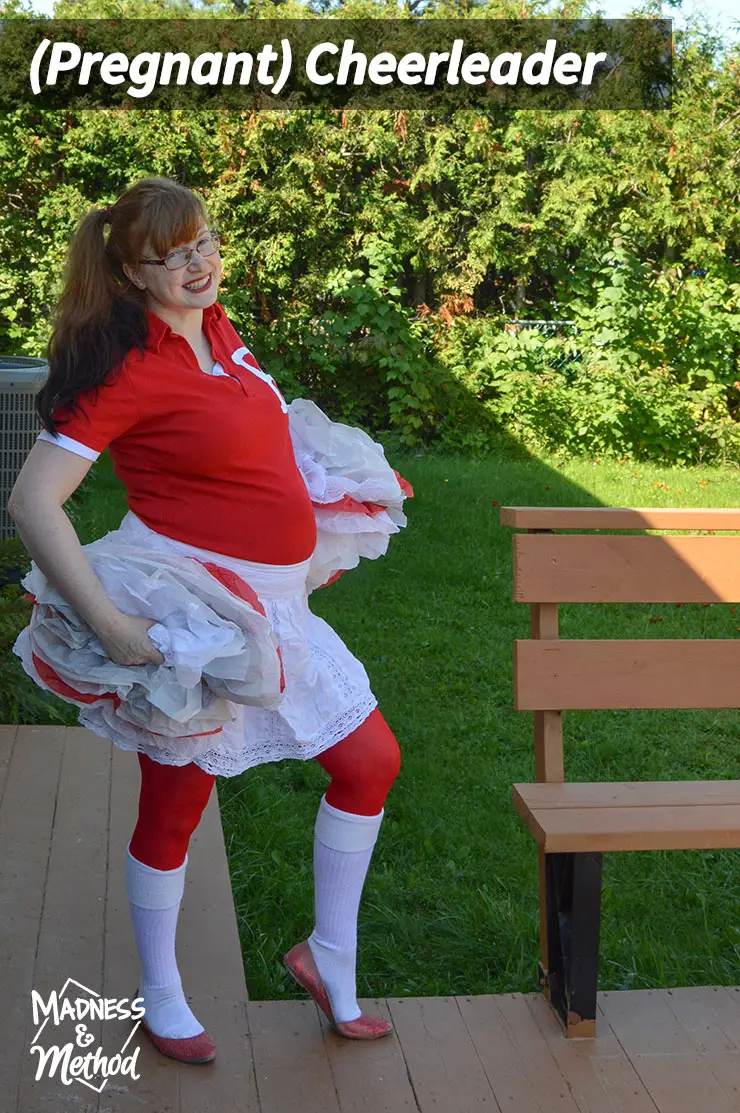 For me, I was the (pregnant) cheerleader of the group.  Of course, if you're pregnant as well, you can always choose a costume to hide/enhance that.  I found the white skirt first, then just waited to find something for the Husband so I could coordinate the colours with him.
Cheerleader Costume Ideas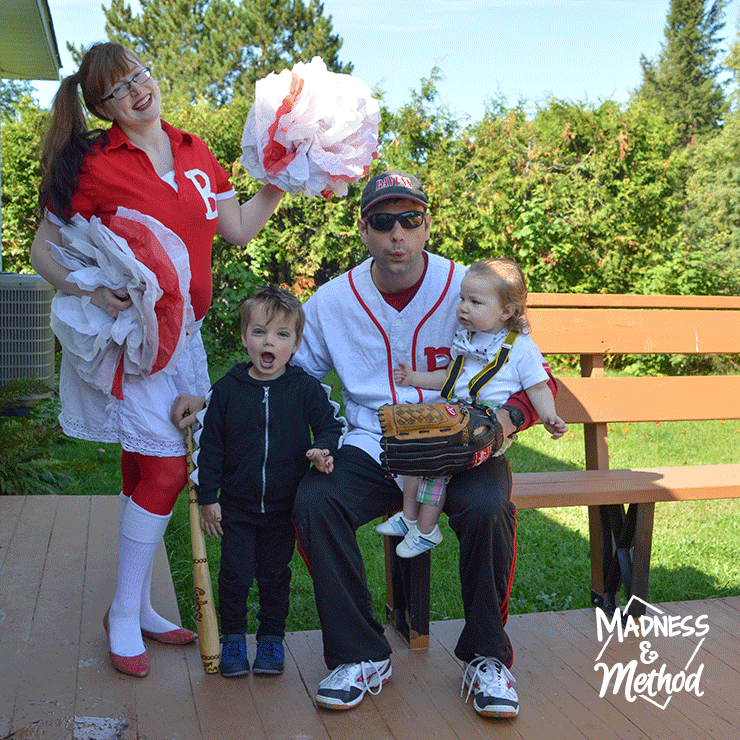 And you can watch the animation above to show off our different high school stereotype family costume poses.  It was a pretty cool Halloween last year (it snowed the next day), so I tried to make sure we had costumes that could be layered underneath.
Conversely, it was pretty warm when we took these photos and we were ready to get them off and go back to shorts!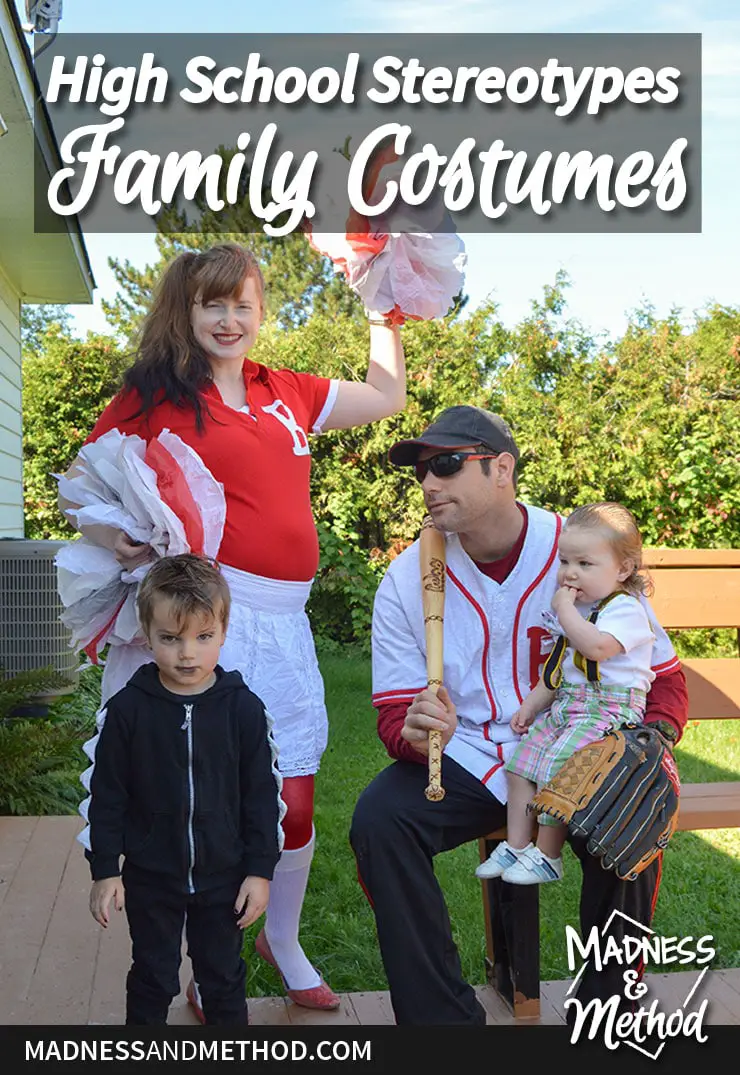 Can you tell that our group family costumes are high school stereotypes?  I think the photo above is my favourite of the group.  Zachary is looking very punky, and the Husband is doing a cool guy pose too.
I can't wait for our Halloween costumes next year (I've been excited about the idea and just needed three littles to match with me).  AND depending if the baby is a boy or girl, we may have a costume idea for the year after too :)
Didn't I warn you I was obsessed?  Check out our past family costumes here: Little Mermaid, Beauty and the Beast, and the Teenage Mutant Ninja Turtles.