Have you ever booked a stay on Airbnb?  Since having kids (and travelling with a dog), we've been using it more and more to find accommodations for our family.  Well, you know, when travelling was thing people did regularly, ha!  Anyways, today I'm chatting about our first year as Airbnb hosts.  I'll hopefully be giving a good overview and answering any questions you may have!
– Note: This post contains affiliate links. See more information about affiliates here. –
Why now?  Well, we're coming up on the one year mark of renting out our basement apartment!  Technically we've had our apartment listed on Airbnb since Fall 2019.  But we've only been doing it full-time since we moved out in the Spring.  (Close to when we bought our newest house).  And yes, that means we started hosting right at the onset of the pandemic.  So our experience might be a little different from the norm!
Before we dive into the full details about what hosting during a pandemic has meant, let's first go over some renting basics (and cover what we do).
Thinking of becoming an Airbnb host yourself?  Sign up using my referral link and reach out if you have any additional questions!
Long-Term vs. Short-Term Rentals
Long-term renting is probably what people are most familiar with.  You find a tenant(s), they typically rent your apartment/room/house unfurnished and are usually there for a while.  One-year term leases (or similar) are pretty common, and you can choose to sign a new lease or go month-to-month after the initial term is up.
Short-term rentals have definitely gotten more popular now that websites like Airbnb have come out.  You rent your room/house/apartment/whatever, and people can stay for a night, a week, a month, or any length of time really.  Places are usually furnished and stocked with whatever guests would need (just like a hotel).  Using Airbnb, I've always rented whole suites/homes, but you can also rent out rooms to guests too.
We purchased our rental renovation, with the idea that we'd create two separate units.  The upstairs is rented to long-term tenants, and we now rent the basement out full-time on Airbnb.  (But we did live there part-time for a while… upstairs too actually!).  Obviously, you'd need to have a long-term tenant that is aware of your full rental situation.  For us, that means that our upstairs tenants have a rental fee that's lower than our area's rate.  If we were renting both units full-time, we would charge more.  (It's kind of like a discount for having to "deal with" the uncertainties of short-term renters).
You never really know if the people renting will be loud, or always in and out, using all the water, etc.  Oh, and we also make sure to mention on our listing that there are upstairs tenants who share the property.  (And that they may be outside, make noise, etc.)
Both renting options have their pros and cons, but I'll touch more on that a bit later!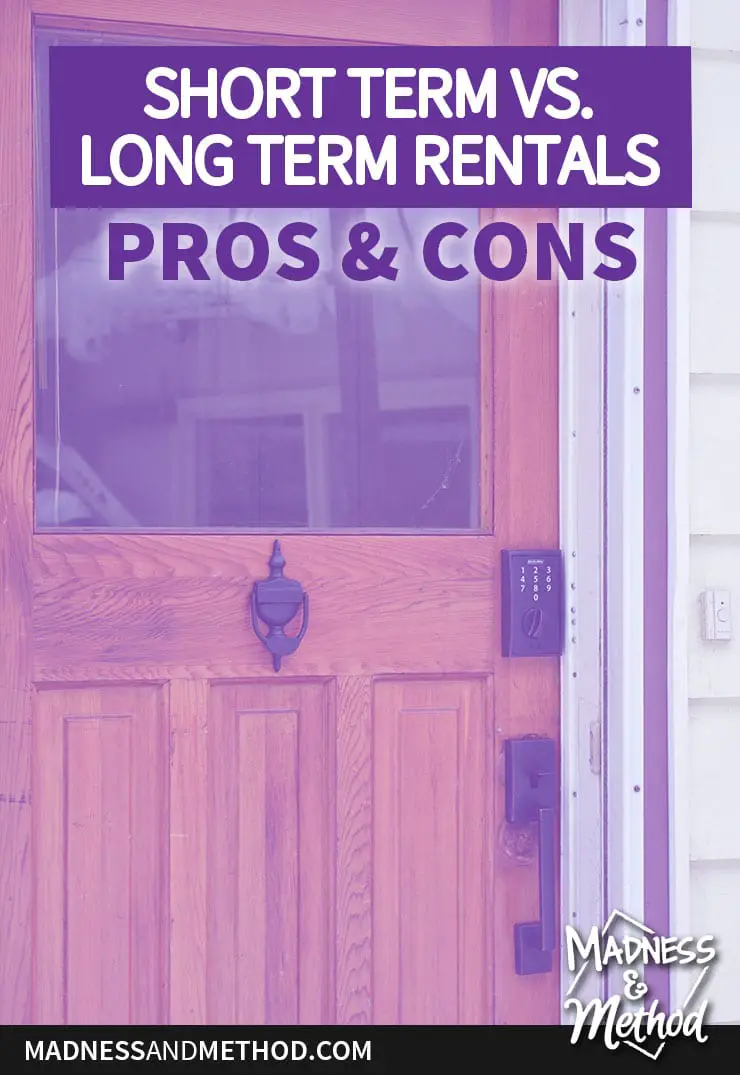 How we Host on Airbnb
I mentioned that we used to live in the apartment for a while.  While we would stay during the weeks, we had the weekends open on Airbnb to book.  We didn't get too many renters at first, but we started picking up more in January and February.  By April/May, we were open full-time for bookings.  It worked out well since there were a lot of mid-week travellers who came in for work (who knew!?).
For our listing, we offer breakfast items (ie: food that they cook themselves, not that we cook).  It made sense while we lived there (since we didn't want to always move our food around), and I think it's a nice bonus.  I definitely look for hotels that offer breakfast!  We also have all the basics, like free driveway parking, wifi, toiletries, tv.  If you're wondering about what you need as a host, Airbnb has some good guidelines here.
As we lived there, our bedroom/bed needs changed.  We had 2 cribs and a queen, then added a twin bed, then finally added a queen and removed one of the cribs.  Having two queen beds opens it up for more guests.  And, by keeping our toddler bed and crib, it's the perfect place to stay for families.
That's definitely our schtick now, so we make sure to have all the things that parents travelling with kids (especially young kids) would need.  Toys, books, highchair, monitors, etc.  Not all listings have those things, and I think we're unique in our town for that!
Pricing-wise, we're just under 100$ a night.  We don't have a cleaning fee or a deposit, and I think it makes it easy for people to see the price and know what they're getting when they browse.  Airbnb charges guests an additional percentage of their rate (I think 14?) and we also have a small percentage (maybe 1?) taken.  Comparatively, the local hotel is around 140$ a night.  When I originally set our rate, I compared our local listings and tried to go somewhere in the middle.  We offered more than people who were renting a room, but less than a full/detached house.
Hosting During a Pandemic
We went "full-time" on our Airbnb availability right around when the pandemic was setting in.  We are very fortunate that we live in a small town (and until recently, didn't really have any COVID cases).  In March/April/May, the guests that we had were people who needed to travel for essential purposes.  Luckily for us, the hotel closed, so I think that's why we got those bookings.  People were coming for essential work, moving, or, sadly, funeral services (we had a few of those).  (I should note that Ontario shut down all short-term rentals for vacation purposes for a while).
Now that we weren't living in the apartment, we didn't have to worry as much about possible interacting with guest things.  The host cleaning guidelines were updated, and I make sure to follow them closely. I don't think I touched on this before, but I'm the one who does all of the turnover (ie: cleaning/resetting the apartment for guests).  We changed our check-in/check-out so that we have a full day in between guests.  That gives me more time to thoroughly clean everything, but also, it's much more convenient for my schedule.
Because trying to clean the apartment while living in there with 3 young kids was nearly impossible, ha!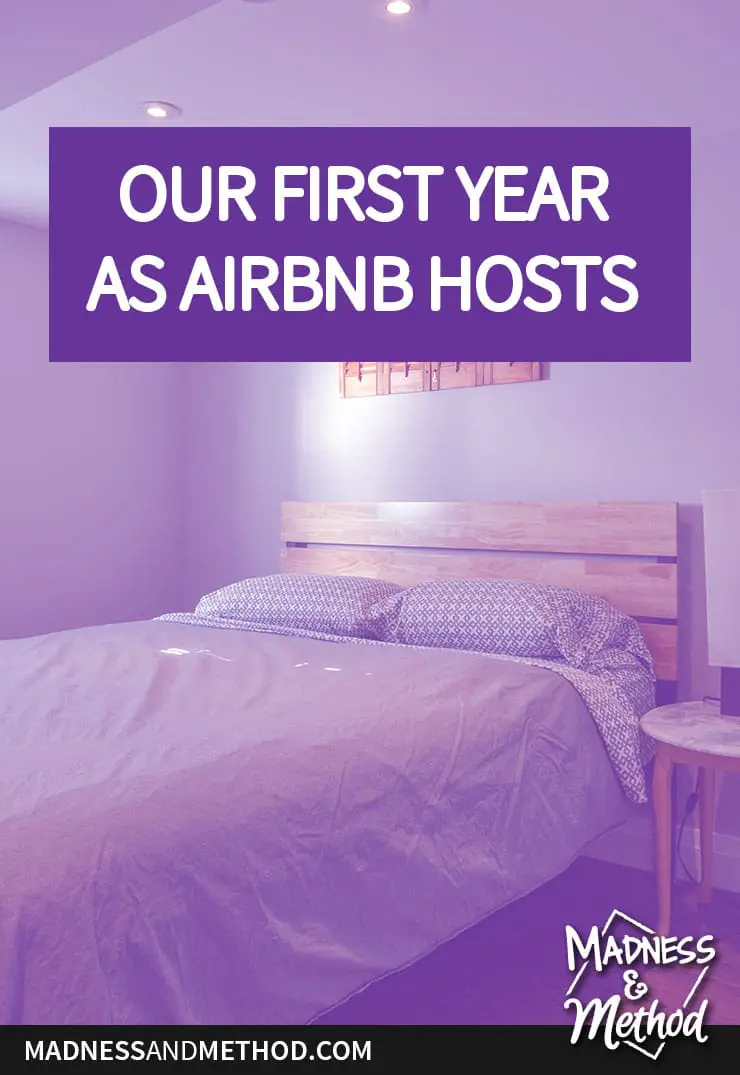 By the time summer came around, COVID regulations in our province were relaxed, and people were starting to travel more.  We booked up really quickly, and I was busy the next few months setting up between guests.  Sometimes that meant that I had to alter my travel plans (like dropping the kids off at the grandparents and driving back to clean the apartment).  But I definitely learned a lot.
Our Fall bookings came more sporadically, but it seemed like people were staying for longer.  With the second wave of COVID and a new round of lockdowns in December, our bookings slowed right down again.  Well, I did have the two weeks closed between Christmas and New Years.  That way our upstairs tenants had a bit of a break, and me too :)
Starting back up in the New Year, we just had our longest booking yet (6 weeks-ish?).  We also had another family interested in booking for the entire summer, but that fell through.
Lessons Learned
We learned a lot this first year, and we'll definitely be keeping everything in mind moving forward!  Whenever we'd get a comment (whether good or bad), we'd always try and update/highlight for the next bookings.  Of course, having guests in almost every other day was crazy busy for me, especially since I was the one in charge of managing/cleaning everything.  Doing minor maintenance things also became a bit more difficult (like paint touch-ups, exterior cleaning, etc.).
One of the things we need to address this summer (and now really), is designating a better entry zone for our guests.  Right now, they walk through the carport, but it's often filled with our tenants' vehicle/items.  First impressions are everything, and we're a bit lacking in this department. (Plus, I'm sure the tenant doesn't always appreciate having strangers walking through their stuff).  Unfortunately, everything is snowy/cold now, so it will need to be tackled when it's warmer.
Another thing I debated changing was our cancellation policy.  Right now, we're on the most flexible option, so people who book get a full refund as long as they cancel 24 hours before check-in.  We've only really had one guest cancel (and another one who moved their booking to another time).  We did have a couple of no-shows though, strange!  Because it hasn't really affected us that much, the husband suggested keeping it as is.
I also forgot to double-check our pricing, especially once things started getting busy.  Our price was set around 75$ if I remember correctly, and I didn't update it when we added the second queen bed.  We did lose out on a few extra dollars, but I think we have a good rate now.  (I also don't know if rates went up because of the pandemic/hotel closure).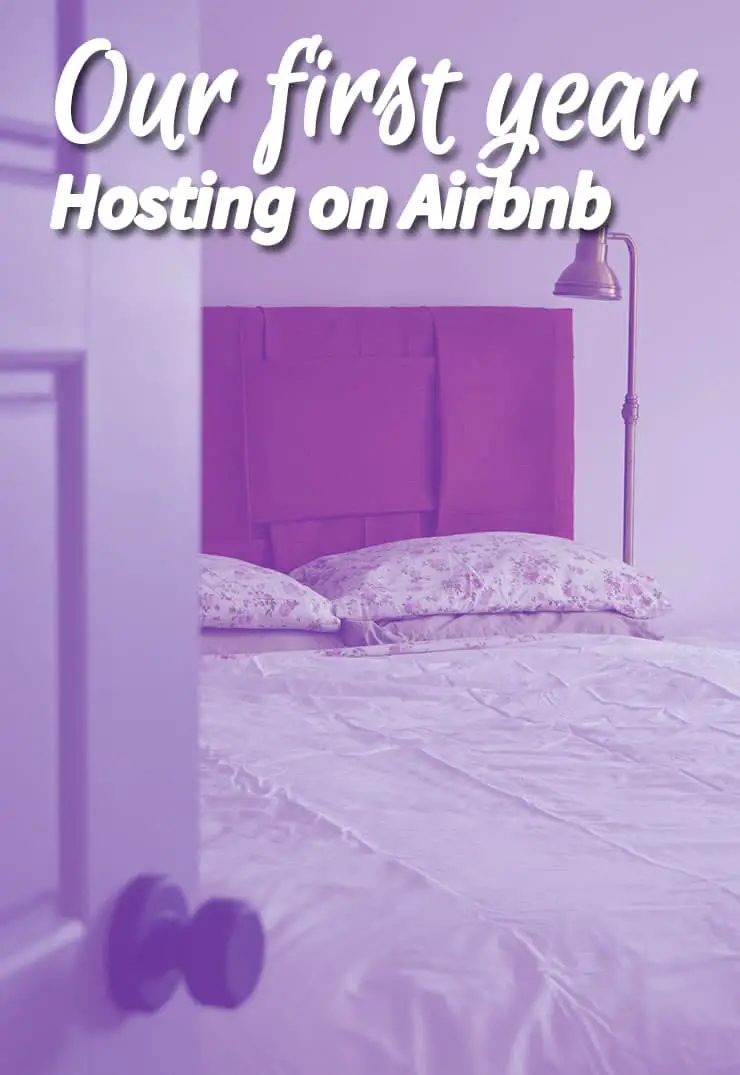 Going Forward
One thing I have already updated is our minimum stay length (for the busy summer months).  We had a LOT of single night reservations, which means that I have to do the same amount of work whether people stay for one night, or five.  And, because we have the day before/after locked for cleaning, it also limited the number of bookings we could get.  I just changed it to a two-night minimum, and we'll see how it goes this year.
So, would we do it again!?  Well yes… we still are!  We'll keep our apartment listed on Airbnb for as long as we can (unless anything major changes).  We have had people interested in renting it longer term, but it makes more money having it rented this way.  Plus, if we ever had another long-term tenant, we'd probably need to take all the stuff out, and that does not make sense for us.
We'll definitely be getting another short-term rental property… but probably long-term ones too!  Our plan is to own a few rental properties, and having a variety is the way to go.  The long-term tenants offer stability, but the short-term rentals are usually higher-paying.
Either way, I'll let you know how it goes :)  (And remember to use my referral link if you want to host too!).